"What is wrong," said the brilliant G.K. Chesterton, "is that we don't ask what is right." Let's apply this principle to Doug Ryan, the Corporation for Enterprise Development (CFED) and the utter need for the quality affordable living millions could find in today's modern manufactured housing.
Doug Ryan, CFED point man on MH,
photo credit – CLTNetwork.
What's wrong is that millions of Americans are being denied their fair piece of the dream of home ownership.  They are being denied at times due to NIMBYites. We will define them as those who say they want affordable housing for people, only "Not In My Back Yard" (NIMBY).
Others are being denied their piece of the American Dream due to what some say are the good intentions gone awry of regulators, such as the Consumer Financial Protection Bureau (CFPB). As Marty Lavin wisely points out in the video posted below, regulations alone are causing otherwise able people from owning a home of their own.  That's clearly wrong.
The CFPB's Richard Corday said to Senator Bob Corker, that it was not optimal for artificial regulatory thresholds to keep people in rental housing.  Director Cordray's admission is right, but what's wrong is that he's not changed polices the Dodd-Frank Act permits him to do to fix it with the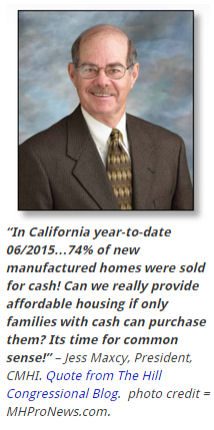 stroke of a pen.
Doug Ryan and CFED are right to extol the virtues of manufactured homes.  I'd say that it's tactically wrong to suggest or stress that MH has value only for those who are the lower income or working class; we've done numerous video interviews with successful professionals who love manufactured home living.   The NIMBYites might be more persuaded by those successful folks who love their manufactured homes, than they are about the needs of the less financially able they claim to care about, but currently deny in practice.
Doug Ryan et al are wrong on the finance issues about MH too.  I'll refer again to finance expert Marty Lavin in the video interview on this page.
Doug Ryan, et al are right to promote that the FHFA via the GSEs implement the Duty to Serve (DTS) "home only" lending to manufactured homes.  But they are wrong to suggest a Hobson's Choice of supporting Duty to Serve only if MH lenders and businesses give up on passage of The Preserving Access to Manufactured Housing Act (HR 650), which passed the House by a wide margin with bi-partisan support; and the companion S 682, which looks like it may be part of an Omnibus appropriations bill in the Senate.
What's right is that DTS has its own value to MH, but so does HR 650/S 682. The bill does nothing more than what Congressman Barney Frank and those who voted for the Dodd-Frank Act gave the CFPB authority to do on its own.  See the Frank letter, which was read into the congressional record, can be found on the page linked here and was first published on MHProNews.com.
What's wrong is that Ryan and some so-called non-profit consumer groups have mischaracterized the realities and goals of HR 650/S682 and manufactured home lending. What's right is that there ought to be a clear recognition that what Jan Hollingsworth's pro-consumer report revealed is the true reality of the impact of CFPB's regulations.
What's wrong is that we're told by the federal government that the recently released HMDA data proves MH lending has been restricted by 5%, while driving up costs unnecessarily for MH lenders in a fashion that U.S. Bank and others cited as factors that drove them out of the MH loan space.  What's right is attorney and financing expert Lavin's point that bureaucrats are taking away the path previously used by millions to achieve home ownership.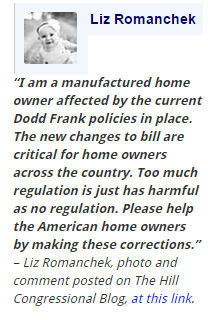 What's right is that Ryan, CFED and all people of good will should stand together to get Richard Cordray to relent on his harmful regulations, and/or support the Senate passage of S 682, so that The Preserving Access to Manufactured Housing Act becomes law.  The next right thing to do is to educate those NIMBYites that they're part of the problem when they block access to quality affordable MH at the local level.
What's wrong is that enough people don't ask – and then do – what's right.
We outlined what's wrong and cross referenced in depth on The Hill's Congress Blog, linked here,  what's wrong and what's right on these MH personal property lending issues. Doug Ryan has not tried to refute a single word of that analysis online anywhere we've seen.  Nor did Doug Ryan deny a single word in Jan Hollingsworth's original in depth report on this MH lending topic. On those two failures to deny or refute, Ryan's right.
What's right is that Doug Ryan et al shift gears and start to do what's consistent with the rest of their stated values about MH, by providing quality affordable living potentially for millions now stuck in the Renters' Nation.  MH is unsubsidized, so it's the right and smart policy to get the regulations out of the way that are keeping the MH Industry from serving more people, as Marty Lavin explains and underscores.
When Ryan and his peers get on board with fixing what's wrong with the current CFPB regulations and NIMBY, no one will applaud louder than this scribe, because that would be what's right. ##