The Toledo Blade in an editorial first linked here – or available as a download linked here – issued a scathing rebuke to public officials, and companies involved in what they called the "recent history" of post-disaster "corruption."
Among the companies and public officials their editorial spotlighted by name?
Clayton Homes, Hillary Clinton, Clinton Foundation – in the post Haitian earthquake disaster.
Whitefish Energy Holdings, Puerto Rico's Governor, Interior Secretary Ryan Zinke, and Zinke's neighbor, Andy Techmanski – CEO of Whitefish, per the Blade.  The Blade notes that this bit of pending 'swamp' effort was caught, and the contract cancelled.
"InnoVida, recipient of $10 million in loans from the U.S. government to build 500 homes in Haiti. Before a single house had gone up, the company defaulted on the loan," per the Toledo Blade's editorial
It's interesting to note that the hot-link for their article reads in part, "The-swamp-after-the-swap."
"Increasingly, corruption seems endemic to U.S. government-funded humanitarian rebuilding programs," stated the Blade's editorial.
The Toledo Blade's Clayton Homes, Clinton Foundation, Hillary Clinton Spotlight
Quoting their editorials next four paragraph's verbatim:
"When a 7.0 earthquake struck Haiti in January, 2010, an estimated 316,000 people were killed, and another two million were forced from their homes. More than $10 billion dollars in foreign aid later, 2.5 million Haitians are still in need of humanitarian aid, according to the most recent estimates by the U.N.
The Haitian contracts consistently prioritized the interests of the companies performing the services — and those of their benefactors in Washington — well above the needs of the displaced.
Take Clayton Homes, the recipient of a contract to build "hurricane-proof … emergency shelters that can also serve as schools … to ensure the safety of vulnerable populations in high-risk areas during the hurricane season."
When a team of reporters visited the shelters six to eight months after installation, they found "20 imported prefab trailers beset by a host of problems, from mold to sweltering heat to shoddy construction." The trailers were also leaking high levels of formaldehyde, a carcinogen."
The Blade's editorial posed the question, "So why did Clayton Homes and InnoVida get contracts? Both had donated handsomely to the Clinton Foundation, and Hillary Clinton, at the time, was well-placed to reward those contributions. There were numerous other such instances."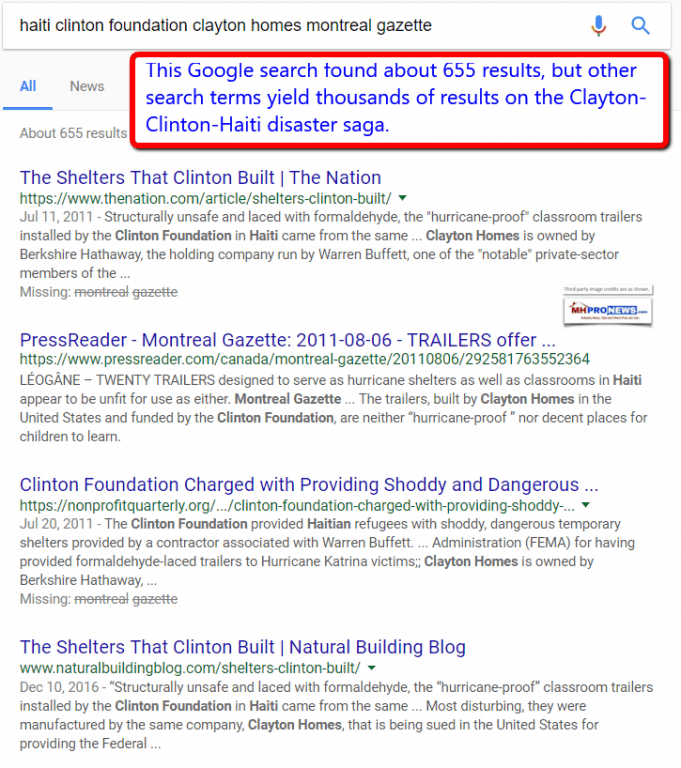 "Another natural disaster in the Caribbean, seven years after the scandal that was the U.S. government's attempt to rebuild Haiti, a similar pattern re-emerges," stated their editorial.
"Humanitarian relief programs funded by American taxpayers need much closer oversight than they have gotten. The abuses are manifold, extravagant, and by now, predictable," said the Blade.  
Beyond those Caribbean disaster cases are those here in the U.S., post-hurricanes. FEMA has often been cited as a problem in the past, and in the present relief efforts.
The Daily Business News article linked below is a hub that cross-links several reports on how FEMA and post disaster programs have resulted in problematic issues for independent companies, the high cost to taxpayers, and challenges for relief victims.
FEMA, Manufactured Housing Industry's Gift that Keeps Giving?
While post-disaster response time is seen by many as improved under the still-new Trump Administration – which has many Obama era and prior administration holdovers – there are numerous challenges that manufactured home industry professionals have noted in 2017.
When money is earned, it can be spent. So it may seem odd to discuss profits as "false." As anyone who's watched the movie Scarface knows, crime is a business. It may be illegal, but it's business. The risk/reward equation for a criminal enterprise is different than for a legal business.
Relative to the Clayton Homes and politically-laced spotlights, is the report linked below, which cross links to other related news.
Maxine Waters Statement, Preserving Access Manufactured Housing Act 2017, Warren Buffett, Clayton Homes
Vexing Questions for the MH Industry
How do articles like these reflect on the manufactured housing industry's largest company? How does that then reflect on other members of the Manufactured Housing Institute, which is seen by some as dominated by Berkshire Hathaway and Clayton Homes and their sister companies?  Or how does such news reflect on MHI itself?
As manufactured home industry advocated, the Rev. Donald Tye, Jr. has said related to possible corruption at HUD – "the system is rigged."
"We Provide, You Decide." © ## (News, analysis, commentary.)
2 Week Notice: MHProNews will be on a somewhat modified publication schedule from now through January 2nd, resuming normal scheduling in 2018. More details, click here
Note 2: Looking for our emailed MH Industry headline news updates? Click here to sign up in 5 seconds. You'll see in the first issue or two why big, medium and 'mom-and-pop' professionals are reading them by the thousands, typically delivered twice weekly.
(Image credits are as shown above, and when provided by third parties, are shared under fair use guidelines.)

Submitted by Soheyla Kovach to the Daily Business News for MHProNews.com.
Soheyla is a managing member of LifeStyle Factory Homes, LLC, the parent company to MHLivingNews.com and MHProNews.com. See a third-party media profile that includes Soheyla the industry's leading trade media, linked here.