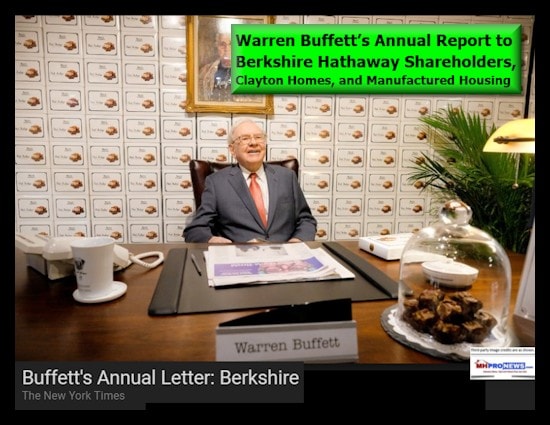 When examining an industry or an issue, such as the manufactured housing and regulations that impact an industry, common sense dictates that one spend time looking at the proverbial elephants in the room.
In manufactured housing, one elephant in the room is arguably Warren Buffett, Berkshire Hathaway and companies such as Clayton Homes, 21st Mortgage and Vanderbilt Mortgage and Finance.
Using their own annual report, Buffett's copyrighted document says Clayton has about 49 percent of the industry's production.
Other elephants in the room?  Financing (capital) and regulations must surely be among them.
Consider this.
The Manufactured Housing Institute (MHI),
the Manufactured Housing Association for Regulatory Reform (MHARR),
state associations,
and thousands of industry professionals and investors would – if prodded – likely say that federal, state and local regulations are an important impacts that influence their businesses.
Most if not all would all likely admit the importance that capital and financing plays in the industry.
The timing of the Berkshire Hathaway annual report is noteworthy.  It comes at about the same times as the deadline for public comments that the Department of Housing and Urban Development (HUD) has made for the top-down-review of the manufactured housing program it regulates. Those comments to HUD are due at 11:59 PM tonight, 2.26.2018.
Federal Manufactured Housing Program Review Comments Due Next Week, 2.26.2018
The entire Buffett/Berkshire annual letter and report are found as a download at the end of this report, provided by the Daily Business News under fair use guidelines.
Let's look at some notable quotes from the annual letter and report.  Those facts will be followed by analysis of the quotes and data.
Notable Facts and Quotes
Keep in mind that while Clayton Homes is in the housing business, Berkshire lists it under financial services. From the Berkshire Hathaway Inc. 2017 annual report, page 13 (hereafter, just annual report), copyright 2018 © by Warren E. Buffett, page K21:
Finance and Financial Products
"Berkshire's finance and financial products activities include an integrated manufactured housing and finance business, transportation equipment leasing and furniture leasing. Berkshire's finance and financial products businesses employ approximately 25,600 people in the aggregate. Information concerning these activities follows."
Clayton Homes

"Clayton Homes, Inc. ("Clayton"), headquartered near Knoxville, Tennessee, is a vertically integrated housing company utilizing manufactured, modular and site built methods. Clayton's homes are marketed in 48 states through a network of over 2,000 retailers, including 353 company-owned home centers and 118 subdivisions. Home finance and insurance products are offered through its subsidiaries primarily to purchasers of manufactured and modular homes.
In 2015, Clayton acquired its first site builder and has since added four additional site builders. Clayton plans to continue to seek acquisitions that fit its business model. Clayton delivered approximately 49,000 homes in 2017 at various price points. Clayton competes based on price, service, delivery capabilities and product performance and considers the ability to make financing available to retail purchasers a factor affecting the market acceptance of its products.
Clayton's financing programs support company-owned home centers and select independent retailers. Proprietary loan underwriting guidelines have been developed and include ability to repay calculations, including debt to income limits, consideration of residual income and credit score requirements, which are considered in evaluating loan applicants. Currently, approximately 70% of the loan originations are home-only loans and the remaining 30% have land as additional collateral. The average down payment is approximately 15%, which may be from cash, trade or land equity. Certain loan types require an independent third-party valuation; additionally, if land is involved in the transaction it generally is independently appraised in order to establish the value of the land only or the home and the land as a package. Originated loans are at fixed rates and for fixed terms. Loans outstanding include non-government originations, bulk purchases of contracts and notes from banks and other lenders. Clayton also provides inventory financing to certain independent retailers and community operators and services housing contracts and notes that were not purchased or originated. The bulk contract purchases and servicing arrangements may relate to the portfolios of other lenders or finance companies, governmental agencies, or other entities that purchase and hold housing contracts and notes. Clayton also acts as an agent on physical damage insurance policies, homebuyer protection plan policies and other programs."
From annual report, page K-49:
Manufactured housing and finance
"Clayton Homes' revenues were $5.0 billion in 2017, an increase of $780 million (18%) compared to 2016. The revenues increase was primarily due to higher home sales, attributable to an increase in overall unit sales (9%) and higher average prices. The increase in average prices was primarily due to sales mix changes, which reflected increases in site built home sales, a relatively new business for Clayton. Site built homes include higher land content and unit prices tend to be higher, although gross sales margin rates are typically lower than manufactured homes. Interest and financial services revenues increased 2% in 2017 compared to 2016.
Pre-tax earnings increased $21 million (2.8%) in 2017 compared to 2016. Pre-tax earnings in 2017 from manufacturing, retailing and site built activities increased, while earnings from finance activities declined slightly from 2016. Earnings in 2017 also included a gain from a legal settlement, offset by increased employee healthcare, technology, marketing and other expenses. A significant portion of Clayton Homes' earnings are generated from lending activities, which in recent years benefitted from relatively low delinquency rates and loan losses and from low average interest rates on borrowings. As of December 31, 2017, Clayton Homes' installment loan portfolio was approximately $13.7 billion.
Revenues increased $654 million (18%) in 2016 compared to 2015, attributable to a 30% increase in revenues from home sales, primarily due to a 25% increase in units sold and product mix changes. Interest and other financial service income increased 1.8% from 2015. Pre-tax earnings increased $38 million (5.4%) compared to 2015. Earnings benefitted from increased home sales and improved manufacturing and retailing operating margins, partly offset by lower earnings from lending and financial services and increased insurance losses."
More Notable Quotes
From the annual report, page 5.
"Let's move now to bolt-on acquisitions. Some of these were small transactions that I will not detail. Here is an account, however, of a few larger purchases whose closings stretched between late 2016 and early 2018.
Clayton Homes acquired two builders of conventional homes during 2017, a move that more than doubled our presence in a field we entered only three years ago. With these additions – Oakwood Homes in Colorado and Harris Doyle in Birmingham – I expect our 2018 site built volume will exceed $1 billion.
Clayton's emphasis, nonetheless, remains manufactured homes, both their construction and their financing. In 2017 Clayton sold 19,168 units through its own retail operation and wholesaled another 26,706 units to independent retailers. All told, Clayton accounted for 49% of the manufactured-home market last year.
That industry-leading share – about three times what our nearest competitor did – is a far cry from the 13% Clayton achieved in 2003, the year it joined Berkshire. Both Clayton Homes and PFJ are based in Knoxville, where the Clayton and Haslam families have long been friends. Kevin Clayton's comments to the Haslams about the advantages of a Berkshire affiliation, and his admiring comments about the Haslam family to me, helped cement the PFJ deal."
From the annual report, page 13.
"A final lesson from our bet: Stick with big, "easy" decisions and eschew activity."
Quotes and Insights, According to Rupert Hargreaves, GuruFocus on Nasdaq 3.28.2017
Rupert Hargreaves in a column entitled "Warren Buffett and the Importance of Moats," wrote: "Buffett himself only invests in such businesses [those with moats], but the problem is he's never really set out exactly what he's looking for in the best moats."
Hargraves compiled this list of Buffett quotes on moats.
"But all the time, if you've got a wonderful castle, there are people out there who are going to try and attack it and take it away from you. And I want a castle that I can understand, but I want a castle with a moat around it." – Warren Buffett.
From the 2000 Berkshire annual meeting:
"So we think in terms of that moat and the ability to keep its width and its impossibility of being crossed as the primary criterion of a great business. And we tell our managers we want the moat widened every year. That doesn't necessarily mean the profit will be more this year than it was last year because it won't be sometimes. However, if the moat is widened every year, the business will do very well. When we see a moat that's tenuous in any way – it's just too risky. We don't know how to evaluate that. And, therefore, we leave it alone. We think that all of our businesses – or virtually all of our businesses — have pretty darned good moats." – Warren Buffett.
"…I don't want a business that's easy for competitors. I want a business with a moat around it with a very valuable castle in the middle. And then I want the duke who's in charge of that castle to be honest and hard-working and able. And then I want a big moat around the castle, and that moat can be various things." – Warren Buffett.  
"…Most people will assume the service is fairly identical among companies, or close enough, so they're going to do it on cost, so I gotta be the low-cost producer. That's my moat. To the extent my costs get further lower than the other guy, I've thrown a couple of sharks into the moat."  – Warren Buffett. 
Note, these quotes may reference other products and services.  But industry readers and researchers must keep in mind that these are principles that Buffett himself and his partner, Vice-Chairman Charlie Munger, have applied to all of their investments.
"…Things are all the time changing that moat in one direction or another. Ten years from now you can see the difference. Our managers of the businesses we run, I've got one message to them, which is to widen the moat. And we want to throw crocodiles and sharks and everything else, gators, I guess, into the moat to keep away competitors. And that comes about through service, it comes about through quality of product, it comes about through cost, it comes about sometimes through patents, it comes about through real estate location." – Warren Buffett. 
Other Sources and Quotes on Buffett about Competition and the Moat
WarrenBuffett.com says, "In business, I look for economic castles protected by unbreachable moats." – Warren Buffett.
In Charlie Munger on Moats First of the Four Essential Filters, "
1.    A business with a moat,
2.    A business that can be understood by the investor,
3.    Management in place with integrity and talent, and
4.    A business that can be bought at an attractive price that gives an attractive margin of safety." – Charlie Munger, Berkshire Vice-Chairman.
"Stocks of companies selling commodity-like products should come with a warning label: 'Competition may prove hazardous to human wealth.'" – Warren Buffett, per Sure Dividend. 
There are more such quotes about Buffett and the Berkshire philosophy, but perhaps among the most relevant for the industry are those from Kevin Clayton in the video linked in the report below.
Kevin Clayton Interview-Warren Buffett's Berkshire Hathaway, Clayton Homes CEO
Analysis and Commentary 
Against that backdrop, lets return to this year's letter.
Starting bottom of page 8, top of page 9 of the annual letter.
"I have told you several times about HomeServices, our growing real estate brokerage operation. Berkshire backed into this business in 2000 when we acquired a majority interest in MidAmerican Energy (now named Berkshire Hathaway Energy).  MidAmerican's activities were then largely in the electric utility field, and I originally paid little attention to HomeServices.
But, year-by-year, the company added brokers and, by the end of 2016, HomeServices was the second-largest brokerage operation in the country – still ranking, though, far behind the leader, Realogy.
In 2017, however, HomeServices' growth exploded. We acquired the industry's third-largest operator, Long and Foster; number 12, Houlihan Lawrence; and Gloria Nilson. With those purchases we added 12,300 agents, raising our total to 40,950. HomeServices is now close to leading the country in home sales, having participated (including our three acquisitions pro-forma) in $127 billion of "sides" during 2017.
To explain that term, there are two "sides" to every transaction; if we represent both buyer and seller, the dollar value of the transaction is counted twice.
Despite its recent acquisitions, HomeServices is on track to do only about 3% of the country's homebrokerage business in 2018. That leaves 97% to go. Given sensible prices, we will keep adding brokers in this most fundamental of businesses."
The 97 percent statement about housing, isn't that arguably a clearly monopolistic phrase? 

Or Buffett's comments about Clayton growing from 13% in 2003 to 49% by 2017 – in the light of the quotes above and linked, isn't it also part of a monopolistic pattern? 
For those who compete with Buffett, you must think years ahead, because Buffett and his unit managers do. 
It is worth recalling that Fleetwood was once a powerful presence in manufactured home production and retail – duking it out in the late 1990s, and early 2000s – with Champion for the top spot. But after the "smoking gun" incident, as Kevin Clayton noted in his own words in the video in the report linked further above, Fleetwood's retail was acquired by Clayton. 
Killing Off 100s of Independent Manufactured Home Retailers, Production Companies – Tim Williams/21st Mortgage "Smoking Gun" Document 2
No doubt, in fitting with the Berkshire way, at a bargain price…
"We Provide, You Decide."  ©
Berkshire Chairman Warren Buffett's annual letter to shareholders, and the Berkshire Hathaway annual report, are linked here as a download. ## (News, analysis, and commentary.)
Don't be the last to know. Over 1,000 new subscribers in the past 2 months. Thousands More "Get It."
Sign Up Today! Click here to sign up in 5 seconds for the manufactured home industry's leading – and still growing – emailed headline news updates. You'll see in the first issue or two why big, medium and 'mom-and-pop' professionals are reading these headline news items by the thousands. These are typically delivered twice weekly to your in box.
(Third party images, and cites are provided under fair use guidelines.)
Follow us on Twitter:
ManufacturedHomes
@mhmsmcom

Submitted by Soheyla Kovach to the Daily Business News for MHProNews.com.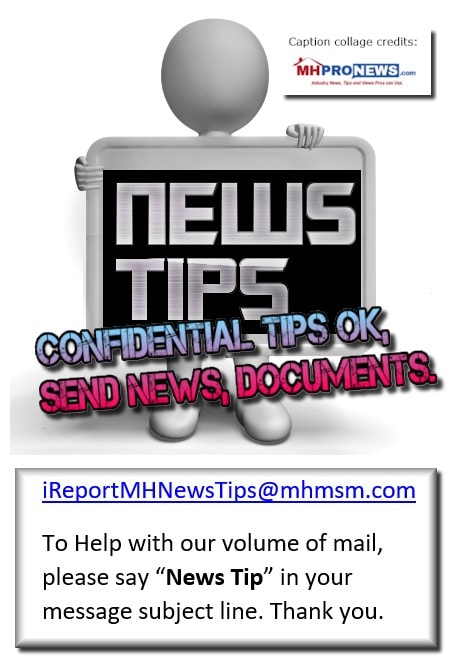 Soheyla is a managing member of LifeStyle Factory Homes, LLC, the parent company to MHProNews, and MHLivingNews.com.