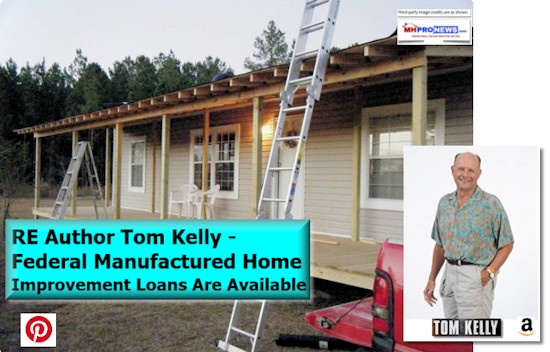 In the Spokesman Review, real estate author Tom Kelly points to the use of FHA Title I loans as a way for manufactured and conventional home owners to borrow money for home improvements.
All kinds of housing, as they age, require updates, maintenance, or the home owner just may want to do upgrades — such as new appliances.
Author Kelly asserts that for many that may have trouble getting a conventional home improvement loan, the answer for the credit needed may be found in FHA's Title I loan program, even though that's not what most people think about when it comes to FHA lending.
"The loan is great for people who can't borrow any more money in the conventional market," says Kelly.
"And, up to $7,500 is available to borrowers with manufactured homes that are classified as personal property," Kelly stated, adding, "These homes typically are in a manufactured home park, or they do not have a permanent foundation or are where the homeowner does not own the property beneath the home."

Rephrasing, Kelly is addressing 'home only financing' using Title I for home improvement purposes.
"The Title 1 loan fills a need, but the loan is not inexpensive. Fees vary from lender to lender but can be 10 percent of the loan amount for loans up to $20,000 ($1,000 for a $10,000 loan; $2,000 for $20,000) with interest rates in the 10 to 12 percent range," said Kelly.
"Obviously, these loans are significantly more expensive than home-equity loans. In fact, the interest rate can be double what can be obtained in the conventional market. But some people don't have the luxury of qualifying for the best loans available and need "unconventional" financing just to get on with their lives. Banks and other qualified lenders make these loans from their own funds; HUD then insures the lender against a possible loss," said Kelly, "The loan insurance program is authorized by Title 1 of the National Housing Act, thus the loan name."
Getting More Manufactured Home Financing Options?  HUD Comments Provide Unique Door,
The topic of Title 1 reform has been raised recently in connection with the rapidly approaching deadline for comments on HUD's regulatory reform review of the manufactured housing program.  To learn more about that, click the links shown.
https://www.manufacturedhomelivingnews.com/deadline-looms-federal-request-for-comments-on-manufactured-housing-program-and-you/
As HUD and the manufactured housing industry ponders regulatory changes that impact manufactured home owners and prospective buyers, Kelly's article indirectly raises important issues that are often overlooked when it comes to manufactured homes.
Conventional housing has thousands of lenders willing to loan money for home improvements. It is part of how site-built housing maintains – 'appreciates' – or increases in value. But where are the thousands of lenders standing in line to do similarly for manufactured housing? It is one more topic that the Urban Institute's controversial analysis missed.
Urban Institute Ask for Correction in Analysis of their Manufactured Housing Research, "Follow the Facts," "Follow the Money"
Home improvement loans are  a relevant and important topic that HUD, the industry, and home owners ought to consider as they ask HUD for parity between how manufactured homes are treated, vs. other kinds of housing. ## (News, analysis, and commentary.)
Don't be the last to know. Over 1,000 new subscribers in the past 2 months. Thousands More "Get It."
Sign Up Today! Click here to sign up in 5 seconds for the manufactured home industry's leading – and still growing – emailed headline news updates. You'll see in the first issue or two why big, medium and 'mom-and-pop' professionals are reading these headline news items by the thousands. These are typically delivered twice weekly to your in box.
(Third party images, and cites are provided under fair use guidelines.)
Follow us on Twitter:
ManufacturedHomes
@mhmsmcom

Submitted by Soheyla Kovach to the Daily Business News for MHProNews.com.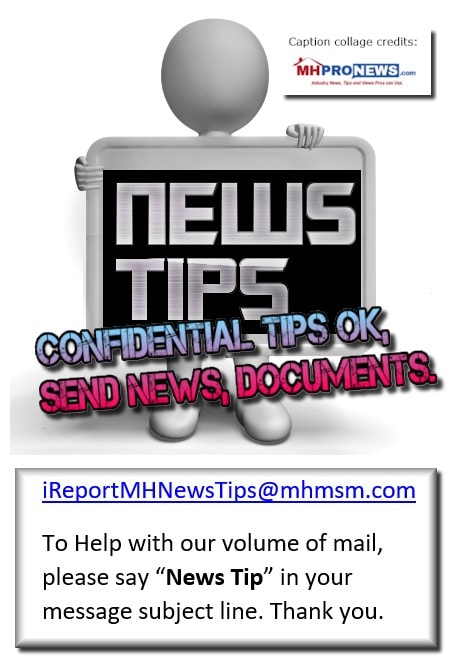 Soheyla is a managing member of LifeStyle Factory Homes, LLC, the parent company to MHProNews, and MHLivingNews.com.