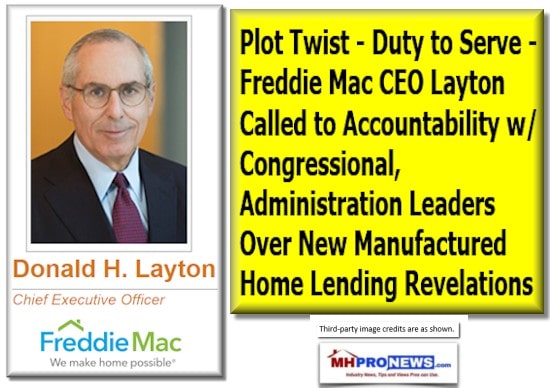 The Duty to Serve (DTS) program for manufactured housing industry retailers, communities and potential home buyers took what may be a problematic twist in news revealed, according to a memo obtained by the Daily Business News.
The memo to Donald H. Layton, Chief Executive Officer, Freddie Mac – one of the largest lenders in the nation, cc'd Congressional leaders and Trump Administration officials as follows:
Hon. Michael Crapo
Hon. Sherrod Brown
Hon. Jeb Hensarling
Hon. Maxine Waters
Hon. Jeff Sessions
Hon. Mick Mulvaney
Hon. Gary Cohn
Hon. Melvin Watt
The memo said that, "At a February 26, 2018 telephone conference meeting of the MHIT, Freddie Mac representative, Ms. Simone Beatty, indicated, for the first time, that Freddie Mac plans to pursue implementation of a "pilot program" — on an expedited basis (i.e., during June and July 2018) — for loans on an undefined "new class" of manufactured homes, apparently based on the exclusionary (i.e., limited to MHI members) / proprietary MHI "new class" of manufactured home research and development activity."
The MHIT meetings are supposed to be confidential, sources tell MHProNews. 
But when the Daily Business News inquired, 'how can an important public policy matter like this that impacts thousands of businesses be kept confidential?' no reasonable response has come forward from any source yet.
Secrecy over DTS regulations defies common sense.  MHProNews has called on the Federal Housing Finance Agency (FHFA), the Government Sponsored Enterprises (GSEs) and the Manufactured Housing Institute (MHI) to produce all minutes from all meetings, for complete transparency in a process that critics say has notably provided Berkshire Hathaway lenders with a windfall every year that the program has been delayed.
Per the memo, obtained today by MHProNews, and linked here and here as a download, says in part:
"...a participant in Freddie Mac's "Manufactured Housing Initiative Task Force" (MHIT), has learned that Freddie Mac apparently plans to divert an unspecified portion of its already minimal and wholly inadequate support of the manufactured housing market under DTS to a so-called "new class" of manufactured homes which is currently being researched and developed on an exclusionary, proprietary basis by the Manufactured Housing Institute (MHI), under the direction and authority of a control group comprised, in relevant part, of executives of the industry's three largest manufacturers."
As noted, the memo CC'd key Washington leaders, concludes by saying:
"For Freddie Mac, after ten years of inaction on DTS, followed by a blatantly inadequate DTS implementation plan, to now even consider diverting any aspect or portion of DTS to a "new class" of proprietary, high-priced, non-affordable manufactured home, is indefensible, inexcusable, in direct defiance of DTS, and unacceptable," said Mark Weiss, President and CEO of the Manufactured Housing Association for Regulatory Reform (MHARR). Weiss says MHARR will take any and all steps necessary to see that this rerouting of DTS monies won't go to the controversial, so-called 'new class' of manufactured homes.
FHFA Publishes Fannie Mae's and Freddie Mac's Underserved Markets Plans for Duty to Serve (DTS) Program
Once more, the link to the full memo is here, or is available here as a downloadable PDF of the document provided. ## (News, analysis, and commentary.)
Related:
'Over Target' Reactions, WHA Exec (ret) Ross Kinzler, Won't Defend MHI Policies & Points to Prior MHI Failure, Ross Kinzler, Amy Bliss, George Allen, Rick Robinson, Tim Williams, Richard Dick Jennison, Daily Business News, Masthead blog, MHProNews,
Keith Anderson, CEO Champion Homes, MHI 'New Class' Monopoly Concerns Memo, 'Harms Owners, Independents'
Wisconsin Housing Alliance – an MHI 'Affiliate' – Amy Bliss' Messages Raise New Anti-Trust Issue
Duty To Serve, "Complete Waste of Time" per Tim Williams, CEO/21st Mortgage; POTUS Trump, Warren Buffett Insight$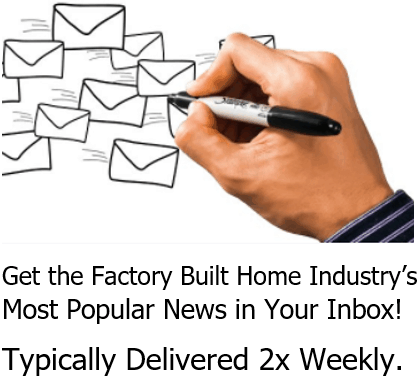 Don't be the last to know. Over 1,000 new subscribers in the past 2 months. Thousands More "Get It."
Sign Up Today! Click here to sign up in 5 seconds for the manufactured home industry's leading – and still growing – emailed headline news updates. You'll see in the first issue or two why big, medium and 'mom-and-pop' professionals are reading these headline news items by the thousands. These are typically delivered twice weekly to your in box.
(Third party images, and cites are provided under fair use guidelines.)
Follow us on Twitter:
ManufacturedHomes
@mhmsmcom

Submitted by Soheyla Kovach to the Daily Business News for MHProNews.com.
Soheyla is a managing member of LifeStyle Factory Homes, LLC, the parent company to MHProNews, and MHLivingNews.com.