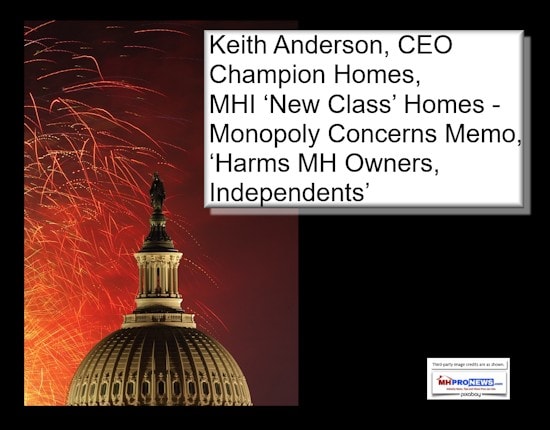 As the Daily Business News noted in a recent report, corporate officers have responsibilities to shareholders.
Association leaders have a similar responsibility to their members.
The question of monopoly – an anti-trust law issue – is one being raised across the political spectrum.  From voices as different as The Nation on the far left to Breitbart on the far right, concerns that a few mega-companies are harmfully dominating the marketplace are growing in number.
And those outside voices are growing in their respective sense of urgency.
The Nation's recent multi-part look at issue of monopoly specifically addresses Warren Buffett, Clayton Homes and manufactured housing.  It's not just voices inside the industry, that the Daily Business News has been reporting on for over a year.
Elected congressman, senators,
universities,
media,
think tanks,
business and investors,
media across the left-right political divide
are all studying this question.  Some have looked specifically at manufactured housing.
It is an issue that CFED – since rebranded as Prosperity Now – previously raised too, as has the Manufactured Housing Association for Regulatory Reform (MHARR), and other voices within manufactured housing.
Against that backdrop, MHProNews' publisher sent an inquiry like the following to the leadership of the Manufactured Housing Institute.  Another message was posed prior to the one to MHI that follows, specifically to Champion Home Builders president, Keith Anderson.
—– start of emailed memo w/requests to MHI leadership —–
"MHI Leadership,
We advised Keith @ Champion in the message below that we are seeking a response to certain issues related to MHI, and the controversies over the allegedly monopolistic and potentially harmful impact of the 'new class of manufactured homes' they plan.
MHProNews is hereby asking MHI again to directly supply to us for publication, any and all information and correspondence by any means related to this 'new class of manufactured homes,' as it has the potential to negatively impact hundreds if not thousands of businesses, and the home values of millions of existing manufactured home owners.
If you see any facts or information that you deem inaccurate, please explain so in writing, and for publication. We have a deadline for this, so a prompt response is welcomed.
Thank you, see the forward below for added details.
Respectfully,
Tony…"
—– end of emailed memo w/requests to MHI leadership —–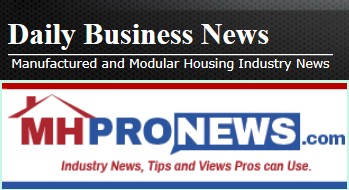 The Daily Business News notes for readers that it was about a year ago when the Manufactured Housing Institute (MHI) began to no longer directly reply to this pro-industry trade media when questions were asked about pending issues of industry interest.
That said, MHI has at times replied indirectly through their own email news, or through surrogates. More on those and other related topics, linked further below.
But as a reminder to long time and new readers, prior to avoiding questions, numerous MHI leaders had publicly praised MHProNews and made themselves available for questions on a routine and prompt basis, a key example is linked.  The point?  Why did that prompt reply policy change?
As another reminder, we continue to provide the balance and depth of analysis and coverage of issues not found anywhere else in manufactured housing trade publishing.
Direct questions of broad concern to the industry ought not be construed as an attack, but rather as an opportunity to for those questioned to explain, confirm, or clarify.  It's what mainstream media does – when it is reporting fairly – too.
We cover the good news, as well as the problematic and controversial.
New HUD Code Manufactured Home Factory Opening, State Announces Hundreds of News Jobs
Against that backdrop, the memo with question sent to Keith Anderson, President of Champion Homes yesterday is like what follows.
—– start of emailed memo w/questions to Keith Anderson —–
"Keith,
Beyond our own direct communications, we are informed by reliable sources that you and several team members at Champion closely follow MHProNews.
So, you aware of the concerns we've raised about allegedly monopolistic practices that involve the Manufactured Housing Institute (MHI), and some larger players who are influential members there.
It is our understanding that Champion is 'all in' with MHI, and MHI aligned state association 'affiliates.'  Kindly feel free to correct any mistakes in my message.
With that backdrop, we are asking you for your emailed reply comments/reaction to the following. You can note your replies as off-the-record, or from a Champion spokesperson, but we would prefer an on the record reply, directly from you.
1) As an industry expert and as trade media, there seems to be no logical predicate for the so-called 'new class of manufactured homes' being promoted by MHI, other than a potentially monopolistic one.
– the HUD Code already provides you with a wide latitude in design, and features, that you or other producers can market your homes however you wish, within normal legal constraints.
– there are already sales being made using existing HUD Code home designs and nomenclature under the current HUD Code to the same target markets that the 'new class of homes' are purportedly designed to attract.
2) So other than a monopolistic goal, with a supposed aim to marginalize non-participating companies, what is the rationale for this new class of homes?
3) Why is MHI attempting to keep the documents related to this so-called 'new class of homes secret' from the industry's top trade media, and by extension, from the bulk of the industry itself?
– Why did Richard 'Dick' Jennison cancel his public presentation with Ducker Worldwide on this topic at Louisville, shortly before it was set to begin, other than to avoid our coverage of the topic? After all, he was photographed on the show floor at the very time the presentation was supposed to be taking place?
4) Isn't it possible, or even likely, that this planned 'new class' of federally regulated homes is going to have the practical effect of undermining the resale values of every other HUD Code manufactured home?
– Wouldn't that in turn cause billions of dollars in damages to the value of current manufactured home owners, as well as to the pending consumers of manufactured homes?
– Wouldn't that also harm the sales of non-participating manufactured home producers?
– Won't that likewise cause retailers and communities who don't participate in this plan market harm as well?
5) We are told by a senior source at Skyline Corporation that they asked to 'join the club' involved in this proposed 'new class of manufactured homes.' Please confirm or clarify that statement and the implied concern, vis a viz, the above.
6) As your firm, Clayton Homes and Cavco Industries have said in connection with MHI, your three producing firms are about 70 percent of the production of the industry already. Isn't this planned 'new class of homes' just one more example of how key MHI members are leveraging situations to further consolidate (allegedly monopolize) the industry?
We have reports that we plan for today and/possibly tomorrow, and you've been tracking the issues on MHProNews, including the 'Trojan Horse' article linked in our most recent emailed headline news update – which is provided below as a reminder and a courtesy – so your prompt reply is valued.
In terms of the total impact of the allegedly monopolistic practices, there seems to be good scholarship that suggests it could total into the hundreds of billions of dollars.  Please note the 'YIMBY vs. NIMBY – Obama Admin Concept' report linked below; if you didn't already read that last in the light of the monopolistic impact of this 'new class of homes' on other HUD Code manufactured homes, financing, incomplete media engagement, and other MHI related issues.  Please scroll past my by line for those or other potentially related links.
Finally, please Note that we are bcc'ing interested select industry parties, including legal and federal sources, to document the query, and to underscore the urgency of the issues we are asking for your comments on.
Thank you for your prompt attention to this matter.
Respectfully,
Tony 
L. A. "Tony" Kovach
Managing Member
LifeStyle Factory Homes, LLC – DBN
MHProNews.com and MHLivingNews.com, et al."
—– end of emailed memo w/questions to Keith Anderson —–
Messages like those shown above drew replies on and off the record.
Among those replies were on the record ones from George F. Allen, who asserts that he has dropped his membership at MHI.  If so, Allen's not alone.
State Associations, Companies Quit Membership in Manufactured Housing Institute, (MHI), One Explains in Writing, 'Why?'
Note a related article, that addresses some of Allen's concerns, linked below.
"F-Bombs" Fly – Cursing Manufactured Housing and Tornadoes – Engaging Public, Experts, Officials, and Media
Another reply came from Amy Bliss at the Wisconsin Housing Alliance (WHA).
Wisconsin Housing Alliance – an MHI 'Affiliate' – Amy Bliss' Messages Raise New Anti-Trust Issue
Both of those industry's professionals words will be shared at length, verbatim and examined in follow ups.  This article should be updated with links to that follow up.
Both the Allen and Bliss messages were packed with interesting points.
Secretive "NEW" Class of Manufactured Housing Raises Serious Concerns
Why This Matters to Manufactured Housing Professionals, Investors and Policy Advocates
As was noted at the top, concerns about monopoly across industries are growing, so in that sense, it isn't unusual that manufactured housing would likewise have that kind of concern. In England, one source said that anti-trust laws are trigged at 25 percent market share.  That's there, but what about the U.S.?
It isn't so cut and dried.  But there are voices that say that monopolies have been reached, or exceeded.  Its an issue that arguably poses a threat to every industry independent involved in manufactured housing.  Watch for follow up reports, and for more information, follow the links below.
"We Provide, You Decide." © ## (News, analysis, and commentary.)
Notice: 'The MHI Party line' is said to be that there is 'no there there,' or that 'there is nothing to see, no cause for alarm, move on.' If MHI is saying through their surrogates that there are no conspiracies (we don't say conspiracy, we say the facts are hiding in plain sight) so, then why are a growing number of voices outside of the industry that are studying manufactured housing focusing on some of the same issues that MHProNews has been reporting on for over a year?
Common sense suggests where many see smoke, there is a need to look for the cause of the fire.
Related:
Fiduciary Responsibility to Corp Shareholders-MH Anti-Trust Concerns; Plus MH Market UPdate$
Progressive "Nation" Reports on Monopolies Cites Buffett, Clayton, Others – MH Industry Impact?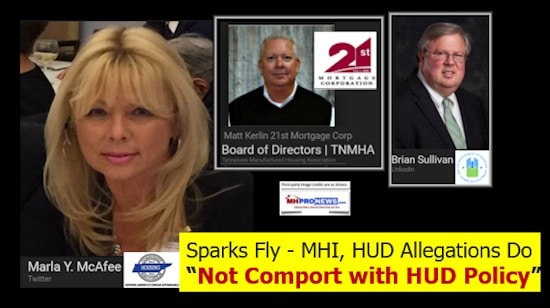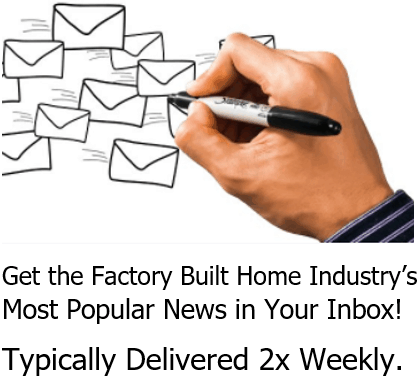 Don't be the last to know. Over 1,000 new subscribers in the past 2 months. Thousands More "Get It."
Sign Up Today! Click here to sign up in 5 seconds for the manufactured home industry's leading – and still growing – emailed headline news updates. You'll see in the first issue or two why big, medium and 'mom-and-pop' professionals are reading these headline news items by the thousands. These are typically delivered twice weekly to your in box.
(Third party images, and cites are provided under fair use guidelines.)
Follow us on Twitter:
ManufacturedHomes
@mhmsmcom
By L. A. "Tony" Kovach to the Daily Business News for MHProNews.com.
Tony is a managing member of LifeStyle Factory Homes, LLC, the parent company to MHProNews, and MHLivingNews.com.