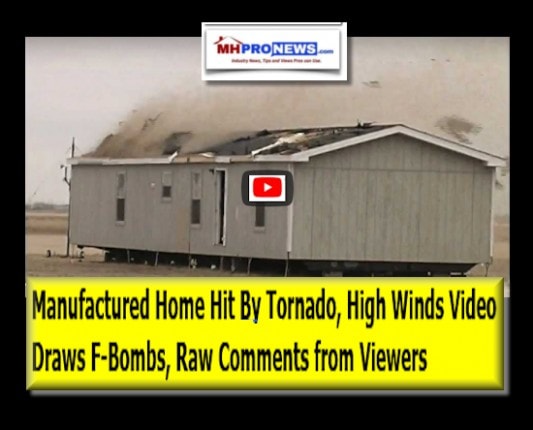 When you seriously engage the public on the topic of manufactured homes, perhaps especially when it involves tornado safety, you better be thick skinned. The following are examples of real comments, from real people…
"Bull-sh-t!"

"Mother-f-cker!"

"Liar!"
…are just some of the hundreds of posted feedback received – which have overall been a mix of good, bad and meh.  You'll see a few recent examples of online discussions with some pretty heated accusers.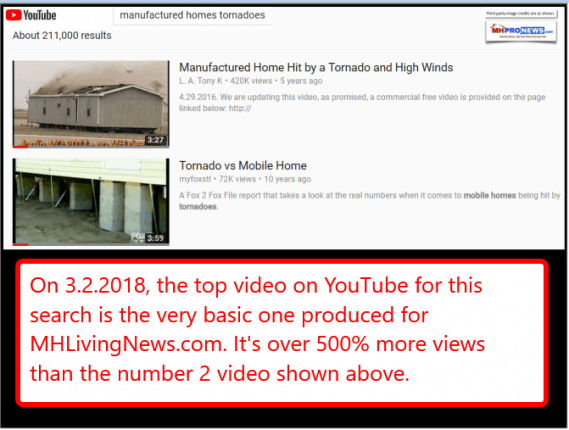 One of the most popular manufactured home videos on YouTube is a very basic one created by MHProNews using original footage from a test conducted at Texas Tech University, with an "Air Guard" C-130 some years ago.
The video was our first stab at a 'desktop' production; and while it was okay for a first effort then, it clearly looks dated now.
That said, when you top 400,000 views on YouTube, that's not bad. It is routinely at or near the top video in the search for manufactured homes and tornadoes on YouTube, as the still above illustrates.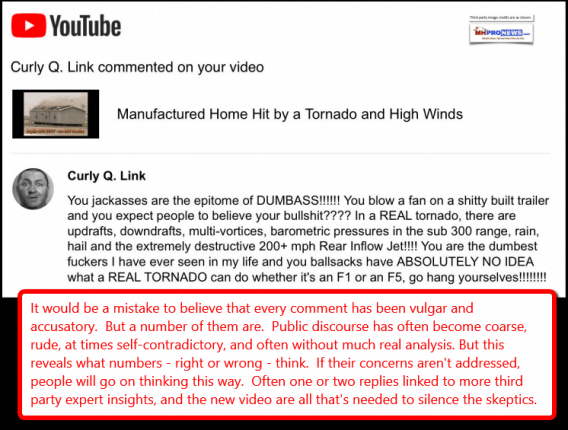 It should be noted that we stick with the facts, and cite sources.  We don't exaggerate.  Some viewers don't read the subtext, or listen to the words in the video, and so they get a false impression.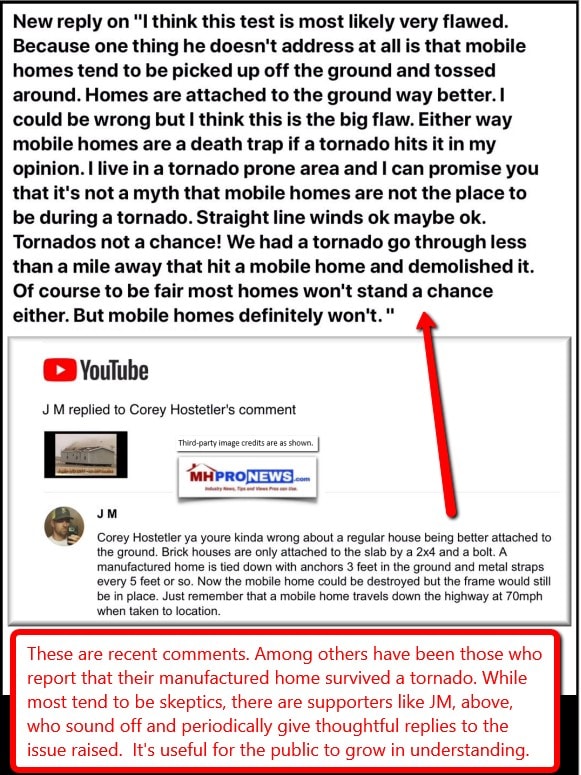 Regardless, engaging with those who post comments is useful.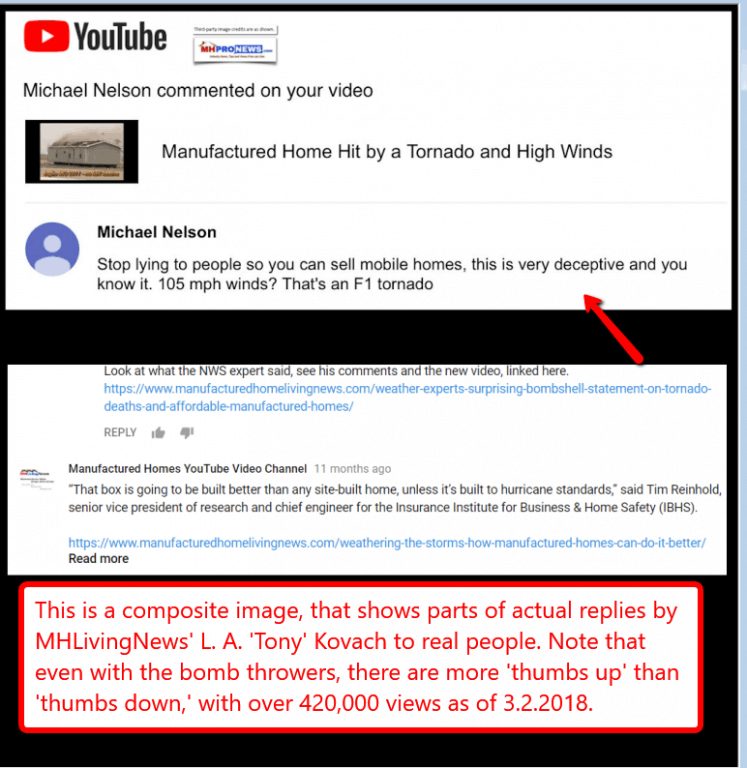 One may not convert the accuser, but there are thousands who see those comments, and they have the opportunity to follow the links to MHLivingNews, and learn more from our newer videos on MHLivingNews that are hosted on commercial-freeVimeo.

An eye-opening statement from a National Weather Service (NWS) expert reveals that tornado related risk of death for residents of mobile or manufactured homes are being improperly warned, and reported. Before diving into that exclusive, written statement from NWS, it is instructive to look at the safety, durability, and quality issue about factory-built homes in a broader way.
Take Aways, Lessons Learned
The lessons and takes ways after years of doing this are many. 
Among them?
Anyone can say they are pro-industry.  For that matter, anyone can claim anything. It's offering evidence, that's what matters. 
So for years on MHProNews and after we launched MHLivingNews, our operation has tried day-by-day to walk-the-talk.  As an industry CEO said, "You [MHProNews | MHLivingNews] have street cred."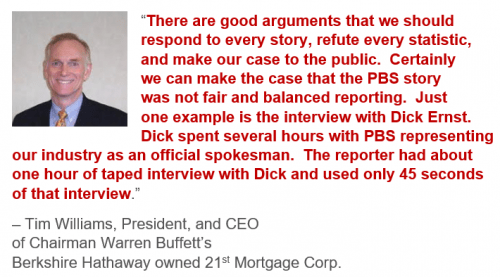 The industry's professionals must grasp a simple reality. False or misleading claims must be debunked.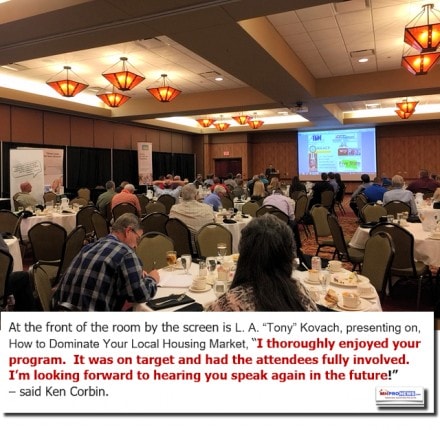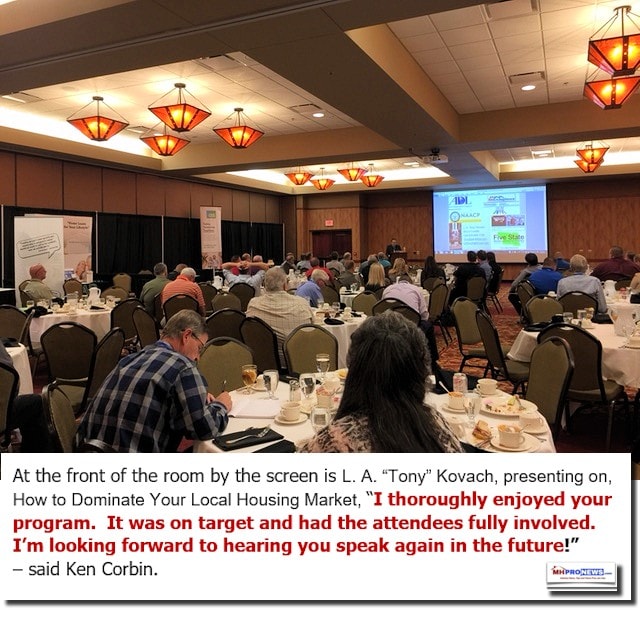 It isn't just our opinion, its a routine question asked during public presentations by Tony Kovach, which draws nearly universal agreement from industry professionals, at events like the one in the photo, above. 
Image concerns, and fear of poor quality, or the false perception of low construction standards are among the items that must be routinely responded to by credible industry voices.
It isn't a popularity contest. Anyone can 'cheer lead.' 
Authentically engaging others on thorny issues has made MHProNews | MHLivingNews the runaway number one trade media for many years.  We've never claimed perfection.  Tony admitted recently to having been mistaken on a key topic. 
So, as former MHI Chairman, and 21st Mortgage Corp President and CEO Tim Williams said on-the-record, if we have a fact error, we correct it.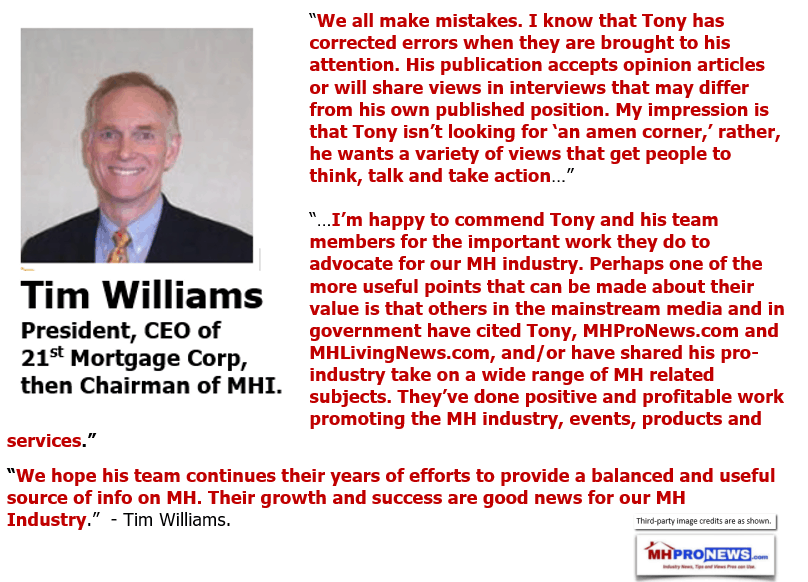 'Shots Fired' by Col George Allen, and the WHA's Amy Bliss
In an upcoming report, blogger and award winning industry veteran "Colonel" George Allen took several shots at our publisher. They are easily debunked for those who care.
For example, Allen questioned Tony Kovach's experience in journalism, research, and publishing.  Col. Allen may either be unaware or wanted to ignore the fact that L. A. 'Tony' Kovach began journalism in high school, where he was the rotating editor for his school's newspaper.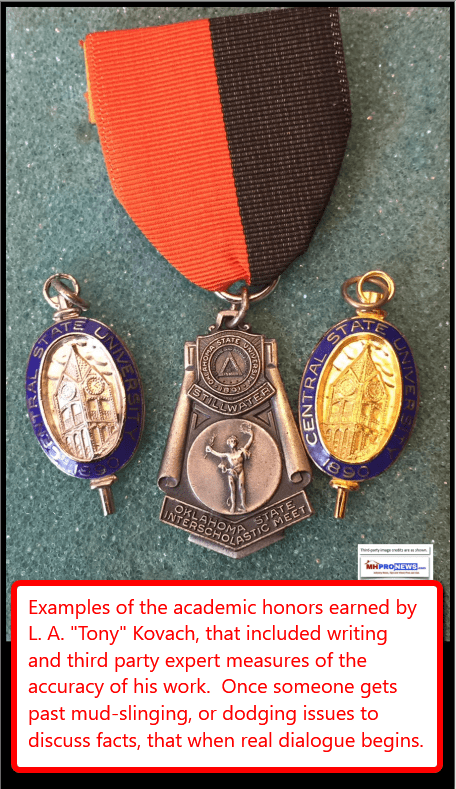 Some committee at the University of Oklahoma must have liked his work, because Tony was given a scholarship in Journalism. In time, he switched to history.  He was the first freshman in the university's history to win the prestigious Lottinville Award in history.
According to the OUDaily, "According to Harlin, Lottinville is a former director of the OU Press and Regents Professor of History Emeritus. The awards are named after his late wife, Rita." Kovach began statewide winning awards in history in high school. There's more, but that serves to disprove Col. Allen's written concerns.
While we've not updated the statistical video posted below, those facts are all from third parties such as Webalizer and Mailchimp.
Our email list has grown substantially since the video above was produced, and continues to rise in the wake of our often controversial, but facts, documents, and accurate-quotes driven reports.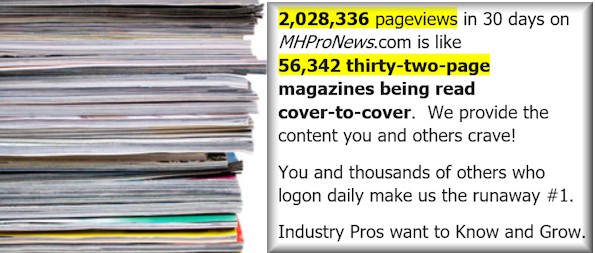 We are not the National Enquirer, but their slogan is a fine one that applies to our industry. Inquiring minds do want to know.  Those minds are both inside and outside of our industry. You, our sources, our sponsors, and team work have made us number one.
As Tim Williams said, if there is a fact error or a differing view that one wishes to present, email us at the link to the bottom, follow the submission tips, below.
The f-bombs demonstrate that we have broad shoulders at MHProNews.  We go where the facts, documents, evidence, and quotes lead us. That's why we invite MHI and all others to publicly discuss the issues that are important for the industry's growth. 
This post will be updated next week with Amy Bliss and George Allen's comments and the emails exchanged. 
"We Provide, You Decide." ©  ## (News, analysis, and commentary.)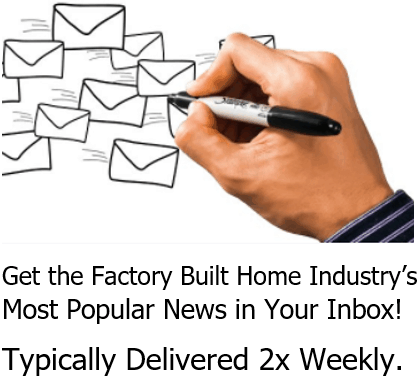 Don't be the last to know. Over 1,000 new subscribers in the past 2 months. Thousands More "Get It."
Sign Up Today! Click here to sign up in 5 seconds for the manufactured home industry's leading – and still growing – emailed headline news updates. You'll see in the first issue or two why big, medium and 'mom-and-pop' professionals are reading these headline news items by the thousands. These are typically delivered twice weekly to your in box.
(Third party images, and cites are provided under fair use guidelines.)
Follow us on Twitter:
ManufacturedHomes
@mhmsmcom

Submitted by Soheyla Kovach to the Daily Business News for MHProNews.com.
Soheyla is a managing member of LifeStyle Factory Homes, LLC, the parent company to MHProNews, and MHLivingNews.com.