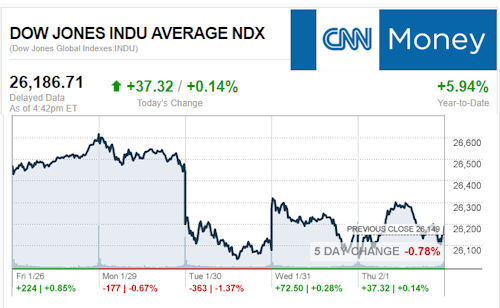 It's not an issue today.
It could become one in the near term.
As the Manufactured Housing Institute (MHI) winter meeting approaches, and there is more talk in the industry about anti-trust concerns, the question has been raised. What are the risks and responsibilities of corporations that could get up into anti-trust issues?
That question will be tonight spotlight, featured further below.
If you're new, already hooked on our new spotlight feature – or are ready to get the MH professional fever – our headline reports are found further below, just beyond the Manufactured Housing Composite Value for today.
The evolving Daily Business News market report sets the manufactured home industry's stocks in the broader context of the overall markets.
Part of this unique feature provides headlines – from both sides of the left-right media divide – that saves readers time, while underscoring topics that may be moving investors, which in turn move the markets.
Readers say this is also a useful quick-review tool that saves researchers time in getting a handle of the manufactured housing industry, through the lens of publicly-traded stocks connected with the manufactured home industry.
MH "Industry News, Tips and Views, Pros Can Use." ©
Selected headlines and bullets from CNN Money:
There's iPhone trouble ahead
Google posts its first $100 billion year
How will Apple create its media empire?
Amazon: We hired 130,000 workers in 2017
Can Amazon rule health care just like books?
Don't count out Boeing's 747. UPS just ordered a batch
Bitcoin has lost half its value in six weeks
NBC will show kneeling players during Super Bowl
Chair of embattled Newsweek Media Group resigns
Amazon urged to pick LGBT-friendly cities for HQ2
What went wrong at the Los Angeles Times?
Selected headlines and bullets from Fox Business:
Amazon's quarterly profit tops $1 billion
Alphabet revenue rises as it reports loss due to tax charge
Atlanta Fed upgrades U.S. first-quarter GDP growth view to above 5%
Initial jobless claim slip, underscoring labor market strength
Stock rally is nearing end; oil has peaked: Here's where to invest
Lockheed Martin's trillion-dollar problem
Google now can predict flight delays before airlines
CBS, Viacom form special committees to explore merger
Lou Holtz defends Notre Dame 'Fighting Irish' logo
FISA memo may blunt Democrats' big weapon, Russia: Varney
Lockheed starts building spaceship for missions to moon, Mars
Elon Musk has sold $10M worth of flamethrowers since Sunday
President Trump to opt out of Super Bowl LII interview
When to claim children as dependents on your taxes
ICYMI – for those not familiar with the "Full Measure," 'left-right' media chart, please click here. 
Reports, Reflections on Media Tilt, Bias, Ignorance, and Manufactured Housing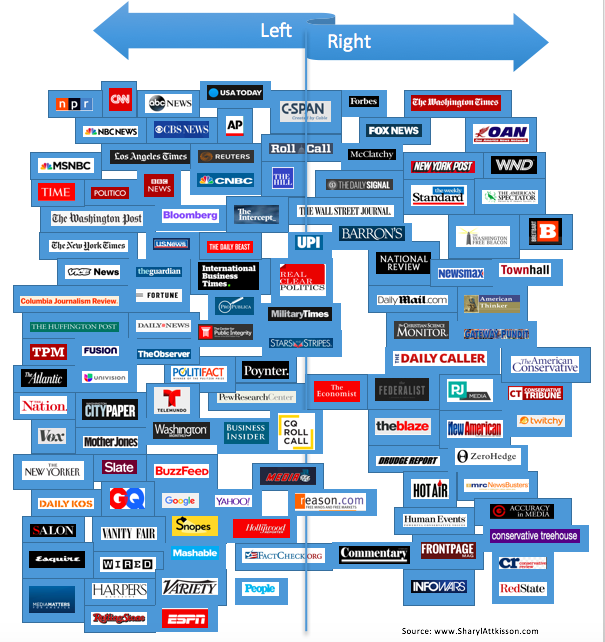 Today's markets and stocks, at the closing bell…
S&P 500 2,821.98 -1.83(-0.06%)
Dow 30 26,186.71 +37.32(+0.14%)
Nasdaq 7,385.86 -25.62(-0.35%)
Russell 2000 1,579.87 +4.88(+0.31%)
Crude Oil 65.98 +1.25(+1.93%)
Gold 1,351.90 +8.80(+0.66%)
Silver 17.21 -0.03(-0.18%)
EUR/USD 1.2503 +0.0092(+0.74%)
10-Yr Bond 2.77 +0.05(+1.95%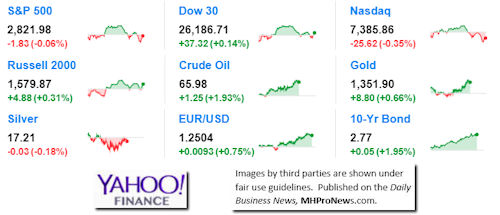 Manufactured Housing Composite Value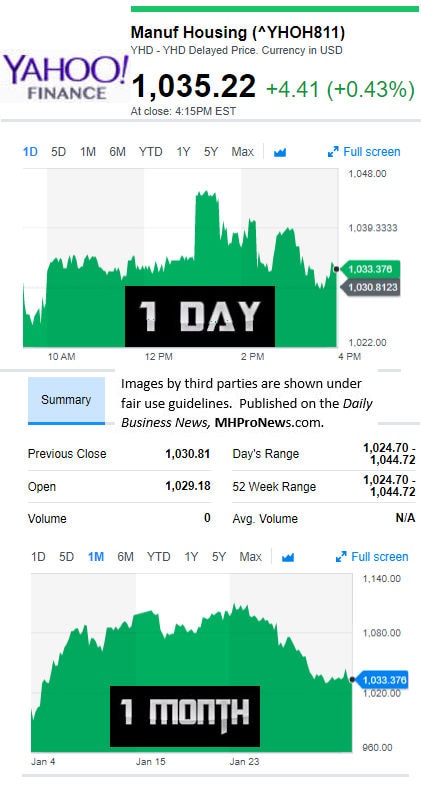 Today's Big Movers
For all the scores and highlights on tracked manufactured home connected stocks today, see the Bloomberg graphic, posted below.
Today's MH Market Spotlight Report –
Anti-Trust, Corporate Duties to Stockholders, and MHI
The spotlight that follows is the start of a topic of industry interest.  While the focus may today be around the Manufactured Housing Institute, and Berkshire Hathaway related controversies, that doesn't mean that it will be limited to them.
This is a trade media feature, not legal advice.
The MHI anti-trust warning document is linked here, as a reference.
The readers digest version?
Based upon our understanding of the issue from legal beagles, there does seem to be various ways that an anti-trust action that hypothetically involved the Manufactured Housing Institute (MHI), could spill over onto member companies.
'We Want Your Money' – 2018 MHI Membership, Infographic Fact Check
MHI Renewing Members – Caveat Emptor
"They act on behalf of the corporation, and they also owe a fiduciary duty to the shareholders of the corporation," said Small Business in the Houston Chronicle.
The New York Times cited legal cases that pointed to the responsibility of a corporate board to shareholders to minimize corporate risk, while maximizing corporate profits.
Warren Buffett, "the Moat," Manufactured Housing, Berkshire Hathaway, Clayton Homes, 21st Mortgage, Vanderbilt, Wells Fargo, NAI…
Or as Investopedia said, "The board of directors is elected by the shareholders of a corporation to oversee and govern management and to make corporate decisions on their behalf. As a result, the board is directly responsible for protecting and managing shareholders' interests in the company."
Kevin Clayton Interview-Warren Buffett's Berkshire Hathaway, Clayton Homes CEO
That there are signals afoot that a showdown could begin, perhaps starting later in 2018, MHI corporate member readers are referred to the following.
The Manufactured Housing Institute has finally provided a series of written responses to concerns raised by a number of industry members. MHI did so to via an email to their members, as they ask them to renew their annual membership dues. Let's make this hyper-simple.
There will be a pre-Winter Meeting tips provided to MHI members.  Questions to ask during their meeting.
The reader's digest version?
The same kinds of questions that were proposed for Louisville ought to be asked in New Orleans by MHI members.
The Top Twelve Questions for Manufactured Housing Institute (MHI) CEO, Richard "Dick" Jennison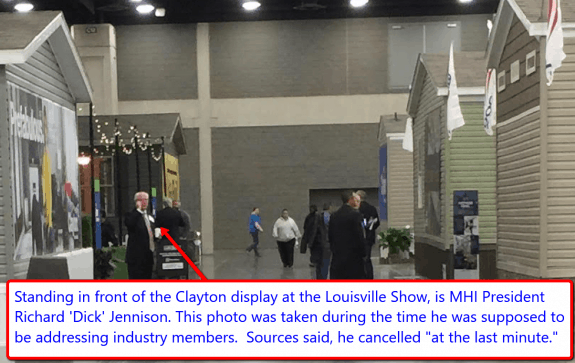 Informed sources suggest that Jennison/Drucker Worldwide won't cancel this time.  Only about half of the state executives normally attend these meetings, but several corporate members will be present.
President Raises the M-Word, "Monopoly," Plus Manufactured Housing Industry Market Update$
It isn't just the president that is considering various kinds of anti-trust actions.
Lawsuits for Triple Damages – Anti-Trust, Anti-Monopoly Law, Manufactured Housing, and You
Will that MHI anti-trust statement protect them?
"We Provide, You Decide." ©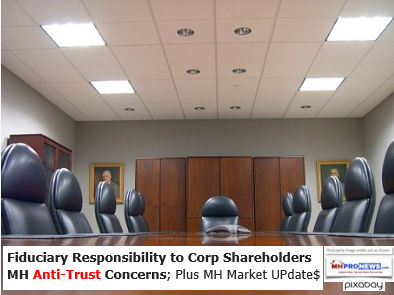 See Recent Exclusive 1 Year Snapshot of All Tracked Stocks
Profitable Insight$ – POTU$ Trump Effect on MH Stock$ at 1 Year, Part 4
Suppliers LPX, Patrick, Manufactured Home Builders Nobility, Skyline Homes – the Trump Effect on MH Stocks, Markets Part 3
Trump Effect – 1 Year Election Impact on Manufactured Housing Connected Stocks, Part 2
Just the Facts – Trump Effect on Manufactured Home Connected Stocks, Part 1
NOTE: The chart below includes the Canadian stock, ECN, which purchased Triad Financial Services.
NOTE: The chart below covers a number of stocks NOT reflected in the Yahoo MHCV, shown above.
NOTE: Drew changed its name and trading symbol at the end of 2016 to Lippert (LCII).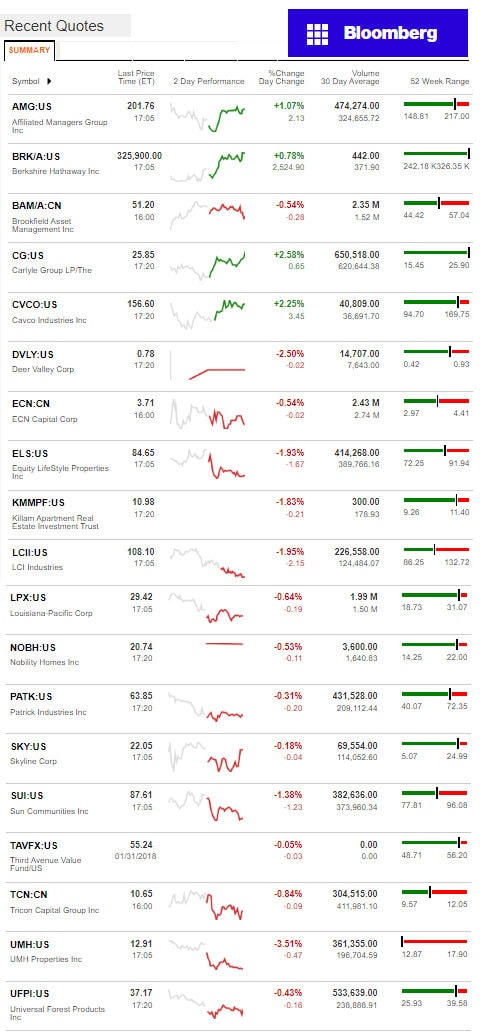 Berkshire Hathaway is the parent company to Clayton Homes, 21st Mortgage, Vanderbilt Mortgage and other factory built housing industry suppliers.
LCI Industries, Patrick, UFPI and LP all supply manufactured housing.
AMG, CG and TAVFX have investments in manufactured housing related businesses.
Your link to a recent round of industry praise for our coverage, is found here.
For the examples of our kudos linked above…plus well over 1,000 positive, public comments, we say – "Thank You for your vote of confidence."
"We Provide, You Decide." © ## (News, Analysis, Commentary.)
(Image credits are as shown above, and when provided by third parties, are shared under fair use guidelines.)

Submitted by Soheyla Kovach to the Daily Business News for MHProNews.com.