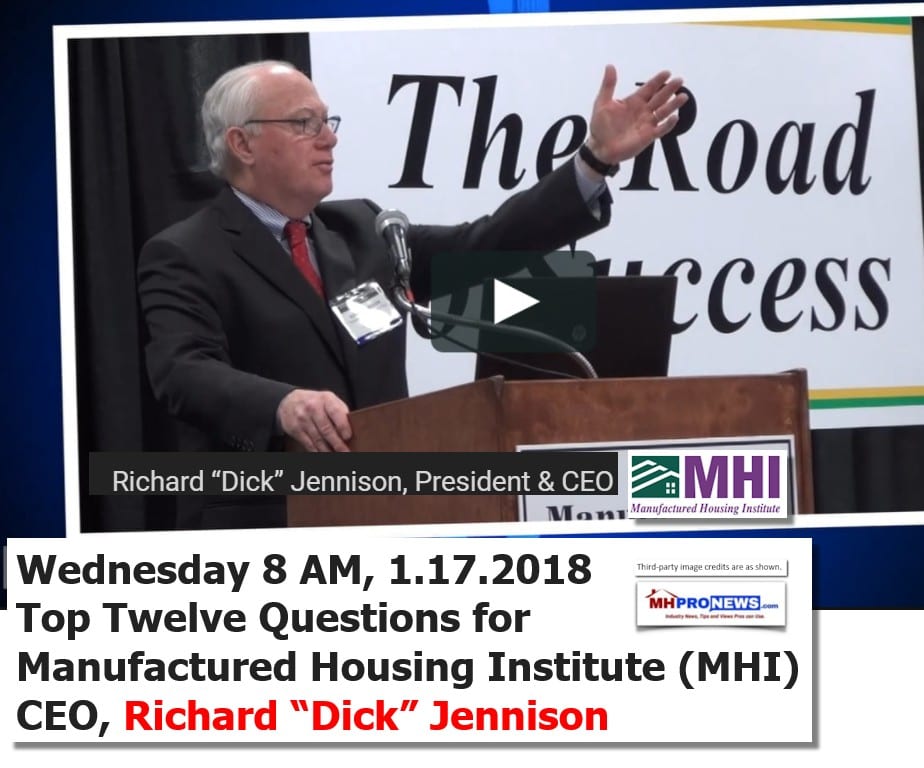 The industry has two national trade association's, but only one claims to represent every segment of the factory-built home industry.  That one would be the Manufactured Housing Institute (MHI).
Whatever they do, whatever they fail to accomplish, it obviously impacts your manufactured home industry's image, and your ability to do your job, or to operate successfully at your location(s).
You can skip to the 12 questions below, or get the background on the questions first.
Today, Wednesday morning at 8 AM, you have a unique chance to be the reporter at the 2018 Louisville Manufactured Housing Show.
It's simple.
First some background, so you'll understand why these questions are important to you, and how much money you could or should be earning during this affordable housing crisis, followed by twelve suggested questions.
If the Manufactured Housing Institute (MHI) and it's president/CEO or other top staff don't take questions, ask yourself, why not??
What does MHI have to hide?
There are reasons to believe that the Manufactured Housing Institute (MHI) is attempting to duck these and other questions that are important to thousands of the industry's independent, non-giant corporate companies.
There are reasons to believe that MHI has pre-arranged to once more duck the opportunity to engage in a question-and-answers with the industry's top trade media.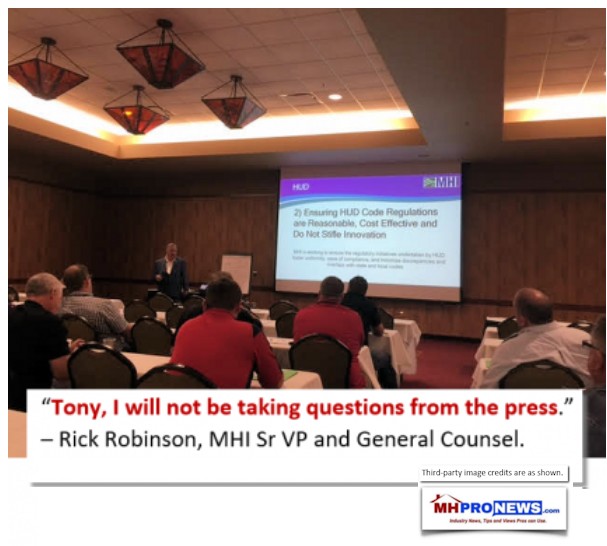 Yet, in 2014, and in 2015 Dick Jennison praised on camera MHProNews, as "a great publication" doing 'a great job for the industry.'

What changed? What is MHI hiding?
Attorney and MHI award winner, Marty Lavin, has simple advice.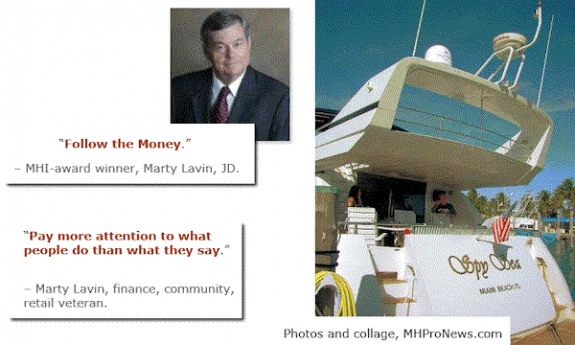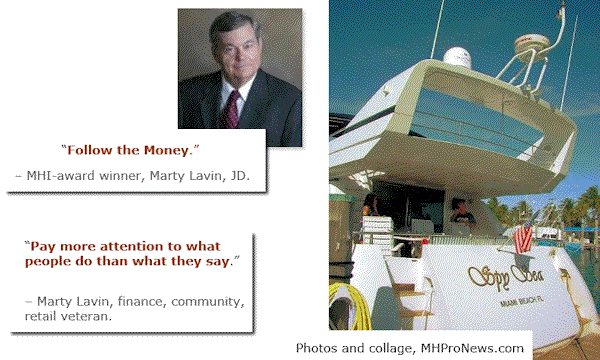 If you or a team member of your company are in Louisville, why don't you be the reporter?
The Kentucky Expo Center (KEC) is a public place.
"You have no expectation of privacy in anything you do or say in public," says Ruth Carter of the Carter Law Firm.
Based upon various court cases, everything that is said or done in a public place should be expected to be recorded, Carter explains.
"Now that everyone carries a smartphone, you should act as if someone is taking photos and shooting video of you all the time and that the footage is going to end up all over the internet or on the front page of the newspaper," per the Carter Law Firm.
Even if a police officer said, "don't video record," the American Civil Liberties Union (ACLU) says, you would still have the right to peacefully do so.
Why? Because it is your constitutionally protected right.
If someone tries to stop you, they would – per legal sources – be opening themselves up to legal liability, perhaps even criminal charges.
So, while we are not attorneys – there seems to be plenty of evidence from those engaged in the law that states that all forms of recoding – audio and video – are permitted.
Yet, MHProNews, this pro-Industry pro-business, pro-consumer trade publication are being stopped from video recording.
Why?  What do they have to hide from thousands of the industry's members?
If they are doing something good for the industry, why wouldn't they want that good news shouted from the rooftops?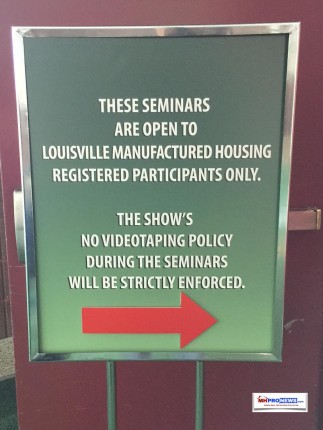 We have emails from show management, after MHI was copied in the message, that states their position that MHProNews can't video record, and that we will be stopped if we attempt to do so.
What are they hiding??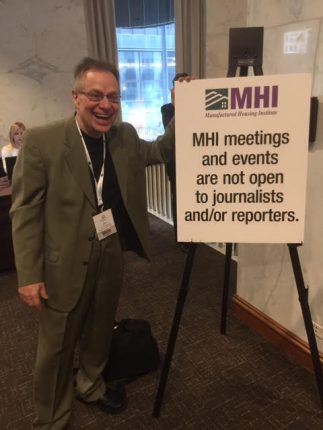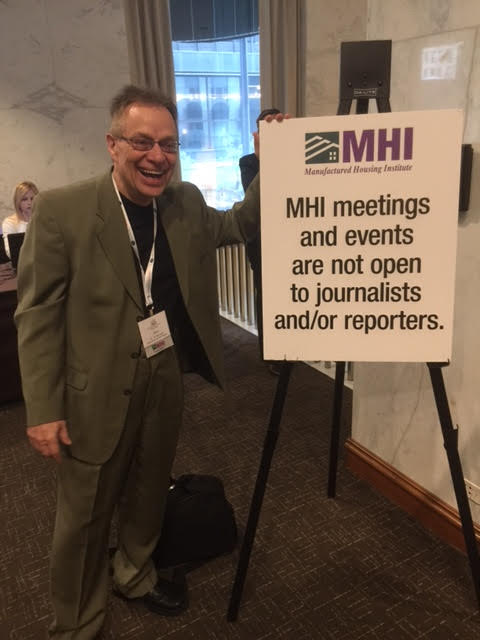 So having been cancelled the year before, and with Louisville Show members say that in writing that the Louisville show itself may not exist if MHProNews hadn't helped bring the show back in 2011, here we are today possibly being excluded from asking questions ourselves.
That should be a warning flare of the industry, and everyone in the show, no matter what sized company you come from.  What's REALLY going on?
Against that backdrop, would you be surprised if they tried to duck questions?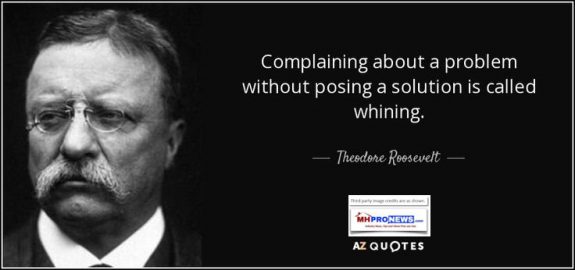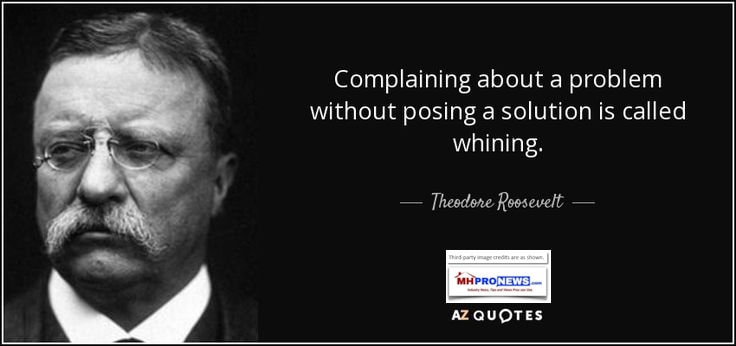 Twelve Suggested Questions for MHI's Dick Jennison
Be polite.
Just ask one question that hasn't already been asked. You don't have to argue.
Just ask one question.  Consider letting Jennison answer, while you or a friend record Jennison's public answer.
MHProNews plans to publish word for word those recorded replies that are provided by industry members.
A) Turn on the recording feature on your smart phone.
B) Be polite. Just ask the question and record the answer. Email that to us later at  iReportMHNewsTips@mhmsm.com.
C) Have this article open on your smart phone as a reminder.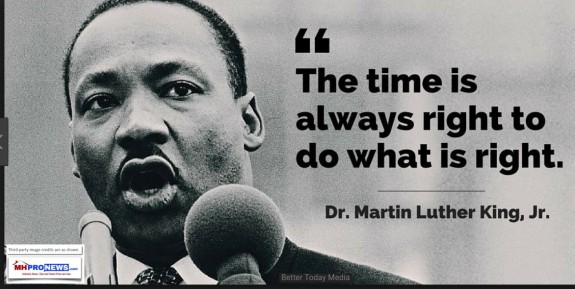 MHProNews – Twelve Suggested Questions for MHI CEO Richard "Dick" Jennison. 
1) The industry's member know how harmful it is when local, regional or national mainstream media publishes a story which is biased against manufactured housing, or misuses the terms "trailer" or "mobile home." Why doesn't MHI have a staffer respond in writing and publish a reply for each and every inaccurate article published by the mainstream media?  Wouldn't that be more powerful than some YouTube videos?
2) The nation needs over 8 million affordable housing units, per the National Low Income Housing Coalition (NLIHC) and the National Association of Reactors Chief Economist, Lawrence Yun.  If MHI's Facebook page, advertorials and videos are so impactful, why is the industry still under 100,000 new home shipments a year, instead of being well over 500,000?
3) There are sources among MHI members and from third parties that say that MHI could have ended the MLO rule by agreement with the non-profits and the CFPB years ago. Why didn't MHI do so?
4) Does the Manufactured Housing Institute (MHI) Policies and advocacy favor big companies over small ones?
5) Why are 4 companies, Clayton, Cavco, Champion and Next Step – all MHI members – the only ones in the MHI co-sponsored videos? Isn't that favoritism of the big companies, and Next Step supported by other big operators, over all the manufactured housing industry companies?
6) Why did MHI support Pam Danner, and why did an MHI paid Vice President go to work for Pam Danner at HUD?
7) Why is MHI having current/former staff sign non-disclosure agreements (NDAs)?  If there is nothing to hide, why have a non-disclosure?
8) In 2015, Dick Jennison promised on video camera, knowing he was being video recorded, that Preserving Access would be passed into law. Frank Rolfe and third parties to the industry all said it was impossible odds. A former MHI VP said in advance it was unlikely to happen. Why did MHI spend millions and waste years in the ineffective effort?
9) An MHI member company president said that MHI's agenda is flip-flopping, and has made no sense for years.  That and others have said the independent manufacturers association, MHARR, is routinely right on the issues, while MHI is wrong. Doesn't years of wasted efforts only help big companies swallow up small companies slowly crushed by regulators?
10) Why did MHI flip flop on the proposed DOE rule?
11) Why didn't MHI member companies that are part of Berkshire Hathaway fail to give the Government Sponsored Enterprises (GSEs) the data required for the GSEs go provide billions in lending, including chattel lending, instead of the relatively small loan levels they are actually going to do after MHI's 'help' in the process?  Is MHI trying to protect the lost profits that would be lost to those giant companies? Is MHI trying to fix the lending market, by not pushing harder, as MHARR has?
12). Why isn't Dick Jennison and MHI willing to routinely discuss on camera question posed by MHProNews? Doesn't that imply there is something to hide?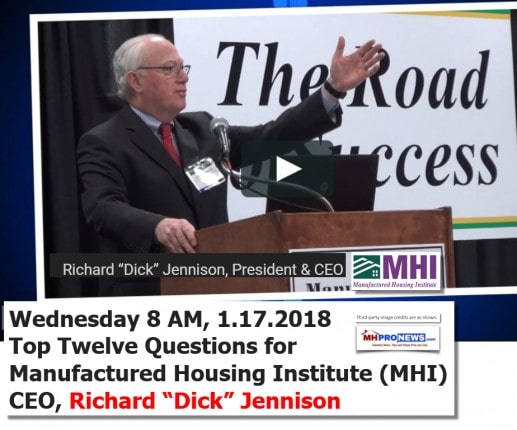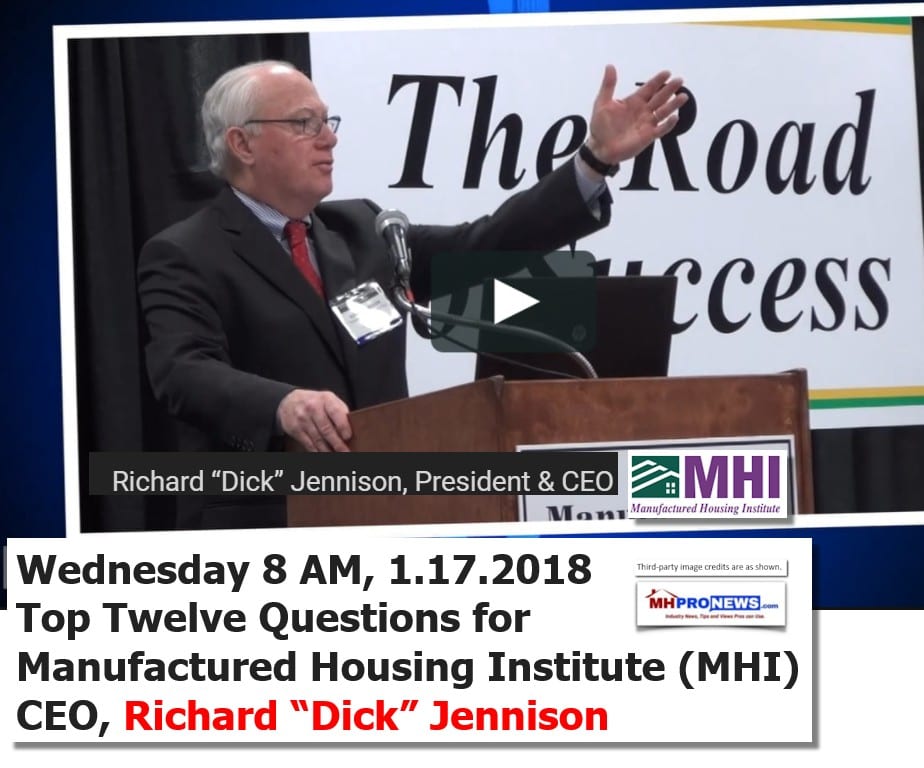 Please consider being a citizen reporter.
It's your industry.  We ought to be doing 500,000 new homes a year, Dick Jennison himself said so in Louisville the year that still was taken by video that was previously allowed by the MMHF.
Aren't they are hiding something, or they would want the coverage?
We at MHProNews/MHLivingNews are fighting for the growth of the industry, and have for years.  Aren't these MHI people either failing by accident, or by design?  Help us, help you, help millions more to become manufactured home owners.
Please email those replies you or a buddy record to  iReportMHNewsTips@mhmsm.com. Thank you. ##(News, analysis, commentary.)
Update 1.18.2018 – Jennison was a no-show to his own presentation, even though he was on the trade show floor.  Why?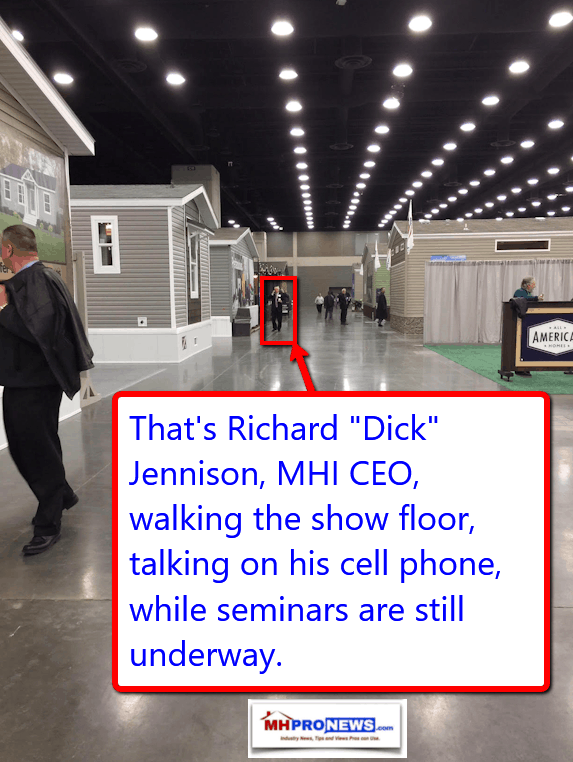 Note 1: Stay in the know! Thousands of MH Pros, Investors, Officials and Housing Experts do it. You, your team, and industry colleagues can sign up to the MH Industry leading headline news/updates – typically sent twice weekly – click here to sign up in just seconds.
(Third party images are provided under fair use guidelines.)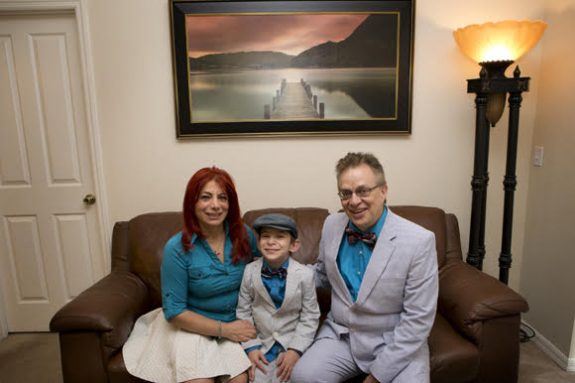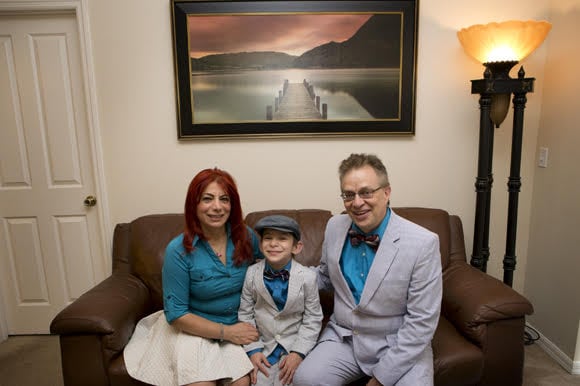 Submitted by Soheyla Kovach to the Daily Business News for MHProNews.com.