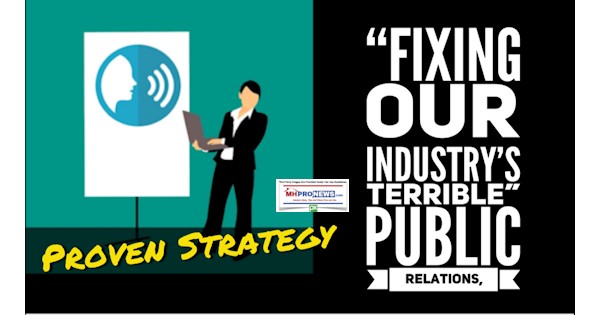 This is a "Feedback Edition" – featuring comments from MH Industry Voices – that is still part of our normal Monday Morning Marketing and Sales meeting.  You could summarize the topic like this.  Shouldn't our job selling homes that are quality for so much less be easier than it is?  What can be done to change the perceptions that cause sales to be so relatively low, when the needs are so great?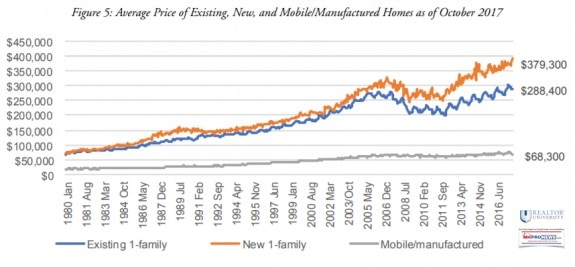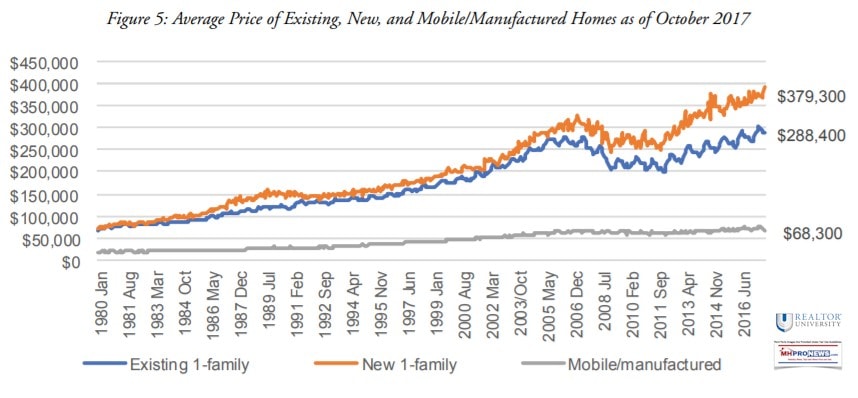 Let's start by saying that the punch line to the headline may not be what you'd think.  Every marketer and seller requires a strategy to navigate their unique SWOT.
That said, let's look at a series of messages from various industry voices from different parts of the country.

Because the following industry voices see as part of their SWOT, challenges previously expressed by independent community and retail professionals shown.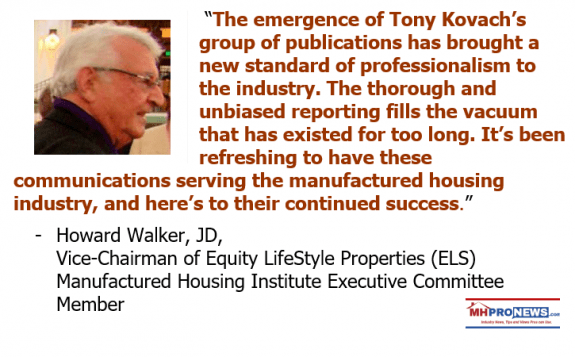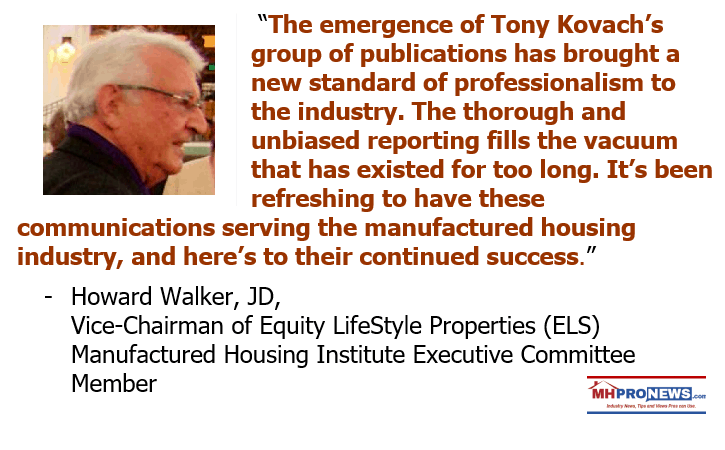 The topic of the following feedback industry voices?
In part, the industry's image – and public relations (PR).  PR is a valid way of enhancing marketing and sales, which we will address near the end of this review of those third-party comments.
"Terrible PR"
"We've had a great relationship over the years and I know that you mean well for the industry, and I know we both share the desire to elevate this sector. We definitely welcome any concept or group that shares this commitment," read the end of a lengthy feedback email to the publisher of MHProNews.
The message, plus others, came in on the requesting it being shared 'off the record,' without the sender's or that person's operation's name.
That said, these pull quotes are unedited.  The writer was focused on forging a new association that would address the public relations and other needs of the industry that are arguably not being properly handled by MHI.
"We'll happily contribute to any group that wants to take a shot at fixing our industry's terrible PR problem."
"…I've never been pro-MHI on that issue. At the same time, we've never wanted to get on their bad side, nor do we want to be on your bad side."
The message explained the deep concerns, and the harm done to their business because of the "terrible" reputation of the industry, which that writer believes the Manufactured Housing Institute (MHI) routinely fails to address.
Several More Industry Voices…
V2) "We don't have many of our 'little guys' left after these last 10 years.  If any of those [of us] who are still open want to stay that way, they need to get together behind a single cause," said a successful retailer, as part of a much longer message. That goal or cause, the sender added, had to be for the "continued existence" of independent retailers.
Like Gus Rodriguez above, V2 sees the industry's independents as being under assault.
That's sounds similar to a public comment by Tom Fath, shown below.


V3) A non-MHARR producer told MHProNews that the lack of remaining independents has caused them to consider "going vertical." "Not a day goes by that we don't think about it," a top executive for that firm said to MHProNews.
V4) Another non-MHARR producer praised our coverage, saying we did a "great job" encouraged us to "keep it up," and said, as if talking out loud to himself, "how much more can they consolidate?"  This graphic below makes his point.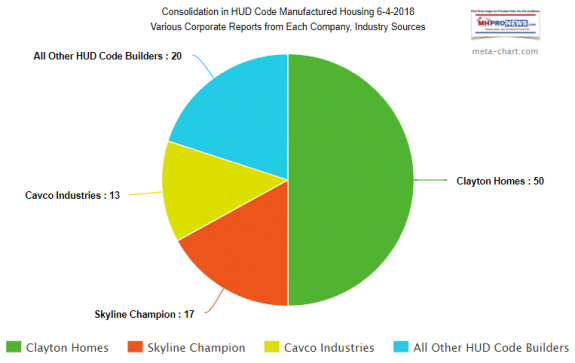 V5) "Tony, no independent can publicly go up against 21st," said a respected, industry veteran operator. That source said he was pleased to see that the fence was mended between MHProNews and MHARR several years ago.  V5 values what this platform and MHARR each do as a balance against what MHI has failed to do.
Several more responses have come in.  It should be noted, that the view on not being able to fight 21st and their other Berkshire Hathaway brands is widely held among state associations, and numerous retailers, plus those in the community sector too.  That said, this publisher and industry expert believes there is good evidence that now is the time that "resistance" and "rebellion" against the pressures of the consolidators is the more possible than it has been in a decade. MHProNews and others are an example of that, aren't we?
What Sparked These and Other Comments?
They have been part of a series of replies to this recently published quote from another non-MHARR independent: "If retailers would bow up and tell the MHI manufacturers they want dues paid to a new association rather than MHI there will be change. I do believe the majors have weaponized regulation that further entrench their companies or widens and deepens their moat. Keep my name off it please but I'll support the efforts if [there] is enough backbone out there."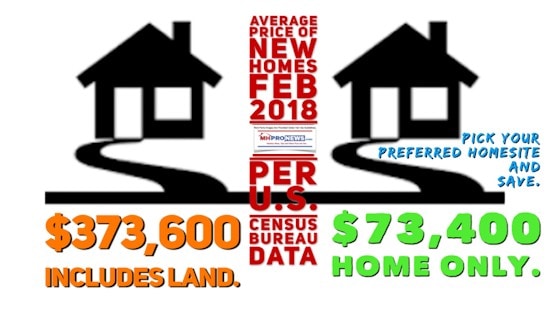 This statement and question was also posed: "about 2 years ago, you may recall MHI published a paid advertorial that understated the savings on MH vs site built. We repeatedly called them out, they finally changed it. How long on these errors? Plus, there are others that arguably misinforms potential buyers, researchers, others."
In another response, here's what one industry voice said.
"STILL seems to be a void in the ether when it comes to a nationwide pro-MH body to represent our industry, not just certain players therein," read part of the reply "I won't beat the dead horse about BH/CMH other than to say they are at least 80% at cause for the lack of accurate information going out to the public, and IMHO, it's for the purpose of their moat."
That wasn't Marty Lavin, but it sounded like this public statement.


Before Frank Rolfe went radio silent on industry issues, he told me – quite rightly by phone about the "importance and value of good data with lenders and investors."
There's tons of capital pouring into the U.S. today, as mainstream media reports federal statistics of about "$100 billion a month average."  Why have multi-billion dollar investors like Blackstone or Bain – which have both clearly seen the value of manufactured homes and communities – not publicly shouted their belief from the rooftops, to their prior or current involvement in the industry?
In part, "terrible image" as Industry Voice V1 said.  Many believe that MHI's videos and social media are just 'feel good, window dressing' that avoids the heavy lifting needed to engage the media every time a false or misleading report is made.  For that matter, why doesn't Berkshire Hathaway use all of their newspapers to routinely address the errors held by millions about modern manufactured homes?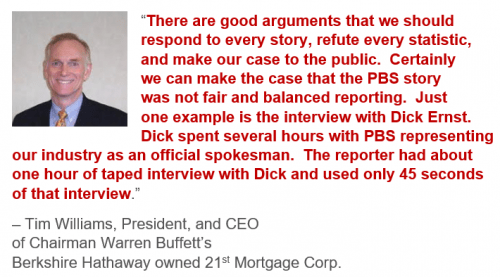 Naturally, Not Everyone Agrees
It goes without saying that not everyone in MHVille agrees. There are some who may not fiercely defend MHI, Clayton or their affiliated Berkshire Hathaway owned lenders.  But numbers are not prepared to organize against them either.
Some take a more nuanced stance, saying they could be persuaded based upon various developments.
Some in the community sector have expressed an interest in what NV and AZ are doing, to launch a new community focused national association.  Their effort deserves a good look. That said, what would they do for retailers, lenders, suppliers, installers, or others in the business who are independents?
But what is common is a widespread view that MHI is posturing or chest thumping a lot, but accomplishing little.  As but one example, S 2155 was more the work of the Trump Administration, rather than MHI, which rejected the opportunity to do essentially the same approach about 2 years earlier.  MHI's SVP Lesli Gooch admitted to the Washington Post that they didn't lift a finger on the issue of Pam Danner at HUD.  On the public relations issue, when their own chairman said it is logical, why haven't they done exactly what he said?  Namely, respond to every misstated fact, every misuse of terminology?
Failure to do so costs the industry billions annually in additional retail volume.  That means, millions of dollars of added sales could be made on average per location.  Its about dollars and sense.
Why Not Just Try to Reform MHI?
A specific message from a few well known personalities favored another effort to essentially get MHI reformed.
While this writer respects those operators, a leading industry voice said almost a year ago that he wanted to see what difference Joe Stegmayer may make at MHI.
After approaching a year, can anyone see any noteworthy changes at MHI since Stegmayer took over from Tim Williams?  This writer can tell you, we've tried this directly since he took over, and with all due respect to Joe, we see no appreciable difference. Do you?
The Credit Unions Seem to Agree
Even the CU Insight, mentioning Credit Human by name, politely chastised the Government Sponsored Enterprises (GSEs) for doing so little with respect to their Duty to Serve manufactured housing.
Their recent press release might have reminded some Daily Business News readers of a polite version of what MHARR or MHProNews has published previously.
By chastising the GSEs, aren't the credit unions also slapping the wrist of their enablers? Who profits by keeping the GSEs from a more robust entry into MHVille? Answer that question, and you'll see why more are realizing that MHI has proven for over a decade not to be the solution.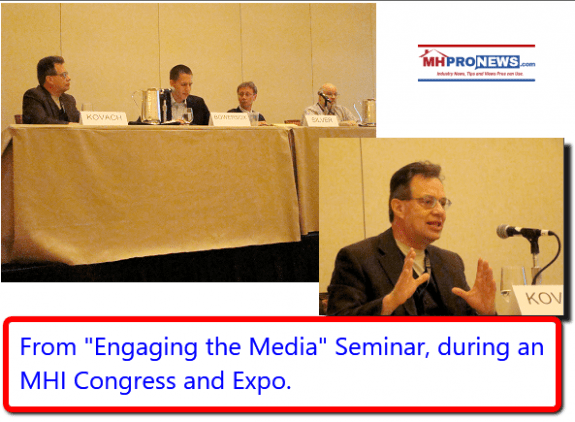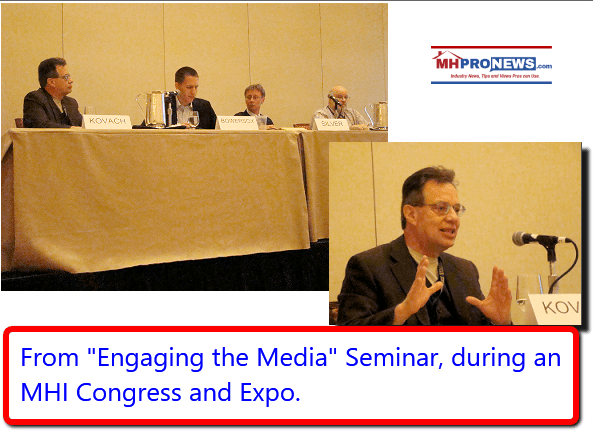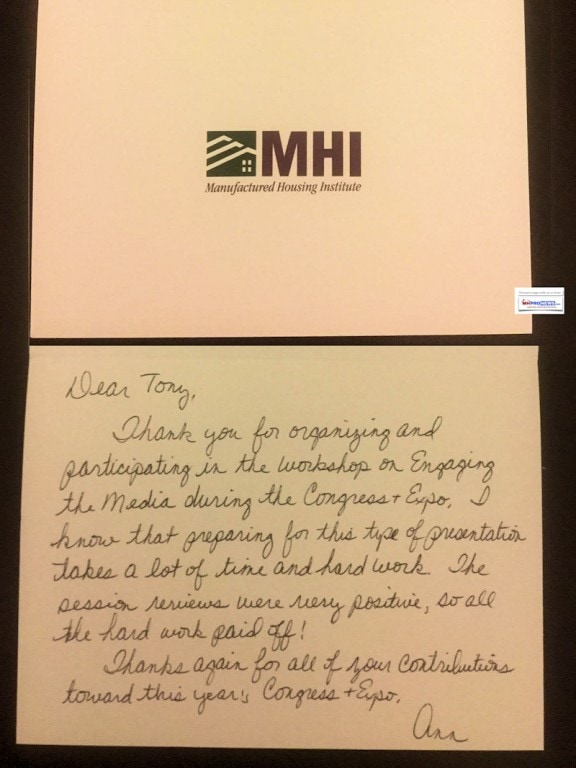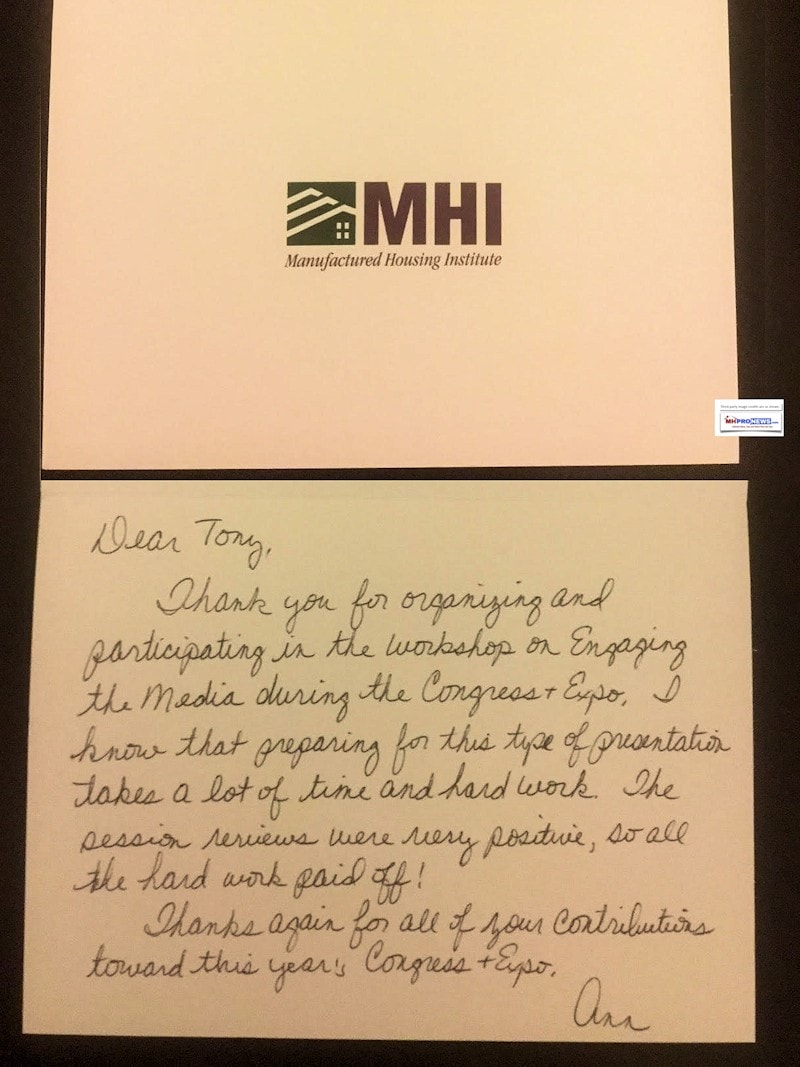 Some Background to Strategies for Dealing with PR/Image Issues
I) All sales are local. Hold that thought.
II) A competitor's reputation may be good, bad or in between. Hold that thought.
III)  Those facts are all stating the obvious, which can bring clarity to any situation. Hold that thought.
IV) Last week was a blockbuster week on MHProNews, you can scan the headlines from last week at this link here, and you'll see why readership spiked and continues to grow. Hold that thought.
V) As more than one said in their own words, the value of their communities or business would rise with improved public relations/image. It is self-evident. As sales rise, so does property and/oror business value. Hold that thought.
VI) Recapping, we heard last week – by message, email, calls, etc. – from MHPros in:
MH retail,
MH Communities,
MH production,
MH lending,
Other financial, product or industry services.
We also heard from state associations, and from sources connected with SECO, and MHI. 
There is a growing appetite for doing something to supplant what MHI says they do, but what a growing number believes they fail to do in practice.
VII)   We also heard from international and domestic investors, interested in factory building and the U.S. manufactured home market.  Arguably, the right type of post-production association could help bring tens to hundreds of billions of new capital into the industry, for lending, new communities, developments, more retail, etc.
VIII)  It isn't an exaggeration to say that there's a growing realization that new manufactured housing's sales have suffered from a combination of internal and external issues. The proof?  It's in the linked article below (this is heavily referenced and isn't a short read). Hold those thoughts.
"Thou Shall Not Steal," $2 Trillion Annually Lost to Lack of Affordable Homes, Making the Manufactured Home Case
Federal and State Investigators
We know first-hand, as well as through various sources, that there are:
Legal,
Regulatory,
Plaintiffs attorneys,
Media,
all sniffing around MHI, their 'big boy members, and SECO.
Those groups may not like reading that, but those are the realities that they would unlikely deny. Still, to play it safe, we'll say "alleged" about these concerns, to keep some attorney from writing us. But if you want evidence beyond our publication, just do enough google searches, and don't be surprised at what you'll find in the public domain about various investigations already underway.
Plus, there are our own evidence-based reports in the Daily Business News on MHProNews, which they have not tried to refute.
Hold all of those thoughts.  Because each one points to problems, and opportunities in disguise. Doing the same things, the same way, is obviously no solution.  A new path, a new post-production voice is needed.  MHARR said they did not want to be that post-production voice, but would work with them, and assist as possible in bringing them into existence.
Study Recommending New Manufactured Housing Association for Independent Retailers, Communities, Lenders, Others Released
What Does All of this Mean to You?
Short answer? Either problems ahead, or opportunities in disguise. It's all in how you navigate it, or not.  That's what SWOT is all about.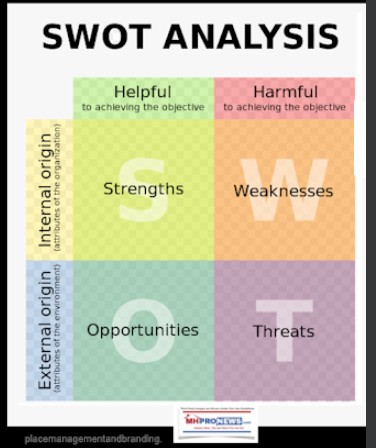 First, look at who is sponsoring what. That tells you a lot. As MHI award winner and success story Marty Lavin says, "follow the money," and "pay more attention to what people do than what they say."
When state associations break with MHI, a number of members quit, and others feel like they are held hostage (one wrote in to say, "They think they own us." – ouch) and our readership is spiking – all while specific folks are trying to undermine our efforts without directly addressing them, doesn't that tell you something?
All Sales Are Local…Turning Someone's Problems Into Your Benefits
Someone's problematic reputation can be an opportunity in disguise. Over the years, I've successful sold manufactured homes down the road and across the street from people that were bigger, badder, and had the reputations to match.  In consulting, we've worked with operations to accomplish the same thing.
The correct PR and marketing strategy can turn someone else's bad news into your good news.
That's a profitable and oft-proven fact.
Not everyone can afford our services, I get that reality.
But for those who can afford what we do, we have the most incredible track record, and we have the public testimonials and endorsements to prove it.
Some of those are public, others are as requested, but the clear fact is that we've taken on forces bigger and badder, and step-by-step, we are winning.
Part of the proof is the growing number of mainstream articles that are using headlines that are a play on ours from MHLivingNews.com.  "The Solution to the Affordable Housing Crisis is Hiding in Plain Sight." We've laid a foundation, and it is already helping.
"…lower rates of crime than you would expect, because they had pride of ownership …" – William P. McCarty , PhD – University of Illinois at Chicago, Department of Criminology, Law and Justice "What may be surprising to real estate licensees is the level of energy efficiency available …"
Fighting Misinformation
– Hammering Away at the Facts, Evidence, Including – Not Only Expert and Home Owners Stories…
…how the Truth Will Set Manufactured Housing Free
We created MHLivingNews with a lifestyle, fact-and-evidence based, story-telling model. We told local stories, with local people.  We also covered some national reports, to underline good news, or correct poor reporting.
Step-by-step, it's arguably working.  You'll see how below.
What's needed, is more of the same.
What's need is more clients willing to invest money in their own reputation at the local market level, using proven methods that yield more happy home owners.  Its profitable. Why advertise or hire services with someone that doesn't know the industry as we do? Or who doesn't promote and defend the industry as we do?
By highlighting those local stories in local markets (which is automatically on our national platform), clients saw serious rises in business.
Rephrased, there are two tracks needed.
#1) Every business ought to promote itself.
#2) Then, many businesses ought to band together, and address the issues that have dogged the industry for decades.
We are strong believers – as are the voices above – that there needs to be a new, post-production manufactured home association.  Image and PR complement lobbying, but they are not the same as lobbying.  An association is needed to lobby, and it requires good PR to go along with it.
We plan to work for, and support efforts to organize a new post-production association that once launched, can readily supplant what MHI does.  It should, per various inputs so far, do the following.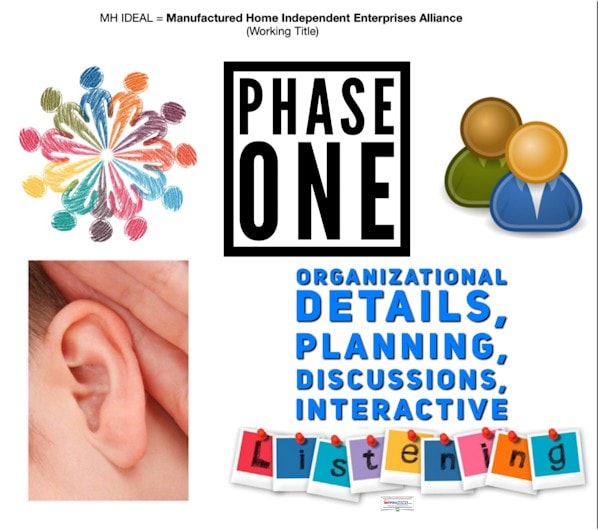 A) Media and Non-Profit Educational Engagement (Public Relations)
B) Protect and Promote the Industry from regulatory and other artificial barriers to doing more business.
C) Legal efforts.
D) Professional and worker recruiting.
E) Professional Education.
F) Trade events, including those open to the general-public. It costs tons of money to put on a trade show, and while there's more expense to keep a show open a few extra days in order to do Public Days, that's more than recouped by additional sales, and media exposure when that's done correctly. Keep in mind that in the industry's glory days, the mainstream media came to shows like Louisville to cover the event.  The right trade association (which we clearly believe is not MHI) could make that kind of free media from a trade event happen all over again.
H) Public Officials and Policy Advocate Engagement.
I) Other Proprietary Steps to Protect the Reputation of Good Businesses of all sizes, against those who sully the industry image by problematic or illegal behavior.
J) Take steps in the bylaws that create a structure that avoids dominance by larger companies of smaller ones.  Just setting that up will help avoid infiltration of a new group by those who may want to derail it from the start, as a way of allowing MHI to continue their apparent efforts on behalf of big companies seeking to consolidate smaller ones.
As a footnote, it is not this writer's intention to lead such a new trade group, we have our own operations.  Let the leadership of a new association be decided by those who put skin in the new game, after a careful discernment process.  That's a decision that will come as Phase One nears completion.
Frankly, the above will take several months to organize, even if everything went quickly.
Until then, MHLivingNews and MHProNews are already doing more to promote the accurate facts about our industry than another organization that has millions of dollars more in budget than we do.
In the meantime, support us, as we support you and fight for the industry's growth.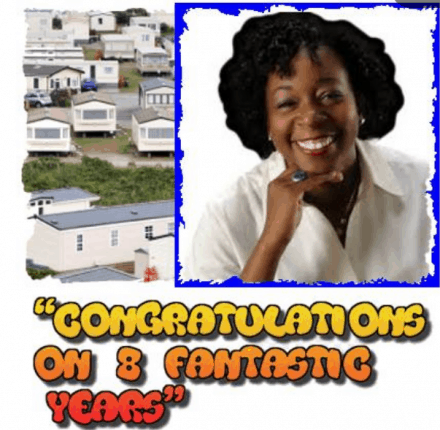 This one-two combination of support for this platform and support for a new trade organization is a common-sense approach for those who want to maximize their sales now, and for years to come. That's it for today's Monday Morning Marketing and Sales Meeting. Learn more by clicking or calling. "News, Tips, and Views That Pros Can Use." © ## (Manufactured housing related marketing & sales news, analysis, and commentary.)
(Third-party images and content are provided under fair use guidelines.)
By L.A. "Tony" Kovach – Masthead commentary, for MHProNews.com.
Tony is the multiple award-winning managing member of LifeStyle Factory Homes, LLC, the parent company to MHProNews, and MHLivingNews.com.
Office 863-213-4090 |Connect on LinkedIn:
http://www.linkedin.com/in/latonykovach
Click here to sign up in 5 seconds for the manufactured home industry's leading – and still growing – emailed headline news updates.
For business development services, click here.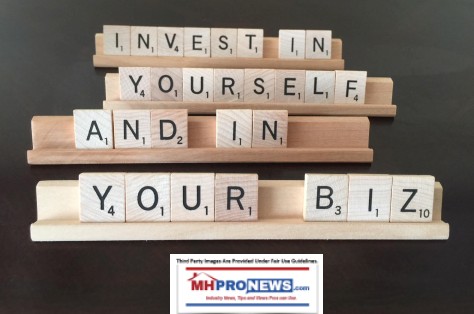 Related References:
Life Hack Success Tip-Any Pro Can Do This-Monday Morning Manufactured Housing Sales, Marketing Meeting
They Did It Before…Sunday Morning Manufactured Home Industry News Headline Recap July Aug 5, 2018
Enduring Good Will Value from Good Business Practices, Monday Morning Manufactured Home Sales, Marketing Meeting
"Thou Shall Not Steal," $2 Trillion Annually Lost to Lack of Affordable Homes, Making the Manufactured Home Case