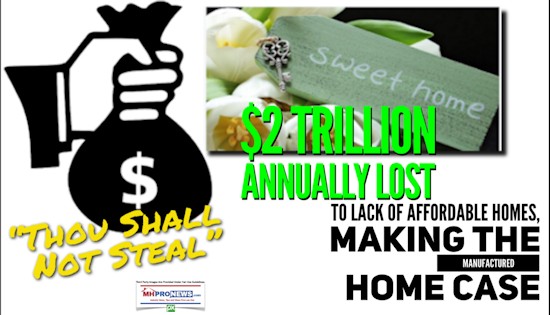 After years of arguably failed polite talk, perhaps more direct and blunt words are needed.
The logic of research economists Chang-Tai Hsieh and Enrico Moretti is that improper land use policies are costing the nation some $2 trillion dollars a year.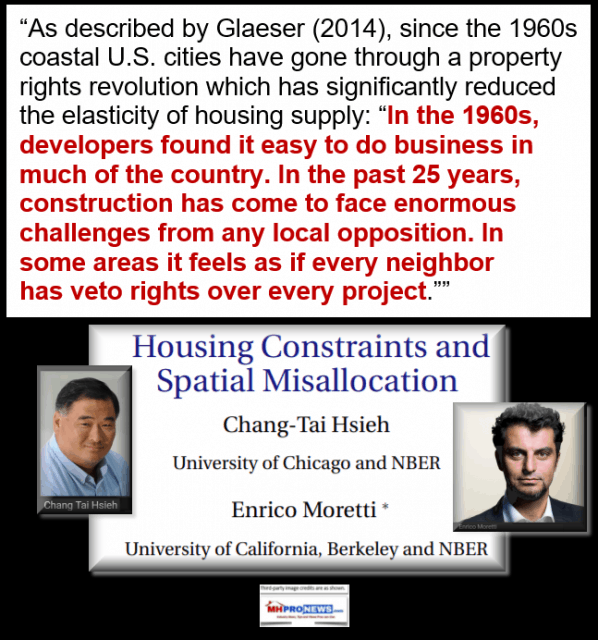 The reasoning of National Association of Realtors (NAR) Chief Economist Lawrence Yun is that only more and faster new construction will fix the housing affordability issue.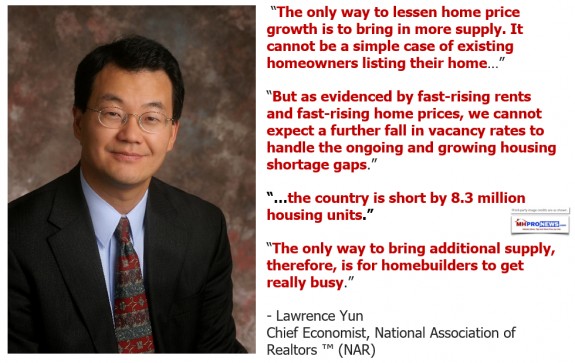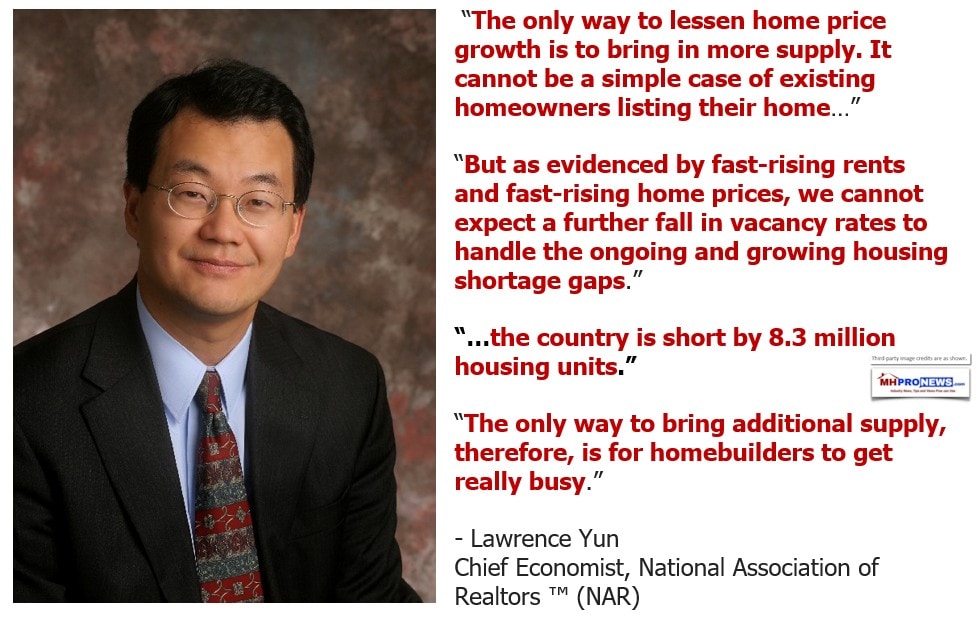 It is this Daily Business News on MHProNews writer's understanding, Dr. Yun prompted Scholastica 'Gay' Cororaton, Certified Business Economist (CBE) to research manufactured homes. Among her 30 pages of reports, charts, and data include the following.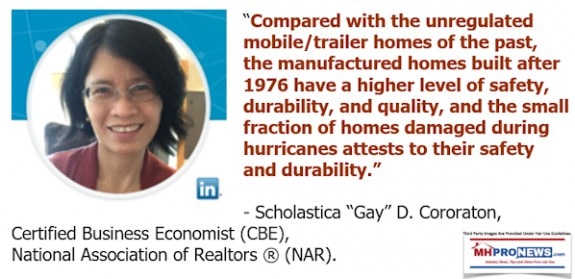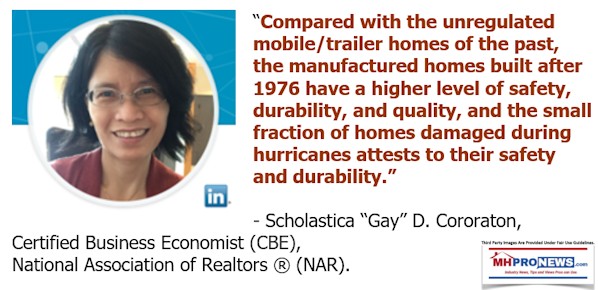 The logic of Trulia's research, summarized by the data in the graphic below, supports that of the research economists above. Affordable housing has negligible impact on all other housing nearby. Both forms of housing are growing in value, side by side.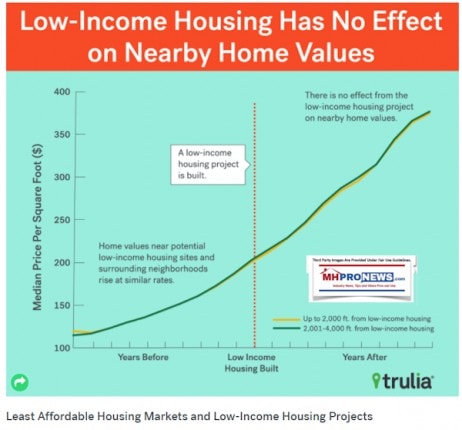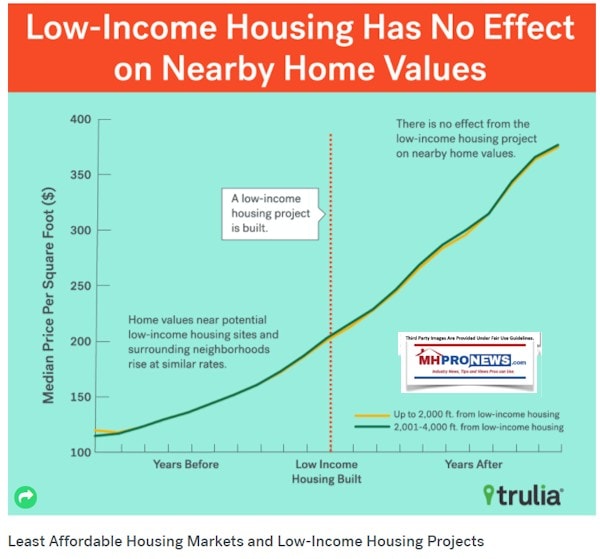 But what if that affordable housing are manufactured homes? Do manufactured homes harm property values for neighboring conventional housing?
The university level research that HUD commissioned in their PD&R report preceded the Trulia study. It looked at manufactured homes as infill in cities, right next door to conventional site built, single family homes.
The results?
Housing values of both conventional homes and the manufactured homes appreciated side-by-side.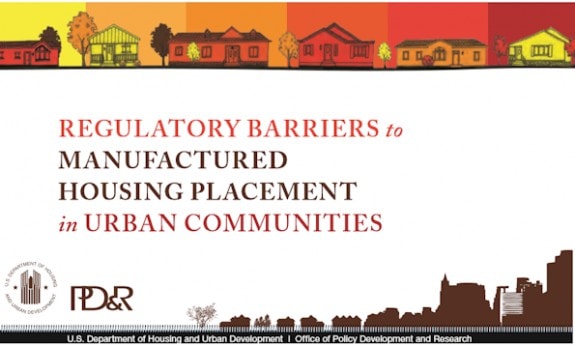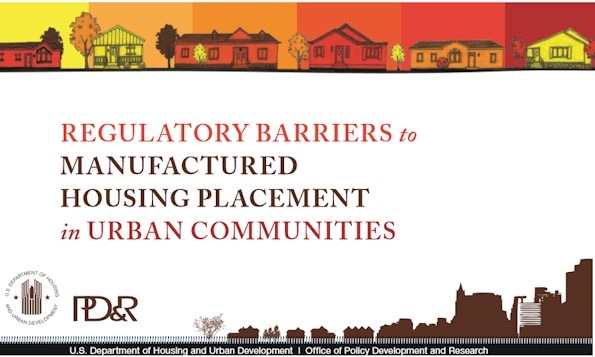 The summary of the logic of the third-party researched facts are overwhelming when laid out side-by-side like this.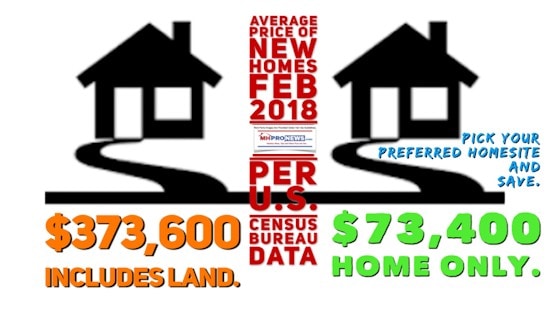 But the irony is that Harvard's Joint Center for Housing Studies researcher Eric Belsky came to the conclusion over 16 years ago that manufactured homes where likely to surpass conventional housing in production. No doubt for the kind of reasons Cororaton more recently cited.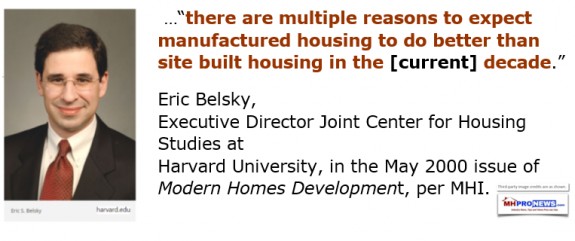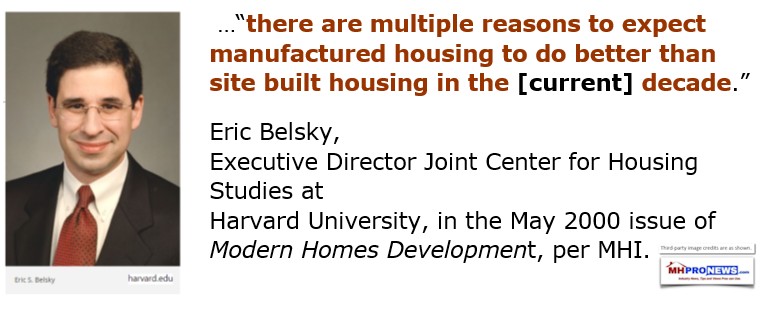 Richard Genz did research prior to the statement by Harvard's Belsky, making the case for manufactured home quality and durability in a study for the Fannie Mae Foundation.
"Why Advocates Need to Rethink Manufactured Home Quality," Harvard, GSE, Genz, "High Satisfaction"
So what happened?  Why were Genz and Belsky – the obvious logic of their clear view that manufactured homes deserved support and were bound to grow – why were their visions not realized?
How is it possible than when manufactured homes (MH) – by law – must perform dynamically the same as conventional housing in safety, durability and energy savings – and when MH costs less, why aren't more HUD Code homes being sold?
Fresh Facts, Figures, Future of Affordable Housing -Comparisons- Conventional Site-Built v Mobile/Manufactured Home Industry Data
The simple answer is that a variety of seemingly unrelated forces have been at play.
Those forces included, but where not necessarily limited to:
–   ignorance,
–   prejudice,
–   greed,
–   political and regulatory pressures, fostered by the above,
–   and perhaps a failure to put all these facts back-to-back, to see reality vs. outdated perceptions. Fear and falsehoods were allowed to drive too many people's thinking.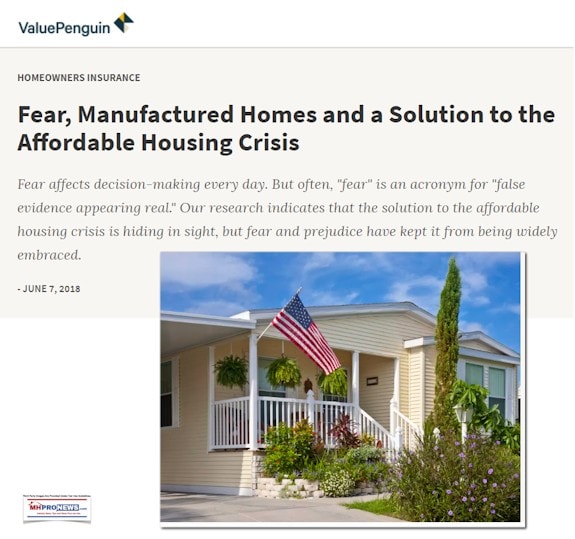 President Gerald Ford said prior to the HUD Code that the "mobile home" industry would always be necessary. It was market-based affordable homes, that routinely required no taxpayer subsidizes.
U.S. President Praised "The Mobile Home Industry," Manufactured Homes are "Here to Stay"
Failure to heed that observation caused city after city on "both coasts" and the interior of the U.S. to lose decades of opportunities for more housing affordability.
The upshot?
Growing homelessness, including vehicular homelessness.
"Vehicular Homelessness" Rising, Land Use, and Manufactured Housing Policies
The answer being sought by many among the politically connected is to build more subsidized housing. In fact, for over 50 years, those housing programs have proven to be unable to keep up with the ever rising demand. The Heritage Foundation estimated that those social programs – which included subsidized housing – cost the nation some $22 trillion dollars in 5 decades.
That's virtually the same amount as the national debt.
Isn't it lunacy to continue doing more of the same self-evident failures? Why not turn to the proven solution?  Why not use free market driven investments by entrepreneurs vs. tax dollars?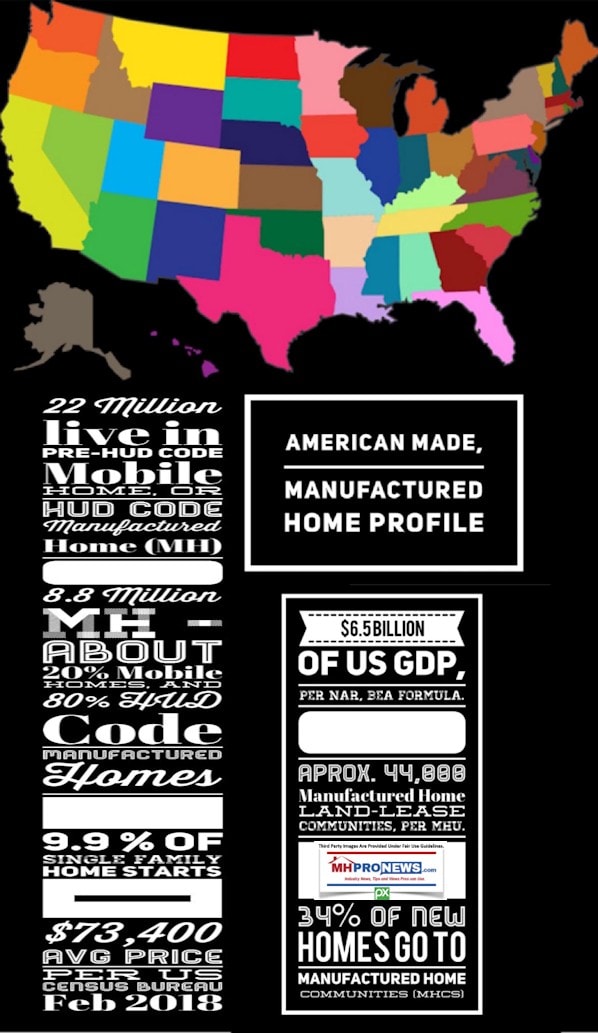 What's Missing in the Data? Real Harm to Real People
We as a society can't change what's happened. But we can learn from it. Perhaps the data needs to be humanized?  Do we need poster children to show what's happened, and how that's harmed Americans?
Almost every retailer who has sold a manufactured home direct to the public for at least a year has encountered the following scenario. Often numerous times.
A single, couple or family/household owns or wants to buy a manufactured home for a piece of property. But a local official stops that placement. Isn't that using the force of law to rob people of the opportunity to own an affordable home?
The non-profit Equal Justice thinks so, and successfully sued a town on that issue. They are now suing another city.
Lawsuit Filed Against City to Defend Manufactured Home Owners Rights, led by Equal Justice Non-Profit
What does that process of denying Americans affordable housing actually cost such persons or families?
More personal wealth.  Keep in mind that HUD Secretary Carson spent some time in 2017 telling people that home owners had an average net worth of some $200,000, while the average renting household only has $5000 net worth.
The logic of Florida Atlantic University (FAU) Professor Kenneth Johnson's research indicates that manufactured home ownership may yield the most wealth for a household. The lower the cost of the housing, for a disciplined saver/investor, the greater the potential for other investments, thus increasing personal wealth.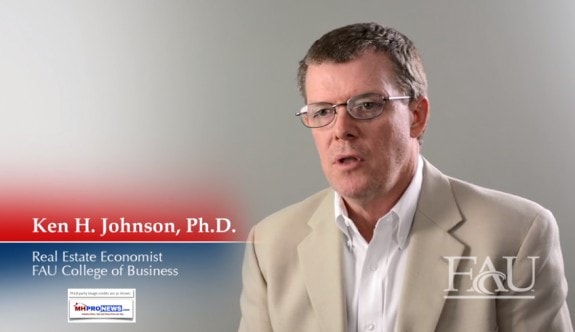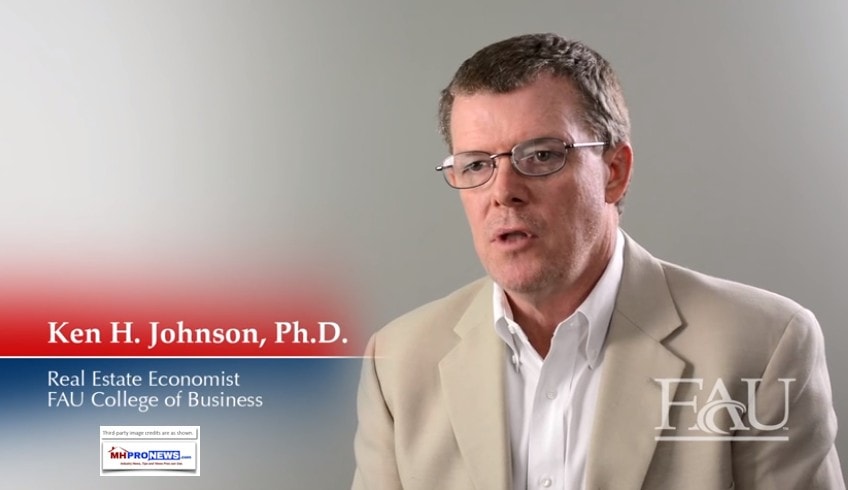 The Government Accountability Office (GAO) and Cororaton's research both demonstrated that manufactured homes are the lowest cost form of permanent housing. Less than rent, and even when higher rates and shorter loan terms, manufactured homes dramatically lower price yields the lowest monthly payments.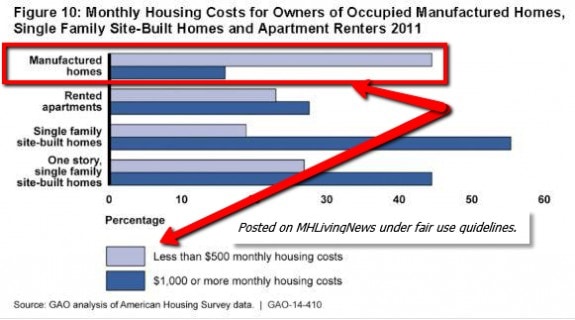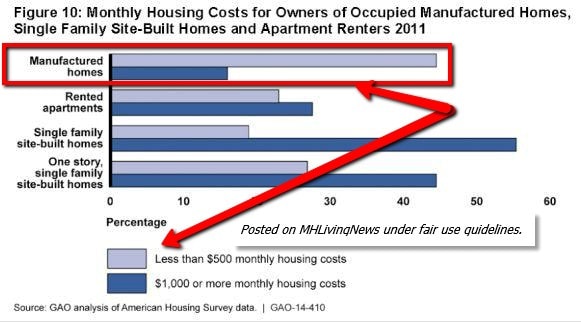 But we can put a face, a family, to this snapshot.
The Rev. Donald Tye, Jr. said that their affordable pre-HUD Code factory-built home made it possible for he and his wife to do things for their family they could not have done any other way.  Tye told MHProNews that planners are missing out on the many social and economic benefits that affordable home ownership provides.

He also addressed the lost tax benefits, as well as the prejudice against manufactured homes, and the misuse of terminology like this.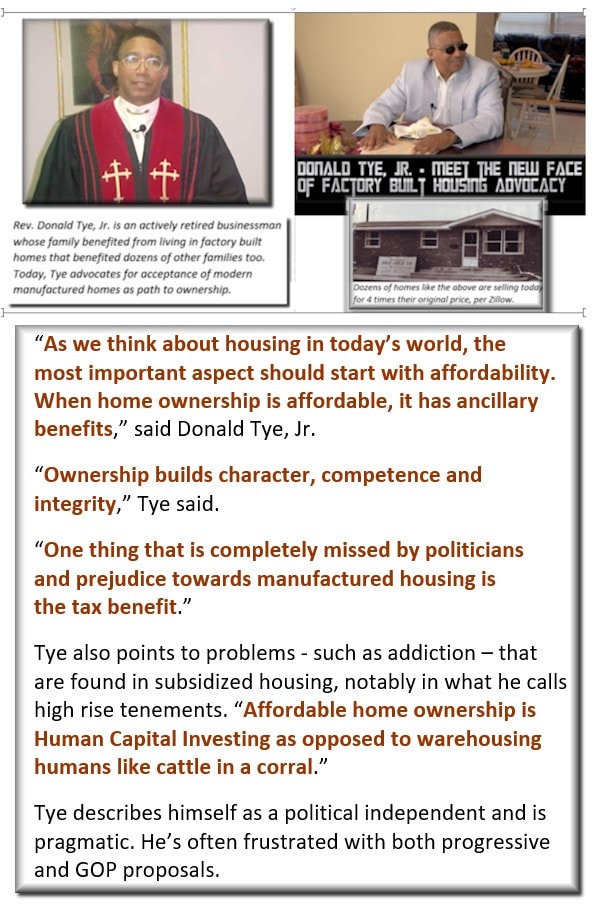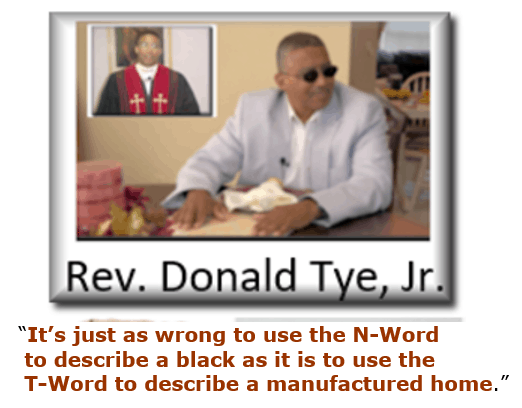 Mark Weiss, JD, weighed in on that same point, saying the the use of the t-word is offensive to millions.


A poet who sold her conventional housing to buy a manufactured home was shocked at the prejudice generated by others.
Taking on the Trash Talk! Are People Defined by their Housing Choice? Video, Photos
There are letters-after-letters, stories-after-stories that have a similar refrain.  Here's a pair of others.
"Home Sweet Home" – Assistant Mayor Wants to End Housing Choice Stigma
https://www.manufacturedhomelivingnews.com/trade-publisher-experts-call-for-respect-understanding-for-manufactured-housing-manufactured-home-owners/
Part of what should have been learned in recent decades is that there is a huge cost to taking opportunities from others. That arguably becomes a form of theft.  Thus the commandment that most faiths believe to be true – "thou shall not steal" – reasonably applies.
It includes mobile and manufactured home community owners who in various jurisdictions are increasingly being told that they can't replace an older home with a new one. What?
"Unconstitutional Taking," "Gentrification on Trial" in Recent Oak Hill Manufactured Home Community Ruling
A state supreme court ruling in one case was described by an attorney as an "unconstitutional taking." That community owner won. But how much time and effort did it cost that community owner to be allowed to use their own land as a place where affordable home ownership can occur for families?  Those legal costs have to be passed onto others, those who live in those affordable manufactured homes.
Time and again – however well intended the local policies may be – the net result is that it is costing millions opportunities for more affordable home ownership.
The High Cost of Ignorance and Prejudice
This writer told a group of business professionals last year in Deadwood that manufactured homes were the civil rights issue of our times. That message was applauded by those who know first-hand how difficult it can be to sell a manufactured home, and get it safely installed on an appropriate permanent site and foundation.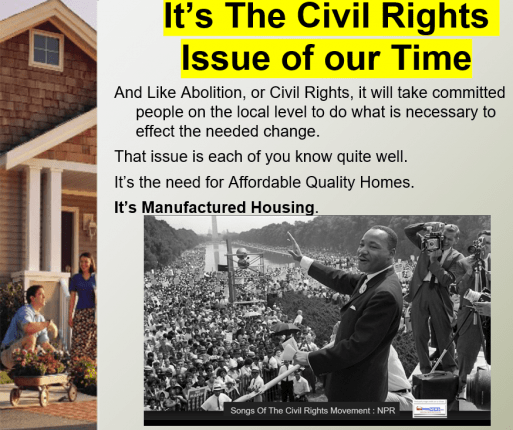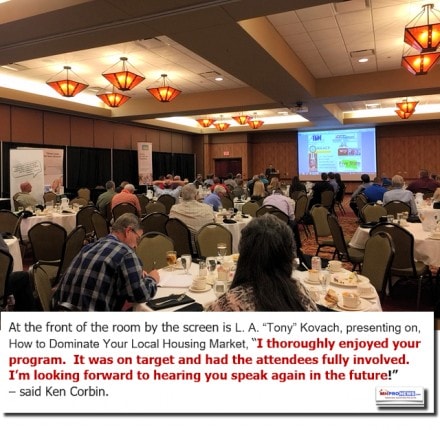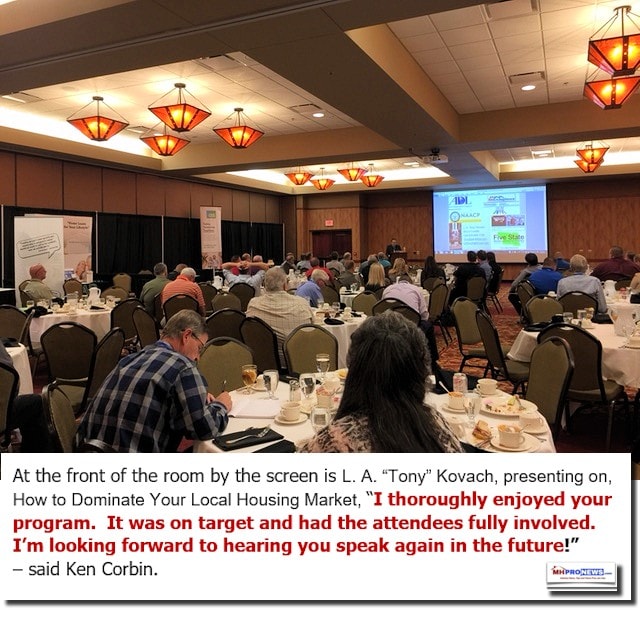 The logic of these facts is this.
$2 trillion dollars a year is lost in GDP – that's the cost of ignorance and prejudice against manufactured homes in America.  Take 326 million Americans, divide it into $2 trillion dollars lost annually, and that's like $6,134.97 per man, woman and child.
For a family of four, that's $24,539.88 in lost U.S. GDP.
It's an avoidable loss, and can be fixed by a proper understanding coupled with the application of existing laws, as you will see below.
Terminology Matters
People wrongly believe the terminology for factory built homes is optional. It's not. The correct terminology is a matter of law – the code which a home was built to meet.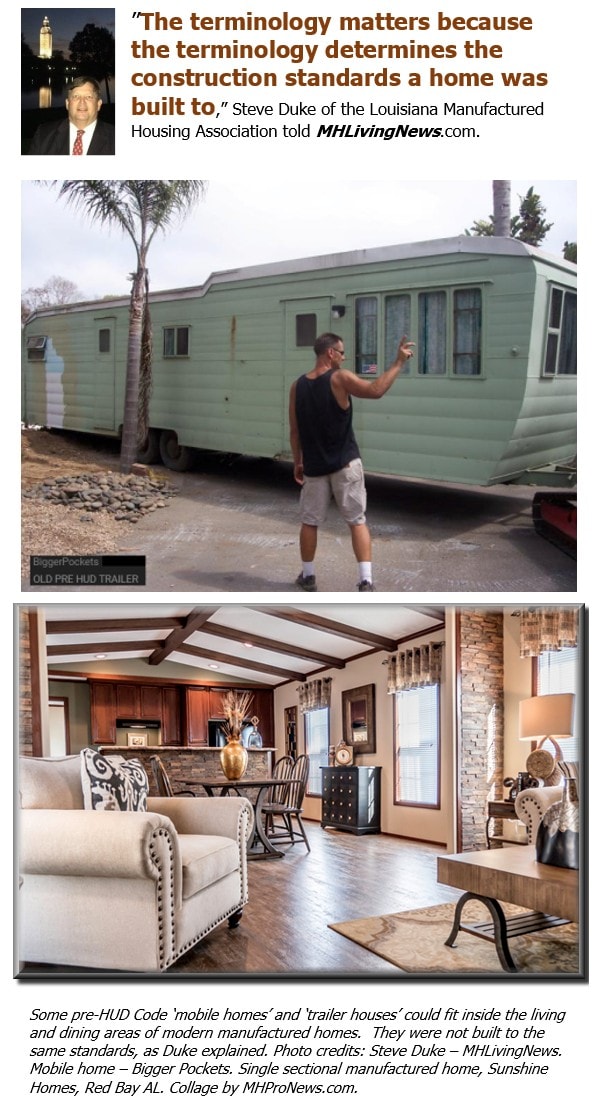 After more than fifty years of short-sighted and prejudiced thinking, it's decades past the time that modern manufactured homes be seen for what they are.  It's time to stop cherry-picking exceptional tales, and to look at the broad facts.

Manufactured homes are the solution for the affordable housing crisis that's hiding in plain sight. It must be noted that modular and other forms of factory home building can all perform a vital part of the solution to America's costly affordable housing crisis.
But because of the genius of the HUD Code, setting national standards with regional requirements, much of the harm caused by local regulators is avoided with manufactured homes.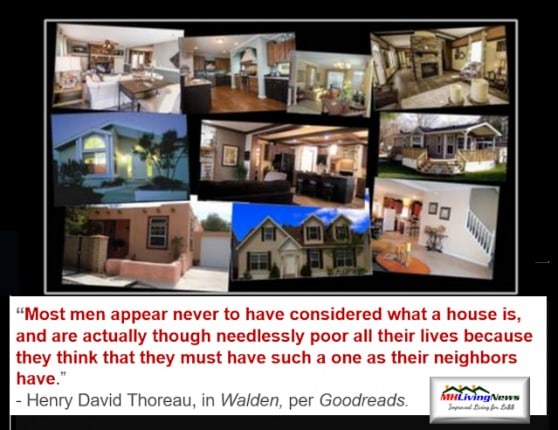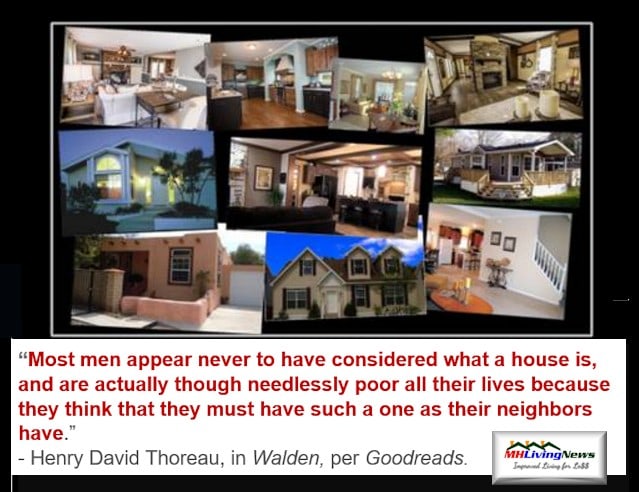 Solutions? Parallel Path One
The former chairman of the Manufactured Housing Institute (MHI), Tim Williams, President and CEO of Berkshire Hathaway owned 21st Mortgage, said the following.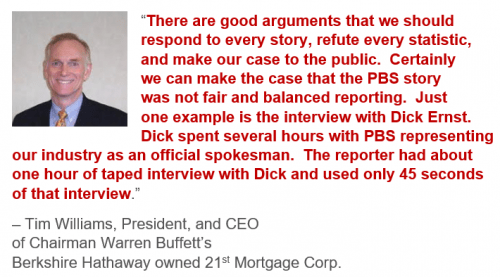 People cited in this column today might later say something different, perhaps because they may (errantly) believe that money tempts them to do so.  Some back off due to other pressures.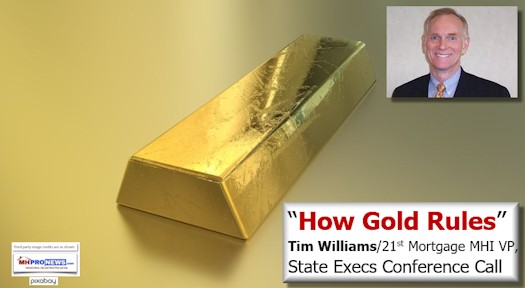 But they can't unring the bell on what they've already said.
A consistent theme of MHProNews and MHLivingNews for years has been the need to honestly and sustainably grow the industry. We have never advocated, for example, for the kind of poor lending practices that led to the post-1998 nosedive of manufactured home sales.
Education – sound information are a key step.  21st's Williams was right, and so was Frank Rolfe, who said that the media must be engaged with the truth when errant information crops up.
Solution – Parallel Path 2 – The Logic of Sound, Sustainable Lending
Lenders are protected when home values are protected.
Home values are protected and enhanced by demand and sound lending.
Sound and profitable lending is good for business, good for people, and good for the economy.
Good information – vs. prejudice or short-sighted thinking for whatever motivations – is how bigoted influences are pushed out.  This is how information and sound lending, parallel paths, can support each other, as a train running on a track is supported by parallel rails.
Manufactured Housing Appreciation?
The Urban Institute, and the National Association of Realtors ® have both reported what MHProNews and MHLivingNews has said for years. Manufactured homes can and do appreciate. But why are there times that they don't rise in value?
First, all housing rises and falls in value for much the same reasons.
I'm not speaking for 'Gay' Cororaton when I share my take on a conversation this writer and she had a few weeks ago. I asked her about the economic logic of the following
Home appreciation is fueled by the following factors.
Location,
Condition of the home (maintenance, appearance),
Demand for housing,
Local economic factors (wages, employment opportunities, etc.), and
the availability of reasonable lending. Other points could be mentioned too, but those are key ones.
So, if any of those factors are reduced or eliminated, then the value would be lessened. Think about conventional housing post 2008, lending dried up, housing dropped in value.
My understanding was that she agreed with those principles.  My hunch is most objective thinkers and economists would too.
That being so, consider this.
Because manufactured homes have had lending options artificially reduced due to the absence of robust support from the Government Sponsored Enterprises (GSE) of Fannie Mae and Freddie Mac, then to some degree, that will influence resale values. Again, my understanding was that she agreed with that premise.
Two Great Laws Already on the Books NOW,  Can Unlock Billion$ Annually for Manufactured Housing Industry Businesse$, Investor$
In our comments letter to HUD, we stressed that since the GSEs were arguably not doing their job, that FHA could step up to the plate, as should VA and USDA (Rural Housing) loans.
Now, let's rephrase that to make the following point.
For decades, the GSEs have resisted lending on manufactured homes. Fannie Mae's highly touted MH Advantage is arguably another artful dodge, as it forces manufactured home builders to meet additional criteria beyond what the HUD Code mandates.
"Take the MH Advantage Challenge – Can You Tell the Difference?" Fisk of Sarah Edelman, Director of Duty to Serve, Single-Family Mortgage Business for Fannie Mae
Who worked with Fannie Mae on that MH Advantage program? Our sources say, past and current members of the Manufactured Housing Institute (MHI).
Why would MHI argue for a so-called "new class" of manufactured homes – where there is no data or track record – when there is decades of data and track record that proves the value of millions of units of HUD Code manufactured homes?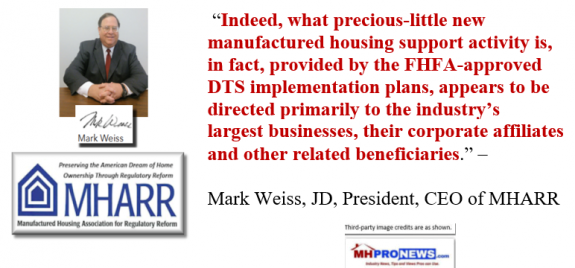 That was the logic of Mark Weiss, JD, President and CEO of the Manufactured Housing Association for Regulatory Reform.
Rephrased, who benefits, and who is harmed by this questionable ploy between MHI and the GSEs?
Hold that thought for latter.
Because the bottom line is this. Manufactured homes have proven their value. Their value would logically be enhanced, given a proper understanding of their safety, quality and durability.
Two Types of HUD Code Manufactured Homes?
This writer has told people for years that there are broadly speaking, entry level manufactured homes, and residential style manufactured homes.  Both styles must meet the safety, energy and construction standards set forth by federal law under HUD and the DOE.
When you go shopping for a vehicle, there's a wide array of sizes and styles to select from.  There are entry level cars, mid-range, and luxury ones too. That can be said about cell phones vs. smart phones, RVs, laptops, or most any product one cares to consider.
So, with manufactured homes, it is similar. If all you've seen are entry level manufactured homes, then you need to see a residential style one.
One must stress that any and all manufactured homes must all meet HUD's safety, energy, and durability standards. From the least costly, all manufactured homes (MH) get consumer protection not found in conventional housing that costs many times the price. It was the MH industry that fought for that legislation – MHARR MHI, and states like Texas too – as part of the Manufactured Housing Improvement Act (MHIA) of 2000.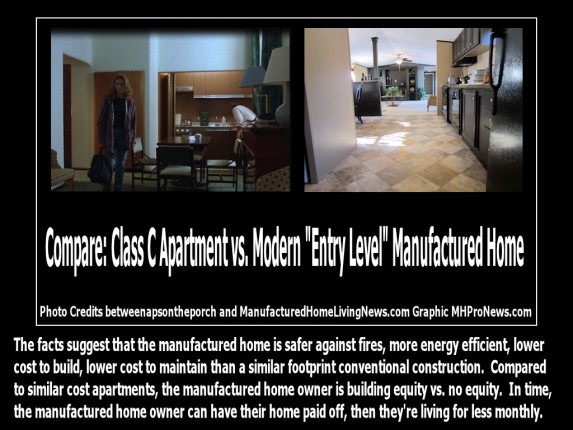 But another key part of the MHIA of 2000 was enhanced preemption. That enhanced preemption is the key to unlocking $2 Trillion dollars a year in increased GDP for the U.S. This needs 5 stars next to this point.
Put differently, there is no need to wait for local jurisdictions across the land to get a backbone, or learn the truth the obliterates their ignorance, prejudices, sweetheart deals to favored developers, etc.
All that's needed is for HUD to enforce existing law.  Enhanced preemption for manufactured homes is already the law of the land.
Let's say that again for emphasis. All that's needed is for HUD to enforce existing law.  Because the MHIA of 2000 preemption protects the rights of everyday Americans to buy and safely install a manufactured home on any buildable property.
We don't need decades of battles, or more studies. The logic and the realities have been hiding in plain sight for years.
The Urban Institute's Vital 2018 Question
Urban Institute researchers in a January 2018 report came to some similar points about manufactured homes, appreciation, and related. They asked a key question. Why aren't more manufactured homes being sold, when they are a proven part of the solution to the affordable housing crisis?  Here's how they phrased it, in the caption above "We Follow the Money."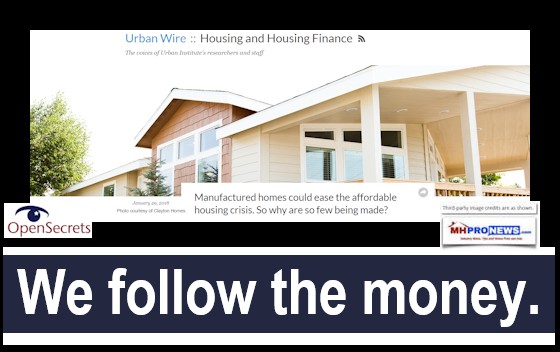 What they didn't say was as important as what they did say.
One researcher was Edward Golding, who used to work for HUD. That wasn't disclosed in their report. Golding had Pam Danner, JD, periodically report to him. Danner was the Administrator for what the Washington Post called the "once obscure" Office of Manufactured Housing Programs (OMHP).
Greener, Stylish Manufactured Homes – Hidden Facts in the Washington Post Manufactured Housing Narrative
Which begs this question. Why didn't Golding and others at the Urban Institute mention enhanced preemption in their reporting on manufactured homes?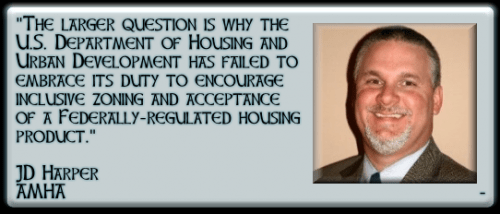 After all, zoning, economic prejudice, and enhanced preemption all intersect.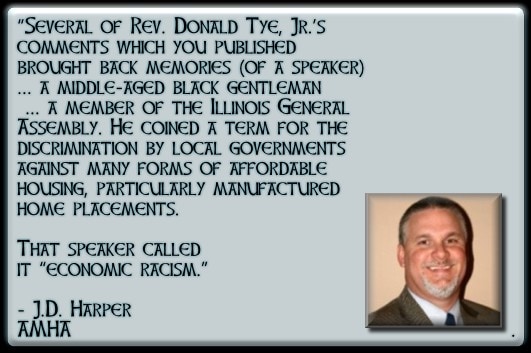 When manufactured home businesses and state association executives from coast to coast say that zoning/land use/placement are key issues, how could Golding or the Urban Institute fail to mention enhanced preemption?
Hold that thought. Because another undisclosed fact was the connection of Warren Buffett as a lifetime trustee for the Urban Institute. It's mentioned on the big Urban Institute site, if you got hunting for it. But there was no disclosure on the article that Golding and his fellow researchers published on the topic.
Urban Institute Ask for Correction in Analysis of their Manufactured Housing Research, "Follow the Facts," "Follow the Money"
Nor did the Urban Institute mention that the Manufactured Housing Institute (MHI) helped forge their paper. A source at the Urban Institute told us that "anonymity" was promised to MHI and Clayton, for their role in crafting their report.
What?
Since when do non-profits and university level style researchers not state their sources? Since when are possible conflicts-of-interests not disclosed by nonprofits or researchers in publishing their findings?
Smoking Guns…?
Eric Belsky made another statement about housing that very much applies to the question the Urban Institute asked.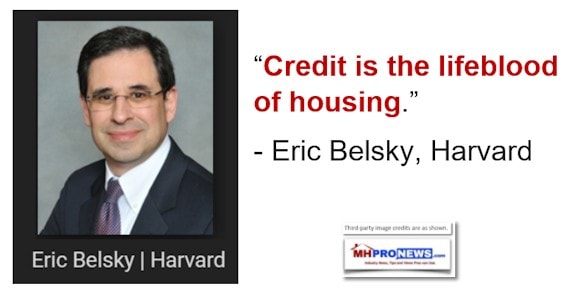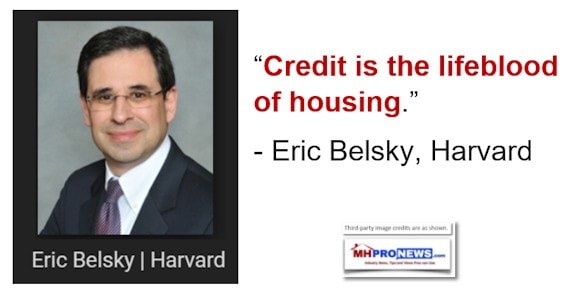 Let's go back to what Belsky and Genz said over 15 years ago. Belsky expected manufactured homes to advance, so did Genz.
Why didn't they?
Short answer, lending was choked off. Absent enough lending to supports home sales, there will be fewer manufactured homes sold. Duh, right?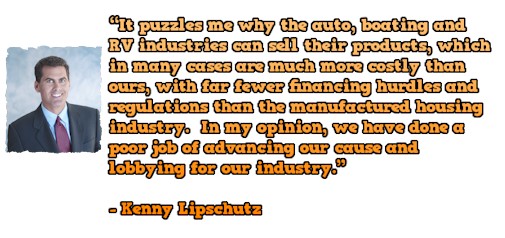 Absent a level playing field on lending or resales, manufactured homes are placed at a disadvantage in resale values.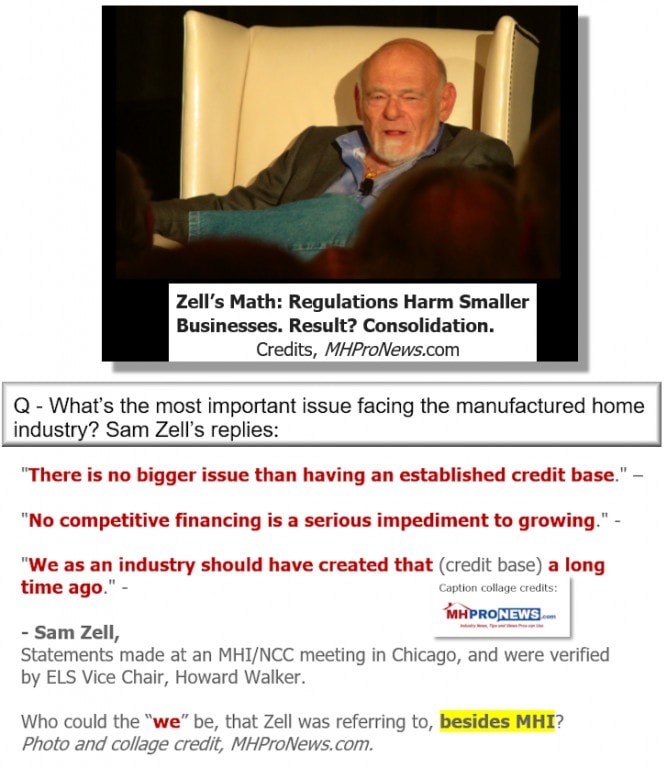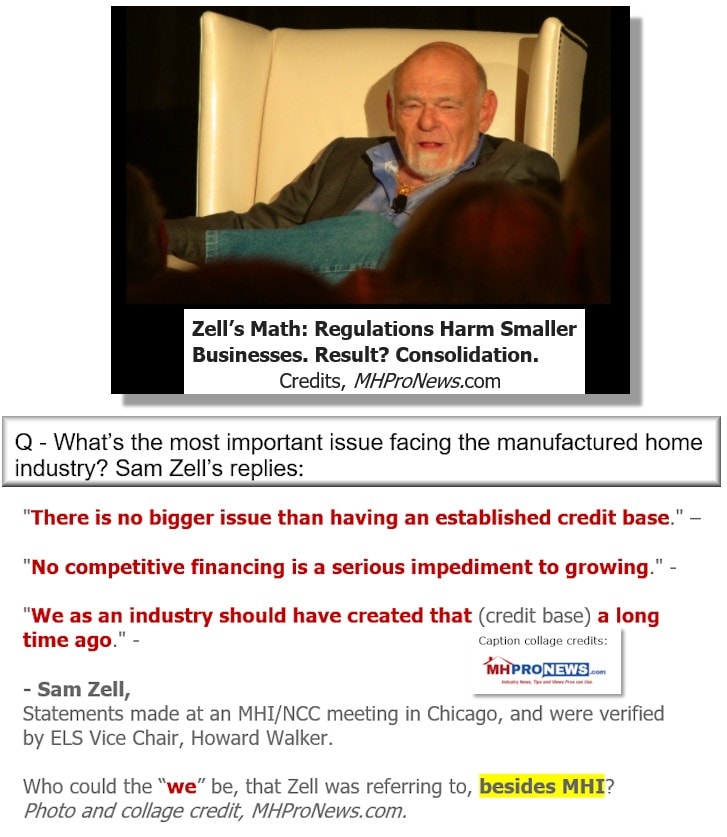 Another issue is appraisals. Thousands of appraisers misunderstand manufactured homes. But that too is and educational issue, noted here as a placeholder.
So, we see the need for factual, evidenced and reason-based thinking about manufactured homes. Among the best-informed investors is arguably Warren Buffett. He reads and reads, per his own statements, and that of others who know him.
So why did Belsky miss his projection about manufactured housing achieving dominance in production over conventional builders by 2010? Arguably, the short answer is that Belsky did not count on Warren Buffett entering the industry in 2003. Belsky didn't count on what Berkshire Hathaway did, as they began to deploy the Buffett strategic "Moat."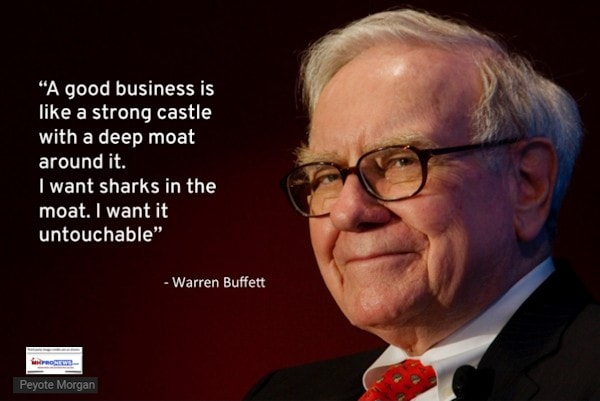 Who speaks of "the moat?" Warren Buffett explains his principles of "the Moat" in a video on the page linked below. So does Kevin Clayton, in a separate video also found below.  Clayton says in his own words in that video that "Warren" stresses widening "the Moat" against competitors on a routine basis.
Best Warren Buffett, Kevin Clayton, Clayton Homes, Berkshire Hathaway Annual Meeting, Competition, and "the Moat" Video Collection, Jim Clayton, Oakwood Homes, largest manufactured housing builder, largest HUD Code Manufactured Housing producer, largest manufactured home retailer, not mobile home, not trailer house,
The Truth is Not Political
We believe that truth is apolitical, but political officials may use – misuse, ignore, or abuse – the truth.
A closer look at the problem of why there is not more manufactured housing being sold can be summed up by the notion of the impact of failure to educate, and monopolistic practices. Who says?
GuruFocus and the Seattle Times.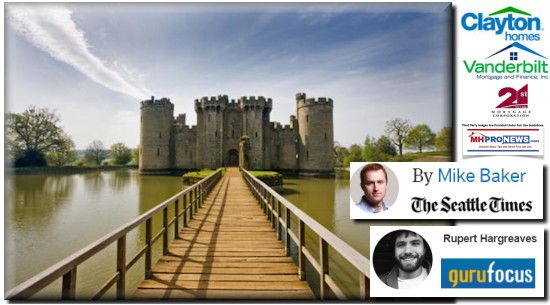 Progressive "Nation" Reports on Monopolies Cites Buffett, Clayton, Others – MH Industry Impact?
And the evidence that manufactured housing's ascendancy was derailed by forces within the industry is found in part with documents and quotes from Berkshire owned 21st Mortgage, Warren Buffett's own words, and Berkshire dominated MHI's own chart.
Smoking Gun 3 – Warren Buffett, Kevin Clayton, Clayton Homes, 21st Mortgage Corp Tim Williams – Manufactured Home Lending, Sales Grab?
Thousands lost their businesses, and millions arguably lost the opportunities to benefit from manufactured home ownership. It's cost taxpayers a fortune, that can be measured in the trillions of dollars in losses to the GDP, and avoidable costs to federal taxpayers.
How Many MH Independents, Retailers Have Been Lost Recently? "They Think They Own Us"
The Problem of the One Percent
We won't hype the issue of the 1 percent, nor understate it.
What this will propose that may be unique is a free enterprise solution to the problem of the one percent. It's this. De facto monopolistic forces are at work in manufactured housing, and in other parts of the economy, such as the tech giants.  Apply the logic of the NY Stern professor to manufactured housing, and it is just as apt as it is when applied to the world of the tech giants.
We'll let Professor Scott Galloway make his case in tech.
"Winners and Losers," L2 Founder, Prof Scott Galloway on Monopolies
But for those who believe that monopolistic forces harm Americans, we can point to voices as politically separated as Senator Ted Cruz and Congresswoman Maxine Waters.
If we start listening to the factual points – vs. the opinions or spin – of what others are saying, those facts can lead someone to the root issues.  Facts are what is.  Opinions and interpretations are a dime a dozen.
The opportunity to use evidence, facts, and objective reasoning to discover the underlying causes – and thus the cures – of the affordable housing crisis is possible.  Keep in mind, that sooner or later, monopolies arguably harm workers and consumers.
Does Monopoly Power Impact Workers' Stagnant Wages? MH Industry Impact$
The irony may be this. Aren't even monopolists harmed by what they create?  Think about that $2 trillion a year in lost GDP.
Regardless, society as a whole is harmed, and that is why anti-trust laws exist.
Lawsuits for Triple Damages – Anti-Trust, Anti-Monopoly Law, Manufactured Housing, and You
The Fix is Applying Existing Laws
There is no need for years of delays in hearings or more studies.
Antitrust laws debatably need to be applied to Berkshire Hathaway, and to all others in business who've become invasive, as Galloway said.
The Smoking Gun 3 documents, facts and related quotes from officials who are part of Berkshire speak for themselves.  It would be difficult for them to unsay, what they've already said that arguably proves they are monopolistic.
MHI and Berkshire Hathaway has been given repeated opportunities to respond to any of these concerns.  Rather than respond, instead of debating the merits or misses in this reading of the facts, they've tried a variety of other tactics.  But if they could easily disprove this, why haven't they?  Those from Berkshire brands who once praised us, now sit in silence as we publish reports like this one. Why?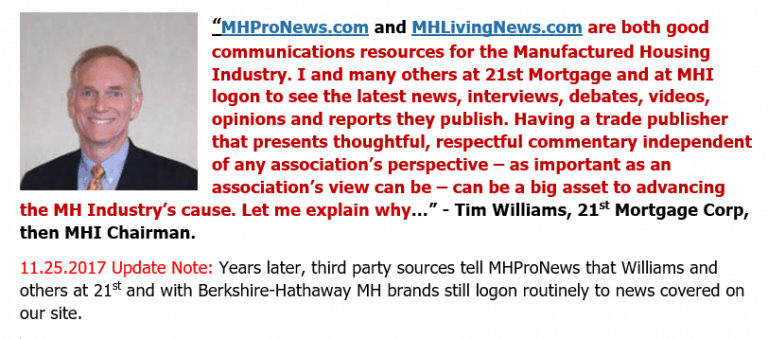 MHI should be scrutinized for fostering the conditions that allowed manufactured housing to be derailed from what Belsky thought was a bright future. Some who see the problems outlined herein hold out hope that MHI can be redeemed. This writer – based upon sources, evidence and past history – believes that people can change, but that said, the evidence is that MHI's leadership isn't changing.  Thus, they need to be exposed, and supplanted with something entirely new.
MHARR does its job, but an MHI award winner says that MHI works only for the "the big boys."

I've said for years that pretty pictures alone are not enough to convince people of the truth about manufactured homes, and what it can do to transform for the better millions of lives.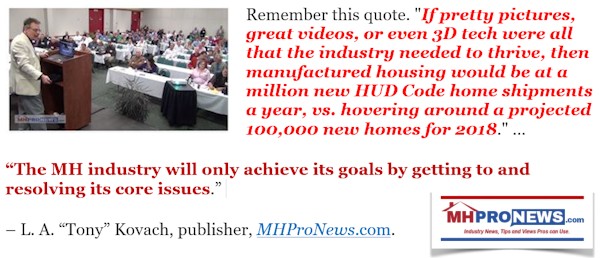 Education is the answer. Refuting false claims must be part of that educational process.  People aer entitled to their opinions, but not to their own facts.
Understanding the issues are can help avoidable for others the tragedies caused by ignorance, greed and the evidenced based factors alleged herein. Millions of Americans have been robbed of what they could have had, instead of subsidized housing, or a life of rental, give people the information and opportunity to increase their personal wealth through affordable home ownership.
There are numerous voices that have blasted MHI's hypocrisy. The one above is just one of many.
It's time for the disinfectant of sunlight to cure what decades of ignorance, private agendas, monopolistic forces, and prejudice has caused.
'Tip of Iceberg' – Rick Rand; Marty Lavin, Communities have 'No Confidence' in Manufactured Housing Institute, New National Trade Group Announced
It's time for the truth that's been hiding in plain sight.
The reward is $2 trillion dollars in enhanced GDP annually, just by applying existing law.
The reward is that affordable home ownership could would do for millions of all colors and creeds.
Let's stop robbing people of the possibility of a brighter future.  That theft has debatably occurred by misusing government and economic power.
Rather, lets allow existing laws to go to work, so that Americans select the home of their dreams, wherever they have a buildable home-site. More can be learned from the links from this article, but that's enough said for today. "We Provide, You Decide." ## (News, analysis, and commentary.)
(Third-party images and content are provided under fair use guidelines.)
By L.A. "Tony" Kovach – Masthead commentary, for MHProNews.com.
Tony is the multiple award-winning managing member of LifeStyle Factory Homes, LLC, the parent company to MHProNews, and MHLivingNews.com.
Office 863-213-4090 |Connect on LinkedIn:
http://www.linkedin.com/in/latonykovach
Click here to sign up in 5 seconds for the manufactured home industry's leading – and still growing – emailed headline news updates.
Related References:
Movie Mogul's, Multimillion 'Mobile Mansion', Mighty, Manufactured Home Living, Lesson, tricked out trailer house, fancy, modest size, stunning, stylish,
Affordable Housing Focus Group, Comparing Housing Options, Conventional Houses, Condo, Rentals, and Manufactured Homes, United States, Up for Growth, National Association of Realtor, Studies, Manufactured Housing Professional News, Investors, MHProNews, MHLivingNews, Key Allegro Villas,