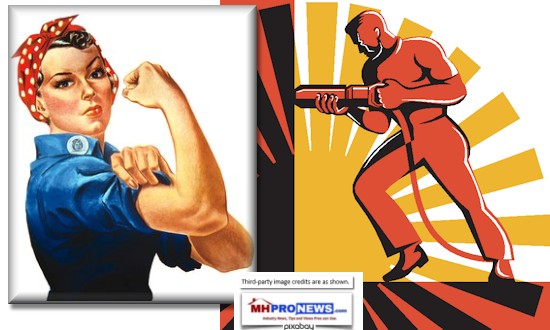 An area of concern raised inside and outside of the manufactured home industry is the issue of monopoly power, and its impact on workers and wages.
From across the political/economic spectrum – progressive to conservative media platforms and think-tanks – their is a growing frequency of reports on the monopolistic influences on the U.S. economy, business, investments – and workers.
Publicly traded manufactured housing companies routinely point to economic, jobs, and wage data among factors that point to the underlying stability of their target markets.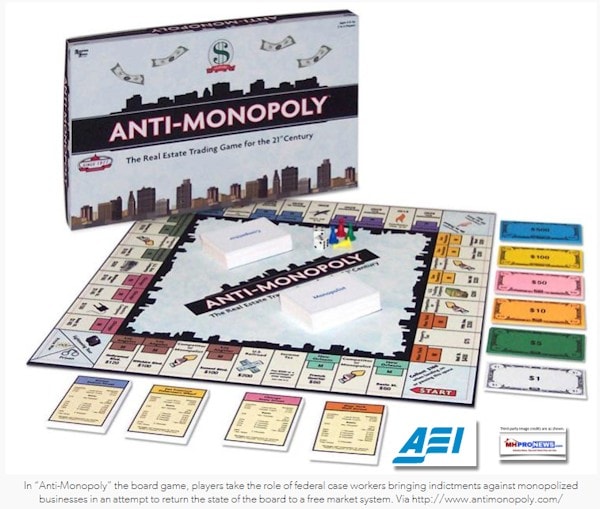 Snapshot of the General Market
The right-of-center American Enterprise Institute (AEI) is not completely sold that the general concentration of economic power in the hands of a fewer companies is already harming consumers.
But the AEI admits it must be scrutinized. The AEI also point to Goldman Sachs research and says such economic concentration is notably harming the wages of workers.
Quoting, "We review a growing literature documenting the negative impact of revenue and employment concentration on wages. Analyzing industry- and city-level data, we estimate that the rise in product market and labor market concentration has depressed annual wage growth by 0.25pp per year since the early 2000s."
The progressive media site, the Nation, also sites evidence of economic concentration harming workers and their pay.  They say that some practices violate the Sherman antitrust laws.
"A 2016 joint report by the Justice Department's antitrust division and the Federal Trade Commission said as much," reports the Nation, stating "Agreements among employers not to recruit certain employees or not to compete on terms of compensation are illegal." And yet they crop up nearly everywhere you turn…"
They continue, saying the "London Business School assistant professor Simcha Barkai attempted to identify plausible reasons for why productivity has become so unmoored from worker pay. Some economists have posited that it's because companies are investing more of their profits in robotics and automation…Increases in industry concentration are associated with declines in the labor share."
Barkai "examined American industries across the economy between 1997 and 2012 and found that they have virtually all been concentrating. "About 70 percent of industries [saw] an increase in concentration," he said. "It's not limited to any sector of the economy," but holds true from service-sector retail stores to goods-producing manufacturing plants."
Concentration in Manufactured Housing
As regular Daily Business News readers know, there's already 70 percent concertation between three HUD Code manufactured home production companies. If the Skyline-Champion deal goes through, that total will approach 75 percent.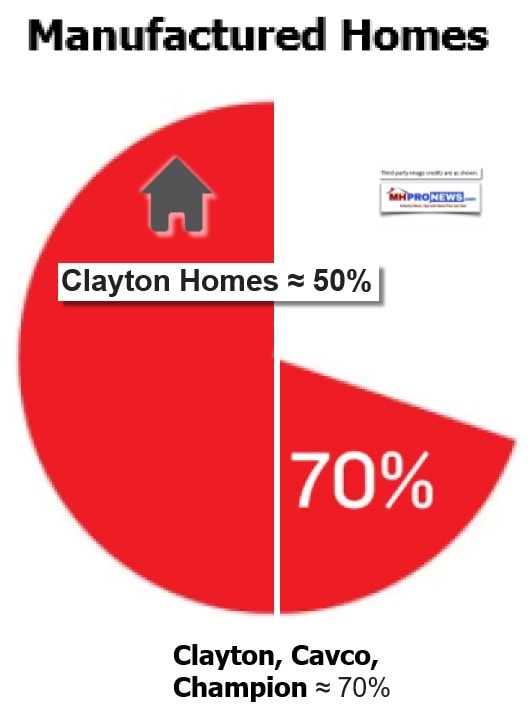 The fact that the phenomenon of consolidation isn't limited to manufactured housing shouldn't become an excuse for federal, civil, or competitive lethargy and inaction.
Economists say that the ultimate end of a monopolistic concentration is:
fewer consumer choices for buyers,
few options for workers,
a limiting of investment by modest players,
and the innovation that smaller companies may otherwise bring to the market.
The Immigration Factor…
The Trump Administration's immigration policies run afoul of the agendas of some Democrats and a number of GOP lawmakers too.
But immigration policy should be seen through the lens of the application of the law of supply and demand.  By limiting the influx of workers, it is already lifting American wages, albeit modestly.
Limit the supply of incoming low cost labor – notably 'undocumented labor' – and all other factors being equal, the bargaining power of other American workers will over time improve. As more investments in American businesses are occurring, that too will create a natural rise in wages.
No one factor should be ignored in the impact on wages.  Automation/AI/Robotics is a growing issue, for example.
But as voices on the left-center-and-right wrestle with the issue of consolidation, and the application of antitrust laws, one of the harmful impacts that must not be overlooked is how monopolies can harm workers. ## (News, analysis and commentary.)
Related:
Skyline – Champion Merger Suit, Real 'Class Action,' or "Ambulance Chaser" Legal Shakedown?
Keith Anderson, CEO Champion Homes, MHI 'New Class' Monopoly Concerns Memo, 'Harms Owners, Independents'
" I have no comment on MHI's legislative agenda." – Ross Kinzler. " The [MHI] Urban Design Project didn't have any lasting market effects." – Ross Kinzler Priceless, direct quotes. Why Priceless? They are significant observations – and de facto admissions – by someone 'defending' MHI, and their 'new class' of manufactured homes.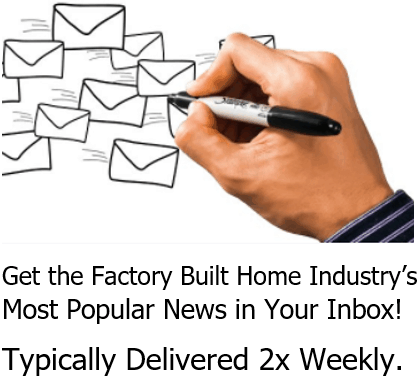 Don't be the last to know. Over 1,000 new subscribers in the past 2 months. Thousands More "Get It."
Sign Up Today! Click here to sign up in 5 seconds for the manufactured home industry's leading – and still growing – emailed headline news updates. You'll see in the first issue or two why big, medium and 'mom-and-pop' professionals are reading these headline news items by the thousands. These are typically delivered twice weekly to your in box.
(Third party images, and cites are provided under fair use guidelines.)
Follow us on Twitter:
ManufacturedHomes
@mhmsmcom

Submitted by Soheyla Kovach to the Daily Business News for MHProNews.com.
Soheyla is a managing member of LifeStyle Factory Homes, LLC, the parent company to MHProNews, and MHLivingNews.com.
MHProNews is the most read publication in manufactured housing.