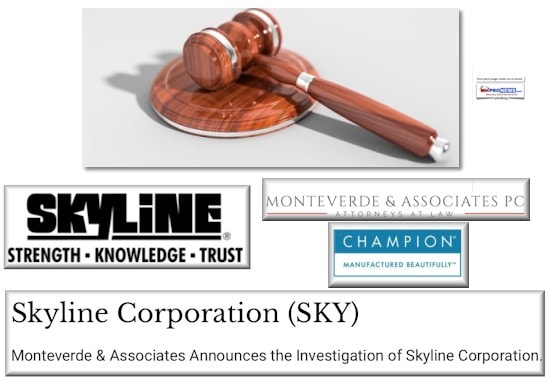 Monteverde & Associates PC are headquartered in the Empire State Building in New York City, NY. Their press release and  engagement letter says they have thoroughly investigated the Skyline Homes (SKY) and Champion Homes merger/acquisition.
Per Monteverde press release, they are investigating "potential securities laws violations and/or breaches of fiduciary duties in connection with the Share Contribution & Exchange Agreement with Champion Enterprises Holdings, LLC for its factory-built housing company (the "Exchange Agreement")."
Skyline Stockholder Reacts
Kevin Sowers with Aplomb Capital is a Skyline stockholder.
He is also a fierce critic of Skyline's management. In that light, it's worth noting that Sowers is dismissive of this legal action.
To understand Sowers' deep interest in the issue, he researched and published information provided to MHProNews in 2017 about his concerns over Skyline. He's also, per sources, engaged others – including fellow Skyline shareholders – in an effort to get Skyline Corporation to do a turnaround and/or merge with anyone that, in Sowers' view, could advance Skyline.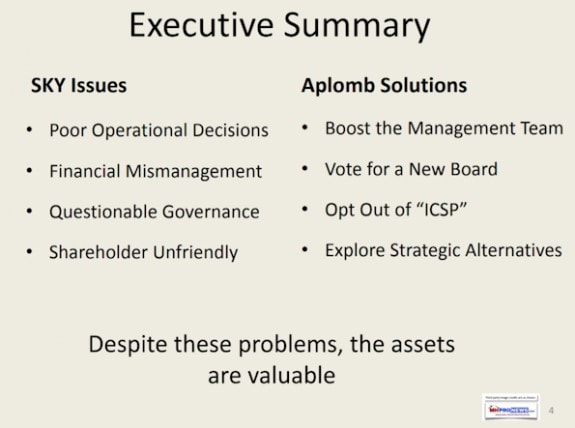 As Sowers described his desire to MHProNews last year as, "an institutional shareholder trying to force the company to make some changes. Presumably, the competitors, dealers, community operators would have some interest," in his research and views as a SKY stock holder.
That research by Sowers' Aplomb, is linked here as a download.  It's interesting to note that Sowers' 49 page presentation opens with a Warren Buffett quote.
A Skyline management reacted off-the-record to the Apolmb concerns at that time with, "I understand his frustration if he bought in as the stock was raising dramatically last year.  He also knows that I can only tell him things that are already in the public domain and the things he wants to know I can't tell him for risk of violating SEC Reg FD."
That Skyline source added, "Is he asking you to publish this in your newsletter?  I am available to these guys whenever they call, there just isn't much we can tell them that we haven't publicly disclose[d]."
MHProNews did not publish Sowers research at that time, and takes no editorial position on the issues raised in this report.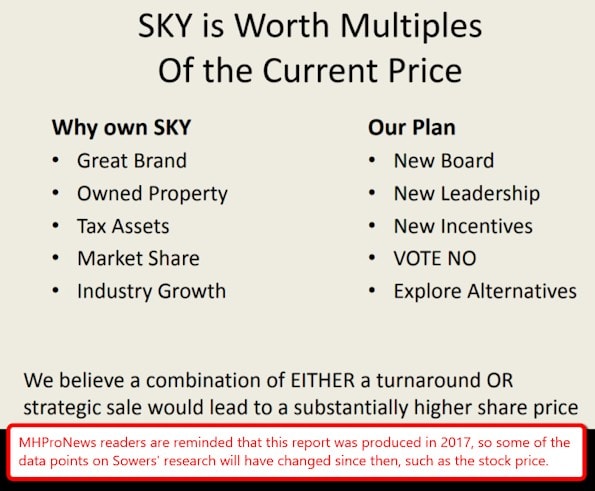 "Ambulance Chaser"
Sowers tells the Daily Business News that Monteverde's announcement "is nothing but an ambulance chaser looking for some money."
Sowers says you can pull up any merger/buyout between two companies and you'll "see a handful of lawsuits filed."
Sowers says "the hope [of the suit] is that the companies will pay off the law firms to go away."  He cites examples outside of manufactured housing. "BBRG…it's a restaurant, was bought this morning, already a few law firms have filed suit "the company wronged shareholders by selling too cheaply." "ESRX…same thing…lawsuits…par for the course."
Perhaps due to non-disclosure agreements, Skyline and Champion management which were contacted for this report, have not yet commented on the allegations being raised by Monteverde.
The NYC "Super Lawyers"
In their release, the Empire State based firm touts its credentials in the following fashion.
"Monteverde & Associates PC is a national class action securities and consumer litigation law firm that has recovered millions of dollars and is committed to protecting shareholders and consumers from corporate wrongdoing.  Monteverde & Associates PC lawyers have significant experience litigating Mergers & Acquisitions and Securities Class Actions, whereby they protect investors by recovering money and remedying corporate misconduct.  Mr. Monteverde, who leads the legal team at the firm, has been recognized by Super Lawyers as a Rising Star in Securities Litigation in 2013 and 2017, an award given to less than 2.5% of attorneys in a particular field.  He has also been selected by Martindale-Hubbell as a 2017 Top Rated Lawyer."
Their standard engagement letter was provided to MHProNews, and is available as a download, linked here.
Per their engagement letter, the handle such cases on contingency, which suggests both confidence and expertise, in many situations.
Shareholder View
"I'm very bulled up on the merger," Sowers' said in a recent email to MHProNews. "Skyline management was garbage and company was too small to compete. Now the employees and shareholders win as you get a legitimate #2 player. [T]he cost savings are going to be better than they have laid out…plus all the inflation in lumber and labor act as a price umbrella since it hurts site built more than MH."
Industry readers and investors should note that Skyline and Champion both have solid Better Business Bureau (BBB) ratings.
The announcement of the class action investigation appeared to have no noteworthy impact on Skyline stocks, which ticked up both Thursday and Friday.  Yesterday's closing numbers, are linked as part of the broader markets report, linked here.
Cases such as this often disappear from the news, because a settlement is reached, and non-discloses are signed, according to guidance from legal experts tell MHProNews. But if more hits the wires or added insights are learned, this story may be updated. Stay tuned.
"We Provide, You Decide." © ## (News, analysis, and commentary.)
Related:
Skyline Corp, Champion Homebuilders Conference Call Presentation Facts, Figures, Forward-Looking Statements, Planned Merger Detail$
What's Happened Since the Skyline (SKY) Champion Homes Deal Was Announced? Plus MH Market Update$
Skyline and Champion 30 Day Snapshot, Plus Manufactured Housing Market UPdate$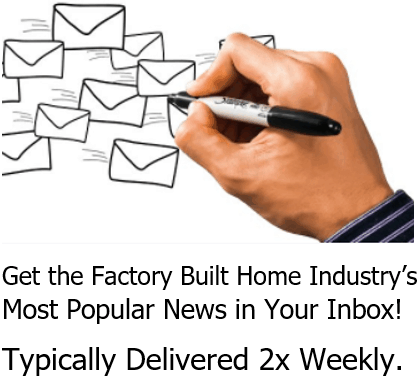 Don't be the last to know. Over 1,000 new subscribers in the past 2 months. Thousands More "Get It."
Sign Up Today! Click here to sign up in 5 seconds for the manufactured home industry's leading – and still growing – emailed headline news updates. You'll see in the first issue or two why big, medium and 'mom-and-pop' professionals are reading these headline news items by the thousands. These are typically delivered twice weekly to your in box.
(Third party images, and cites are provided under fair use guidelines.)
Follow us on Twitter:
ManufacturedHomes
@mhmsmcom

Submitted by Soheyla Kovach to the Daily Business News for MHProNews.com.
Soheyla is a managing member of LifeStyle Factory Homes, LLC, the parent company to MHProNews, and MHLivingNews.com.