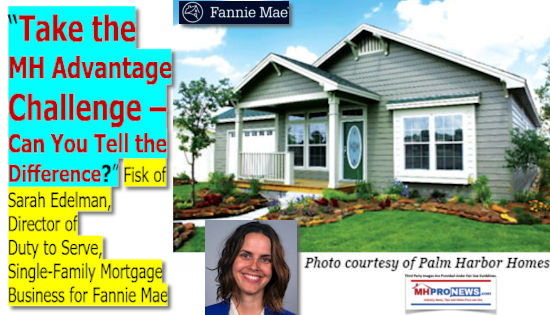 "Most people wouldn't recognize today's factory-built homes. The manufactured housing industry has diversified and enhanced the models available so they can blend seamlessly into traditional neighborhoods of site-built homes, offering comparable amenities and curb appeal," said Sarah Edelman, Director of Duty to Serve, Single-Family Mortgage Business.
Her open is solid, and seemingly positive.
"At Fannie Mae, we're enhancing our mortgage financing options to keep pace with these important changes," Edelman continued.
"This trend toward modern designs is a smart way to meet demand from growing segments of buyers, including millennials, downsizing baby boomers, and first-time homebuyers. These buyers and others are looking to manufactured housing as an affordable option providing quality and value in a market where the supply of site-built housing is low and prices are high. Quite simply, manufactured housing is a key opportunity to address our growing affordable housing crisis," said the Fannie Mae executive, on an article that was published 6.5.2018.
Ten days ago, her Fannie Mae "Perspective" was the top article on the Government Sponsored Enterprise (GSE) website.
But today, a week and a half later, that positive sounding article about manufactured homes is no longer visible on the Fannie Mae home page.
Now, comes what industry insiders – who've scrutinized her comments – are calling the veiled blow from the "perspective" of that GSE.
"That's why we introduced MH Advantage™ mortgage, an affordable financing option that recognizes the similarity of many manufactured homes to traditional site-built homes by offering the same conventional mortgage financing – including down payments as low as 3%, lower interest rates than most traditional manufactured home loans, and cancellable mortgage insurance," Edelman said.
"Homes that are eligible for MH Advantage have features that make them look more like traditional site-built homes including eaves and higher roof pitches, lower profile foundations, garages or carports, porches, dormers, upgraded interiors, and more," she wrote.
Rephrased, what that means is that the bulk of manufactured homes being sold by HUD Code manufactured housing producers are NOT included in the Fannie Mae MH Advantage program.
That's been confirmed to the Daily Business News by MHI connected sources familiar with this MH Advantage program.
"These homes are now easily identified by a new MH Advantage "Mortgage Financing Notice" applied by participating manufacturers. This MH Advantage "sticker" makes it easy for retailers, shoppers, lenders, and others involved in the mortgage process to identify eligible homes when they're bought, sold, or refinanced. It's something interested buyers should look for and ask about," said Edelman.
What hasn't been made known yet by her or others is
what percentage of Fannie Mae's loans are going to be allocated to this program?
Or are the majority of manufactured homes going to be excluded from Fannie Mae lending?
Why doesn't Edelman's column make it clear that these loans are land/home, as opposed to chattel?
Why aren't the answers to those questions part of the article?  Or where is a Fannie Mae FAQ for this topic? Or why aren't other necessary facts being made known?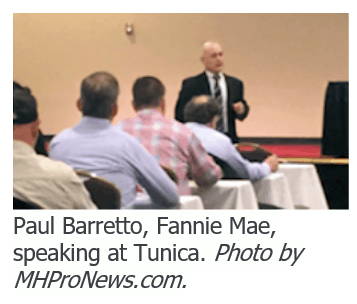 Why?
Because Fannie Mae won't answer those or other related questions.
Perhaps this prior reply from Paul Barretto, at Fannie Mae, to the Daily Business News gives industry readers, public officials, investors, and affordable housing policy advocates a clue.
"I'm sorry I can't talk beyond what I presented…," Barretto said in a message to MHProNews. 
Barretto, Sarah Edelman, their media office, and others contacted over the course of several days at Fannie Mae all declined commenting.
Why?
If Fannie Mae actually wants to promote this program, why not do so for free on the manufactured home industry's most widely read news source? Who is hiding what, and why?
Industry Pro Says MH Advantage Defies the Purpose of the Duty to Serve (DTS)
The now-missing-from-their-home-page article by Edelman doesn't note the complaint lodged by MHARR to Fannie Mae.
The Manufactured Housing Association for Regulatory Reform (MHARR)'s president and CEO, Mark Weiss, JD, said this program was "unacceptable" to that organization or their members for several reasons.
Weiss also said the MH Advantage plan was an "illegitimate," "bait and switch." Related articles, like the one linked below, can be read later for more details.
Fannie Mae Touts MH Advantage Program, But Manufactured Housing Association Slams Plan as "Illegitimate," "Bait and Switch"
Among the reasons Weiss objects on behalf of independent manufacturers and their customers, is because MH Advantage "defied" the core principles of Duty to Serve (DTS), which was mandated in 2008 by the Housing and Economic Recovery Act (HERA).
Weiss said the GSEs have successfully ducked the law for a decade.
DTS is supposed to be about giving access to potentially millions of American to more affordable housing, specifically by providing lending for affordable manufactured homes.  That would benefit people otherwise trapped in rentals.  It could also reduce the costs for government subsidized housing programs, while creating more tax revenues for the states those manufactured homes are sold in.
Instead, what Fannie Mae's program is doing with MH Advantage is arguably creating a more costly, separate class of manufactured homes, all of which will sell at a higher price-point than the majority of what the industry currently offers.
How will that help lower income consumers? How does that boost job creation by the builders of lower cost homes?  Who does the Fannie Mae plan benefit?
Weiss' comments indicate they answer queries like those as follows.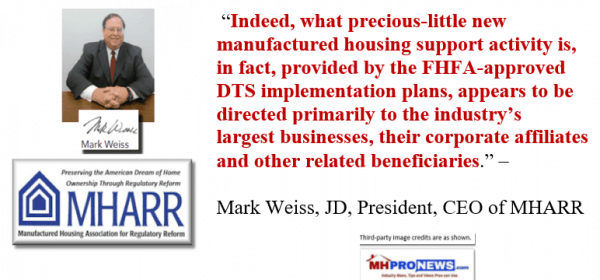 Edelman's article continued as follows.
"We believe MH Advantage is an innovation whose time has come, but we remain committed to traditional manufactured homes, manufactured housing communities, and their important role as sources of affordable housing. In fact, Fannie Mae provided more than $9 billion in financing for manufactured housing in the past two years. And we'll continue working with our partners to expand access to high-quality home rental and ownership opportunities in every market, every day," Edelman concluded her column on the Fannie Mae website.
An unedited version of her article will be found later here as a download, or on their website, at this link here.
A Look at Sarah Edelman's Resume 
An industry source with ties to the development of Fannie Mae's MH Advantage program confirmed for MHProNews that Edelman is fairly new with the giant GSE.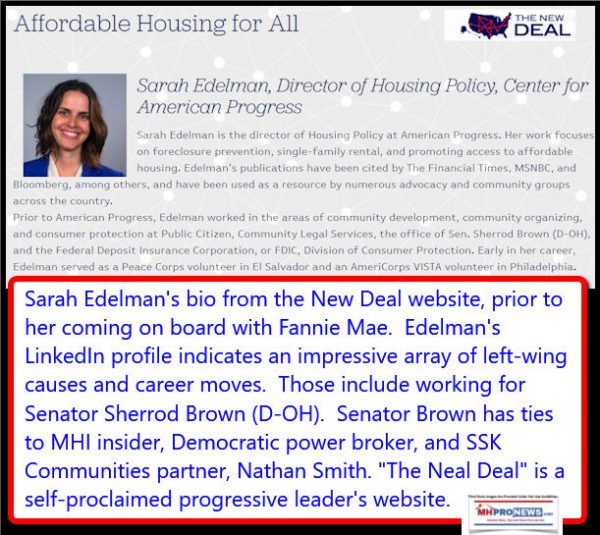 Other industry sources in lending, and who are MHI members, told MHProNews that part of the DTS commitment to manufactured housing is going to be this MH Advantage program.  Those sources could not say with certainty what that percentage would be.  Again, Fannie Mae is mum.
Since when is silence to the media a "pro-growth" progressive virtue?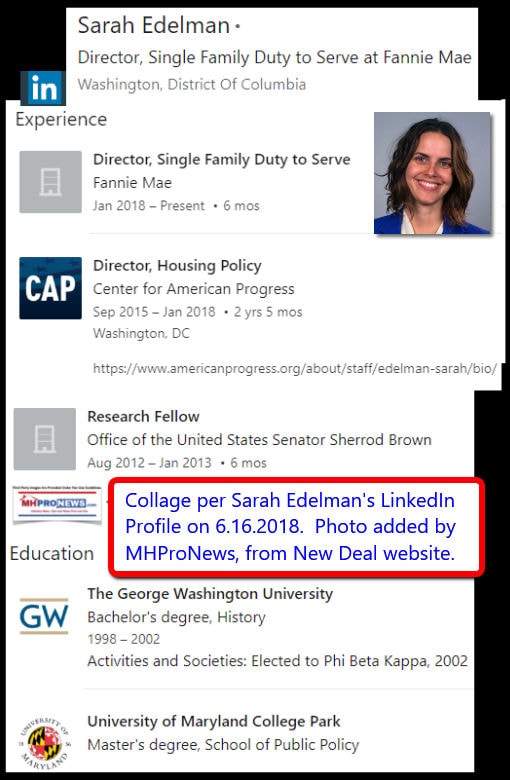 What MHI Connected Sources, and Manufacturers Say
MHI connected sources could not say with certainty how close the design specifications for the MH Advantage program are to MHI's highly touted, but thin on public details, 'new class of HUD Code manufactured homes.'
The controversy-plagued Arlington, VA association president and CEO Richard "Dick" Jennison, plus other MHI staffers, have refused to engage with more details.  Why not?
If they are proud of the facts, why not get the widest possible publicity?  If the national trade goup aren't proud of their plan to talk about it openly, then what have they got to hide?
Does Your Firm Sell News Entry-Level Manufactured Homes?
Does the plan favor big companies over smaller independent producers or retailers?  The indications are, yes.
By implication, doesn't "the new class of homes" and Fannie Mae's "MH Advantage" restrict lending, and thus trade, on the majority of manufactured homes produced?  Isn't that part of the federal definition of barred activity under anti-trust laws?
Again, related articles linked above and below can be read later for more details.
Secretive "NEW" Class of Manufactured Housing Raises Serious Concerns
But there was wide agreement among MHI members who commented for this report that the two sets of standards – Fannie Mae's "MH Advantage," and MHI's so-called "new class of homes" – may be the same.
All of this should be deeply concerning to public officials, affordable housing advocates, the vast majority of the manufactured housing industry's professionals, investors, and the Trump Administration.
One source asserted that they are informed about the MH Advantage program, and favored it. When asked by MHProNews, that source admitted that the prior MH Select had little traction in the market.
That source also admitted that this new MH Advantage program could create problems for manufacturers that are not selling this kind of product.  'But Fannie Mae will be reviewing the [DTS] program in three years, and if it is harming manufacturers or the market, they can change it at that time,' that  person said.
An MHI only member manufacturer expressed outrage over the plan to split the majority of the industry's homes in two by misusing DTS in this fashion, saying it was an insult to the industry.
A careful read of Edelman's article reveals that while it sounds like praise, MH Advantage is a de facto put-down of any home that doesn't meet their standards.
Applying the logic of MHI award-winner Marty Lavin's quote below – if successful – what this will do is cause fewer existing types of manufactured homes to be sold over time.

The Daily Business News and the Masthead have raised concerns about the lack of transparency and contradictions surrounding the DTS program.
MHProNews noted MHI's "new class of homes" could be a "Trojan Horse" for the industry.  The fact that this program was allegedly created in secrecy is itself a warning that possible anti-trust prohibited actions could have taken place.
The history of back and forth support and opposition to DTS by Tim Williams – former MHI chairman and the president and CEO of Berkshire Hathaway owned 21st Mortgage –  could be red flags.
Much of this could be cleared up if MHI and the GSEs released their closed-door meeting minutes.  But they have refused to do so.
Or it could be cleared up, if the parties involved simply, candidly answered a series of on-the-record questions, with those replies given by informed Fannie Mae and other related personnel.  Isn't that just common sense?
The obvious logical conclusion to the various controversies, allegations, and concerns are that the parties involved with this MH Advantage and the DTS program don't want clarity, because they are deliberately being opaque.

The View from the Masthead
MHProNews publisher L. A. "Tony" Kovach has said that the principles Marty Lavin has laid out need to be applied in this case.
Kovach said that the industry must consider pretty words, platitudes, and overdue promises made to the manufactured housing based upon experience.  "Promises and pleasant words have often have resulted in little or no useful action for the majority of the manufactured home industry's members," Kovach said.
MHI award-winner Lavin, is an attorney who served for years with the Arlington, VA based trade body, and served a GSE as well.  He has offered a general summation on tip for reading the industry's tea leaves, which could be applied to this scenario.
They are paraphrased in the following three bullets.
Follow the money.
Pay more attention to what people do than what they say.
MHI works only for the interests of their "big boy" members, and the interests of the smaller MHI members are served only when they align with the interests of the big boys.
'Tip of Iceberg' – Rick Rand; Marty Lavin, Communities have 'No Confidence' in Manufactured Housing Institute, New National Trade Group Announced
It is for similar concerns and failures to properly serve them that the AZ and NV community associations have laid the foundation for a new, national post-production association, quitting MHI last year.
Fannie Mae announced they are an MHI member. Associations lobby.
House Financial Services Committee Chairman Jeb Hensarling issued a statement to MHProNews that protested Fannie's alleged involvement in lobbying, which they are currently prohibited by FHFA from doing. See that, and more, linked under related resources, below.
Update on Fannie Mae Lobbying, and Manufactured Housing Controversy
MHI, members of Berkshire Hathaway brands, and Fannie Mae were contacted by the Daily Business News and asked to react to MHARR's formal protest to Fannie.  None of them has weighed in as of this writing.
By contrast, when MHProNews asks most state associations for comment, a prompt reply – albeit sometimes off the record – are common.
Recall that Smoking Gun 3 documented related concerns over how cutting off or limiting lending put hundreds of companies out of business, some of which had been in the industry for decades.
Smoking Gun 3 – Warren Buffett, Kevin Clayton, Clayton Homes, 21st Mortgage Corp Tim Williams – Manufactured Home Lending, Sales Grab?
As publisher Kovach told a mainstream media reporter last week, the reality of the challenges in manufactured housing for thousands of companies can be summed up in two words. "Rigged system."
The trend is toward what appears to be an artificially created consolidation of the industry.  Why artificial?  Because the nation has an affordable housing crisis, and yet the industry is still constricting, debatably due in part by restricting the lending available to independents.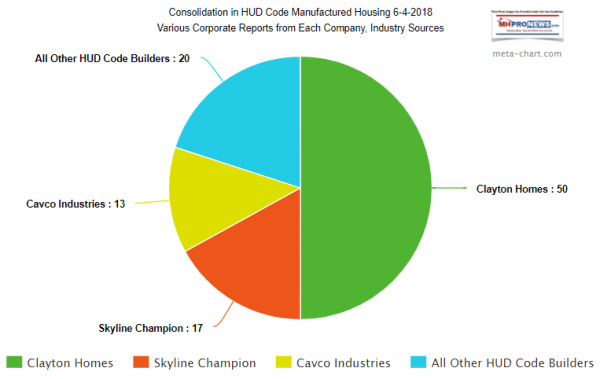 The linked reports provide evidence plus reasons how capital, credit, nonprofits, and MHI have been among the tools used to consolidate the industry, to the advantage of a few at the cost to the many.
An executive level industry reader told MHProNews, "You need to create an 'I told you so' list, to remind the [manufactured home] industry when warnings and concerns have proven to be accurate."  Please put this topic, first raised over a year ago, among those.
"We Provide, You Decide." ©  ## (News, analysis, and commentary.)
(Third party image, and/or content, are provided under fair use guidelines.)
Related Reports:
" I have no comment on MHI's legislative agenda." – Ross Kinzler. " The [MHI] Urban Design Project didn't have any lasting market effects." – Ross Kinzler Priceless, direct quotes. Why Priceless? They are significant observations – and de facto admissions – by someone 'defending' MHI, and their 'new class' of manufactured homes.
Update on Fannie Mae Lobbying, and Manufactured Housing Controversy
Manufactured Housing Institute "Walk Out," "Cover Up," and Shock at their Vegas Event
Wisconsin Housing Alliance – an MHI 'Affiliate' – Amy Bliss' Messages Raise New Anti-Trust Issue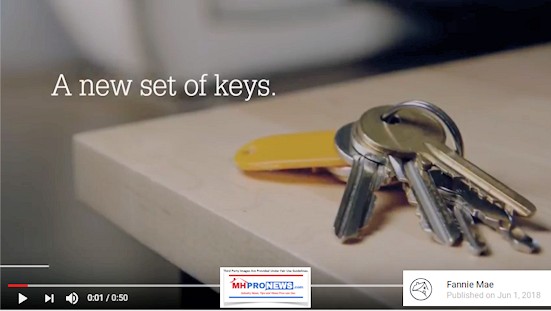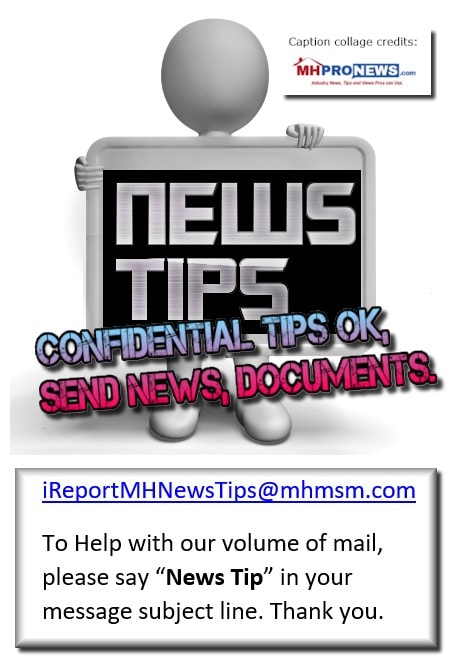 1) To sign up in seconds for our MH Industry leading emailed news updates, click here.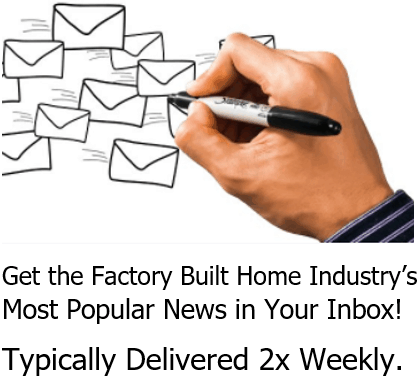 2) To provide a News Tips and/or Commentary, click the link to the left. Please note if comments are on-or-off the record, thank you.
3) Marketing, Web, Video, Consulting, Recruiting and Training Resources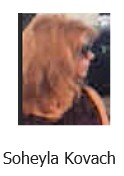 Submitted by Soheyla Kovach to the Daily Business News for MHProNews.com. Soheyla is a managing member of LifeStyle Factory Homes, LLC, the parent company to MHProNews, and MHLivingNews.com.