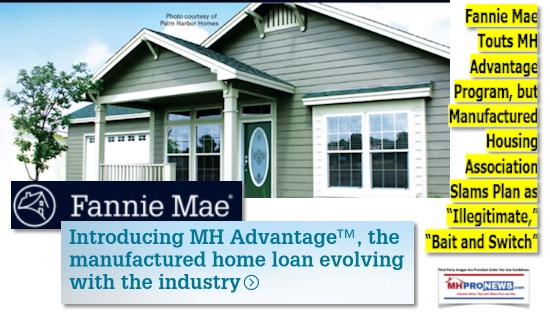 In a letter to the Manufactured Housing Institute (MHI) and Manufactured Housing Association for Regulatory Reform presidents, Jonathan Lawless, Vice President of Fannie Mae advised the two national trade associations of their news "MH Advantage" program for manufactured homes.
The opening from the letter from Lawless to the two national trade association CEOs opens as is shown below.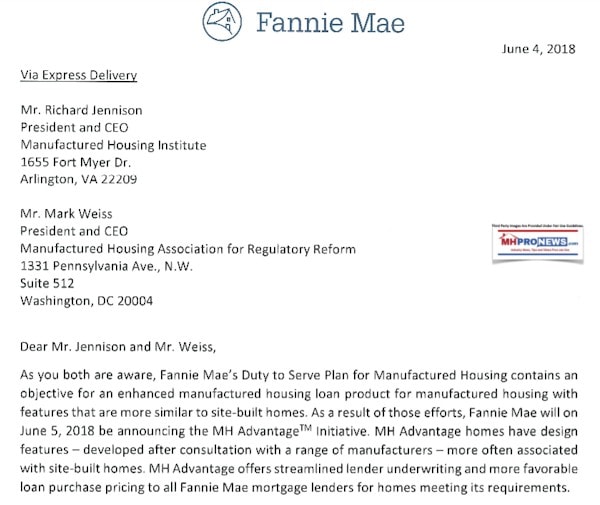 Rephrasing, manufactured homes that don't fit the program won't get financing.
The entire letter from Lawless, which was obtained by the Daily Business News, is linked above as a download.
Fannie Mae, as attentive MHProNews readers may recall, has drawn fire for being a member of MHI.
The GSEs have also been called out by House Financial Services Committee Chairman Jeb Hensarling for lobbying, a charge the federally regulated home finance giant denies.
Update on Fannie Mae Lobbying, and Manufactured Housing Controversy
A letter published by MHARR leaned into Lawless and Fannie Mae, saying the plan is not acceptable.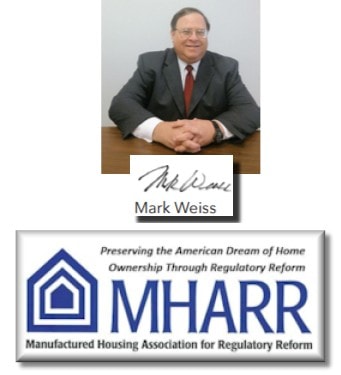 "…the MH Advantage Initiative, both in its underlying concept and premise, is in fundamental conflict with the DTS mandate – and suffers from other fatal defects – which render it wholly unacceptable to MHARR."
MHARR's president – an attorney and multi-decade industry veteran – began to carve up the Lawless letter as follows.
"In relevant part, your June 4, 2018 letter states: "MH Advantage homes [will] have design features – developed after consultation with a range of manufacturers – more often associated with site-built homes." (Emphasis added). The purpose of DTS, however, is not to change the fundamental character of HUD-regulated manufactured housing to be more like site-built homes, or to funnel DTS-based financing to higher-cost homes that are not in the mainstream of affordable HUD Code manufactured housing production," wrote Weiss.
"The DTS mandate, rather, as MHARR has noted on multiple occasions, was enacted by Congress as:
(1)  a congressional finding that Fannie Mae (and Freddie Mac) have not — and still do not — properly serve the manufactured housing market and manufactured housing consumers, despite existing Charter obligations to support homeownership opportunities for very low, low and moderate-income Americans, as well as  
      (2) a remedy for that specific failure."
Weiss said that the failure of the predecessor to this program, MH Select, completely missed the mark, saying: "As the abject failure of the earlier Fannie Mae "MH Select" program," saying that no loans had been made under the prior program.  Weiss said, MH Select, "…resulting, according to available information, in exactly zero loans…"
"Indeed, the fact that it has taken ten years to get even this far, after decades of failing to serve the manufactured housing market (as determined by Congress), shows that Fannie Mae has no real intent to comply with DTS as established and designed by Congress."  HERA 2008 is the legislation that established the Duty to Serve (DTS) manufactured housing, and after a 10 years, and it is only now that a chattel lending program is being rolled out.
"Instead, prejudice, discrimination and outright bias against those prospective homebuyers – who the GSEs were formed to serve and DTS was specifically enacted to serve and benefit – has been the hallmark of Fannie Mae (and Freddie Mac) policy for decades, leading to the DTS mandate in the first place," said Weiss.
"…As such, this program does not constitute a legitimate implementation of DTS as much as a diversion, "bait and switch," and illegitimate end-run around the consumers and policies that DTS was enacted in order to advance," the Washington, D.C. based MHARR president said.
"This circumvention of the purposes and objectives of DTS, moreover, does not even begin to address other significant competition-based concerns regarding the specifics of the MH Advantage Initiative, including compliance criteria that were developed behind closed doors, in closed proceedings accessible only to select participants (as determined by Fannie Mae); and — according to information available to MHARR, onerous energy requirements that have been advanced by the largest industry manufacturers from both a marketing and regulatory perspective, and specifically favor those manufacturers," Weiss stated, adding, "Nor does any of this even begin to address the possible intersection between the MH Advantage Initiative and a secretive "new class" of manufactured homes being advanced by the same large manufacturers – and their trade organization, the Manufactured Housing Institute (MHI) – which supposedly was "well received by Fannie Mae and Freddie Mac."
Perhaps to Weiss point, the Fannie Mae website features two photos with their public announcement of the program, both from the company that MHI's chairman represents.
"The "MH Advantage" Initiative, therefore, is less about implementing DTS for its intended beneficiaries than avoiding the type of market-significant securitization and secondary market support for mainstream, affordable manufactured housing that DTS was designed and intended to produce.  As such, it violates DTS and is wholly unacceptable to MHARR."
The View of the Finance Fray from MHProNews…
The Daily Business News warned the industry months ago that the so-called "new class of homes" being promoted by MHI was potentially the latest "trojan horse" from MHI. The articles linked below can be read later, and are provided as a reference and for more details.  But
The Fannie Mae letter should heighten that concern, as those retailers, communities, and producers that don't participate in a plan tailored to the "big boys" at MHI.
Secretive "NEW" Class of Manufactured Housing Raises Serious Concerns
As MHProNews has warned, there are potentially monopolistic implications from these actions.
Wisconsin Housing Alliance – an MHI 'Affiliate' – Amy Bliss' Messages Raise New Anti-Trust Issue
Several pending reports related to this topic are on the horizon.  But the bottom line for now is that this move by Fannie Mae may signal yet another attempted end-around by larger MHI member companies aimed at smaller independent ones — and it may be happening with one or both GSEs assistance.
MHProNews has reached out to Fannie and MHI for comment. While there are many possibilities, based upon years of prior disappointments on DTS, this does not look promising. Time will tell, more to come. "We Provide, You Decide." © ## (News, analysis, and commentary.)
(Third party images, and content, are provided under fair use guidelines.)
Related Reports:
Smoking Gun 3 – Warren Buffett, Kevin Clayton, Clayton Homes, 21st Mortgage Corp Tim Williams – Manufactured Home Lending, Sales Grab?
Duty To Serve, "Complete Waste of Time" per Tim Williams, CEO/21st Mortgage; POTUS Trump, Warren Buffett Insight$
Manufactured Housing – Regulatory, Other Roadblocks and Potential Solutions, Up for Growth Research, plus Urban Institute Report Revisited
President Trump Spotlights Factory Home Builder in Speech, Proven Promotion, Support of Industry Advancement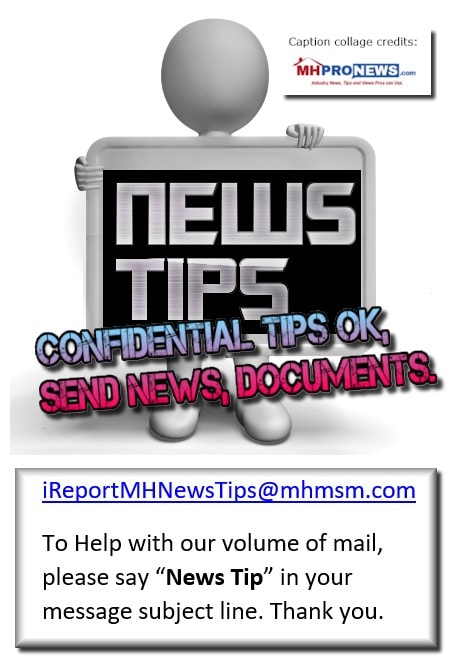 1) To sign up in seconds for our MH Industry leading emailed news updates, click here.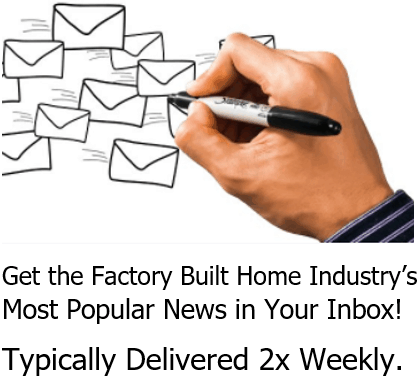 2) To provide a News Tips and/or Commentary, click the link to the left. Please note if comments are on-or-off the record, thank you.
3) Marketing, Web, Video, Consulting, Recruiting and Training Resources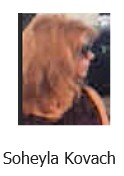 Submitted by Soheyla Kovach to the Daily Business News for MHProNews.com. Soheyla is a managing member of LifeStyle Factory Homes, LLC, the parent company to MHProNews, and MHLivingNews.com.