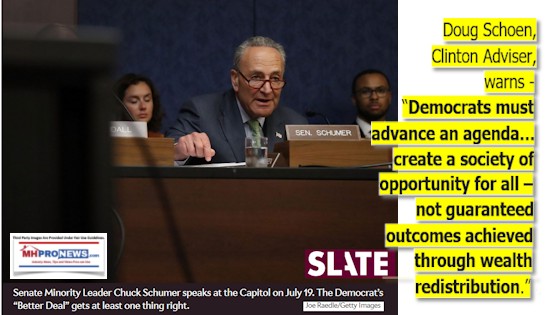 "Eight states – Alabama, California, Iowa, Mississippi, Montana, New Jersey, New Mexico and South Dakota – will hold primaries Tuesday to pick candidates to run in the midterm general elections Nov. 6. But before turning our attention to those races, it's useful to look back at primary results in May and see how they reveal a Democratic party in a deep state of division," wrote Douglas E. Schoen, a 30 year pollster and political consultant.
With the Trump agenda delivering for businesses and investors on many levels, the midterms are one of those clouds hanging over the markets. In manufactured housing, without Donald Trump in the Oval Office, S 2155 would not have passed.  Or would tax cuts and regulatory rollbacks passed under a President Hillary Clinton?  Given her campaign pledges, and her comments since the election, it seems unlikely.
"Voters in Democratic primaries are split between staunchly progressive and more moderate factions," said Schoen, who has advised the Clintons and other Democrats. "In the struggle for leadership of the party, supporters of each faction are potentially fatally weakening the Democrats for November contests, and potentially for the 2020 elections as well. That could pave the way for President Trump to be re-elected."
"There has been a dramatic change in the generic polling for Congress. Republicans now lead Democrats by 1 point, according to Reuters. Moreover, there has been a dramatic improvement in President Trump's approval rating, with the Real Clear Average now up to 44 percent," he wrote.  What Schoen didn't say in this column was that half-a-year ago, there was a widely touted "blue wave" coming, and the "generic Democrats" were supposedly polling double digits ahead of Republicans.
The looming blue wave – per recent trends, and as a talking head quipped – has crashed.  The Rasmussen poll has often had the President Trump at 50 percent approval or higher.
"The reason why this is happening is because Democrats lack an agenda," Schoen said. "The party, deeply split between its progressive and moderate wings, is divided on both message and tactics. This puts the party at risk not only at the ballot box, but in Republican-controlled state legislatures and governor's offices throughout the country, with redistricting occurring after the 2020 census."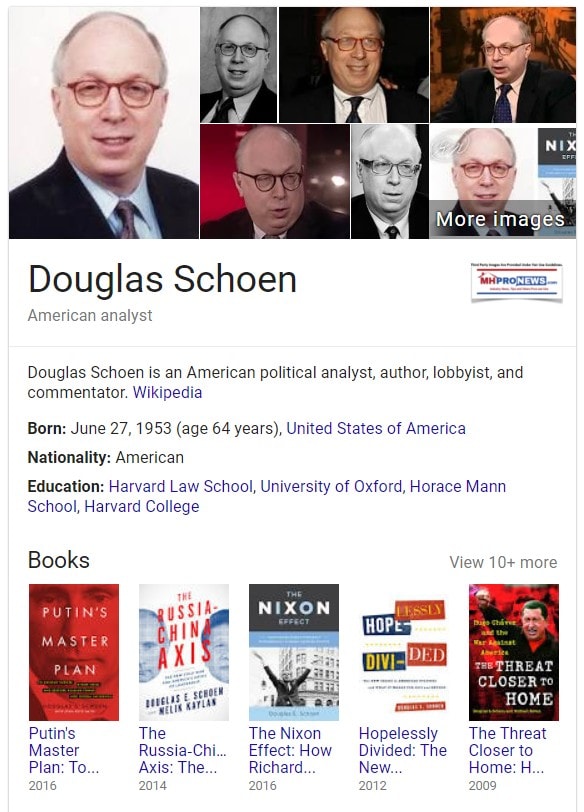 "To be sure, the Democrats' losses in 2010 doomed their chances this past decade. Republican majorities throughout the country continue to benefit President Trump as he prepares for 2020, when he has said he will run for re-election," he wrote in a column on Fox.  Democrats have reportedly lost over 1000 seats in the U.S. since 2010, at the local, state, and federal levels.
"The lack of consensus between the two factions of the Democratic Party is clear, unambiguous and startling," said the moderate Democratic strategist.
"The progressive agenda focuses primarily on resisting President Trump at every step, labeling his every action a scandal, and calling for his impeachment without any vetted or verifiable evidence of wrongdoing," said Schoen, cautioning, "Progressives also advocate a redistribution of wealth without any long-term plan to fund policies such as Medicare-for-All or guaranteed employment."
"The moderates offer a distinctly different worldview. They offer a plan for inclusive economic growth and an alternative set of policies to resolve the issues surrounding immigration and health care. At the same time, they reject party-line loyalty to House Minority Leader Nancy Pelosi, D-Calif., and calls for President Trump's impeachment," per the Democratic party veteran.
While elections this far out are always a jump ball, subject to a variety of possible events, Team Trump seems to have some advantages.
That said, the GOP is far from united.  Many are still quietly, or at times, openly, defying their party leader, President Donald J. Trump.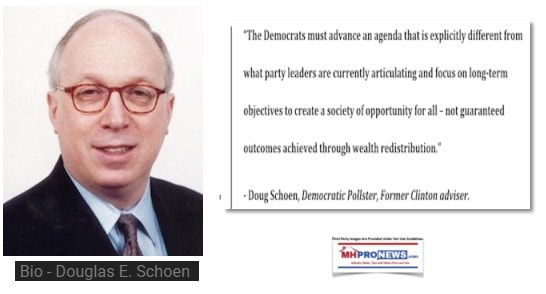 Anti-Trust and Democrats
What seems to be getting less attention recently among Democratic candidates is any focus on their "Better Deal" plank that aims to revive anti-trust law.
Left-leaning Slate, said "Democrats unveiled their "Better Deal" midterm election blueprint…there was one particularly exciting and overlooked item: one piece of the party's new antitrust policy. The platform contains the most interesting idea in antitrust policy in decades, a plan that—if it is designed well—could finally bring real life to merger law, the most important but probably most failed component of American competition policy."
"The plan proposes to create a "consumer competition advocate," which they would style as the 21st-Century Trustbuster," according to Slate.
"While thin on overall detail, the Better Deal's antitrust proposals contain this extremely promising idea: Under its plank for "Cracking Down on Corporate Monopolies and the Abuse of Economic and Political Power," the platform proposes a plan for "tough post-merger review." After mergers are approved and consummated, the Democrats would require "frequent, independent reviews" of the merged firms' performance, ensure resources are available for such reviews, and demand "corrective measures" if regulators "find abusive monopolistic conditions where previously approved measures fail to make good on their intended outcomes,"" stated Slate.
As MHProNews has previously reported, while there are voices on both the left and right that have raised concerns about the growing problems caused by monopolies in the U.S., Europe and elsewhere, this is an issue that Democrats have tended to focus on more.  That too could proven an issue worth watching as the mid-terms draw near.
President Trump, of course, has also raised concerns about the issue of monopoly.  Will the Trump Administration push the anti-trust issue more, as his poll numbers hold steady, or are rising? "We Provide, You Decide." © ##  (News, analysis, and commentary.)
(Third party images, and content, are provided under fair use guidelines.)
Related Reports:
Progressive "Nation" Reports on Monopolies Cites Buffett, Clayton, Others – MH Industry Impact?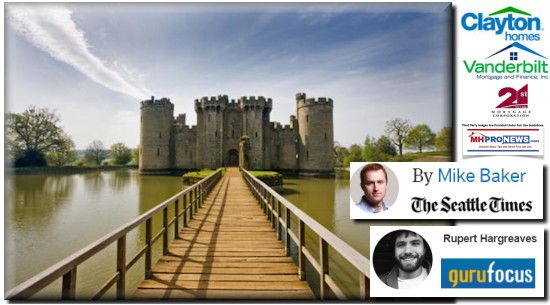 President Trump Spotlights Factory Home Builder in Speech, Proven Promotion, Support of Industry Advancement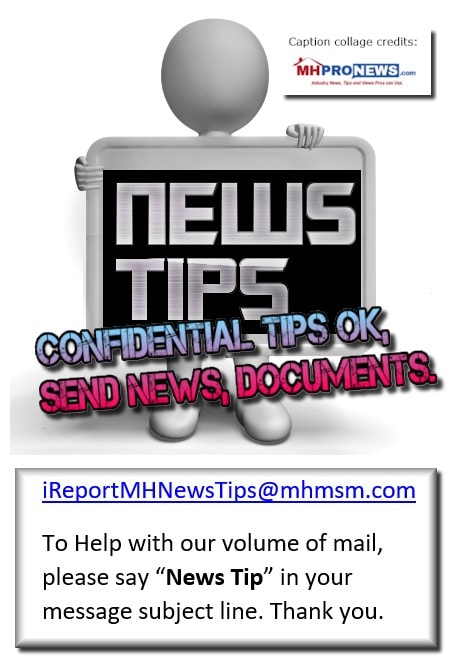 1) To sign up in seconds for our MH Industry leading emailed news updates, click here.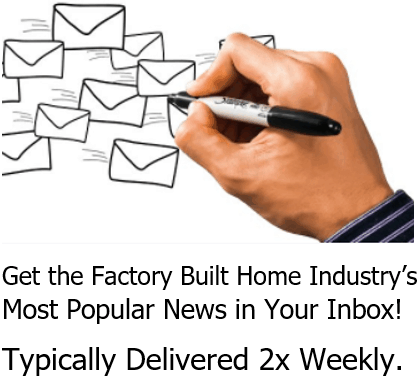 2) To provide a News Tips and/or Commentary, click the link to the left. Please note if comments are on-or-off the record, thank you.
3) Marketing, Web, Video, Consulting, Recruiting and Training Resources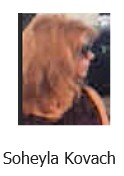 Submitted by Soheyla Kovach to the Daily Business News for MHProNews.com. Soheyla is a managing member of LifeStyle Factory Homes, LLC, the parent company to MHProNews, and MHLivingNews.com.