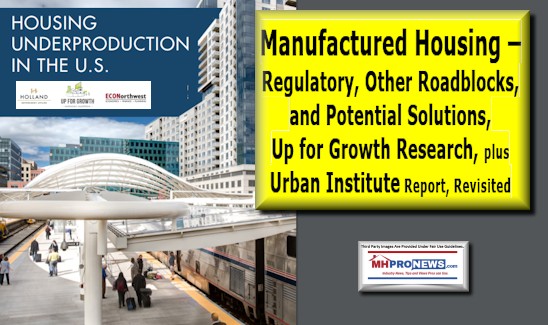 "Sadly, the growing recognition of [restrictive zoning for housing]
by scholars and policy analysts across the political spectrum has so far
not resulted in much political action."
— Libertarian law professor Ilya Somin,
per the Up for Growth National Coalition,
April 2018.
"Manufactured homes could ease the affordable housing crisis.
So why are so few being made?"
–      Urban Institute,
January 2018
Overview
"U.S. fell 7.3 million units behind housing demand from 2000 – 2015," according to new research from the Up for Growth National Coalition, ECONorthwest, and Holland Government Affairs in a media release to the Daily Business News.

Their figure for the production shortfall is similar to one used by the National Association of Realtors (NAR) Lawrence Yun, who says that the nation needs some 8.3 million housing units.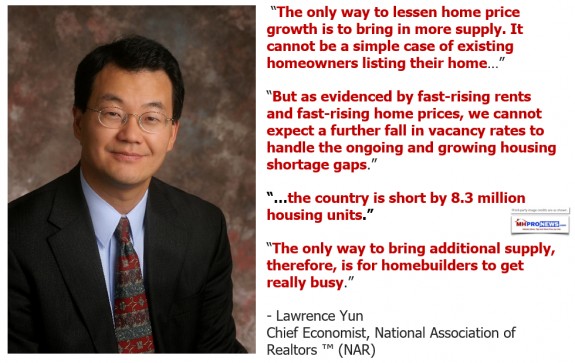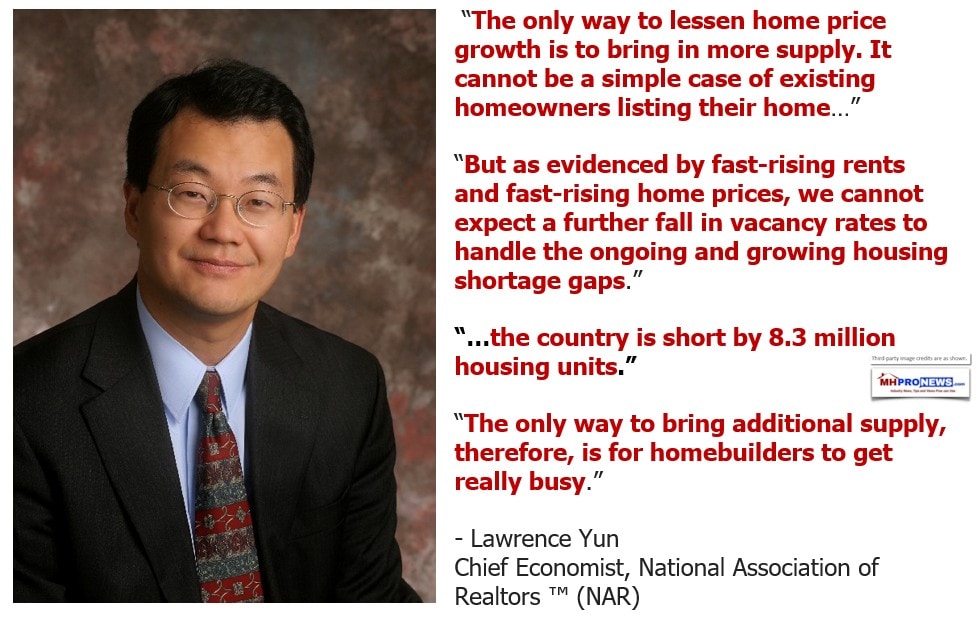 "The housing shortage is far more severe than originally believed, and much more widespread," said Clyde Holland, Founder and CEO of Holland Partner Group and Up for Growth Executive Chairman in their release. "From California to Maine, the supply of housing is simply not matching its growing demand. Not building enough new housing pushes rents up, forces quality of life down, and is a significant drag on the economy. As this research clearly shows, these trends and the barriers to building market-rate and affordable housing are unsustainable. To achieve affordable, sustainable, and vibrant communities, we need a new approach to housing."
Against that backdrop, there's the recently produced exchange captured on CSPAN between Housing and Urban Development (HUD) Secretary Ben Carson, and Senator Thom Tillis (R-NC).  That video is below.  Highlights include the fact that Carson called the progress and quality of manufactured homes "amazing."  In response to Tillis question, Carson said the regulations at HUD regarding manufactured housing have been "ridiculous."
Tip
We recommend to first time visitors and others not as familiar with these issues read the text of this report, and then circle back later to read the related reports, linked below. Those links provide additional information, quotes and/or documents.
Backdrop
Some tout an American energy policy which should include 'all of the above' energy production options.  Similarly, some promote an American affordable housing policy that includes a robust use of all kinds of housing, including housing retention whenever possible, plus the liberal use of modern manufactured homes.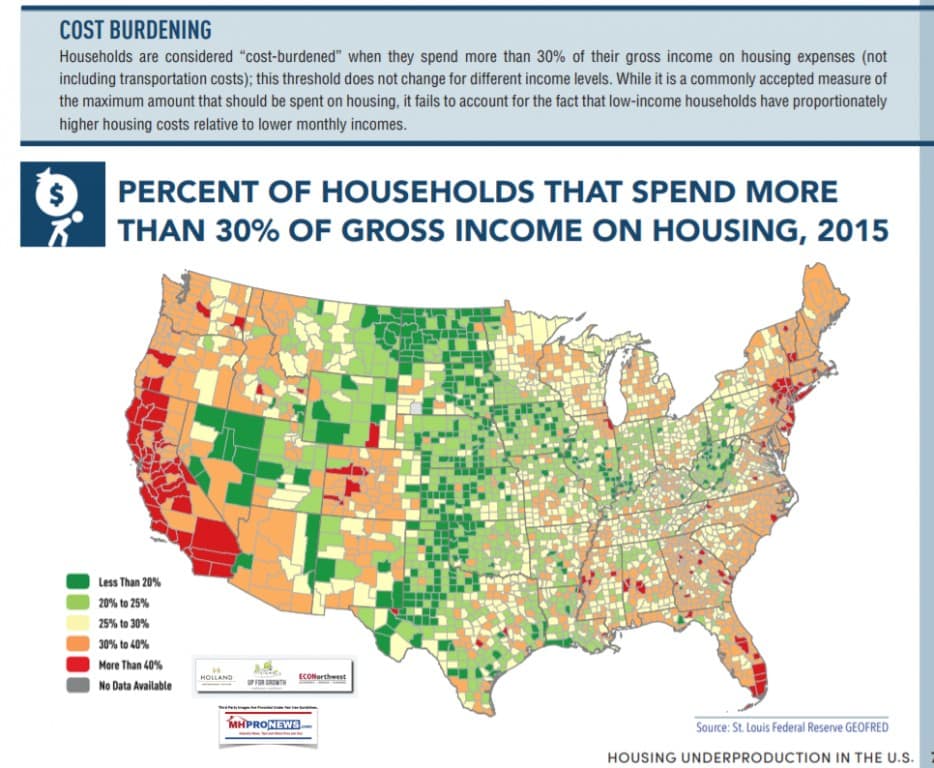 But several factors have limited manufactured housing in the past decade-plus.  The graphics and information that follows provide context, point to causes, and potential solutions.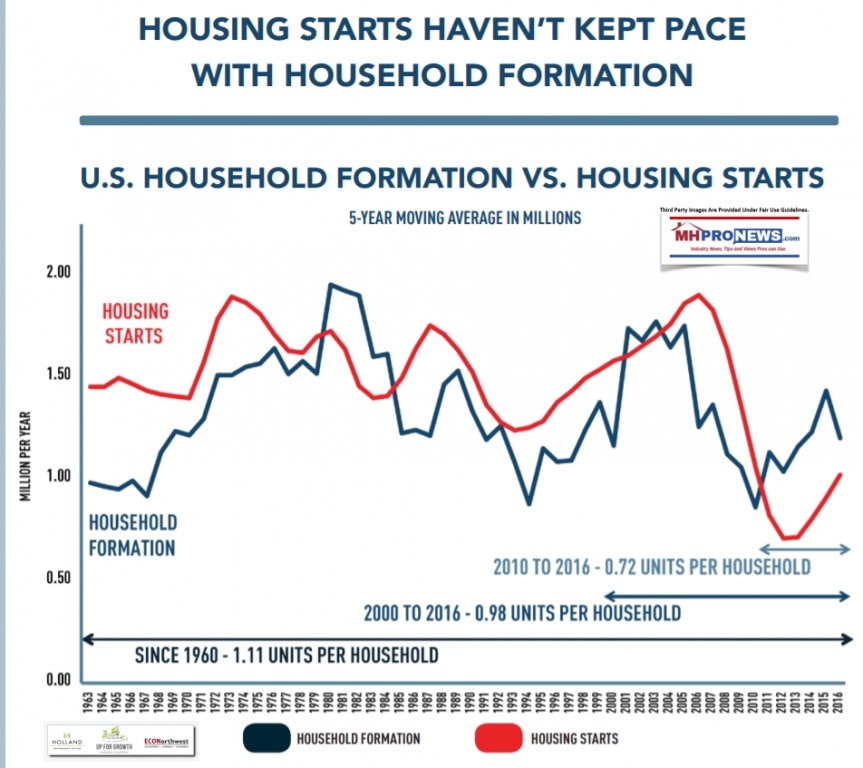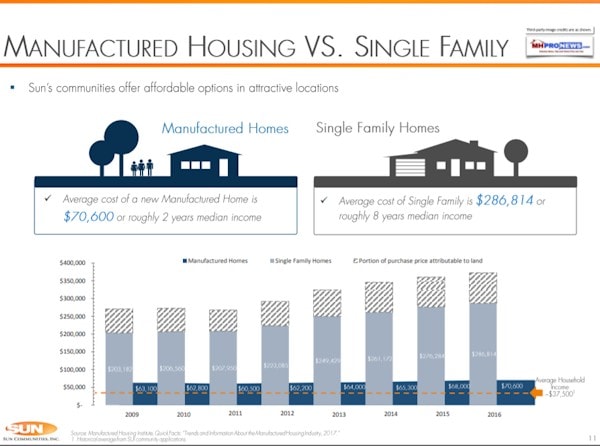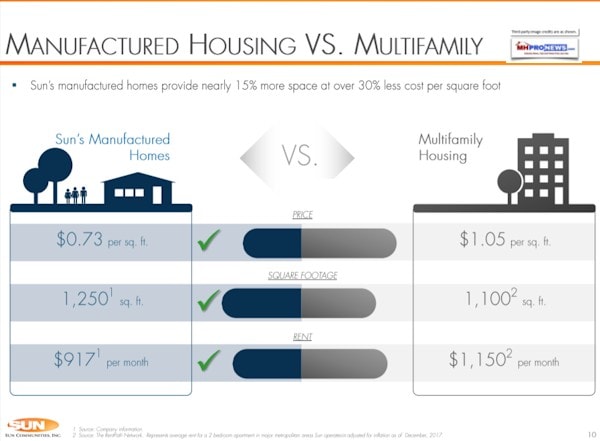 Some of the responsibility for those limiting elements are laid at the feet of public officials.  There has been a combination of a lack of enforcement of existing laws, as well as overreach on regulations.  Those details are found herein.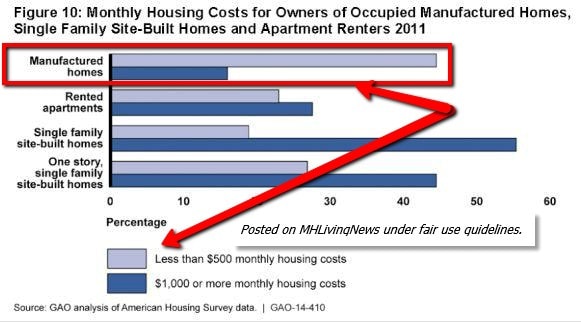 Others within the manufactured home industry have – by action and inaction, commission and omission – allowed or encouraged policies that resulted in the consolidation of large parts of the industry into fewer hands.  The following published comments by others captures some of those viewpoints.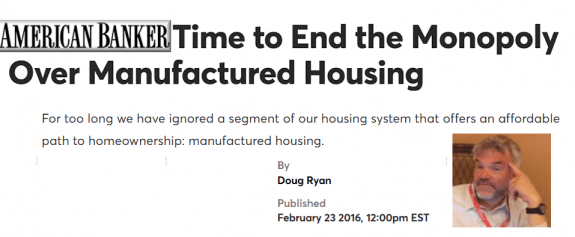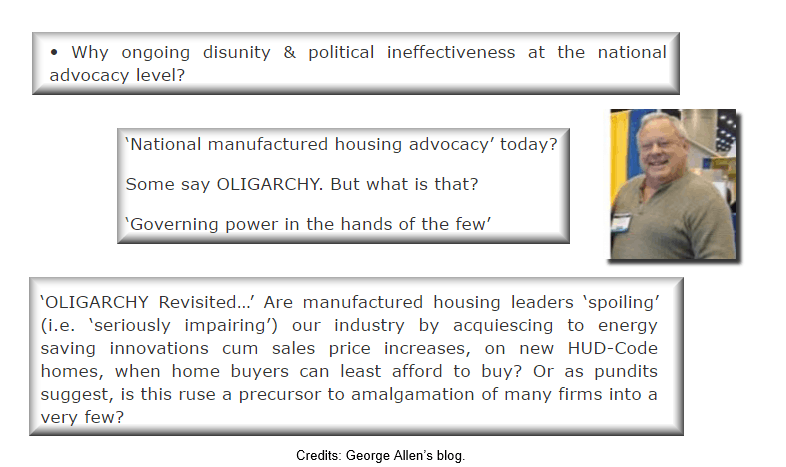 The above concerns have occurred in a manner that several public officials, along with private individuals, believe is monopolistic.
–      There is significant evidence of how this has occurred,
–      what this costs American society,
–      and the role that public officials have played in what many believe has been – at least in part – an artificially manipulated process.
Publications, politicos, and advocates across the left-right divide have commented on these trends, allegations, concerns, and forces.  This publication is far from alone, as the links and quotes reveal. What's unique here is bringing the various elements into the scope of a single report, with additional linked references.
Progressive "Nation" Reports on Monopolies Cites Buffett, Clayton, Others – MH Industry Impact?
The solution to the affordable housing crisis is hiding in plain sight.  It's found in the widely under-appreciated manufactured home (MH), which is much better than the majority of the public has been led to believe.
Who says so?
This report will cite:
MH Industry,
public officials,
outside experts,
a clip from a focus group of home owners,
and outlines the often-surprising findings of third-party researchers, that praise manufactured homes.
Those who take a different view are also briefly examined, each in the light of known facts.
Harvard's Eric Belsky
Experts such as Harvard's Eric Belksy believed manufactured homes would dominate in sales over conventional housing, by 2010.  That didn't happen.  Why not?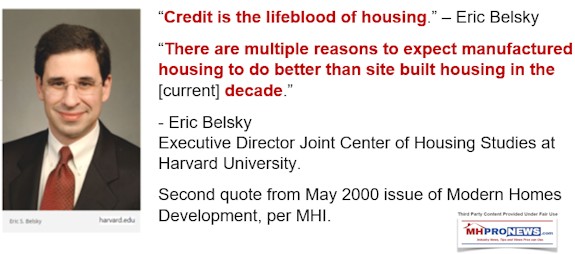 This survey will introduce the insights that can help answer that question.
"We Provide, You Decide." ©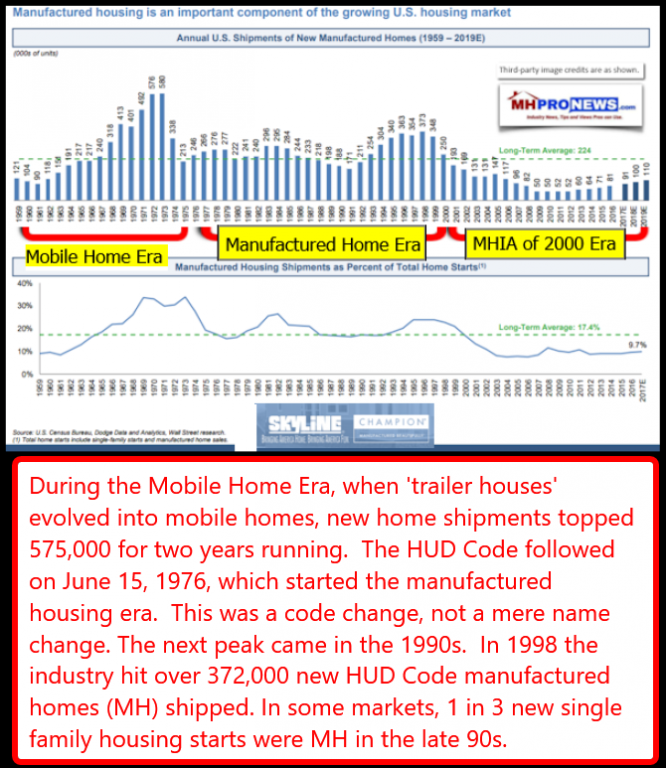 MHARR on Federal Overreach, and the Under Use of Preemption
Responding to a question from MHProNews, Mark Weiss, J.D., President and CEO of the Manufactured Housing Association for Regulatory Reform (MHARR) said, "the frost free foundation and on site completion rule matters reflect their overreach and are in violation of the manufactured housing statute.  More generally, their failure to do rule making and cost benefit analysis on multiple issues are other major problems," are among the problems with the administration of the federally regulated HUD Code manufactured housing program.
MHARR members met with HUD Secretary Carson, who pledged to reform the program.
MHARR's president has previously noted that it is "Time to Enforce Federal Preemption" – meaning, the preemption enjoyed by HUD Code manufactured homes under federal law.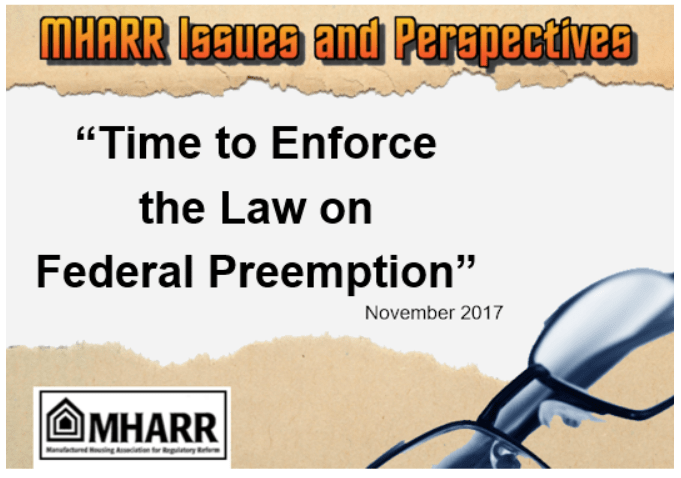 Weiss has said that every day that the Duty to Serve (DTS) isn't fully implemented by the GSEs – which is still under the supervision of the FHFA – is a "gift" to Berkshire Hathaway owned lenders.
Among Weiss' concerns?
FHFA held closed door meeting(s) with Manufactured Housing Institute (MHI) and their member companies, and hasn't released the minutes of that meeting(s).  Whatever occurred, the bottom line has been a failure to robustly implement DTS.

The GSEs pointed to a lack of current loan performance data from some larger firms in the industry among their reasons for not doing more to support manufactured housing under DTS.  But it should be noted that other data and research already made available to them suggests that there was sufficient evidence for the FHFA to prompt the GSE's into doing more lending than the tiny pilots that Fannie Mae and Freddie Mac will be launching.
reported on an effort by Doug Ryan and other non-profit leaders to get more lending on manufactured homes by community and other bankers. Ryan is the director for affordable home ownership at the nonprofit Corporation for Enterprise Development (CFED).
From Hawaii to Boston, recent reports in the mainstream media spotlight the push-back and controversies tied to the use of manufactured housing. There are periodic and notable exceptions, such as the examples cited below.
While housing becomes more and more expensive across the United States, there's a simple solution. For those who either want to be frugal and still get great quality or those who have limited funds, but desire to be a homeowner – the answer, suggests and HousingWire – could be modern manufactured homes.
But much of that resistance by politicos, some in media, and others are based upon false, misleading and/or outdated information.  Ignorance is part of the problem, so education is part of the cure.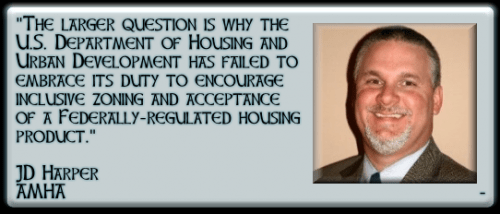 Those public officials who've been properly exposed to the realities of modern manufactured homes – as Secretary Carson indicated – are often positive-to-enthusiastic.  One of several examples is found in the video below.
The comments in the video below were made in 2017.  They reveal the frustration and concerns shared by advocates for independent producers of manufactured housing.  They clearly state what they believe are important elements of what's holding up the proven, largely private-sector solution, to the affordable housing crisis.
For at least two decades, third-party researchers have documented their belief in the quality of modern manufactured homes.  Some like Belsky and CFED – rebranded as Prosperity Now – have explained why manufactured housing would be an important part of the future of American home building.  The examples shown and linked are only a sampling.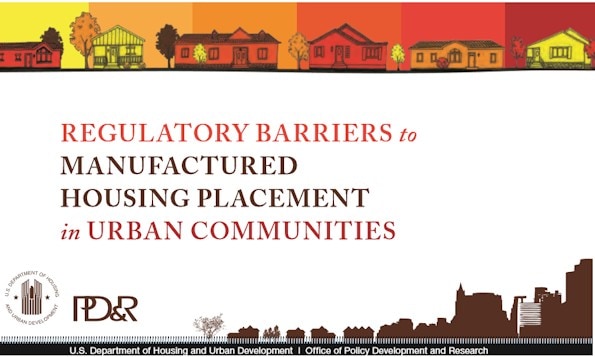 University level research commissioned by HUD, part of their HUD Office of Policy Development and Research (PD&R) series, was published in 2011 under the title, Regulatory Barriers to Manufactured Housing Placement.  That research revealed that manufactured homes appreciated side-by-side with conventional housing.
So, one of the biggest reasons for "NIMBY" – Not In My Back Yard – fear of depreciation caused by manufactured homes nearby, is based upon a myth.  
But part of what makes the HUD PD&R noteworthy is the lack of commentary on federal preemption.
Since manufactured homes are proven to be dynamically similar in quality to conventional housing, and HUD's own research demonstrates that there is no economic harm to neighboring homes, why not make a robust use of federal preemption?
Other Examples of Classic Ignorance – a Lack of the Facts
Many believe that crime and manufactured homes somehow go together.  But third-party research debunks that myth too.
"Some had lower rates of crime than you would expect, because they had pride of ownership and the shared backgrounds of residents." – Researcher William P. McCarty Homeowners love them. Affordable housing advocates laud them. Municipal planners approve them.
On issue-after-issue – including windstorms and how manufactured housing performs during such events – the realities documented by research are different than what is generally believed.
An eye-opening statement from a National Weather Service (NWS) expert reveals that tornado related risk of death for residents of mobile or manufactured homes are being improperly warned, and reported. Before diving into that exclusive, written statement from NWS, it is instructive to look at the safety, durability, and quality issue about factory-built homes in a broader way.
Another study by two university professionals performed late in the Obama Administration suggests the following.  That not having a solution for affordable housing is costing the U.S. economy some $2 trillion dollars annually.  While their specific research doesn't point to manufactured housing, it does reveal the kind of economic benefits that would flow if the Trump Administration would promote enforcement of existing laws.
Rephrasing, if the government enforces preemption and fully promoted the lending options the federal government already has established by law, more will become manufactured home owners, and more economic growth will follow.
YIMBY vs. NIMBY, Obama Admin Concept Could Unlock $1.95 Trillion Annually, HUD & MH Impact
So, why aren't preemption and other federal laws already on the books properly enforced?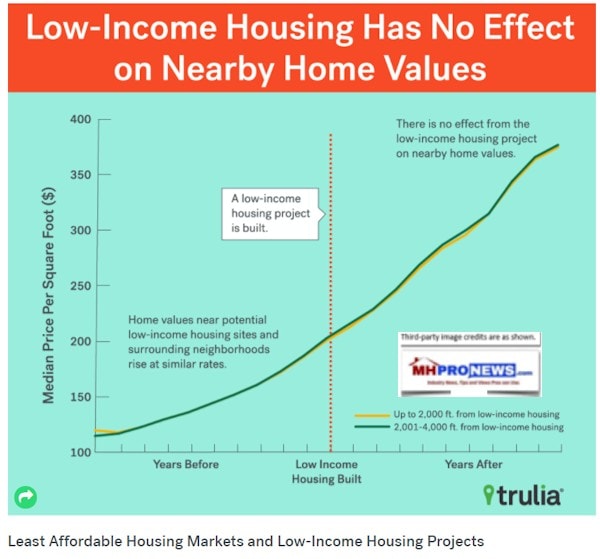 Today we'll keep it shorter than normal, because we want you to be able to focus on the infographic and data provided below. We could sum this up like this. There is a lot of misinformation about modern manufactured homes, starting with terminology. From there, one can move on to issues of quality, durability, appreciation, and more.
The Urban Institute largely positive research on manufactured housing points to key, and troubling, clues to that question.  In fact, the Urban Institute raised that question, as the second quote at the top of this article reflects.
Disturbing Answers to Urban Institute's (UI) Penetrating Question…
The Urban Institute's report says that manufactured homes are quality. They point to land-use (restrictive zoning) issues, as does the Lincoln Institute or others.  UI notes financing challenges, and slower appreciation, but acknowledge that manufactured homes can and do appreciate.
It's what's not in their January 2018 report that point to arguably emblematic examples of what's gone wrong for those seeking to advance manufactured housing as a key solution for the affordable housing crisis.
For example, when lending is cut off or restricted, that impacts all housing value, site built or manufactured. Further, supply and demand impact housing values.  What linked and other research reveals is that given a level playing field, manufactured housing preforms.
So, when affordable home ownership is widely seen as a social good, why is the playing field not level?
With proper understanding, lending, and public policies, the evidence suggests that manufactured homes would be a good investment for buyers.  Further, manufactured homes routinely provide lower income, and first time buyers an opportunity they may not get in any other way.  Or as one citizen told anti-manufactured home officials, it isn't a crime to be poor.
"It Isn't A Crime Time to Be Poor" Citizen Tells Anti-Manufactured Home Lawmakers
Research by CFED – rebranded since as Prosperity Now – reflects the wealth building potential for even lower income Americans.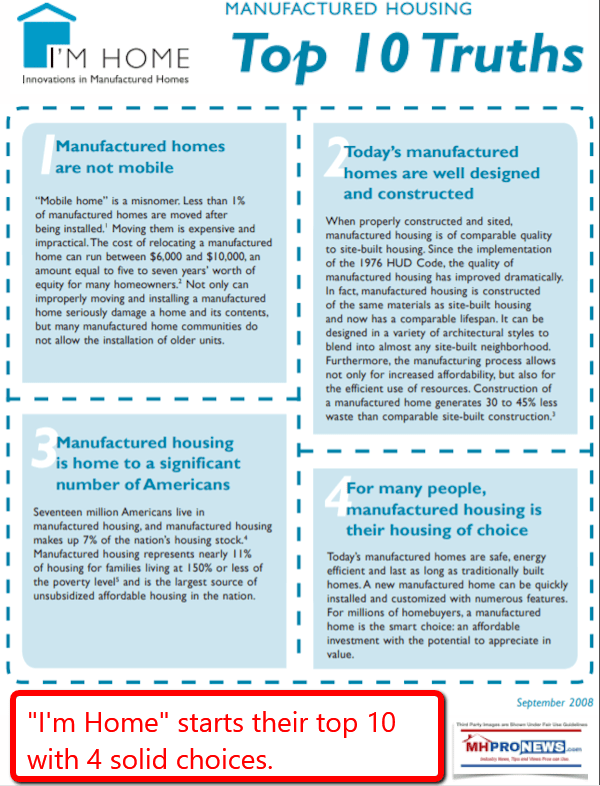 UI's Undisclosed Facts
MHProNews learned that one of the four writers of the Urban Institute (UI) research – Ed Golding – used to work for HUD. In fact, sources with ties to HUD said the recently-removed administrator of the HUD Code manufactured housing program – Pam Danner, J.D. – reported to Golding.
Golding knows manufactured housing "well."  Danner has been the source of years of growing controversy in manufactured housing. Why didn't Golding and UI disclose his relationship to Danner? Conflict of interest guidelines in university style research suggest that even the appearance of conflict of interest should be disclosed.  So why are there no disclosures on the webpage of the report published by UI?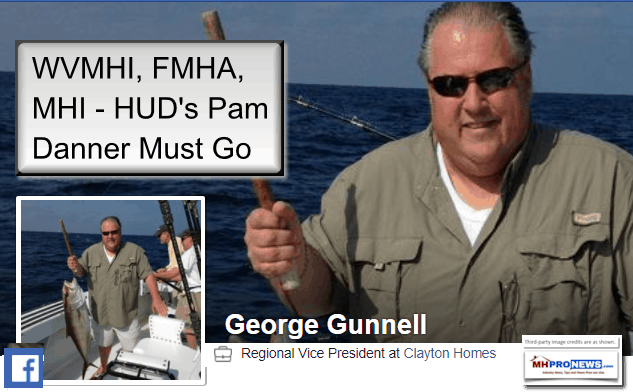 Golding, like Danner, didn't promote federal preemption.  Rather, what they did was authorize heavy regulations that fell disproportionately to smaller producers and independent companies.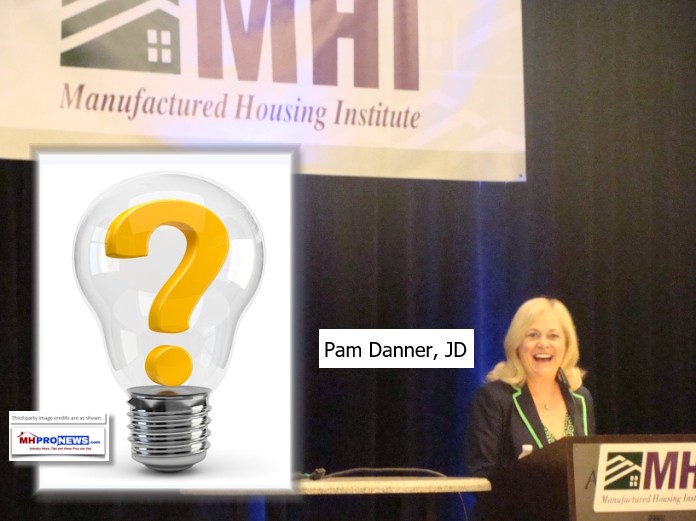 http://www.mhmarketingsalesmanagement.com/blogs/industryvoices/now-you-will-hear-the-rest-of-the-story/
So nowhere on the Urban Institute (UI) webpage where their report was published disclosed:
–      Golding's bio, and his ties to Danner and HUD's manufactured home program,
–      That the Manufactured Housing Institute (MHI) and Berkshire Hathaway owned Clayton Homes and affiliated lenders were part of the UI research, but that they were promised "anonymity" in the published report.  The reality of that statement is based on sources in UI, sent via email to MHProNews. No similar engagement by UI reportedly took place with MHARR members.  Why did only the major players get such special access to input on the UI report, which was published shortly before pending comments to federal regulators was due?
–      Or that Warren Buffett is a lifetime trustee of the Urban Institute.  Buffett also sits on the board of the Gates Foundation, which he's given billions of dollars of Berkshire Hathaway stock to, and the Gates Foundation in turn donated millions to the Urban Institute.
While some of this can be learned elsewhere on UI's website, or can be found via public records, none of these items noted in the bullets above were disclosed on the page where their report on manufactured housing is published.
In several messages by MHProNews with them, the Urban Institute only asked for one significant correction to our published reports. That one request?  It was on a point that UI was arguably mistaken. Namely, that the Daily Business News noted that Buffett indirectly had donated to their organization, as outlined in the bullet above, or as is documented in the report linked below.  Thus the concerns raised have gone essentially unaddressed, even though UI was given the opportunity to do so.
Urban Institute Ask for Correction in Analysis of their Manufactured Housing Research, "Follow the Facts," "Follow the Money"
As manufactured housing advocate, the Rev. Donald Tye, Jr. has noted, the above has the look of interlocking directorates, which are an item that antitrust regulators look for when investigating a possible monopoly.
The Berkshire Hathaway dominated Manufactured Housing Institute (MHI) never publicly explained how Lois Starkey, a former vice president of theirs, ended up leaving them and going almost immediately to work for Danner at HUD.  When Danner was transferred away from the manufactured housing program recently, Starkey was dismissed by HUD.  It was learned by MHProNews that MHI requires non-disclosure agreements from their current and recent staffers.
HUD's Pam Danner Announces former MHI VP Lois Starkey Joining HUD
Other Disclosures and Facts "Missed" by the Urban Institute (UI)
UI's fails to mention enhanced preemption, or they largely underplay regulatory overreach.  Yet their report co-author – Ed Golding – certainly knew about these issues.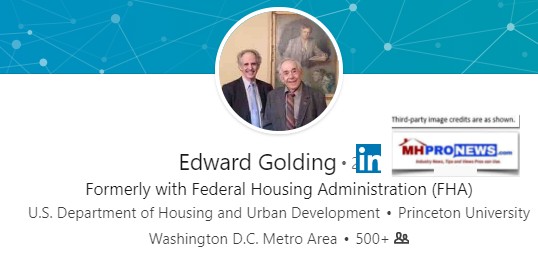 But perhaps as significant, is the clear failures to note that details about the capital/lending point – correctly raised by UI –  but which nevertheless fails to mention how Berkshire Hathaway benefited from FHA/HUD's 10-10 rule.  Or how Berkshire brands have – at various times – allegedly interfered with the independents in the industry's ability to tap into capital and lending. These are examples of federal law being applied or ignored in ways that harmed the many, but arguably have benefited the few as a result.
Is there clear evidence for Buffett's Berkshire choking off lending or capital to kill off competition?
Yes, and it's been published.
To date, this document shown below, signed by 21st President Tim Williams, stands unchallenged.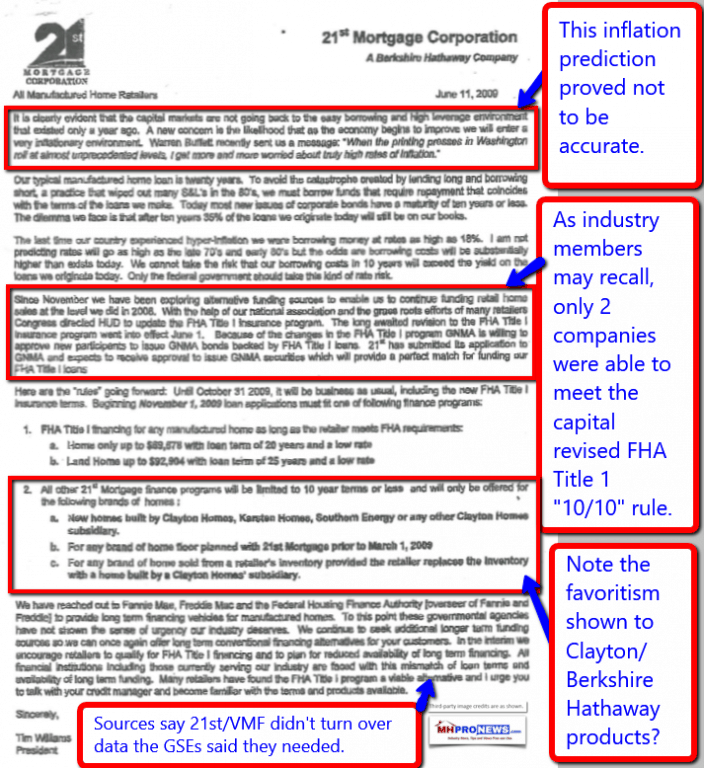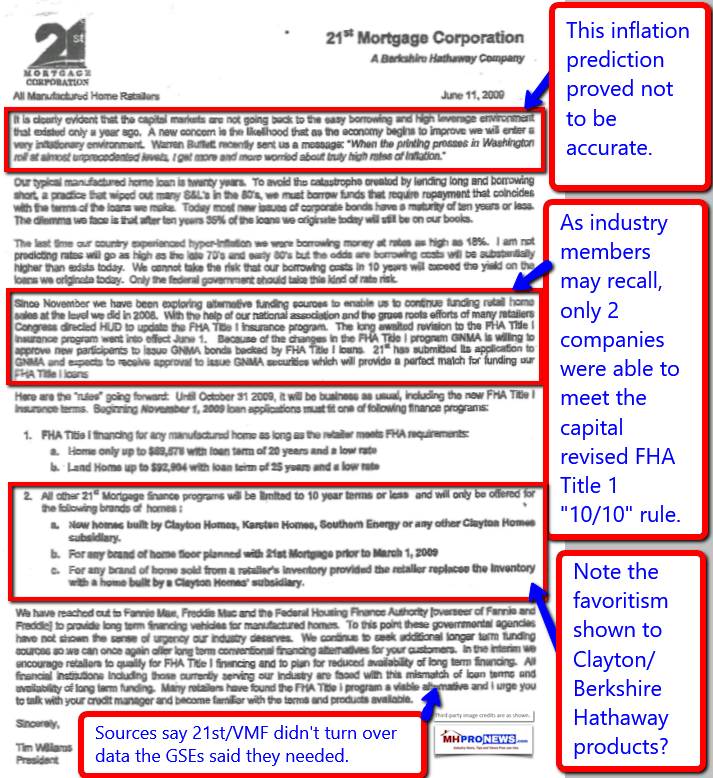 Another like it also exists, and is linked from the report found below. Not only is the above described by some industry professionals as a "smoking gun" for a monopolistic power play, its only part of a broader pattern that's drawn concerns from across the left-right political and economic divide.
Killing Off 100s of Independent Manufactured Home Retailers, Production Companies – Tim Williams/21st Mortgage "Smoking Gun" Document 2
For example. The Nation, a progressive publication in a report linked further above, blasted Buffett's Berkshire, specifically naming Clayton as part of their alleged monopolistic play.
Maxine Waters Statement, Preserving Access Manufactured Housing Act 2017, Warren Buffett, Clayton Homes
Maxine Waters and other Democrats have called Buffett's Clayton a "near monopoly." They demanded a federal investigation by the Consumer Financial Protection Bureau (CFPB) (see above, plus related reports and resources, at the end of this report).
The Campaign for Accountability has raised their own issues, and cite their sources.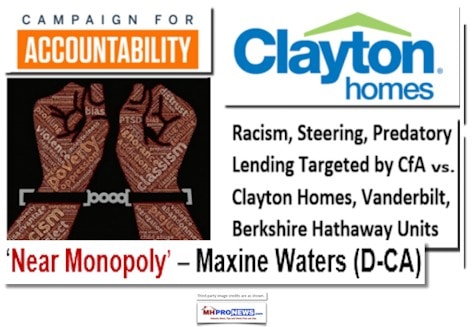 Waters and others in Congress and beyond have noted that Berkshire Hathaway dominates the Manufactured Housing Institute (MHI).  Two of the four seats on their governing executive committee have been held for years by some of Buffett's manufactured housing team members.  At present, the chair is a former Clayton division executive, and two others work for a Berkshire brand in manufactured housing.
The Preserving Access to Manufactured Housing Act – which MHI has spearheaded for years – has drawn fire from Waters and those who support no changes to Dodd-Frank.  Preserving Access has two main 'legs.'
One is the repeal of the so-called MLO (Mortgage License Originator) rule, that arguably helps almost everyone in the industry involved in sales to the public.
The CFPB imposed MLO rule effectively muzzled the free speech rights of manufactured home sellers who didn't take a test.  According to those who've taken the test, the MLO instructions largely have little or no applicable use for manufactured housing.  By contrast, real estate agents have no similar muzzle, and no such license required.  The same point could be made about autos or RVs.  Why does manufactured housing get this unwanted, special treatment?
The other leg raised the points-and-fees that can be charged on low cost loans. This benefits several in the industry, but primarily, benefited Berkshire Hathaway owned brands.
So, MHI – by going through unsuccessful (some say, posturing) efforts to mitigate regulations – is doing the bidding of brands that benefit either way.
Rephrased, Berkshire owned companies arguably benefit if Preserving Access passes or not. Yet this has been the centerpiece of MHI's lobbying for years.
Manufactured housing for decades was made up for thousands of independent "mom and pop" operations. When smaller businesses give up the fight after years of ever-growing regulations, they will often sell out for less than their normal value would be absent those conditions.  This has led to consolidation of the industry's smaller companies by larger ones.
While ex-Clayton man Ken Corbin offers a different interpretation of the data, he nevertheless points to some 10,000 independent business have failed in manufactured housing since its peak in 1998.  That 10,000 drop of retailers results in others failing or selling out for less too.
Ken Corbin "the 10,000 Drop," points to Industry Woe, Causes of Manufactured Housing's 10 & 20 Year Collapse?
Even Bank of America shut down their profitable manufactured home lending program.  They cited a combination of relatively low total volume, and relatively high regulatory risk.  Heavy regulation, and some would say artificially low new manufactured home sales volume. The U.S. Bank example should speak volumes to seriously researchers.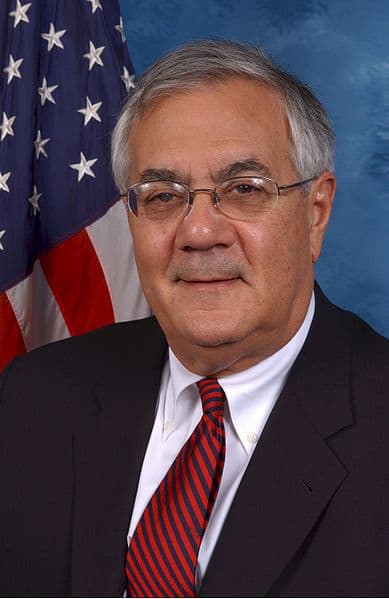 It's worth noting too that Barney Frank, who's name is part of the Dodd-Frank bill, said in a letter linked here that some of the regulations imposed on manufactured housing were never indented to apply to the industry.
That letter from Frank to a constituent was provided by that MHProNews reader.  It was published here at that time, and later read into the Congressional record.  In spite of such evidence of legislative intent, the heavy foot-on-the-brake pedal from regulators continued.
It is worth noting that MHI has previously called Frank a 'champion' for the industry, and that MHI PAC money has reportedly flowed to him.
As MHI's own VP said – in the linked report below – that there was essentially no chance of passing Preserving Access. Yet, the association kept pursuing for 4 years a course of action that was known in advance to essentially be doomed to fail.  Why waste the time and money?  Insiders say it in one or two words. Posturing.  Shadow boxing.
While commentators will be picking over the remains of the 2012 elections for weeks to come and discussing what the political landscape will look like over the coming year and what impact the elections will have as Congress prepares to return for a lame-duck session, MHI wanted to provide members with some feedback and analysis of the immediate aftermath and outlook for the coming weeks.
An MHI insider told MHProNews that 'the big companies have figured out how to get the little companies to pay for what they want to do.'
Smaller firms, some of whom say off-the-record to the Daily Business News that they feel pressured to be MHI members if they want benefits such as access to 21st lending or other business – and are wittingly or not, feeding the hand that bites them.
So heavy regulations aren't being mitigated by MHI, because the normal lobbying advocates seem to have an unstated agenda, which allows those regulations to act against the interests of smaller companies.  
In fact, the reason that MHARR exists in large measure is precisely because MHI has for years cozied up to regulators.  Those regulators in turn have imposed – or not mitigated – heavy regulations.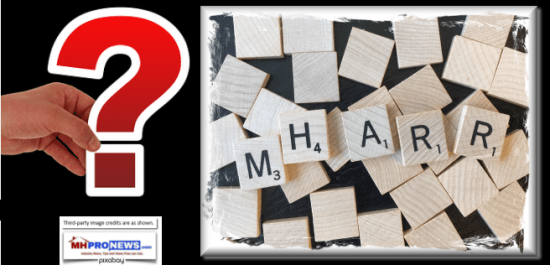 Economists, advocates, and some professional associations have noted, the larger the operation, the more easily it bears the costs of heavy regulation.
To rephrase, smaller companies are at a disadvantage with respect to heavy regulations. Thus, Berkshire Hatchway brands in manufactured housing would arguably benefit whether or not their Preserving Access bill passed.  The same is true of HUD or other regulations. 
What does MHI have to say about such things?
Heavy Regulations, Plus Choking Off Capital, Limiting Lending, and Closures or Reduced Price Sales of Businesses Results
Because of that pattern of choking off capital/lending, and heavy regulations, Berkshire owned Clayton has grown from 25 percent of the industry's production to 50 percent in just 7 years. See Kevin Clayton's own statements in the video further below.  They confirm Buffett's strong distaste for competion, "foreign or domestic" – and confirm Buffett's monopolistic concept.
That Buffett plan is dubbed as broadening "the Moat."  Does it work?  The MHI produced data, shown below, suggests it does.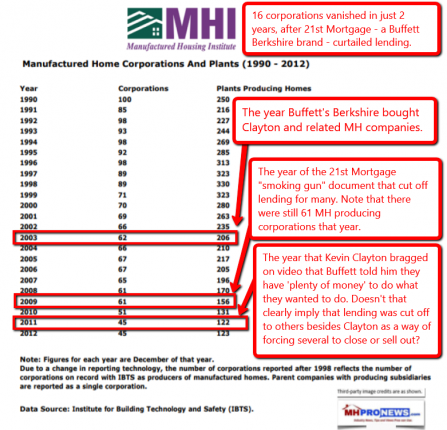 These aren't conspiracy theories, as the Nation, MHARR, the Atlantic magazine, and several other sources from inside-and-outside of manufactured housing have made clear.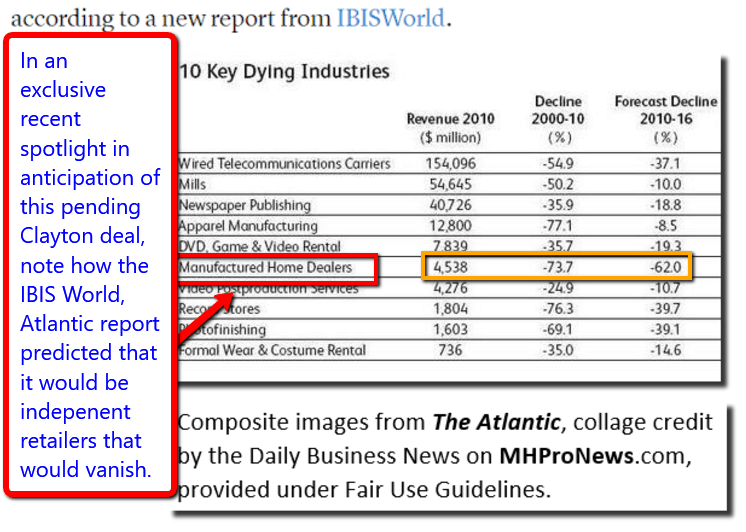 Rather, they are examples of the truth hiding-in-plain-sight.
A close reading of Buffett's modus operandi and business philosophy reveal quotes pointing to exactly what's occured in manufactured housing.
The sharks in the waters of Buffett's moat – see quote below – arguably include, but are not limited to, heavy regulations, cutting off or limiting finance, and capital options. These and other items may look at first blush like marketplace happenstance.  But upon closer examination, they were very much within Buffett's brands and the association they dominate – MHI's – ability to influence.  They were a combination of government regulations – and business strategies that utilized regulators – apparently working against smaller companies.  The results are jobs lost, and affordable housing opportunities for millions are lost via this process too.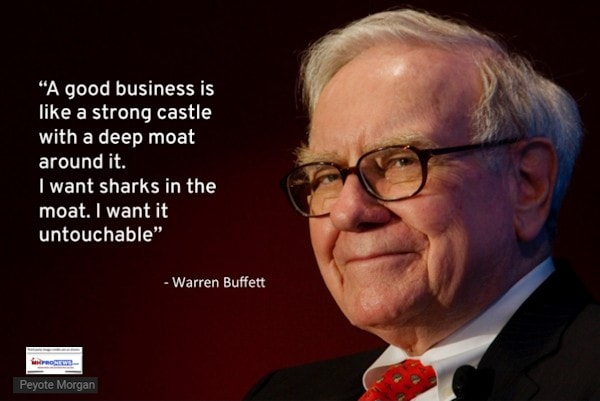 Kevin Clayton cites "the moat" time and again, during an in-depth video interview, found further below.  These concepts of Buffett's are stated in his own words.  He also says how they even use education and non-profits (see related reports, linked below) or other resources too.  Indeed, if MHI and UI (both nonprofits) are examples, each have both provided benefits to Clayton and other Berkshire brands operating in manufactured housing.
Preemption, Preemption…
University level researchers rarely mention preemption. Why is it so under promoted by MHI?  For example, why didn't MHI have UI include it in their manufactured housing report? Some say MHI reports are 'weaponized' to keep up the appearance of activity, while in practice doing little.  Note what former MHI Chair Nathan Smith said in the video posted in the resources, further below.  
As has been noted above, MHARR and independents want to see preemption promoted.
But federal preemption been throttled by prior administrations on both sides of the political aisle.
There may be a change coming under the Trump Administration, if they in fact "enforce the law," which is a broad theme of theirs. HUD Secretary Carson has promised reforms.  He speaks in general terms about public private partnerships.
But Dr. Carson has not yet publicly commented on preemption.  If change is coming, it has not yet occurred.
Secretary Carson is scheduled to speak at MHI's upcoming annual conference in Vegas.
Meanwhile, millions who could own for a home for less than rent are harmed by the issues noted herein. So too are the independent businesses that could serve them.
MHI produces 'research,' which is often a mish-mash of accurate and inaccurate information.  What are savvy shoppers who spot inconsistencies, or hear so much problematic reporting, to believe?  Why doesn't MHI correct and address root issues, as needed?
By contrast, the RV industry is outselling manufactured housing by some 5 to 1.  Even towable RVs are higher cost per square foot, are a luxury item, and have avoided the kinds of onerous regulations that manufactured housing has. The RV example is just one of many ways of noting that an industry that shipped some 372,000 new homes in 1998, has slid, while RVs have risen.
MHI is the only national association that claims to deal with post-production issues.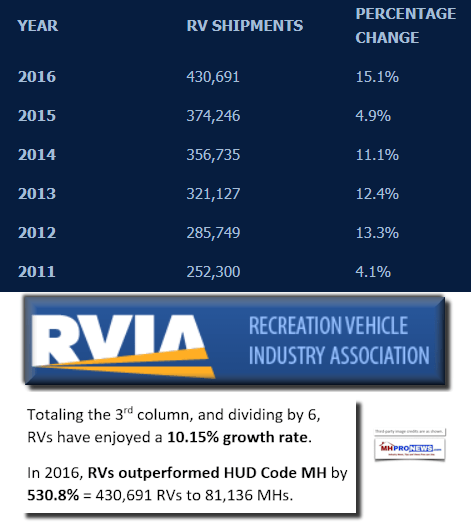 Enforcing the Law
Arguably federal budgets would be reduced over time by a steady enforcement of HUD's federal preemption under the Manufactured Housing Improvement Act of 2000. Why?  Because the need for subsidized housing would diminish over time.  As the legislation that created and supported manufactured homes (MH) notes, the industry is largely providing unsubsidized – and truly affordable – housing.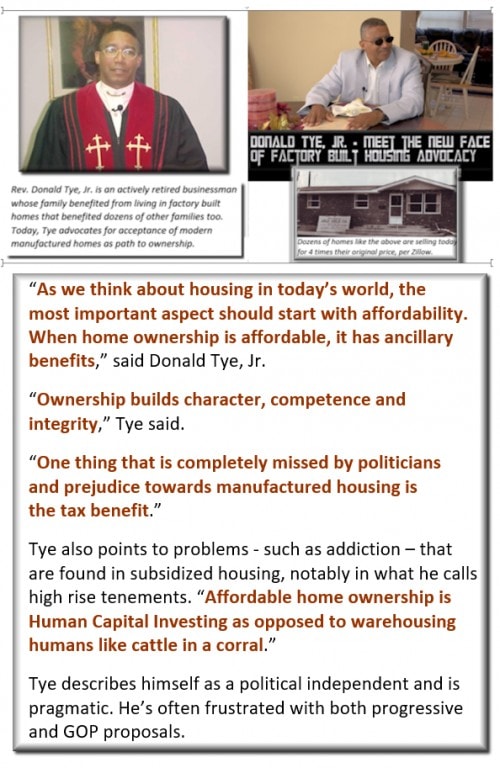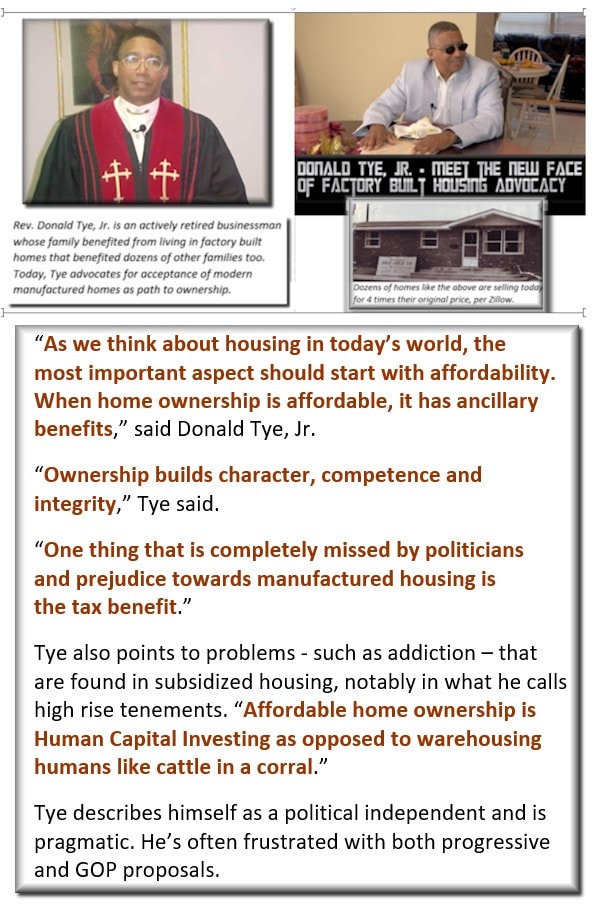 Beyond Capital Control, Supporting Candidates Who Supported Policies Benefiting Buffett's Business Units
Buffett backed Secretary Hillary Clinton for president, and President Barack Obama before her.  That would seem to run counter to what MHI and then Chairman, Tim Williams/21st Mortgage Corp said he wanted.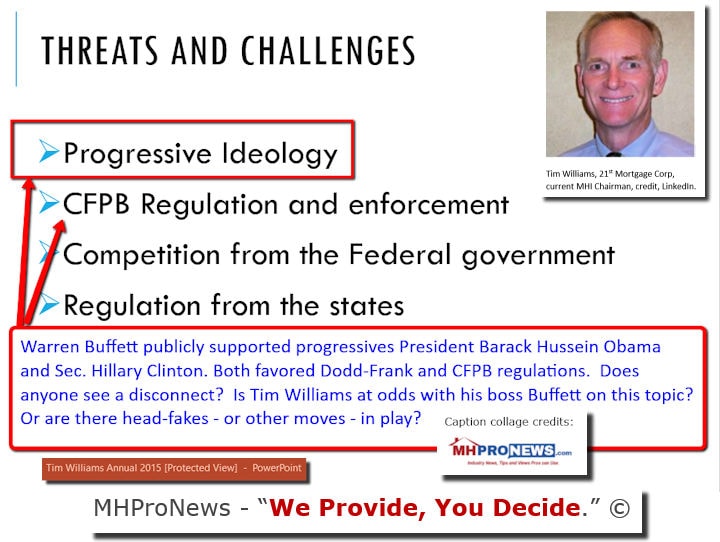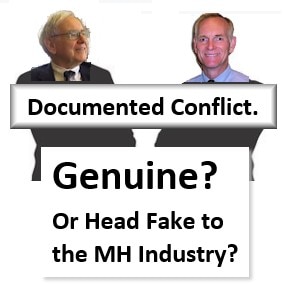 Other Avenues to Capital, Reduced or Delayed
On other avenues to access capital and lending, FHA, and the Government Sponsored Enterprises (GSEs) had what seemed like an unusual favoritism that tilted toward the practical benefit of Berkshire Hathaway.
The Duty to Serve (DTS) mandated by the 2008 Housing and Economic Recovery Act (HERA 2008), was designed in part to provide financing for manufactured housing.  But Berkshire Hathaway's 21st Mortgage Corp President, Tim Williams, slow walked DTS (see linked report).
MHI memos to members touted their support for DTS.  But Fannie Mae's Paul Barretto, when asked by MHProNews, admitted that neither 21st or Vanderbilt Mortgage and Finance – both owned by Berkshire Hathaway – provided them with the data they requested.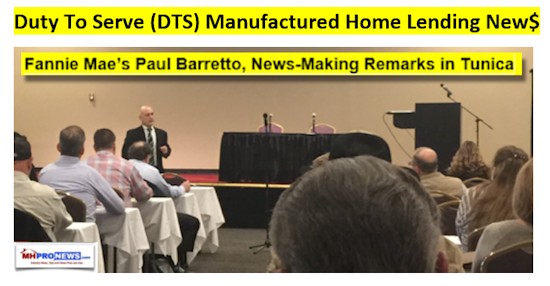 Another MHI lender shed more light on this topic, in the report linked below.
On FHA Title I lending, a so-called "10-10" capital rule was established.  At that time, it meant that only 21st and Vanderbilt – again, both owned by Berkshire Hathaway – were the sole manufactured home lenders that could qualify to make those loans.  Once more, government set standards were set that benefited Buffett's Berkshire Hathaway.
In fairness, MHI has made publicized efforts on many of these matters.
But they've come up short every time, and have for several years.
Thus some inside and outside of MHI have speculated, how sincere was the MHI effort?  For example, why did other industries escape similar regulations from the CFPB, when manufactured housing couldn't?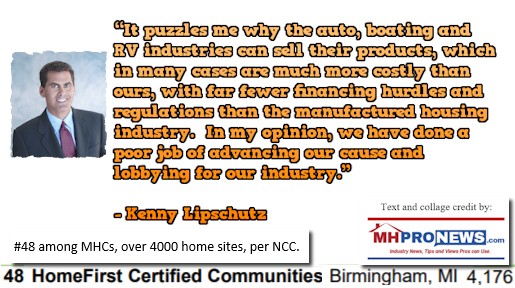 Manufactured housing state associations were largely forced to play along, per reports from state executive directors to MHProNews.  See the report, linked below. Since that report was published, even more state association executives have privately confirmed the same allegation.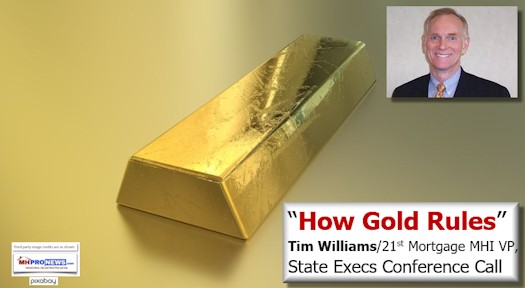 Most states are as-or-more dominated financially and in the numbers of members/board positions as MHI is by Berkshire Hathaway,  and their allied firms.  These state execs, if they like their jobs, can't publicly buck MHI or Buffett's brands.
But two states, who were not as tied to Berkshire Hathaway, broke with MHI last year. They specifically cited MHI's failure to do what they claim to be working toward.
State Associations, Companies Quit Membership in Manufactured Housing Institute, (MHI), One Explains in Writing, 'Why?'
ELS' Sam Zell has not per se pointed his finger at Berkshire or MHI, which is company is a member of, and has had a board seat too.
But the description Zell's made of the industry's failures in finance leaves few other realistic options to consider as to what he meant by his published comments.
ELS' Sam Zell – Compliance Costs Destroys Smaller Businesses = Consolidation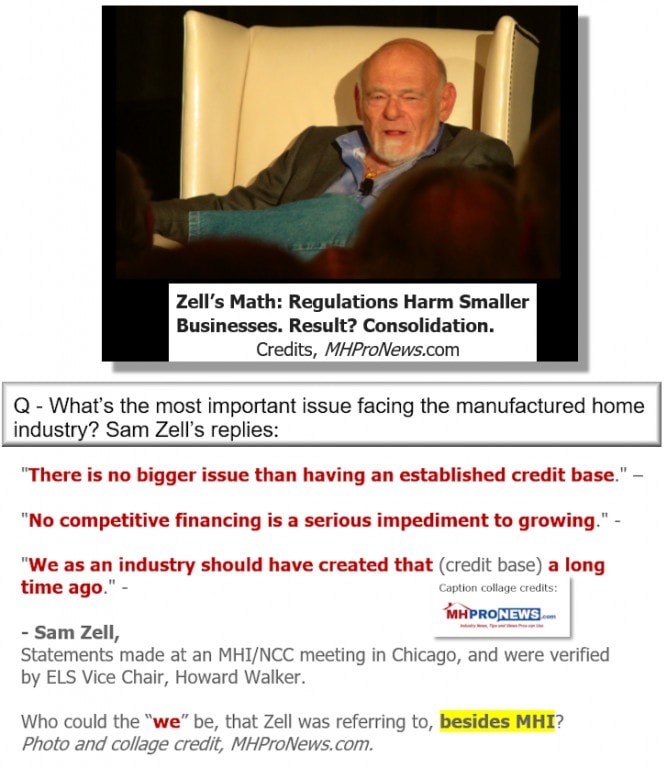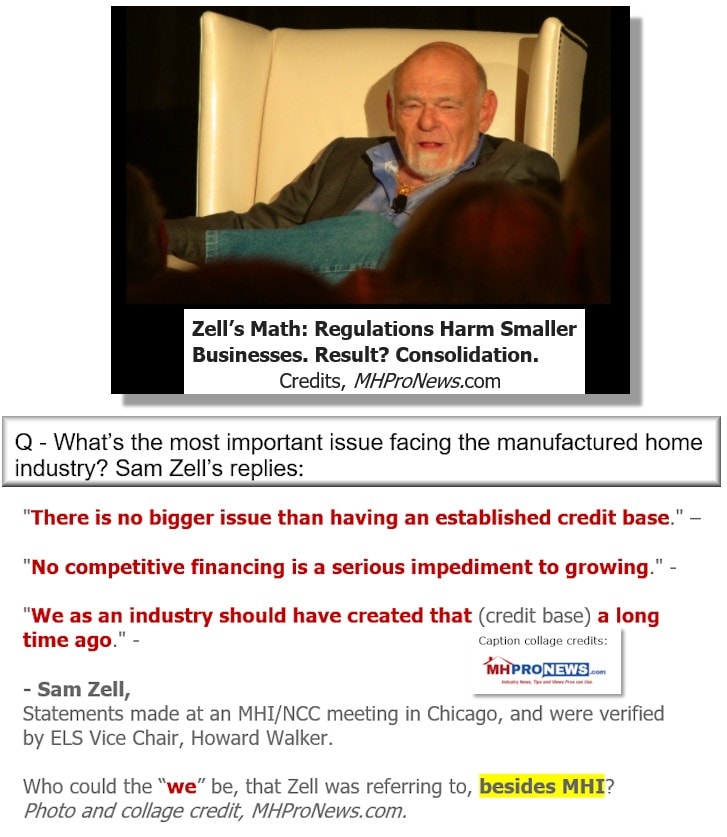 Media, MHI and Berkshire Hathaway
MHI member Frank Rolfe blasted MHI last year for their failure to engage the media as needed to defend and promote the industry.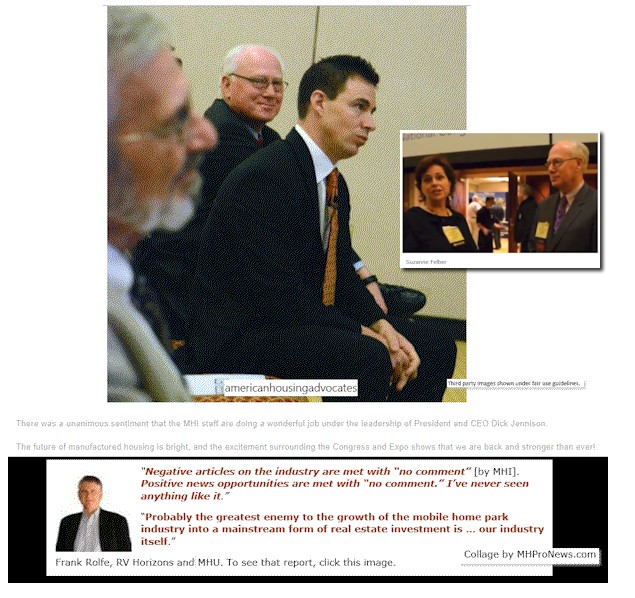 Sources say that 21st Mortgage and others involved with Berkshire Hathaway "spoke with" Rolfe, who after several critiques of MHI and their leadership were published here in MHProNews, went silent late in 2017.
21st is an apparent sponsor for Rolfe.
But prior to going quiet about MHI, Rolfe had plenty to say.
While MHI award-winner Marty Lavin's comments were made about a different topic. That said, don't his principles apply to the pattern of activity noted herein?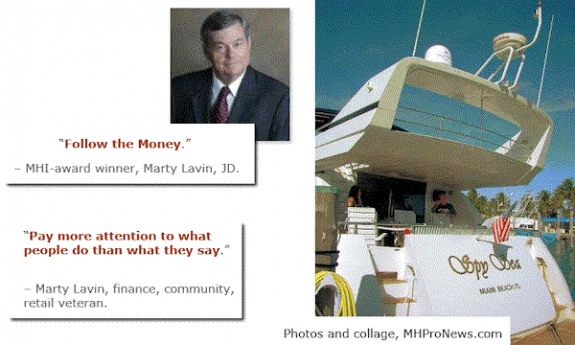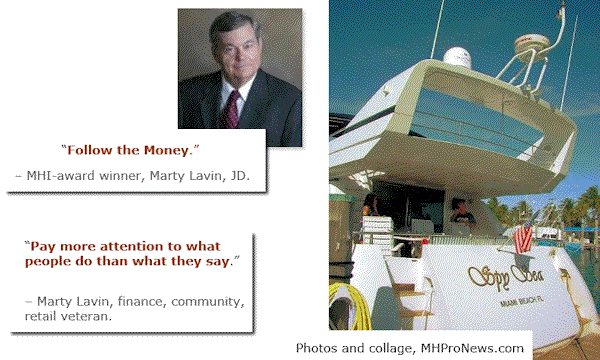 What Lavin has been outspoken about were items related to issues like financing and the public image of the industry.
Marty Lavin Lashes the Manufactured Housing Institute's (MHI) Latest Initiative
Lavin has lashed MHI directly on their media engagement, or lack thereof. Failure to address the image/media issue, per numbers of industry members, holds the industry back in its public acceptance.  For that matter, failure of federal officials to clear up the record as it relates to their work with manufactured housing also causes the industry harm.
Yet, Berkshire Hathaway owns a number of their own media outlets.  MHI has its own media relations people. They routinely won't engage to correct the record, as needed. What gives?
Kevin Clayton in the softball video interview in the related reports further below said they were prepared 7 years ago to work on the image issue.  It was only late last year, as the heat around MHI has risen, that a tepid, toe-in-the-water effort was finally launched. It's been an embarrassment in terms of public impact.
Why haven't they done more, when the stories about manufactured housing are so compelling?
The working hypothesis by many is that by allowing the foot-to-stay-on-the-brake pedal via:
–      heavy regulation, which disproportionally impacts smaller firms than larger ones,
–      failure to enforce preemption,
–      failure to address the image issue and engage with the media, while posturing such via 'advertorials' that have proven to have no noticeable market impact,
–      capital control,
–      and limiting lending,
all of these have resulted in pressures on independents.  The net result, in the time since the video interview with Clayton produced, (shown further below),  half of manufactured housing production, and in some states, up to 6o or 70 percent of retail sales from a sales center or community, flows through Clayton Homes and/or a Berkshire Hathaway connected brand.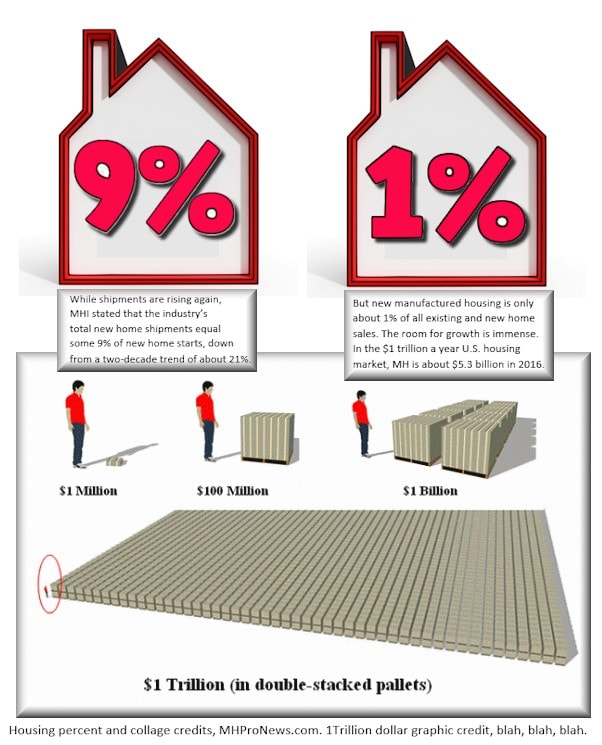 In a one trillion-dollar annual housing industry, manufactured housing sank instead of grew for several years.  That's the opposite of what Eric Belsky and others believed would happen.  Don't the facts and concerns noted help explain why?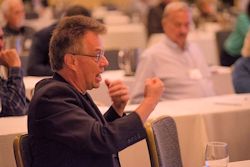 Belsky wrote his projection for manufactured housing before Warren Buffett bought Clayton.
The year Buffett bought Clayton, he then bought and combined it with Oakwood Homes.  That created in about a year the industry's largest producer.  Their size and market domination — using their moat principles – have steadily grown since then.
Sometimes outrageous cases of local officials overreaching on manufactured housing take place.  For example, New York State had a regulator that reportedly said he would put manufactured housing "out of business" in his state.
What did HUD's Danner do?
What did MHI do?  It was not until months after Dr. Carson became HUD Secretary, that Danner was finally removed from the HUD program.
Conventional Housing, and Up for Growth
Conventional 'on site' or stick-builders are not able to keep up with the growing demand for housing. The new report by the Up for Growth National Coalition states it would take many years to catch up.  See their chart below.
What the facts suggest is that that factory-based home building alone is able to more rapidly train workers, and ramp up housing production. Site builders can't compete with manufactured housing on affordability.  Nor can they readily compete in speed of construction.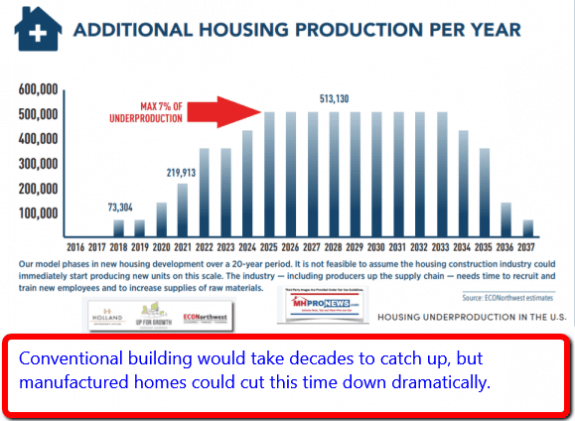 At some point, sources suggest that Clayton will decide they have absorbed as much of the retail and production in the industry as they can, without stirring up even more legal challenges to their alleged plan to monopolistically dominate manufactured housing.  While there is word that DOJ is investigating, there is no announced case to date involving Berkshire, MHI and ongoing allegations of monopolistic practices.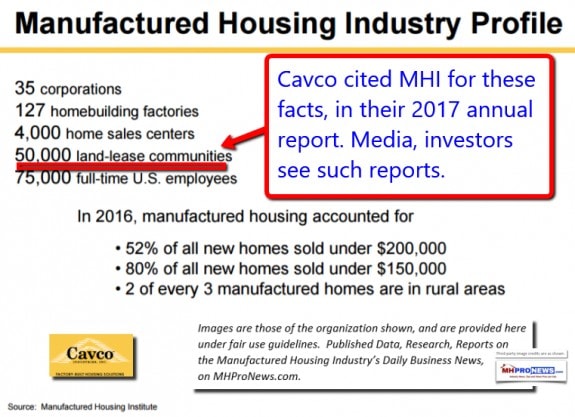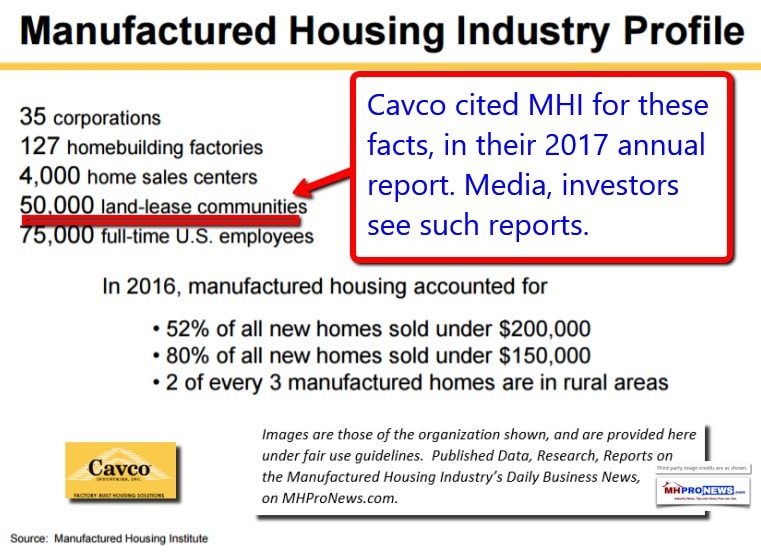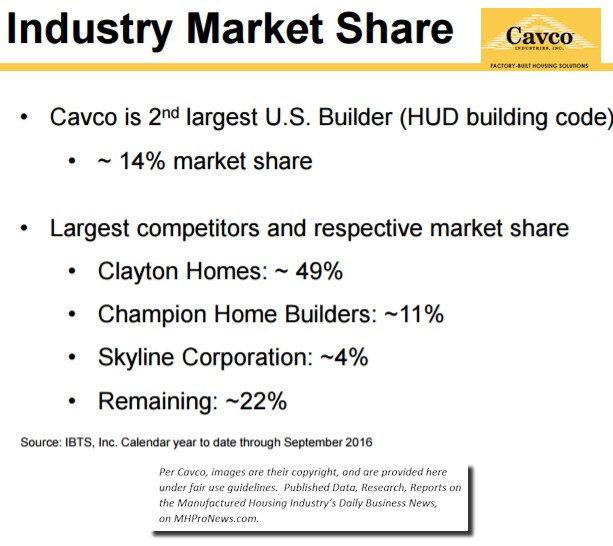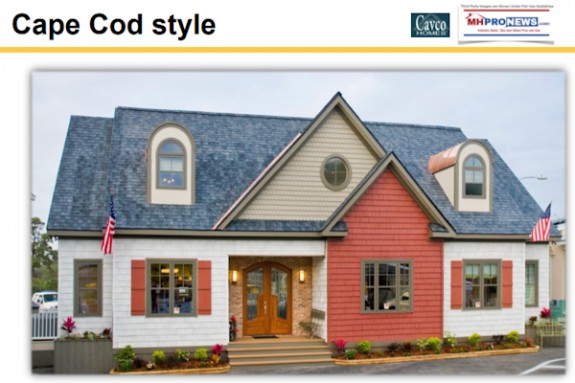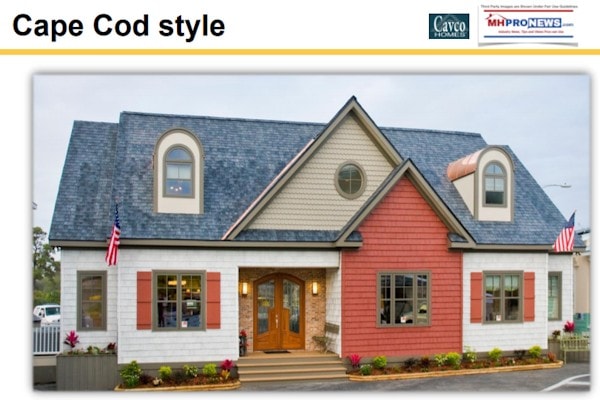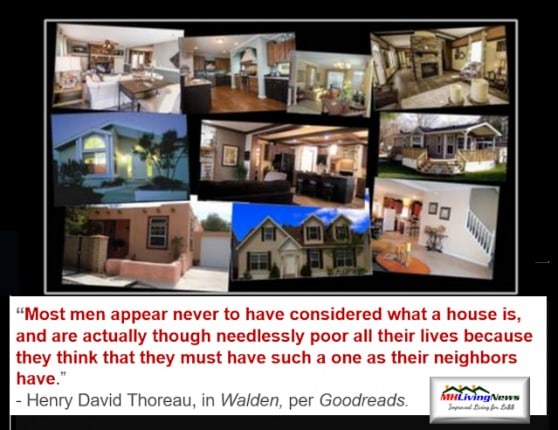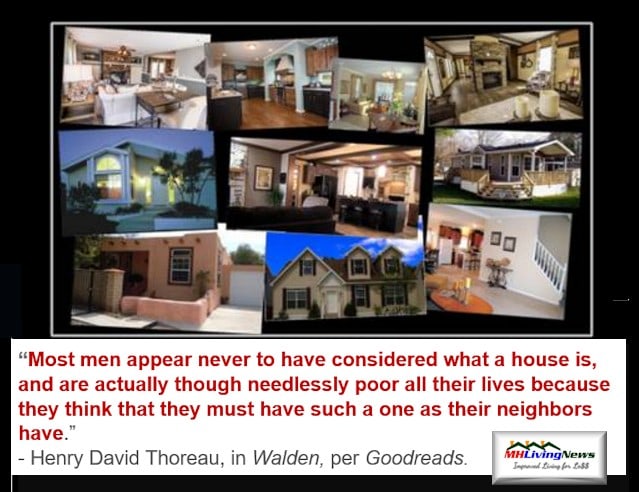 Buffett and Politics
Buffett has said he won't attack President Trump.  The Trump Administration, if it follows through on stated principles, may offer some hope for regulatory relief, as MHARR and others have argued.
But while Buffett himself has largely been silent since the election, his surrogates have been attacking the president.
While
legal challenges,
federal investigations,
regulatory reviews,
and other efforts slowly work their way through the system,
thousands of manufactured home operations have been forced out of business or sold out for less than their value would have been under normal conditions.
Is it a coincidence that this fits Buffett's self proclaimed love for a bargain?
Or how it fits his oft-repeated principle of expanding "the moat?"
Industry observers and advocates note that much of this would not be possible without various federal agencies overtly putting the thumb on the scales in ways that harms smaller, independent business.
Acts of omission and/or commission have caused consolidation that may seem at first blush to be 'natural' forces at work in the market. But upon a closer look, they appears to be anything but natural, once the details are studied.  And that's an advantage to those involved, because it requires study of an industry that has sat unjustly in the shadows for far too long.
This isn't to necessarily imply that there are a number of back room deals, although they are possible.
But the reality exists that onerous regulations have harmed the manufactured home industry, and a conglomerate has benefited from that time and again.  Intelligent readers can do their own math.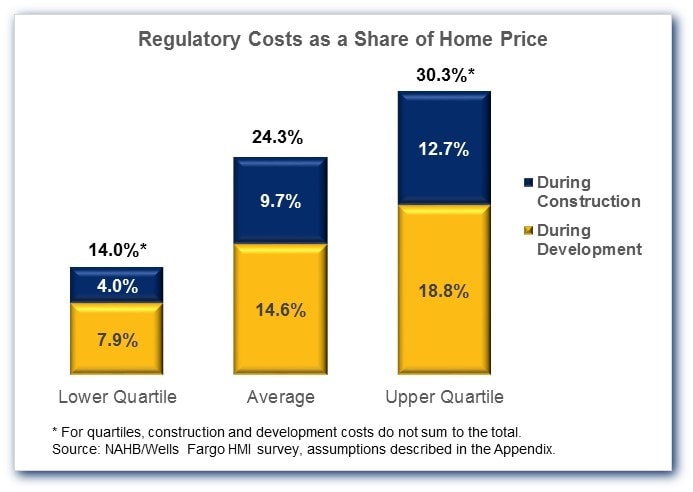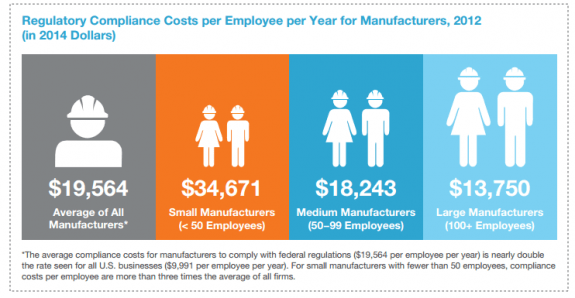 Related Nuts and Bolts
Berkshire's Tim Williams' can't take back his own point that responding to negative media could benefit the industry.  It is normally what associations like MHI do.  But for whatever reasons, MHI has in fact has either largely avoided, or has done with fanfare and little impact.  The logic would be to respond to false claims as they arise, to correct the record, and in time, establish the reality.  Williams admitted to MHProNews that doing so would be a reasonable course of action.
MHProNews was engaged for years at MHI, until they 'discovered' that we were news, and said in writing that they had no such membership category.  Our publisher spent years working within their system. He was routinely praised for pro-industry work.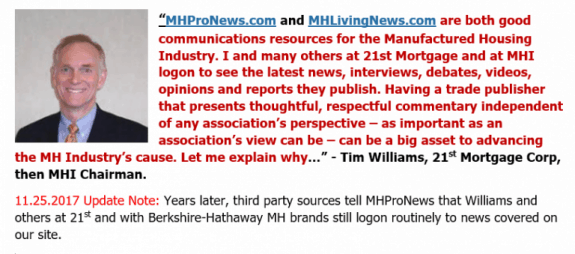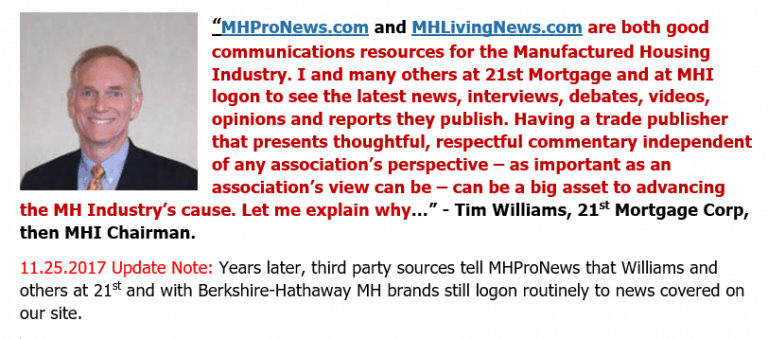 MHProNews' publisher arranged for public discussions at MHI events of how problematic issues could be successfully addressed.  Those efforts were praised. But they were not followed up on.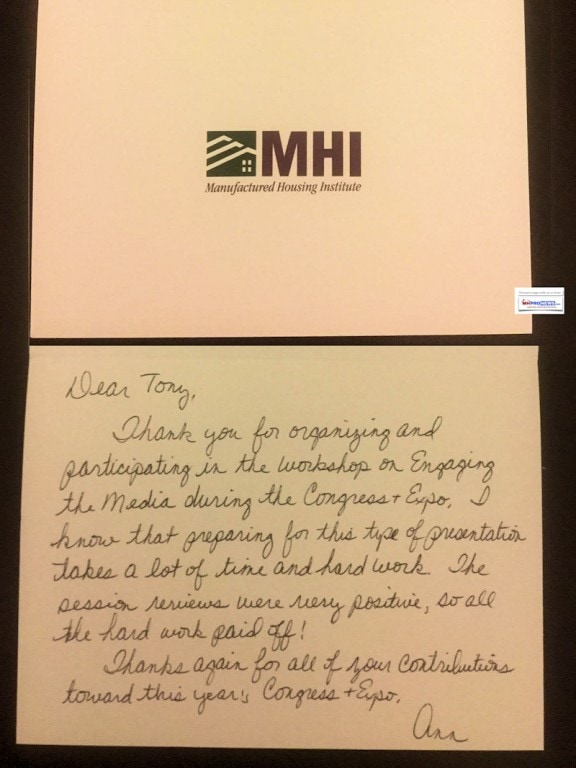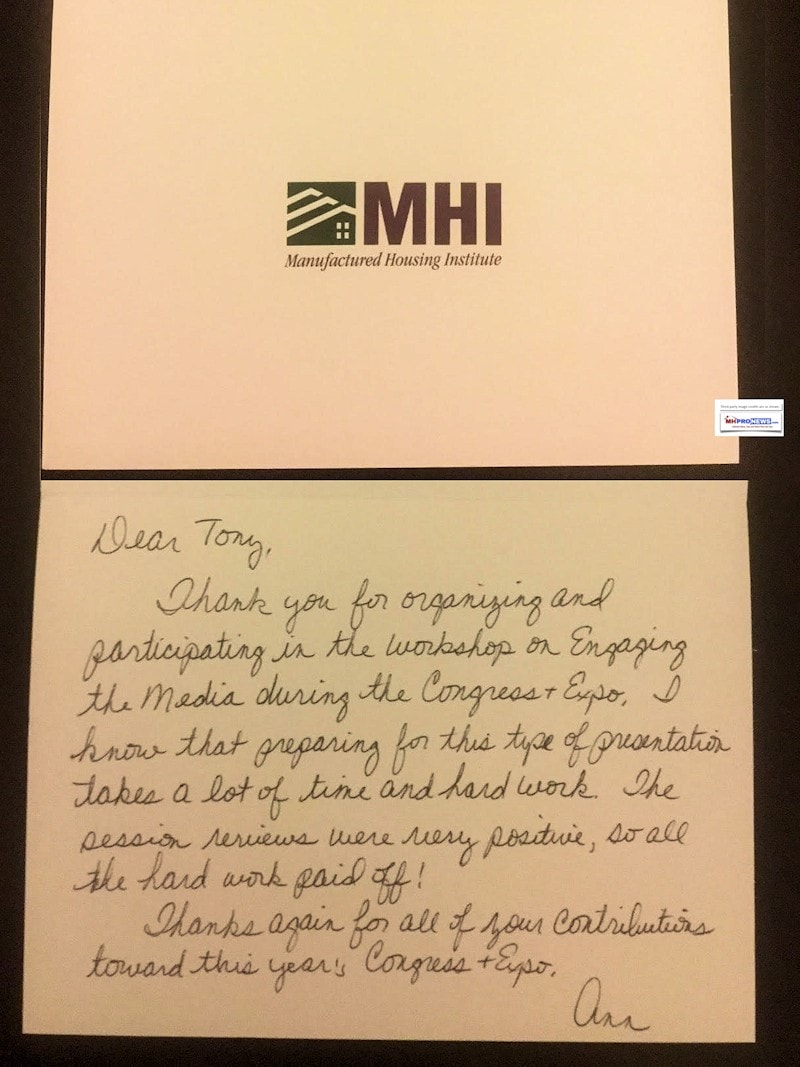 Williams, who for years was MHI's chairman, can't deny his prior praise for the independence, and value of this and our sister publication, MHLivingNews.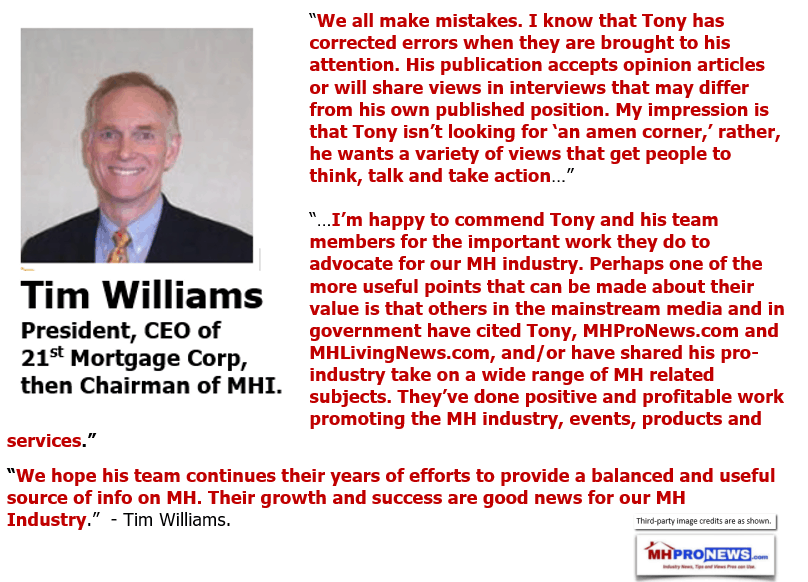 So against that backdrop, why didn't MHI's SVP Rick Robinson answer questions about their policies and postures regarding HUD?  Or other problematic decisions made by the Arlington, VA based association?  Robinson ducked questions in front of dozens of industry professionals, gathered at a 5 state association meeting in Deadwood, SD in 2017.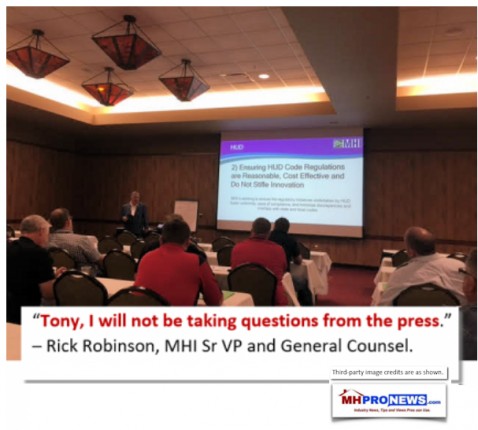 MHI's president – knowing MHProNews had called for pointed questions at an event that was not theirs to control – cancelled a public presentation in January 2018, after the following report was published.
The Top Twelve Questions for Manufactured Housing Institute (MHI) CEO, Richard "Dick" Jennison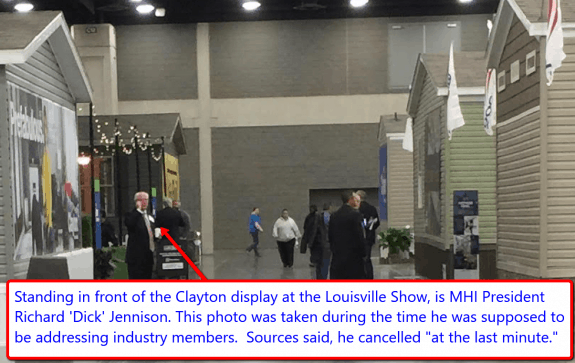 MHI and Berkshire Hathaway have declined numerous opportunities to debate or respond to these issues in public.  Instead, they've attempted other means of distracting or detracting from those who raise these concerns.  MHARR has made similar observations.
So while everyone is innocent until proven guilty in a court of law in America, the concerns noted above have gone unrefuted by MHI, or Berkshire Hathaway.
What will happen with Secretary Carson and the HUD Code manufactured home program?
Summary
The nation needs millions of units of affordable housing.
The Census Bureau says that manufactured housing is about half the cost of conventional construction.
HUD regulations requires that manufactured homes perform like conventional housing, and it does so at dramatically reduced costs. Manufactured housing enjoys – on paper – "enhanced preemption" established by the Manufactured Housing Improvement Act of 2000. So, the solution hiding in plain sight is manufactured housing.
Much of the affordable housing crisis could be solved by private capital, so long as enhanced preemption was routinely enforced.
Enhanced preemption and a robust use of Duty to Serve (DTS), FHA lending, and other government backed loans would level that playing field for independents in manufactured housing, and would make manufactured home purchases even more affordable for consumers.  Over time, that could correct the association challenges that currently exist, because of alleged Berkshire Hathaway dominance.
Conventional building can't keep up with the needs, and would take longer to ramp up than factory builders would.
Be it the tragic need for housing in Puerto Rico post-Maria, or the growing need for affordable homes in Hawaii, or for the rest of the nation in between, manufactured homes are a proven path for millions.
Hawaii's First "Trailer Park" on Oahu – Civil Beat's Report Draws Heat
And once understood, modern manufactured housing is appealing enough for even millionaires and billionaires who gladly own them.
If they are good enough for the rich and famous, why not society at large?
He's worth millions. He's directed hit, and critically acclaimed movies, like "Rise of the Planet of the Apes ." Rupert Wyatt is doing season two for The Exorcist, which runs on Fox is based upon the 1973 film of the same name, based upon William Peter Blatty's chilling book about demonic possession, also dubbed The Exorcist.
The truth is never misguided. There may be better times or better ways to share the truth. But those are prudential judgments, that are very much compatible with the truth. In circumstances where persuasion: among people, in education, marketing political, or other scenarios matters, there are times when an upward compromise can advance the truth.
To borrow a phrase from Rand Paul about the two major parties and apply it to the manufactured housing industry, there is evidence of an "unholy alliance" – tacit or active – between government and deep pockets that have kept this solution for affordable housing from being fully and properly deployed.  Whatever the unseen realities may be, the known results are the same.
This, say researchers, costs the nation perhaps 2 trillion dollars a year in lost productivity that would otherwise exist. Millions could be building equity in affordable homes, instead of throwing their hard-earned money away on rent. After over 18 months of published reports, giving MHI and Berkshire Hathaway numerous opportunities to respond, they've ducked the questions – and allegedly pressured advertisers – instead.
"Once you eliminate the impossible, whatever remains, no matter how improbable, must be the truth." – Arthur Conan Doyle, author of the Sherlock Holmes detective tales, per BrainyQuote.com.  ## (News, analysis, and commentary.)
(Third party images are provided under fair use guidelines.)
Related Reports and Videos:
Videos begin with MHI President Richard "Dick" Jennison surprisingly arguing for slow growth. Low volume puts pressure on – and reduces the values of -smaller companies.
Next, is Nathan Smith – then MHI chairman – laughing about keeping the good news about the industry a secret, and admitting that MHI had made mistakes and needs to be more pro-active in the future. The problems noted have resulted in consolidation in production, land-lease communities – like the sector that Smith is working in – and retail. Nice admission, but did MHI performance in fact improve? Over four years later, where is a single clear cut MHI win on a big issue?
One may not realize it from the bulk of media reports, which routinely go unanswered by MHI's media relations people, as Frank Rolfe noted. Yet, manufactured home owners – per third party research – are happy with their homes and lifestyle. The affordable housing focus group video includes comments from actual manufactured home owners. This is part of a planned multi-segment series.  Part one, is linked here.
Kevin Clayton in this softball interview below makes numerous surprising admissions about Warren Buffett, and how their grow "the moat" concepts operates. As Clayton says, the moat is designed to ever expand.  Buffett's said he expects them to successfully expand and expand. That hurts competition.  Reports linked on this page further below are used to illustrate some of Kevin's comments. Otherwise, the words spoken are unaltered.
Warren Buffett quotes followed by Buffett in his own words are the focus of the video below.  They show Buffett explaining some of the same concepts – such as "the moat," and use of capital, which Kevin Clayton spoke about in his video, above.
Award winning independent retailer, Alan Amy, explaining why billionaires are buying up manufactured housing.
A montage of home owners and professionals, including a retired real estate agent, millennial, and a vet, all talking about their manufactured homes.
A walk down memory lane that takes viewers through trailer house, mobile home, and manufactured housing history in just minutes.
Industry professionals, on stage, questioning the effectiveness of MHI and their legislative efforts.
The reports linked below are just some of the dozens of reports published by MHProNews.  MHARR has done their own research.  It should be noted that for years, MHProNews published both MHARR and MHI news.  MHI suspended providing their news directly to MHI a few years ago, well prior to the more recent 'heavy fact checks' of their work.
"…lower rates of crime than you would expect, because they had pride of ownership …" – William P. McCarty , PhD – University of Illinois at Chicago, Department of Criminology, Law and Justice "What may be surprising to real estate licensees is the level of energy efficiency available …"
Kevin Clayton Interview-Warren Buffett's Berkshire Hathaway, Clayton Homes CEO
Warren Buffett, "the Moat," Manufactured Housing, Berkshire Hathaway, Clayton Homes, 21st Mortgage, Vanderbilt, Wells Fargo, NAI…
Tunica, Nashville Trade Shows and Manufactured Housing Glory Days
When money is earned, it can be spent. So it may seem odd to discuss profits as "false." As anyone who's watched the movie Scarface knows, crime is a business. It may be illegal, but it's business. The risk/reward equation for a criminal enterprise is different than for a legal business.
NAHB Report – High Cost of Regulations Impact Housing – and Manufactured Housing
Two Great Laws Already on the Books NOW,  Can Unlock Billion$ Annually for Manufactured Housing Industry Businesse$, Investor$
An Examination of Manufactured Housing as a Community- and Asset-Building Strategy, Harvard JCHS, NeighborWorks, Ford Foundation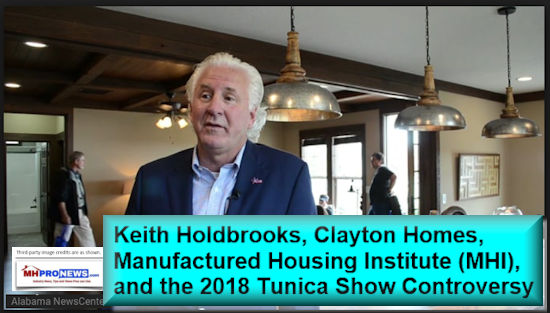 Study Recommending New Manufactured Housing Association for Independent Retailers, Communities, Lenders, Others Released
While Manufactured Housing Overall Rises, Some Slip Sliding Away
"Trailer House Trauma," Fresh Look at Manufactured Housing's Opportunities
1) To sign up in seconds for our industry leading emailed news updates, click here.
2) To provide a News Tips and/or Commentary, click the link to the left. Please note if comments are on-or-off the record, thank you.
3) Marketing, Web, Video, Consulting, Recruiting and Training Resources

Submitted by Soheyla Kovach to the Daily Business News for MHProNews.com.
Soheyla is a managing member of LifeStyle Factory Homes, LLC, the parent company to MHProNews, and MHLivingNews.com.