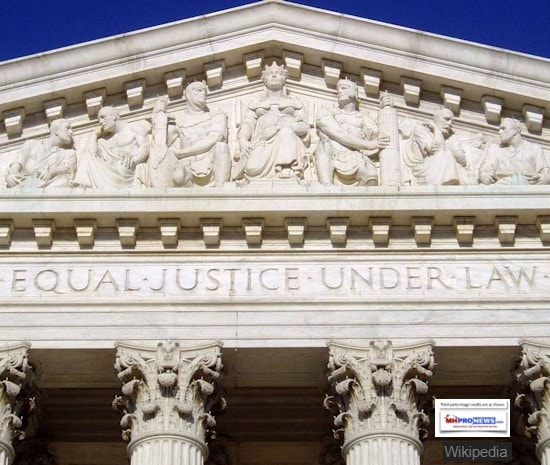 The successful McCrory, AR lawsuit was a case brought by a nonprofit organization called Equal Justice.
The organization's name, Equal Justice, is at some level likely inspired by a longer phrase found on the U.S. Supreme Court building in Washington, D.C. = Equal Justice Under Law.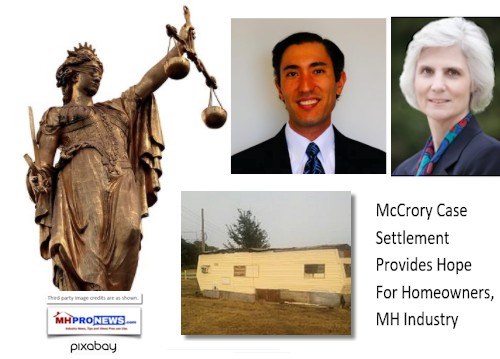 It's a quintessential American ideal, that the law is to be equally applied to all.
In the McCrory case, Equal Justice sued on behalf of a lower income family, for the right to live in what a photo of their dwelling suggests was an an older factory produced home. AMHA's JD Harper called the case a "significant victory" for that household, by extension others and for the industry.
Home > association, Image, Legal, Manufactured Housing Industry Commentary, Manufactured Housing Professionals, Zoning > McCrory Lawsuit – "Significant Victory Against Zoning Discrimination" – Manufactured Homes The McCrory lawsuit is a significant victory against zoning discrimination that many working families in Arkansas face from cities and towns when they attempt to place a factory-built dwelling unit in a territorial jurisdiction governed by municipal ordinances and regulations.
As MH activist, businessman, and semi-retired minister, the Rev. Donald Tye Jr., has told the Daily Business News that a manufactured home can be a critical path for economic security and a step on the path to wealth building.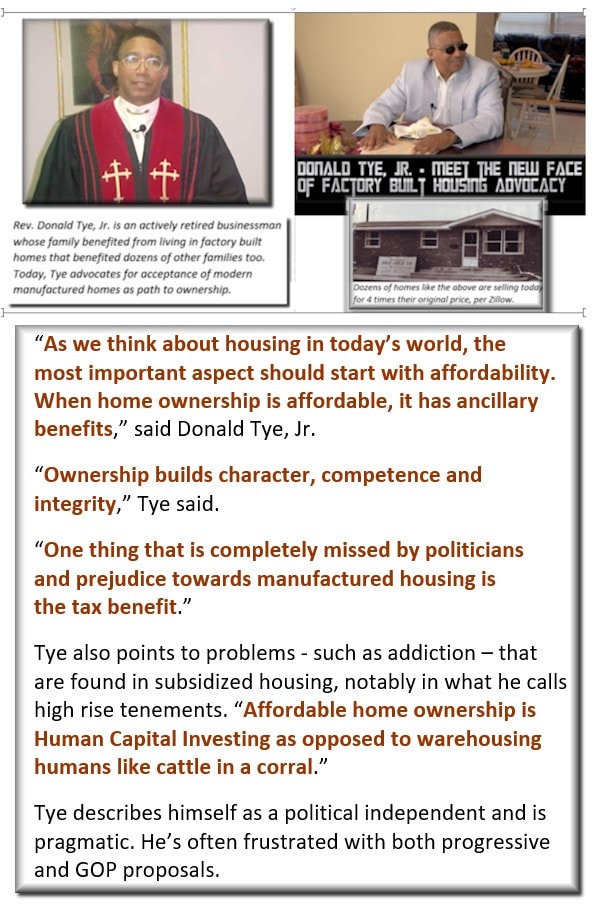 Home ownership builds character, says Tye. It also brings other economic and social benefits. As a black who grew up in and lived through the civil rights movement, he believes that "access and equity" are critical for people of all racial groups to reach their potential.
Government, Winners and Losers
Last year, a federal official described to the Daily Business News how HUD and other agencies in the federal government operate.
In a conversation, that federal official referred to HUD as a huge conduit to "channel money" into "various areas," with "several cottage industries" that had grown up to tap into those funds.
At the time, former award-winning WHA executive director and prior MHI board member, Ross Kinzler provided the following reaction.
"Almost all of the government is picking winners (contracts, grants, attention) and losers (ignore, regulate or prosecute)," Kinzler's message said.
"Surprised by…" the federal official's "…contention?" Kinzler's message added, "Nope."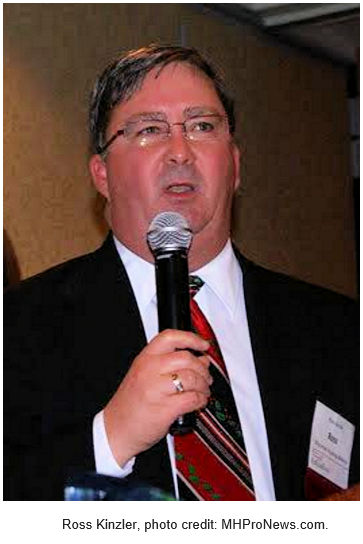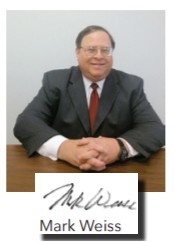 Kinzler compared the far greater success of MH communities serving than publicly funded housing.
In another reaction then, was the following industry veteran's comment.
"This is precisely why HUD and other federal agencies need to be down-sized and fundamentally reformed as promised by President Trump.  HUD studies show that manufactured housing — which it regulates — is the nation's most affordable non-subsidized housing and home ownership resource," said Mark Weiss, President and CEO of the Manufactured Housing Association for Regulatory Reform (MHARR).
"The System Is Rigged," Federal Official's Description of HUD, Industry Reactions
Power, and Powerless?  No…
What Equal Justice reminded MH Industry professionals is that people are not powerless in the face of seemingly greater forces.
Persistent complaints and periodic news articles about alleged abuses at HUD that grew more intense last year, finally culminated in the removal of Pam Danner from her role at HUD over the federally regulated manufactured housing program.
More recently, a top down review of the HUD code manufactured home program was ordered, and public comments were solicited.
Tye recently stressed the concept of the "consent of the governed," which pre-dates the U.S. Constitution, but which that charter which limits federal power is designed to protect, "We, the People."
Multiple Votes
The notion of enhanced preemption that undergirds manufactured housing could be a key that unlocks up to nearly $2 trillion dollars annually, according the a study done late in the Obama Administration.
YIMBY vs. NIMBY, Obama Admin Concept Could Unlock $1.95 Trillion Annually, HUD & MH Impact
Law suits and demands made on public officials are some of the tools that everyday people have.
But informed citizens – and that is arguably a key, people must be well formed, and informed – also have multiple votes, not just period election votes.
Legal matters sometimes come down to a small group of citizens, empaneled in a grand jury or jury to hear civil or criminal cases.
Every juror has a vote. That "guilty" or "not guilty" vote can often act as a check on authority.  While every vote in a voting booth matters, your single most powerful vote is arguably the vote as a juror.  A single juror can hold out against all of his or her peers and effectively nullify the power of government on a given case.
It was the ultimate defense of the rights of "We, the People" vs. the power of government.
Formation and Information
It is easy to imagine how some claims of abuses of corporate power could result in class action litigation that may end up in front of a jury of citizens.
The more informed they are, the better.
This is where professionals need to engage those that they know, and via social media and personal contact, spread a better understanding of both manufactured homes, the benefits they offer individuals and society.
It is also where proper character formation plays a role.
The founders were imperfect people, trying to form "a more perfect Union."  They believed that education and morality based upon Judeo-Christian principles were essential.
As issues local and federal play out, formation begins with a thirst for understanding and justice. The principle of Equal Justice implies that no one is above the law.
It may sound amazing at first, but there is very good reasons to believe the following to be true. Universal moral norms could be critical for reviving the American Dream. ##  (News, analysis, and commentary.)
(Third party images, and cites are provided under fair use guidelines.)
Notice: for professional business development services, click here.
Sign Up Today!
Click here to sign up in 5 seconds for the manufactured home industry's leading – and still growing – emailed headline news updates. You'll see in the first issue or two why big, medium and 'mom-and-pop' professionals are reading these headline news items by the thousands. These are typically delivered twice weekly to your in box.

Submitted by Soheyla Kovach to the Daily Business News for MHProNews.com.
Soheyla is a managing member of LifeStyle Factory Homes, LLC, the parent company to MHProNews, and MHLivingNews.com.