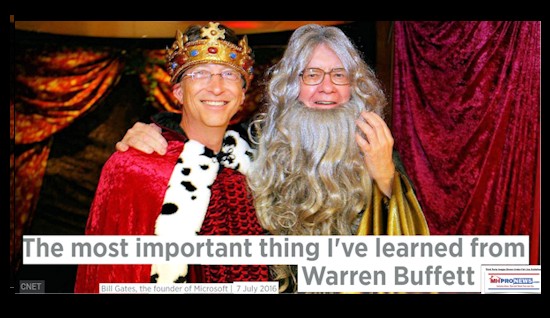 The Daily Business News reported over a year ago, Warren Buffett's public statement that he's not in the business of attacking a president, and he has no plans to do so with President Trump.
As CNN Money, Kevin Clayton and others have noted, Mr. Buffett has numerous contacts with billionaires, – like Bill Gates, shown with Buffett in the photo above –  politicos and other connections.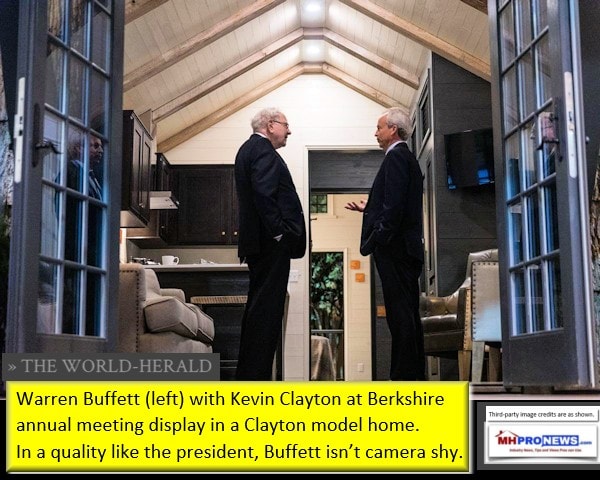 Howard Buffett, Buffett's son, has recently criticized the 45th president's border policy, in the context of hawking his new book (see report, linked below).
Warren Buffett's Berkshire Hathaway has numerous media assets, according to his most recent letter to Berkshire shareholders.
Among them?  The Oracle of Omaha's hometown newspaper, which routinely fawns about Buffett and Berkshire –- including a recent photo spread of classic Buffett photos, including the chairman standing next to a mural of himself.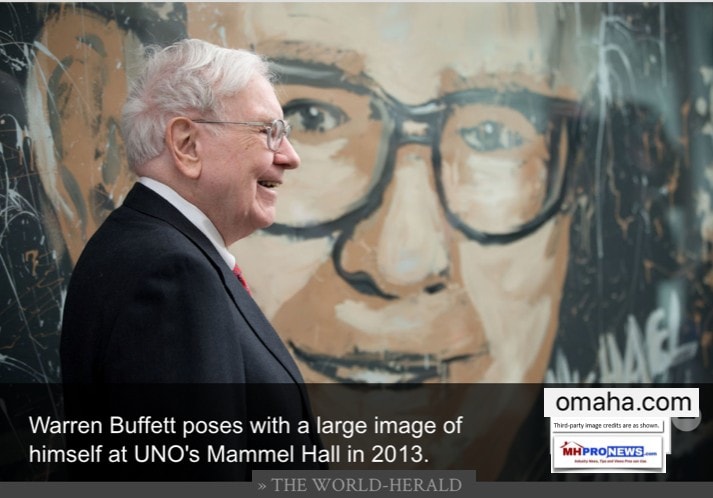 That said, it's interesting that Warren Buffett – who very publicly promoted Secretary Clinton – appears to be targeting the president personally – in spite of his denials of doing so since the election.
These third party attacks via surrogates seem to be an effort to undermine some of the president's policies.  But it may also be yet another a Buffett warning shot to the president, don't take on my companies. 
CNBC and Newsmax are among the media on each side of the left-right divide reporting on how an old transcript of a 1991 Buffett address with students at Notre Dame has surfaced. Why now?  Why via social media?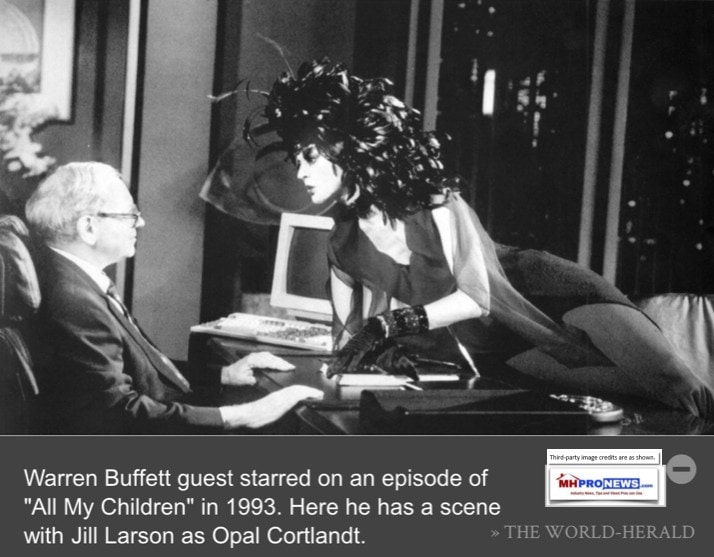 First, Newsmax notes "Former hedge fund manager Whitney Tilson posted a transcript of three lectures Buffett gave at Notre Dame 27 years ago."
What neither Newsmax nor CNBC spotlighted, are facts like this – starting with a pull quote about Tilson and his ties to Berkshire from Seeking Alpha –
"Whitney Tilson's latest email to investors: 1) I have invested my children's college accounts in 50% Berkshire

 (BRK.A, BRK.B)

…"
Or in the Financial Times, where the long-time hedge fund manager Tilson said "my favorite safe stocks (like Berkshire Hathaway…"
As multi-decade industry success story, expert and observer Marty Lavin has said to MHProNews, 'Pay more attention to what people do than what they say,' and "Follow the money."
Isn't the 1991 Tilson transcript just another Buffett surrogate doing his bidding?
As was reported a few weeks ago, the Urban Institute (UI) was used to indirectly carry water Buffett, Berkshire, Clayton and their manufactured home lending brands. Buffett said not a word, but is a lifetime trustee of the Urban Institute.  Officials at UI told MHProNews that those sources with Berkshire brands in manufactured housing, including the Manufactured Housing Institute (MHI) role in providing input for the UI report on manufactured homes were promised "anonymity."
In short, there's a notable history of third-parties doing communications that magically prove useful to Buffett, Berkshire, his business units.  There is also evidence that suggests he can target an opponent using such cat's paw methods.
A Pattern…
It's not a smoking gun, like the 21st document signed by Tim Williams.
Rather, this seemingly planted story of an old attack on Trump by Buffett is part of a pattern of indirectly undermining President Trump. Yet, the president's policies have proven to be a positive force for the nation's economy, including the manufactured housing industry. See that report, linked below.
On the date of the State of the Union (SOTU), MHProNews spotlighted that the Buffett-Bezos-Dimon announcement was apparently timed to drop the markets, prior to the president taking a public victory lap on the then sharp, steady rise in the markets.
The question industry professionals and Americans in general should ask, why would billionaire Buffett be taking indirect shots via surrogates at the president now?
There's been an ongoing campaign by the Trump opposition – dating before the election, but has been ongoing – to "slime" the president, as the Drudge Report headline this morning suggests.
The president has been signaling anti-trust (anti-monopoly) action.  Buffett watchers, including left-of-center Bloomberg, have noted that one of the biggest concerns Berkshire's chairman has is the break up of his conglomerate.
Clayton Homes has announced yet another acquisition of a site builder.  Vanderbilt has made a recent move into manufactured home community lending, and is moving into acquisitions of conventional mortgage lending. The 21st Mortgage smoking gun report stands unrefuted.
In fact, no rebuttal is even offered to that evidence or other allegations – only red hearing attempts to distract the industry's attention.
That's true for the allegations made by the Nation, or others across the left-right media and political divides.
Progressive "Nation" Reports on Monopolies Cites Buffett, Clayton, Others – MH Industry Impact?
The trajectory of the manufactured home industry is unmistakable.
Will the Trump Administration act against Buffett's Berkshire brands like Clayton, 21st and VMF? "We Provide, You Decide."  © ## (News, analysis, and commentary.)
(Third party images are provided under fair use guidelines.)
Related Reports

:
Who Will Replace Warren Buffett at Berkshire Hathaway? Expert Insights, Video & Manufactured Home Industry Outlook
President Raises the M-Word, "Monopoly," Plus Manufactured Housing Industry Market Update$
From 2017, while Steve Bannon was still part of the White House team…
Steve Bannon, White House Chief Strategist, Wants Google, Facebook Treated Like Monopolies
Clayton Homes made the news several times in recent days. As a heads up to readers, this mentions legislation, but that isn't the headline topic. The example that follows exemplifies a reality check that will tee up an " Aha! Moment " for many.
To sign up in seconds for our industry leading emailed news updates, click here.
To provide a News Tips and/or Commentary, click the link to the left. Please note if comments are on-or-off the record, thank you.
Marketing, Web, Video, Consulting, Recruiting and Training Resources

Submitted by Soheyla Kovach to the Daily Business News for MHProNews.com.
Soheyla is a managing member of LifeStyle Factory Homes, LLC, the parent company to MHProNews, and MHLivingNews.com.