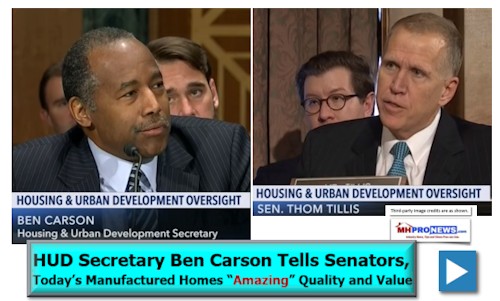 Senate oversight hearings are a mix of the serious and the staged. The same hearing that the video clip below is taken from, included clearly partisan moves designed to embarrass HUD Secretary Carson and the Trump Administration. That's what drew the headlines in the mainstream media.
While some were talking about who did or said what on office furniture purchases, Senator Thom Tillis (R-NC) focused on affordable housing, and on how more Americans could be lifted out of poverty.
Tillis related the opportunities provided by manufactured homes as a ladder of opportunity to his own personal experiences as a youth and young adult.
In that context, Senator Tillis (R-NC) said in Senate oversight hearings last week that, "I don't think most people recognize that the regulatory burden that we place on the citizens of the United States hit the poorest among us."
A graphic in the video underscores that point made by Tillis.
Tillis asked Secretary Carson, "…what are you doing, it's more of a blade level so you may not be able to answer the question specifically," about regulatory streamlining and relief, with respect to the manufactured housing program?
Sec. Carson thanked Tillis for the question, and after stating some background data about the industry said, "If you look at the progress that's been made in manufactured housing, it's amazing."
"A lot of that [manufactured] housing you would not be able to distinguish from site built housing.  And yet the pricing is better," Carson observed. U.S. Census Bureau data bears that statement out, with the savings over conventional housing about half the cost of 'site building.'
"The regulations are ridiculous," Carson added.  He explained the regulatory freeze, and that HUD is doing a top-down review announced earlier this year.
While there was some phrasing that might have been more precise – perhaps due to the pressures of time constraints – the thrust of the comments by those featured in this video should be music to the industry's ears.
If Carson and his team follow through on what these video comments indicated, it could mean that the onerous burdens created during the Pam Danner years at HUD may be reversed and improved.  If so, then as unnecessary costs and red tape are avoided, more buyers could qualify for their own home. ##  (News, analysis and commentary.)
Related:
Documented Results from Manufactured Housing Industry Leadership
I have been a vocal critic of HUD's Alternative Construction (AC) approval for carport-ready homes. I don't believe an AC approval for homes built with a host beam is warranted or that the AC approval process is the proper regulatory procedure. I communicated my concerns to Pamela Danner, Administrator of the federal manufactured housing program in a face-to-face meeting.
Each are educated, successful, clearly proficient, and informed about housing. That's because they've experienced all kinds of living, and they did their homework before buying their new home too. They live on an sizable, private acreage near Sperry, in Osage County, OK. They'll explain in this video why that's relevant for their new home decision.
The truth is never misguided. There may be better times or better ways to share the truth. But those are prudential judgments, that are very much compatible with the truth. In circumstances where persuasion: among people, in education, marketing political, or other scenarios matters, there are times when an upward compromise can advance the truth.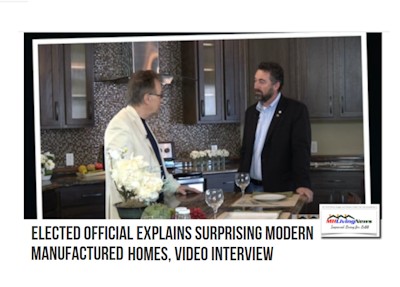 (Third party images, cites are provided under fair use guidelines.)
Click here to sign up in 5 seconds for the manufactured home industry's leading – and still growing – emailed headline news updates. You'll see in the first issue or two why big, medium and 'mom-and-pop' professionals are reading these headline news items by the thousands. These are typically delivered twice weekly to your in box.

Submitted by Soheyla Kovach to the Daily Business News for MHProNews.com.
Soheyla is a managing member of LifeStyle Factory Homes, LLC, the parent company to MHProNews, and MHLivingNews.com.