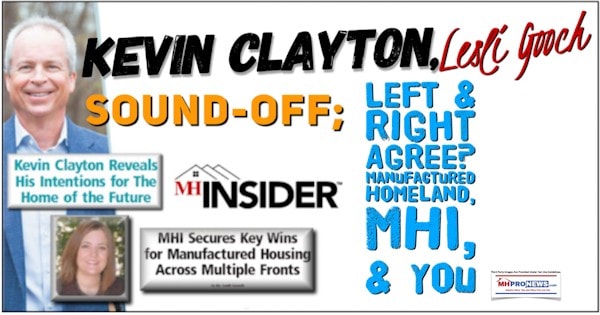 To tee-up the Kevin Clayton, Lesli Gooch portions of this article, the Daily Business News on MHProNews will start with noteworthy development in media.  When voices from the political and economic left – and the conservative/libertarian economic and political right – broadly agree on a core issue, that alone should be headline news.
From Bill Moyers, or Democracy Now! among progressives, to Breitbart or the Thomas Sowell on the right, there are voices in the media – as well as news analysts – that for years have been raising concerns about the increasing concentration of media ownership.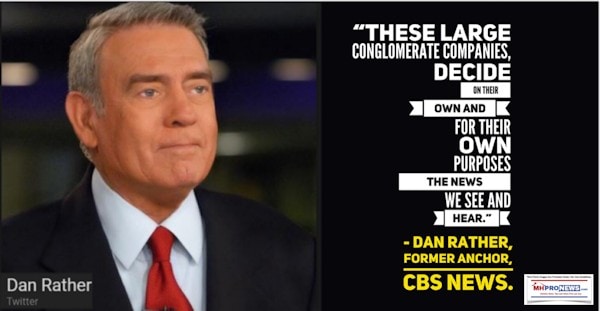 Some are calling it an "oligopoly," while others deem it them as "monopolies" of news and information. But the bottom line is that media has been dramatically consolidated in the last 2 decades.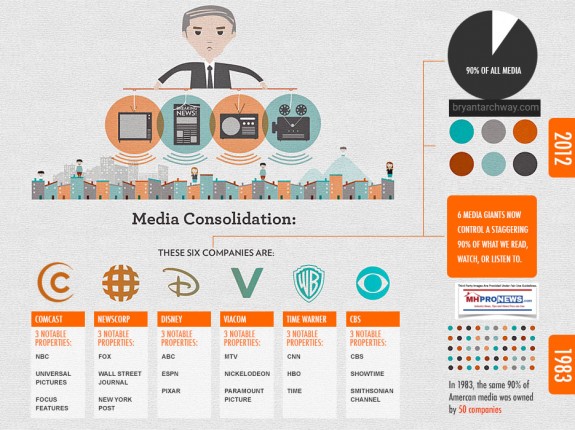 What that means in practice is that the news you read, view or hear has someone's agenda behind it.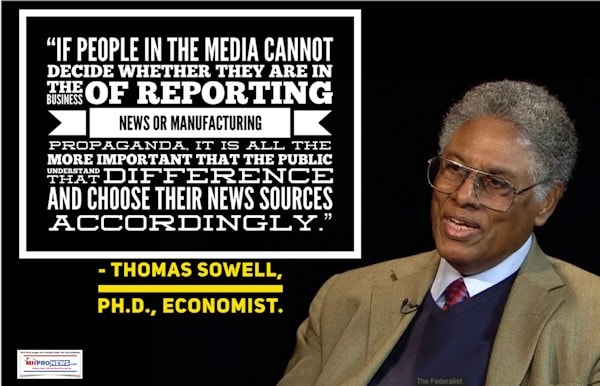 Who says?
"Shadows of Liberty" Movie Introduction, Affordable Housing, and You
Take a look at some of the many possible sample quotes.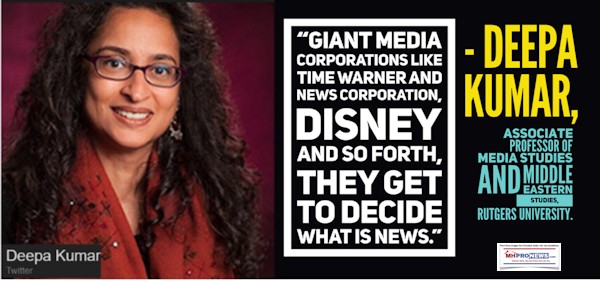 #1) Why Should Manufactured Housing Professionals or Investors Care? 
Simple.
A tiny fraction of a single percent of the U.S. population decides what's news, and what is not.
When manufactured housing is widely misunderstood, one should consider the mantra of Marty Lavin, JD, and "follow the money."
That 'follow the money' wisdom ought to be applied to those who select, cover, ignore and otherwise 'frame' the news; including the news that covers and impacts our necessary part of the safe, quality, affordable housing industry.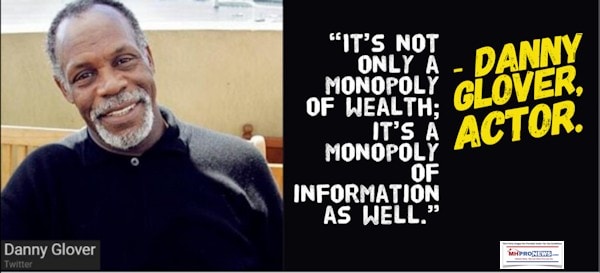 Note that for years, the Daily Business News on MHProNews – most notably in our evening market report – has taken information from both sides of the left-right media divide. In other non-market reports, we periodically curate an topic or issue from a mainstream media source.  That's fact checked or spotlighted because it is useful or insightful for the industry's professionals, owners, investors, and others.
We've also stressed that publishing a quote has never meant that we agree with everything that source or person says.  More recently, we've phrased that at times, one must separate the 'wheat and chaff.'
Even some person or source that you may routinely disagree with, can have a terrific insight on an important issue.  The open mind, with probing questions, can benefit from the – who, what, when, where, why and how – approach.
Tim Williams 21st Mortgage Corp President and CEO Said It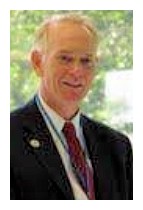 As Tim Williams, President and CEO of 21st Mortgage Corp – and the prior Chairman of the Manufactured Housing Institute (MHI) – keenly phrased it: "I know that Tony [Kovach, publisher of MHProNews] has corrected errors when they are brought to his attention. His publication accepts opinion articles or will share views in interviews that may differ from his own published position. My impression is that Tony isn't looking for 'an amen corner,' rather, he wants a variety of views that get people to think, talk and take action."
The reason that comment of Williams is so timely is because
MHI's SVP Lesli Gooch, Ph.D., and
Clayton Homes President and CEO, Kevin Clayton
both recently made oblique responses via MHInsider to concerns raised by voices here on MHProNews.
Clayton and MHI's Gooch were likewise obliquely replying to voices from across the Potomac River from Gooch's office in Arlington, VA.
What they did was what one industry observer called "razzle dazzle."
They didn't directly respond,
they didn't refute a single concern.
Rather, it was arguably cheer leading.  Spin. Misdirection.  'The future is this way

!

'

– with nary a thought as to what the recent past tells us about those who are speaking, and what their past behaviors have allegedly wrought.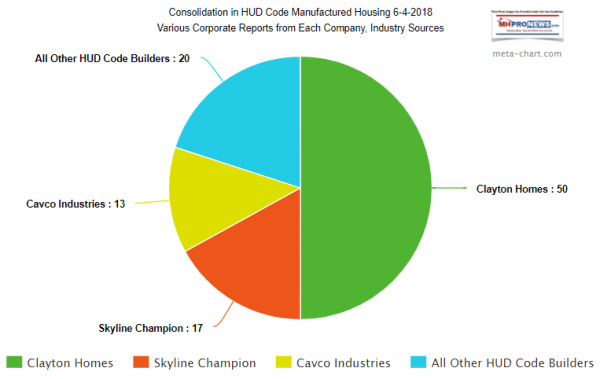 The linked article below reveals how the above outcome occurred since
Warren Buffett's manufactured housing buy-in began.
For billions of souls who believe, since the time Cain killed his brother Able, history records how dark emotions and desires have motivated some to harm or
Weaponizing or Surprising the News?
Agree, disagree – or fold your arms without any position or comment – but don't suppress free speech.
When government surprises free speech, there are constitutional remedies.
But the issue of free speech, controlling what is or isn't published, and suppressing speech, become trickier when it comes to when a corporation silences, spins, or unjustly parses information.

This is why those who publish, speak, or act in public have to be held to account.
Fact checks are useful in that regard.  A frank discussion on transparency, in the spirit of the late ELS Vice Chairman, Howard Walker's words (linked below) would be welcomed by many in the industry, including within MHI's membership.

It would be useful if Kevin, Tim, Lesli, or Dick would agree to discuss or debate publicly their various actions and inactions. Let that discussion be done on video, so all can see it.  There are several upcoming events where that could be done, or it could be handled virtually, with no travel needed.
Wouldn't an open conversation be a step toward increased MHI and Clayton transparency?
If there is nothing to hide, then why are they ducking the conversation and relevant topics?
Why oblique replies, that duck serious issues, instead of direct replies to fact and evidence-based questions and concerns?
MHI's Gooch 'Responds…'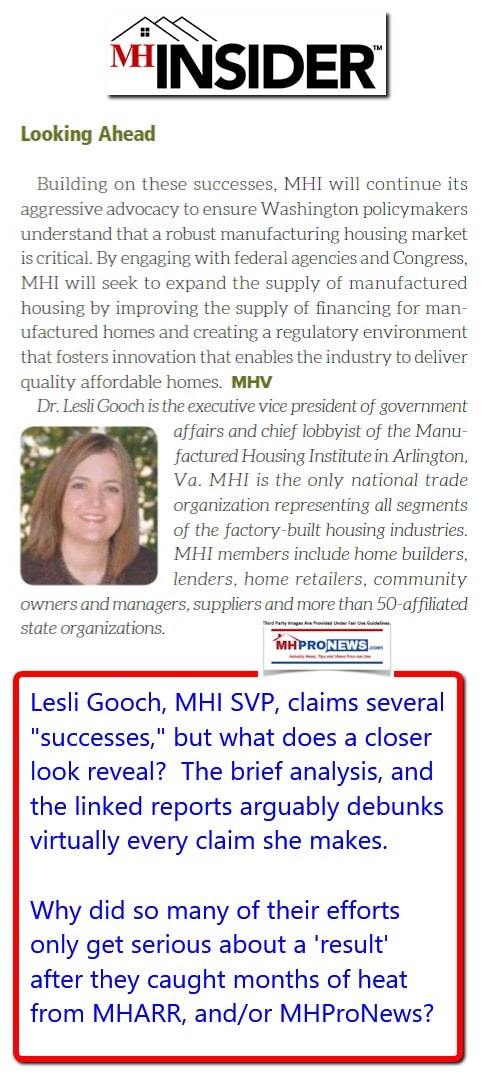 Control of the Media
In serious MHVille trade publishing, essentially, all but MHProNews have arguably been co-opted to various degrees by the "big boys," logically in pursuit of controlling the narrative, in pursuit of their own agenda.
That agenda has for some years, included more consolidation, per industry sources, including those in MHI, or formerly with them.


We've asked before, why didn't Berkshire Hathaway use their own newspapers for years to reply to flawed reporting about the manufactured home industry?  After we raised that questions a several times, magically, the Omaha World-Herald newspaper that Berkshire owns published an article on manufactured housing.  While it wasn't perfect, it was a start.  What's next? Will more industry pressure make them do it more often?  If not, what excuse will they give?
Weaponized, Faked News Harms Manufactured Housing Homeowners, Professionals
Where is the support for the National Association of Realtors ® report by Scholastica 'Gay' Cororaton that was overall so positive for manufactured housing?
As of yesterday afternoon, no obvious support online was discernable by a Google search for Clayton, Berkshire, or MHI and the NAR's positive report about manufactured housing.  Why haven't they beat the drums publicly on that NAR "Making the Case for Manufactured Homes," or the more recent report linked here?
Going forward, if Kevin is serious about getting help from "Warren" on the image/education issue, from now on, instead of the low-brow-outcomes from email or other limited visibility shares – why not give professional BH Media Group and their other media communications assets the nod to carry such good news as Cororaton's report?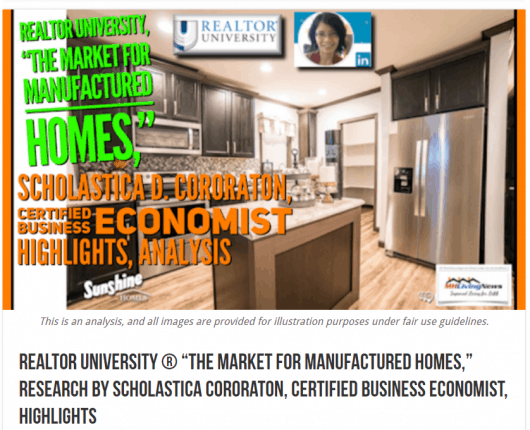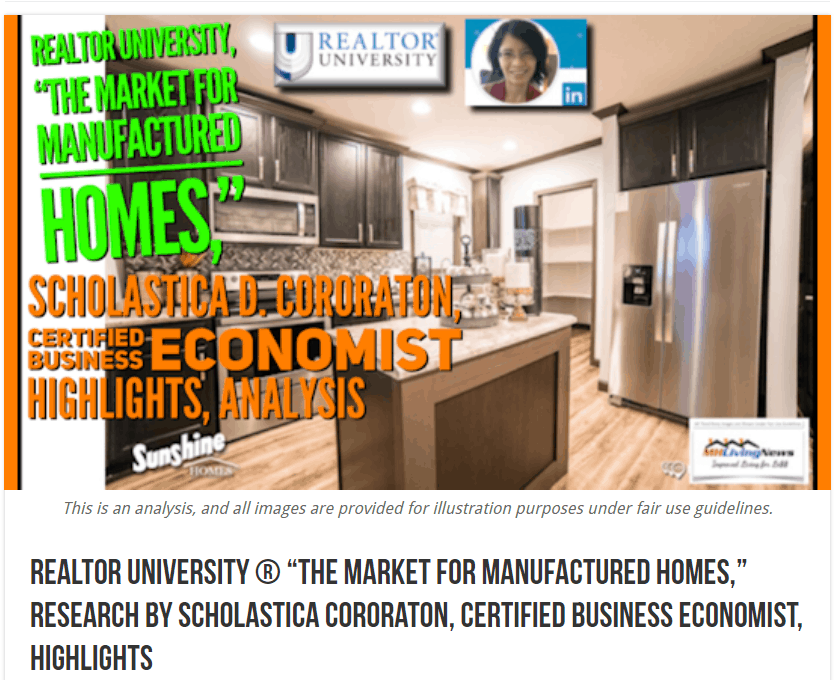 Wasn't what Kevin and Lesli Gooch said in print arguably indirect reply to issues we've raised?
There is no reason why MHI, and/or Clayton and other Berkshire brands couldn't use their media holdings or connections to clear up each and every misconception about manufactured housing. Buffett did respond to direct slams on Clayton by the Seattle Times.  If what Kevin Clayton says is sincere, then why have the BH Media Group not done the same for every misrepresentation about manufactured housing?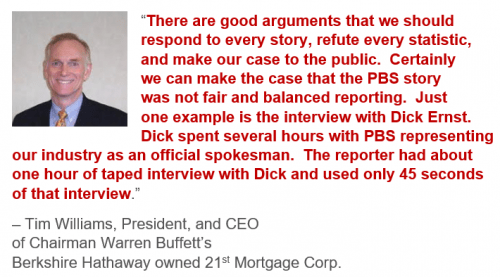 The Jim Ayotte Insight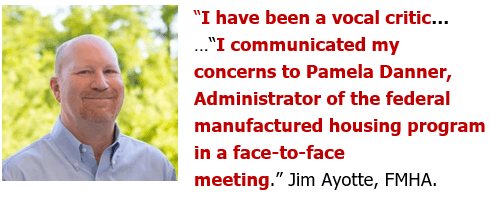 Jim Ayotte, Florida Manufactured Housing Association (FMHA) made the following insight.

No one can respond to something that they are unaware of, but once something becomes clear, then prudent steps can be taken.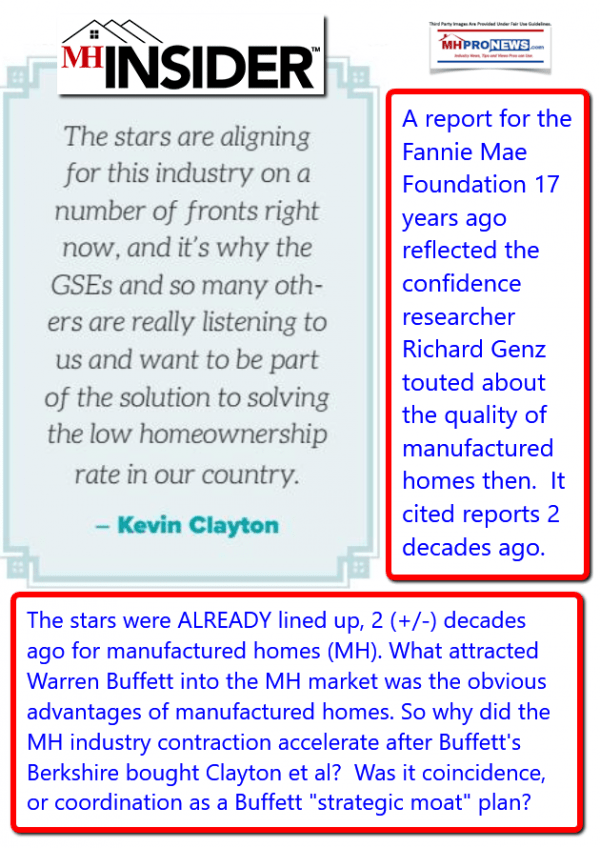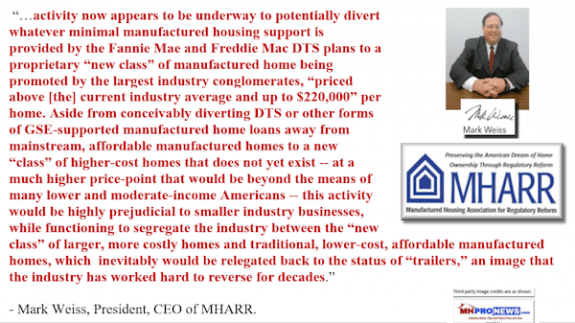 There is no denying the trend lines, documents, and quotes-in-context related to consolidation of the industry, as shown in the linked and related reports herein, and further below.
Kevin Clayton Said…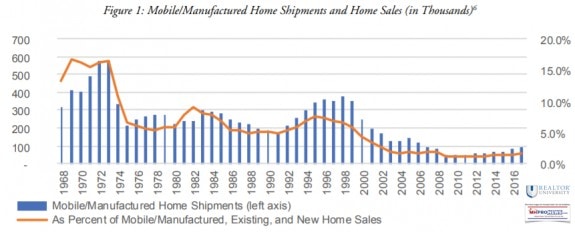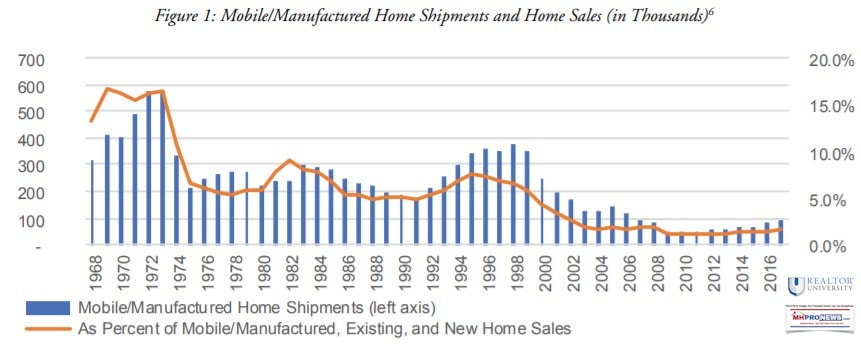 Neither Clayton, nor Berkshire's Omaha World-Herald, nor Clayton has explained the following.
Why didn't MHI's Lesli Gooch ask HUD for Pam Danner's replacement? See the Washington Post, or the report linked below.
Greener, Stylish Manufactured Homes – Hidden Facts in the Washington Post Manufactured Housing Narrative
Is MHI still supporting Vic DeRose at HUD for the Office of Manufactured Housing Program administrator position?  Who replaces Pam Danner is obviously important. MHI could easily strive to work for someone good, or someone equally problematic in place.  Why would they allow that to latter to happen?  Why did they allow Pam Danner to remain so long, when they admitted to the Washington Post to making no direct pushback? The reason given by some industry veterans for MHI's foot-dragging is that heavy regulations harms smaller companies more than bigger ones. Rephrased, it is an oblique way of building the Berkshire Moat.  See those Buffett and Kevin Clayton interview videos, linked here.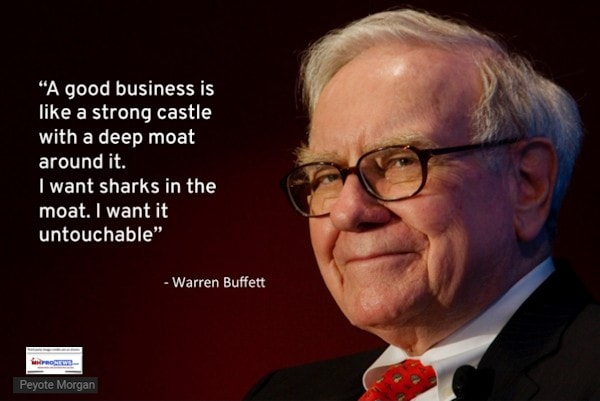 What about the DOE Energy Rule U-Turn? Why was MHI on the wrong side of that topic, and then after months of outside pressure, have do a 180?
What about concerns over manipulations of the DTS process by the GSEs?  What about the conflict of interest for Fannie Mae being a member of MHI?
Duty To Serve, "Complete Waste of Time" per Tim Williams, CEO/21st Mortgage; POTUS Trump, Warren Buffett Insight$
Why did MHI fail to properly promote other lending options, besides those that seemed to be the most profitable for Berkshire brands? See the report, linked above, and the details that flow from that post.
Since MHI is praising S 2155's MLO rule change, why didn't they do that same deal 3 years ago, during the Obama Administration, when the CFPB reportedly made that option possible via consumer groups and non-profits, had MHI agreed to dropped the points-and-fees?  After 3 years, they did just that – drop the chase for more points and fees.
Wrong, or Misleading, Time and Again?
How can they be so often wrong?  Or misleading?
Isn't their effort to control the media narrative within the industry part of that pattern? And isn't their failure to defend and promote the industry, part of the problem?
If MHI or Clayton are the solution, then why have so many retailers and independent producers gone out of business, or were economically pushed into a sale to one of the big boys?
Smoking Gun 3 – Warren Buffett, Kevin Clayton, Clayton Homes, 21st Mortgage Corp Tim Williams – Manufactured Home Lending, Sales Grab?
That's not to say that everything that MHI does is wrong.  Ditto that for Clayton/Berkshire.  But given the history of often false or misleading statements, why should anything new be expected?  Kevin is saying now that they will promote, but in the video linked here, Clayton said they were ready about 7 years ago to do an image/education campaign.  Why did they wait?  Was it to consolidate more?
'They did it before, is there any reason why they won't do it again?'
They Did It Before…Sunday Morning Manufactured Home Industry News Headline Recap July Aug 5, 2018
As an independent publication, service provider and consultant that MHI long praised, their behavior-changes starting in 2014 forced us as a business enterprise to look more closely.  Why did they arguably try to undermine our pro-Industry operation – while we were a dues paying, supportive members?
If they did it to us, what's to keep them from doing it to you and your operation too?  As or more important, haven't they done it to thousands of businesses already?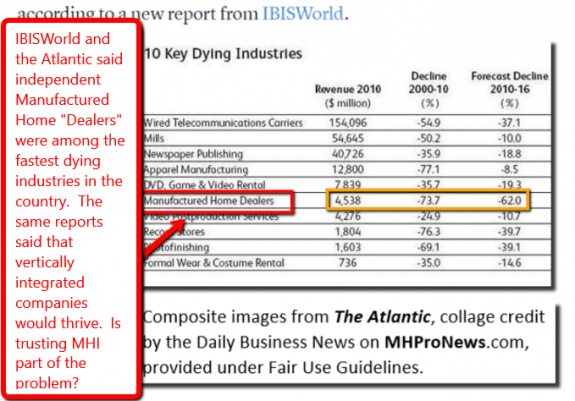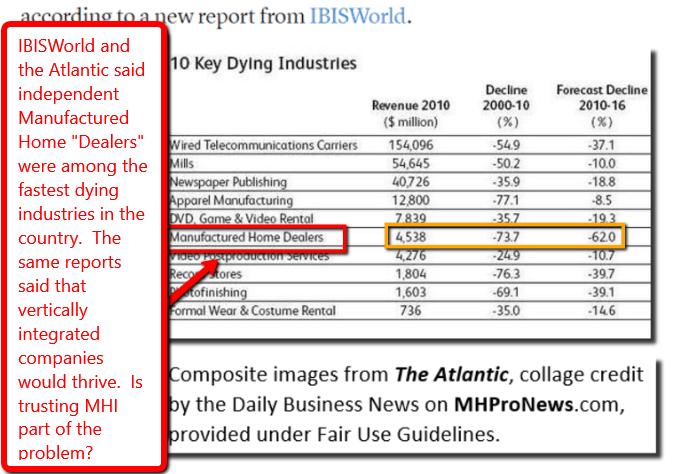 If the evidence suggests – and neither Clayton nor MHI will deny or defend to the contrary – that they manipulated the market to the detriment of the industry, why should industry professionals trust or believe them now?
If they did it before, what's to keep them from doing it again?  And if we and so many others who have raised such concerns were wrong, why aren't they using their vast media resources to routinely correct the record on manufactured homes?
The Bottom Line?
Not only is capital and access to lending power, but so is information.  There are several voices outside of manufactured housing that believe they are behaving in a monopolistic fashion.
Seattle Times -Federal Investigations-Berkshire Hathaway's Clayton Homes, GuruFocus Spotlights Buffett's Clayton's "Unethical," Monopolistic Moat
What about you?
Progressive "Nation" Reports on Monopolies Cites Buffett, Clayton, Others – MH Industry Impact?
That's "News through the lens of manufactured homes, and factory built housing," © where "We Provide, You Decide." © ## © ## (News, analysis and commentary.)
(Third party images, content are provided under fair use guidelines.)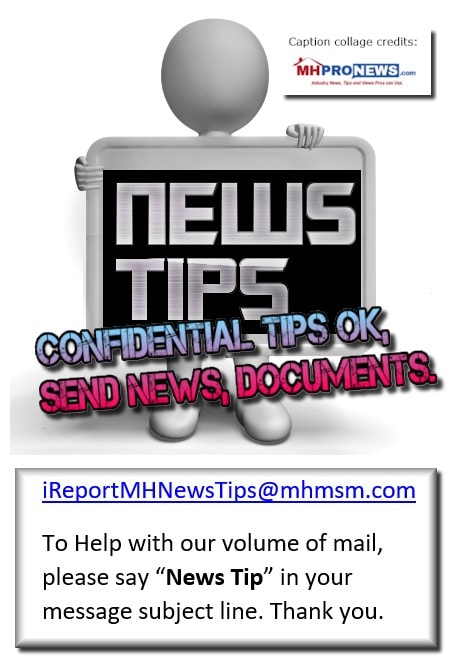 1) To sign up in seconds for our MH Industry leading emailed news updates, click here.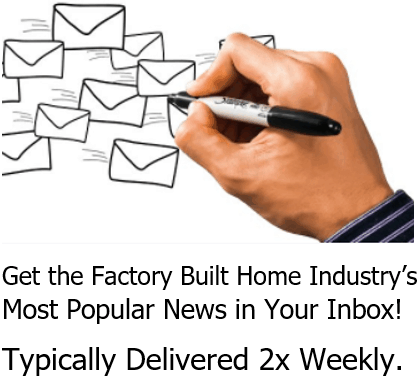 2) To provide a News Tips and/or Commentary, click the link to the left. Please note if comments are on-or-off the record, thank you.
3) Marketing, Web, Video, Consulting, Recruiting and Training Resources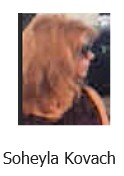 Submitted by Soheyla Kovach to the Daily Business News for MHProNews.com. Soheyla is a managing member of LifeStyle Factory Homes, LLC, the parent company to MHProNews, and MHLivingNews.com.
Related Reports:
Fresh Facts, Figures, Future of Affordable Housing -Comparisons- Conventional Site-Built v Mobile/Manufactured Home Industry Data
Only 3 Options – the Elephant in the Room, Clayton Homes, Berkshire Hathaway, Warren Buffett, 21st Mortgage, Vanderbilt Mortgage, Manufactured Housing Institute, MHI, Manufactured Housing Assoc Regulatory Reform, MHARR, Frank Rolfe, Marty Lavin, Consolidation, monopolistic moats,
What RV Industry's 2018, Prior Results Reveal for Manufactured Housing
"Fixing Our Industry's Terrible" Public Relations, a Proven Strategy
Loan Zone Manufactured Home Buyers, Sellers – CU Insight on Fannie, Freddie and Duty to Serve Manufactured Housing Industry