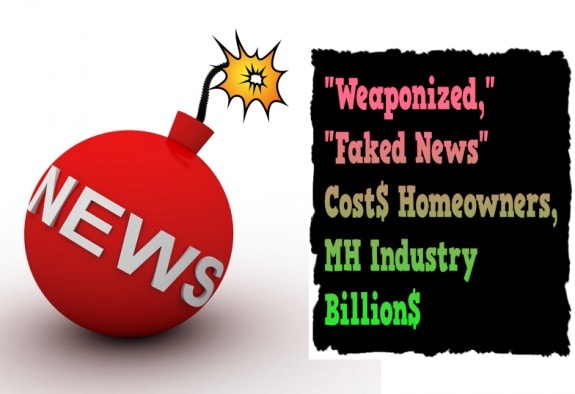 "The road to hell is paved with good intentions."
– American Maxim.
"Why not half-a-million [new manufactured homes sold annually]? We can get there."
  – Richard "Dick" Jennison, president and CEO, Manufactured Housing Institute (MHI).
"James McGee and Chet Murphree said it very well on a video, it's all about education…This [MHI] advertorial approach was a mix of good, bad, inaccurate, and deceptive marketing on behalf of a national manufactured housing association. I've focused on the bad, because that is where the problems will come from. You would never see the NAHB or another national trade association blurt out such problematic nonsense."
– Titus Dare, SVP of Eagle One Financial.
"We have created a great industry that is in decay and under attack.  In order to change the perception of our industry, MH pros and leaders need to focus on the facts and true benefits regarding our products and communities to ensure our customers make educated decisions that fit their needs."
– Tom Fath, manufactured home owner and industry professional.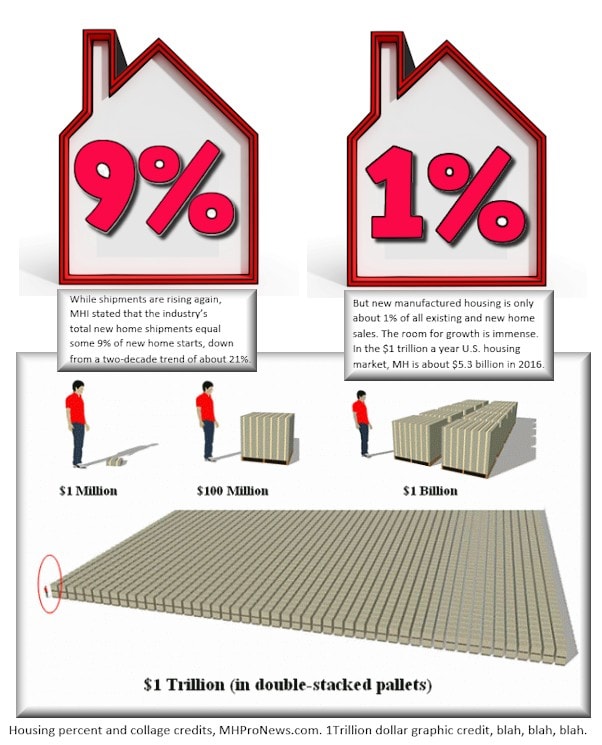 "I would agree with MHI's Richard "Dick" Jennison on this point. The manufactured housing industry can and should be selling 500,000 or more new homes annually," said L. A. "Tony" Kovach to the Daily Business News. "We can achieve that half million [+/-] new manufactured homes a year sustainably. It can be done with happy customers using sound loans, as opposed to problematic and unsustainable, lending."
"However," says Kovach, "we won't get there if MHI allows its president and other key people to sacrifice credibility and ethics."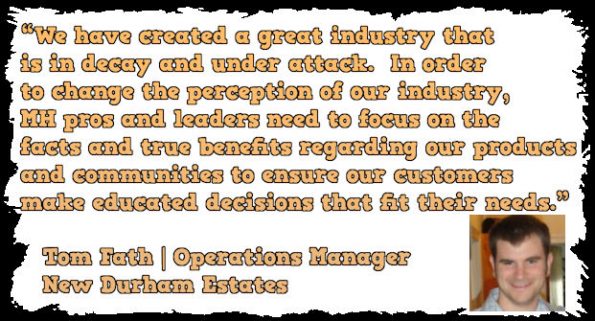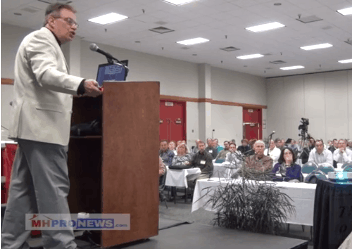 "Some of what they do is demonstrably wrong, as concerns by third-party comments demonstrate," Kovach said. "It's bad for MH homeowners and for independent businesses too. Thus, we have and will continue to call out Jennison, Lesli Gooch and others who we've previously exposed examples of their faked and weaponized news, which have been promoted by them to MHI members, the industry and to the public at large."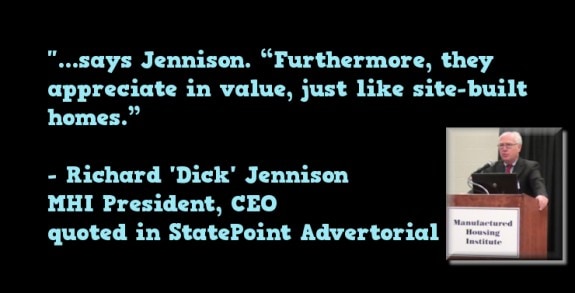 Examples of published Industry Voices comments on MHI's problematic advertorials, from Titus Dare's and Tom Fath's statements, which were cited above. A previous in-depth critique of Gooch and Jennison authorized "faked, weaponized news" is linked here.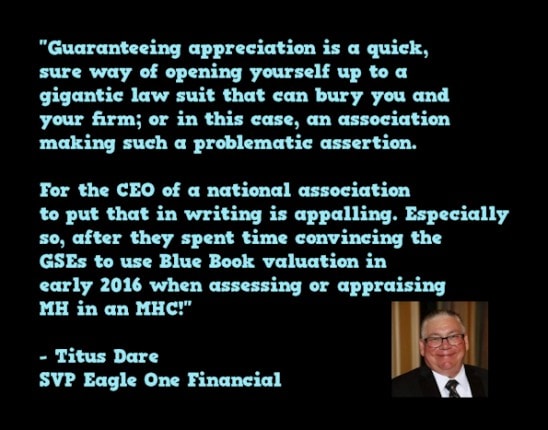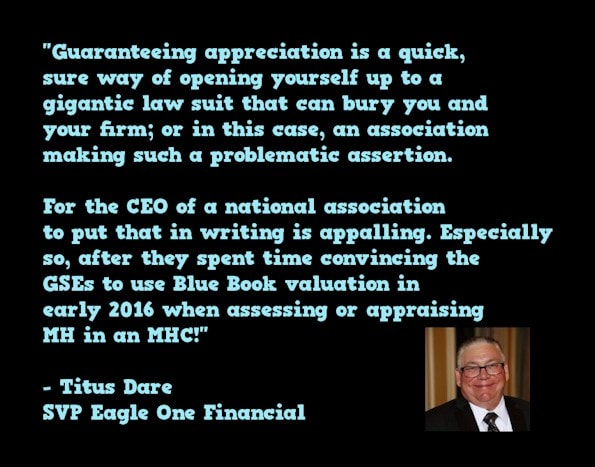 What's Needed for More New Home Sales Growth?
Beyond finance related topics, almost everyone in the industry, including MHI, agrees that better communications that educate the public to modern manufactured housing realities are a key to increased sales success.
That said, why has MHI failed to recognize MHLivingNews and MHProNews pioneering educational/informational/media work, which has been done in concert with other industry professionals?
Why have top MHI staff ignored or sideline positive information – or stories that set the record straight for manufactured housing? Several MHLivingNews reports have been picked up by Google News, mainstream media, other MH industry companies, and associations – with a number of professionals routinely linking and/or forwarding stories to others.
So why aren't key MHI staffers promoting these positive news items?  Why do they feature faked, advertorial "news" that risks their association's – and the industry's credibility – when there are real news items, with positive and authentic stories – to report?
What do other industry professionals say?
Words from the Chairman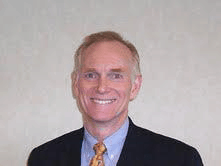 "MHProNews.com and MHLivingNews.com are both good communications resources for the Manufactured Housing Industry," said Tim Williams, president of 21st Mortgage and MHI Chairman. "I and many others at 21st Mortgage and at MHI logon to see the latest news, interviews, debates, videos, opinions and reports they publish."
"Having a trade publisher that presents thoughtful, respectful commentary independent of any association's perspective – as important as an association's view can be – can be a big asset to advancing the MH Industry's cause," Williams said.
Williams is hardly alone in that view. It's clearly reflected by comments by others, and statistics that make the MHProNews and MHLivingNews platforms the factory-built housing industry's most-read and widely-respected trade media.
So, why then have a handful of MHI connected personalities gone out-of-their way to undermine MHProNews' and MHLivingNews' pro-industry work?
Further, if these paid MHI staffers were correct and justified in their messaging approaches, why have they not defended or explained their reasoning in the wake of exposes published about their allegedly problematic communications activities?
More and Faster Growth? "No Lack of Capacity"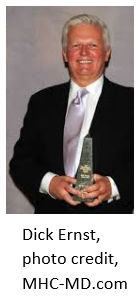 MHI Financial Services Chairman, Dick Ernst, has said publicly that the industry's current lenders have "no lack of capacity" to originate sustainable loans to support the industry's growth.
With many manufactured home industry producers reporting double-digit increases over last year, and with several weeks of current backlog, the stage is set for increased production and the opening of new production capacity.
"Producers tell us that logistical constraints are a possible choke point," says Kovach.
But that production capacity can and is being addressing by increased staffing and other logistical issues needed for more rapid growth. Several producers have told MHProNews that they plan for more increased production, and even new plants, in the near term.
In short, the stage is set to achieve a march toward the 500,000 new home shipments in a sustainable way.
That would almost certainly mean increased sales and profits for most industry retailers, communities, product-and-service providers.
So, with lending, educational and production capacity all available, industry communities and retailers could be growing at a far faster pace than they currently enjoy.
What Other Pros Say Keeps the MH Industry from Reaching its Potential?
Frank Rolfe has said that it's the industry itself, and Rolfe pointed a finger directly at MHI.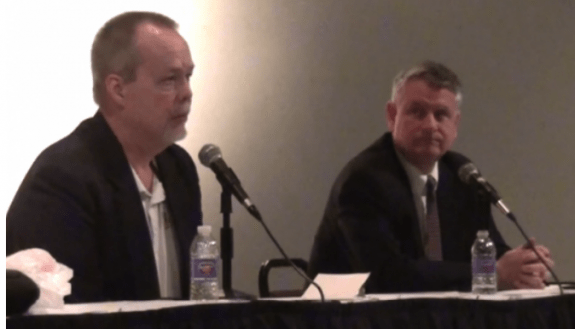 Bob Crawford, president of historic Dick Moore Housing, has said MHI has failed independent communities and retailers for years.  Crawford and Moore have called for a new post-production association to address the vacuum caused by MHI's allegedly flawed leadership and execution.
MHI award-winner Marty Lavin, JD, has called out the national association as having failed in its previous attempt to do meaningful consumer research that would benefit the industry at large. Lavin recently asked aloud, how will the new MHI plan be any different or better than their last failed effort?
MHI has not responded to any of these or other challenges directly. But they have asserted thorough their own emailed newsletter that they are working to improve business.
It should be noted that MHProNews has repeatedly offered MHI staff opportunities to engage on these and other concerns, but as if to underscore Rolfe's point, MHI has routinely declined.
Why?
MHI's Weaponized Text?
 "When you read a newspaper article, you are reading weaponized text that is designed to affect a person just like you…," said WikiLeaks founder, Julian Assange. He said that recently in the context of WikiLeaks own work, and the problem of mainstream media often having their own agenda.

But does Assange's principle of "weaponized" news apply to MHI?
If so, doesn't that further underscore Tim Williams' point on the importance of MHProNews and MHLivingNews being an independent news source, and a check on MHI's ethical, effectiveness and advocacy related issues?
UMH's Sam Landy, on a different yet-media relations topic, said they welcome outside critiques.
By contrast, MHProNews has learned about another industry operation that was threatened by an MHI-connected, outside attorney.  That operation told the Daily Business News the threat came for questioning in print the Arlington, VA based association publicly on an issue they were lobbying on.

Is that the behavior the industry wants from a self-proclaimed national umbrella association?
Allegations, Allegations…
A recently reported threat against MHProNews was made by an attorney, claiming he was doing so on behalf of MHI. "Their allegation is laughable and spurious, as an attorney told us," said Kovach. "But that doesn't mitigate the fact that they made the written threat, which we know was circulated to others. Why?"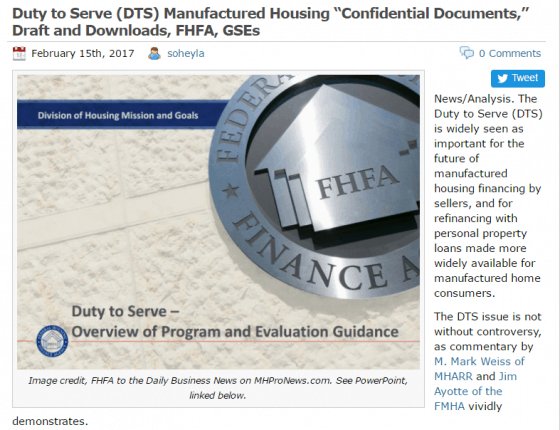 Monopoly?
The answer may be that some at MHI are attempting to create de facto industry trade news – and other? – MH monopolies.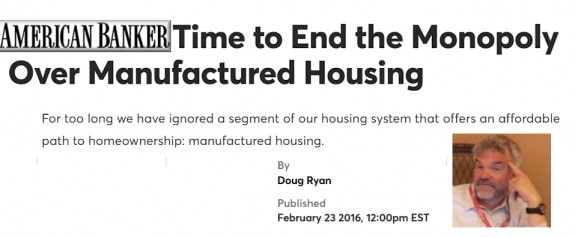 Doug Ryan at CFED, community owner/service provider George Allen, and others have publicly called out what MHI does in monopolistic terms.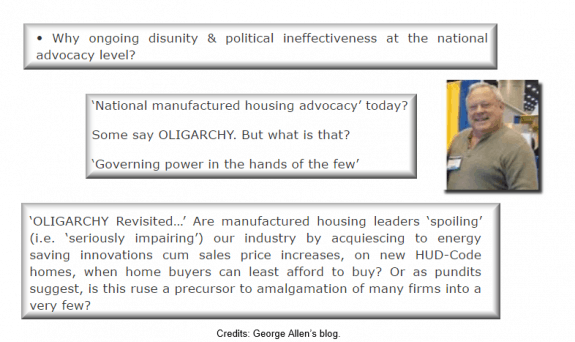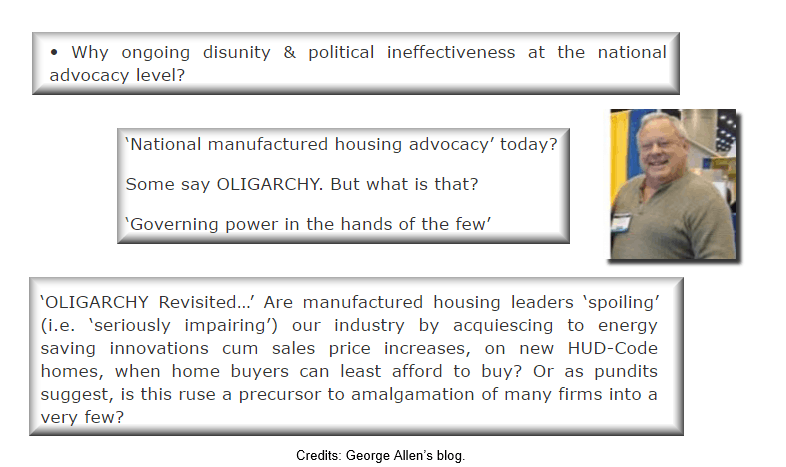 While Lesli Gooch responded to Ryan's allegations publicly, the question of monopoly keeps raising its head with respect to MHI, even though they often open their business meeting sessions with a reference to anti-trust rules.

Given the stated free enterprise and – anti-trust perspectives – of the new Trump Administration, could the accusations of MHI behaving like a monopoly create regulatory headaches for that association's leadership, and potentially for some of their members too?
Bloomberg
Noah Smith on Bloomberg recently weighed in on the problems caused by monopolies for consumers, small business, how it harms job creation and more.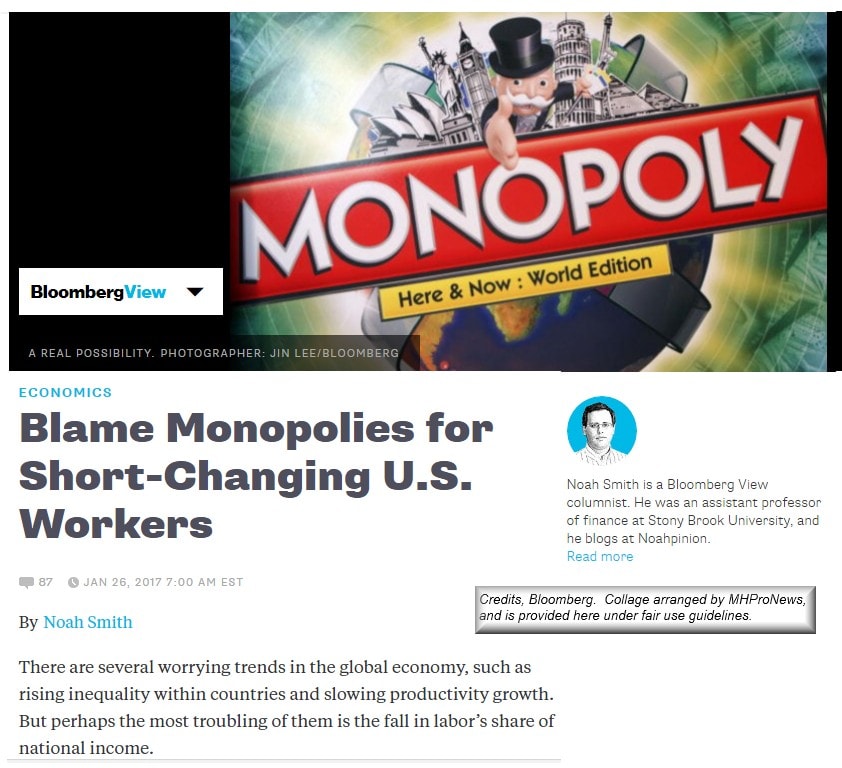 If a de facto monopoly existed on MH industry news, then sources for information on the industry would by definition be severely restricted.
That in turn would harm the ability of independents, non-profits or corporations to make informed decisions.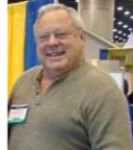 Allen has complained that MHI, through their National Communities Council (NCC), has essentially gone into competition with his own work.
Allen, an MHI member and co-founder of the NCC, was in talks at various points with MHI about their buying his business units out. There are claims and counterclaims as to why that MHI buyout of Allen's publishing and business meetings failed.
But what is more certain is that MHI is openly encroaching upon work Allen has provided his readers for years. How does that look to current and prospective members, when the trade association you are in – or are considering joining – goes into competition with members' operation?
Several professionals have told MHProNews about their own allegations of MHI game-playing and favoritism by key staff at the association.  So Allen is not alone.
Undermining Industry Independents?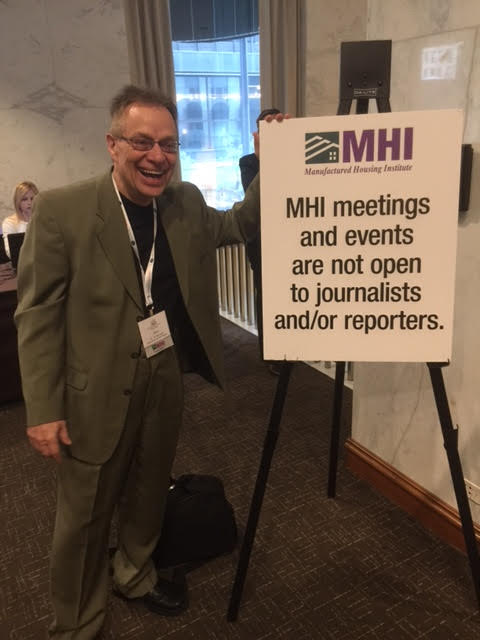 "We've known for some years now that Jennison and others [with MHI] are trying to undermine our pro-industry, pro-consumer, pro-MH image, education, information and business development work," says Kovach.
"We've had calls, face-to-face conversations, emails and messages that point directly at MHI trying to dissuade advertisers, or to get current sponsors to drop MHProNews. Call the allegations discussed herein what you will," Kovach said.
"But imagine for a moment if the association you're paying dues money to began working directly against your company's interests. It's outrageous. But we've been patiently waiting for these MHI staffers to overplay their hand."
The threatening attorney's letter apparently authorized by MHI's staff leadership is related to part of an ongoing, periodic series by MHProNews on manufactured home lending.
Specifically, its focused on the Daily Business News story on the Government Sponsored Enterprises (GSEs) legally mandated Duty to Serve manufactured housing. Why do some at MHI want to exclude thousands in the industry from having information that dozens of insiders already have?
It should be noted that not all MHI staffers are being painted by these concerns.  There are those with MHI who are reportedly less-than-happy with the current regime.
But top staff clearly directs the actions of the balance of those working at MHI, or it's divisions, such as the NCC or MHEI.
Options?
Some industry members are weighing their options, including, but not limited to the following:
Demanding that MHI leadership reform the organization into a more open body, and remove from its ranks those paid staffers who have engaged in the reported pattern of problematic communications and behavior toward their association's own members.
See if MHEC would expand its role, to become what MHI was supposed to do, but is currently failing at accomplishing.
Create a new, rival post-production association.
Explore a strategic alliance with another association, such as the NFIB.
See if MHARR's board would agree to expand its membership in a way that will allow that organization to be a kind of NFIB for all MH industry professionals.
Undertake legal action(s) against MHI, if and as necessary.
Evidence
Regarding these and other allegations reported on the most recent Masthead, MHProNews has and will continue to gather documents and evidence regarding these MHI top-staff related issues.
The implications of these problems are far reaching to the industry professionals, tens of millions of home owners and potential buyers.
Billions of dollars are at stake.  That could mean significant growth opportunities for businesses, if the concerns caused by MHI team members are successfully addressed.
Follow Ups…
In spite of written and other threats or intimidation tactics, our MHProNews reporting team of RC Williams and Matthew Silver will continue to track and report on general industry, association and other industry-related issues.
"We Provide, You Decide." ##

News/Analysis by Soheyla Kovach for the Daily Business News, on MHProNews.com.