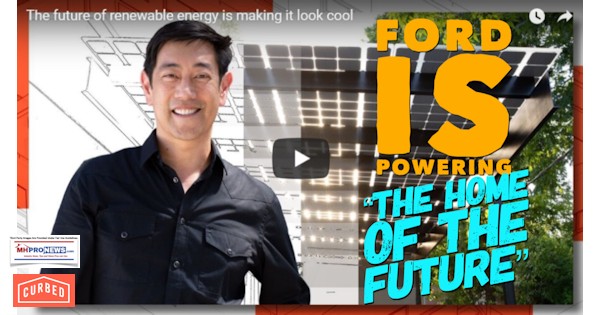 Several years ago, early in our history, MHProNews interviewed Eddie Hicks, a veteran manufactured home community consultant. Part of the topic was product placement.
Fast forward to the Verge and Curbed, which have snagged Ford as the sponsor for their "Home of the Future" video series.
You'll often notice on the top right corner of their video the Ford logo.
To the point of product placement, you will also note that tough, cool looking Ford truck during various outdoor scenes of the exterior views of this modular/prefab home.
This week's episode featured shingles that are actually part of the roof. You'll recall the MHProNews column with Steve Lefler on that topic, so technically, that's not 'new' news to our readers. But what this does is reflects the direction of their storyline, their narrative.
Namely, that solar isn't only green, with a lower carbon footprint. But solar can also be cool looking.
Notice the style of the video?
From the camera angles, to the music and more, it's clearly geared to a younger crowd.
But factory-built housing marketers, did you notice something else?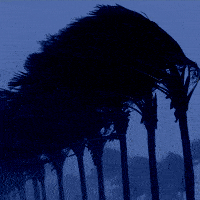 This video isn't 1 or 2 minutes, or even 30 seconds, as so many 'video experts' say they have to be. Instead, this video weighs in at nearly 7 minutes in duration.
We know from experience that as long as the audience is interested, they will tune in and stay tuned to videos that are 5 to 10 minutes plus in length. On a 'heavy' topic, like the Kevin Clayton video interview (ICYMI, that's posted on the page, linked here), a motivated viewer will hang in for that nearly hour-long video presentation.
From the beginning, when it came to the length of a video, we asked 'Why not?' How many tens of millions of Americans will watch hours of TV daily?
The evidence on video length is obvious.  Cable shows, news, streaming video movies, and other programming abound.
The Thinking Behind the Pitch
Notice too that this video is done by the Verge and Curbed. These are specialty media – trade media – like MHProNews or MHLivingNews are.  That gives it 'third party' authority to the viewer.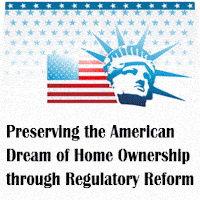 The "Home of the Future" video itself notes that the solar array included in this home isn't enough to power more than 60 percent of the needs of the model home. They do mention that additional solar could be added.
Notice that no mention of cost is involved?  We aren't agreeing or disagreeing, just making an observation.
In terms of analyzing their episode, the thrust of this style of video reflects a scripted format. That can be debated. Like our "Inside MH" video series, they do an interview, a conversation.
For our Inside MH series on MHLivingNews, we leaned in the direction of an unscripted, genuine, free-flowing conversation.
The "product placement" style is all around this "Ford" powered video as they tell the story. But it isn't just Ford.  There are other credited or placed elements revealed here too. So there are similarities between what they're doing, and what we've done.
The biggest difference is budgets and sponsors – i.e.: scale, and we did it sooner on MHLivingNews than they did. But the proof of concept is similar, and their example, is a clear sign of what the world of HUD Code factory-built housing needs too.
But there is an important distinction that some in MHVille haven't yet grasped.  For this type of campaign to be effective, it has to be more than just a fun view. The narrative has to get to the root of core issues that have dog manufactured homes, or factory-built housing.  It must lance-the-boil, or it will be merely entertainment.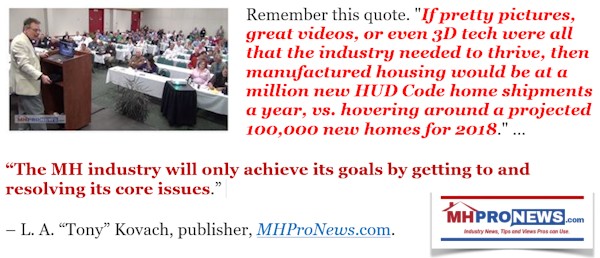 We noted in the "Becoming a Standing Out Performer" that those who've implemented some of these kinds of strategies with us have watched their results skyrocket.
Becoming a Standout Performer, Monday Morning Sales, Marketing Meeting
So this is more than just a cool or  interesting, under 7 minute video that is backed by giant Ford, that has a brief commentary.
Rather, this should be a reminder of how this can and should be achieved for MHVille.
Rephrased, this could be you and your operation's location.
Learn more about this proven concept at the link below.
That's this pre-dawn "News Through the Lens of Manufactured Homes, and Factory-Built Housing," © where "We Provide, You Decide." © ## (News, analysis and commentary.)
(Third party images, content are provided under fair use guidelines.)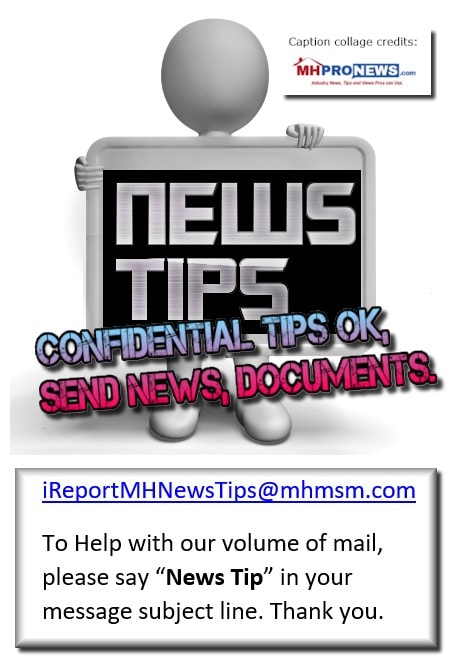 1) To sign up in seconds for our MH Industry leading emailed news updates, click here.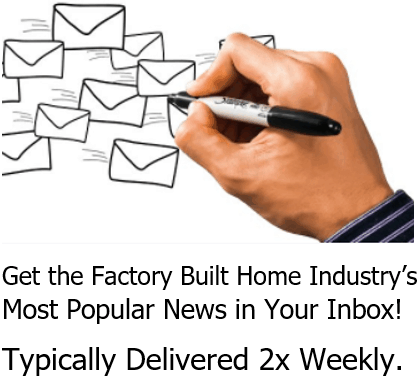 2) To provide a News Tips and/or Commentary, click the link to the left. Please note if comments are on-or-off the record, thank you.
3) Marketing, Web, Video, Consulting, Recruiting and Training Resources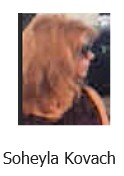 Submitted by Soheyla Kovach to the Daily Business News for MHProNews.com. Soheyla is a managing member of LifeStyle Factory Homes, LLC, the parent company to MHProNews, and MHLivingNews.com.
Related Reports:
"Fixing Our Industry's Terrible" Public Relations, a Proven Strategy
Billions in Global Deals, Flying Above the Fray for Unicorn Prefab Builder