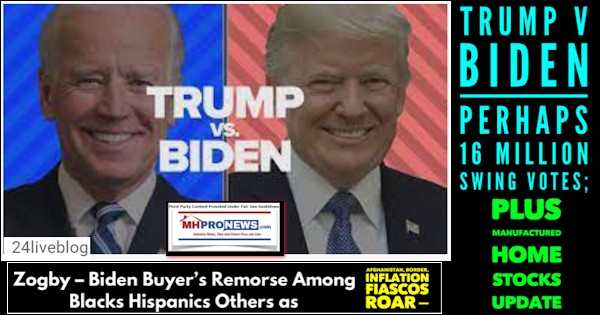 There is a cunning, audacious – and at times malevolent – brilliance to hiding the truth in plain sight. There is also the risk that the truth, be that reality hidden or obscured, will in time be revealed. Whatever the truth is about the 2020 presidential election and claims of voting fraud sufficient in a handful of states to give Joe Biden the White House, what is certain is that tens of millions voted for the Biden-Harris ticket authentically. Focusing for a few moments on those Biden-Harris voters, fresh surveys reveal that a growing number of them are experiencing the equivalent of buyer's remorse. Day by day, those who thought of the weaponized 'mean tweets' and who were told repeatedly by anti-Trump mainstream media why they should not like the 45th president's 'style' or 'tone' are having second thoughts about voting for Joe Biden. So says a new poll by Zogby.  The Zogby report mirrors another survey cited in the report from the WND Newscenter to MHProNews. Rep. Jim Jordan (OH-R) in the Freedom Caucus of the GOP said that he thinks President Trump will run again in 2024. With that brief backdrop, the WND provided report will be followed by additional information, more MHProNews analysis and commentary on what these developments may signal for our profession.
Then, our business daily left-right headlines, macro-markets, and manufactured home connected stocks recap will close out this article.
20% of Biden voters now have buyer's remorse
'This could really hurt'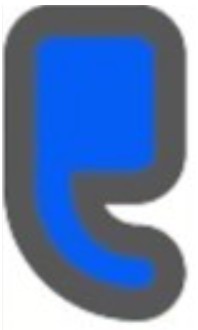 By Bob Unruh
Published September 3, 2021 at 12:27pm 
Buyer's remorse is that sinking feeling people get when they've made an impulse decision or purchase, and reality hits. It can bring on cold sweats from the possible trouble coming, and worse.
And that's what one-fifth of the likely voters now have about their decision to support Joe Biden for president, according to a new poll from Zogby Analytics.
"On the surface it doesn't seem like much, especially if you look at the three quarters of likely voters who did not regret their vote; 4% were not sure how they felt," the polling company reported.
"Why does this matter? If you take into consideration the size of the electorate, and how the last two presidential elections (2016 and 2020) were decided by tens of thousands of votes in a handful of battleground states, this could really hurt President Biden's chances in 2024," the report said.
"One still gets the sense his ship is sinking fast, and he might not have any lifeboats aboard to save him. Biden's low approval numbers, the botched withdrawal of American troops from Afghanistan, and inflation eating away the purchasing power of Americans are the president's biggest problems now."
Those problems are not the only ones, however. He's created a crisis on the southern border by canceling the various immigration policies instituted by President Trump, such as the border wall construction. Biden tried to cancel Trump's successful "Remain in Mexico" program, but was stopped by the courts.
He's allowed inflation to surge, hitting Americans in their pockets every day as they purchase food and fuel. He's turned an energy exporting nation into one dependent on foreign supply chains.
He's tried to foist upon the republic a government program to run all elections, he wants taxes raised massively, he is demanding an abortion-for-all agenda be supported, his supporters openly have opined about the destruction of the Supreme Court with a "packing" program, and more.
Bottom of Form
And that's above and beyond the evidences of senility, or dementia, he's exhibited. Just this week he confessed he couldn't respond to a question because his mind had "gone blank." Nor does it account for the many, many scandals that have come to the president through his son, Hunter.
Zogby said "some very important groups, who normally lean left and Democrat" had significant regrets for their support for Biden, whose victory in 2020, in fact, could be attributed to a few thousands of votes out of the 150 million plus who reportedly voted, spread across a handful of swing states.
Biden reportedly got 80 million votes in 2020, but taking away 20%, or 16 million, would have left President Trump with a landslide victory.
In fact, a survey just months ago, commissioned by the Media Research Center, found one in six Biden voters in seven swing states said they would not have voted for the Democrat if they had been aware of one or more of the news stories presented to them.
The poll, conducted by The Polling Company, asked voters about eight news stories that "the liberal news media had failed to cover properly."
MRC concluded a "shift of this magnitude would have changed the outcome in all six of the swing states won by Joe Biden."
The poll found 82% of Biden voters were unaware of at least of the one news items and 5% were unaware of all of them.
The poll, conducted online Nov. 9-18, surveyed 1,750 Biden voters in Arizona, Georgia, Michigan, Nevada, North Carolina, Pennsylvania and Wisconsin.
"The most basic principle of our electoral system is that our leaders are chosen by the people themselves," MRC said. "But if the people are given systematically one-sided information, with crucial facts omitted, then the real power to choose has been stolen from them."
Five of the eight stories were about Trump accomplishments that were suppressed by media.
The percentage of Biden voters who were not aware of each of the following news stories:
(45.1%)Hunter Biden's financial dealings with foreign countries
(49%)Third quarter annualized GDP growth of 33.1% – the highest rate of growth ever
(39.4%)The creation of more than 11 million new jobs May-September 2020
(43.5%) The negotiation of multiple peace agreements between Arab nations and Israel and the subsequent Nobel Peace Prize nominations
(35.4%)The sexual assault accusation against Joe Biden from the 1990s
(25.3%) Kamala Harris being rated the most left-wing senator, even to the left of Sen. Bernie Sanders
(36.1%)The $10 billion Operation Warp Speed public-private partnership to expedite the development and production of COVID-19 treatments and vaccines
(50.5%)The U.S. achieving energy independence under President Trump.
Zogby said, "When we drill down and look at the demographics of the surveyed voters, some very important groups, who normally lean left and Democrat, were even more regretful about voting for the president in 2020. For example, younger voters aged 18-29 (27% yes/67% no/6% not sure) and middle aged voters aged 30-49 (30% yes/67% no/4% not sure) were much more likely to regret voting for Biden than older voters aged 50-64 (10% yes/87% no/3% not sure) and 65+ (6% yes/91% no/3% not sure)."
It explained nearly 30% of Republicans regretted voting for Biden, and 20% of Democrats did the same.
Significant numbers of men, 27%, Hispanics, 33%, and African-Americans, 25%, also regretted supporting Biden.
"Some of the consumer subgroups we track also expressed regret voting for Biden, such as, weekly Walmart shoppers (27% yes/69% no/4% not sure), weekly Amazon shoppers (29% yes/68% no/3% not sure) and likely voters who had invested money in cryptocurrency, such as Bitcoin, Ethereum, and Litecoin (44% yes/53% no/3% not sure)," the poll said.
The online results come from a survey of 2,173 Biden voters. Based on a confidence interval of 95%, the margin of error for 2,173 is +/- 2.1 percentage points. ##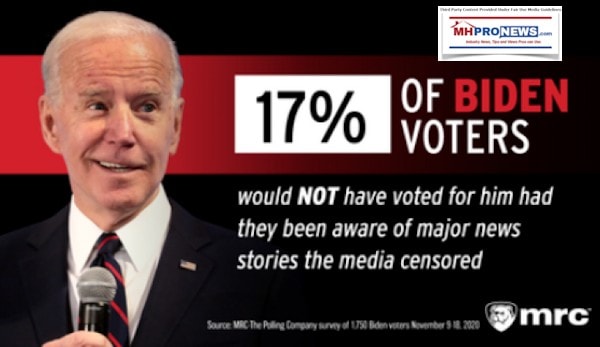 The MRC survey referred to above is reflected in the screen capture previously published by MHProNews shown above, which was not part of the WND report. There are other surveys and indicators that suggest that these results are reliable.
Additional Information, more MHProNews Analysis and Commentary 
The harsh reality of  Biden Administration versus the rosy promises made by the Biden-Harris campaign are why a seismic shift among voters appears to be well underway. Per right-of-center Newsmax, a record of some 5 million people tuned in to view the most recent Trump "Save America Rally." On the nights when Newsmax is carrying the deposed 45th president's rallies life, the reportedly number 4 cable news network is handily beating Fox, CNN, or MSNBC.  But as MHProNews previously reported, from the political left there are indications of this shift that the Zogby survey revealed. When the pro-Democratic, left-leaning Boston Globe says that the Biden Administration will never be the same again after the Biden regime's Afghanistan fiasco, and it is only about 7 month into a purported 4 year term of office, that's a big signal that across the left and right, millions are 'getting it' that what they were 'sold' was damaged goods.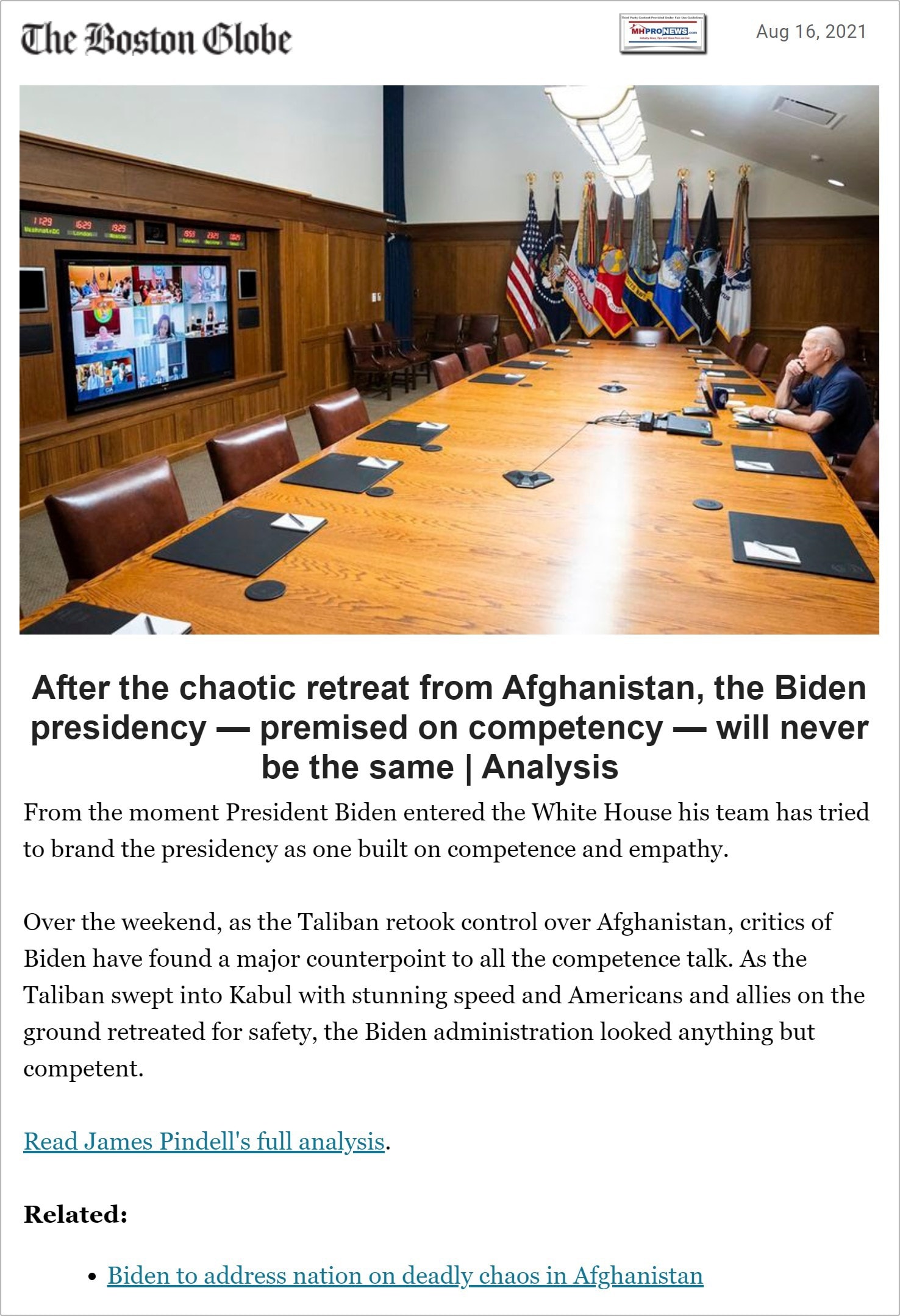 With that in mind, the following from Senator Rand Paul (KY-R) to MHProNews also spells out some of the issues that are impacting the nation and thus our profession.
Per Senator Paul's communications team, the following.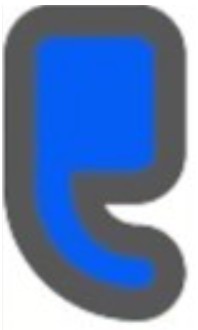 Politicians and bureaucrats say these vaccine passports are only for COVID, but we know it won't stop there…considering we're on day 500 something of '14 days to slow the spread'.
Americans are living in a world where politicians and bureaucrats are quite literally trying to CONTROL:
→ Where you can eat
→ Where you can shop
→ Where you can travel
→ What you can attend
→ Who you can associate with
That is tyranny through anti-science mandates. 
The time to fight back is now."
The Rand message goes on to make its expected political pitch for support.
It is too simplistic to say that every Democrat is in the pocket of Big Money and every Republican is a Trump-Paul-Gov. Ron DeSantis style Republican. There are DINOs, RINOs, and an apparent PINO. The Republicans in the GOP who voted against the 45th President in the second or first impeachment votes are a road map to certain insights about who are those more loyal to Big Money, vs the balance who supported Trump and are more likely to follow the America First cause. There are Democrats like Senator Joe Manchin (WV-D) and Kirsten Sinema (AZ-D) who are clearly willing at times to buck the flow, even though they vote with their party's leaders most of the time.
It is Warren Buffett who told left-of-center CNBC the sobering truth. "Politicians in this country want more power. The rich want more power," Buffett said. That's the leftist billionaire's shorter version of the Rand Paul message.
The beauty of the American Constitution on paper is that a minority can stop a powerful majority or a manipulative minority that wrangles a majority. But it takes effort. It will not happen without effort. Those that say otherwise are either naïve, deluded, or are selling something.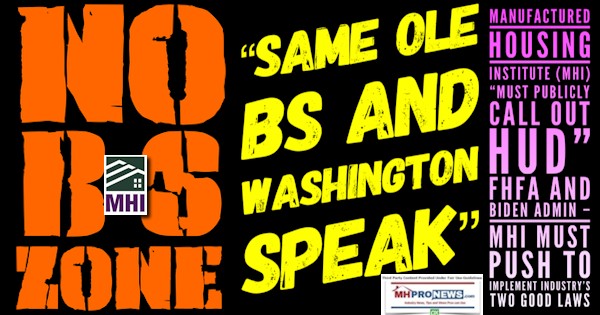 MHProNews and our MHLivingNews sister site stand alone in generating information that reveals what is behind the curtain of the Big Money Deception and Misdirection. A special report lies ahead that will deal with manufactured housing specific concerns.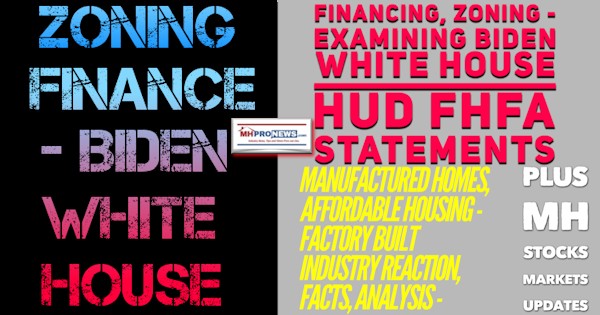 Until then, see the linked and related reports to learn more. The many can beat the money. But it will not occur without understanding and prudent efforts.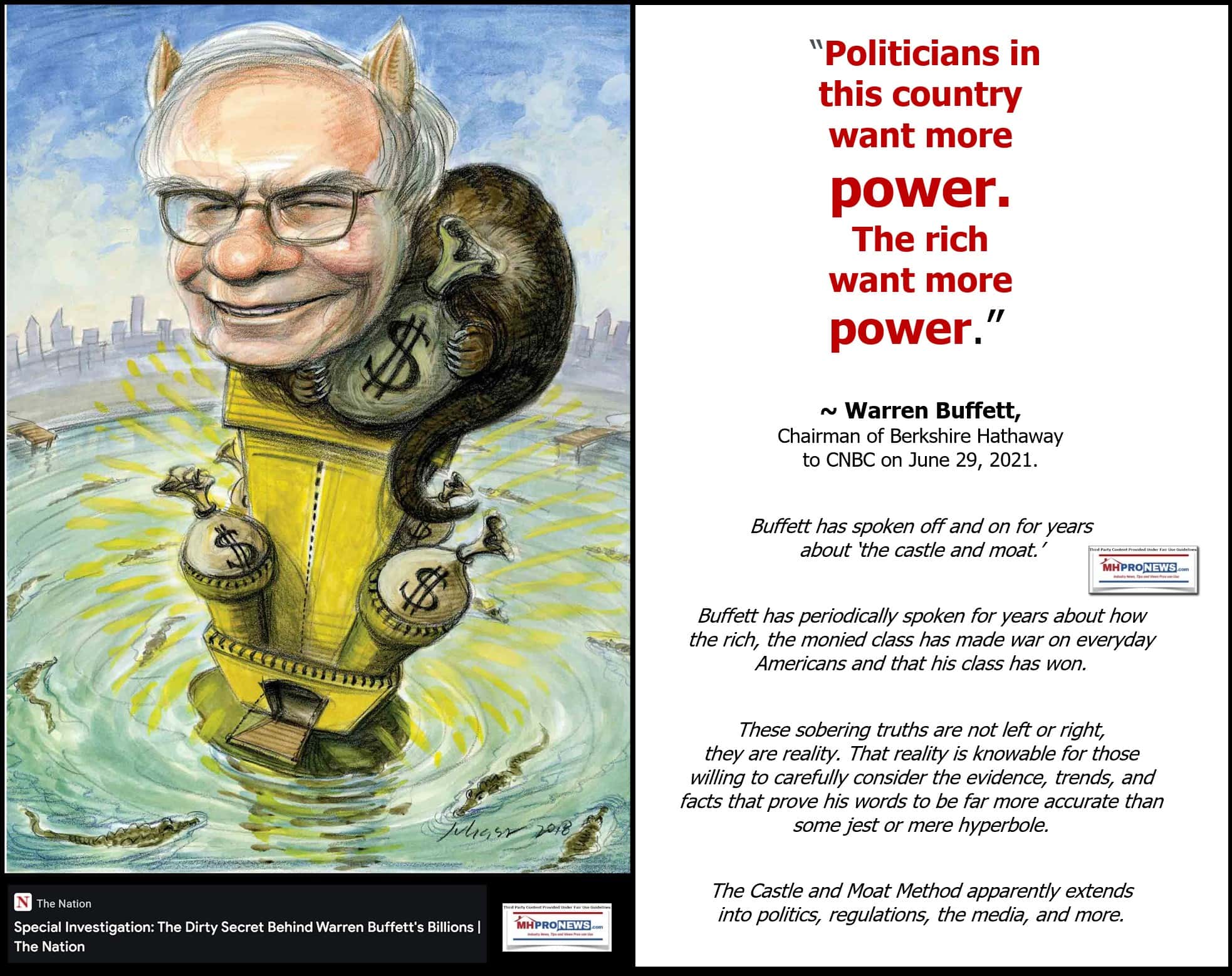 ###
Next up is our business daily recap of yesterday evening's market report, related left-right headlines, and manufactured housing connected equities.
The Business Daily Manufactured Home Industry Connected Stock Market Updates.  Plus, Market Moving Left (CNN) – Right (Newsmax) Headlines Snapshot. While the layout of this daily business report has been evolving over time, several elements of the basic concepts used previously are still the same. For instance. The headlines that follow below can be reviewed at a glance to save time while providing insights across the left-right media divide. Additionally, those headlines often provide clues as to possible 'market-moving' news items.
Market Indicator Closing Summaries – Yahoo Finance Closing Tickers on MHProNews…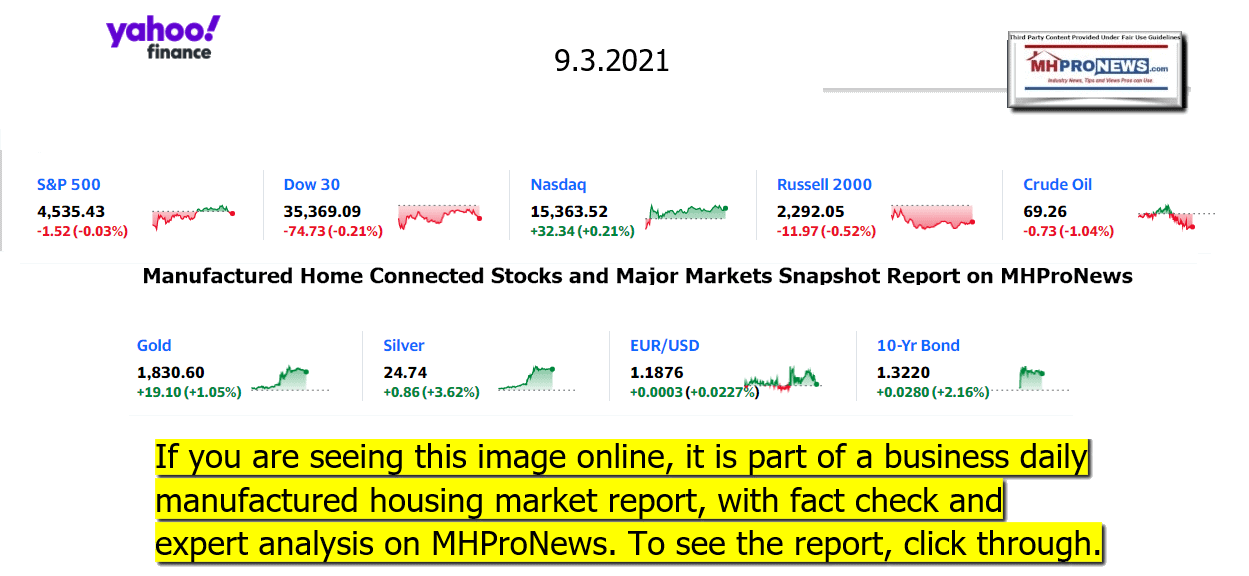 Headlines from left-of-center CNN Business – evening of 9.3.2021 
Texas abortion law
Close up of a person using the Bumble app
Bumble and Match are creating relief funds to help people affected
The August jobs numbers have economists worried. Here's why
Here's why investors are shrugging off the lousy jobs report
Coda to a massive scandal: Two Kraft executives charged in accounting scheme
Walmart giving more than 565,000 workers a raise
Rocket built by startup Firefly explodes off California coast
Slow relief funds rollout means renters face uncertain future
One reason house prices could stay sky-high
China will create a stock exchange in Beijing
Black Americans are being priced out of the pandemic housing boom
This new material could measure your heart rate through your shirt
Marking 20 years since 9/11: Media outlets plan special coverage to commemorate deadly attacks
Risk Takers 2021: 10 leaders making 10 big bets to push business forward
Content by Quicken Loans
Lock a low rate that will never rise
ROANOKE, IN – MAY 30: A photo of the Chevrolet Silverado is displayed on the side of the Fort Wayne Assembly Plant on May 30, 2019 in Roanoke, Indiana. General Motors Chairman and CEO Mary Barra announced during a news conference that General Motors will make upgrades and increase production of the new Chevrolet Silverado 1500 and GMC Sierra 1500 pickup vehicles.
GM shutting down production at most of its plants in North America
The Audi Grandsphere concept is the company's vision of a self-driving luxury future
Sir Richard Branson speaks after he flew into space aboard a Virgin Galactic vessel, a voyage he described as the "experience of a lifetime" — and one he hopes will usher in an era of lucrative space tourism at Spaceport America, near Truth and Consequences, New Mexico on July 11, 2021. – "Congratulations to all our wonderful team at Virgin Galactic for 17 years of hard, hard work to get us this far," he said during a live feed as the VSS Unity spaceship glided back to Spaceport America in New Mexico. It reached a peak altitude of around 53 miles (85 kilometers) — beyond the boundary of space, according to the United States — allowing the passengers to experience weightlessness and admire the Earth's curvature. The trip proceeded without drama, and touchdown occurred at around 9:40 am Mountain Time (1540 GMT), about an hour after take-off.
FAA says it's investigating problems with Richard Branson's flight to edge of space
COVID MISINFORMATION
Reddit takes action against groups spreading Covid misinformation
Fighting vaccine disinformation is crucial
Reddit rejects moderators against Covid misinformation
White House turns up heat on 'disinformation dozen'
Facebook takes action after White House pressure
MEAL TIME
Krispy Kreme offers a free Original Glazed doughnut to customers in the US who can prove they have received a COVID-19 vaccine.
Krispy Kreme is sweetening its promotion for vaccinated people
Wendy's is upgrading its french fries
Here's when the Pumpkin Spice Latte returns to Starbucks
Chipotle is testing plant-based chorizo
McDonald's is adding a sweet new treat for fall
Headlines from right-of-center Newsmax – evening of 9.3.2021
Noem Wants 'Strongest' Pro-Life Laws in South Dakota
GOP Gov. Kristi Noem, posting on Twitter, said she wants South Dakota to have the "strongest" pro-life law now that Texas' six-week ban was allowed to stand by the U.S. Supreme Court. Noem tweeted on Thursday: "Following the Supreme Court's decision to leave the pro-life TX law in place, I have directed the Unborn Child Advocate in my office to immediately review the new TX law and current South Dakota laws to make sure we have the strongest pro-life laws on the books in SD." [Full Story]
Ida's Aftermath
Biden in New Orleans to See Devastation Caused by Ida
NJ Tornado Had 150 MPH Winds, Says Weather Monitor
Yankees' Double-A Team Stadium Flooded by Ida
Flooding in Ida's Wake Snarls US Northeast Travel
Ida Remnants Bring 'Historic' Flooding to Pennsylvania
Despite Katrina Lessons, Hurricane Response Still Lacking in New Orleans
Ida's Devastation Shocks as Fuel Shortages Hinder Recovery
More Ida's Aftermath
Newsmax TV
Texas AG Paxton: Abortion Law Must Be on State Level
Jha: 'Not Crazy' to Think 3 Vaccine Doses Necessary |
Attorney Ken Belkin: Texas Abortion Ruling Not 'Unconstitutional Chaos' |
Texas Legislators: Other States Reaching Out Over Abortion Ban |
Sister Byrne: Texas Is 'Shining-Star State' |
Ronny Jackson: Hope Other States Follow Texas |
Spicer: House Dems Will Try For-Show Bill on Abortion |
More Newsmax TV
Newsfront
Poll: Conservative Cable News Viewers Better Grasp COVID Death Risk
Viewers of conservative cable news outlets have a better understanding of the death risk of COVID-19 than those who watch liberal cable news outlets – with Newsmax viewers more aware than those…… [Full Story]
Moderna Completes Submission to FDA for COVID-19 Booster
Moderna has completed a submission to the U.S. Food and Drug [Full Story]
Liberal Groups Sue Texas Officials Over Voting Law Changes
Liberal groups have sued several Texas officials, including Gov. Greg [Full Story]
Archbishop Cordileone: Abortion Not Religious Issue, 'Fundamental Human Rights'
The opposition to abortion isn't a matter of religious doctrine, [Full Story] |
Related
Sister Dede Byrne to Newsmax: Texas 'Shining Star State' for Abortion Law |
GOP-led States See Texas Law as Model to Restrict Abortions
New Texas Abortion Law Pushes Women to Out-of-State Clinics
Kristi Noem Wants 'Strongest' Pro-Life Laws in South Dakota
Dem-Controlled Senate Panel to Probe High Court's Texas Abortion Ruling
Biden Signs Order Releasing FBI Documents on Saudi-9/11 Ties
President Joe Biden has signed an executive order directing the FBI [Full Story]
China's Development of Miles-Wide 'Ultra-Large' Spacecraft Should Be Taken 'Very Seriously'
Not content to simply challenge America's terrestrial preeminence, [Full Story] |
Jim Jordan on Trump: 'I Think He's Gonna Run' in 2024
Jim Jordan, R-Ohio, said at a recent event in Iowa that former [Full Story]
Minneapolis Republican Looks to Topple Ilhan Omar
Cicely Davis' plan to take on "The Squad" starts in her own backyard, [Full Story] |
Over $54 Million Donated to Texas Border Wall Fund
Texas raised over $54 million in donations for a wall along the [Full Story]
US COVID-19 Booster Rollout to Start With Just Pfizer Vaccine: Source
'QAnon Shaman' Pleads Guilty to Taking Part in Attack on US Capitol
The man nicknamed the "QAnon Shaman" pleaded guilty on Friday to [Full Story]
FDA May Need More Time to Review COVID-19 Booster Shot Plan
Top officials at the Food and Drug Administration and the Centers for [Full Story]
Chelsea Manning Now Claims She's Scared of Onetime Ally Glenn Greenwald
In a series of recent cryptic Twitter posts, Chelsea Manning, the [Full Story]
Ex-WH Adviser Urges Military to Ask 'Hard Questions' About Afghan Withdrawal, Evacuation
A former White House national security adviser is urging the military [Full Story]
Dems Threaten to Ban Site Selling Innocent 'Joe You Know I Won' Mugs
SPONSOR: Think Trump won? The Dems dont want you to see this! [Full Story]
US Hiring Disappoints at 235K Amid Delta Variant's Spread
America's employers added just 235,000 jobs in August, a surprisingly [Full Story]
Tennessee Gov. Lee: No 'Current' Plans to Follow Texas' Abortion Ban
Bill Lee, R-Tenn., said there were no "current"plans for The [Full Story]
Tree of Life Synagogue Director Disputes Biden Visit Claim
When President Joe Biden told a group of Rabbis that he visited the [Full Story]
ABBA Thrills Fans With New Music, Concert
ABBA is making a comeback after nearly 40 years. The band announced [Full Story]
Taliban Close to Forming New Government in Afghanistan
The Taliban were on Friday close to forming a government, with the [Full Story]
Related
US Has No Plans to Release Billions in Afghan Assets, Treasury Says
Apple Delays Child Safety Photo Scanning
Apple Inc said on Friday it would take more time to collect inputs [Full Story]
Jha to Newsmax: 'Not Crazy' to Think 3 Vaccine Doses Necessary
Ashish Jha, the dean of the Brown University School of [Full Story] |
Former Cardinal McCarrick Pleads Not Guilty to Sex Assault
Former Roman Catholic Cardinal Theodore McCarrick, the once-powerful [Full Story]
Elon Musk Sidesteps Gov. Abbott's Claim He Supports Texas' 'Social Policies'
Elon Musk tweeted that he prefers "to stay out of politics" after GOP [Full Story]
Triceratops Skeleton Could Fetch at Least $1.4M in Paris Auction
A bidder with a lot of money – and a lot of room – could be the owner [Full Story]
Surveillance Aircraft Sent to Possible Oil Spill Reported in Wake of Ida
The U.S. Environmental Protection Agency said on Thursday it has [Full Story]
Nissan Develops Technology to Halve Recycling Cost of Rare Earths
Japan's Nissan Motor Co Ltd has developed a new technology to halve [Full Story]
UN: Brief Gains in Air Quality in 2020 Over COVID Lockdowns
The U.N. weather agency says the world – and especially urban areas – [Full Story]
ISIS-Inspired Attacker Shot Dead After New Zealand Knife Rampage
An Islamic State-inspired attacker injured six people in a New [Full Story]
Pennsylvania Republicans' Election Audit Now Underway
More than nine months after Pennsylvania certified the 2020 election, [Full Story]
CDC Study: COVID Infection Offers Protection Similar to Vaccines
A recent study by the Centers for Disease Control and Prevention [Full Story]
Zionist Group to Unilever: 'Must Override' Ben & Jerry's Antisemitic Boycott
Unilever, owner of Ben & Jerry's, "must override" the ice cream [Full Story]
More Newsfront
Finance
Hurricane Squeeze for East Coast Gas Supplies
Tight supplies of gasoline on the U.S. East Coast are being pressured by refinery outages from Hurricane Ida and the shutdown of a major pipeline that supplies fuel to the Southeast. [Full Story]
Impel NeuroPharma Enters Migraine Market with FDA Nod for Nasal Spray
Feds Probe NY Tesla Crash That Killed Man Changing Flat Tire
Back-to-School May Lift U.S. Retail Shares after Recent Lull
Payrolls and the Stock Market: Wall Street Usually Shrugs off Jobs Report
More Finance
Health
How to Celebrate Labor Day Safely Amidst the Spreading Delta Variant
Labor Day weekend, the unofficial end of summer, is here. With COVID-19 cases rising, along with hospitalizations and deaths due to the transmission of the highly contagious Delta variant, experts suggest planning your weekend carefully and re-thinking any plans that could… [Full Story]
Vaccine Mandates: What Medical Exemptions Are Allowed?
More Than Half of Americans Have Allergies: How Not to Suffer
Study: Global Warming Could Worsen COPD Symptoms
COVID Cases Rise Sharply Among Kids as School Year Starts
Manufactured Housing Industry Investments Connected Equities Closing Tickers
Some of these firms invest in manufactured housing, or are otherwise connected, but may do other forms of investing or business activities too.
NOTE: The chart below includes the Canadian stock, ECN, which purchased Triad Financial Services, a manufactured home industry lender
NOTE: Drew changed its name and trading symbol at the end of 2016 to Lippert (LCII).
NOTE: Deer Valley was largely taken private, say company insiders in a message to MHProNews on 12.15.2020, but there are still some outstanding shares of  the stock from the days when it was a publicly traded firm.  Thus, there is still periodic activity on DVLY.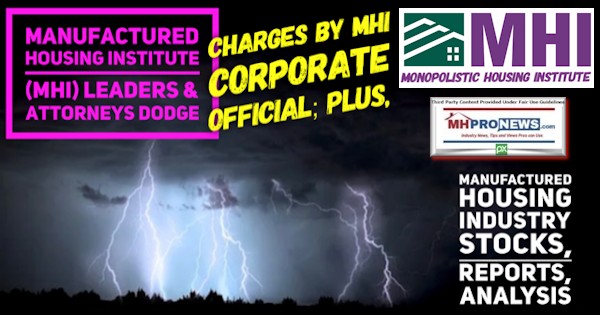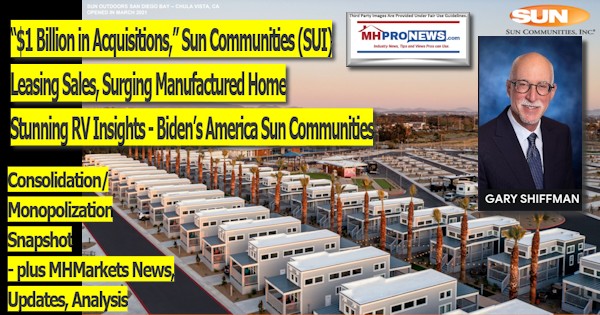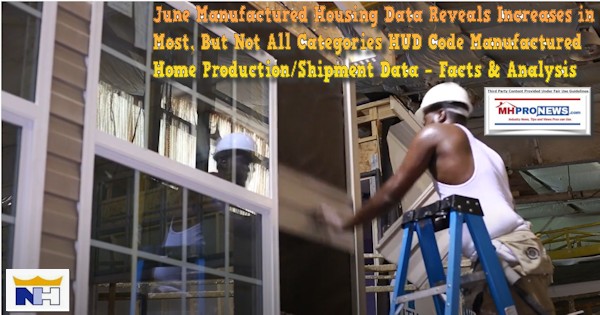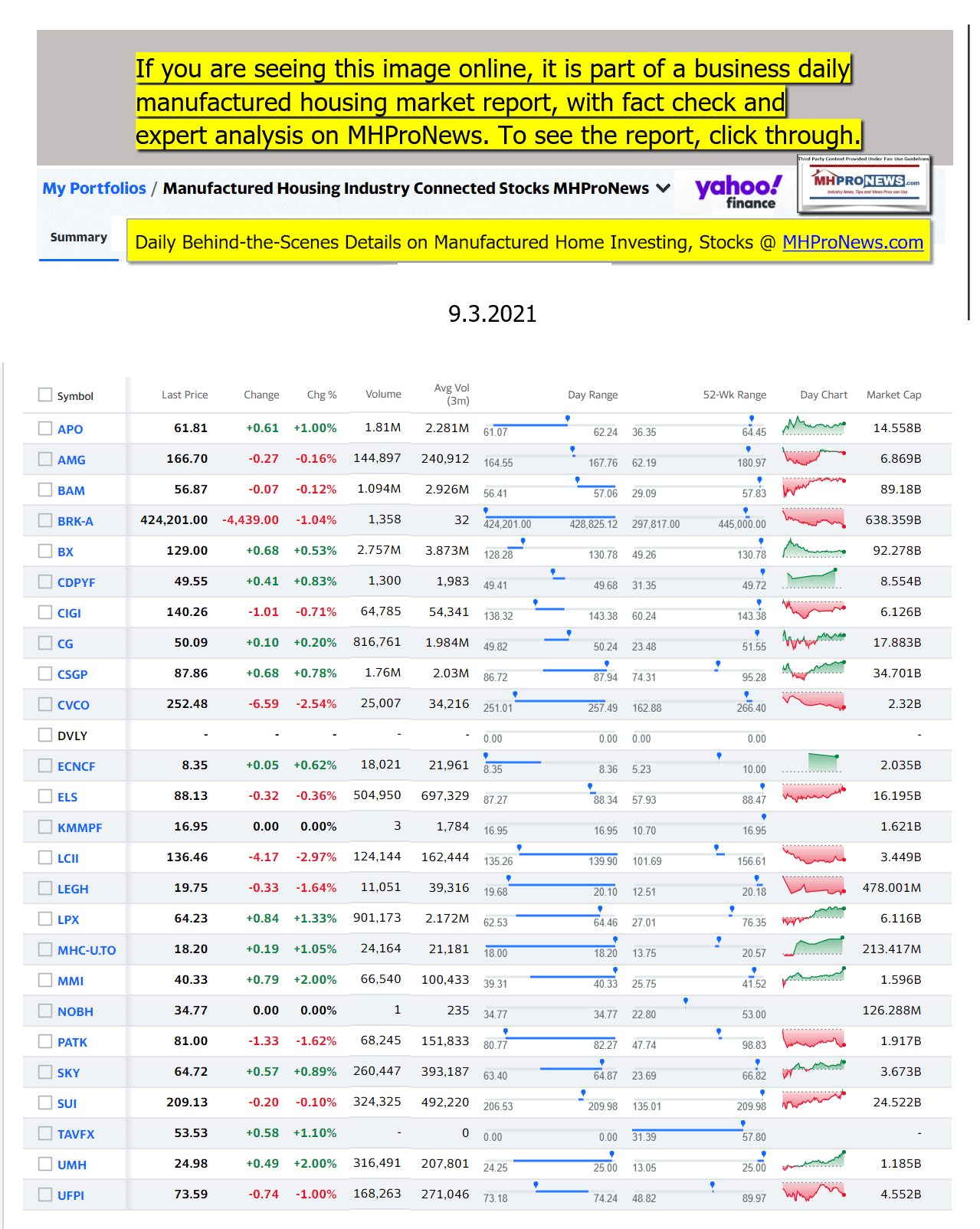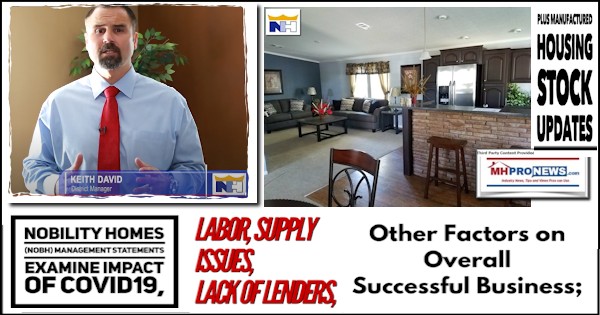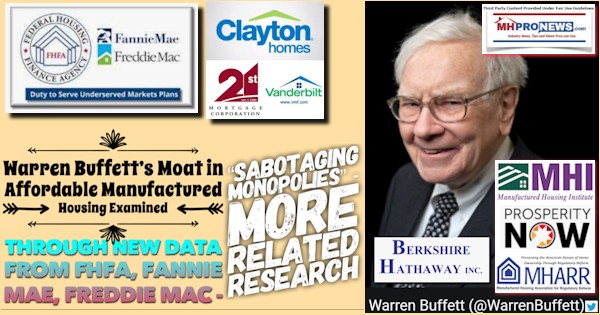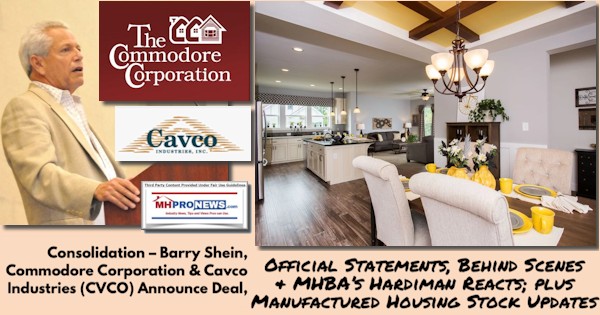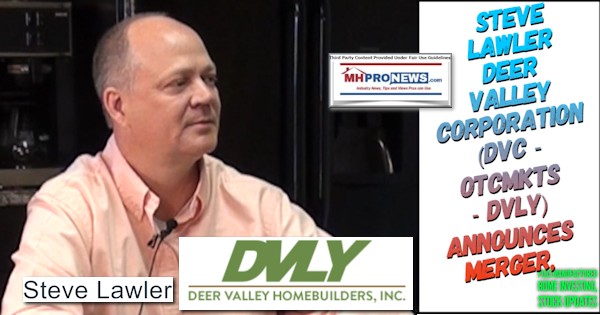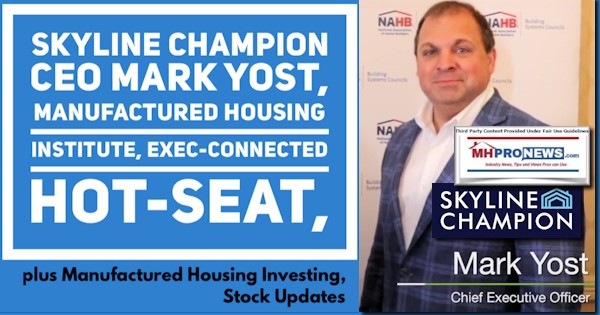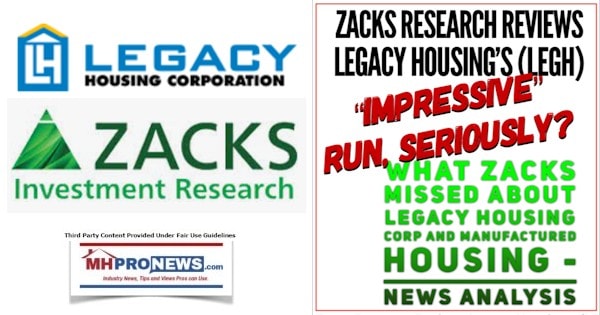 Summer 2021…
Berkshire Hathaway is the parent company to Clayton Homes, 21st Mortgage, Vanderbilt Mortgage and other factory built housing industry suppliers.
· LCI Industries, Patrick, UFPI, and LP each are suppliers to the manufactured housing industry, among others.
· AMG, CG, and TAVFX have investments in manufactured housing related businesses. For insights from third-parties and clients about our publisher, click here.
Enjoy these 'blast from the past' comments.
MHProNews. MHProNews – previously a.k.a. MHMSM.com – has celebrated our 11th year of publishing, and is starting our 12th year of serving the industry as the runaway most-read trade media.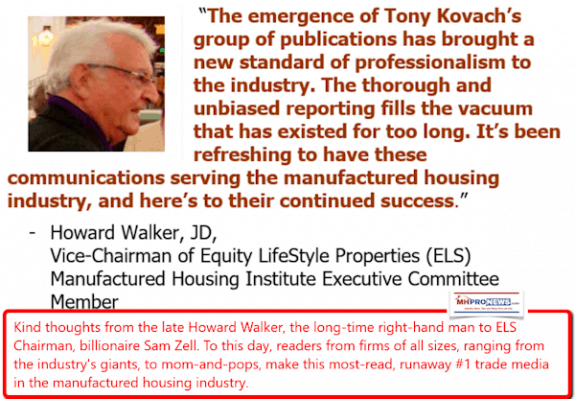 Sample Kudos over the years…
It is now 11+ years and counting…
Learn more about our evolutionary journey as the industry's leading trade media, at the report linked below.
· For expert manufactured housing business development or other professional services, click here.
· To sign up in seconds for our industry leading emailed headline news updates, click here.

Disclosure. MHProNews holds no positions in the stocks in this report.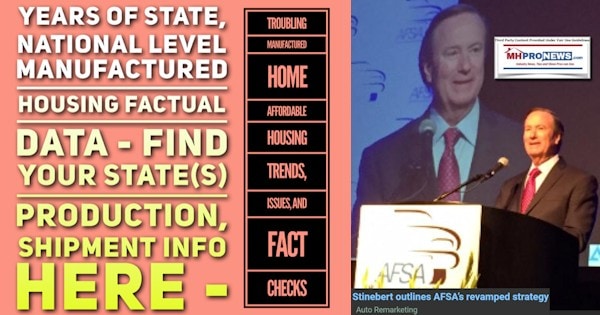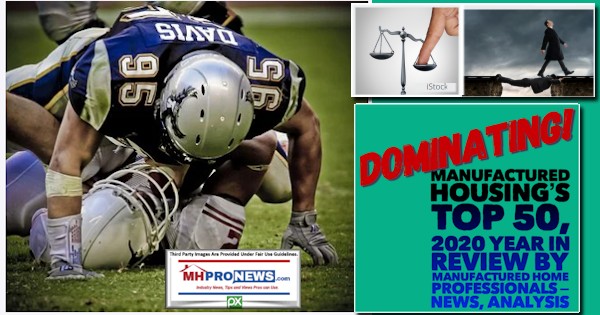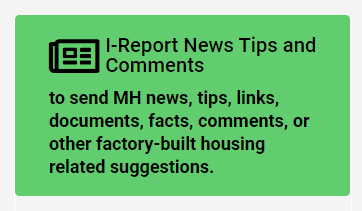 That's a wrap on this installment of "News Through the Lens of Manufactured Homes and Factory-Built Housing" © where "We Provide, You Decide." © (Affordable housing, manufactured homes, stock, investing, data, metrics, reports, fact-checks, analysis, and commentary. Third-party images or content are provided under fair use guidelines for media.) (See Related Reports, further below. Text/image boxes often are hot-linked to other reports that can be access by clicking on them.)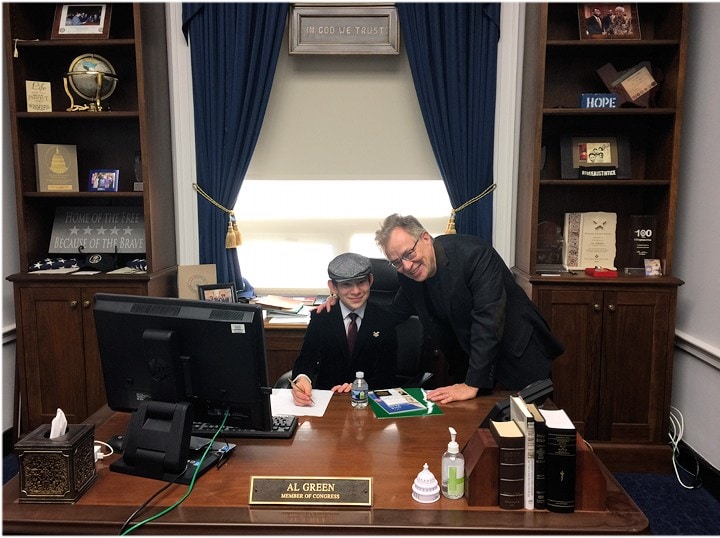 By L.A. "Tony" Kovach – for MHProNews.
Tony earned a journalism scholarship along with numerous awards in history. There have been several awards and honors and also recognition in manufactured housing. For example, he earned the prestigious Lottinville Award in history from the University of Oklahoma, where he studied history and business management. He's a managing member and co-founder of LifeStyle Factory Homes, LLC, the parent company to MHProNews, and MHLivingNews.com. This article reflects the LLC's and/or the writer's position, and may or may not reflect the views of sponsors or supporters.