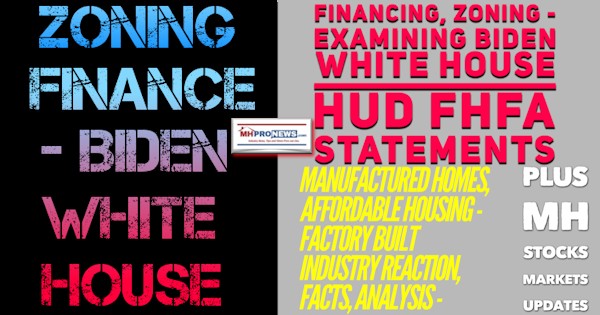 "Limited financing for manufactured housing and 2-4-unit properties—as well as other barriers—have restricted access to these alternatives. Today, the Administration is calling on state and local governments to reduce zoning and financing barriers to these kinds of housing – housing that allows families to achieve homeownership and build wealth."
– Part of Biden White House Fact Sheet on producing more affordable housing, dated 9.1.2021.
The Biden White House and Federal agencies that include HUD and the FHFA have made various statements involving manufactured housing. These were hailed by the Manufactured Housing Institute (MHI), as will be shown in detail below. The Manufactured Housing Association for Regulatory Reform (MHARR) reaction is quite different, as they note that Biden-HUD-FHFA have the legal authority needed, but are obviously not using it. The Modular Home Builders (MHBA) Executive Director Tom Hardiman has called Biden backed legislation as little more than political payoffs to friends. Those friends include giant corporations, unions, landlords, and hedge funds. A voice from MHEC, the Manufactured Housing Executives Council state associations affiliated with MHI ripped MHI. Who is right? Are the various housing plan announcements authentic good news for manufactured housing? Or are these plans representative of something else?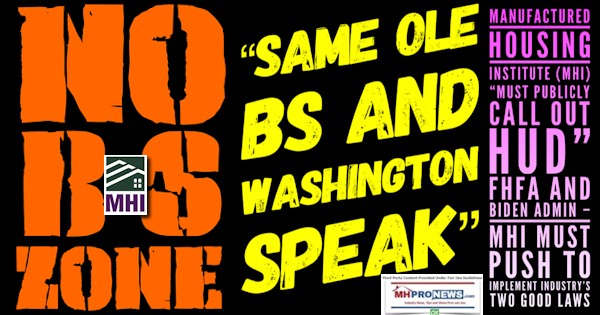 This report will provide the detailed statements from a full range of sources so readers can sift and discern for themselves. That is in keeping with our MHProNews mantra of "We Provide, You Decide." ©
That said, to set the backdrop for those who are looking for a sudden embrace of manufactured housing in Washington D.C. in the current environment, certain realities must be kept in mind. Believing Biden appointees or the Biden White House ignores the fact that this could have been done during President Barack Obama and Vice President Biden's term of office. It was obviously not done, and manufactured housing suffered its worst years ever since the creation of the HUD Code during the Obama-Biden years.
Meaning, those who have the desire to trust in mere words from Biden-Harris and their team are not paying close attention to what has happened, past or recently. Those who accept this blithely, be it MHI or anyone else are otherwise blinded to the track record or are agenda driven on behalf of consolidators who benefit in such an environment.
Before diving into the specifics from the White House, HUD, FHFA and other voices from the factory-built housing world, a look at the Biden track record on veracity is useful. Because the new promises may be no better than the past or recent ones on issues involving housing, national security, the economy, and so on.
The Biden Track Record 
Sorry, but anyone who simply takes the Biden White House's word at face value is missing or ignoring historical and contemporary context.
In his 1987-1988 campaign run, then Senator Joe Biden (DE-D) dropped out of the race for the Democratic nomination over embarrassing revelations of plagiarism and "embellishing" (i.e. lying) about his biographical academic credentials.
Trevor Loudon – speaker, author, and filmmaker – branded Biden for ties to communist and socialist sources. Charges of corruption have dogged Biden for years, as he owns multiple mansions on a relatively modest public payroll incomes.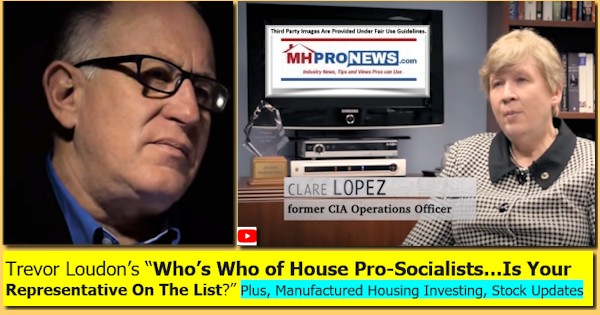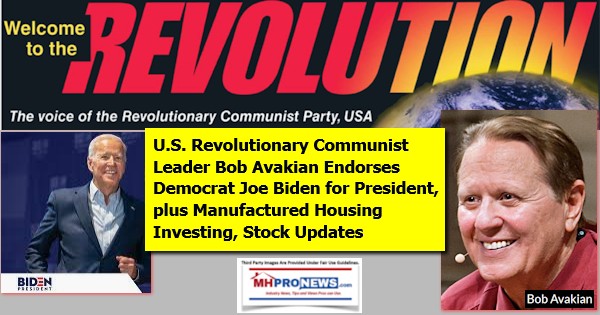 Biden has claimed to be a champion of blacks and minorities while having deep ties with racists and using racially charged language himself. His own VP, then Senator Kamala Harris (CA-D) ripped Biden on race relations during the Democratic debates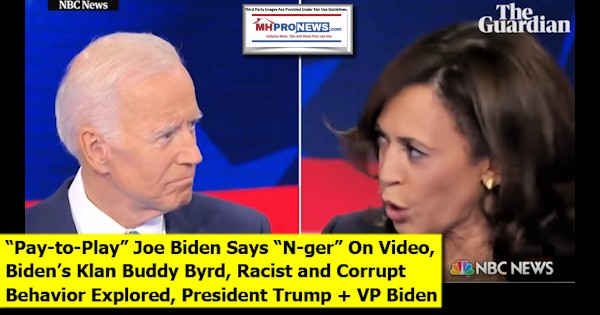 The Afghan disaster, the southern border crisis, domestic policies that are fueling inflation are three quick issues that all put more pressure on housing supply. Tens of thousands of unvetted Afghans have been coming into the U.S., with more on the way. Perhaps a million or more undocumented have poured across the southern border, which was largely secured when President Donald J. Trump was in office. In Washington, there is an expression that "personnel is policy." HUD Secretary Fudge, given an opportunity to implement enhanced preemption specifically declined on video not to do so.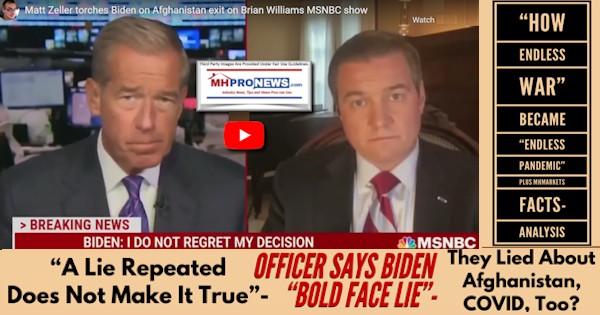 MHI has not raised any of these concerns or history in their email of 9.1.2021, as what follows from MHI's own statements published verbatim further below will document.
By contrast, MHARR, MHBA, and a voice from MHEC are all among those who are pushing back at the Biden agenda.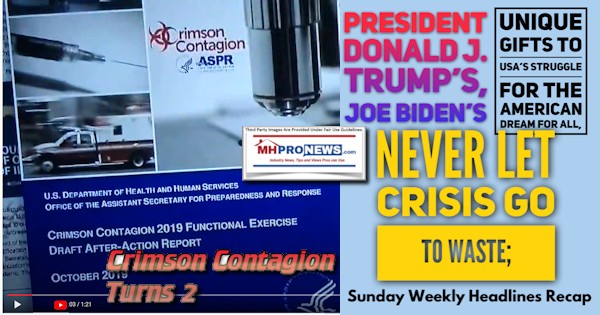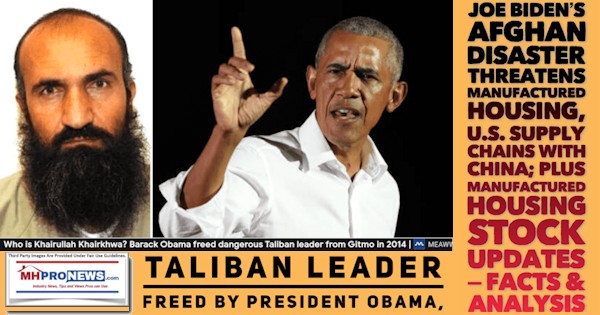 But more ought to be considered in what is increasingly being revealed as either the most inept and/or corrupt White House in over 100 years.  Because the historic context and track record sheds light on Biden's years in various federal roles. Past is prologue.
Among Biden's nominees and his own statements are rhetoric that fuels division rather than heals it. That directly contradicts parts of his campaign promises.
As the left-leaning Boston Globe, a pro-Biden newspaper during and since the 2020 race, said recently about the Afghanistan humiliation, the Biden campaign was predicated on experience and competency. Neither one is in evidence. Per the Globe, "

After the chaotic retreat from Afghanistan, the Biden presidency — premised on competency — will never be the same

."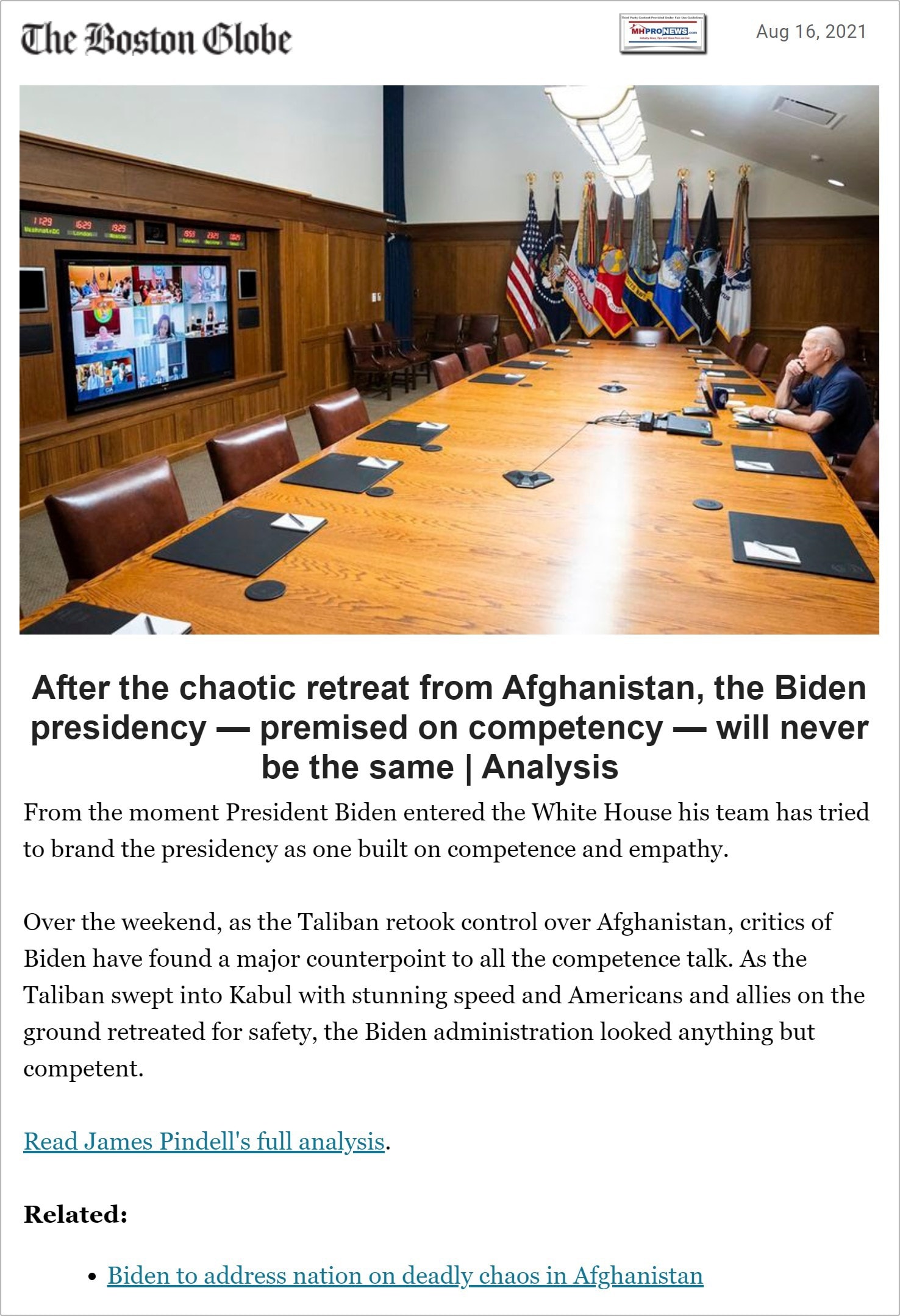 Biden was the "the big guy" in Hunter Biden's emails and electronic messages, per former partner Tony Bobulinski who accused the candidate of corruption in Chinese deals with is son Hunter.
Peter Schweizer is the president of the Government Accountability Institute (GAI), is a best selling author, American writer, documentary filmmaker, has served Breitbart as a senior editor, and is political consultant. His exposes cut across the left and right. He ripped Biden in the runup to the 2020 election for his problematic connections with Communist China.
But ironically Biden himself said that he would prostitute himself for his backers. He himself said that his campaign had built up the biggest election fraud effort in history. Someone can say that these are just slips of the lip, or Lunch Bucket Joe being Joe. But what they reveal is a pattern. Biden is trustworthy when it comes to his big money backers. But when it comes to trusting his word to voters, those quick examples reveal that trust in Biden to akin to building on quicksand.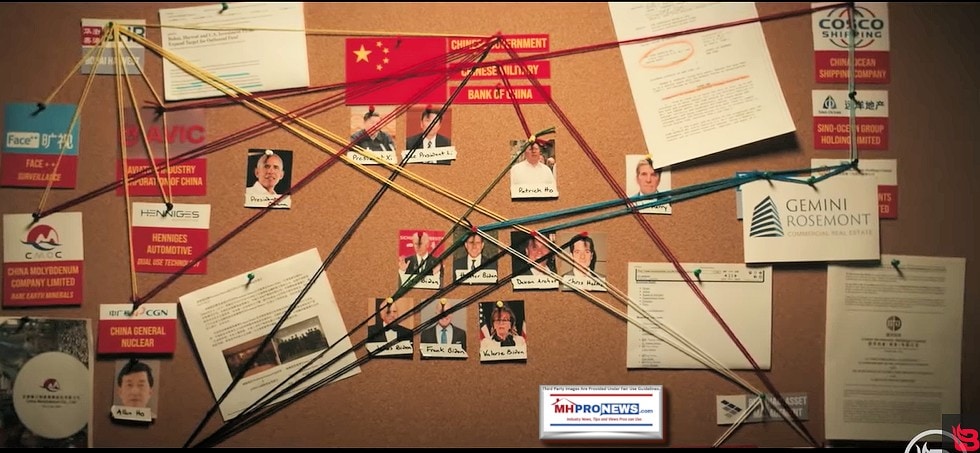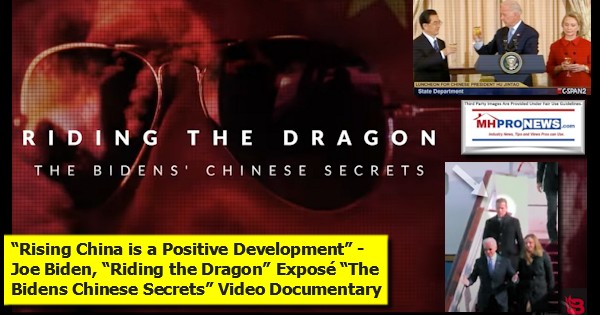 Promises made to the many? Dubious at best. Promises made to the money and media powers that make up the Civic Alliance coalition that placed him in office? The evidence suggests that's the far safer bet for Biden keeping a promise.
The Afghan Disaster Impacts Foreign and Domestic Policy, Including Housing, and Is Revealing – Biden's Call Transcript Reveals his Apparent Lies to the American Public
As the Washington Free Beacon editorial sarcastically headlined today, "Honest Joe Spins Defeat Into Victory." Biden's words from early July 2021 about Afghanistan did not stand up for even a few weeks. By August 2021, a massive fiasco that left behind some $86 billion dollars' worth of equipment, and reportedly hundreds of Americans behind in now Taliban ruled Afghanistan. After over $2 trillion in federal spending, and thousands of Americans killed and wounded, the exit could hardly have been done worse.
But as the left-of-center Washington Post claims from a leaked document, Biden was made aware of the risks in Afghanistan last spring. Going back to December 9, 2019 The Washington Post described what was dubbed the "Afghanistan Papers" – think Pentagon Papers during the Vietnam era – that the U.S. government was "At war with the truth." There were years of warnings that corruption and a lack of will would not stand up to the Taliban, said the Post. That was despite "For nearly two decades of war in Afghanistan, U.S. leaders have sounded a constant refrain: We are making progress." It was obviously lies on top of lies.
Part of the point in this historic romp is to illustrate that merely trusting what Biden says is to fly in the face of decades of known duplicity.
Reuters posted experts recently from the official transcript of the last call between Biden and then Afghan president Ashraf Ghani. Biden and Ghani spoke by phone July 23. During that call, per the official White House transcript, Biden told Ghani of the need to "change the perception."
Some pull quotes illustrate Biden coaching Ghani, with some of Ghani's eye-opening responses.
Biden to Ghani July 23, 2021: "Hey look, I want to make it clear that I am not a military man any more than you are, but I have been meeting with our Pentagon folks, and our national security people, as you have with ours and yours, and as you know and I need not tell you the perception around the world and in parts of Afghanistan, I believe, is that things aren't going well in terms of the fight against the Taliban. And there's a need, whether it is true or not, there is a need to project a different picture."
Put differently, Biden is telling Ghani to ignore the truth and spin or lie about the reality in the coming fall of that country to the Taliban.
Biden to Ghani on that call: "But I really think, I don't know whether you're aware, just how much the perception around the world is that this is looking like a losing proposition, which it is not, not that it necessarily is that… put a warrior in charge, you know a military man, [Defense Minister Bismillah] Khan in charge of executing that strategy, and that will change perception, and that will change an awful lot I think."
The italics above were added by MHProNews for emphasis.
Ghani to Biden: "Mr. President, we are facing a full-scale invasion, composed of Taliban, full Pakistani planning and logistical support, and at least 10-15,000 international terrorists, predominantly Pakistanis thrown into this, so that dimension needs to be taken account of."
This is a still underplayed element by mainstream media. Pakistan gets American tax dollars via foreign aid too. For Pakistan and "at least 10-15,000 international terrorists" to be involved in the fall of the American supported regime in Afghanistan is to say that U.S. tax dollars were funding both sides of the outcome. It is treacherous at worst, or a major bungle at best.
Ghani's comments also belie much of what Biden himself said, as well as contradicts other Biden-Harris regime posturing.
Ghani to Biden: "There are agreements with the Taliban that we [or "you" this is unclear] are not previously aware of, and because of your air force was extremely cautious in attacking them. …And the last point, I just spoke again to Dr. Abdullah earlier, he went to negotiate with the Taliban, the Taliban showed no inclination. We can get to peace only if we rebalance the military situation…"
BIDEN to Ghani: "No, well, look, I, thank you. Look, close air support works only if there is a military strategy on the ground to support."
Biden had a point about close air support. But that only reflects that he grasped that what was about to occur directly contradicted what the Biden team was telling the American people. By contrast, for some 18 months prior to the deadly withdrawal, no American servicemen were killed in Afghanistan under a very different Trump withdrawal plan. Biden was lying on so many things that it may explain why he was reluctant to take questions from even a largely friendly media.
It must be stressed that housing tens of thousands of Afghans is going to cut into the housing supply. It may also increase the risk of domestic terrorism. But even setting those aside, what these facts exemplify is that Biden's decades of lying, deception, and misdirection have not changed since he entered the White House following a still disputed election. Biden may be 'sworn into office,' but if facts emerging from various state audits hold up, there may already be enough evidence to envision deposed President Trump invoking Quo Warranto.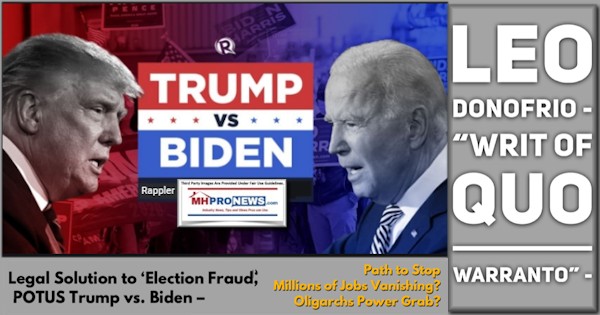 It is uncertain at this point if Biden will get from the mainstream media the Cuomo treatment of 2020 or the media handling of Cuomo that emerged following the New York Attorney General Letitia James on August 3. James' public statements and later document ripped Cuomo, and he is now out as New York's Governor.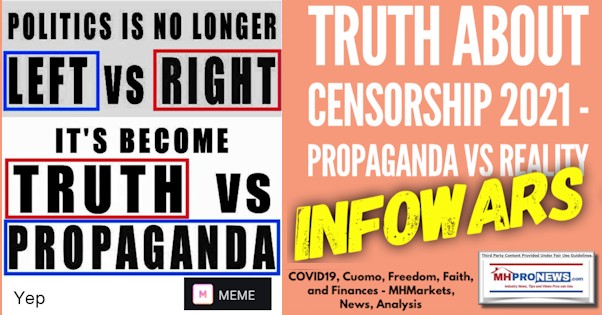 As MHProNews reported, the concerns about Cuomo existed long before James' statements. A similar principle is true with Biden. He has no track record of credibility, save with those who Biden reports to behind the scenes.
With that backdrop, the following segments for this report will follow.
Biden-Harris White House Fact Sheet –
HUD's statement, which also link to the fact sheet that will be published below.
FHFA's statement, which were also linked to the White House fact sheet.
Manufactured Housing Institute (MHI) emailed statements on the Biden-Harris regime's various announcements.
MHARR statement on HUD announcement, an exclusive to
MHBA's related statement.
A MHEC statement provided exclusively to
Additional Facts, more MHProNews Analysis and Commentary
The MHProNews Left-Right Headlines and Daily Business News Macro and Manufactured Housing Stock Market Recaps.
With that systematic plan, let's begin with the White House fact sheet.
The portions that mention manufactured housing will be highlighted, but otherwise the text will be as in the original. Keep in mind that these housing initiatives may be an effort to shift the narrative away from Afghanistan, and completely duck the fact that Biden regime policies are demonstrably making the U.S. housing crisis worse.
It is simple math that the people pouring into the U.S. from across the U.S. Mexican border, plus those that are now coming from Afghanistan will equal or exceed the total output of all new U.S. housing in the past year.
FACT SHEET: Biden-Harris Administration
Announces Immediate Steps to Increase Affordable Housing Supply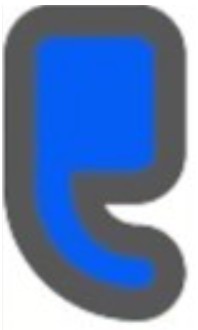 SEPTEMBER 01, 2021
STATEMENTS AND RELEASES
Immediate Steps Supplement the Biden-Harris Administration's Push for Historic, Long-Term Investments in New Housing as Part of the Build Back Better Agenda
Since President Biden took office, the economy has created more than 4 million jobs, with an average of more than 830,000 new jobs over the last three months. In the first half of the year, the economy grew at the fastest rate seen in nearly 40 years.
This economic progress has enabled millions of American homeowners and renters to get back on track. In the second quarter of 2021, the mortgage delinquency rate on single-family mortgages fell to below 5.5 percent – from a pandemic high of more than 8 percent. The percentage of renter households behind on rent has also fallen from 19.4 percent to 15.4 since the beginning of this year.
While the Administration continues to do everything in its power to stabilize families who are at risk of losing their homes because of the economic impact of the pandemic, we still have more work to do. President Biden and Vice President Harris believe we need to do more than build back to the way things were before. We need to build back better.
While Congress works toward passing the Build Back Better Agenda, which includes an historic investment in building new homes and making existing housing safer, healthier, and more energy efficient, the President knows that we can't wait to take action. The large and long-standing gap between the supply and demand of affordable homes for both renters and homeowners makes it harder for families to buy their first home and drives up the cost of rent. Higher housing costs also crowd out other investments families can and should make to improve their lives, such as investments in education.
As supply constraints have intensified, large investors have stepped up their real estate purchases, including of single-family homes in urban and suburban areas. One out of every six homes purchased in the second quarter of 2021 was acquired by investors, and reports indicate that in some markets, that number is one in four. Within investor purchases, typically more than 35 percent of purchases are made by investors that own more than ten properties. Large investor purchases of single-family homes and conversion into rental properties speeds the transition of neighborhoods from homeownership to rental and drives up home prices for lower cost homes, making it harder for aspiring first-time and first-generation home buyers, among others, to buy a home. At the same, these purchases are unlikely to meaningfully boost supply in the lower-cost portions of the rental market, as investors charge more for rent to recoup higher purchase costs.
President Biden is committed to using every tool available in government to produce more affordable housing supply as quickly as possible, and to make supply available to families in need of affordable, quality housing – rather than to large investors. That's why today the Administration is announcing a number of steps that will create, preserve, and sell to homeowners and non-profits nearly 100,000 additional affordable homes for homeowners and renters over the next three years, with an emphasis on the lower and middle segments of the market.
Specifically, federal agencies will:
Boost the supply of quality, affordable rental units by relaunching the partnership between the Department of Treasury's (Treasury) Federal Financing Bank and the Department of Housing and Urban Development (HUD) Risk Sharing Program in order to enable eligible state housing finance agencies (HFAs) to provide low-cost capital for affordable housing development; raising Fannie Mae's and Freddie Mac's (the Enterprises) equity cap for the Low-Income Housing Tax Credit (LIHTC), the largest federal program for the construction and rehabilitation of affordable rental housing; and making more funding available to Community Development Finance Institutions (CDFIs) and non-profit housing groups for affordable housing production under the Capital Magnet Fund.
Boost the supply of manufactured housing and 2-4 unit properties by expanding financing through Freddie Mac. Along with Fannie Mae's and the Federal Housing Administration's (FHA) existing policies, these steps will enable more Americans to purchase homes, and increase the availability of rental units throughout the country.
Make more single-family homes available to individuals, families, and non-profit organizations – rather than large investors – by prioritizing homeownership and limiting the sale to large investors of certain FHA-insured and HUD-owned properties, in addition to expanding and creating exclusivity periods in which only governmental entities, owner occupants, and qualified non-profit organizations are able to bid on certain FHA-insured and government-owned properties.
Work with state and local governments to boost housing supply by leveraging existing federal funds to spur local action, exploring federal levers to help states and local governments reduce exclusionary zoning, and launching learning and listening sessions with local leaders.
Boosting the Supply of Quality, Affordable Rental Units
Even before the pandemic, 11 million families – or nearly a quarter of renters – paid more than half of their income on rent. President Biden believes this is unacceptable. Rent should be affordable for working families. That's why the President's Build Back Better Agenda calls for the historic investments that will enable the construction and rehabilitation of more than a million affordable housing units, reducing the burden of rent on American families. From the expansion of the Low-Income Housing Tax Credit (LIHTC) to major investments in the HOME Investment Partnerships program, the Housing Trust Fund, and the Capital Magnet Fund, the Build Back Better Agenda will make it easier for more Americans to find quality, affordable places to live.
But even before Congress passes the Build Back Better Agenda, agencies across the federal government are taking action to boost the supply of quality, affordable homes in a manner that will make rental homes more available and more affordable over the next three years. Specifically, agencies are announcing today that they are:
Relaunching the Federal Financing Bank and HUD Risk Sharing Program: To expand the supply of affordable multifamily rental housing, Treasury and HUD have finalized an agreement to restart the Federal Financing Bank's support of HUD's Risk Sharing program, which was suspended in 2019. The agreement will provide low-cost Ginnie Mae-comparable rates to HFAs that finance affordable housing development, enabling the development of new quality and affordable housing.
Increasing Fannie Mae and Freddie Mac's Low-Income Housing Tax Credit Investment Cap: LIHTC is the nation's largest federal program for the construction and rehabilitation of affordable rental housing. Currently, the Enterprises are permitted to invest up to $1 billion per year (or $500 million each) in affordable housing development and preservation supported by these tax credits. This targeted investment further reduces financing costs associated with affordable housing and spurs additional development. Today, FHFA is announcing that it is raising the Enterprises' LIHTC cap to $1.7 billion (or $850 million each). FHFA is also announcing that it will increase the Duty to Serve (DTS) rural/targeted investment requirement from 40% to 50% of each Enterprise's total LIHTC investment capacity, or $425 million in targeted investment and $425 million in unrestricted investment. By both raising the caps and targeting the investments at affordable rental housing, today's actions will support the development and preservation of affordable units in areas most in need.
Making Funding Available for Affordable Housing Production Under the Capital Magnet Fund: The Treasury Department is preparing to issue a notice of funding availability for the Capital Magnet Fund (CMF), including changes to strongly encourage affordable housing production. The CMF is a competitive grant program for Community Development Financial Institutions (CDFIs) and non-profit housing groups funded by allocations made each year from Fannie Mae and Freddie Mac. Funds must be used to leverage housing and economic development investments at least ten times the size of the award amount. This year's historic pool of $383 million in available funding will facilitate the production of affordable housing units throughout the country.
Boosting the Supply of Manufactured Homes and 2-4 Unit Properties
Across the country, hundreds of thousands of families rely on manufactured housing and 2-4 unit properties to afford homeownership. Manufactured housing is constructed in factories and installed on site without the additional costs associated with traditional homebuilding, providing a vital affordable housing option. Owner-occupied 2-4-unit properties, where the owner occupies one of the units and rents the other units, are another source of additional rental housing, particularly in low-to-moderate income communities and communities of color. Limited financing for manufactured housing and 2-4-unit properties—as well as other barriers—have restricted access to these alternatives.
Today, the Administration is calling on state and local governments to reduce zoning and financing barriers to these kinds of housing – housing that allows families to achieve homeownership and build wealth. In addition, federal agencies are taking the following steps to increase financing options and boost availability, supply, and affordability for these types of properties:
Making Financing More Available for Manufactured Housing: In 2020, FHFA authorized Fannie Mae to accept loan delivery on single-wide manufactured housing. An eligible single-wide, or single-section manufactured housing unit, is a factory-built rectangular structure placed on a permanent foundation and equivalent in quality and amenities to entry level stick-built housing. FHFA recently authorized Freddie Mac to accept eligible single-wide manufactured housing loan deliveries as well, which will make more financing available for such properties and facilitate the delivery of more manufactured homes. The Enterprises will continue performing industry-wide outreach and education about the eligibility of manufactured housing, modular, and factory-built homes. FHA also insures mortgages for single-wide manufactured homes that meet its programmatic requirements.
Making Financing More Available for 2-4 Unit Properties: FHFA has authorized Freddie Mac to revisit certain mortgage eligibility requirements for 2-4 unit properties made in 2020 that reduced financing available by Freddie Mac for these kinds of properties, which are disproportionately held by Black and Brown homeowners. The updates to the 2-4 unit mortgage eligibility requirements will add to the availability of rental units in these properties. They will also provide additional wealth-building opportunities for new owners of 2-4 unit properties who benefit from the rental income associated with these units. FHA also insures mortgages for 2-4 unit properties that meet its programmatic requirements.
Making More Single-Family Homes Available to Individuals, Families, and Non-Profits Organizations – Rather Than Large Investors
The effect of investor purchases is felt across the country, even in smaller and less expensive cities where the influx of investor cash has resulted in fierce competition for starter homes and pushed many qualified potential homebuyers towards rentals. As the economy continues to recover, it is critical that owner occupants and non-profit organizations are not priced out of single-family housing markets by large investors.
That's why President Biden calls on state and local governments to take steps to make it easier for owner occupants and non-profit organizations to purchase single-family homes, rather than large investors. It's also why today, federal agencies are taking steps to encourage the owner occupant and non-profit purchase of government-insured and government-owned properties. When combined with the new federal tax credit that President Biden has proposed, based on the innovative, bipartisan Neighborhood Homes Investment Act, these actions will lead to the rehabilitation of more distressed properties, and boost homeownership and wealth-building possibilities for more middle-class families throughout the country. Specifically, federal agencies are announcing today that they are:
Prioritizing Homeownership in the Sale of FHA-Insured Properties: Through Second Chance Claims Without Conveyance of Title (CWCOT) sales, servicers can sell their FHA-insured foreclosed properties directly to third parties – without conveying them to HUD – and still get their claim paid by FHA. These sales are a part of the CWCOT claim method, which is now the predominant way that FHA-insured foreclosed properties are sold. This sales method reduces costs for taxpayers but too often, properties are sold to large investors, who either flip them for profit or rent them out. Owner occupants and non-profits, who are more likely to need financing and are less aware of the CWCOT program, often don't have a fair shot to purchase these properties. Consistent with the American Housing and Economic Mobility Act, HUD will develop guidelines over the next year that provides an exclusive listing period during which only governmental entities, non-profits, and owner occupant buyers may submit bids for these properties in the Second Chance sales. In addition, and also within a year, HUD is exploring setting a target of at least 50 percent of these properties each year being conveyed to governmental entities, non-profits, and owner occupant buyers.
Promoting the Sale of Distressed HUD Properties to Non-Profits: The direct sale of defaulted FHA-insured mortgage notes allows HUD to make bulk sales to purchasers with affordable housing and community revitalization goals in specific geographic areas. HUD is planning a sale of distressed single family notes this fall. This upcoming sale is currently projected to include mortgage notes for more than 1,700 single family properties. For this sale, HUD is exploring offering 50% of those notes to non-profit and community organizations that commit to rehabilitating, and then selling, the related properties to owner occupants or creating other positive outcomes for the communities. This is a significant increase over previous sales, which had offered 10% of all auctioned notes to non-profit and community organizations. Earmarking half of these properties exclusively for resale to owner occupying borrowers, non-profits, and community organizations will expand the housing inventory available to potential homebuyers who otherwise would not have the opportunity to place a competitive offer on these homes.
Expanding the Exclusivity Period for HUD and the Enterprise's Real Estate Owned (REO) Sales: Currently, HUD and the Enterprises have a total of more than 12,000 single-family homes as part of their respective Real Estate Owned (REO) inventory. These homes were backed by FHA-insured mortgages, or Fannie Mae or Freddie Mac mortgages, and have since been foreclosed upon and were not sold at auction. Just like with the CWCOT program, larger investors, often experienced and without the need for financing, can execute transactions quickly. As a result, potential owner occupants don't get a fair shot at purchasing the properties. In order to help more potential owner occupants purchase these properties, FHA, in addition to the Enterprises at the direction of FHFA, will extend their existing "first look" periods to 30 days for the sale of all available REO properties. Currently, these "first look" periods generally range from 10-20 days. During the "first look" periods, only potential owner occupants and qualified non-profit buyers will be permitted to make a purchase offer.
Improving Outreach to Non-Profits for Real Estate Owned Sales: HUD will announce efforts to expand outreach to non-profit entities, local governments, and other interested community organizations to further educate them on the note sales process for distressed properties. This will include a virtual note sales educational seminar around HUD's upcoming fall single family note sale. The Enterprises will continue to advance existing partnerships they have in place with non-profits focused on owner occupancy and neighborhood stabilization to complement the retail disposition of their REO properties.
Working with State and Local Governments to Boost Housing Supply
While the federal government has a critical role to play in boosting the supply of affordable homes, state and local governments often play the primary role in setting policies that encourage – or in some cases, discourage – boosting housing supply. One of the most persistent factors depressing the supply of housing, especially entry-level and rental units, is exclusionary zoning laws and practices, like minimum lot size requirements, minimum square footage requirements, unnecessary parking requirements, prohibitions on or differing treatment for multi-family homes, accessory dwelling units, and manufactured housing, and limits on the height of buildings.
That's why today, in addition to the zoning reform incentives included in the Build Back Better Agenda, the Administration is calling on state and local governments to take action to address zoning policies that have historically locked families out of communities and continue to limit housing supply.
In order to partner with state and local governments in this critical work, the Administration today is announcing the following actions:
Leveraging Federal Funding to Spur State and Local Action: To support state and local governments that receive flexible HUD block grant funding, HUD's Office of Community Planning and Development will create a Housing Supply Toolkit that provides easy-to-implement strategies to deploy existing block grants and other resources to address supply and affordability challenges that have been deepened by the pandemic. In addition, HUD will form and support a cohort of communities working to address supply issues, helping accelerate their efforts to find solutions. In addition, the Interim Final Rule governing the American Rescue Plan's $350 billion State and Local Fiscal Recovery Funds explicitly allows recipients (states, territories, Tribal governments, and localities, including cities and counties) to invest these funds in development and preservation of affordable housing, as part of the response to the public health emergency and its disparate impacts on certain populations and geographies. Already, at least 42 cities and 33 states have publicly proposed deploying resources on affordable housing investments of some type. Treasury will continue to engage with mayors, governors, and county executives to highlight this use, and encourage additional affordable housing production targeted to the households and communities struggling the most.
Exploring Federal Levers to Partner with States and Local Governments to Reduce Exclusionary Zoning: FHFA is announcing that it will conduct a study on the degree to which the Enterprises' mortgage activity is concentrated in jurisdictions with exclusionary policies. The report will provide data on the demographic characteristics of homeowners whose loans are purchased by the Enterprises and the overall effect of these purchases in allowing localities to sustain restrictive zoning measures or helping to support localities enacting inclusionary zoning policies.
In addition, and in anticipation of the Build Back Better Agenda's community engagement and investment grants that will empower communities to reach collective decisions on how to meet their housing needs, next week HUD's Office of Policy Development and Research will release its latest research on actions that state and local governments have taken to increase housing supply, providing useful examples for others to follow. Lessons learned will be incorporated into HUD's Regulatory Barriers Clearinghouse, a searchable electronic database that contains over 4,800 barriers and solutions spanning all 50 states and over 460 cities and counties.
Launching Learning and Listening Sessions with Local Leaders: The persistent imbalances in the U.S. housing market have formed over many decades and it will take concerted effort and iterative policymaking to correct them. To this end, the White House, HUD, and FHFA will convene state and local officials and stakeholders for a series of peer learning and listening sessions. These sessions will allow for the exchange of best practices on locally led zoning reform to address supply and affordability challenges, including a virtual session on accessory dwelling units hosted by FHFA in September.  The sessions will also identify the obstacles to implementation that remain, which the President's Build Back Better Agenda and potentially federal administrative action, can help address.
###
MHProNews Analysis of the Above in Brief.
Manufactured housing was mentioned several times. But what is not mentioned is either the enhanced preemption clause was enacted in the year 2000 when a widely bipartisan group of lawmakers passed the Manufactured Housing Improvement Act (MHIA) which then President William "Bill" Clinton signed into law.
Manufactured housing was mentioned several times during the Trump-Pence years too. There is an open question of HUD Secretary Ben Carson was aware of "enhanced preemption." But there is clear evidence that Brian Montgomery was, and he clearly did not press for its enforcement.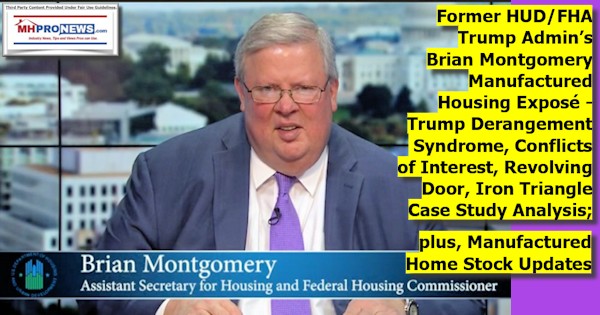 MHI has admitted in 2021 that there is no positive movement on Duty to Serve (DTS) manufactured housing personal property, home only ("chattel") lending.  There is nothing above that apparently changes that dynamic.
Put differently, there is nothing that the Biden White House's Fact Sheet says that suggests that something good is about to happen, based on the history of the 21st century. The recent MHLivingNews report linked below covers decades of statements from HUD and a range of Democratic and Republican Administrations.  It shows that similarly touted comments have come and gone without getting to the core issues that they claim to be solving. Namely, zoning and finance.  But Congress already addresses those issues, IF those widely bipartisan laws were fully and properly implemented.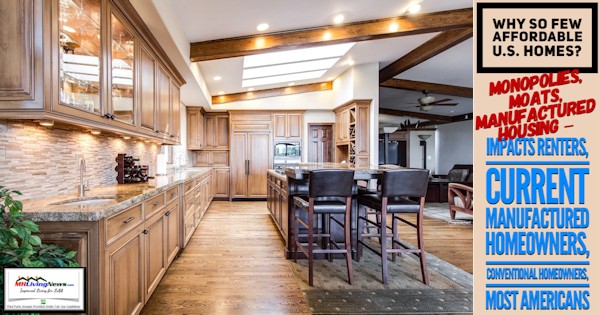 Next up, is HUD's statement. As noted, the Fact Sheet mentioned below in press statements from HUD and FHFA link to the statement show above from the White House website.

HUD Statement Sept 1, 2021
HUD Announces Cross-Agency Efforts to Increase Affordable Housing Supply 
Federal Finance Bank Risk-Sharing Program, Guidance for Affordable Housing Funding, Zoning Research Among HUD Actions in Administration-wide Agenda
FACT SHEET: Biden-Harris Administration Announces Immediate Steps to Increase Affordable Housing Supply
WASHINGTON – The Department of Housing and Urban Development (HUD) on Wednesday announced a series of actions it is taking as part of the Biden-Harris Administration's plan to create, preserve, and sell nearly 100,000 additional affordable homes for homeowners and renters across the country over the next three years. As Congress and President Biden work toward the historic housing investment in the Build Back Better agenda, HUD is acting in its administrative capacity to unlock and create affordable housing supply for lower income segments of the market.
Today's actions include a significant step in restarting the Federal Housing Administration (FHA) Section 542 (c) Housing Finance Agency Risk-Sharing Program with the Department of Treasury's Federal Financing Bank (FFB Risk-Sharing) which provides low-cost capital needed to spur development of rental housing in cooperation with state Housing Finance Agencies (HFAs). This agreement marks a renewed focus on supporting construction and development of affordable housing units in states across the country at a time when these kinds of capital investments for the most affordable housing are needed.
"President Biden promised the American people that his Administration would dramatically expand our nation's supply of affordable rental housing—and the actions announced today represent a significant down payment toward that commitment," said HUD Secretary Marcia L. Fudge. "These actions will expand access to critical capital for state Housing Finance Agencies, empower local communities to build more affordable housing using the historic investments contained in the American Rescue Plan, and advance equitable housing policies such as inclusionary zoning practices. Moving forward, HUD and the Biden-Harris Administration will continue to pursue bold actions to create and preserve affordable homes for all Americans."
Housing Finance Agencies may submit applications for mortgage insurance through this program through September 2024, and for the Federal Financing Bank to purchase the FHA-insured mortgages through September 2027. Unlike the previous version of the program, there is no dollar cap so FHA can provide firm approval letters to insure all eligible HFA-underwritten mortgages that meet risk-sharing program standards.
HUD will make more single-family homes available to individuals, families, and non-profit organizations in the future by prioritizing homeownership and limiting the sale to large investors of certain FHA-insured and HUD-owned properties, in addition to expanding and creating exclusivity periods in which only governmental entities, owner occupants, and qualified non-profit organizations are able to bid on certain FHA-insured properties. In addition, HUD's Community Development and Planning (CPD) arm announced it is creating a new toolkit with guidance to support HUD grantees  by providing easy-to-implement strategies to deploy resources to address housing supply and affordability challenges that have deepened during the pandemic. Finally, HUD's Policy Development and Research (PD&R) team will release its latest research on innovative strategies being pursued by state and local governments to remove regulatory barriers to affordable housing and increase housing supply. These lessons will be incorporated into HUDs Regulatory Barriers Clearinghouse, which contains over 4800 barriers and solutions and provides a catalog of information that spans all 50 states and over 460 cities and counties. They will also inform the locally driven zoning reform initiative in the President's Build Back Better Plan.
View the Biden-Harris Administration's steps to increase affordable housing supply here.
About the Section 542(c) Housing Finance Agency Risk-Sharing Program with the Federal Financing Bank
The Section 542(c) Housing Finance Agency Risk-Sharing program allows eligible Housing Finance Agencies (HFAs) to enter into contracts with HUD that provide FHA insurance on Multifamily mortgages for properties with affordable housing units underwritten by an HFA, and where HUD and the HFA share the risk of any potential loss if the mortgage defaults. With the FHA insurance credit enhancement, the Federal Financing Bank will purchase the mortgage, generating capital funds for the HFA to lend to private developers building or rehabilitating multifamily properties that provide affordable rental homes, including refinance of properties for low, very-low, and extremely-low income individuals. FHA will continue to seek necessary authority to further enhance the mortgage securitization eligibility features of the program.
FHA encourages qualified Housing Finance Agencies across the country to apply to participate in the program's restart. Further, based on past program performance, FHA anticipates that approximately 20,000 affordable rental units will be created or preserved through the program through 2027. FHA anticipates it may receive new mortgage insurance applications under the program this month. ##
###
MHProNews Analysis in Brief of the Above from HUD
To the point made about the White House Fact Sheet, note that nowhere did HUD mention manufacutred housing. The programs that are mentioned are programs that pay federal tax money to groups that are competitors of manufactured housing.  HUD is the primary regulator of manufactured housing. For Secretary Marcia Fudge's failure to mention manufactured housing in her own agencies statement speaks volumes.
Think not only deception and misdirection, but an implicit undermining of HUD Code manufactured homes lies ahead, based on the history and specifics from what these statements indicate. Note that happens to be the thesis of third-party researchers James A. Jim Schmitz Jr. David Fettig, and others who have accused HUD, builders, and a trade group by name of undermining manufactured housing and thereby adding to the affordable housing and homelessness crisis.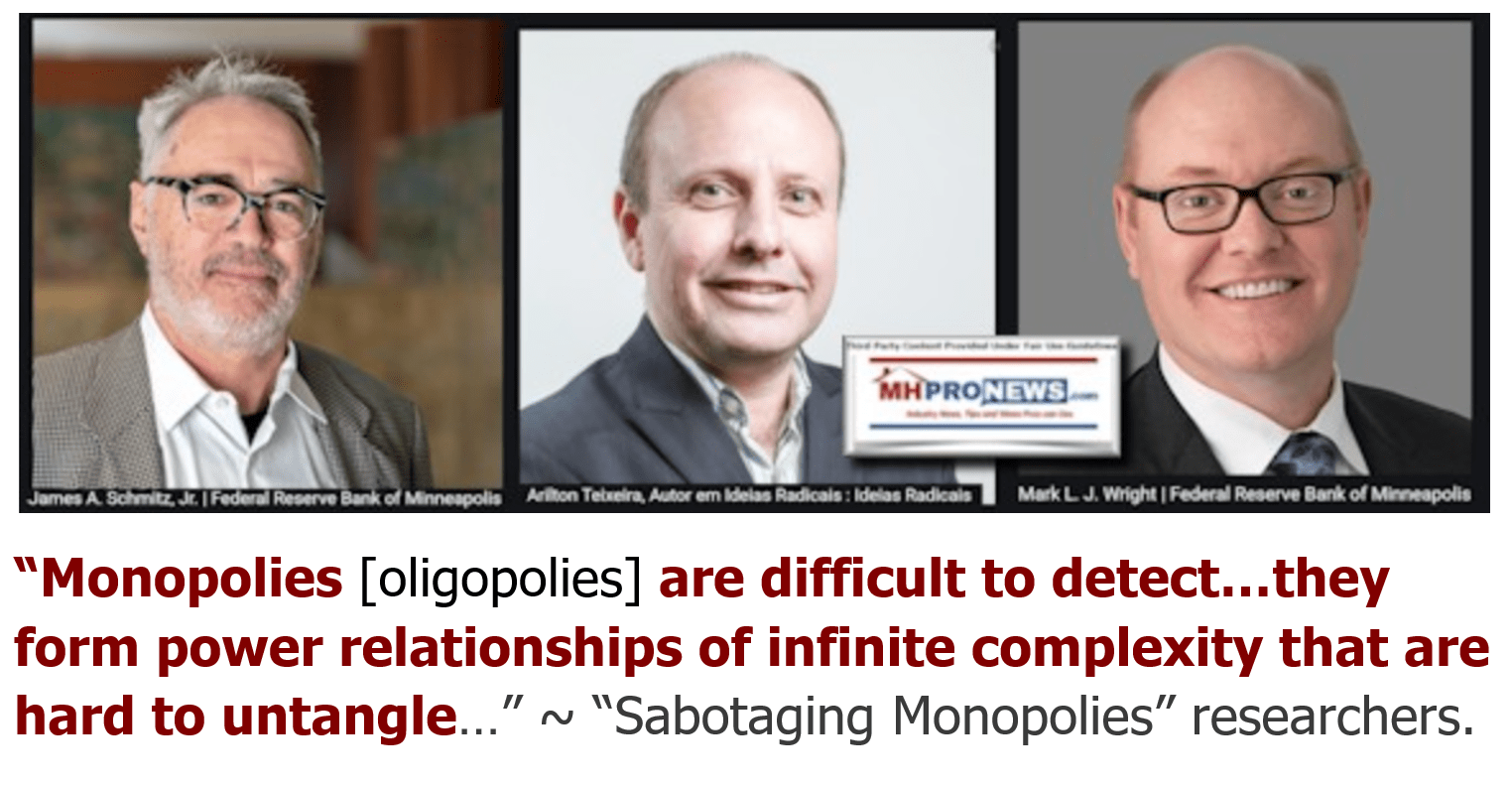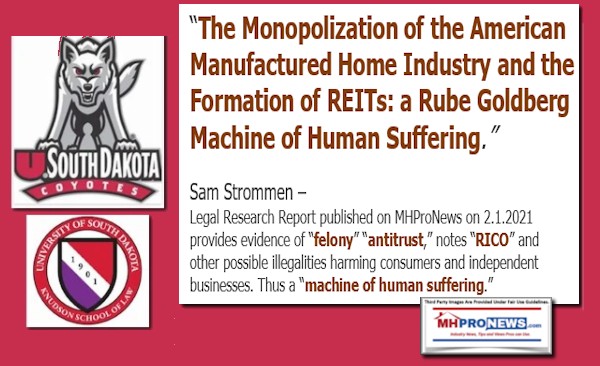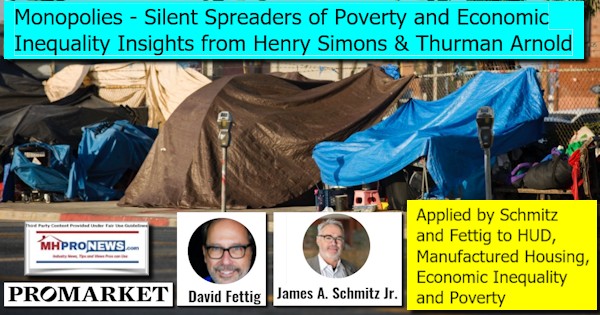 FHFA Sept 1, 2021
September 1, 2021
FHFA Acting Director Sandra L. Thompson's Statement on Executive Branch Housing Supply Initiative
"The severe shortage of affordable housing in America requires coordinated government action. As part of the federal government's response, FHFA is instructing Fannie Mae and Freddie Mac to boost the housing supply in communities across the country by significantly increasing their Low-Income Housing Tax Credit investments and by expanding opportunities for local families to access affordable homeownership and rental housing. In addition, FHFA will begin to study the interaction between exclusionary zoning and our regulated entities," said Acting Director Sandra L. Thompson.
For more information see:
###
MHProNews Analysis in Brief
Again, as with HUD, FHFA does not mention manufactured housing, thought it links to the White House Fact Sheet that does. There is nothing new in the above to cheer about.
With that backdrop, let's now see what MHI's "Breaking News" statement on Sept 1, 2021 said about these announcements.
Manufactured Housing High Priority in Administration's Plans to Address Nation's Affordable Housing Supply
Today, the Administration announced it is taking immediate steps to increase affordable housing supply across the country including specific actions to boost the supply of manufactured housing. Specifically, the Administration is looking to expand financing for manufactured housing and is calling on state and local governments to reduce zoning and financing barriers to manufactured housing which "allows families to achieve homeownership and build wealth."
MHI Calls on HUD to Support
Overcoming Local Zoning Impediments
In response to HUD's proposed changes about how disparate impact will be used in fair housing cases, MHI submitted comments to the Department stressing the importance of fair housing and disparate impact as tools the industry uses to combat localities use of zoning and other discriminatory practices to exclude manufactured homes in their community.
##
MHProNews Commentary in Brief About the Above  from MHI
Note what is missing in the statement from MHI on HUD? There is an apparent absence of any mention of enhanced preemption and how it could be deployed immediately to mitigate zoning and placement barriers.
Who said? Ironically, Democratic lawmakers quoted below.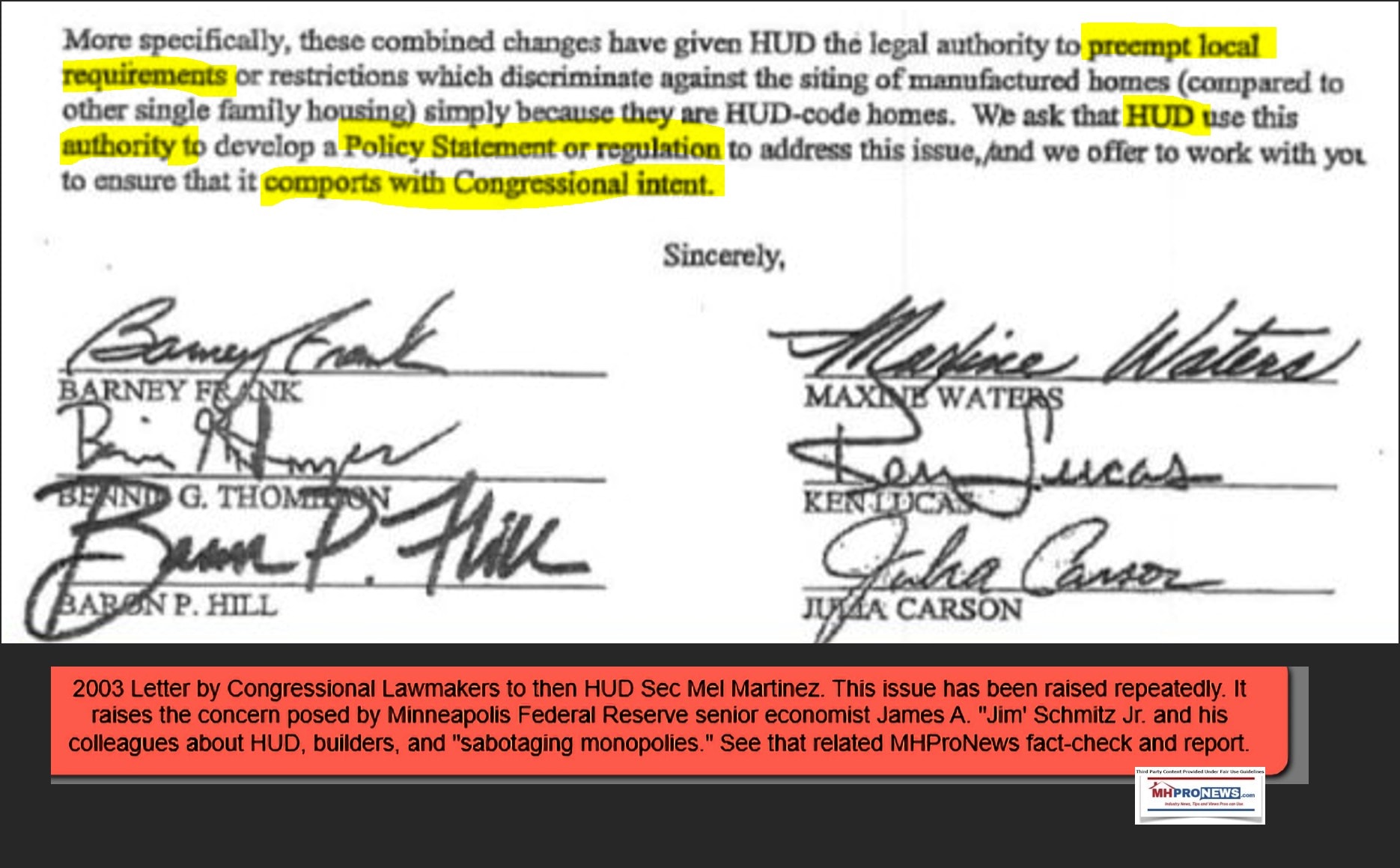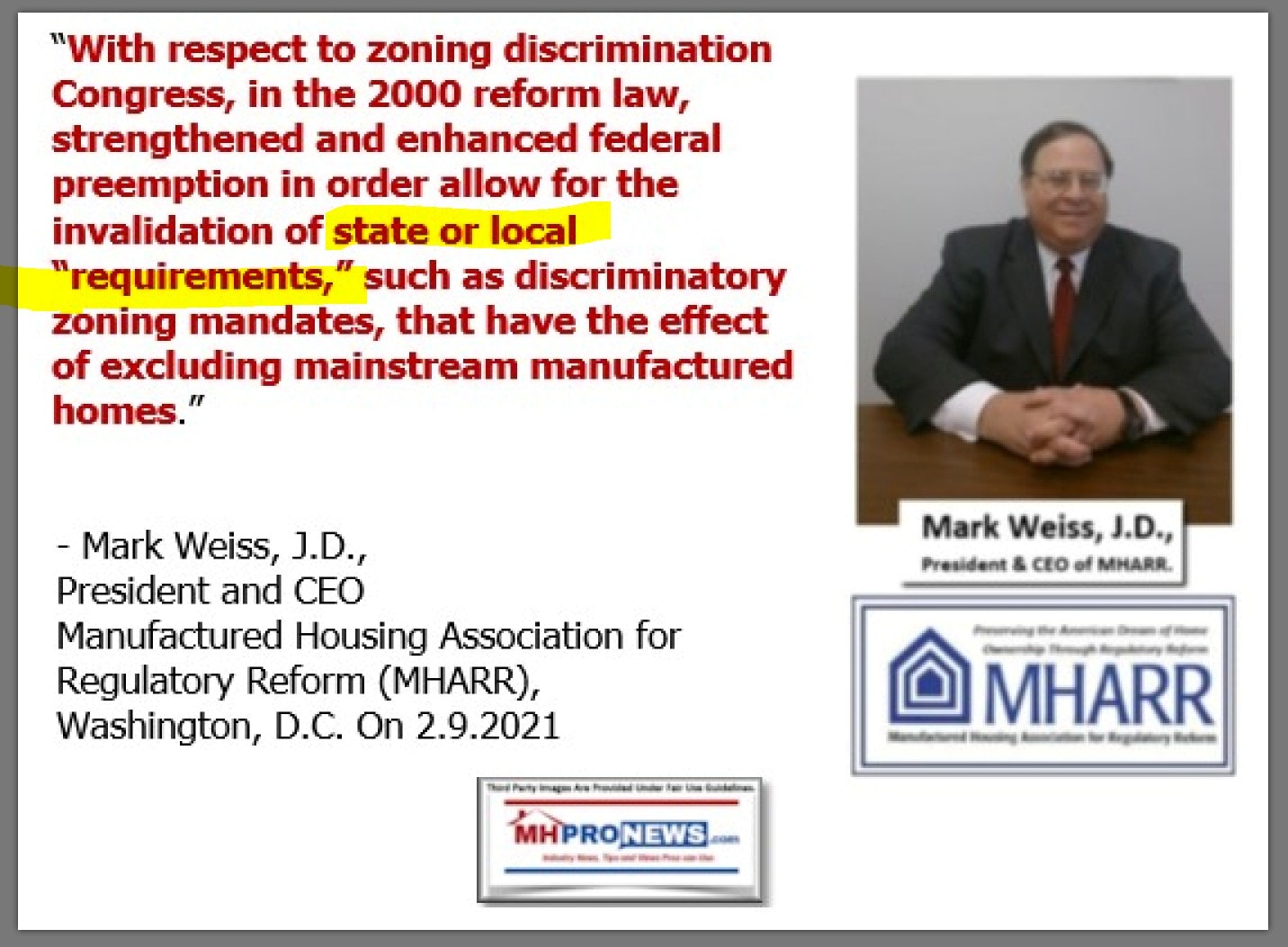 MHI, during the Trump-Pence years only addressed HUD Secretary Carson about enhanced preemption after months of hammering for accountability by MHProNews. After MHI finally used that phrase in a letter to then HUD Secretary Dr. Ben Carson, there was no evidence that Carson ever saw that letter or that he ever responded. It seems safe to say that the lack of evidence speaks for itself.
Additionally, there is a tacit admission by MHI – if one reads between the lines – that the HUD statement is not as rosy as a surface reading of MHI's statement reflects. More on this below.
Next, this is what MHI said about FHFA and lending.
FHFA Proposes New Housing Goals
for Fannie Mae and Freddie Mac
The Federal Housing Finance Agency (FHFA) has proposed new housing goals for Fannie Mae and Freddie Mac for 2022 to 2024 aimed at promoting equitable access to affordable housing that reaches low- and moderate-income families, minority communities, rural areas, and other underserved populations.
MHProNews Commentary in Brief
Note again, as with HUD, there are no critical or cautionary comments from MHI. Compare and contrast that with what their rivals at the Manufactured Housing Association for Regulatory Reform (MHARR) said, further below.
These missives from MHI might as well be a brief from the Biden regime's media relations team.
There is no hint of the Duty to Serve (DTS) manufactured housing in chattel lending, which is what selling communities and independent retailers are seeking.  DTS for chattel lending on manufactured homes is something that MHI claims on paper to support. But Doug Ryan from Prosperity Now is on record saying MHI obviously does now want because DTS chattel lending, because it would cost Clayton Homes and their lending significant money.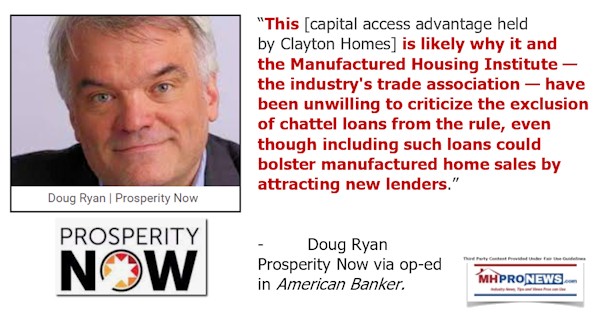 There is no hint from MHI of the role they played in closed door meetings from which later emerged the failed CrossMod scheme. More on the FHFA below.
But perhaps the cherry on top of the desert being served up by Team Biden from Team MHI is the following. MHI admits to signing on to aspects of the Biden Harris plan that MHBA has ripped as a payoff to Biden's donors which also happens to be contrary to the interests of factory built housing builders.
MHI Urges Congress to Include
Affordable Housing Solutions in Infrastructure Package
MHI, in conjunction with our national housing coalition partners, sent a letter calling on Congress to ensure that the upcoming infrastructure legislation includes common-sense initiatives to address the shortage of affordable housing in the country.
###
MHProNews Additional Commentary in Brief on MHI's statements of MHI's 9.1.2021 email
There is no mention made by MHI that by their supporting this Biden-Harris regime plan it directly contradicts the interests of manufactured home independents, even if it may or does benefit large corporations with deeper pockets. When MHI speaks or writes about their "national housing coalition partners" a simple question should be pressed. What evidence does MHI have that those "coalition partners" have done anything that directly benefits all segments of HUD Code manufactured housing, as they claim to be doing?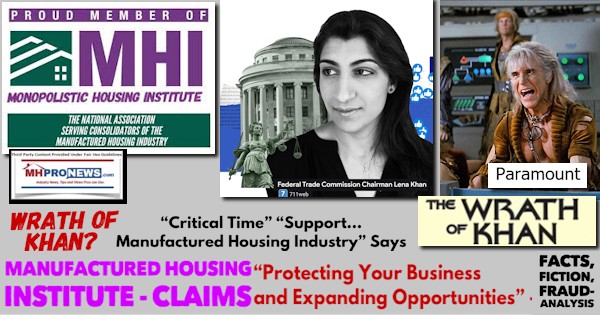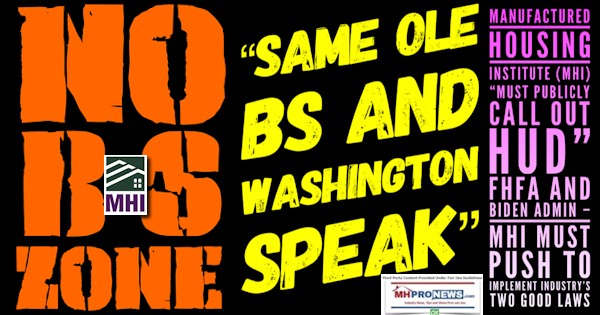 Summing the above up from MHI, it is yet another example of what is arguably deceptive practices by a nonprofit that is acting on behalf of a few insiders to the detriment of the general public and manufactured housing independents. Compare and contrast MHI's irrationally or deceptively rosy statements above to what MHARR's president and CEO, Mark Weiss, J.D., had to say, below.
MHARR President and CEO Mark Weiss statement to MHProNews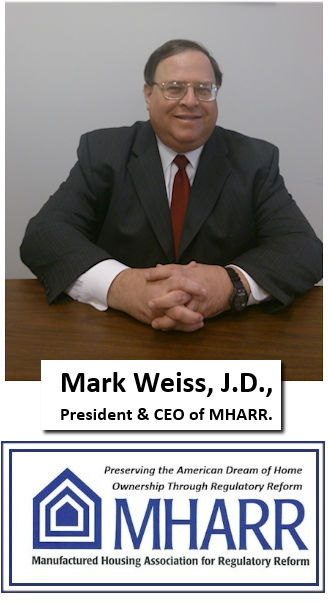 "After the recent announcement of HUD's Affordable Housing Memorandum of Understanding (MOU) with FHFA, MHARR wrote to Secretary Fudge and Acting Director Thompson to point out that HUD-regulated manufactured housing is a readily-available affordable housing and homeownership solution for Americans, which both agencies should aggressively prioritize and promote. Unfortunately, with strong policy tools at their disposal to further energize the manufactured housing market and eliminate baseless barriers to the greater utilization of manufactured homes — i.e., full and robust implementation of the Duty to Serve and the enhanced federal preemption of the 2000 manufactured housing reform law — both HUD and FHFA have fallen back on old ideas and approaches that rely too heavily on government and government programs."
– Mark Weiss, J.D., President and CEO of MHARR to MHProNews.
That statement Weiss referred to is found linked below.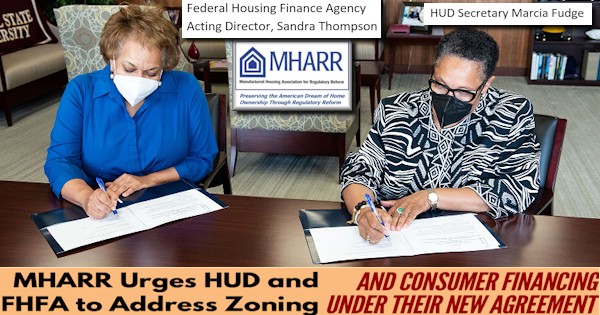 In a prior but applicable statement from MHBA's Hardiman, he ripped the Biden regime for promoting solutions that rewarded his political allies. They were called political payoffs. That cuts to the chase.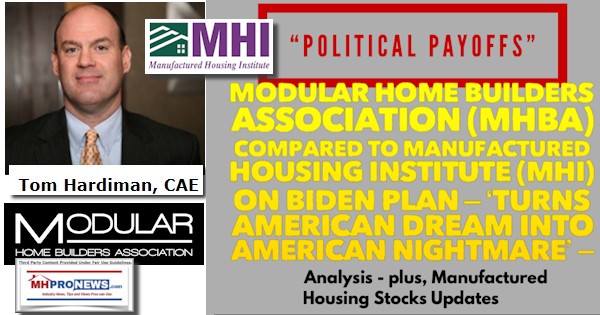 Last but not least in this housing roundup, is this from one of the periodic tipsters from within MHEC.  MHEC are the MHI affiliated state associations, monitored by MHI and MHARR, which is called the Manufactured Housing Executives Council (MHEC).
From a source in MHEC to MHProNews, with caps as emailed: "Because of MHI's continuing failure to protect, defend and advance the VIEWS AND INTERESTS OF THE [manufactured home] INDUSTRY'S POST PRODUCTION SECTOR, where the full and proper resolution to these two stubborn setbacks rightly rest, even though we have given them two perfect law to advance them…and yet, MHI's failures and inability to turn things around continue…"
###
All of the above, boiled down, illustrates the evidence-based case that MHI is acting not on behalf of all segments of the industry, but only on behalf of industry insiders.  They are demonstrably engaged in deception and misdirection via email, which can be construed as a violation of various federal laws. More on that in the report linked here, and from outsiders who have examined manufactured housing extensively cited in the reports linked below.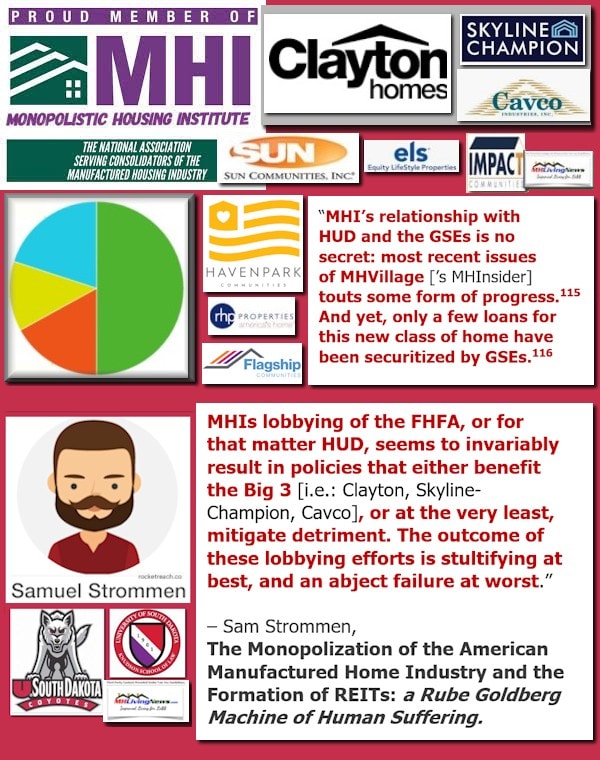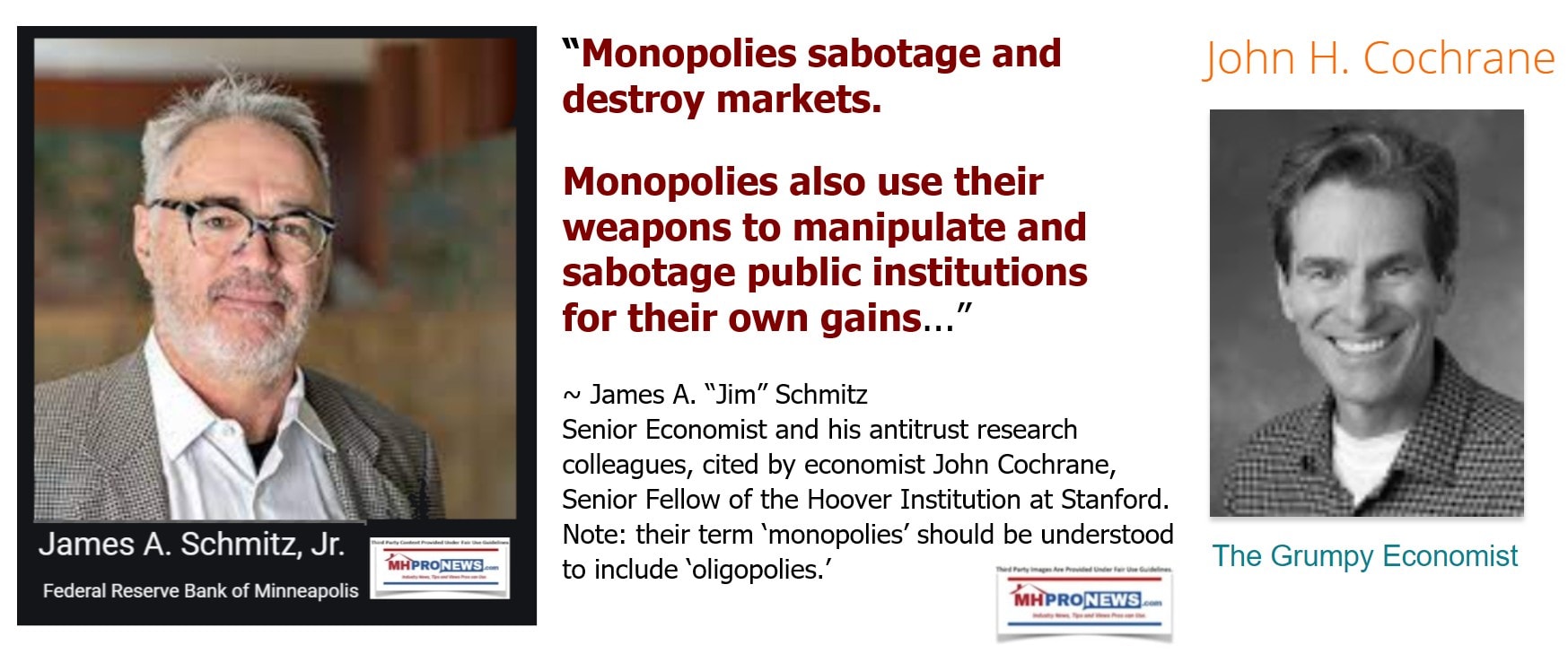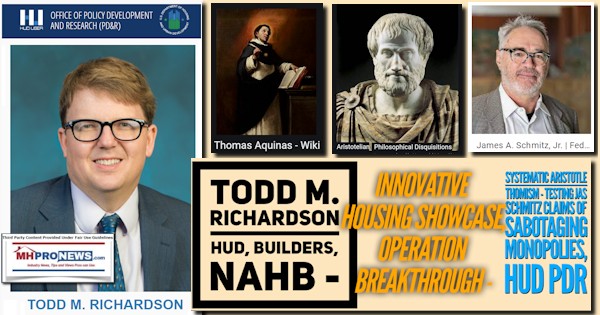 Among several exploring antitrust in general, or manufactured housing in particular, one recently sent MHProNews this comment.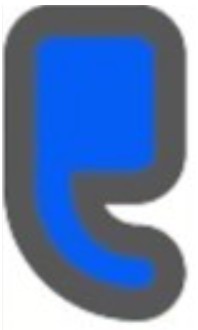 "Thanks for all the information you sent.
I know a little bit about how MHI has been a part of the problem

.
You bring up much more than I knew, of course. I'm not surprised that they have been sabotaging the industry.
And I know little about the two laws you also bring up.
3. You make a great point about how fighting monopolies in manufactured housing is different than in other industries, as laws to do so are already on the books.
I agree something should be written and published about this."
The highlighting above was not in the original, but is added to make this point. For HUD Code manufactured homes, the laws needed – in principle – to break the logjams already exist. This makes manufactured housing a potentially better than normal candidate for trust-busting and related actions, because of the clarity of the issues.
The went on to say that their group is interested in doing their own report on manufactured housing and MHI, but that would have to come after a current research/writing project that they are working on. Note the two laws that research source cited is:
the MHIA 2000, featuring its enhanced preemption clause,
and DTS for chattel loans from the FHFA.
Put differently:
those critiques from inside MHI,
push back and evidence-based challenges of MHI from MHARR,
occasional pushback from MHBA against MHI and the Biden regime,
occasional pushback from MHEC members,
and the years of factual, evidence-based and common-sense reports from MHProNews/MHLivingNews on these concerns are consistent with the troubling reality that the problems for the industry often come from inside MHI and thus inside the industry itself.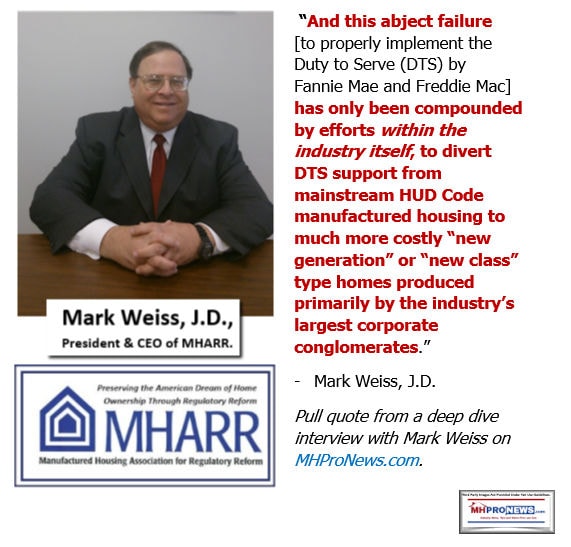 Additional Information on Looming Biden "Build Back Better" Woes
Build Back Better is a mantra that Biden-Harris rolled out during their 2020 campaign. It is a phrase that is also used by Canada's Prime Minister Justin Trudeau. Build Back Better has been used by British and other national leaders too. Who says? How about left-leaning Wikipedia?
"Build Back Better, a slogan of the Joe Biden 2020 presidential campaign. Build Back Better Plan, an economic and infrastructure package proposed by Joe Biden. Build Back Better World, an initiative taken by G7 countries."
MHProNews does not claim granular insights on Build Back Better in other nations, although we may posses somewhat more understanding that some may possess.  But what is well known is that despite various slogans used by a range of politicians for years in the U.S., with the most notable exception of President Trump who specifically rejected globalism, the Biden Build Back Better plan may sound good but is lacking the historic and factual context many need to realize that it is a threat.
Some claim that it is a 'conspiracy theory' to worry about Build Back Better or the Great Reset. But the World Economic Forum, the place where billionaires, multinational corporations, and their political front men who are various national leaders has specifically tied their Great Reset plan to the Build Back Better slogan.
Per the World Economic Forum (WEF) website in 7.2020, is this: "To build back better, we will have to reinvent capitalism." Their noble sounding bullets are as follows.
The pandemic has brought into focus many of the vulnerabilities in our systems and institutions.
But it also offers us a chance to shape a more resilient and sustainable world.
Here's how businesses and policy-makers can start building the green and inclusive future we need.
That same July 13, 2020 Build Back Better, Great Reset says the following.
"A true recovery from COVID-19 will not be about putting things back together the way they were: we need to 'build back better', to 'reset', if we are to address the deep systemic vulnerabilities the pandemic has exposed. For businesses, building back better is about much more than corporate social responsibility: it is about truly aligning markets with the natural, social and economic systems on which they depend. It is about building real resilience, driving equitable and sustainable growth, and reinventing capitalism itself."
The WEF posted a video that says this "reset of capitalism" will "only work if it includes everyone." Everyone means, you and all those you know too. The WEF previously published what amounts to a pitch or propaganda video pushing the Great Reset said the program will mean that "you will own nothing and be happy." If you want to own a house, transportation, or anything else, the Great Reset and "Build Back Better" are not for you.
Per Wikipedia, "The Great Reset is the name of the 50th annual meeting of the World Economic Forum, held in June 2020."
It is hardly a conspiracy theory when the WEF are producing the videos, producing the talking points, and producing their argument for why the world's population must submit to a plan that includes renting everything. They use COVID19, so-called climate change, war, social unrest, and a range of 'fear porn' in an attempt to herd free people into a system that will apparently be led by billionaires, technocrats, and people like who? Joe Biden, and the billionaires in the Civic Alliance and the WEF who backed him.
It must be noted that several of the corporate leaders involved in MHI are also those in the Civic Alliance, the WEF, and are de facto Great Reset supporters. Thus, there is no surprise that MHI is backing Biden's Build Back Better agenda. It should be absolutely as trustworthy as his statements of Afghanistan. The plan should work just as well as the plan to evacuate Afghanistan did.
These issues are all interconnected.  This is a push to strip everyone from their rights to private property, save apparently an elite few.  It perfectly fits with what Warren Buffett said in the quote below.
Buffett Obama
<iframe width="560″ height="315″ src="https://www.youtube.com/embed/hRPQqfwwuhU" title="YouTube video player" frameborder="0″ allow="accelerometer; autoplay; clipboard-write; encrypted-media; gyroscope; picture-in-picture" allowfullscreen></iframe>
<iframe width="560″ height="315″ src="https://www.youtube.com/embed/aztvWxRKqDQ" title="YouTube video player" frameborder="0″ allow="accelerometer; autoplay; clipboard-write; encrypted-media; gyroscope; picture-in-picture" allowfullscreen></iframe>
Russel Brand, an actor turned pundit who has been sounding off against this mislabeled Great Reset, the handling of COVID19, Bill Gates, Buffett, and more, had the following to say about the WEF scheme.
<iframe width="560″ height="315″ src="https://www.youtube.com/embed/mD-ioJM8v64″ title="YouTube video player" frameborder="0″ allow="accelerometer; autoplay; clipboard-write; encrypted-media; gyroscope; picture-in-picture" allowfullscreen></iframe>
This is a transnational issue. With the above in mind, the following from the WND Newscenter is the following that laces the spiritual and secular issues together. Note this prelate has called out corrupt religious leaders that he claims are pressing this agenda as well as corrupt politicos. A potent pull quote says this is a "criminal plan, conceived for decades and aimed at establishing a universal dictatorship in which a minority of immeasurably rich and powerful people intends to enslave and subjugate the whole of humanity to the globalist ideology."
Don't look now, folks, but that was a theme in the Trump 2016 and Trump 2020 campaigns too.
<iframe width="560″ height="315″ src="https://www.youtube.com/embed/G2qIXXafxCQ" title="YouTube video player" frameborder="0″ allow="accelerometer; autoplay; clipboard-write; encrypted-media; gyroscope; picture-in-picture" allowfullscreen></iframe>
Per WND, the following.
WND
Archbishop: 'Luciferian' globalists exploiting COVID for 'Great Reset'
'There are two sides, the side of God and the side of Satan'
By Art Moore
Published September 1, 2021 at 8:29pm

Roman Catholic Archbishop Carlo Maria Viganò, a former papal ambassador to the United States, continued his criticism of the globalist "Great Reset," warning in a new speech that corrupt civil and church authorities have joined forces to exploit the coronavirus pandemic in their quest to bolster global sovereignty.
He made it clear whose side he believes the authorities are on.
"Everything that we know, discover, and understand about the global conspiracy currently unfolding shows us a tremendous reality that is also at the same time sharp and clearly defined: there are two sides, the side of God and the side of Satan, the side of the children of Light and the side of the children of darkness," he said a speech delivered Aug. 28 in Italian and translated to English and published by LifeSiteNews.
Viganò said it must be "understood that the corrupt part of the civil authority – the deep state – and the corrupt part of ecclesiastical authority – the deep church – are two sides of the same coin, both instrumental to the establishment of the New World Order."
He recalled the teaching of Jesus recorded in Matthew 6:24 that it's impossible to serve two masters.
And further, Jesus said in Matthew 12:30, "Whoever is not with Me is against Me, and whoever does not gather with Me scatters."
Vigano said that in the "alliance between civil and religious power," there is a spiritual dimension that must be understood in "the context of the war that Lucifer, ever since his fall, has waged against God."
That war is coming to a conclusion he said, which is "why the forces of darkness are so wild at present, so impatient to cancel the name of Our Lord from the earth."
In April, Vigano charged that the Vatican betrayed its mission with its hosting of a health conference featuring pro-abortion figures such as Chelsea Clinton, population control advocate Jane Goodall, a New Age activist, Dr. Anthony Fauci and developers of vaccines using fetal cells. In January, Viganò declared in an interview that practicing Catholic Joe Biden's ties to China and his globalist policies would make him an "irreparable disaster" as president.
Last October, Vigano wrote an open letter to then-President Trump warning the president is "the final garrison" against the "Great Reset," a plan by the World Economic Forum to use the coronavirus pandemic as an opportunity to advance globalism.
No denying it
In his speech Saturday, he described the Great Reset as a "criminal plan, conceived for decades and aimed at establishing a universal dictatorship in which a minority of immeasurably rich and powerful people intends to enslave and subjugate the whole of humanity to the globalist ideology."
"The accusation of 'conspiracy theory' could perhaps have made sense when the conspiracy was not yet evident, but today denying what the elite has planned since the 1950s is unjustifiable," he said.
Vigano criticized the "suspension of citizens' rights" through "lockdowns, curfews, closures of commercial activities (and) limitations of public services and classes" that have not achieved the results promised by health authorities.
He pointed to a recent Oxford University study published in The Lancet finding that the viral load of the delta variant in fully vaccinated people is 251 times greater than the first strains of the virus. The CDC has now conceded that the fully vaccinated can become infected and spread the virus.
Science has been turned into "scientism," the archbishop said, arguing that the art of medicine is not a science but the application of scientific principles to various cases.
The "religion of science" that has manifested during the COVID-19 pandemic "has cloaked itself in a dogmatism bordering on superstition," he said.
"The ministers of this cult have constituted themselves as a caste of untouchables, exempt from any criticism even when their claims are denied by the evidence of the facts," Vigano said.
"The principles of medicine, considered universally valid until February 2020, have given way to improvisation, to the point of being advised to vaccinate at the height of the pandemic, the obligation of masks being imposed although they are useless, the arbitrary mandating of bizarre distances, the prohibition of treatments with effective drugs and the imposition of experimental gene therapies in violation of normal safety protocols," the archbishop said, according to the English translation.
Along with the new "COVID priests" he said are "heretics" who "reject the new pandemic religion and want to remain faithful to the Hippocratic Oath."
"Not infrequently, the aura of infallibility that surrounds virologists and other more or less titled scientists does not seem to be questioned due to their conflicts of interest or by the substantial financial benefits received by pharmaceutical companies, which under normal conditions would be scandalous and criminal," he said.
WND EDITOR'S NOTE: Americans are increasingly realizing that much of what they thought they knew about the COVID-19 pandemic has been a lie. At the same time, the reality of safe, effective, inexpensive and readily available medications that can both treat and prevent COVID infection – successfully used all over the world, and by many people in the U.S. – has been ruthlessly suppressed at every turn.
 ###
Summing Up and Conclusion on the Biden Housing Plan, Supporters, Critics, and Detractors
It should be obvious that MHI fits the description that the Capital Research Center has labeled such entities as guilty of "Deception and Misdirection."
Socialism, Facism, Communism, Build Back Better, the Great Reset – whatever label one cares to use – have historically only come to power through the Big Lie. MHProNews said in the summer of 2020 that there had to be more emphasis on the concept of the Big Lie, because it is often in evidence in business, politics, so-called healthcare, climate change, and more.
The Green New Deal was examined and debunked by MHProNews in 2019. Sure, the climate changes. But it has always changed and it will always change. The question is has humanity caused this change and if so, can it be mitigated? Pollution is a real problem. It has to be addressed, and has been here in the U.S. But so long as India and China are polluting at levels several times that of the U.S., any talk of a global pact along the lines of the Paris Climate Accords is just more political theater that aims to push the Great Reset.
The very notion of big government being a solution to most any major problem, outside perhaps of an authentic war rather than a conflict that aims to line certain corporate pockets, is demonstrably absurd.
There is no other source in manufactured housing that takes the time and effort to pull together these various threads, founded on original sources and factual, evidence-based information, insights, and common sense analysis. MHProNews and MHLivingNews are your go-to source for "Industry News, Tips, and Views Pros Can Use." ©
###
Next up is our business daily recap of yesterday evening's market report, related left-right headlines, and manufactured housing connected equities.
The Business Daily Manufactured Home Industry Connected Stock Market Updates.  Plus, Market Moving Left (CNN) – Right (Newsmax) Headlines Snapshot. While the layout of this daily business report has been evolving over time, several elements of the basic concepts used previously are still the same. For instance. The headlines that follow below can be reviewed at a glance to save time while providing insights across the left-right media divide. Additionally, those headlines often provide clues as to possible 'market-moving' news items.
Market Indicator Closing Summaries – Yahoo Finance Closing Tickers on MHProNews…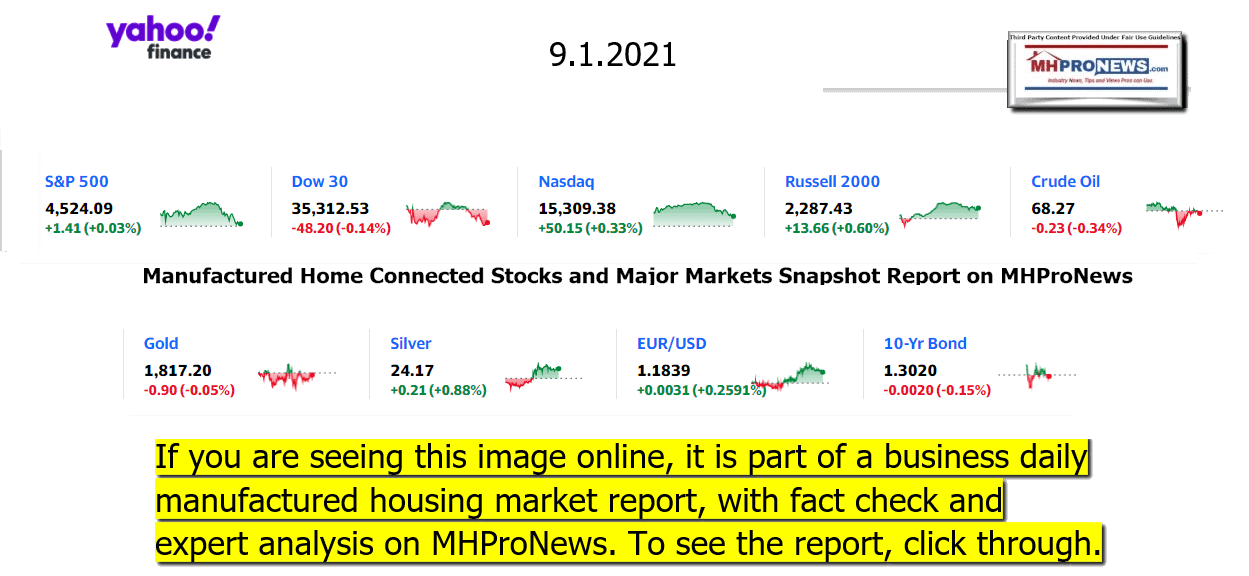 Headlines from left-of-center CNN Business – evening of 9.1.2021 
What's next for Wall Street?
People walk by the New York Stock Exchange (NYSE) near One World Trade Center, the Freedom Tower, in lower Manhattan during commemoration ceremonies for the September 11, 2001 terror attacks on September 11, 2020 in New York City. Hundreds of people have gathered for the 19th anniversary of the event at Ground Zero to remember the nearly 3,000 who were killed on that day. But this year, due to COVID-19 pandemic restrictions, only family members are allowed to gather at the 9/11 Memorial plaza. There will also not be an in-person reading of the victims' names at the memorial and instead there will be a pre-recording of names by family members broadcast throughout the plaza and live-streamed online. (Photo by Spencer Platt/Getty Images)
Welcome to September, historically the worst month for stocks
Half the gas stations in New Orleans and Baton Rouge are without fuel
There's another big risk brewing in China
LIVE UPDATES Stocks mostly flat following disappointing jobs data
Amazon adding 55,000 employees globally in first hiring push under CEO Andy Jassy
Walmart is looking to hire 20,000 supply chain workers
China's 'revolution' cost investors $3 trillion. So why aren't they running scared?
Pearl Milling Company's new ads remind customers it used to be Aunt Jemima — without mentioning the racist brand
Fighting vaccine disinformation is crucial to ending the pandemic
You know your salary. But how much are you really making? Calculate your total compensation
Amtrak might add more than 50 new routes. But they still won't be faster than a car
iPhone users will no longer need to bring their IDs to the airport in these states
Here's what it's like to drive a new $100,000 Jeep
Crews begin work on downed power lines leading to a fire station, Tuesday, Aug. 31, 2021, in Waggaman, La., as residents try to recover from the effects of Hurricane Ida.
Power could be out for weeks in Louisiana. Avoiding future outages will be incredibly expensive
For misinformation peddlers on social media, it's three strikes and you're out. Or five. Maybe more
Risk Takers 2021: 10 leaders making 10 big bets to push business forward
INVESTING
People walk by the Stock Exchange on July 8, 2021 in New York City.
Investors are starting to play defense as the bull run matures
Top Tencent investor bets on digital payments in India
PC brands from the '90s are making a huge comeback
Williams-Sonoma is still bullish on the housing market
Welcome to the big SPAC slowdown
WORKPLACE
Lots of people are quitting their jobs. Here's how to do it right
These are the warning signs an employee may quit
How to make the days that you're in the office count
How managers really feel about remote work
Employee mental health is a huge concern after such a brutal stretch
Headlines from right-of-center Newsmax – evening of 9.1.2021
Blackburn: Biden's 'Victory Lap' on Afghanistan 'Repulsive'
"They wanted a victory lap by Sept. 11, so that they could do a check the box," the Tennessee Republican said on Wednesday, a day after a defiant President Biden touted the success of the American military withdrawal from Afghanistan in a national address. "The mistakes are myriad on this. Lives have been impacted." [Full Story]
Fall of Afghanistan
Congressional Gold Medals Sought for 13 Slain US Service Members
Taliban Parade as Biden Defends US Pullout
Taliban's Blacklisted, but US Treasury Acts to Ease Flow of Aid to Afghanistan
Putin Says US Achieved 'Zero' in Afghanistan
VA Suicide Hotline Received Over 35K Calls During Afghanistan Evacuation
Defiant Biden Defends Airlift, Exit From 'Forever War'
In July Call, Neither Biden Nor Ghani Seemed Prepared for Possible Afghan Collapse
Biden Commits to Safe Passage for Last 100-200 Americans
More Fall of Afghanistan
Newsmax TV
Higgins: Biden Resignation Demand 'Appropriate and Righteous'
Ron Johnson to Newsmax: Afghanistan 'Jaw-Dropping, Abysmal Failure' |
Jim Banks: US to Fund Terrorism Against Itself |
Mike Lindell on Platform Censorship |
Mast: WH Has 'Doubled Down on Stupid' With Taliban |
Comer: Oversight Demanding Answers on Afghanistan |
Ronny Jackson: Americans Fending for Selves in Afghanistan |
Babin: 'Terrorists Are Celebrating' Afghan Exit |
Mace: Pentagon Likely Had More Than 'Heads Up' on Attack |
More Newsmax TV
Newsfront
2 FDA Officials Resign Over Biden's COVID Booster Plan
Two top Food and Drug Administration officials resigned Tuesday over the Biden administration's announced plans to roll out COVID-19 booster shots before the agency had approved the inoculations, Politico reports…. [Full Story]
Texas Senate Gives Initial Approval of $2B for Border Security
The Texas Senate approved House Bill 9 on Tuesday to allocate $1.88 [Full Story]
San Diego County Declares COVID Misinformation 'Public Health Crisis'
The San Diego County Board of Supervisors on Tuesday night approved a [Full Story]
Father of Fallen Marine to Newsmax: 'No Reason' for Son's Death
Mark Schmitz, the father of fallen Marine Cpl. Jared M. Schmitz, [Full Story] |
Related
Mother of Fallen Marine Blasts Instagram for Deleting Her Account
Over $500K Raised for Wife and Unborn Child of Fallen Marine
13 Members of Congress Support Lockheed's Aerojet
A bipartisan group of 13 members of the U.S. Congress sent a letter [Full Story]
Al-Qaida Back in Afghanistan – Just in Time for 9/11 Anniversary
In a coincidence of timing as ironic as it was predictable, senior [Full Story] |
Officers, Paramedics Charged in Elijah McClain's 2019 Death
Colorado's attorney general said Wednesday that a grand jury indicted [Full Story]
North Korea Restarts Nuke Plant Amid Biden's Stumbles
North Korea's decision to restart a reactor believed capable of [Full Story] |
US Extends Ban on American Passports for Travel to NKorea
The Biden administration has extended for one year a Trump-era ban on [Full Story]
Misspelling on Fake Vaccination Card Gives Woman Away
An Illinois woman nearly got away with using a fake vaccination card [Full Story]
Get Paid to Go Solar In Florida. Electric Bills As Low As $15.
Gov Energy Program
Trump: Cryptocurrencies 'Disaster Waiting to Happen'
Former President Donald Trump slammed cryptocurrencies Tuesday, [Full Story]
Biden Pressed Ghani to 'Change Perception' in July Call
Neither President Joe Biden nor now-exiled Afghanistan President [Full Story]
McCarthy: GOP Will Remember Companies That Turn Over Info to Jan. 6 Panel
House Minority Leader Kevin McCarthy on Tuesday warned tech companies [Full Story]
Networks Score Federal Court Victory Against Streaming Service
Network broadcasters scored a victory in a New York federal court [Full Story]
DeSantis Hit With Lawsuit Over Florida COVID-19 Data
GOP Florida Gov. Ron DeSantis faces a lawsuit claiming that the state [Full Story]
Ronald Kessler: The Narcissist President
"The White House is a character crucible." [Full Story]
'CBS This Morning' Rebrands With New Name, Co-Host, and Studio
"CBS This Morning" is undergoing some major changes. As part of a [Full Story]
Viral Video of Taliban Helicopter Hanging Misinterpreted: Report
Video apparently showing a man being hanged from a helicopter in [Full Story]
Rasmussen: 52% Say Biden Should Resign Over Afghanistan
A majority of American voters say President Joe Biden should "resign [Full Story]
Bonnaroo Music Festival Canceled
The Bonnaroo Music Festival, scheduled to begin on Thursday, has been [Full Story]
5 Missing After Navy Helicopter Crashes Off California
Five people were missing after a U.S. Navy helicopter crashed Tuesday [Full Story]
Pope Accidentally Quotes Putin to Chide West's Afghan War
Pope Francis has criticized the West's recent involvement in [Full Story]
Hurricane Ida Could Become Costliest Weather Disaster: UN
Hurricane Ida, which slammed into the U.S. Gulf Coast at the weekend, [Full Story]
Italy's Former PM Berlusconi Leaves Hospital After Check-Ups
Italy's former Prime Minister Silvio Berlusconi left Milan's San [Full Story]
Biden Plan to Reopen Jerusalem Consulate for Palestinians a 'Bad Idea,' Israeli FM Says
Israel believes the Biden administration's plan to reopen the U.S. [Full Story]
Black Women Seeing Guns as Protection From Rising Crime
Valerie Rupert raised her right arm, slightly shaking and unsure as [Full Story]
White House Tackles Housing Shortage With Plan for 100,000 Affordable Homes
The Biden administration is taking steps to address a severe housing [Full Story]
Merck Begins Late-Stage Trial of Experimental COVID-19 Drug
Merck & Co Inc and partner Ridgeback Biotherapeutics said on [Full Story]
2024 GOP Presidential Hopefuls Already Inundating Iowa
Iowa already has become a popular destination for potential 2024 [Full Story]
Texas Six-Week Abortion Ban Takes Effect
A Texas ban on abortions after six weeks of pregnancy took effect [Full Story]
Marshall to Newsmax: Studies Say Masks Don't Protect Against COVID
Marshall to Newsmax: Studies Say Masks Don't Protect Against COVID
Roger Marshall, R-Kan., told Newsmax that the scientific [Full Story] |
$1B Startup Flips Retirement Industry On Its Head
SmartAsset
More Newsfront
Finance
Hurricane Squeeze for East Coast Gas Supplies
Tight supplies of gasoline on the U.S. East Coast are being pressured by refinery outages from Hurricane Ida and the shutdown of a major pipeline that supplies fuel to the Southeast. [Full Story]
Moderna Recalls 1.63 Million COVID-19 Doses in Japan
Larry Silverstein: The Man behind the Rebuilding of 9/11's Ground Zero
S. Consumer Watchdog Proposes New Reporting Requirements for Small Business Lending
New Website to Help People Get Child Tax Credit
More Finance
Health
Unvaccinated Should Not Travel This Labor Day Weekend: CDC
Unvaccinated Americans should stay home during the holiday weekend as COVID-19 cases surge due to the highly contagious Delta variant, the head of the U.S. Centers for Disease Control and Prevention said Tuesday. "First and foremost, if you are unvaccinated, we would… [Full Story]
Airlines May Start Banning Cloth Masks
Equine Therapy: Horses Help Veterans Struggling With PTSD
Marriage, City Living May Help When Heart Disease Strike
Census: Childless Older Women Better off than Older Men
Manufactured Housing Industry Investments Connected Equities Closing Tickers
Some of these firms invest in manufactured housing, or are otherwise connected, but may do other forms of investing or business activities too.
NOTE: The chart below includes the Canadian stock, ECN, which purchased Triad Financial Services, a manufactured home industry lender
NOTE: Drew changed its name and trading symbol at the end of 2016 to Lippert (LCII).
NOTE: Deer Valley was largely taken private, say company insiders in a message to MHProNews on 12.15.2020, but there are still some outstanding shares of  the stock from the days when it was a publicly traded firm.  Thus, there is still periodic activity on DVLY.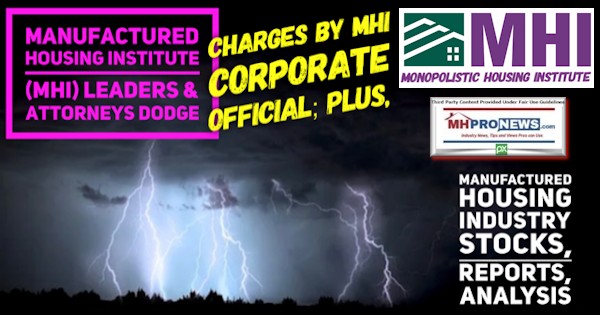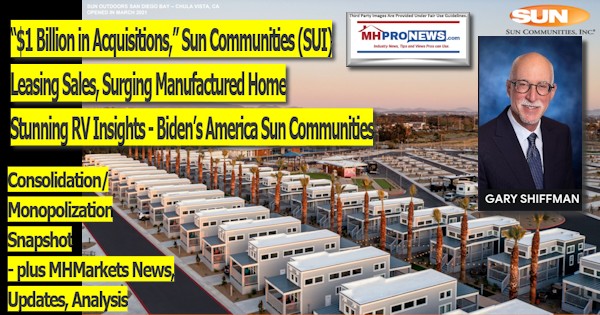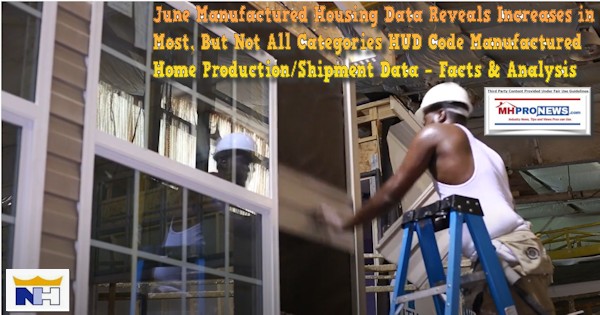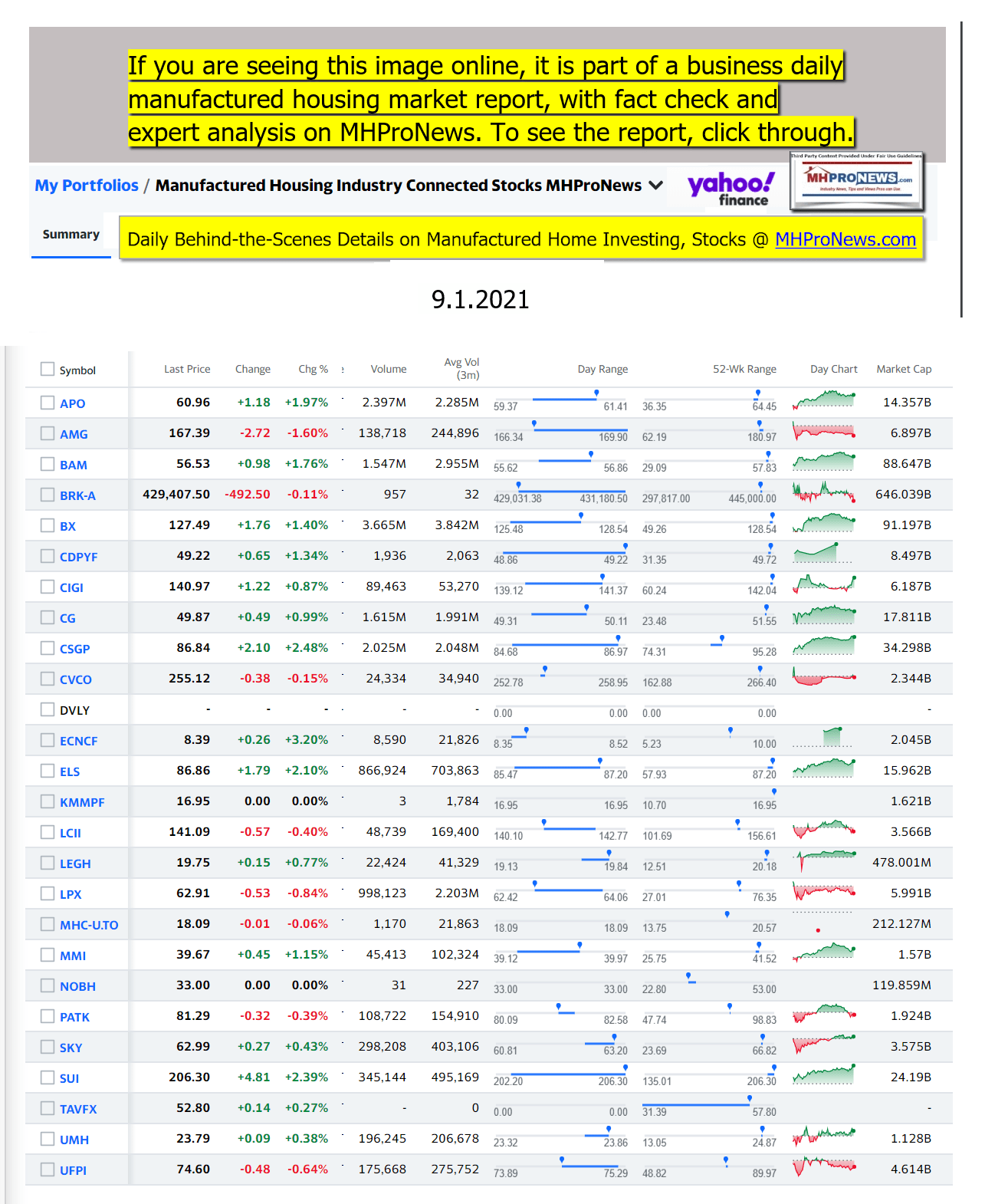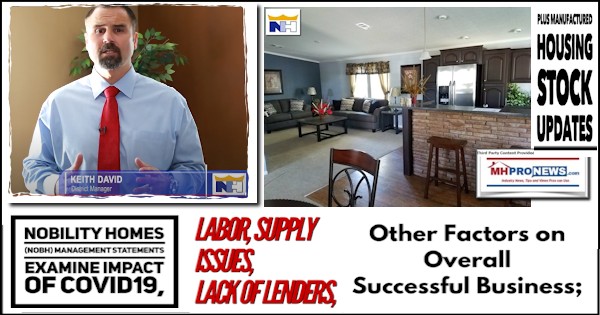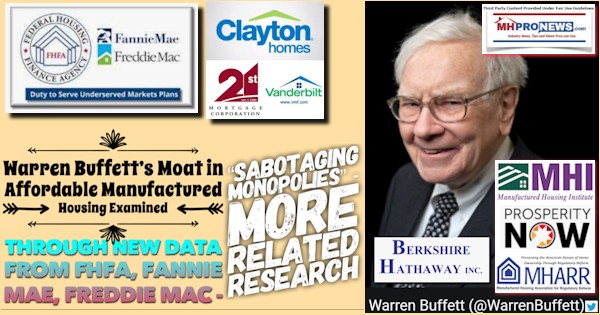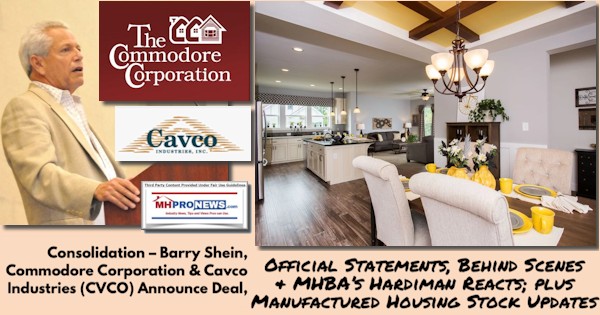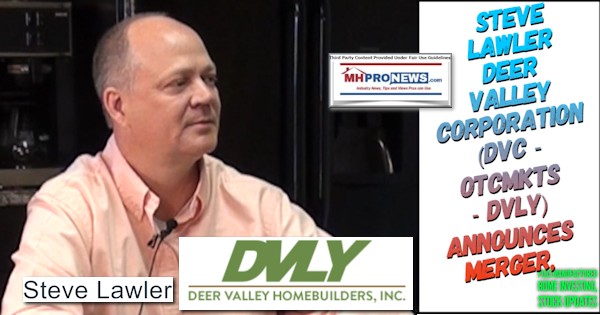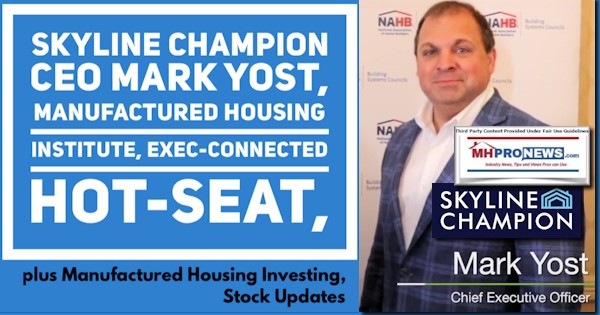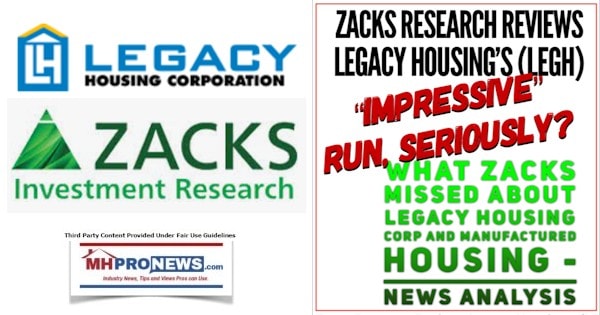 Summer 2021…
Berkshire Hathaway is the parent company to Clayton Homes, 21st Mortgage, Vanderbilt Mortgage and other factory built housing industry suppliers.
· LCI Industries, Patrick, UFPI, and LP each are suppliers to the manufactured housing industry, among others.
· AMG, CG, and TAVFX have investments in manufactured housing related businesses. For insights from third-parties and clients about our publisher, click here.
Enjoy these 'blast from the past' comments.
MHProNews. MHProNews – previously a.k.a. MHMSM.com – has celebrated our 11th year of publishing, and is starting our 12th year of serving the industry as the runaway most-read trade media.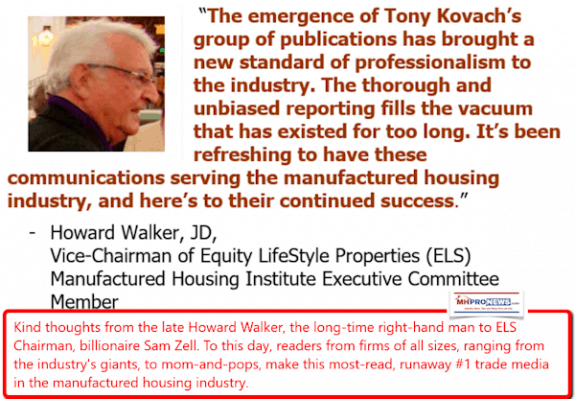 Sample Kudos over the years…
It is now 11+ years and counting…
Learn more about our evolutionary journey as the industry's leading trade media, at the report linked below.
· For expert manufactured housing business development or other professional services, click here.
· To sign up in seconds for our industry leading emailed headline news updates, click here.

Disclosure. MHProNews holds no positions in the stocks in this report.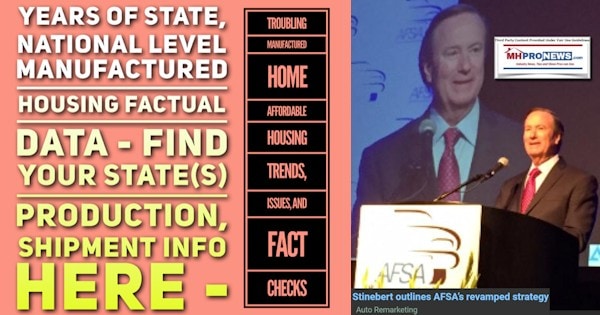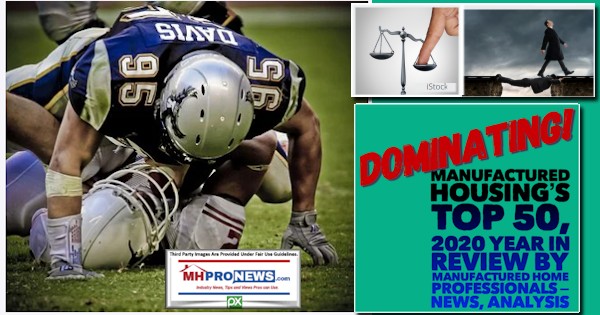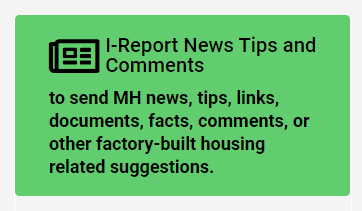 That's a wrap on this installment of "News Through the Lens of Manufactured Homes and Factory-Built Housing" © where "We Provide, You Decide." © (Affordable housing, manufactured homes, stock, investing, data, metrics, reports, fact-checks, analysis, and commentary. Third-party images or content are provided under fair use guidelines for media.) (See Related Reports, further below. Text/image boxes often are hot-linked to other reports that can be access by clicking on them.)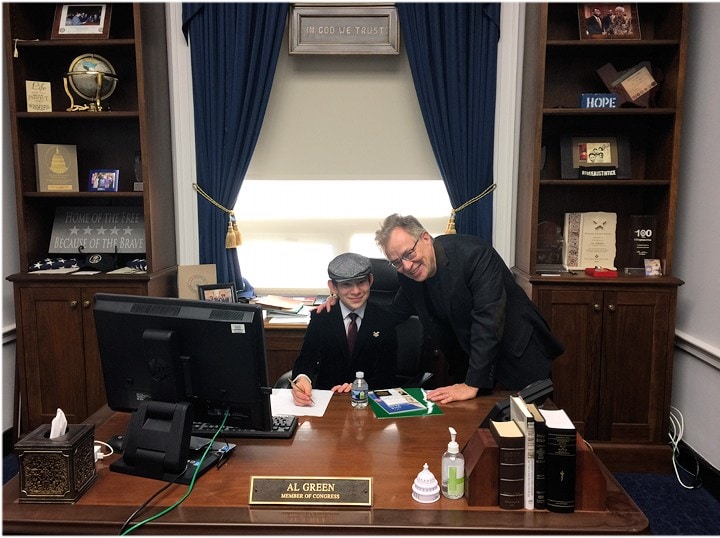 By L.A. "Tony" Kovach – for MHProNews.
Tony earned a journalism scholarship along with numerous awards in history. There have been several awards and honors and also recognition in manufactured housing. For example, he earned the prestigious Lottinville Award in history from the University of Oklahoma, where he studied history and business management. He's a managing member and co-founder of LifeStyle Factory Homes, LLC, the parent company to MHProNews, and MHLivingNews.com. This article reflects the LLC's and/or the writer's position, and may or may not reflect the views of sponsors or supporters.