As was reported in an exclusive news/analysis earlier this week, a corporate leader whose large firm is a member of the Manufactured Housing Institute (MHI) has accused the Arlington, VA based national trade group of not walking their talk. As a result, that informed source has forecast another manufactured housing "downturn." MHI in online, print, mailed, and federal testimony has repeatedly made claims that they represent "all segments" of manufactured housing. That's significant, because it may open the trade group – and possibly some members – up to a variety of actionable civil, regulatory, and/or criminal charges. At other times, MHI make a similar claim that they represent all segments of factory-built housing, or in other instances, manufactured and modular housing. As longtime readers of MHProNews know, the Modular Home Builders Association (MHBA) Executive Director Tom Hardiman publicly accused MHI of deceptive practices with respect to the Clayton Homes backed CrossModTM scheme.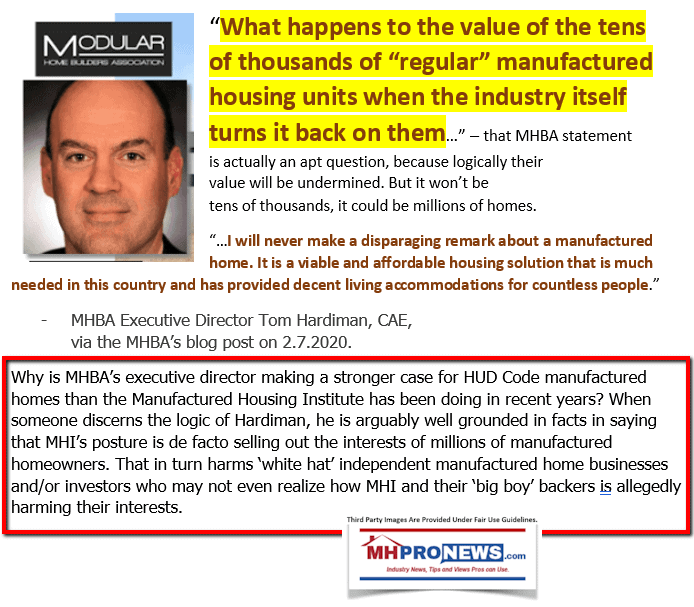 As the report linked below detailed, not only the most recent voice, but a variety of MHI members – both on and off the record – have made an array of statements that directly and indirectly point to years of MHI's apparent failures to do what they claim.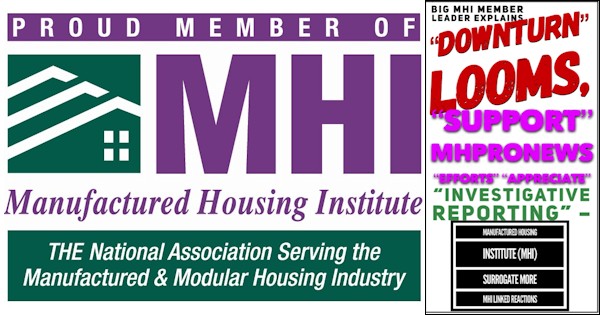 As MHProNews has exclusively reported with documents, MHI leaders have even made similar claims about working under penalties of perjury. Specifically, once a year for several years on end, MHI's president and CEO, in a document that MHI asserts is first reviewed by their board of directors, declares under 'penalties of perjury' that they work toward the following. "Improve the overall operating environment for the manufactured housing industry and expand the demand for manufactured homes by seeking fair and equitable treatment in the marketplace and regulatory and legislative arenas." The original is in all caps, as shown below.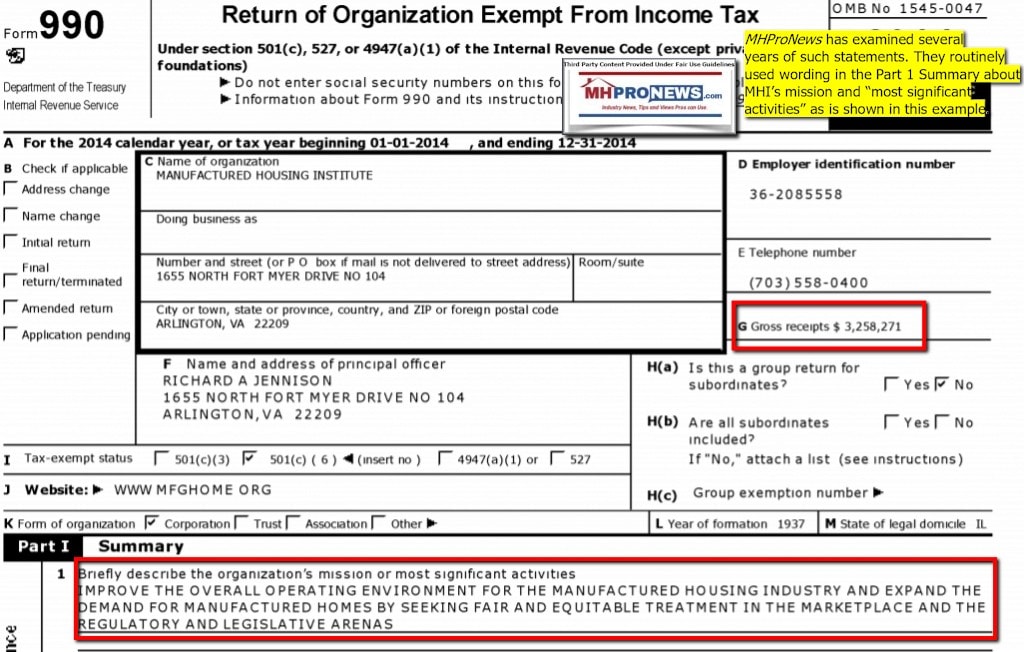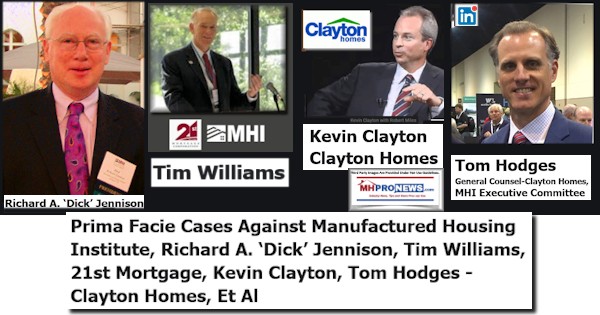 Against that backdrop, MHProNews once more made a documented effort to get MHI, their corporate and staff leaders, plus their attorneys to respond to the most recent, and obviously growing number of allegations against the trade group.  That body of that email is shown below.
from:
L. A. "Tony" Kovach for MHProNews
to:
David Goch @ WCB Law
"Hodges, Tom" @ Clayton Homes [MHI Chair, Clayton Corp. Counsel]
Lesli Gooch – MHI CEO
John Greiner @ Graydon Law
cc:
MHIgov@mfghome.org
bcc:
info@mfghome.org, […et al]
date:
Aug 10, 2021, 3:20 PM
subject:
MHI Attorneys and Leaders, request for comment on MHI corporate member Charge that another MH Industry Downturn looms Due to Inaction
David, Tom, Lesli, and John,
It should go without saying that manufactured housing industry professionals decide on their own what sources they read, and what articles they view on their devices and laptops. The periodically referenced data about industry trade publishers referenced here has gone unchallenged, so the prima facie case exists that the most read articles on MHProNews are also the most read in our profession's trade media. That noted, the latest data from third-party Webalizer and MailChimp indicate that the runaway most read article in the last 24 hours is the one linked below. In that report and analysis, a high-level Manufactured Housing Institute (MHI) member's corporate official has made serious allegations about MHI's failure to advance the industry's core zoning, placement, financing, and other industry growth related issues.
More specifically, that professional says that a new "downturn" looms because of that failure of the industry to address its core issues.
https://www.manufacturedhomepronews.com/big-mhi-member-leader-explains-downturn-looms-support-mhpronews-efforts-appreciate-investigative-reporting/
MHProNews want to hereby provide you with an opportunity to respond to those evidence-based allegations noted above. As you likely recall, based on prior declarations on MHI's behalf by attorneys David Goch and John Greiner, the statement has been repeatedly made that MHI monitors publications in general, and MHProNews in particular.
For clarity on the role of media: according to the American Press Institute website, "the purpose and importance of journalism is to inform society with the information they need to live their lives…"
Stanford University, citing the "Press Complaints Commission, which regulates British print media," defines the public interest as "serving the three core functions of journalism:"
"(i) Detecting or exposing crime or a serious misdemeanour.
(ii) Protecting public health and safety.
(iii) Preventing the public from being misled by some statement or action of an individual or organisation."
MHProNews takes the traditional role of independent media as exposing corruption and holding the powerful to account seriously. While others may have abandoned, if they ever seriously embraced that calling, demonstrably not so at MHProNews and our MHLivingNews sister site.
There are allegations as well as evidence that MHI and its dominating corporate brands have attempted to forge an echo chamber that mimics the Institute's 'party line.'
Q1) Isn't it demonstrably true that other trade media in our profession have apparently taken the position that they are de facto surrogates and mouthpieces for MHI and the association's corporate overlords?
Please respond to the above and the inquiry below. There are no word limits. A timely emailed response will enhance our mutual accuracy in handling and communications. As these are documented to be longstanding concerns that MHI has publicly ducked for years, you should surely know how to answer them by now in a timely fashion, correct?
Q2) "Soon the industry will have a downturn for a variety of reasons and the non committed will suffer, maybe even fail." "I'm still convinced that an integrated approach to our industry, including finance and development, is paramount to our industry's viability.  But….. no one [at MHI] is walking the walk." Again, for the fuller context and to demonstrate that this is but one of many on and off the record comments like it, please see the apparently most-read report in our industry, linked here and reply.
To frame the next inquiry, the following quotes are from a letter from attorney Goch, acting on behalf of MHI. Goch said the following in an letter to Spencer Roane. The typo below is in the original letter (we get typos too).
"As you are aware from your years of participation, MHI is the nation's leading trade organization representing all segments of the factory built housing industry. By virtue of that definition, it is understood MHI represents a broad spectrum on business interests within the industry (e.g., business, size, geography, business models, etc.) and that this diverse membership will often express a wide range of views on issues and Institute activity. MHI, in fact, seeks out all points of view on industry issues anticipating they will contribute to the discussion and ultimately the most favorable, widely supported outcomes."
"In conclusion, MHI/ NCC will continue to work for the best interest of the industry inviting comments, the occasional contentious debate, pursuing the goal of productive meetings and measurable success."
"Notwithstanding the foregoing, however, MHI's most valuable asset is its name and reputation. Over the years, MHI has diligently worked to serve the industry and establish significant good will within its membership, the industry at-large, as well as with the government and the consumers the membership serves. MHI actively monitors and proactively addresses any attempts by third parties who wrongfully disparage the organization. Therefore, to the extent any third party communicates (orally, in writing, electronically) untrue, false, fabricated deleterious statements regarding MHI, the Institute is firmly committed to pursue every legal remedy available to preserve the reputation it has worked so hard to establish and maintain. This includes statements made from its membership as well."
For years, MHI has said in their emails that: "If you have any questions, please contact MHI's Government Affairs Department at 703-229-6208 or MHIgov@mfghome.org" or similarly to contact "info@mfghome.org." But as you four MHI leaders/outside counsel should know, MHI has failed to respond to numerous inquiries that have repeatedly been documented by MHProNews, in part by BCC copying other MHI members and affiliates. Similarly, David Goch in the letter linked here from which the pull quotes above were drawn, "If you have any questions regarding this foregoing, please feel free to contact me." But those outreaches have gone unanswered.
As was documented at this link here, your own MHI members and affiliates have said that the zoning placement issues have gotten worse.
Q3) Do you not feel a need to publicly respond to that and other charges of "MHI in Action" – ?
Additionally, former MHI VP and MHARR's founding president and CEO, Danny Ghorbani laid out in his methodical statement to MHProNews that MHI must act on the zoning and placement issue.
https://www.manufacturedhomepronews.com/ghorbani-nails-zoning-answers-to-how-and-who/
Logically, Goch's letter to Roane reflects several possibilities.
A)Goch believes what he wrote to be true. But based on the time and evidence since then, Goch may or may not believe that to be true today.
B)Goch was merely posturing, paltering, and saber rattling on behalf of his client, MHI. Some mix of these are also possible.
C)But if Goch and MHI are sincere, then
"…MHI represents a broad spectrum on business interests within the industry…"
"MHI, in fact, seeks out all points of view on industry issues anticipating they will contribute to the discussion…"
"…ultimately the [discussion/debate will lead to the] most favorable, widely supported outcomes."
But routine attendees at MHI meetings, such as Doug Ryan with CFED/Prosperity have publicly alleged that MHI is working on behalf of Clayton Homes and their affiliated lending to suppress low-cost alternatives.
To Ryan's point, the history of published comments from Warren Buffett, Kevin Clayton, and Tom Hodges directly and indirectly appear to support his concerns.
https://www.manufacturedhomepronews.com/masthead/bat-guano-the-government-wants-high-quality-low-cost-housing-and-manufactured-housing-provides-that-product-warren-buffett-per-manufactured-housing-institute-examini/
You know the drill. Please email your responses and reactions for our mutual accuracy in communications and to facilitate the most accurate possible information for our readers. Please place those responses under the inquiry or item you are reacting or responding to for our mutual clarity. If you wish to respond to previously raised published concerns, please feel free to do so.
In conclusion to this MHProNews request for comments, it should go without saying that most independents in our profession – part of the "all segments" of the industry that MHI claims to represent – do not want another downturn. It is worth mentioning that the other hot read is the one linked here, where Sun Communities' CEO Gary Shiffman says the RV industry is poised to have its best year on record. Then why is it that manufactured housing – during an affordable housing crisis – is still operating at only about 30 percent of its last peak in 1998? Do tell.
Thank you.
Tony
PS: several of your members and affiliates are among the BCCs.
———- Forwarded message ———
From: MHProNews – Cavco. MHI Corp-"Downturn" Ahead. MHARR v MHI Costly DOE MH Energy Rule. Legal.
## [Links to recent articles were provided to MHI for their comments.] ##

As was previously reported – and was unpacked in detail at this link here – an large MHI member corporate official weighed in on what he said were the reasons for a coming "downturn" in manufactured housing. A follow up to an element in the below will be a new item in this evolving report.
That corporate leader said he and others "support your efforts and appreciate your [MHProNews] investigative reporting.  Soon the industry will have a downturn for a variety of reasons and the non committed will suffer, maybe even fail."
That well placed and highly informed source added that "I'm still convinced that an integrated approach to our industry, including finance and development, is paramount to our industry's viability.  But….. no one [at MHI] is walking the walk. With FHA financing increasing of late, maybe we can make the turn."
When asked to elaborate by MHProNews about the FHA comment, that source clarified that there are those in the industry who are increasingly turning to FHA land home loans, which over longer terms and lower interest rates. Rephrased, it wasn't FHA Title I financing that he spoke about, it was FHA Title II use that is increasing among some industry retailers.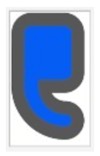 Its best if doom and gloom is not attributed to me.
On the downside:
The percentage of Americans choosing manufactured housing over alternatives continues to decline.
US population is not growing, especially among the 200% of poverty level that traditionally feeds our market.
With increased prices, increased space rent, increased insurance costs (without much improvement in financing rates), our monthly-payment advantage over alternative housing choices has significantly narrowed.
The $15-25k housing credit has so far been stymied by Congress.
Inventories at retail centers are growing.
…
On the positive side:
The housing credit may go through, benefiting our market.
FHA financing is growing for our product
…
Effective minimum wage is now high enough that two-earner households can easily budget for our products.
I'd give it a 70% chance that backlogs will be absorbed in about a year.
Meaning we will peak out at about 120,000 rate, after which we will see declining production." ##
The complete context, report and defensive response by an apparent MHI surrogate is linked above and here.
One of Several Takeaways from MHI Member Corporate Source
There are numerous items worth examining in this MHI corporate insider's take, shown above. MHProNews will focus on just one more at this time. It is this. While MHI claimed for some years to be 'promoting' manufactured housing, the statement that "The percentage of Americans choosing manufactured housing over alternatives continues to decline" speaks volumes. MHProNews/MHLivingNews have stood essentially alone in trade media highlighting that concern, based upon Zillow's third party research.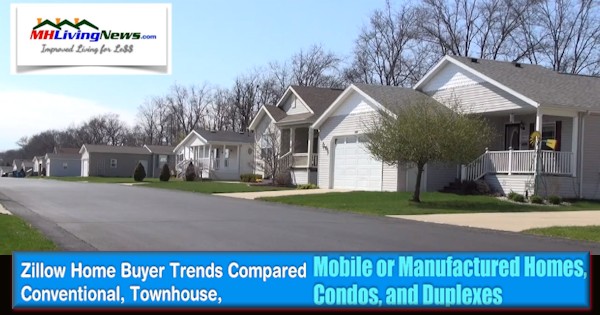 Zillow has 'no dog in the hunt' when it comes to manufactured housing. So their third-party research is but one of several reasons to recognize that whatever MHI has been doing has not worked for several years, based upon hard data and other's research. Indeed, to the point that MHBA's Hardiman hit (referenced above, here, and linked again here)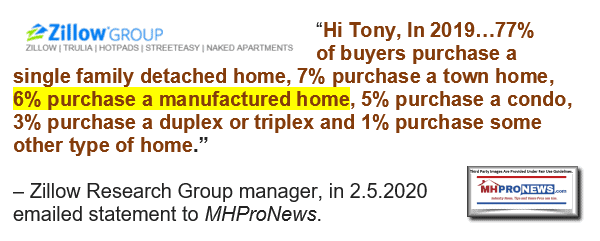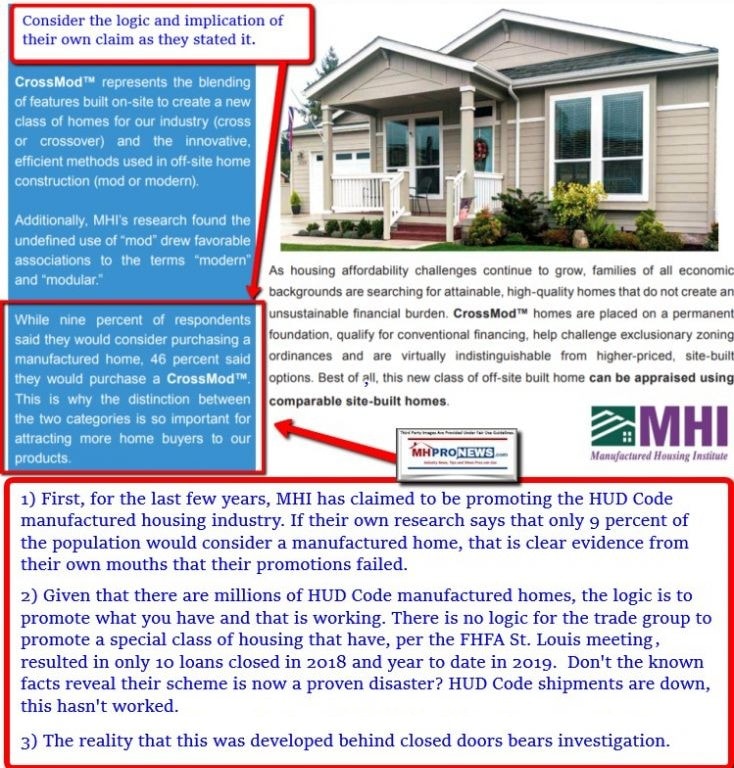 About the Mocked (Parody) MHI Logo and the Fair Use Law –
According to the David Lizerbram law firm, the following.
How Does the Law Treat Parodies and Satires?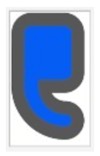 In Campbell v. Acuff-Rose Music, Inc., the Supreme Court ruled in favor of the rap group 2 Live Crew when they were sued by the owners of the copyright for Roy Orbison's song "Oh, Pretty Woman." 2 Live Crew had recorded a…colorful…interpretation of the song. The Court determined that this parody was protected under the Fair Use doctrine because the original work was transformed. As a result, parodies are entitled to strong First Amendment protection.
The Copyright Alliance says similarly. "Section 107 of the Copyright Act is the section that provides for fair use, a doctrine which allows certain actions which otherwise would amount to copyright infringement. The Section lists several examples of fair use, including uses of copyrighted works "for purposes such as criticism [or] comment." Parody, they said, clearly falls into that category, and satire often does too.
As the Supreme Court explained in Campbell v. Acuff-Rose Music, Inc., "Parody needs to mimic an original to make its point, and so has some claim to use the creation of its victim's (or collective victims') imagination, whereas satire can stand on its own two feet and so requires justification for the very act of borrowing."
MHI can't have it both ways – Analysis, More Commentary
A). MHI claimed, via their outside attorney David Goch's statement, to want industry input and to be open to discussion and debate. But the experiences documented below and other examples reveals otherwise.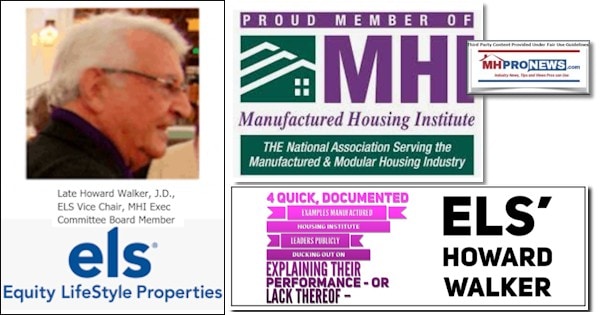 B). If they are truly trying to grow the market, then they have proven to be a dismal failure, based on production and shipment data. Further, formal comments from MHI supporters such as OMHA's Elizabeth Birch, J.D. about the "viability" and "perception" of the industry only makes MHI's posturing and self-praise about their effectiveness all the more troubling. Effective for whom? Consolidators?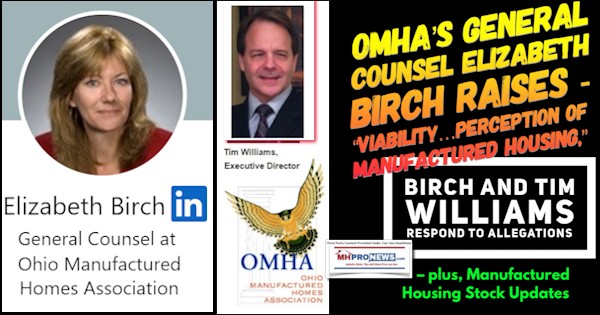 C). The fact that several MHI corporate members have made statements that make it clear that they are fine with the status quo only further illustrates the evidence-based reasons why their claims for working to grow the industry are proving to be empty words.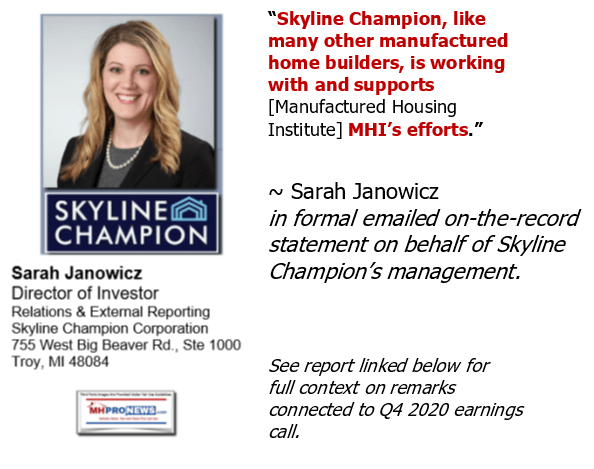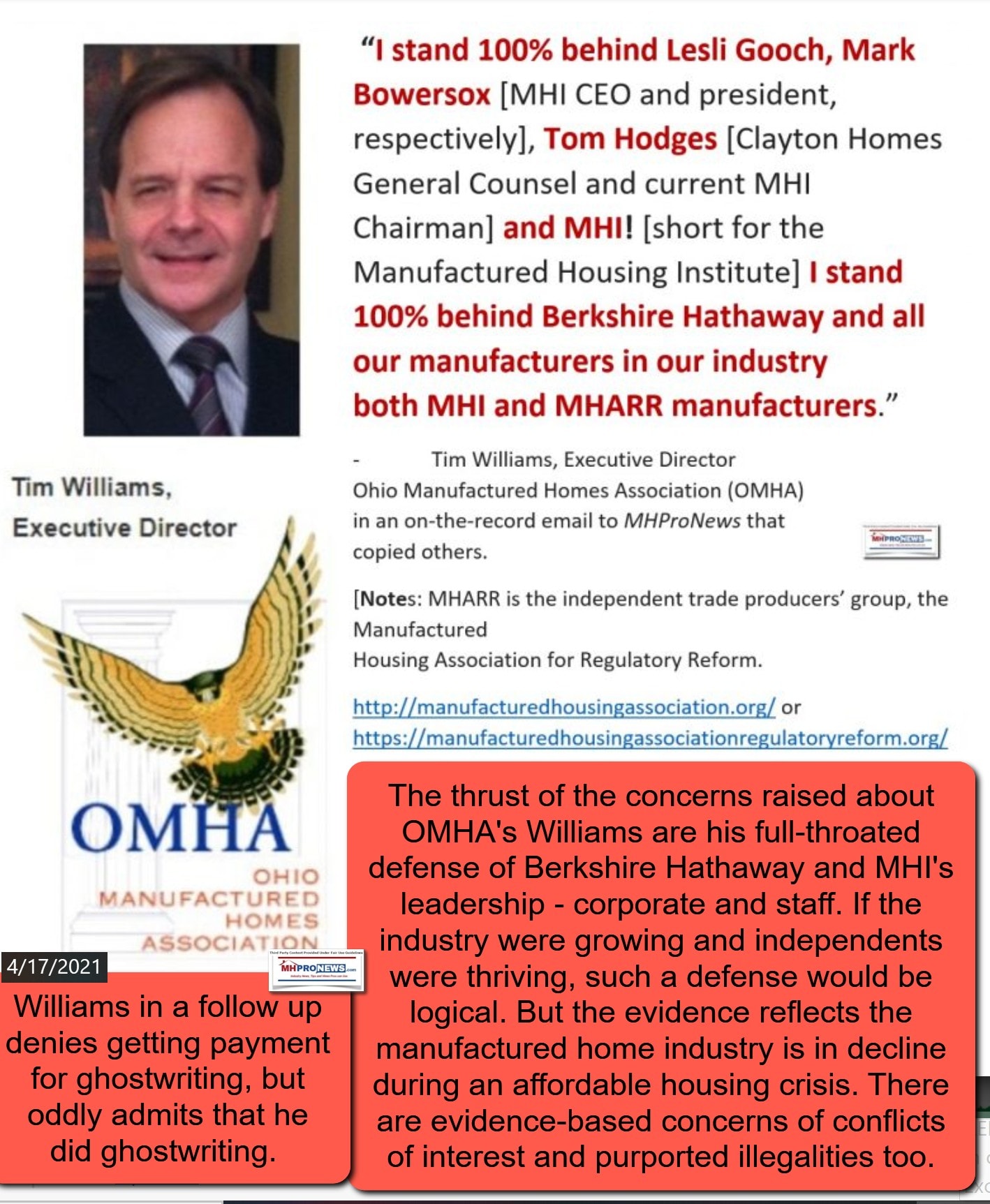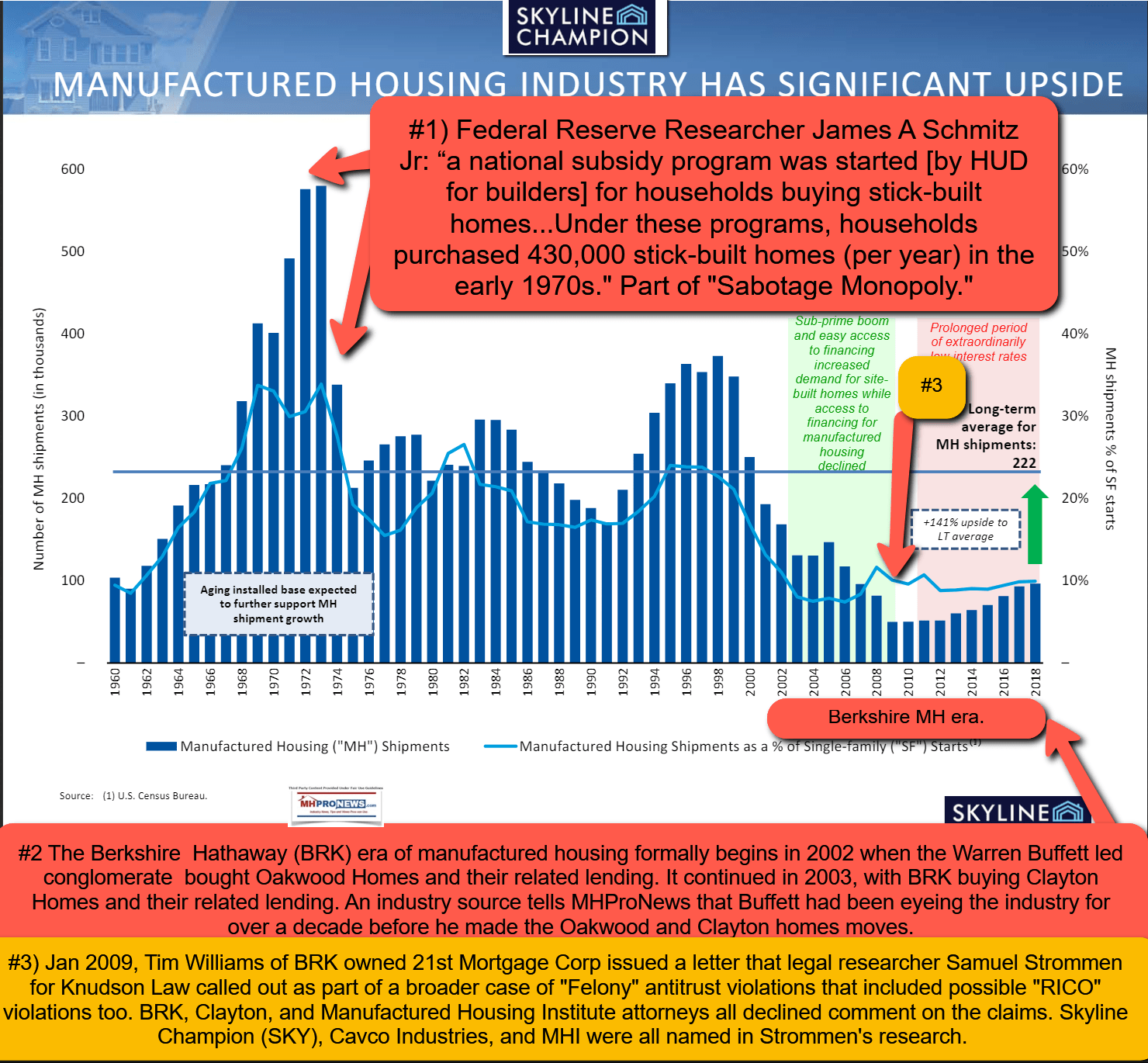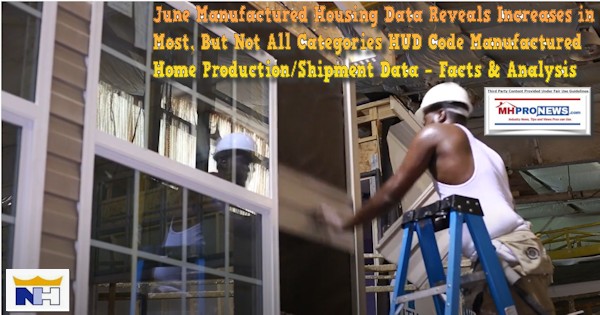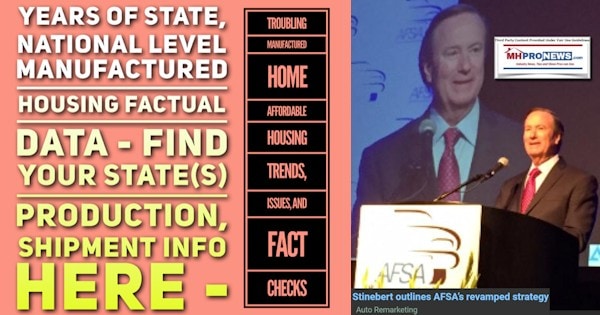 D). What the status quo does is foster consolidation, not industry growth.  As MHI award winner Marty Lavin, and the late Democratic Senator William Proxmire reflect, there are no coincidences.  Years of self-promotion by MHI and their corporate backers routinely point in one direction. Consolidation.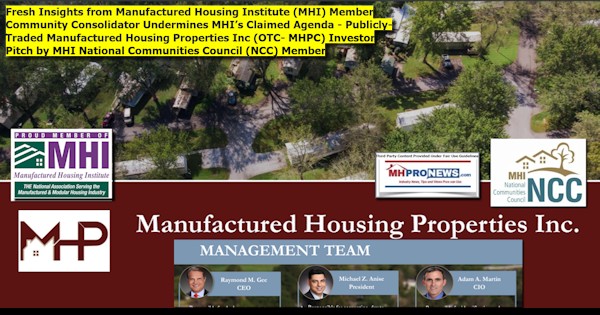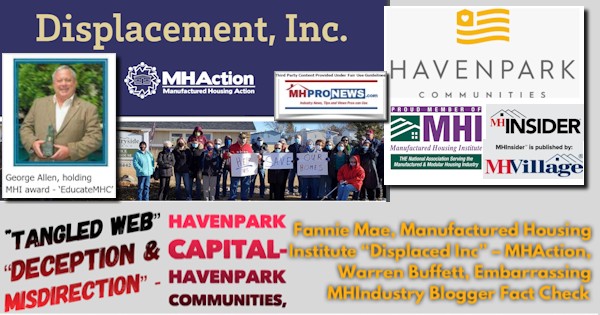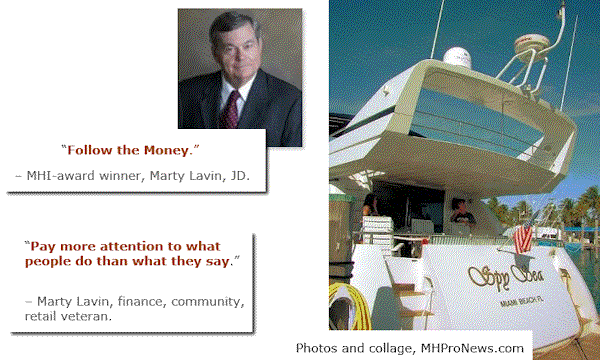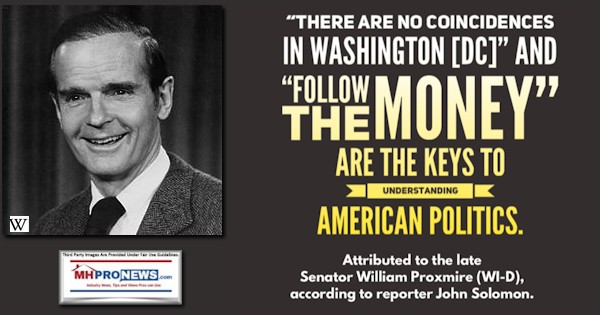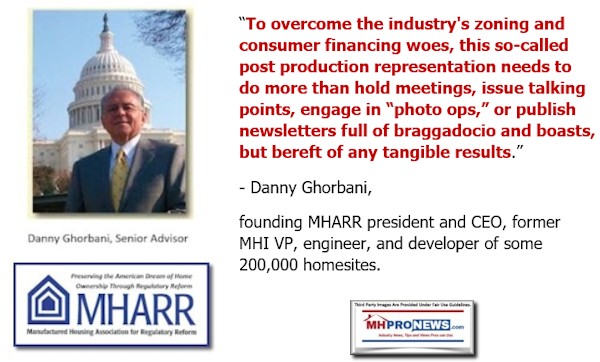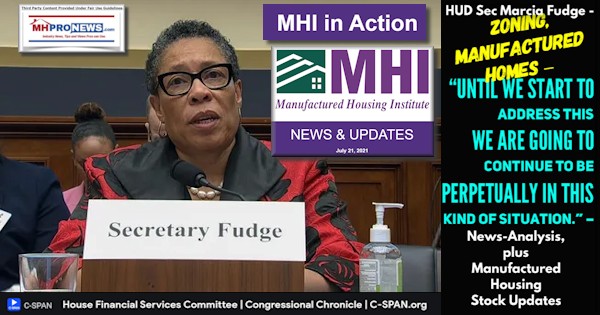 E). IF MHI fails to address the issues noted herein, then it only fosters the concerns that they are apparently manipulating the market in a fashion that is de facto monopolistic in favor of a few favored brands.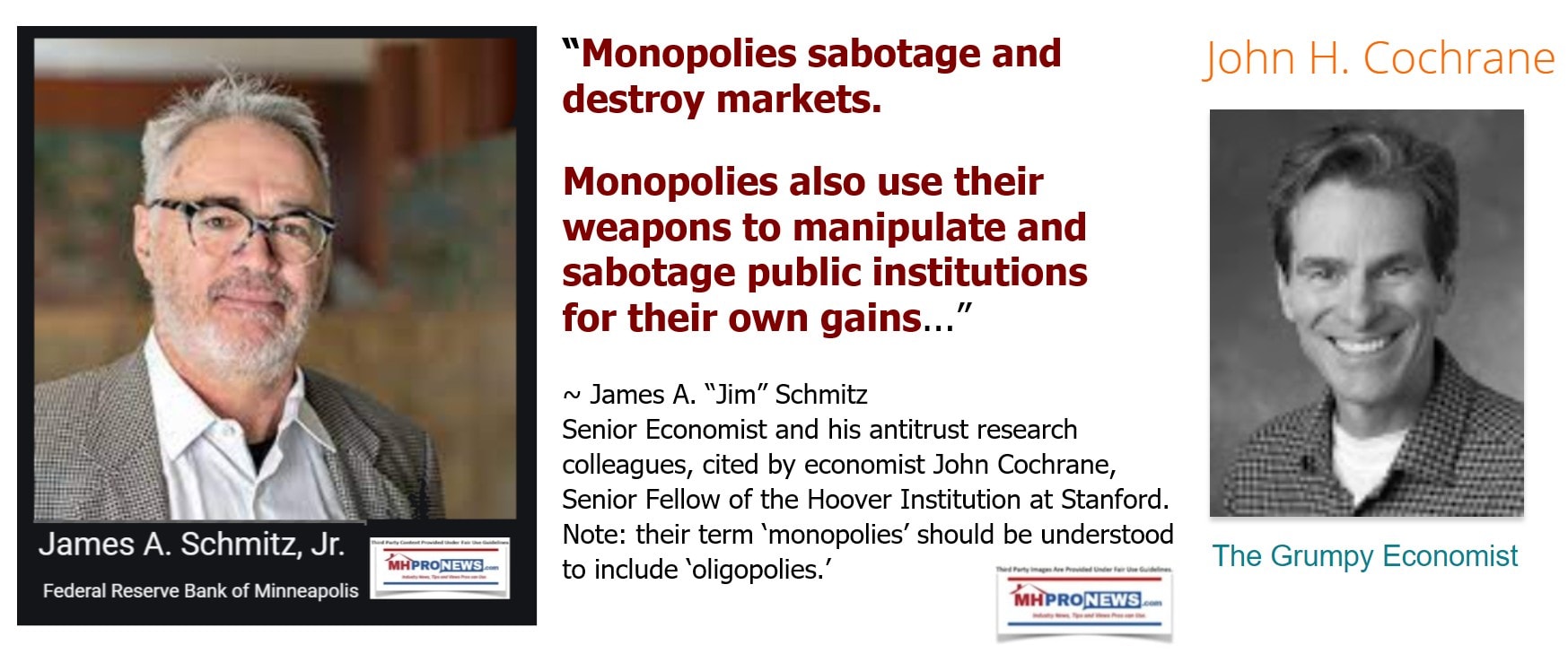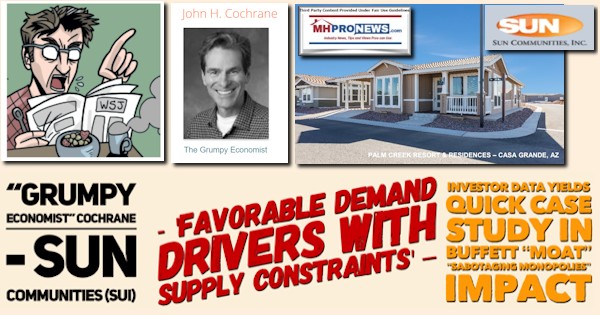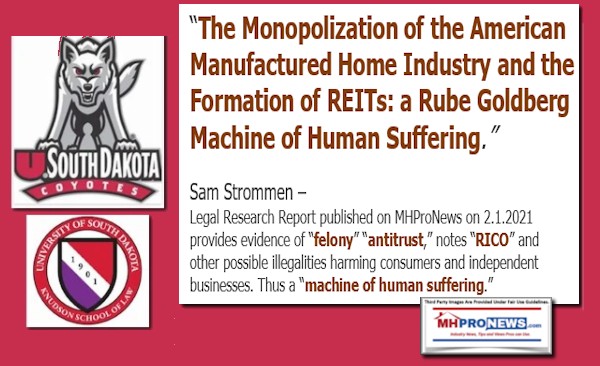 ###
Next up is our business daily recap of yesterday evening's market report and related left-right headlines.
The Business Daily Manufactured Home Industry Connected Stock Market Updates.  Plus, Market Moving Left (CNN) – Right (Newsmax) Headlines Snapshot. While the layout of this daily business report has recently been modified, several elements of the basic concepts used previously are still the same. The headlines that follow below can be reviewed at a glance to save time while providing insights across the left-right media divide. Additionally, those headlines often provide clues as to possible 'market-moving' items.
Market Indicator Closing Summaries – Yahoo Finance Closing Tickers on MHProNews…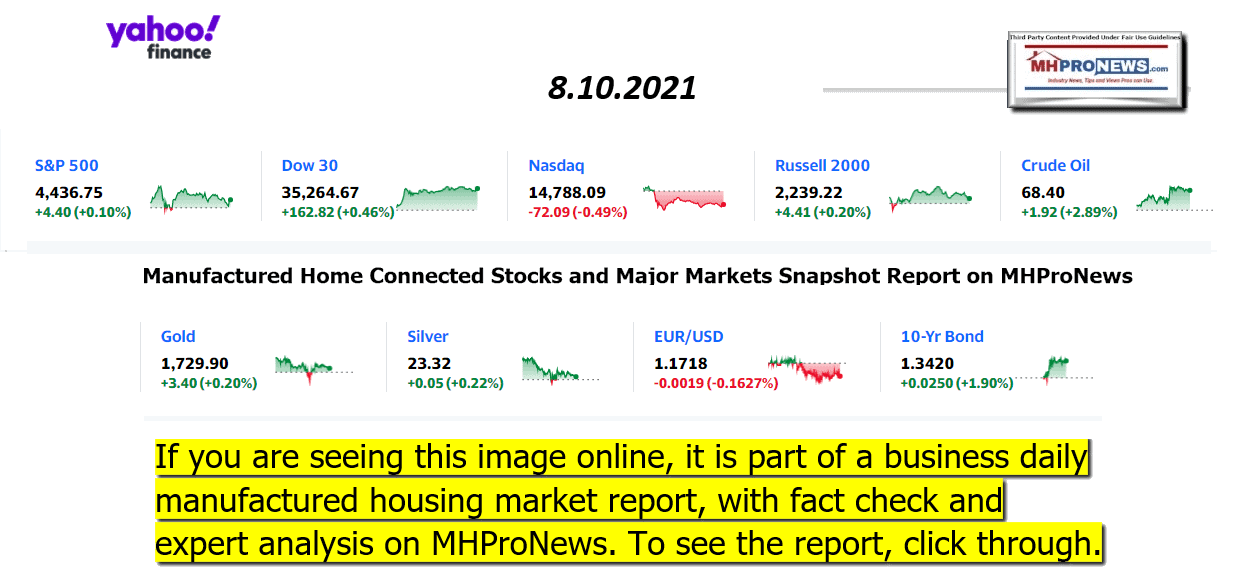 Headlines from left-of-center CNN Business = evening of 8.10.2021 
Roaring back to life
Baiju Bhatt, left, and Vladimir Tenev, Co-Founders of Robinhood, walk on Wall Street following their company's IPO at Nasdaq, Thursday, July 29, 2021 in New York.
Robinhood investors may have the last laugh after its lackluster IPO
Tesla sales cratered in China, but investors don't seem to mind
Another big bank is mandating vaccines
Eviction moratoriums aren't enough to rescue millions of Americans behind on rent
Opinion: Too many American communities are falling behind. We have a solution
Amazon will pay $1,000 in damages for dangerous items sold on its site
Inflation wiped out America's pay raises
This is a first: The US has 10 million job openings
You might be able to retire earlier than you think. Here's how
Want a more flexible work schedule? Here's how to ask for it
'Vaccine passports' are taking off. How to prove your Covid-19 vaccination status on your phone
Former Central Park Five prosecutor can sue Netflix for defamation, judge rules
Twitter suspends Marjorie Taylor Greene's account for one week
October 26, 2020, Georgia: Voters are shown where to insert their unique voter card in order to start voting on this Dominion ballot marking device. After finishing voting, the results are printed on the printer next to the voting machine.
Dominion Voting Systems sues Newsmax and One America News for 'barrage of lies' targeting the company
A general view of Poolbeg incinerator in Dublin after eleven workers were taken to hospital following an uncontrolled discharge, on June 8, 2017. Covanta, the company which runs the recently opened waste-to-energy plant, said scaffolders were working inside the facility when the incident happened shortly before 11pm on Wednesday. See PA story ENERGY Incinerator Ireland.
Meaningful ways individuals can put pressure on corporations to solve the climate crisis
The Boston Beer Company and PepsiCo today announced plans to enter a business collaboration to produce HARD MTN DEW alcoholic beverage. The partnership unites Boston Beer's world-class innovation and expertise in alcoholic beverages with one of PepsiCo's most iconic and beloved brands.
Boozy Mountain Dew is coming in 3 flavors
Headlines from right-of-center Newsmax – evening of 8.10.2021
NY AG James: Cuomo Resignation 'Important Step Towards Justice'
"Today closes a sad chapter for all of New York, but it's an important step towards justice," James said on Tuesday, following Cuomo's announcement he would step aside amid sex misconduct allegations. [Full Story]
Related Stories
A Sampling of Reactions to Cuomo's Resignation
Andrew Cuomo Resigns New York Governorship
Gov. Hochul, Others Laud Cuomo's Resignation Decision
Cuomo's Low-Profile Successor Kathy Hochul Set to Be Trailblazer
Cuomo's Behavior, Spite Evident for Years
Newsmax TV
McCaughey, Van Drew: Cuomo Nursing Home Probe Must Go On
Marshall: Infrastructure Bill 'Gateway Drug to Socialism' |
Rep. Hoffman: Border Situation 'Incredibly Bad' |
Don Jr.: 'Rules Are Not for the Elite' Dems |
Jha: Not Some 'Crazy Idea' to Mandate Vaccines |
Tony Gonzales: 'Military Being Politicized' |
Rob Wittman: Science Doesn't Support Masking Children |
Bob Gibbs: Biden Should Be Impeached Over Eviction, Border |
More Newsmax TV
Newsfront
Senate OKs $1T Infrastructure Bill, 69-30
The U.S. Senate on Tuesday passed a $1 trillion infrastructure package that is a top priority for U.S. President Joe Biden, a bipartisan victory that could provide the nation's biggest investment in decades in roads, bridges, airports and waterways…. [Full Story]
Related Stories
Senate Democrats Open Debate on $3.5 Trillion Budget Plan
Biggs Files Articles of Impeachment Against Mayorkas
Andy Biggs filed articles of impeachment against Homeland [Full Story]
US Postal Service Proposes Some Temporary Holiday Shipping Price Hikes
The United States Postal Service (USPS) said on Tuesday it is [Full Story]
Dominion Sues Newsmax for Reporting on Election Claim
Dominion Voting Systems sued Newsmax and several others on Tuesday, [Full Story]
Biden Accuser Tara Reade Calls for 'Real Investigation'
After New York Democrat Gov. Andrew Cuomo stepped down Tuesday, Tara [Full Story]
Kemp: Crime 'Most Significant Threat' to Georgia Future
Brian Kemp is telling business leaders that crime is "the most [Full Story]
Cuomo's Low-Profile Successor Kathy Hochul Set to Be Trailblazer
Though she's long played the good soldier and stood in the shadow of [Full Story] |
Workers Quit at Historic Rates as Demand For Labor Strong
Many companies are boosting salaries in order to recruit workers as [Full Story]
Olympic Ratings Plummet, Americans 'Fatigued Over Woke Athletes'
Despite topping the medal count in total golds and overall, American [Full Story] |
Depression, Anxiety Rates Among Youth Climbing Worldwide
Depression, Anxiety Rates Among Youth Climbing Worldwide
If you think the pandemic hasn't taken a toll on the mental health of [Full Story]
Fleeing Fighting in North, Afghans Crowd into Kabul's Parks
Tens of thousands of people have fled their homes in northern [Full Story]
Queen Guitarist Calls Eric Clapton, Other Anti-Vaxxers 'Fruitcakes'
Queen guitarist Brian May is calling out anti-vaxxers like Eric [Full Story]
Chinese, Russian Militaries Hold Drills in Northwest China
Chinese and Russian troops have engaged in joint exercises in [Full Story]
Former Surgeon General Slams 'Unconscionable' Bans on School Mask Mandates
Former U.S. Surgeon General Jerome Adams on Tuesday during an [Full Story]
Christina Applegate Reveals Multiple Sclerosis Diagnosis
Christina Applegate has multiple sclerosis. The actress revealed that [Full Story]
McLaughlin Poll: Biden Sliding Fast on Optimism, Public Support
The majority of likely voters, or 53%, say that the country is headed [Full Story]
Quentin Tarantino Vowed as a Kid to Never Give His Mother a 'Penny'
Quentin Tarantino is opening up about his strained relationship with [Full Story]
NSA Grants $10B Cloud Computing Contract to Amazon
Amazon Web Services recently won a secret government cloud computing [Full Story]
Rasmussen Poll: Voters Reject Defund Police Demand
Voters strongly reject the latest demand from a progressive [Full Story]
Twitter Again Suspends Marjorie Taylor Greene's Account
Marjorie Taylor Greene's Twitter account has been suspended for [Full Story]
Stephen Colbert Confirms He Was 'Scaled' From Obama Party
Stephen Colbert has confirmed that he was one of the guests to be [Full Story]
Chicago Police Officers Turn Backs On Mayor After Cop Shootings
More than two dozen Chicago police officers turned their backs on [Full Story]
Harlem Hellfighters Awarded Congressional Gold Medal for Valor
The Senate has passed the Harlem Hellfighters Congressional Gold [Full Story]
Wisconsin Governor Vetoes GOP Bills to Restrict Absentees
Wisconsin Gov. Tony Evers vetoed a series of bills Tuesday passed by [Full Story]
Texas House Dems Bicker as Some Who Decamped to DC Return to Austin
Texas state House Democrats bickered as a few returned to Austin [Full Story]
Trump Again Slams 'Overrated' McConnell for Giving Biden Infrastructure Victory
Former President Donald Trump on Tuesday again blasted "overrated" [Full Story]
Suozzi, Gottheimer Push for SALT Deduction Return
A major push by a group of U.S. lawmakers to secure an expansion of [Full Story]
Texas Gov. Abbott Appeals for Out-of-State Help Against COVID
Greg Abbott appealed for out-of-state help Monday to fight the [Full Story]
Russia Opens Criminal Case Against Navalny Allies for 'Extremist' Fundraising
Russia has opened a criminal investigation into two exiled allies of [Full Story]
CIA Chief Visits Israel Amid Iran Tensions
Central Intelligence Agency chief William Burns was due in Israel [Full Story]
More Newsfront
Finance
US Added 943,000 Jobs in July; Unemployment Rate Drops to 5.4%
Hiring surged in July as American employers added 943,000 jobs. The unemployment rate dropped to 5.4% another sign that the U.S. economy continues to bounce back with surprising vigor from last year's coronavirus shutdown. [Full Story]
Mounting Delta Variant Risks Halt Gold's Slide
EXPLAINER: How Cryptocurrency Fits into Infrastructure Bill
PayPal's Venmo Allows Credit Cardholders to Buy Crypto with Cashback
Robinhood to Buy Shareholder-Communications Company for $140M
More Finance
Health
Pandemic Has Depression, Anxiety Rates Among Youth Climbing Worldwide
If you think the pandemic hasn't taken a toll on the mental health of young people, ponder these two facts from a new review: one in four are suffering from depression, while one in five are struggling with anxiety. "Being socially isolated, kept away from their friends,… [Full Story]
Excess Sugar Intake Linked to Dementia
US to Send 8.5 Million Doses of COVID-19 Vaccine to Mexico
How a Doctor's Presence May Alter Blood Pressure Readings
New Study Reveals Surprising Facts on Pandemic Family Bonding
Manufactured Housing Industry Investments Connected Equities Closing Tickers
Some of these firms invest in manufactured housing, or are otherwise connected, but may do other forms of investing or business activities too.
NOTE: The chart below includes the Canadian stock, ECN, which purchased Triad Financial Services, a manufactured home industry lender
NOTE: Drew changed its name and trading symbol at the end of 2016 to Lippert (LCII).
NOTE: Deer Valley was largely taken private, say company insiders in a message to MHProNews on 12.15.2020, but there are still some outstanding shares of  the stock from the days when it was a publicly traded firm.  Thus, there is still periodic activity on DVLY.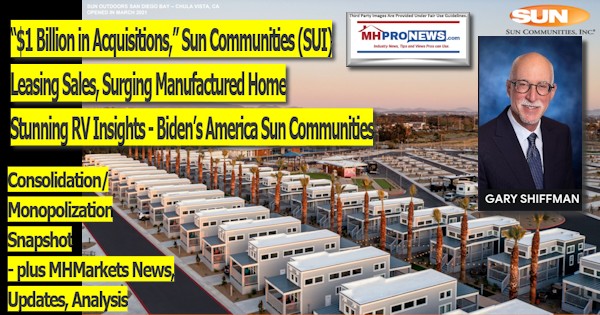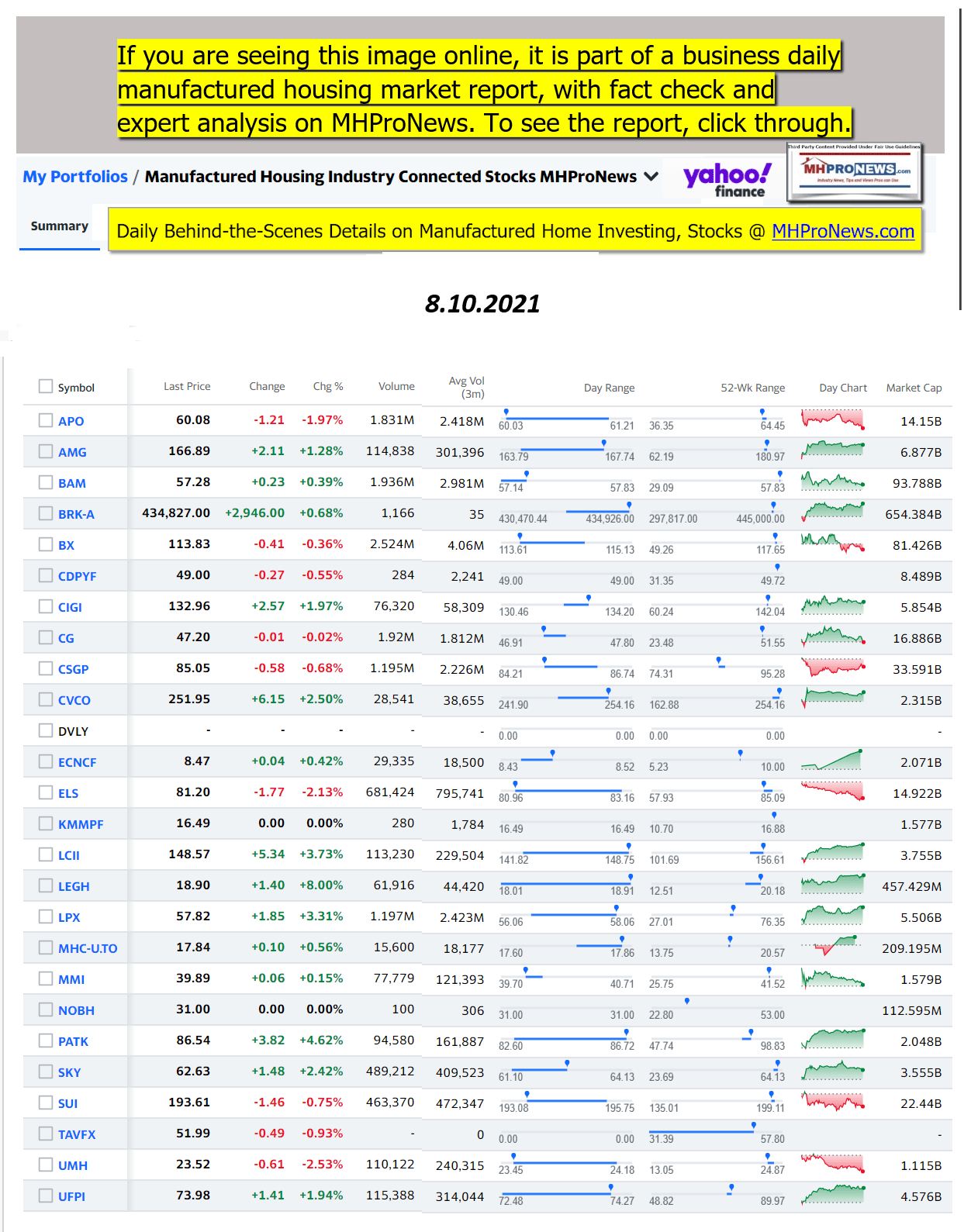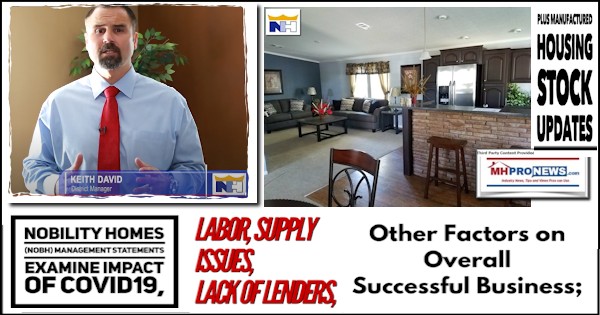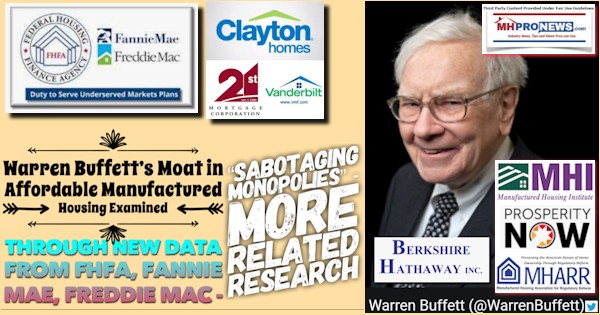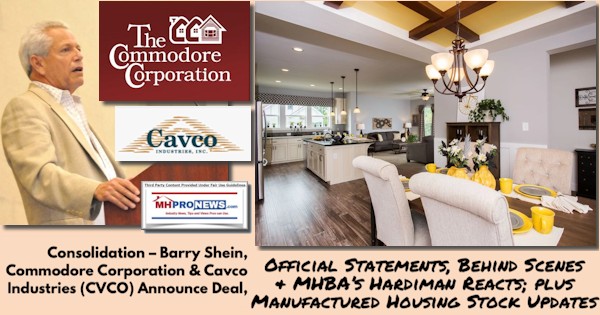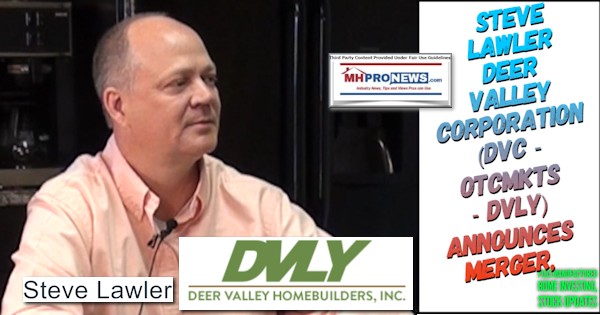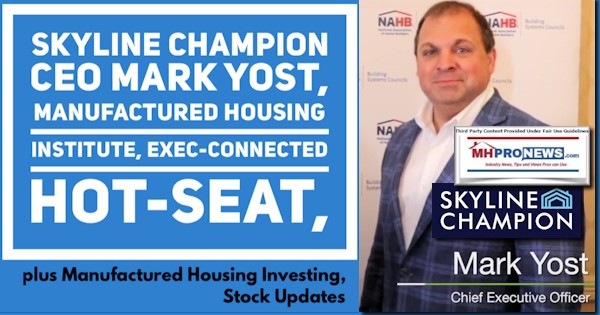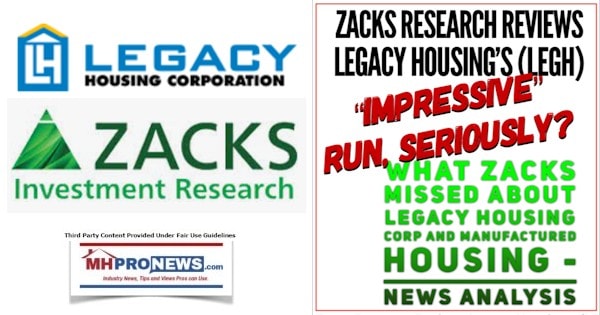 Summer 2021…
Berkshire Hathaway is the parent company to Clayton Homes, 21st Mortgage, Vanderbilt Mortgage and other factory built housing industry suppliers.
· LCI Industries, Patrick, UFPI, and LP each are suppliers to the manufactured housing industry, among others.
· AMG, CG, and TAVFX have investments in manufactured housing related businesses. For insights from third-parties and clients about our publisher, click here.
Enjoy these 'blast from the past' comments.
MHProNews. MHProNews – previously a.k.a. MHMSM.com – has celebrated our 11th year of publishing, and is starting our 12th year of serving the industry as the runaway most-read trade media.
Sample Kudos over the years…
It is now 11+ years and counting…
Learn more about our evolutionary journey as the industry's leading trade media, at the report linked below.
· For expert manufactured housing business development or other professional services, click here.
· To sign up in seconds for our industry leading emailed headline news updates, click here.

Disclosure. MHProNews holds no positions in the stocks in this report.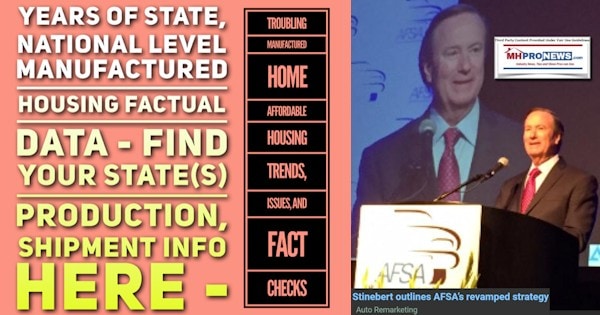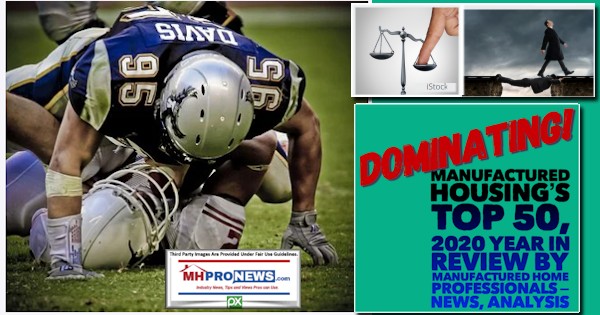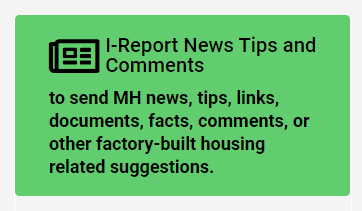 That's a wrap on this installment of "News Through the Lens of Manufactured Homes and Factory-Built Housing" © where "We Provide, You Decide." © (Affordable housing, manufactured homes, stock, investing, data, metrics, reports, fact-checks, analysis, and commentary. Third-party images or content are provided under fair use guidelines for media.) (See Related Reports, further below. Text/image boxes often are hot-linked to other reports that can be access by clicking on them.)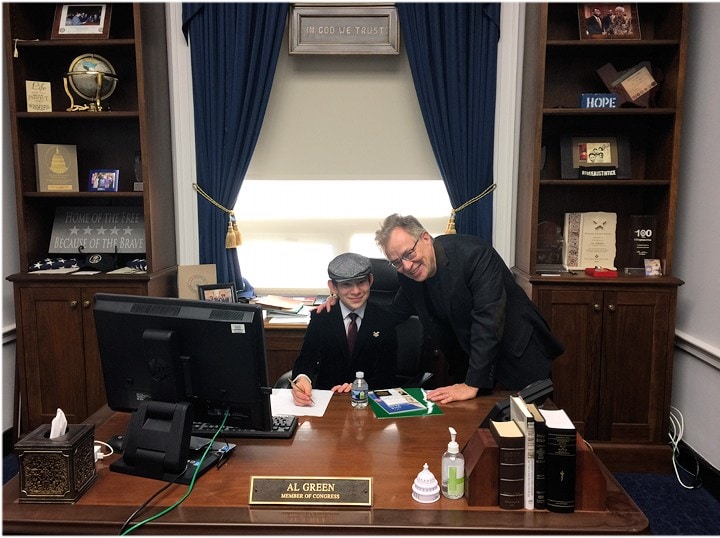 By L.A. "Tony" Kovach – for MHProNews.
Tony earned a journalism scholarship along with numerous awards in history. There have been several awards and honors and also recognition in manufactured housing. For example, he earned the prestigious Lottinville Award in history from the University of Oklahoma, where he studied history and business management. He's a managing member and co-founder of LifeStyle Factory Homes, LLC, the parent company to MHProNews, and MHLivingNews.com. This article reflects the LLC's and/or the writer's position, and may or may not reflect the views of sponsors or supporters.