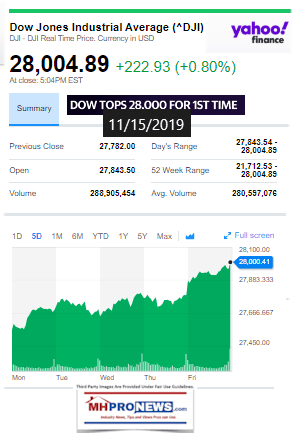 Executive Vice President Lesli Gooch, the "CEO-elect" of the Arlington, VA based Manufactured Housing Institute (MHI) has submitted comments that should be raising caution – or red – flags for investors in manufactured housing for reasons that will be outlined in tonight's featured focus. On a day when the markets broadly rose on renewed China-U.S. trade deal and other news, MHI's purportedly harmful impact on the industry, professionals, businesses, and investors will be found following the left-right headline and other overviews.
Regular readers please note there are a few tweaks to some of the standard portions of our evening market/investing report. Read carefully as some changes of the 'standard text' that follows before our left-right headlines and also in other features near the end of tonight's reports.
Every evening our headlines that follow provide snapshots from two major media outlets on each side of the left-right news spectrum that reflect topics that influence or move investor sentiment. In moments on this business evening report, you can get 'insights-at-a-glance.'
This report also sets the broader context for manufactured housing markets, in keeping with our mantra, "News through the lens of manufactured homes and factory-built housing" ©.
We begin with headlines left-of-center CNN followed by right-of-center Fox Business. We share closing tickers and other related data courtesy of Yahoo Finance, and more. 5 to 10 minutes reading this MHProNews market report every business night could save you 30 minutes to an hour of similar reading or fact-gathering elsewhere.
Perhaps more important, you will get insights about the industry from experts that care, but also dare to challenge the routine narrative that arguably keeps manufactured housing underperforming during an affordable housing crisis.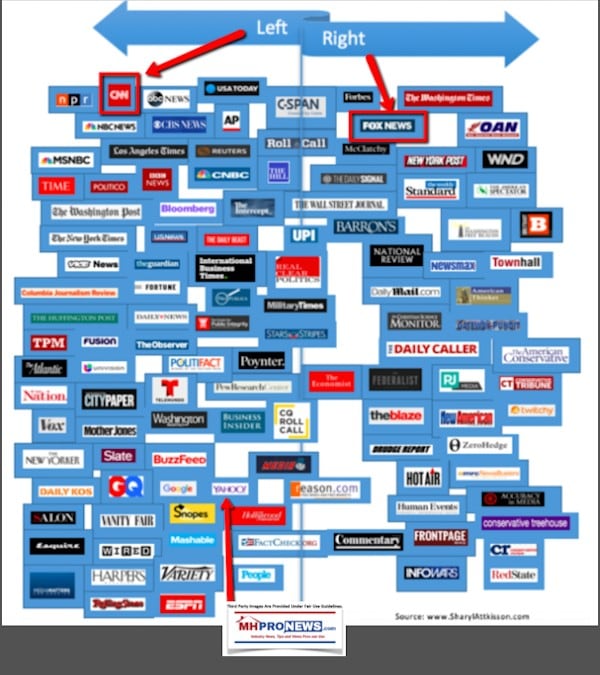 Newsy, Peeling Back Media Bias, Manufactured Housing Sales, Investing, Politics, and You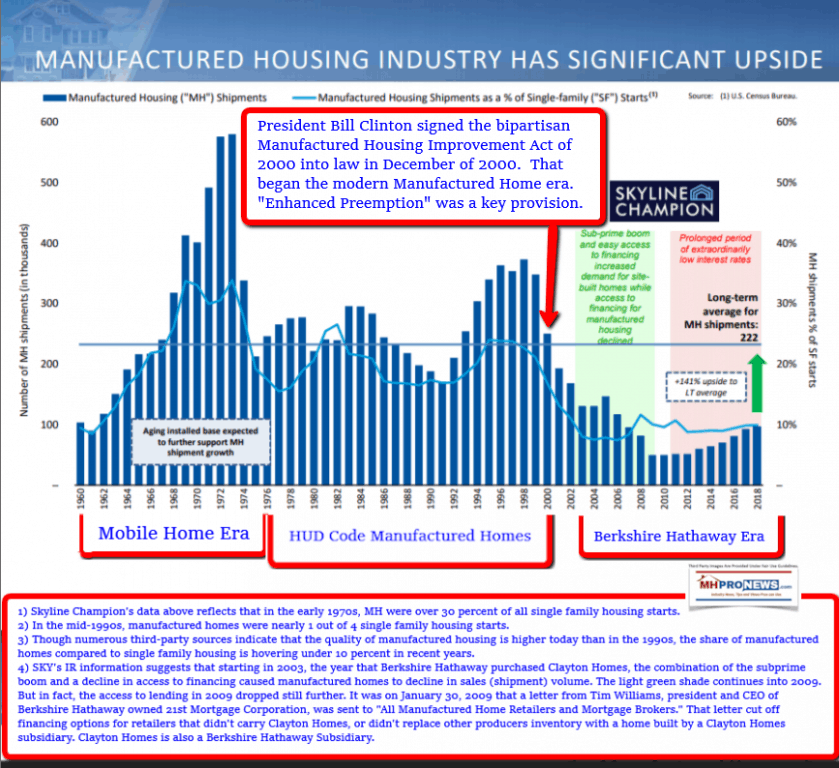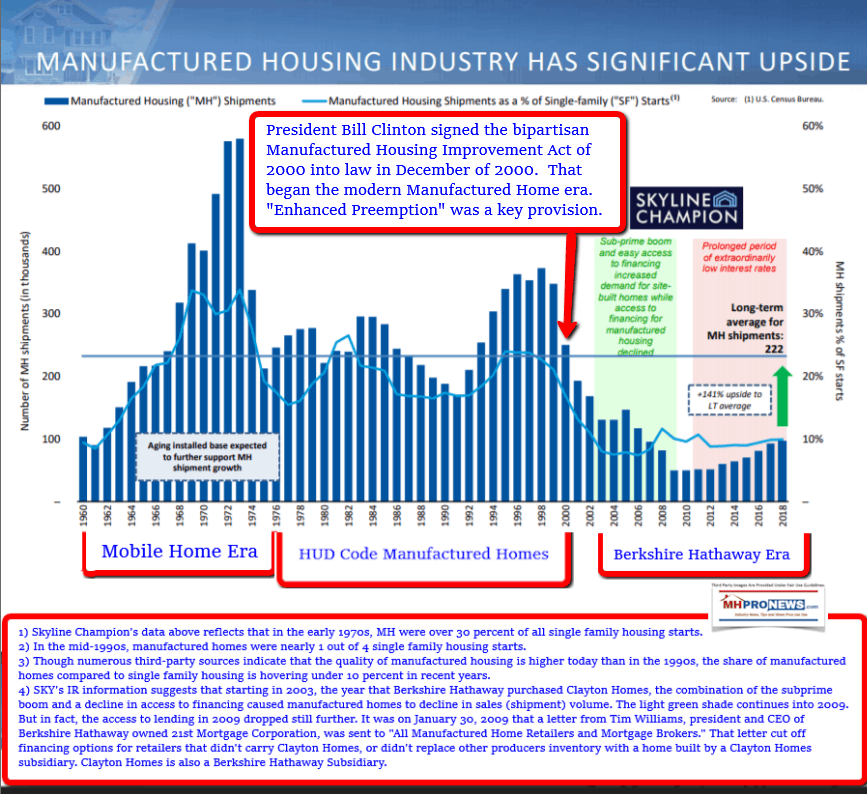 Headlines from left-of-center CNN Business.
Slowdown risk – The US economy may not grow at all in the 4th quarter
EXCLUSIVE This billionaire says Elizabeth Warren is a 'superficial, nasty hater'
Meet the Facebook executive who wants you to trust him with your money
Bitcoin is back — but can the comeback last?
Hulu is raising the price of its live TV service for the second time this year
Berkshire Hathaway buys stake in Restoration Hardware
Is there … hope for JCPenney?
Opinion: T-Mobile's eccentric CEO isn't the right person to lead WeWork
Yovanovitch was alarmed by attacks from Fox News hosts, right-wing media
Ford workers appear set to approve labor deal
For some people, glass houses offer just the right amount of exposure
Opinion: Twitter's political ad policy is a small step to fight disinformation
The cannabis industry is evolving, but is a market turnaround coming?
This is the world's biggest Starbucks
Dow hits 28,000 for the first time
Amazon rolls out 'Amazon Pharmacy' branding to PillPack
Google is targeting women with its new gaming service Stadia
This billion-dollar startup is turning sneakers into a 'stock market'
Nike released a shoe for 'everyday heroes'
Adidas is testing products in space
Nike launches a sneaker subscription service for kids
Sales of Vans sneakers starting to cool off
The new Motorola Razr is $1,500, but OMG I must have it
The Motorola Razr is back
Huawei Mate 30 is a hard sell outside China
See Google's newest smartphone
iPhone sales are in a major slump
Headlines from right-of-center Fox Business.
How much cash Warren Buffet is sitting on as he eyes 'elephant-sized' deal
Berkshire Hathaway recently opened positions in Restoration Hardware and Occidental Petroleum.
Buffett's firm adds a luxury brand, trims a bank holding
Jury decides fate of heiress charged with murder who posted $35 MILLION bail
These cheese products recalled as Kraft Heinz issues scary warning
What Trump's new health care transparency plan could mean for you
Here's how America wins the China trade war
Chopt joins Chick-fil-A, Starbucks and others in ditching dining rooms
Dow crosses 28,000 mark for first time
Facebook accused of helping Chinese Communist Party
Customer catches young boy working in Popeyes kitchen
Adidas 'looking into' ties to NFL star after suspension over helmet brawl
Exec charged in massive scandal pleads to be released from violent lock-up
Playboy Club in New York to shut down
Varney: Here's where AOC and Sanders' Green New Deal plan gets 'ridiculous'
How to ensure your freight makes it to the trade show
Hulu to hike prices again as streaming wars heat up
Inside the legal blow-up around Taylor Swift's AMA performance
Stocks rally to record highs as US-China trade deal comes together
Oscar winner slated to play leading role in Clinton sex scandal TV show
How much Trump lawyer Rudy Giuliani is worth
Bloomberg firing out massive attack ad
How much prison time Roger Stone could get
Dozens charged with corruption in this state
Google CEO tight-lipped amid 'coordinated' company leaks
Facebook accused of helping Chinese Communist Party
No-name singer who wrote famous Lizzo lyric could end up with big honor
Deval Patrick forced to defend Wall Street ties as he joins 'party of the woke' in 2020 race
Judge hands Johnson & Johnson small victory amid bombshell opioid lawsuit
Where Kanye West wants to build amphitheater
Chopt, Chick-fil-A, Starbucks jump on this dining bandwagon
BOEING NOWHERE FAST: This airline is latest to delay return of 737 Max
Jeffrey Epstein accused of asking victim for nude pics just before arrest
Ford's new electric Mustang hopes to burn out cash-losing Tesla
Nordstrom and Rent the Runway drive future of retail
Frat members accused of making vile comments to TV reporter on air
Can today's hot startups take the heat of going public?
Sam's Club names new CEO
How shipping flexibility saved a production line
Warren's beef with billionaires won't just hurt the rich
10 Market Indicator Closing Summaries – Yahoo Finance Closing Tickers on MHProNews…

Featured Focus – Where Business, Politics, and Investing Meet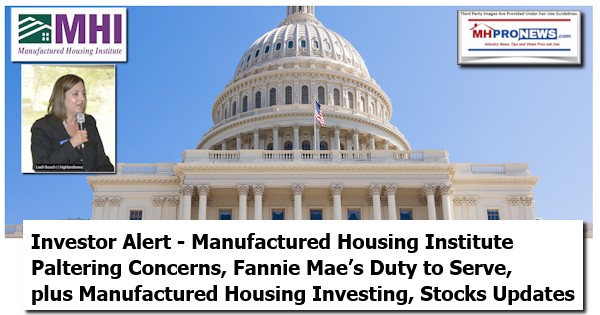 The full comments submitted by MHI's Lesli Gooch are linked here, but let's look at the introduction and some pull quotes to make the concerns of paltering plain. Keep in mind that statements made to federal officials are supposed to be true and correct to the best of that person's knowledge and belief.

Per Gooch:

"The Manufactured Housing Institute (MHI) is pleased to submit comments in response to the Federal Housing Finance Agency's (FHFA) Request for Input on modifications to the Government Sponsored Enterprises' (GSEs) 2018-2020 Duty to Serve Plans.
MHI is the only national trade association that represents every segment of the factory-built housing industry. Our Members include home builders, suppliers, retail sellers, lenders, installers, community owners, community operators, and others who serve the industry, as well as 49 affiliated state organizations.
This letter focuses on the two changes being proposed by Fannie Mae to its manufactured housing Duty to Serve Plan. These two changes are:
Reducing its 2020 loan purchase target from 450 to 100, corresponding to real property loans made as a result of variances and policy changes issued in 2018 and 2019, and
Switching 2019 evaluation of its MH Advantage objective from a Loan Purchase to a Loan Product evaluation area.
…Indeed, HUD's recent Housing Finance Reform Plan states that "manufactured housing plays a vital role in meeting the nation's affordable housing needs."
"Fannie Mae justifies the numerical reduction in its 2020 loan purchase target from 450 to 100 by arguing that, to date, industry adoption of these variances and products has been lower than originally anticipated."
Note the following carefully. Fannie Mae asserts, and MHI doesn't dispute that the so-called 'new class of homes' ironically dubbed "CrossModTM Homes" – that Skyline Champion (SKY) president and CEO Mark Yost touted in written testimony that reliable sources tell MHProNews was drafted and reviewed by a number of MHI-connected companies and officials – is not getting traction in the marketplace.
That admission confirms several of the concerns raised by MHProNews over the past 2 years. For more details, see the report linked below.
Paltering, Manufactured Homes, CrossModTM Homes, Manufactured Housing Institute, Clayton Homes, Berkshire Hathaway Manufactured Home Lenders, DTS, and You
Let's dip back into Gooch's FHFA revealing comments.
"…However, the essence of Duty to Serve is not process or effort, but results…" aptly says Gooch. That's part of the purportedly 'accurate' part of her comments, but what follows is the definition of paltering's deceptive portion.
"…The proposed numerical reduction is statistically significant. Fannie Mae could argue that these levels for this category are relatively small compared to the other 10,000 real property loans that it purchases each year. However, this would miss the point and purpose of Duty to Serve – which is to effect change and a substantive increase in the identified areas. In this case, the numerical reduction is far too drastic. MHI would be sympathetic to some modest reduction in the numerical target to reflect what Fannie Mae characterizes as slow industry receptivity to the variances and policy changes being put into effect. However, a 78 percent reduction in this category is far too large."
Gooch weaves between diplomatic language toward Fannie and FHFA, while conceding a willingness to accept fewer loans than the already paltry level, as her own argument previously admitted.
"…For these reasons, MHI urges FHFA to either reject this proposed reduction in its numerical purchase target or at least limit the reduction to a small amount," said Gooch for MHI.
Where is their insistence that there be a full and proper implementation of DTS on all HUD Code manufactured housing?
Why such tepid language when it is largely focused on the clear lack of traction to date on the 'new class' of "CrossModTM Homes" that MHI's key members worked out behind closed doors with those same GSEs?
Returning back to her narrative…

Change MH Advantage from a Loan Purchase to Loan Product Evaluation Area
MH Advantage® is an important new financing product for manufactured home buyers, as well as the entities that build and sell these homes. It is part of a long historical transformation of the manufactured housing industry to create a new product category that has the potential to address the shortage of affordable housing while simultaneously providing the same amenities and features that consumers demand in higher-priced site-built homes.
Fannie Mae justifies this change by stating that extensive work was needed to market MH Advantage® to retailers, to attract homebuyers who are priced out of the site-built market, and other factors that are resulting in minimal purchase levels in 2019.
MHI opposes this modification, for similar reasons to those identified in the previous section. This new class or category of manufactured homes, known as CrossMod™ homes, are a point of entry for home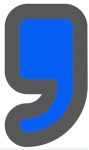 buyers who would not have previously considered purchasing a manufactured home. These homes have the potential to reach areas of the country where manufactured housing has, in the past, been zoned out by discriminatory land use regulations at the state and local level. CrossMod™ homes are placed on a permanent foundation, qualify for conventional financing, and are virtually indistinguishable from higher-priced, site-built housing options."
—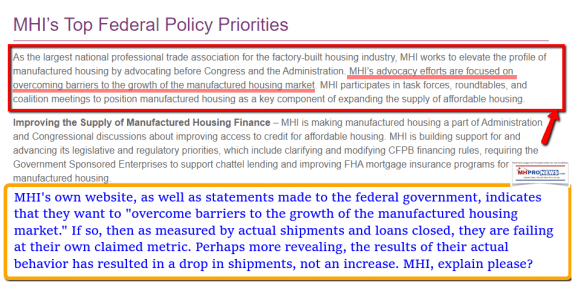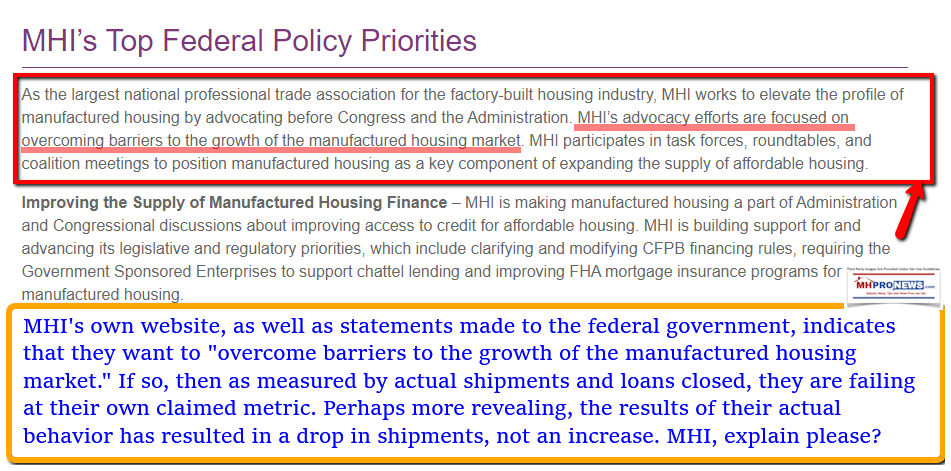 One could go on deeper with this, but Gooch as purportedly made the very case that MHProNews and publisher L. A. 'Tony' Kovach and others made in their DTS comments to FHFA previously. Namely, that the are posturing 'defending' and 'promoting' the industry, when in fact their efforts are do promote a scheme that has as its net results continued consolidation of the industry, due in good measure to low production levels that can be traced to the Omaha-Knoxville-Arlington axis, their allies and surrogates.
It takes more words to explain what they do, the rationale for it, and the impact it has on the industry's residents, potential home owners, independents and investors than their bob-and-weave act takes.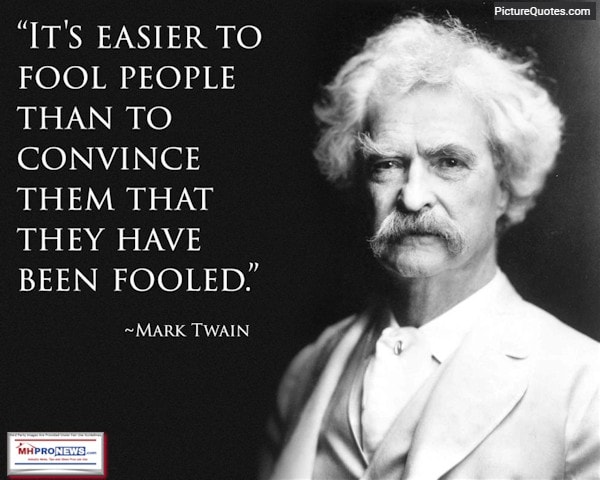 To illustrate, let's dip back into Gooch's testimony.
"…Making this home category a Loan Product undermines what is needed at this time to help MH Advantage® realize its true potential, which is broader consumer and industry acceptance of the product – something that can only be measured by the objective performance metric of actual loan purchases."
Bingo. The measure is loans purchased and homes sold. That's what MHProNews has been arguing for years. What is that measure?
A decrease in sales, despite their claim starting a year ago that the industry had 'momentum' as they touted this new class of homes.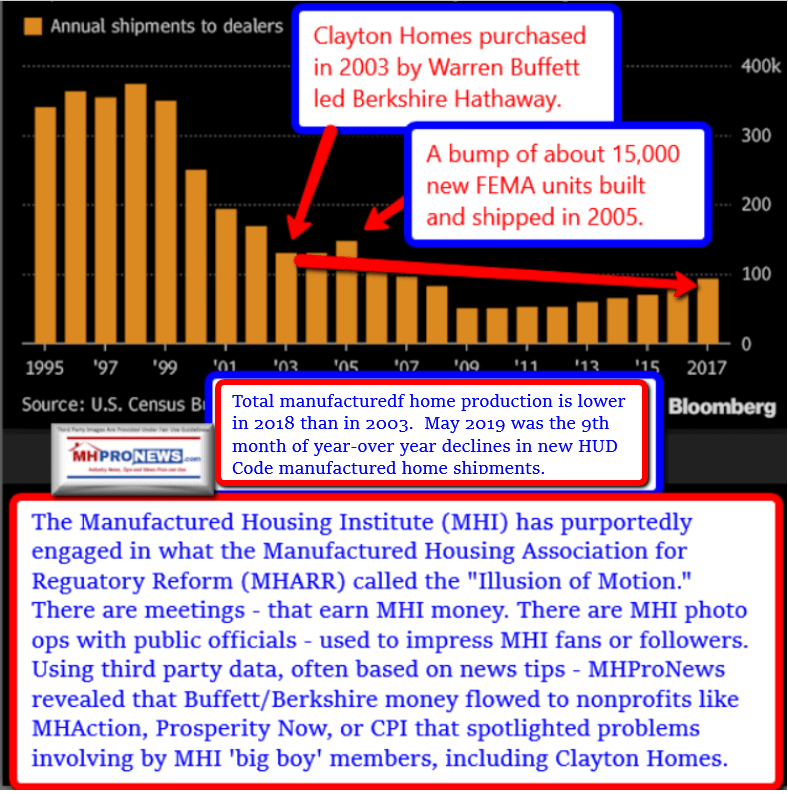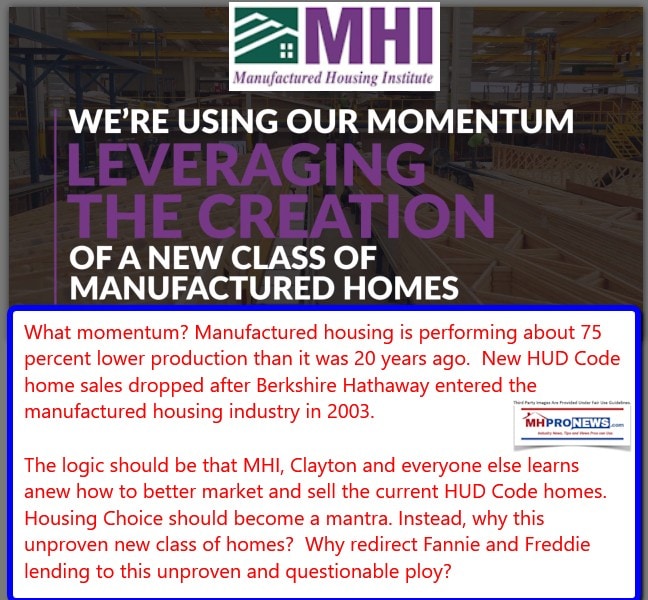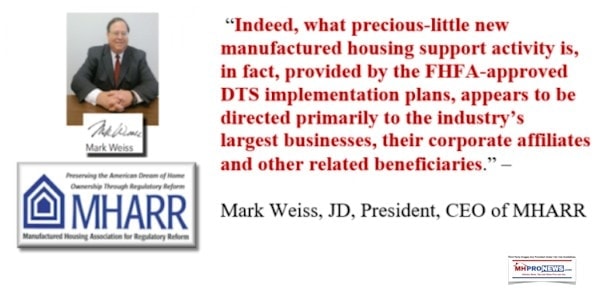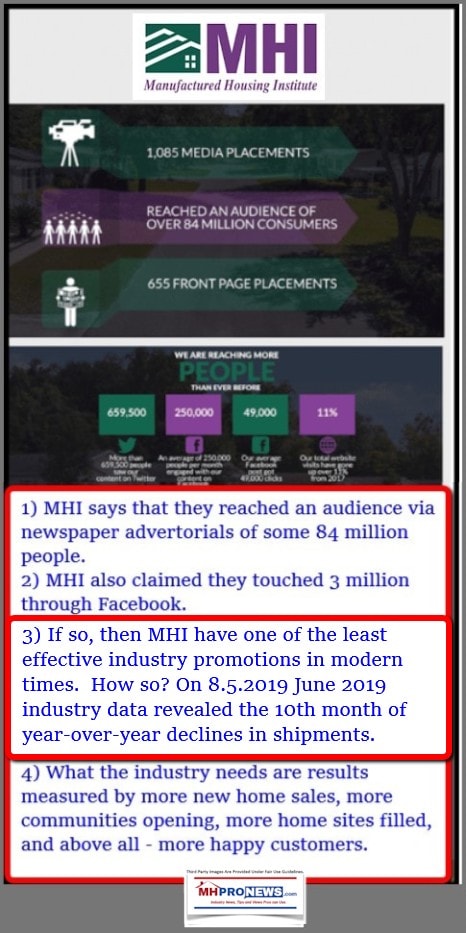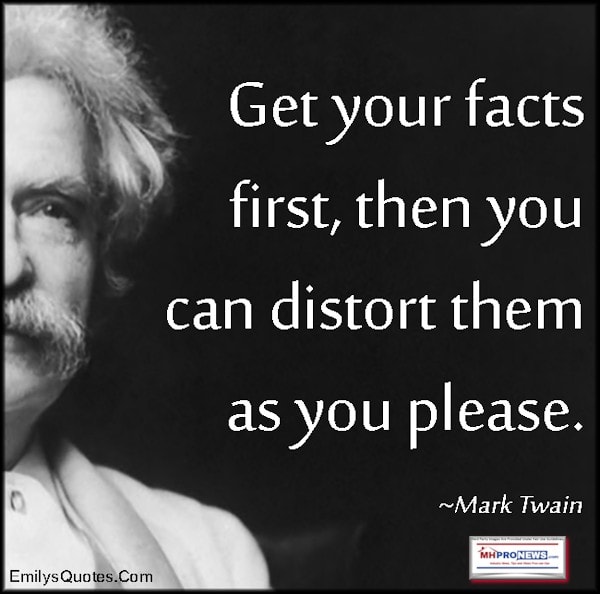 Patience in carefully unpacking MHI's own words, matching their claims with the data, and hammering those issue out publicly for all to see – all while giving them an opportunity to defend or debunk our concerns – has resulted in this. They are and have been arguably proving our point.
To learn more, see the related reports, and our publishers' FHFA comments letter linked here. Gooch has managed to make Tony Kovach's point, even though they had two full days to try to create their best possible argument.
Investors, look at the big three that are MHI members and ask yourselves, are you and thousands of other professionals being played?
"White Hat" Manufactured Home Community Operator, MH Retailer Sound-Off on FHFA, Fannie Mae, Freddie Mac, and Duty to Serve Manufactured Home Lending
Then ask, are millions of consumers being hurt in the process? To answer that question, see the report linked above. Companies involved directly and obliquely with MHI are singing a different tune than MHI, which logically fails to do what they claim, namely, to represent all segments of manufactured housing. Further, as measured by their own stated metrics, MHI is failing.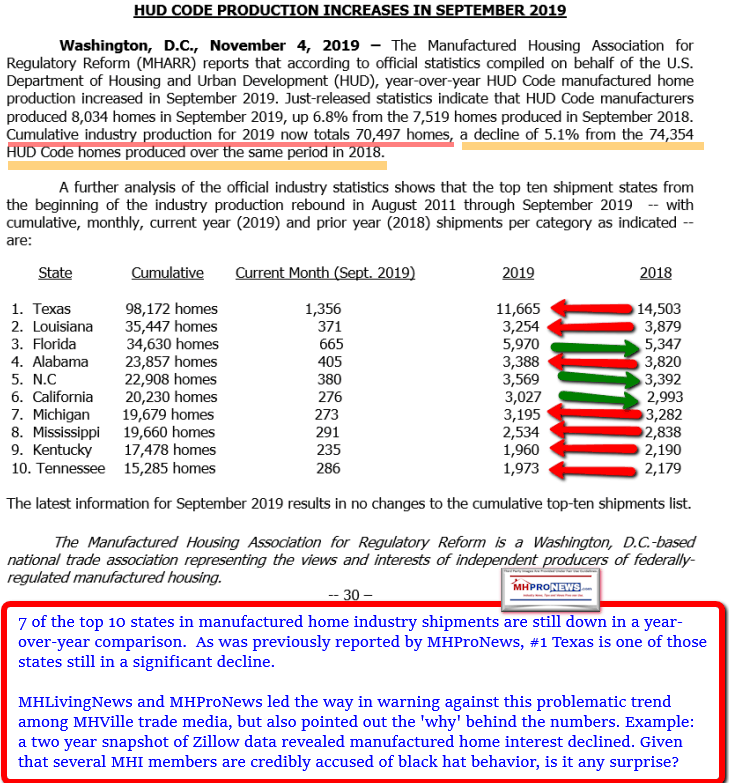 Or is failing while posturing effort part of the plan?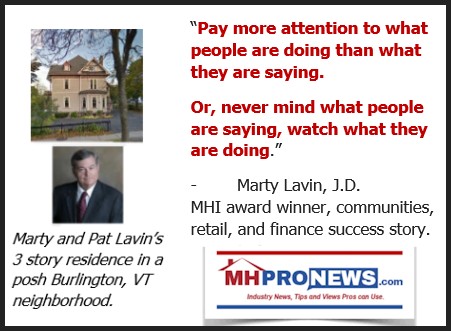 Facts are stubborn things. Who says?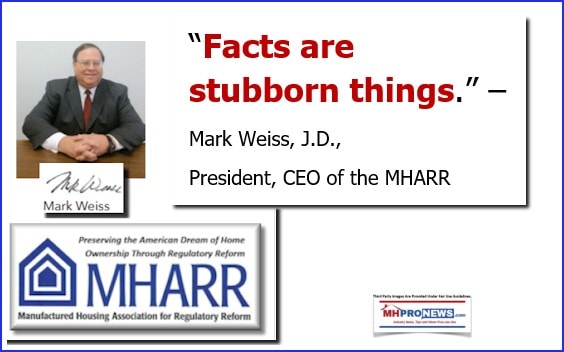 Oh, about Gooch's history…
…ICYMI…per @Goochwatch on Twitter.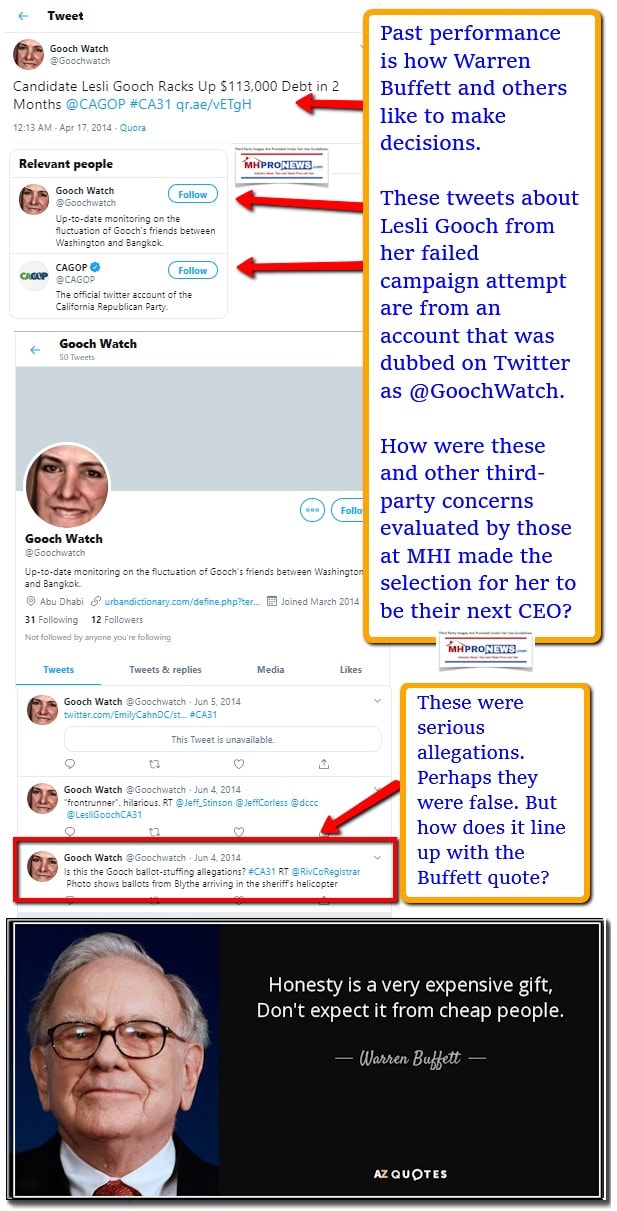 It should be noted that Gooch is an MHI staffer who has been paid a so-called 'failure bonus.' Imagine, being given a financial reward for not attaining your stated objective? Can you spell deceptive trade practices?
Busted! "Failure Bonus" Paid-Richard "Dick" Jennison, CEO Manufactured Housing Institute-per MHI Document$
Ponder that in context of recent MHI's executive committee history.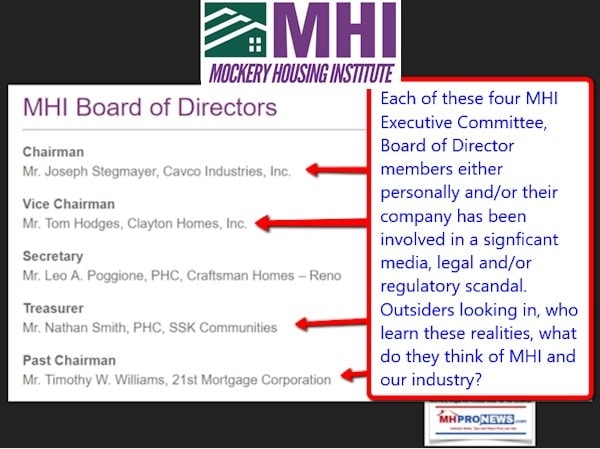 That executive committee was replaced by this one.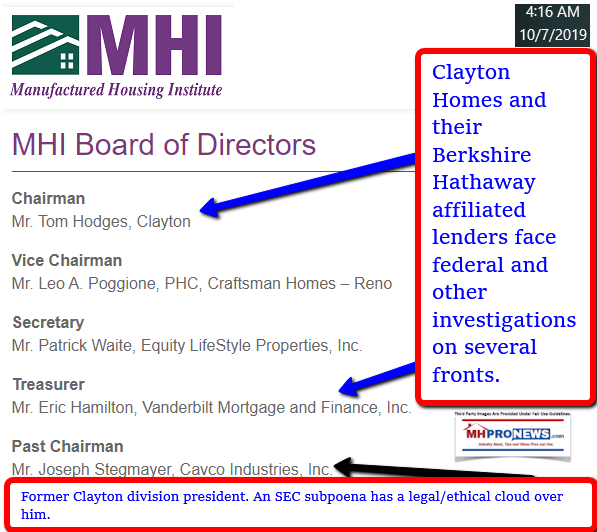 Sunlight is the proverbial best disinfectant. For more sunlight, see the related reports, below.
Related Reports:
Unique Opportunities for More Competitive Lending for All HUD Code Manufactured Homes
Need for Workforce Housing Keeps Vacancy Tight and Rent Rising; Investors Eyeing Communities for Yield and Cash-Flow Potential, Says Marcus & Millichap Research, Analysis
MHARR Fingers Fannie Mae, Freddie Mac, and FHFA – "Profoundly False" "Misleading" – Duty to Serve Manufactured Housing Revised Plans
Cavco, Sun, ELS Public Statements Point to Problems for MHI, Fannie, Freddie – Public Officials, Investor, Advocates, Professionals Alerts
Publicly Traded Manufactured Housing Firms – Which Source Do You Trust More? Why? MHI, MHARR, Others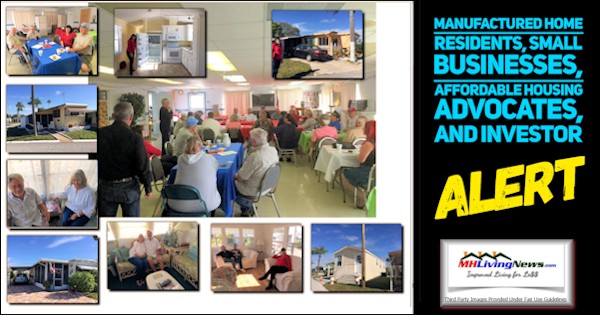 Manufactured Housing Industry Investments Connected Closing Equities Tickers
Some of these firms invest in manufactured housing, or are otherwise connected, but may do other forms of investing or business activities too.
NOTE: The chart below includes the Canadian stock, ECN, which purchased Triad Financial Services, a manufactured home industry lender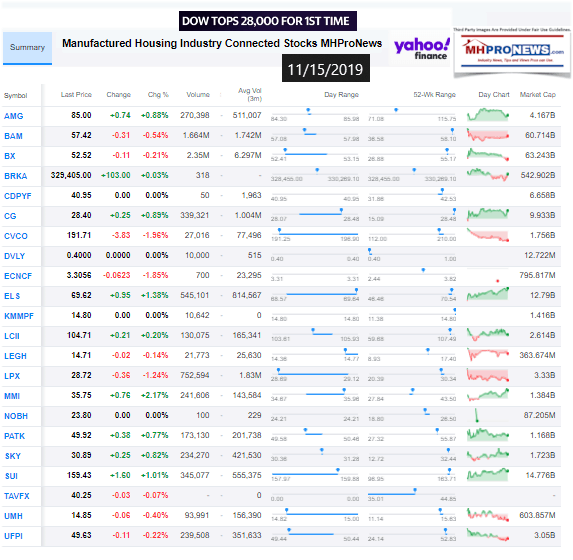 Updated for Fall 2019…
Berkshire Hathaway is the parent company to Clayton Homes, 21st Mortgage, Vanderbilt Mortgage and other factory built housing industry suppliers.
· LCI Industries, Patrick, UFPI, and LP each are suppliers to the manufactured housing industry, among others.
· AMG, CG, and TAVFX have investments in manufactured housing related businesses.
For insights from third-parties and clients about our publisher, click here.
Enjoy these 'blast from the past' comments.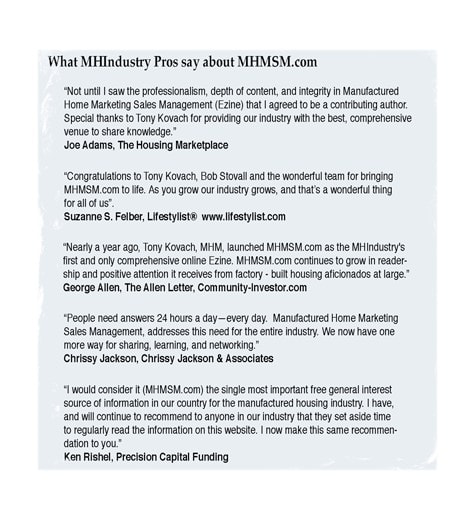 Celebrating 10 Years of Goal- and Solution-Oriented Manufactured Home Industry Innovation Information, and Inspiration for Industry Professionals
· For expert manufactured housing business development or other professional services, click here.
· To sign up in seconds for our industry leading emailed headline news updates, click here.
Disclosure. MHProNews holds no positions in the stocks in this report.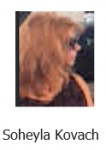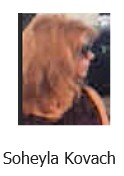 "We Provide, You Decide." © ## (News, analysis and commentary.)
(Image credits and information are as shown above, and when provided by third parties, are shared under fair use guidelines.)
Submitted by Soheyla Kovach, co-managing member of LifeStyle Factory Homes, LLC and co-founder for MHProNews.com, and MHLivingNews.com.