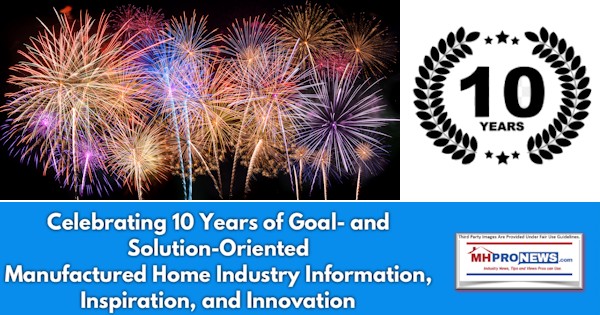 You know the saying. "Time flies when you are having fun."
Perhaps with a certain measure of giddy confidence born after years of successful manufactured home industry front-line field experience – mixed with naivety about the core nature of key issues hobbling MHVille being internal ones – 10 years ago MHMarketingSalesManagement.com launched.

To better describe all that we did in publishing while still providing business development services, we rapidly evolved into MHProNews.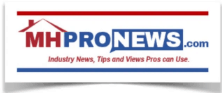 We launched in mid-October 2009, near the industry's lowest point in decades. We did so believing that manufactured housing could do many times better than it was then performing. Then and now, we believed in ethical, sustainable growth that yielded customer satisfaction.
Given a pro-growth élan, within a few months we surpassed the readership of all other trade media, including the then claimed page-views of the Manufactured Housing Institute (MHI) as reported in their own media kit. Not long after that achievement, MHI dropped their self-proclaimed traffic report from their media kit.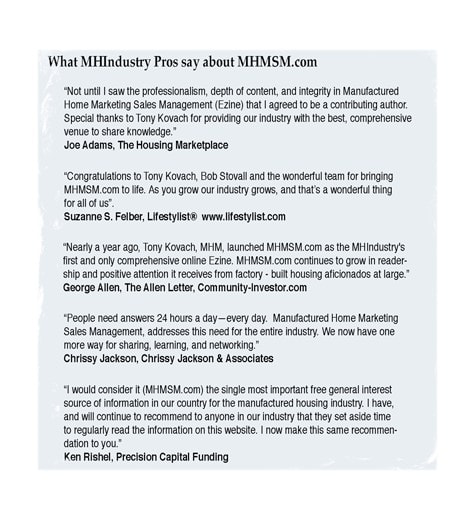 When the Louisville Show was cancelled after years of decline, who did that event's leaders turn to in an effort to try a comeback?
MHProNews. We were the only thing that they did differently than in their prior years of decline. It was teamwork, as all success tends to be. But it was this pro-growth Trade Media platform of MHProNews that was widely praised by show team members as what made the difference in the show's 'resurrection.'  The statements for publication in the examples below reflect some of several such examples we could produce. There is no doubt what made the difference. You are reading from it at this moment.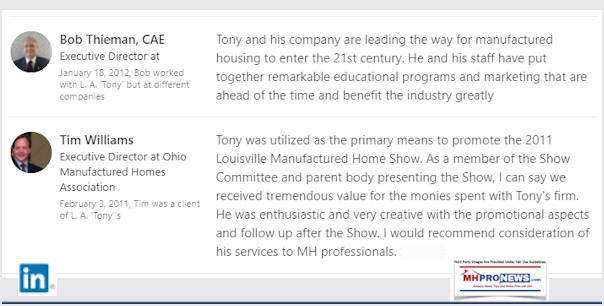 Then and Now – What's Never Changed
Our goal then and now was to create the conditions, best-practices examples, and the mindset necessary for a HUD Code manufactured home industry comeback. So, from early on, we made a name for ourselves, as the above examples reflect. Positive and pragmatic.
Fast forward to roughly years 5 through 9.
After deploying years of purported tricks, written threats, and other below-the-belt tactics — plus fueling competition that previously didn't exist — the Omaha-Knoxville-Arlington axis unsubtly fought back against our efforts at identifying the internal causes and needed cures for HUD Code manufactured home industry underperformance. In fairness, we were not alone in the effort for an industry comeback. There have always been others involved in the effort. Notable among them was the Manufactured Housing Association for Regulatory Reform (MHARR), who thanks to some visionary members for years had called for the creation of a post-production trade group that they could work with to implement good existing federal laws, and thereby restore the industry to growth.  You see, it all should come down now to implementing good laws that are already on the books, and correcting the record about manufactured housing. It could be that simple. So why doesn't MHI and their allies do those obvious things?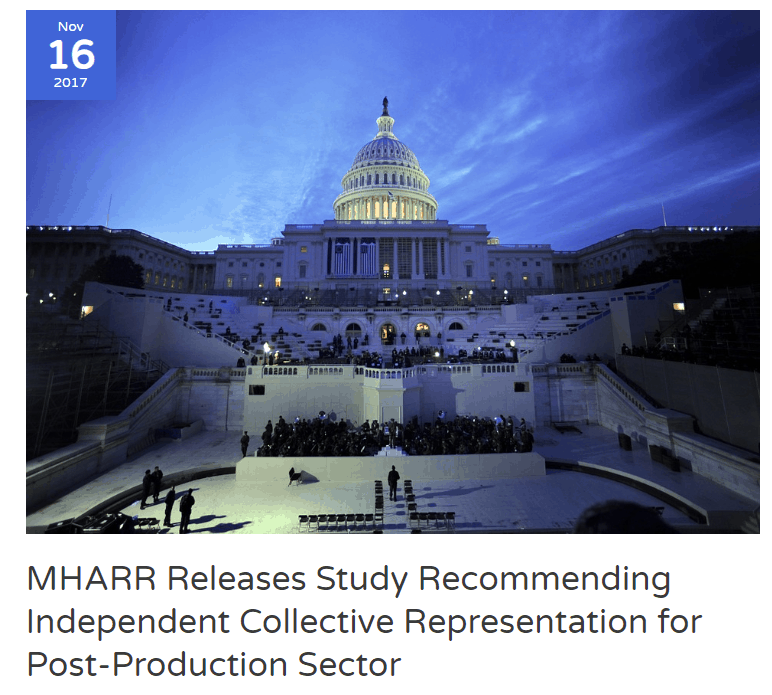 Fast forward to today, a total of ten years after our launch. Have we lost our touch? Or have we lost our audience size?
Are there still any measurable results?  Let's do a little walk through time to see.
During the last 5 years of a roller-coaster ride of behind the scenes as well as more public confrontations, Manufactured Home Pro News (MHProNews) retooled, sharpened our focus, and has proven – often using the Omaha-Knoxville-Arlington axis and their allies own favored communications tools – to still be the runaway most read-trade media in all of manufactured housing. We do so in part with fact-checks and investigative reports – sometimes based upon news tips from white hats inside of black hat operations.  Those reports with analysis have proven to be hot reads in manufactured housing, by also by federal officials, investors, advocates, and other researchers.
At trade shows, in messages, and calls, two of the most common words we hear or read are 'thank you.'  But honestly, that thank you cuts both ways.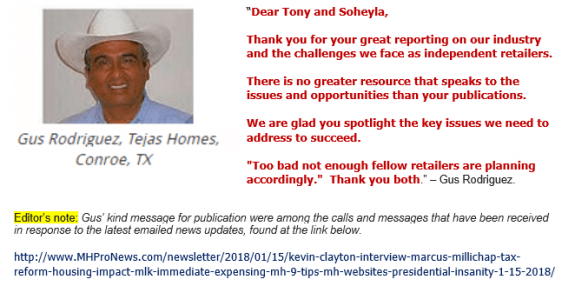 Part of what sets us apart is a 'separating wheat and chaff' methodology of using what the axis and their mouthpieces themselves say, carefully analyze it against known facts, and thereby turn their own arguments on their heads.
For example. Darren Krolewski, co-President of MHVillage deployed MHInsider with axis backing to tout the MHI viewpoint. How has that worked? It has in some ways – see further below – been useful to us, but it has ironically proven to be unable to gather a serious industry audience. Surprisingly, we have demonstrated that point using their own data, plus visual evidence.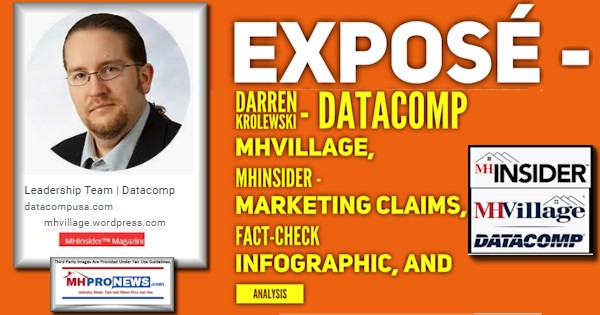 That report linked from the text or image box above – click to access it or others on this page – documented what we visually deduced from the evidence at Louisville and Tunica Manufactured Housing Shows.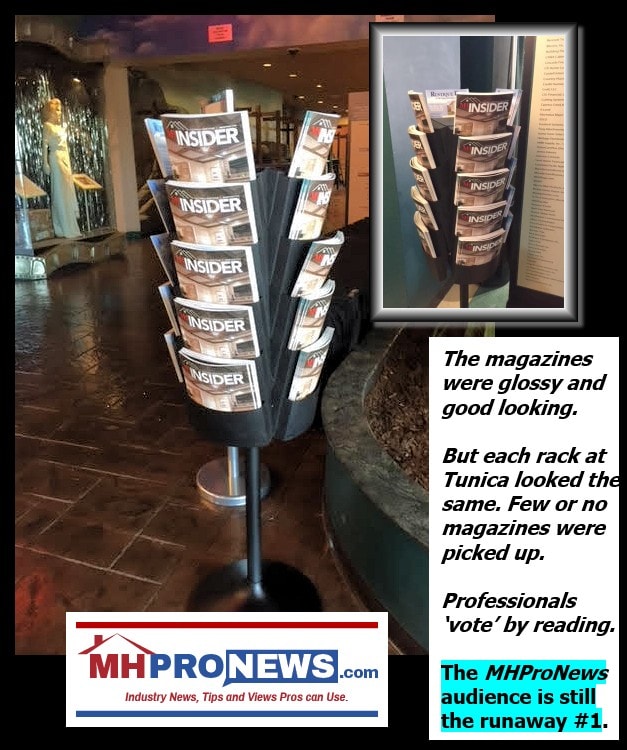 As an advertiser of theirs told MHProNews, they are not planning on going back to them. Why? Besides arguably deceptive tactics, they produced no measurable results at a high cost. Ouch.
But that claim should have been no surprise. Several months ago, Legacy Housing's marketing leader, Casey Mack said this on the record for publication.

Giving the leadership at MHVillage/Datacomp and MHInsider a chance to respond to those concerns and claims, what did they say? Nada. So the published reports, visual evidence, and analysis stand unchallenged.
What about Kurt Kelley and his MHReview?
They went from being a monthly to a quarterly. How is that a healthy sign? Sources tell us that advertising there was likewise purportedly ineffective, perhaps also because of still lower readership levels. Lovely package, but not much in the way of results. When asked why they weren't fact checking the Omaha-Knoxville-Arlington axis, the MHR's own publisher publicly – and graciously – admitted they were not going to fact check MHI and their powers that be.  Here is how he said it.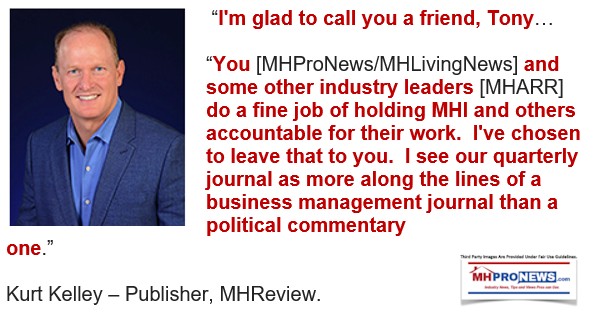 That statement by their publisher speaks for itself, but so does the obsequious behavior like this from him yesterday on LinkedIn, bowing toward Clayton Homes publicly.  See Kelley's comment after the Clayton pitch.

In Kelley's defense, at least from time to time he published an occasional article by the Manufactured Housing Association for Regulatory Reform (MHARR), and one from this writer too. But after begging for submissions, he declined publishing the investigative report we asked him to, linked below.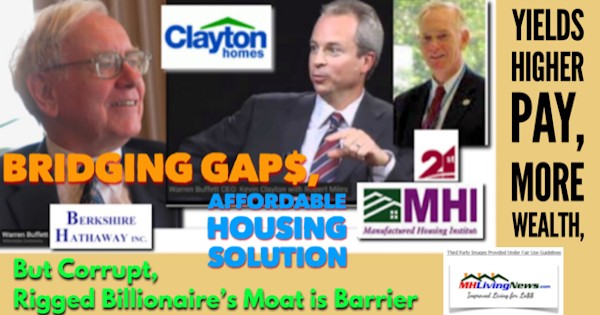 Why won't Kelley or others tell via their platforms what the industry's independents what they are actually up against?
Or ponder this. After years of love and hate from blogger George Allen, MHI reportedly cut a deal with that blogger to get him to directly attack MHProNews, MHLivingNews, and MHARR.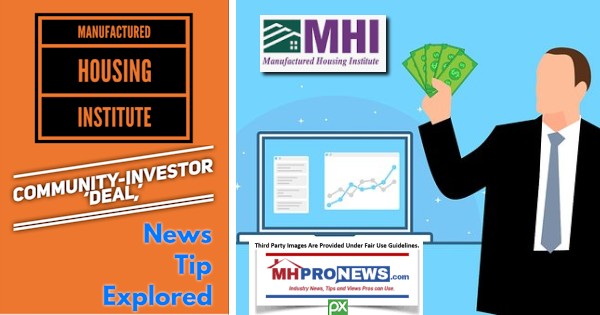 But it is MHInsider that in a LOL, you can't make this up comedic fashion, placed Allen, Ken Rishel, and a list of pro-MHI sources on their masthead.

To make the circle still of MHI connected information collusion and arguable favoritism more evident, MHInsider admitted that they "partner" with MHI on certain content. Nice.  But did objective and discerning readers need to be told? Isn't that why their readership is so low? People vote with their time and reading.  But we value what they produce to this extent.  It gives us fodder for careful fact-checks and analysis.  Consider the newest one from MHI's EVP Lesli Gooch, found at the linked report below.
Manufactured Housing Institute EVP Lesli Gooch, Industry Progress in Her Words, Manufactured Housing Improvement Act, and Enhanced Preemption
So, it's not only a certain kind of drama that draws thousands of industry professionals here daily. But there is a Keystone Kops style slapstick comedy to be observed when Rick Robinson, Lesli Gooch, Darren Krolewski, Kurt Kelley, and George Allen each in their own way prove the very concerns and allegations raised by MHProNews and our sister site. You just can't make this stuff up.  It begs for analysis and satire too.
Wow! Giving Credit, Interesting – What Rick Robinson, MHI's General Counsel, Said About Zoning Battles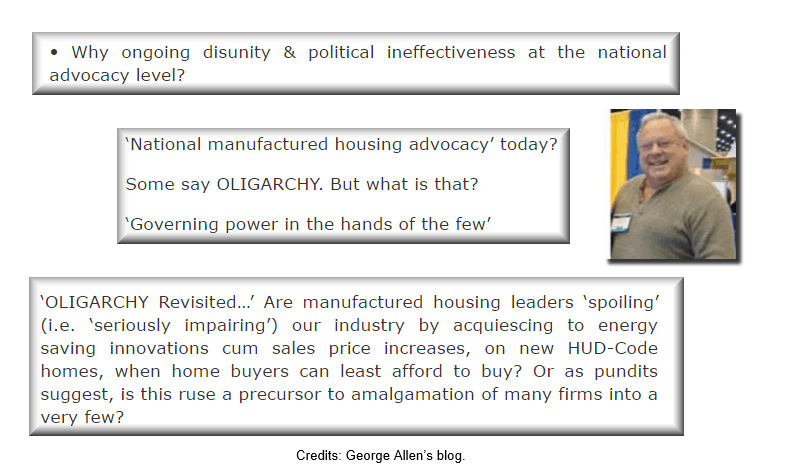 Don't forget how blogger Frank Rolfe and his buddy Dave Reynolds – who advertise for Berkshire owned 21st and at times other Berkshire brands – have also ripped MHI on our pages or their own site how MHI and their failed leadership have behaved in problematic ways.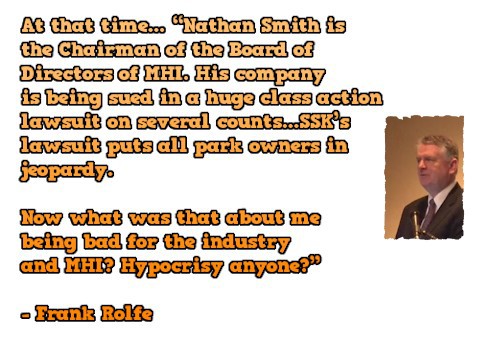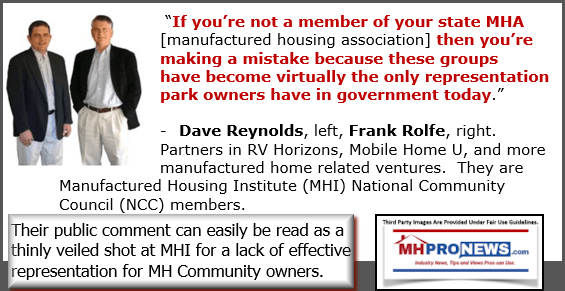 You can't make this stuff up. There is an abundance of evidence of ineffectiveness by the Omaha-Knoxville-Arlington axis.  Once the scales comes off the eyes, it becomes self-evident. It's also too rich, laugh out loud (LOL) funny — if it wasn't so sad.
Sad? Why?
Because that cast of characters, some in fancy clothes, cool cars, big houses, or private planes and jets, have covered for or helped to some degree in arguably wiping out thousands of long-successful manufactured home independents.  They've arguably stolen the dreams of millions too.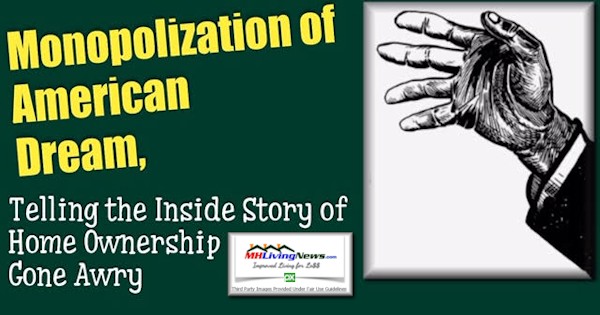 Harm to Residents of Manufactured Homes?
In doing what the MHVille axis does, they also created misery and anxiety for untold tens of thousands, perhaps hundreds of thousands, of residents in land-lease communities who are often tied to or operated by MHI members.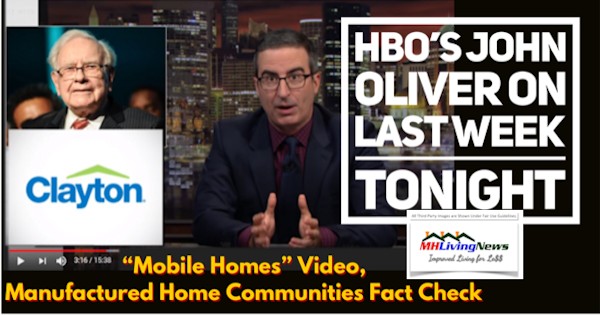 For every decent video the axis and MHI produced, there are mainstream news or other viral hit videos that make the "big boys" behind Berkshire dominated MHI arguably look like 'black hats.'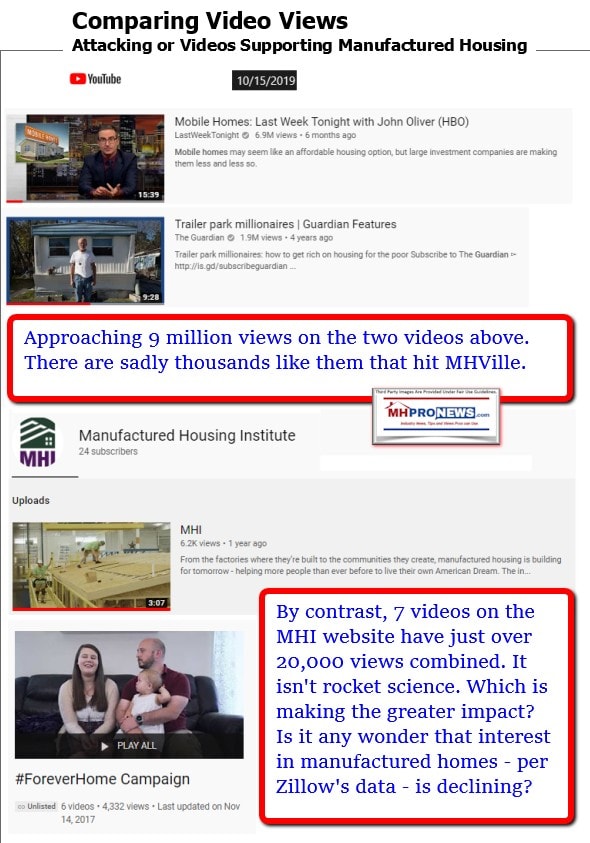 But it turns out that a "follow the money trail" review of Buffett foundation donations and interlocking directorates reveals how Buffett bucks:
fund MHAction,
contributed to the original hit on Clayton Homes and their affiliated Berkshire lenders by the Center for Public Integrity,
back the Urban Institute and have Buffett as a lifetime trustee,
and has ties – all per third-party data – to Prosperity Now as well.
These are all examples of the dark truth of why manufactured housing underperforms that are hiding in plain sight.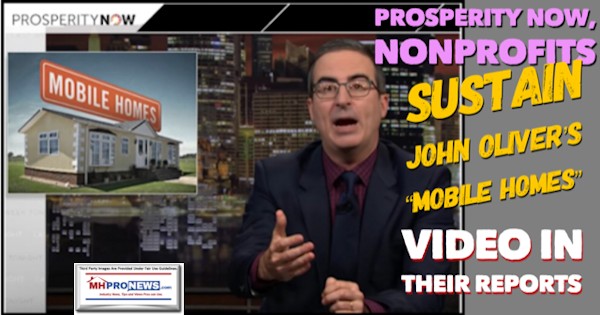 Only MHProNews and MHLivingNews dared to date to dig in, unravel, and reveal these ploys. The possible aim of those devilish tactics?
Experts note that there are barriers of entry, persistence, and to exit a business or industry.
Barriers to Entry, Persistence, and Exiting in Business, Affordable Housing, and Manufactured Homes
By fueling bad news, even news that hits their own firms, they diabolically dared to harm the image of the balance of the industry too. So, despite positive efforts by HUD Secretary Carson or others, the overall impression of manufactured housing is still a dark one.
Manufactured Homes Aren't "Trailers" in "Trailer Parks" – HUD Secretary Ben Carson on Affordable Housing, Manufactured Homes, Zoning and Placement Barriers
While posturing to change the image for the better, per Zillow's research data, the axis and their allies have arguably succeeded at reducing interest and thus demand for HUD Code manufactured homes. It takes either massive incompetence, or truly dark genius, to drive down manufactured home sales during an affordable housing crisis, doesn't it?  So which is it? Are the incompetent?  Or evil geniuses?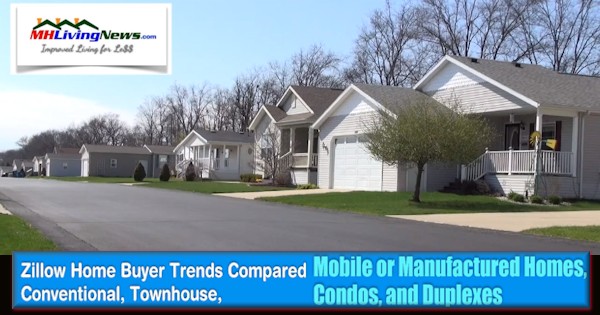 Who else could think like that, but the fabled Moat builder, Warren Buffett and his trained minions?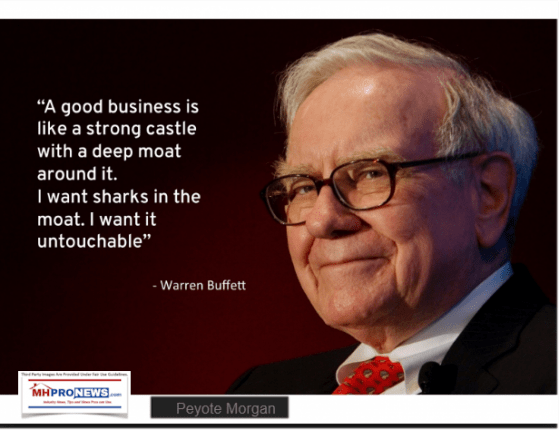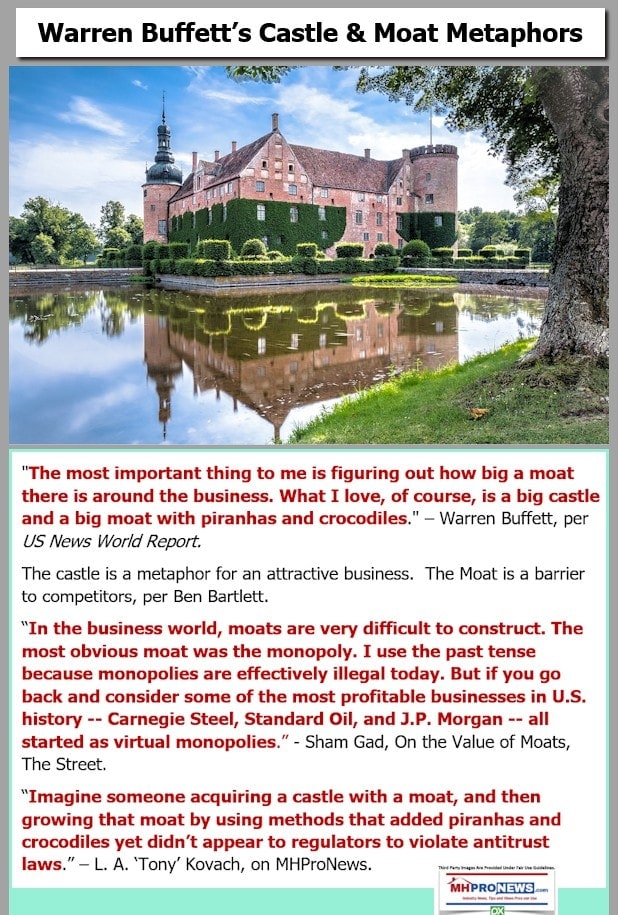 So in the 15 years since Buffett-led Berkshire bought into manufactured housing, the industry is smaller today then in 2003. Magically, for reasons outlined at the report linked here, Clayton's market share grew from some 13 to 50 percent.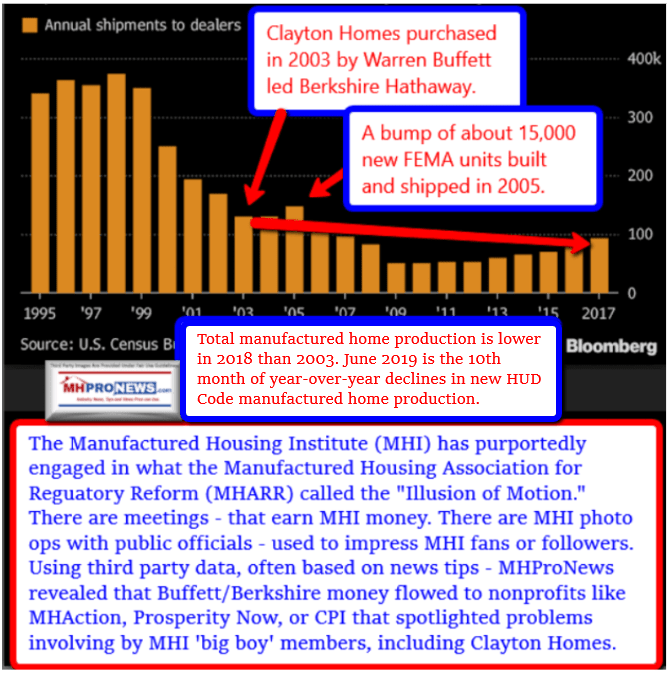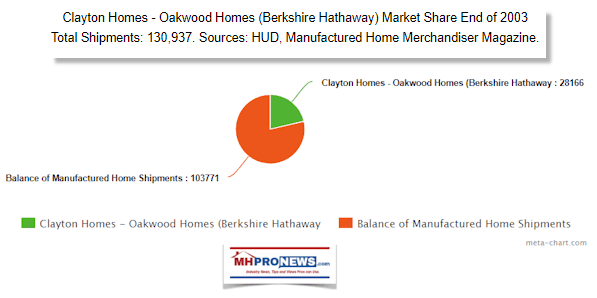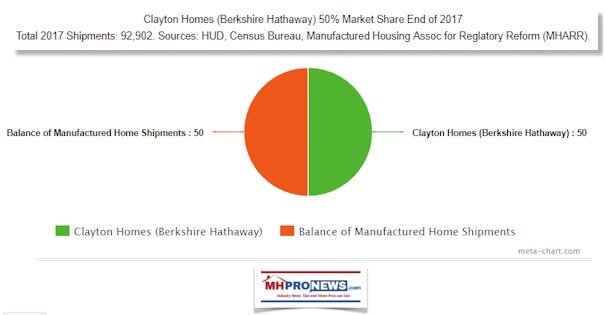 Competitors Boomerang
While trying to obscure their own data in public reports, ironically the geniuses at MHInsider provided part of the proof that Clayton Homes is indeed at 50 percent of the market, not 42 percent as the Wall Street Journal reported last summer.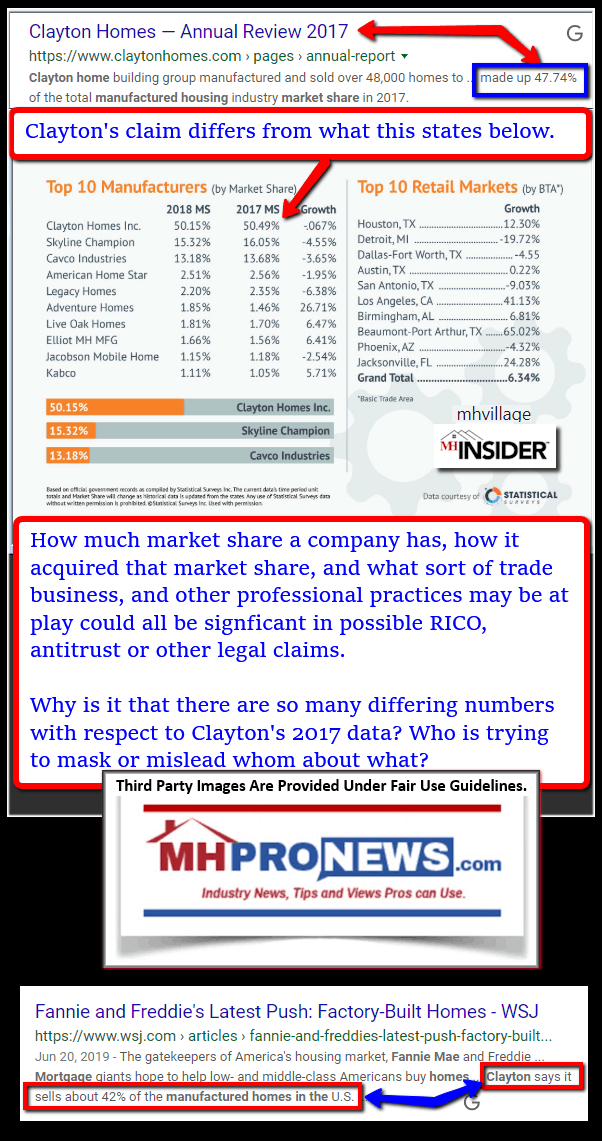 Despite years of posturing, the veil of deception and debatably diabolic behavior is being peeled back like an onion, one layer at a time.
Others in mainstream media have had similar findings. Note that these publications span the left-right media divide.
Examples of mainstream media references to the problems spotlighted by MHProNews and MHLivingNews:
The Atlantic, without specifying how the monopolization was being accomplished, noted that the independent retailers in manufactured housing were being rapidly eliminated/consolidated, that report is linked here.
GuruFocus said "Warren Buffett Can't Escape Unethical Strategic Moats," their specific points are linked here.
The Nation called it "The Dirty Secret Behind Warren Buffett's Billions…" and specifies Clayton Homes among those using the strategic moat in 'dirty' ways.
The Jacksonville Florida Times Unionsummarized the connection between the John Oliver viral hit video dubbed "Mobile Homes," MHI, Clayton Homes, and their related lenders. That op-ed was first fact-checked by an editor, before it was published not only in the one newspaper it was submitted, but at least in 5 Florida newspapers.
The New York Times had an interesting articleon the historic trends, and named several industries being monopolized.
But no one else to date has published the hard evidence of how that market manipulation has occurred, as reports like the one linked here laid out with the proper disclaimers in a step by step fashion. When Clayton, 21st, Vanderbilt Mortgage and Finance (VMF), Cavco's Joe Stegmayer – a former Clayton division president – MHI and their outside attorneys were given a chance to respond, rebut, or refute the evidence and concerns, what did they do? A glance at the prior or current MHI Executive Committee reveals the dominance of MHI by Berkshire brands.  As an MHI member CEO told MHProNews recently, if Clayton pulled out of MHI, the organization would quickly tip toward insolvency. So what Clayton and the Berkshire brands want, they get.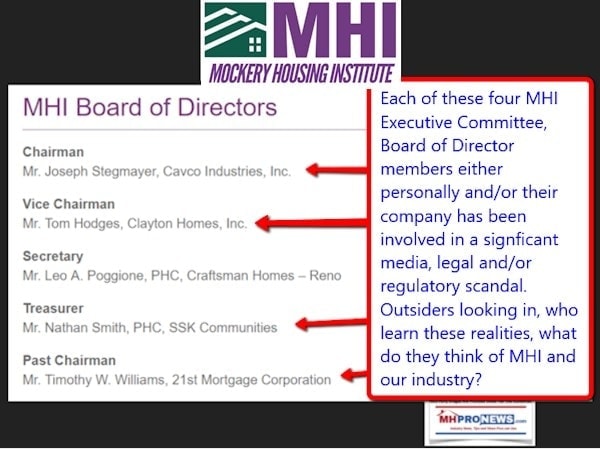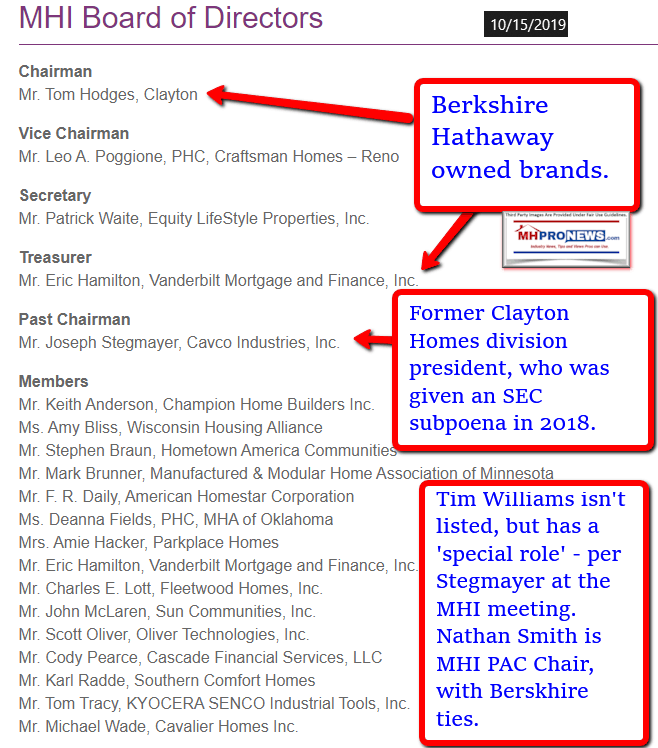 Repeatedly, nothing directly. But they have published through surrogates or on their own sites information that obliquely seems to be an over-the-target response to fact checks here, or independent efforts by the Manufactured Housing Association for Regulatory Reform (MHARR).  Because of MHEC member tips for our exclusive "How Gold Rules" report, we know that the state associations are largely afraid to buck the system too. That explains why MHARR got so little traction on their generous offer to fight zoning battles with states. See that linked below.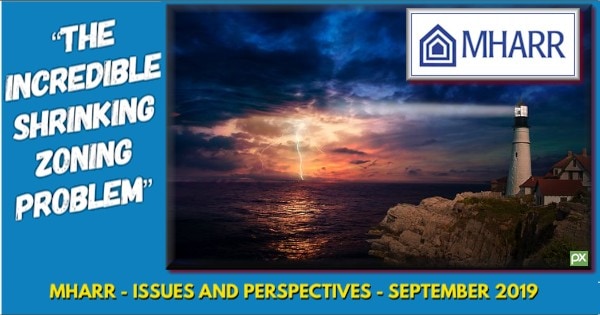 Even with numbers of past or current MHI members blasting their own association, on and off the record, there is still more evidence. It comes from lawmakers who have raised concerns. They have asked various federal agencies to investigate. One of several examples is linked below.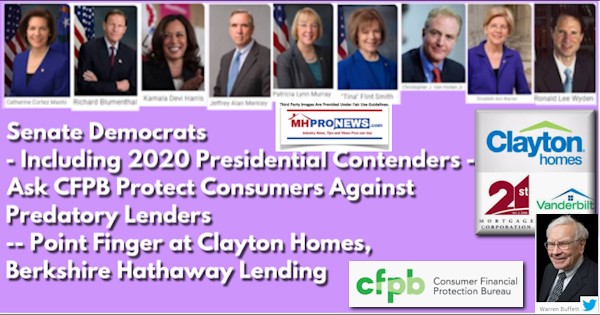 Here is another report that points the finger at the Berkshire brands, this time by a regional Federal Reserve bank.
Native American, Racial Minorities in Housing and Manufactured Homes, per FED, Harmed by Lending Practices, Clayton Homes, Berkshire Hathaway Affiliated Lenders Cited
Here is a request by Senator Tina Smith to her colleagues to investigate the troubling handling of Congressionally mandated DTS financing by the Government Sponsored Enterprises (GSEs) of Fannie Mae and Freddie Mac.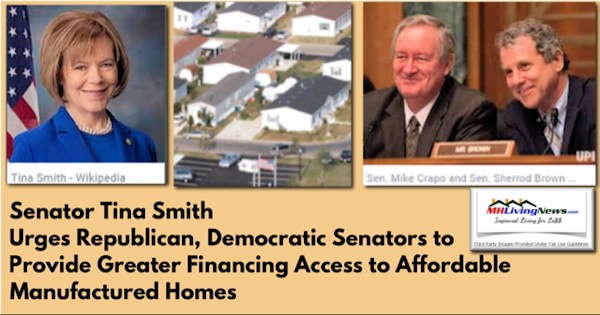 Recently, a tip surfaced the insights found in a related report below
Paul Barretto, Sr. Manager Fannie Mae, Manufactured Housing Initiatives, FHFA Lobbying Regulations, Duty to Serve, and Manufactured Housing Institute
Who is harmed? Millions who are trapped in rentals, and millions who are paying higher interest rates than they otherwise should. Or ponder the jobs that could be created, and the added GDP that is lost.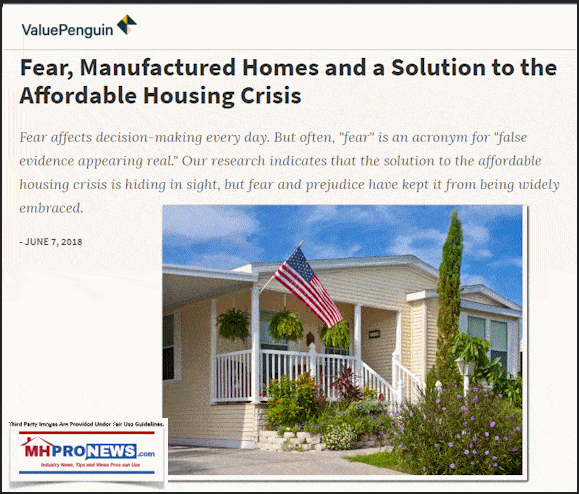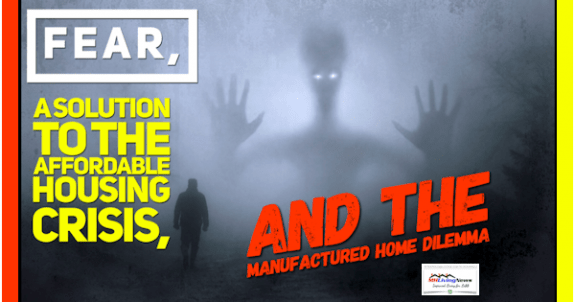 What's Next?
Manufactured Housing is the future of housing, said Alan Amy to MHLivingNews. That's why billionaires and multiple-billion dollar operations are steadily buying up pieces of the industry.
It is a truth hiding in plain sight that MHI award winner Marty Lavin described as follows.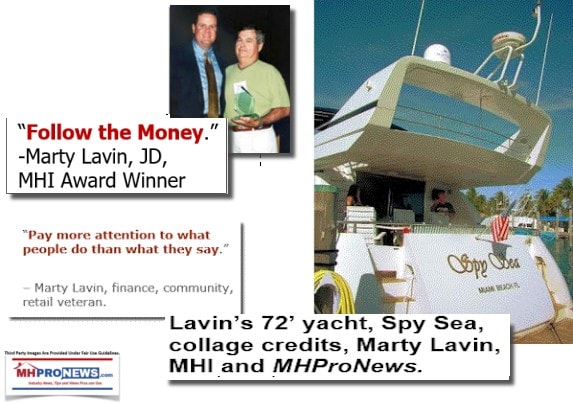 It's a sad reality that Neal Haney described like this.  So, no matter what MHI's toadies may whisper or claim, this is not a tiny minority opinion. Based upon readership, many if not most in manufactured housing are seeing this troubling reality played out in story after story published here.

How do You Beat an Elephant?
There is an old joke that you eat an elephant one bite at a time. By analogy, you beat an elephant like the Omaha-Knoxville-Arlington axis in the same manner. One step at a time.
Who says? How about Warren Buffett?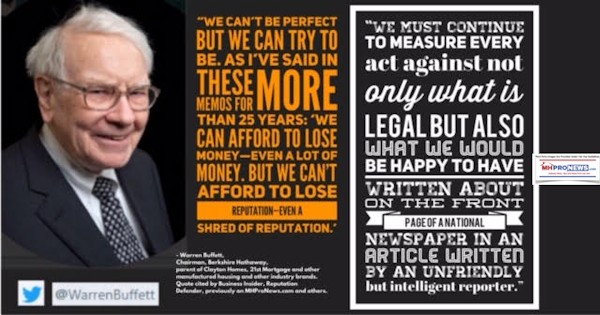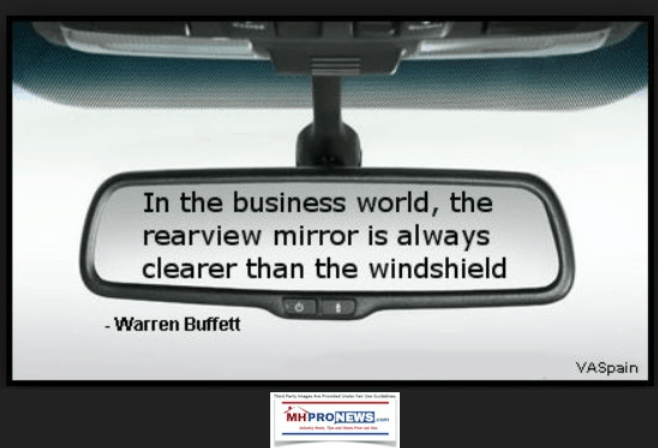 Who's praised MHProNews and MHLivingNews? How about Tim Williams?

Or MHI President Richard 'Dick' Jennison?
You can't make this stuff up.
But we can report it to you and to public officials too. We can and did call the bluff of MHI's outside attorney.
Lanham Act, Monopolistic Housing Institute, err, Manufactured Housing Institute, Legal Bullies, and You
The powers that be said they wanted to buy MHProNews. Whatever their motives were, it was a reminder to all others in MHVille that there are several traps, pitfalls, and swindles that have been at play. More on that another time.
Who did Warren Buffett support for the Oval Office? How did President Barack Obama reward Buffett's support?

"You're a Gutless Cheat," The Sting, and Manufactured Housing
By helping Buffett's brands build and protect his Moat with heavy regulations. The impact?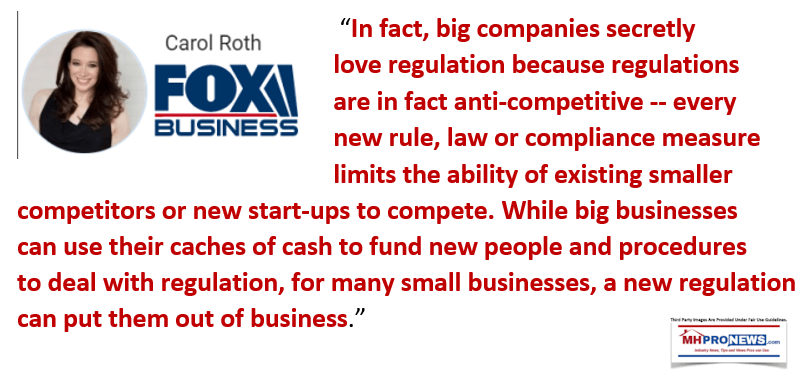 High and complex taxes. Complex regulations. Bad news. Limiting access to capital. Fostering increasing bans or limitations on manufactured homes, all while pretending to support growth.
Clever? In a diabolical way, yes, someone could make that argument that the axis has been clever in consolidation of the industry at a discounted value using such tactics. It takes time to debunk or investigate. The quote from Samuel Clemens, a.k.a. Mark Twain is worth pondering in this context.  Deceptions are easier than proving their is a deception.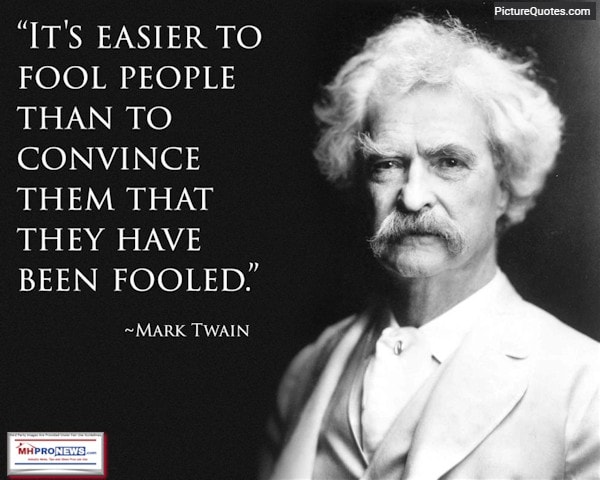 But they didn't count on a guy with a journalism scholarship who won awards in history that loves manufactured housing to study the evidence, and follow the money trail, did they?
With thanks be to God, to our supporters, and news tips sources – often from within the organizations allied with the Omaha-Knoxville-Arlington axis, the best is yet to come.
We start on now on year 11 of the industry's independents, affordable housing advocates, and consumers true friend.
The reality is that some wear black hats and merit a legal beat down. Others wear white hats, and merit having the system working for them, not against them.
On behalf of all those who wear or aspire to 'white hat' status — All for One! One for all! Tally Ho!
Thanks for joining us in this crusade to right what has gone wrong within the manufactured home industry. Day by day we shed light on the opportunities as well as the challenges. As the infographic below reflects, the opportunities are tremendous.
But to achieve those opportunities, there must be a willingness to stand up to black hats in our industry who have arguably weaponized nonprofits, tainted the public perception of our products, and have harmed thousands of independents and hundreds of thousands – perhaps millions – of consumers.  The battle for fact over fiction is right here at the manufactured home industry's #1 source for "Industry News, Tips, and Views Pros Can Use," ©where "We Provide, You Decide." © (News, fact-checks, analysis, and commentary. See more below the byline, notices and sign up for our free x2 weekly emailed headline updates.) ## See Related Reports, further below. Text/image boxes often are hot-linked to other reports that can be access by clicking on them. Third-party images and content are provided under fair use guidelines.)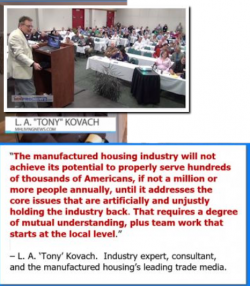 By L.A. "Tony" Kovach – for MHProNews.com.
Tony earned a journalism scholarship and was recognized with the prestigious Lottinville Award in history from the University of Oklahoma, where he also studied business management with a perfect 4.0 and made the Dean's List. Tony has earned multiple awards in manufactured housing and in history. He's a managing member of LifeStyle Factory Homes, LLC, the parent company to MHProNews, and MHLivingNews.com.
Office 863-213-4090 |Connect on LinkedIn: http://www.linkedin.com/in/latonykovach
Sign Up Today!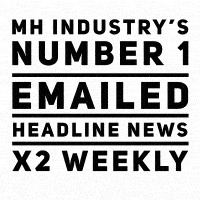 Click here to sign up in 5 seconds for the manufactured home industry's leading – and still growing – emailed headline news updates.
Related References:
The text/image boxes below are linked to other reports, which can be accessed by clicking on them.
Great or Gone? Obstacles and Opportunities in Manufactured Housing, plus Sunday Morning Headlines Week in Review 10.6 to 10.13.2019