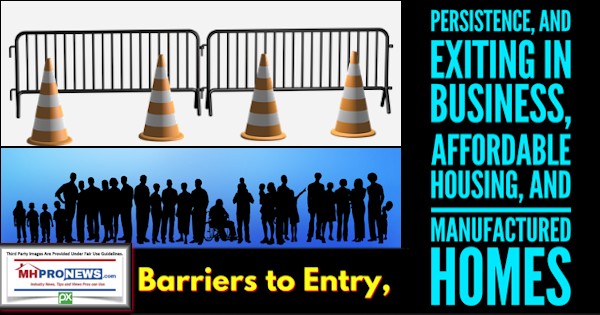 To properly understand the true state of the affordable housing crisis and manufactured housing's role in it, one must grasp at least the fundamentals of the concept of business barriers.
There are in any profession or enterprise:
Barriers of entry;
Barriers to persistence – the ability to successfully stay in business or in a profession;
Barriers to exiting from a business.
These barriers include, but are not limited to:
Sufficient Talent;
Sufficient Capital;
Regulatory and Tax policies;
Market Conditions, a.k.a competition, but also broader economic conditions;
Information – accurate information is obviously more useful than inaccurate information;
Advocacy – larger firms can directly lobby lawmakers and regulators, while smaller firms often rely upon trade associations to make their case for them.
The screen captures shown in this article are useful as a quick snapshot of aspects of this topic.
Knowing these realities about business barriers of entry, persistence, and exit creates possible advantages for those with the resources and knowledge over those that may or may not have carefully studied such issues.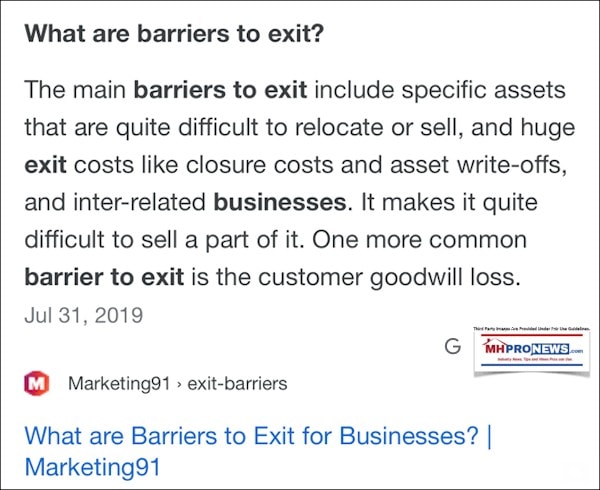 For example. Imagine an uber wealthy man and his conglomerate, say Warren Buffett and Berkshire Hathaway. If you understand – as he most certainly does – the bullets above, those insights plus a coy strategy could allow you to weaponize any or all of those bullets into tools that might 'take out' X number of competitors to a company like Clayton Homes over time.
As but one historic example, ponder the impact of Dodd-Frank on manufactured housing.
As a developing example, imagine how 'national rent control' could knee cap untold numbers of smaller manufactured home community operations. That in turn could harm suppliers, producers, installers, investors, and so on.
Needless to say, that would also harm housing affordability, and the construction and placement of new opportunities for Americans to experience affordable manufactured homes.
Does Misinformation Matter? Revealing But Misleading 'News' by MHInsider and the Manufactured Housing Institute?
So, instead of dealing with those companies that are often Manufactured Housing Institute (MHI) members by ejecting them from membership, what is MHI doing? Studying the issue.
Manufactured Housing Institute 'Studies' Threat of National Rent Control, Allen Shivvies MHI, Berkshire Brands
Of course. How intelligent.
Clayton Homes Exposé – Wall Street Journal, MHVillage, MHInsider, and Statistical Surveys Contradict Clayton Claims – Evidence, Fact Check, Analysis
Antitrust Law Flaw? 
Furthermore, there is an arguable flaw in how antitrust law has been practiced in the U.S. for many years under administrations of both major political parties. It's this. Harm to the consumer is a common test of more modern antitrust regulators.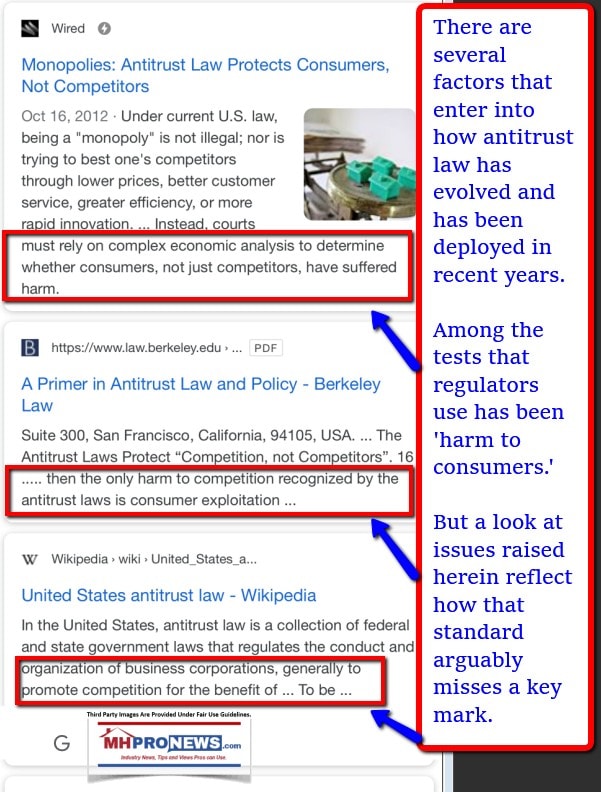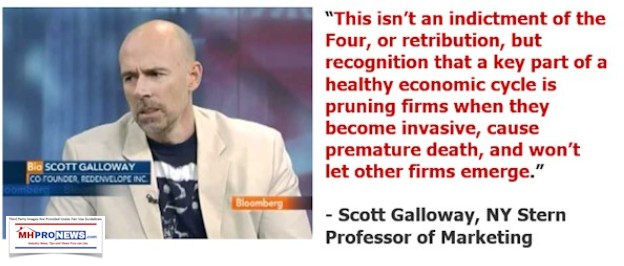 But how has that worked in practice? Why does that 'consumer' antitrust standard matter? How does it play into business barriers?
Simple. For those willing to 'game the system,' one crafts either an illusion and/or an argument that the practice involved is good for consumers. That notion is sold to regulators.
But sometimes consumer harm takes time to become clear.  Let's step outside our housing and manufactured home industry and ponder two examples as analogies, in order to demonstrate the point.
I.
Low- to no-tariffs with Mexico, China or other nations were justified on the basis of lower costs to consumers. But the short-term tradeoff that saved consumers by 'cheaper products' was followed by several perhaps 'unintended consequences' that in hindsight should be clear.  Businesses left the higher business barriers in the U.S., including higher labor costs and those other bullets noted above, in order to go to lower cost countries were worker, environmental, or other standards were not as strict as in the U.S.
The results? Fewer American factories. More unemployment. With unemployment came other social ills, drug addiction, crime, higher taxpayer costs. Was that excuse to move factories to other 'cheaper' lands actually money saved? Or was that wealth and opportunities lost as untold numbers of lives were diminished?
II.
It took years for the harm to smaller to mid-sized business to become evident from Amazon, Walmart, Facebook, or Google. It took years for the harm to consumers to become evident from problematic standards in antitrust law.
Let's look briefly at how Amazon evolved, bearing in mind that Amazon through their Alexa investment fund is now involved in prefab housing.
Amazon and online retailers for years were given a sales tax advantage that brick and mortar retailers didn't have. Amazon's business model was very low net margins. That combination of low net margins and no sales taxes for years artificially fostered the growth of not only now giant Amazon, but other online sellers too. As brick and mortar retailers were slowly being put out of business, it took time for sales tax policies to catch up. But the momentum of Amazon has already taken hold.
Amazon is an example of crony capitalism, where government tipped the scales in favor of one kind of seller over others. Sears was once a retail giant. They ended up in bankruptcy. How many local retailers, 'mom and pop' shops, suffered a similar fate?
That pattern is arguably playing out in several industries, including manufactured housing. Regulatory barriers of entry, persistence, and exit are at work. This isn't truly 'free enterprise,' rather, it is morphing of savvy business leaders who get a break that others don't have from public officials.
The results may take years to be seen. But consumers who may have short term 'saved money' have longer term paid more in taxes for unemployment benefits, lower wages (because fewer work options means less competition for labor of all kinds), and their own options for business ownership – which is for many as much a part of the American Dream as home ownership is – has been artificially limited. Commercials now running that have been placed by Amazon running on certain cable shows are a pitch to consumer but are aimed too at public officials who may or may not act to break Amazon up.
III.
Barriers of entry, persistence, and exit from business impacts virtually all Americans in a kind of economic ripple effect that is exemplified by a stone tossed into a still pond. Giving some businesses a regulatory or tax advantage over others isn't what America's founding founders had in mind at all.
American became wealthy as a nation of shopkeepers, tradesmen, and small farmers. It was growing monopolization in the so-called Gilded era that had to be broken up by antitrust laws. Some argue that the U.S. is undergoing a kind of repeat of the Gilded era.
U.S. Gilded Age – Politics, Monopolies, Corruption, Historic Insights, Lessons Learned?
This report should be read as part of another related report linked below.
MHProNews Takeaways and Conclusions?
Thousands of our industry's independent retailers, communities, and dozens of producing factories that were idled have arguably been impacted by a slow, steady manipulation the system.
I Dream of Jeannie, Cocoa Beach, Clean Fun, 1812 Overture, Fact Checks, and Manufactured Housing News
That's why what occurred a decade ago still matters today. A new form of similar ploys are underway.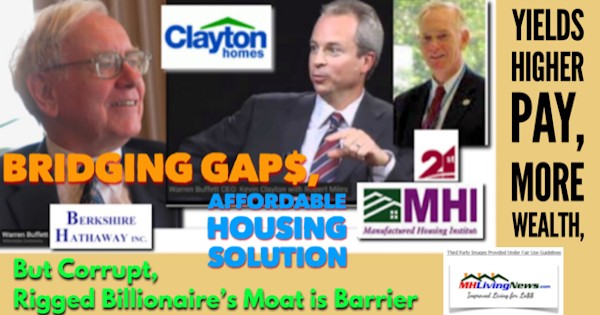 As we approach our 10th anniversary online with MHProNews, we once more say "Thank you" to all our news tip sources, sponsors, clients, and untold tens of thousands of readers like you who logon here day by day. Together, we can break through on the issues that matter most in Manufactured Housing. Step by step, we are rolling out how that breakthrough could or will occur.

That's your third installment today of your #1, most-read manufactured home industry trade media. Our site stats confirm that here you are never alone, at the home of manufactured housing "Industry News, Tips, and Views Pros Can Use," © where "We Provide, You Decide." © ## (News, analysis, periodic entertainment, inspiration, and commentary.)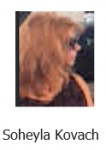 Submitted by Soheyla Kovach for MHProNews.com.
Soheyla is a managing member of LifeStyle Factory Homes, LLC, the parent company to MHProNews, and MHLivingNews.com. Connect with us on LinkedIn here and and here.
Related Reports:
Click the image/text box below to access relevant, related information.
Opportunity Starts at Home Group Asks 2020 Presidential Hopefuls to Make Affordable Housing Priority, Stunning Poll Results
Left, Center, Right? Doing What's Right, plus Sunday Manufactured Housing Reports Week in Review – 9.29 to 10.6.2019