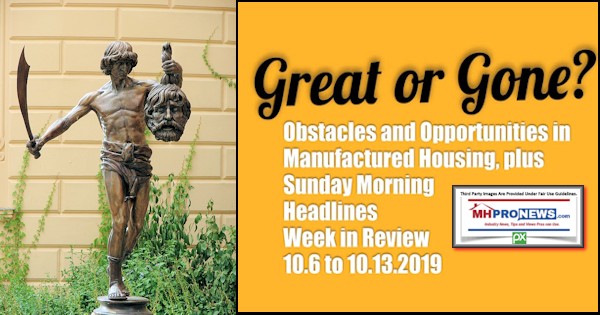 "Obstacles are those frightful things you see when you take your eyes off your goal."
Henry Ford, per Brainy Quotes.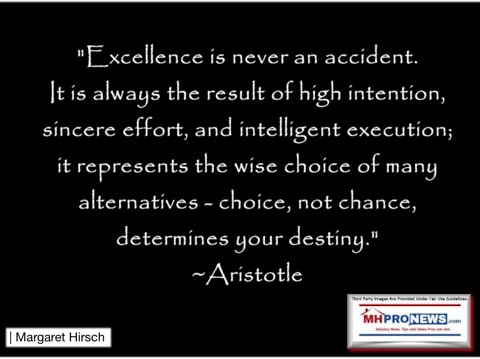 Our manufactured home industry has been celebrated, in events like the Innovative Housing Showcase (IHS), and in numerous other ways. But manufactured housing – its homeowners and professionals- have also been mocked, ridiculed, and has had scorn heaped on it in untold numbers of reports, including ones on PBS, NPR, Ozy Media, and a 16 minute viral video hit on Last Week Tonight by John Oliver errantly dubbed, "Mobile Homes."
Which impression do you as an industry professional, investor, advocate, or public official believe is the one which most Americans hold as their own view of the most proven form of affordable housing?
Hold your answer to that question.
Because no other trade media in our industry's history has ever looked at the cold, hard, sometimes brutal facts like that other than MHProNews and our sister site, MHLivingNews. Rephrased, all other trade media or better known bloggers in MHVille today are in some measure arguably deficient – presenting most commonly happy talk or self-promotion instead of reality. Hold that thought too, because reality is what is it is.
Reality is where opportunities meet obstacles.
America is also Divided. This and the reality above are both a curse and a blessing. How so?
On a series of serious issues that span the left-right political divide, there are polar opposite views held by millions. This isn't new, but it is being increasingly highlighted by voices on either side of the gaps that exist.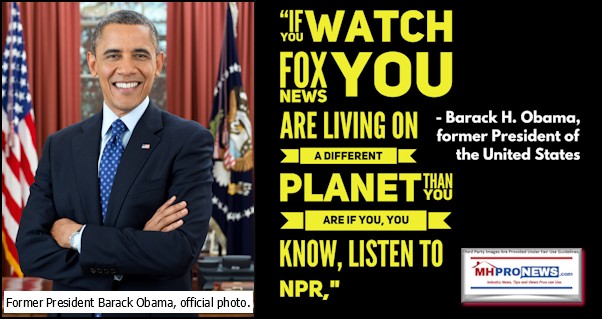 When right-of-center pundit Sean Hannity of Fox News agrees with former President Barack Obama's statement above, thinkers on either side of that chasm ought to ask, what's going on?
In his 2020 video announcement of his run for the Democratic nomination for the White House, billionaire Tom Steyer made the same point that Senators Bernie Sanders, Elizabeth Warren, and then-candidate, but now President Donald J. Trump have all made.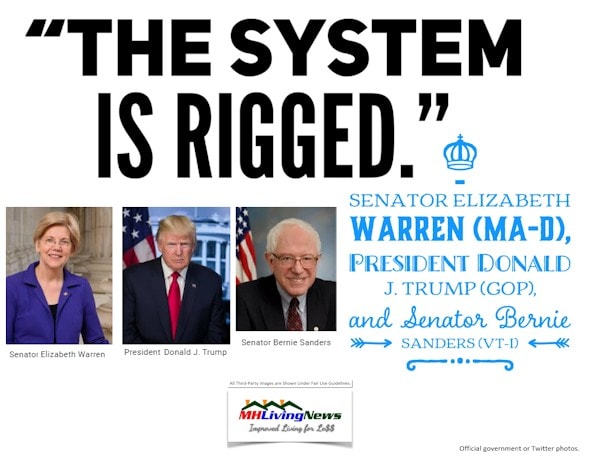 When the left and right often agree on some core issue, one must ask, what is going on?
Hold that thought.
MHLivingNews and MHProNews have spotlighted research that Democratic and Republican lawmakers alike did that concurred that manufactured homes are the most proven form of affordable housing. They specifically compared developing or redevelopment of new or existing manufactured homes and multifamily housing. Manufactured homes win in each category hands down.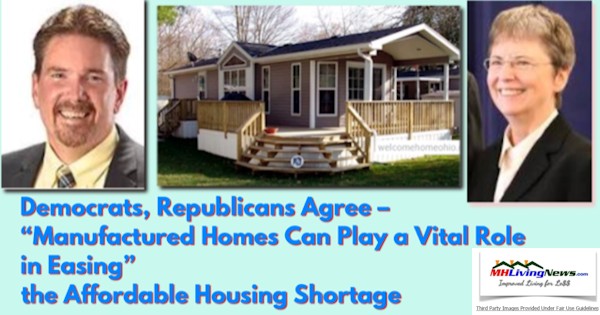 Why is that and reams of other third-party research so little known or celebrated beyond our trade media sites?
As a longtime veteran of manufactured home retail, communities, businesses development, and publishing, we take a unique look at the industry day-by-day on MHProNews. Indeed, among the better known platforms, we are the first and still only business daily in our industry.
As our tenth anniversary of publishing approaches on Tuesday, October 15, 2009 it is important to look back, look around, and look ahead.
When we launched what we now call MHProNews, the industry was in disarray and heading toward what some believed was a total collapse. There were those who thought that manufactured homes would go the way of the buggy whip, do you recall that or other similarly dim prognosis?
Into that breach we stepped with what we know call MHProNews when the respected Manufactured Home Merchandiser Magazine ('the MH Merchandiser') had announced they were closing, when they joined the ranks of other failed publications in our industry in closing down during the summer of 2009.
In those dark days of 2009, the industry needed a rallying point. This was not the only one, but it became the go-to one for thousands of more readers than anywhere or anybody else.
Less than 2 years later, we began our part of the rebirth and turnaround of the Louisville Manufactured Housing Show. We were widely praised for that effort, with show leaders like those quoted below singing our praises.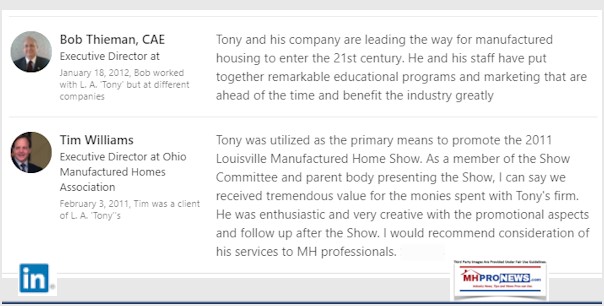 Fast forward to today.  We still have the largest, most engaged audience, and still deliver results.

Our goal from the outset was to help fuel the industry's growth in sustainable, ethical ways. We did not teach get rich quick schemes as some have, that may or may not work for all, but for several of those that it does work, have used it to foster the kinds of industry black eyes that John Oliver and others have reported. How can an industry address its potential without admitting its obstacles?
Several of those obstacles are internal ones. That is the painful conclusion we came to after some 7 years of engagement with the Manufactured Housing Institute (MHI). But we are not alone in that assessment. Ponder these often cited quotes used here but virtually by no one else, save our MHLivingNews sister site.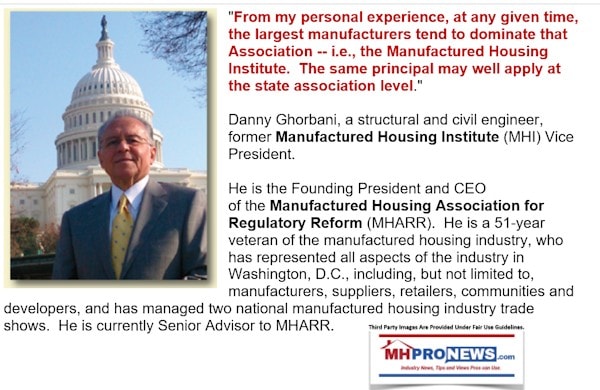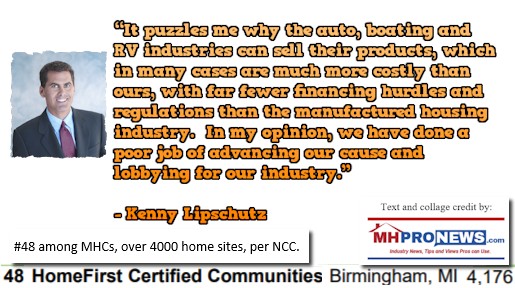 We could go on and on with criticism of MHI by its own members, past and present. Indeed, the respected and now also closed Journal of Manufactured and Modular Housing (the Journal) published an article by Chris Stinebert, a prior MHI president, who used his parting message de facto slam several failures of 'the industry,' which are often code-words for MHI.
There are plenty of pretenders of objectivity in MHVille, and some are to various degrees 'successful.' But success that may line someone's pockets while thousands of industry businesses – many that were long successful and had good reputations vanished – and while a growing number of manufactured home owners are struggling under problematic business practices while MHI issues a code of ethical conduct that is already being ignored —- that is tragic, isn't it?
Illegal drug dealers may become successful too. But most of us thankfully don't aspire to become one of them.
There is a war on for the heart and soul of America. On that point, with no need to go beyond it, one can agree with Obama-administration era Vice President Joe Biden. Never mind for the moment if the former VP used his office worked to line the pockets of his son Hunter Biden. That will all come out in some form or fashion in the dirty laundry wash that is Washington, D.C..
There is a rigged system in America. On that point, we can all agree with the 45th President of the United States, Donald J. Trump. Time will tell if that transcript of a phone call with the Ukrainian President is the latest iteration of the attempt to sully his presidency enough to impeach or defeat him in 2020 works.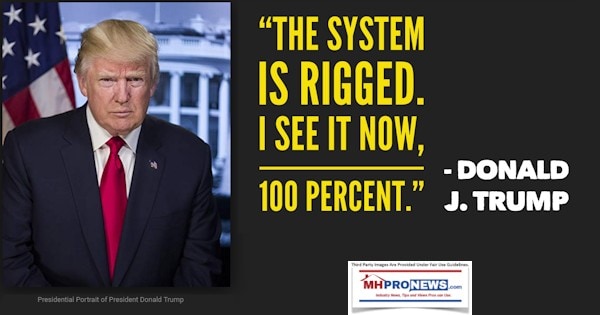 Perhaps more than many Democrats, President Trump – who criticizes Senator Bernie Sanders on policy – has spoken about how "Bernie" was "cheated" by "rigged system."
The president, and several 2020 Democrats could not be father apart on their solutions for what faces America. But they agree that the system is rigged.
It is our considered view as the most-read trade media in our industry that the Manufactured Housing business and several nonprofits have been rigged too.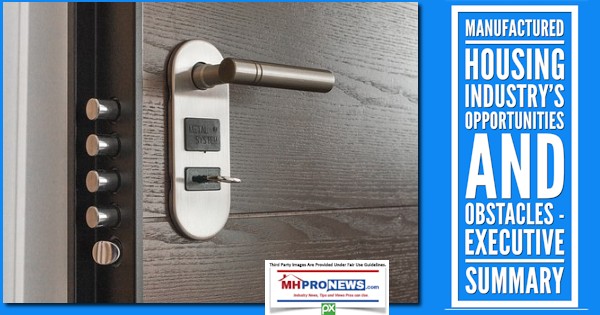 We know personally as well as professionally each of the better known bloggers and publishers in MHVIlle. Of course, it is natural to think that your own publication is the best. But when rivals – frenemies – say that they will leave the fact checks and exposes to us, that speaks volumes doesn't it?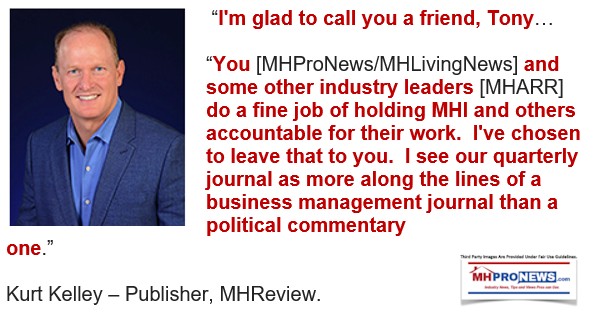 As a businessman with years of successful industry businesses development projects under our belts, we can look others in the eye and say, the system in manufactured housing is rigged. We can then poit to specific evidence. If you rely upon those who rigged the system to fix it, what outcome can you expect?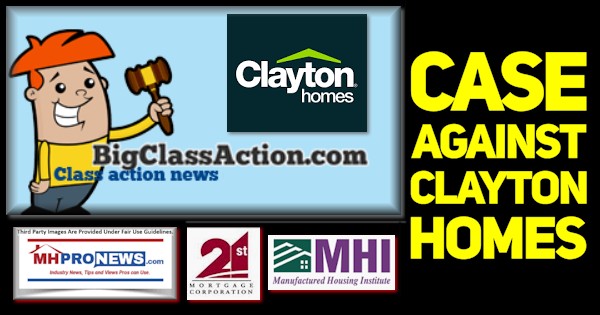 We alone also point to what other researchers outside of manufactured housing have said about problematic behavior by Berkshire Hathaway associated brands, such as the new FED report linked here or below.  Why don't others in MHVille trade publishing raise these same concerns?
Our industry is underperforming. It is in retreat as measured by hard data, the year over year shipments of new HUD Code manufactured homes. As a report further below reflects, we have once more invited the industry's 'leaders' in the Omaha-Knoxville-Arlington axis to respond to or debunk the concerns we have documented with increasing frequency. They have the right to remain silent. Anything that they say can and may be used against them, perhaps even in a court of law. Because what has occurred has arguably harmed millions, not just manufactured housing independents.
Only the truth will set people free.
Taking Lemons and Making Lemonade
We are pragmatic realists. These problems mentioned above – that include several new reports below – are arguably opportunities in disguise for those with the guts, wisdom, and willingness to look reality in the eye and act accordingly.
There are several opportunities to turn lemons into lemonade. There are ways that the purported misbehavior of a few – no matter how big – could be turned into a benefit for honest operations. But it won't happen without effort. Just as business involves risk, so too there is risk in the path we mention.
That said, we argue that there is more risk in ignoring reality than in facing it. Denying gravity exists doesn't help the dude or damsel that jumps off a cliff without the benefit of a parachute or safety gear.
Year 10 of serving manufactured housing as the documented #1 most read trade media almost done. Our thanks to all who have made this possible.
With no further adieu, we now turn to the reports that are new in the week that was.
What's New on MHLivingNews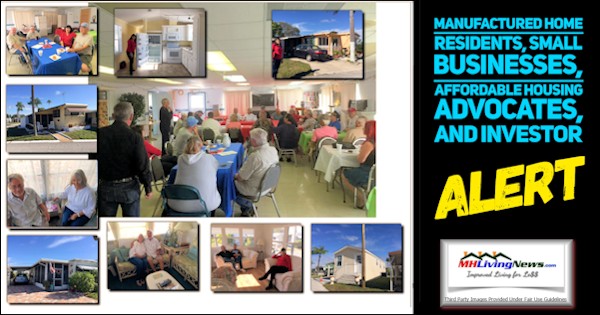 What's New from Washington, D.C. from MHARR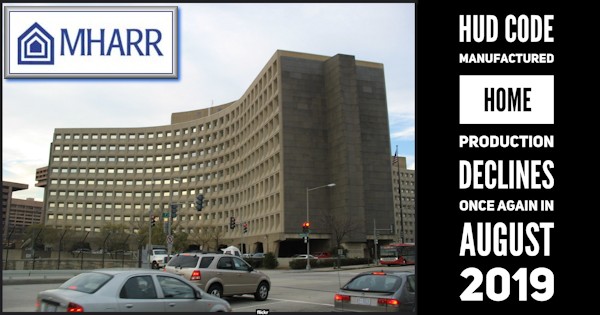 What's New on the Masthead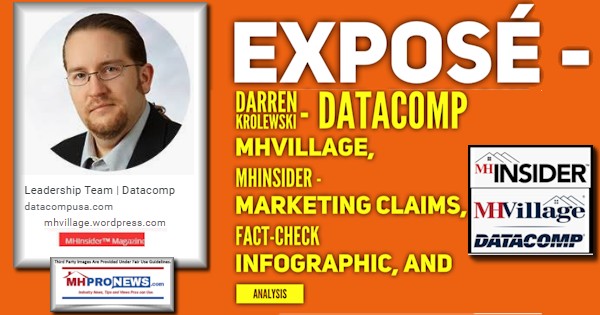 What's New on the Daily Business News on MHProNews
Saturday 10.12.2019
Paul Barretto, Sr. Manager Fannie Mae, Manufactured Housing Initiatives, FHFA Lobbying Regulations, Duty to Serve, and Manufactured Housing Institute
Friday 10.11.2019
Comparing Manufactured Home Single and Multi-Sectional Data, State by State, 2018 vs. 2019
China-U.S. Moving Toward Deal? Plus, Manufactured Housing Investing, Stock Updates
Post-Legacy Housing Event Report, Public and Behind the Scenes Data
"I Dare You!" Next Week, 2020 Democratic Hopefuls Debate, Today's Look at POTUS Trump's Minneapolis Rally, Insights and Lessons
Thursday 10.10.2019
Wow! Giving Credit, Interesting – What Rick Robinson, MHI's General Counsel, Said About Zoning Battles
FBN's Roth – In Defense of Small Business, plus Manufactured Home Investing, Stock Updates
Council of Economic Advisors on U.S. Unemployment Rate, Hard Data, Insights for Manufactured Housing Professionals, Marketers
Native American, Racial Minorities in Housing and Manufactured Homes, per FED, Harmed by Lending Practices, Clayton Homes, Berkshire Hathaway Affiliated Lenders Cited
Wednesday 10.9.2019
As Democratic Presidential Hopeful Field Leaders Are Fraying… Hillary 2020?
Newsy, Peeling Back Media Bias, Manufactured Housing Sales, Investing, Politics, and You
NFIB Frets Over Regulatory Bill, POTUS Trump Signs Small Biz EO, plus Manufactured Housing Investment, Stock Updates
Clayton Homes, 21st Mortgage, MHVillage, Manufactured Housing Institute Leaders Challenged
Tuesday 10.8.2019
Does MHVillage, Datacomp Depress Manufactured Housing Valuations?
Politics, News, Economic Slowdown, Dem RCP Latest, plus Manufactured Home Investing, Stock Updates
Charges Filed Against Mobile Home Resident, More Pending, the Other Side of the Story?
Monday 10.7.2019
Experts Look at Hard vs. Soft Data, Recession Looming or Not? Plus, Manufactured Home Investing, Stock Updates
Barriers to Entry, Persistence, and Exiting in Business, Affordable Housing, and Manufactured Homes
Clayton Homes Exposé – Wall Street Journal, MHVillage, MHInsider, and Statistical Surveys Contradict Clayton Claims – Evidence, Fact Check, Analysis
I Dream of Jeannie, Cocoa Beach, Clean Fun, 1812 Overture, Fact Checks, and Manufactured Housing News
Sunday 10.6.2019
Left, Center, Right? Doing What's Right, plus Sunday Manufactured Housing Reports Week in Review – 9.29 to 10.6.2019
Closing Thoughts
Many once great companies, larger and smaller, are now gone. Why?
When someone goes to a doctor, attorney, accountant, or other specialist, they normally don't go to an expert with the notion that they get lied to so that they might feel better for a few moment. A doctor, attorney, or account that misrepresents the facts in a problematic fashion could lose their license to practice in their field.
So why is it that when someone is looking for candid news, reports, analysis and commentary some still turn to those purveyors of happy talk that ignore vexing realities like those we alone report as we do? Or how about those artful dodgers who duck their share of the responsibility for the troubling fact that manufactured housing is underperforming? Or that such underperformance leads a few to benefit while many are being financially or otherwise harmed by their misdeeds?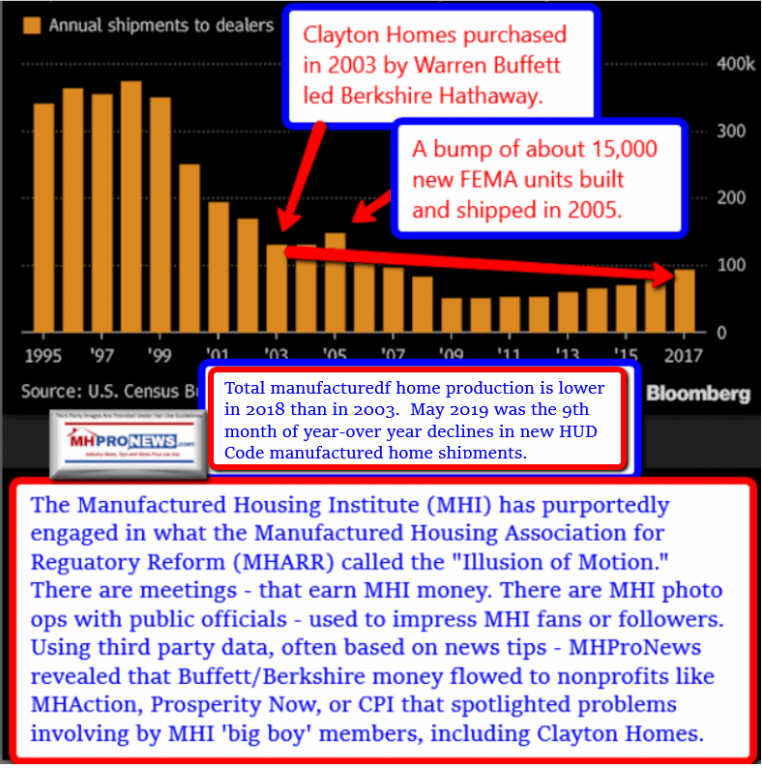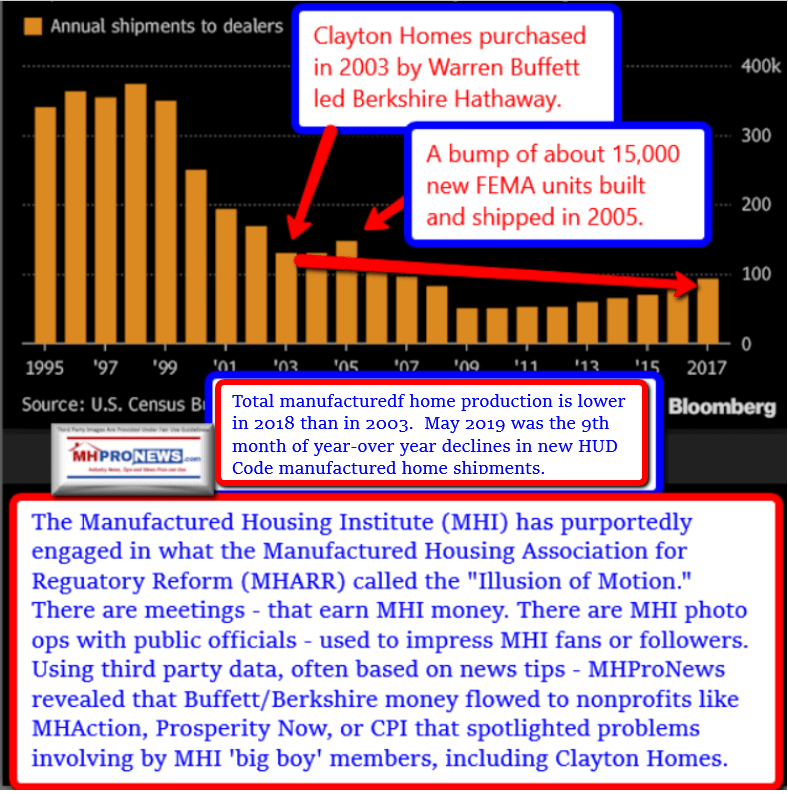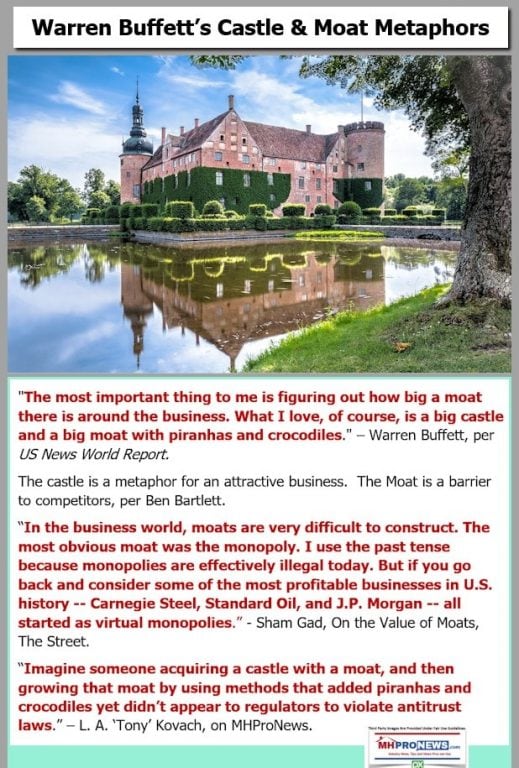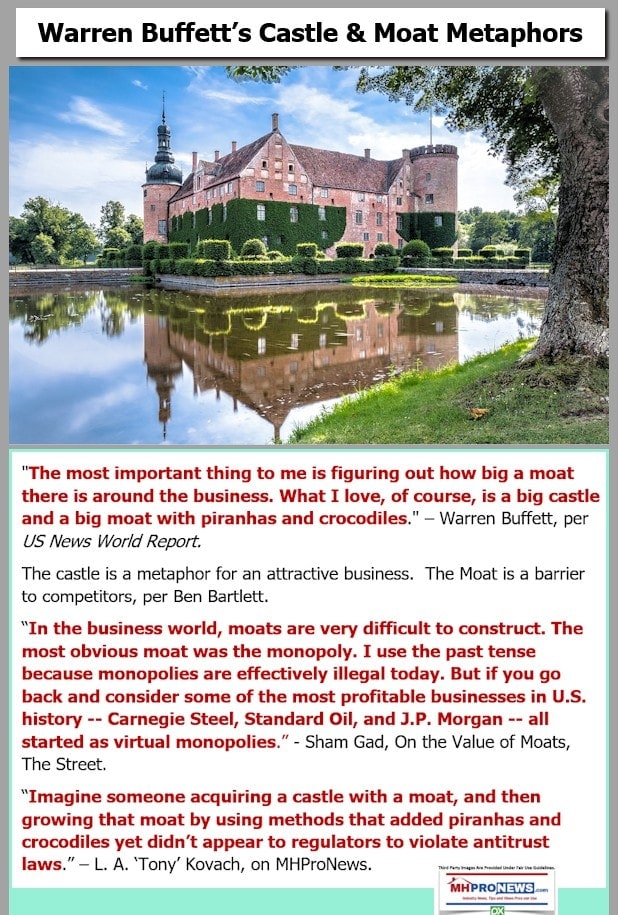 Our goal of seeing the industry grow in an ethical and sustainable fashion has never changed since we launched this platform ten years ago.  But along the way, we learned some vexing concerns that if unaddressed, will likely only cause more of the same ahead. It must be noted that even an expert – an MD, an attorney, an accountant – may at first think one thing, but upon discovering new information, pivots to the reality that evidence points them toward.  That's what has happened for us. How about you?
As you read the reports behind and those ahead, keep such questions ever in mind. We alone lay out the evidence, documents, applied logic, and quotes in context that make a compelling case for violations of various federal and other laws by some in the Omaha-Knoxville-Arlington axis. That doesn't mean that everyone working for them is 'evil.' Indeed, some of our best tips come from those in those bastions of misleading head-fakes. So, never forget to keep the principle of separating the wheat from the chaff in mind.
Indeed, even problematic or purported smiling bad guys with evil intentions can do or say good, insightful, or useful things.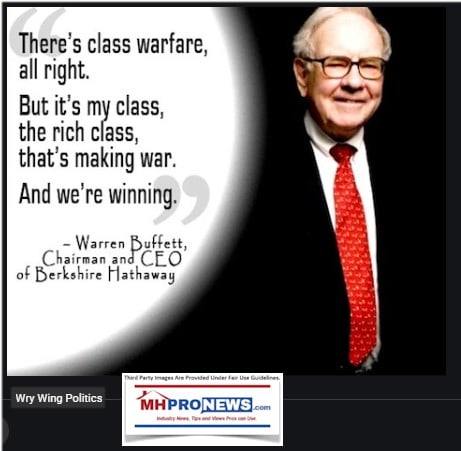 My better half has the morning, which means the day, off today. So, I hope this recap has done the job as well as she might have performed it. There is no one else in MHVille that even pretends to try to bridge the left-right gap in scouring information and insights, sift those in the light of known facts, and then apply it to the circumstances of our industry. Perhaps that is why those across the political spectrum and from firms of all sizes are routinely on our websites?
That's a wrap on our weekly review of "News through the lens of Manufactured Homes and Factory-Built Housing" © where "We Provide, You Decide." © (Sunday morning weekly headlines in review, news, fact-checks, analysis, and commentary. See more below the byline, notices and sign up for our free x2 weekly emailed headline updates.) ## See Related Reports, further below. Text/image boxes often are hot-linked to other reports that can be access by clicking on them. Third-party images and content are provided under fair use guidelines.)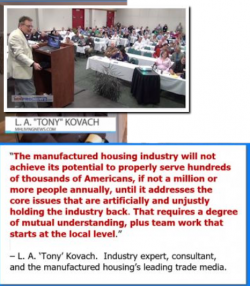 By L.A. "Tony" Kovach – for MHProNews.com.
Tony earned a journalism scholarship and was recognized with the prestigious Lottinville Award in history from the University of Oklahoma, where he also studied business management with a perfect 4.0 and made the Dean's List. Tony has earned multiple awards in manufactured housing and in history. He's a managing member of LifeStyle Factory Homes, LLC, the parent company to MHProNews, and MHLivingNews.com.
Office 863-213-4090 |Connect on LinkedIn: http://www.linkedin.com/in/latonykovach
Sign Up Today!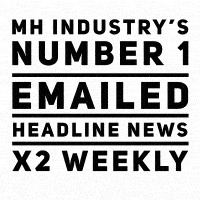 Click here to sign up in 5 seconds for the manufactured home industry's leading – and still growing – emailed headline news updates.
Related References:
The text/image boxes below are linked to other reports, which can be accessed by clicking on them.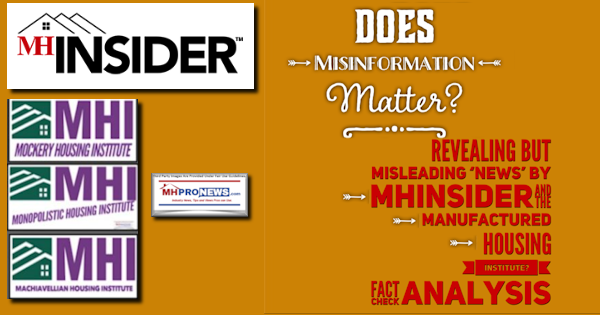 It is easy for some to get the mistaken impression that MHProNews has become obsessed with spotlighting only bad stuff occurring in and too the manufactured housing industry.