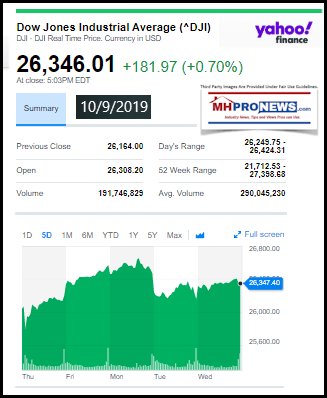 For tens of millions, perception is reality. That's a challenge for manufactured housing professionals, as several recent reports on MHProNews reflect.
There is an entirely different world of news that millions of Americans never see or hear, depending on what media outlets a person selects. Because MHProNews scours a left-right look at business news, while also looking to the Manufactured Housing Association for Regulatory Reform (MHARR), National Federation of Independent Businesses (NFIB), the White House or other federal agencies, we're exposed to news – sharing what makes sense on a given date – that others may not see. We'll look at three pieces of business news tonight in one report. On a day that renewed hope for a scaled down deal with China buoyed investors, that will be our focus for this evening.
Regular readers please note there are fall updates and several more tweaks and changes in some of the 'standard text' that follows before our left-right headlines and also in other features near the end of tonight's reports.
Every evening our headlines that follow provide snapshots from two major media outlets on each side of the left-right news spectrum that reflect topics that influence or move investor sentiment. In moments on this business evening report, you can get 'insights-at-a-glance.'
This report also sets the broader context for manufactured housing markets, in keeping with our mantra, "News through the lens of manufactured homes and factory-built housing" ©.
We begin with headlines left-of-center CNN followed by right-of-center Fox Business. We share closing tickers and other related data courtesy of Yahoo Finance, and more. 5 to 10 minutes reading this MHProNews market report every business night could save you 30 minutes to an hour of similar reading or fact-gathering elsewhere.
Perhaps more important, you will get insights about the industry from experts that care, but also dare to challenge the routine narrative that arguably keeps manufactured housing underperforming during an affordable housing crisis.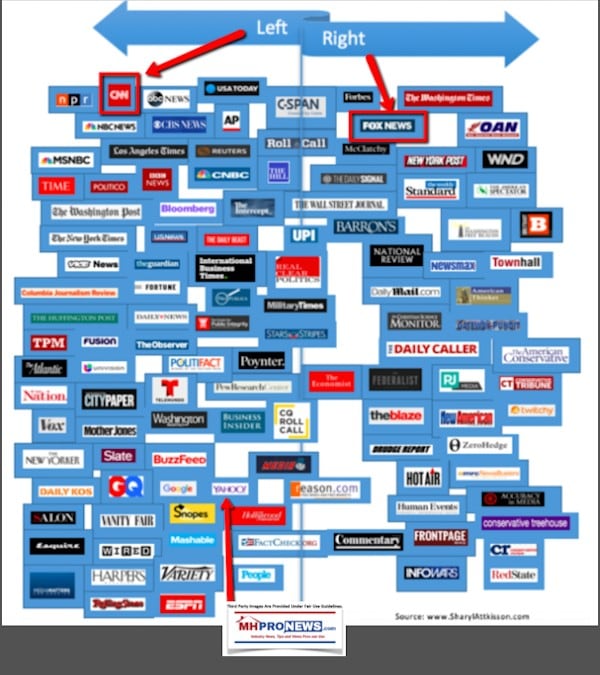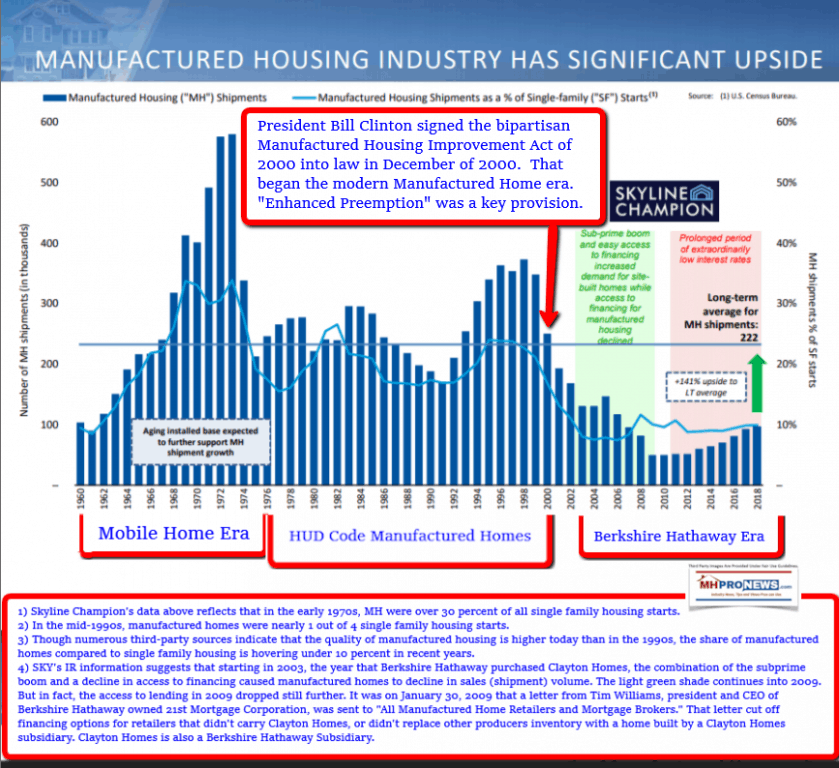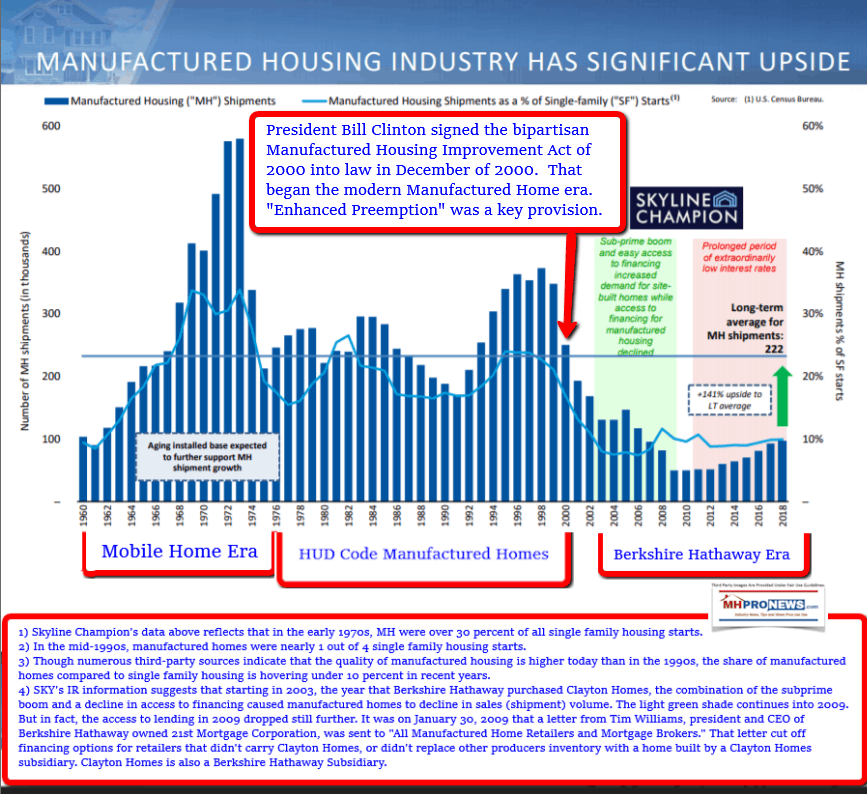 Headlines from left-of-center CNN Business.
NBA vs China
How one tweet snowballed into the NBA's worst nightmare
All of the NBA's official Chinese partners have suspended ties with the league
Opinion: The NBA is feeling China's wrath. Here's what other businesses can learn
US strikes a blow to China's AI ambitions
LIVE UPDATES Stocks finish higher, despite mixed messages on trade
Trump appears to have lost a key ally in conservative media
Target is bringing Toys "R" Us back online
Goldman Sachs reviews its role in Megvii's IPO after Chinese AI firm is blacklisted
Germany shooting suspect appears to have livestreamed attack online
Mark Zuckerberg to testify before Congress amid scrutiny of Libra cryptocurrency
Europe warns that 5G networks could be hit by state-backed hackers
Content by Wise Bread
Get a cash back card that rewards you
Worker inspect pickup truck frames at the General Motors Co. assembly plant in Flint, Michigan, U.S., on Tuesday, Feb. 5, 2019.
GM's Mexican factories: Why ending the UAW strike will be so hard
Former NBC staffer accuses Matt Lauer of rape in Ronan Farrow's new book
Fitbit is pulling manufacturing out of China to avoid tariffs
THE NEW WORKFORCE –
Barring a dramatic drop on Wednesday, U.S. markets are poised to mark the longest bull market rally in U.S. history, stretching back to March 2009. (Photo by Drew Angerer/Getty Images)
Single working women are changing the US economy
US factories are getting crushed by Trump's trade war
The US needs immigrants to keep economy growing
These CEOs make 1,000 times more than a typical employee
Your questions about the gig economy, answered
REAL ESTATE
Prices of Manhattan apartments are plunging
The best week to get a good deal on a house
Want to save on a home? Buy it with some strangers
Luxury homes in the Hamptons sell at steep discounts
Looking to sell your home? Make sure it has web appeal
China censors a lot, from Winnie the Pooh to the NBA
Headlines from right-of-center Fox Business.
Low-income taxpayers steered away from free tax filing options: report
While 70 percent of Americans are eligible to take advantage of the program, only 2.5 percent did so in fiscal 2018.
Matt Lauer says family has 'been through hell' as rape claim emerges
It 'breaks my heart': Ex-'Today' co-host Ann Curry speaks out
Lauer addresses rumored secret door-locking button at NBC office
WATCH: Trump says NBA's Steve Kerr is like 'little boy, so scared' of China
WATCH: Trump reveals this is 'the hardest thing I have to do'
Bed Bath & Beyond taps retail veteran to be next CEO
'Completely irresponsible': Businesses slam PG&E as California goes dark
These areas receive more FEMA flood-prone home buyouts
'Chrisley Knows Best' stars score legal victory, but they're not off the hook yet
Save your bacon: Pork in US may soon be in short supply
Seniors are jumping on this side hustle for extra cash
SEE IT: Airline employees fired after brutal fight during layover goes viral
People in these 3 professions have the most sex, survey reveals
Spice store throwing salt on Trump with massive impeachment ad campaign
Elizabeth Warren just made big money move that could make or break her run
WATCH: Farmers burned by China trade make a killing off corn cannons
UPS makes massive investment in natural gas-powered trucks
WATCH: Tips on how to prevent robocalls to your iPhone
Stocks surge ahead of US-China trade talks
These items owned by Kurt Cobain to hit auction block
'Oh my gosh': Jennifer Aniston says she saw Weinstein's 'piggish behavior'
Facebook's Mark Zuckerberg pulled in front of Congress by Rep Maxine Waters
How to avoid wasting money on bank overdraft fees
Live like a celebrity in this tranquil Santa Barbara estate
Former Felicity Huffman's co-star Ricardo Chavira slams 14-day sentence
Duke's Mike Krzyzewski 'glad' 'Fair Pay to Play Act' passed: 'We need to stay current with what's happening'
Don't make these big life insurance blunders
Mortgage applications jump as interest rates continue to slip
China pressures Apple to censor app that allows Hong Kong protesters to report police activity
Teen spending is down, but the majority of their money still goes to this fast-food chain
10 Market Indicator Closing Summaries – Yahoo Finance Closing Tickers on MHProNews…

Tonight's Business/Market/Political Impact Spotlight –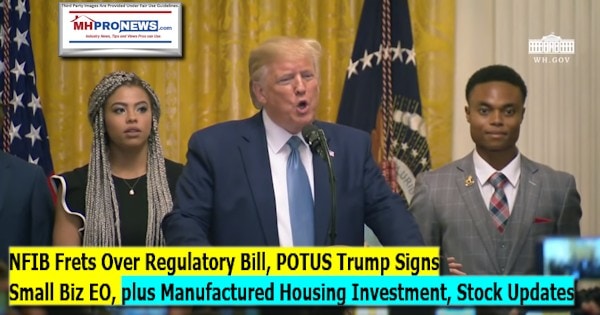 President Trump Delivers Remarks at the Young Black Leadership Summit 2019
Prior to his successful run for the White House in the 2015 to 2016 election cycle, citizen Donald J. Trump didn't have a reputation as a 'racist.' It's a topic MHProNews has explored several times, but bears mention in the light of this recent White House event that celebrated young black leadership.

Earlier today, President Trump signed executive orders that are designed to relieve small businesses from and families from unnecessary burdens. It is part of a broader de-regulatory push that MHProNews reviewed their effectiveness in the report linked below the related reports.
Small Business E.O.
The new executive orders will give businesses and families a chance to express their side of the story before being hit with fines and regulations. It will also seek to prohibit "secret or unlawful bureaucratic interpretations of rules" as well as "unfair or unexpected penalties from agencies," according to left-of-center Bloomberg.
"President Trump is returning control over the government to the American people," said Russ Vought, acting administrator of the White House Office of Management and Budget, in a statement, per left-of-center CNBC. "These executive orders give this administration the tools to defend Americans' freedom and liberty against off-the-book regulations and prevent unfair penalties from being levied on American families and businesses by rogue agencies."
While the odds are low that the follow bill passes under the current Congress, what happens in 2021 would be a different matter if Democrats hold the House, capture the Senate and take the White House back. After the GovTrack data is the release from NFIB.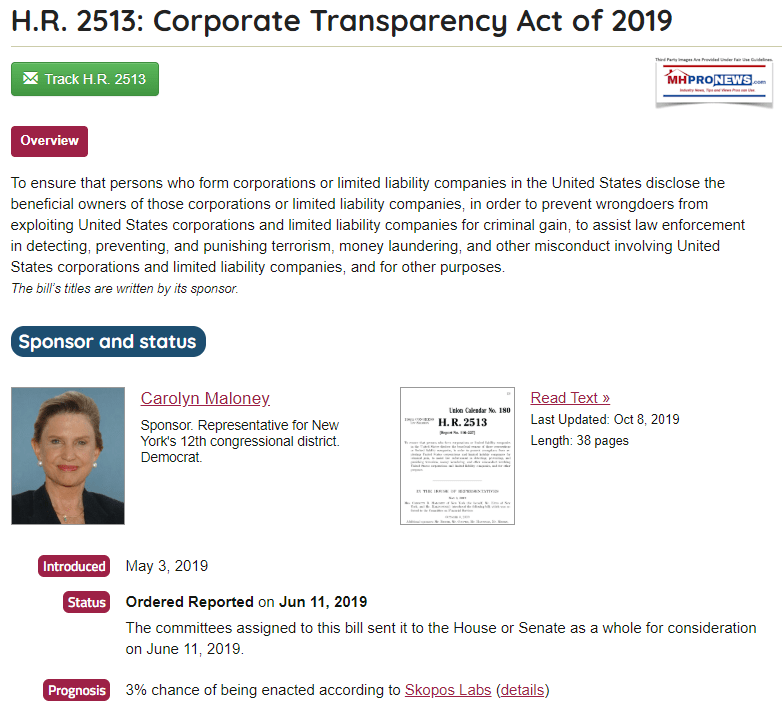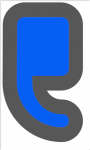 WASHINGTON, D.C. — Small businesses would face $5.7 billion in new regulatory costs and an additional 131.7 million hours of paperwork if H.R. 2513, the Corporate Transparency Act of 2019, is signed into law. The figures were released today as part of an NFIB study that provides annual and ten-year approximations of the costly effects of the proposed legislation.
"This study quantifies the concerns small business owners have over the Corporate Transparency Act," said Brad Close, NFIB's Senior Vice President, Public Policy. "The bottom line is that small business owners simply cannot afford the additional compliance costs and security risks that the Corporate Transparency Act imposes. While we appreciate efforts to discourage wrongdoers from taking advantage of U.S. companies, Congress must not create undue burdens on those who can least afford them or put small business owners' private information in jeopardy.
The Corporate Transparency Act of 2019 would require small corporations and limited liability companies with 20 or fewer employees to complete and submit paperwork which includes the personally identifiable information of each business owner, to the Treasury Department's Financial Crimes Enforcement Network upon the creation of the business and periodically for the life of the business. Failure to comply is a federal crime with civil penalties up to $10,000 and criminal penalties of up to three years in prison.
H.R. 2513 not only imposes a significant resource and cost burden on small business owners that they are not equipped to absorb but puts the private information of each owner at an increased risk of abuse or hacks. NFIB's study found that if the Corporate Transparency Act became law in 2020:
More than 4.9 million businesses would be required to provide personal ownership information to FinCEN on an annual basis.
Under this bill, the Treasury Department would be required to retain the information for the life of the business plus five years. Furthermore, it grants broad access to the information to federal, state, local, or tribal law enforcement agencies through a simple request.
According to NFIB's 2016 Small Business Problems and Priorities survey, small businesses report that the burden of federal paperwork ranks in the top 20% of the problems they face. The paperwork burden imposed by this legislation is significant:
The annual cost of compliance would be equivalent to an annual average of $573 million in monetized regulatory costs.

The 10-year cost of compliance is a cumulative $5.7 billion in new regulatory costs.

Small businesses would be required to complete an annual average of 13.2 million hours of additional paperwork per year from 2022 to 2031 in order to remain compliant.

The 10-year cost of paperwork compliance hours is estimated to be a cumulative 131.7 million new paperwork hours.
At a business with 20 or fewer employees, the small business owner is frequently the individual who fills out and files the paperwork, which means that time is taken away from the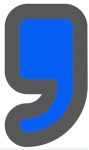 owner's daily tasks of operating his or her business.
##
To read the full study and the methods used for estimation is found linked here.#
MHProNews notes that the new 2020 front runner, Senator Elizabeth Warren, is running on a pledge to create an array of new regulations, which is why some business-focused Democrats are concerned about her surge. That makes this issue an appropriate one to review.
Related Reports:
Senator Elizabeth Warren Takes Aim, Blasting Again MHI Member Company in 2020 Campaign Stop
Senator Warren Campaigns on Antitrust Action Pledge, plus Manufactured Home Investing, Stock Updates
Several MHVille Impacts – Warren Surges Past Biden, Wall Street Warns Dems 'May Support Trump' if She Wins Nomination
Hillary 3.0? Senator Warren, Corey Lewandowski, 2020 Updates, plus Manufactured Home Investing, Stock Updates
"Legalized Looting: Mobile Home Rent Increases Require Wall Street Reforms" Says Senator Warren
President Trump Praises "The Villages," Developers, Manufactured Homes, Other Housing Land-Lease Community, Audience Cheers, Full Oct 3 2019 Speech Text, Video
Manufactured Housing Industry Investments Connected Closing Equities Tickers
Some of these firms invest in manufactured housing, or are otherwise connected, but may do other forms of investing or business activities too.
NOTE: The chart below includes the Canadian stock, ECN, which purchased Triad Financial Services, a manufactured home industry lender.
NOTE: Drew changed its name and trading symbol at the end of 2016 to Lippert (LCII).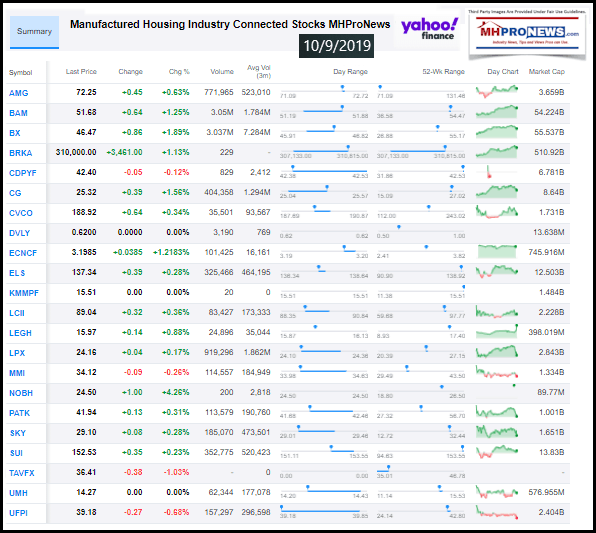 Updated for Fall 2019…
Berkshire Hathaway is the parent company to Clayton Homes, 21st Mortgage, Vanderbilt Mortgage and other factory built housing industry suppliers.
· LCI Industries, Patrick, UFPI, and LP each are suppliers to the manufactured housing industry, among others.
· AMG, CG, and TAVFX have investments in manufactured housing related businesses.
For insights from third-parties and clients about our publisher, click here.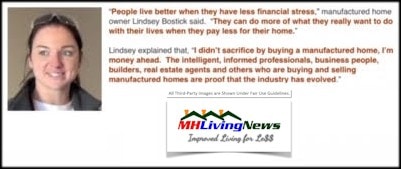 · For expert manufactured housing business development or other professional services, click here.
· To sign up in seconds for our industry leading emailed headline news updates, click here.
Disclosure. MHProNews holds no positions in the stocks in this report.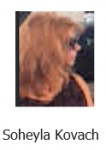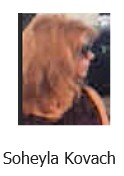 "We Provide, You Decide." © ## (News, analysis and commentary.)
(Image credits and information are as shown above, and when provided by third parties, are shared under fair use guidelines.)
Submitted by Soheyla Kovach, co-managing member of LifeStyle Factory Homes, LLC and co-founder for MHProNews.com, and MHLivingNews.com.