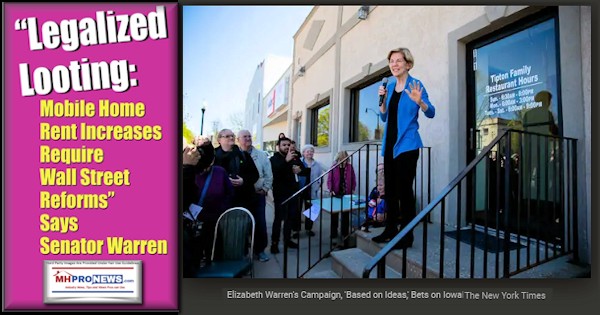 The letter that follows from Senator Elizabeth Warren (MA-D) is reproduced from the Iowa City Press Citizen from this link here under fair use guidelines. The Massachusetts maverick senator's letter will be followed by an analysis and commentary by MHProNews.
Senator Warren is a 2020 Democratic presidential nomination hopeful. Iowa is a magnet for candidates as their Feb 3, 2020 caucus date proceeds the primary Feb 11, 2019 in New Hampshire and other state primaries.  Whoever comes out at or near the top in Iowa often gets a boost into other early voting states. When one is running in a field that has had some 2 dozen announced candidates, that's an important fact.
So politically, the stakes are high.  That means it is significant that Senator Warren is deliberately spotlighting manufactured housing related issues. For partisan balance, a separate White House release to MHProNews will be published today or perhaps tomorrow, based upon other news developments.
The terminology errors in the headline and below are in her original. The caption typo in Havenpark Capital's name is in the original by the Press Citizen. With those disclosures and preface, here is Senator Warren's letter.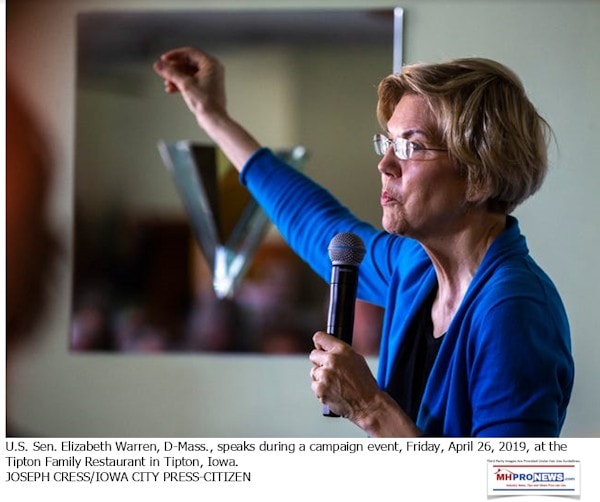 Legalized Looting: Mobile Home Rent Increases Require Wall Street Reforms
ELIZABETH WARREN | GUEST OPINION |
Candi Evans moved to North Liberty 21 years ago when she and her husband, Chuck, purchased a manufactured home at the Golf View Mobile Home Park.
They looked at homes all over the state, but ultimately chose North Liberty for its friendly neighbors and welcoming atmosphere.
A lot has changed for Candi in those 21 years.
Chuck died of cancer in 2002, and Candi took over the family roofing business. During those difficult times, her home at Golf View was a place of stability and calm. Supportive neighbors provided the moral support she needed to get through those challenges.
"To us, it's not just a lot number," Candi says. "It's a home with neighbors and friends."
One day this spring, Candi found a letter on her doorstep informing her that a private equity company called Havenpark Capital was purchasing Golf View — and raising her rent a staggering 60 percent.
Havenpark publicly justified the rent hikes by claiming it was covering costs — and promising the money would be used for improvements at Golf View. But the potholes that Candi has been complaining about still haven't been filled, nor are any other major improvements underway.
Candi fears that the current rent hike and future increases forced on residents by the Utah-based private equity firm could leave her and her neighbors evicted and homeless — among them a man living on disability benefits and a retired veteran who gets around in a motorized wheelchair.
You can see what's happening here: Private equity firms like Havenpark don't see these properties as real land that real Iowans live on. They see them as assets to be squeezed and flipped for maximum profit.
I have a problem with this.
That's why I joined U.S. Rep. Dave Loebsack last May to demand answers from Havenpark about why they were raising rents and how much money they were making off of it.
If Havenpark is going to raise rents by 58-60 percent and claim they're just covering costs, they owe their residents some proof of that. But, in a surprise to no one, Havenpark didn't provide any.
The greed of Wall Street and private equity firms like Havenpark affects more than just mobile home residents in Iowa. Thousands of workers have been laid off from jobs at retailers like Shopko, Sears and Toys-R-Us after private equity firms took over, drained their assets, slashed their jobs and left them bankrupt.
Let's call their actions what they are: legalized looting to make a handful of Wall Street managers rich while costing thousands of people their homes and jobs, bankrupting viable businesses and damaging communities across the country. 
That's why I've announced a new plan to rein in Wall Street firms engaged in unproductive and predatory behavior. Under my plan, private equity firms like Havenpark won't be able to buy companies, goose short-term profits by jacking up prices and then walk away rich even if the company goes bankrupt. Instead, these firms would be required to align their interests with the long-term sustainability of the companies they buy — and the people those companies affect. 
Reining in Wall Street greed and preventing private equity from profiting off the devastation of our communities matters. It matters to Candi and her neighbors and the vibrant neighborhood they share in North Liberty, and it matters to working people all across the country whose opportunities and livelihoods are at risk. 
We need bold action if we're going to deal with the excesses of private equity firms and their attack on American families. I've got a plan for that.
Elizabeth Warren is a United States senator from Massachusetts and Democratic candidate for president.
Originally Published 3:41 pm CDT July 26, 2019
Updated 3:44 pm CDT July 26, 2019
Photos shown are some of those in the original column by this Gannet Media owned news outlet. Their original article with more photos is linked here.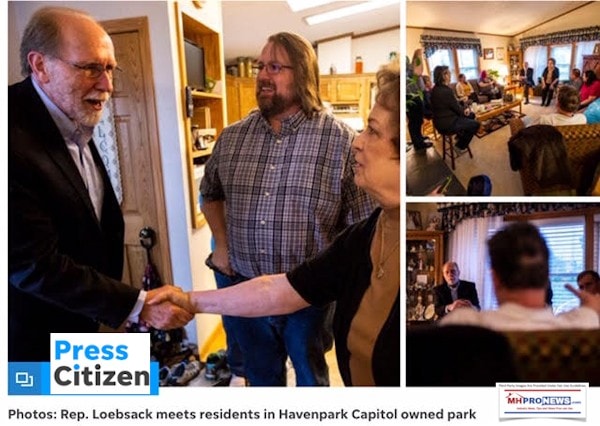 ##
MHLivingNews and MHProNews are the only trade media in MHVille that has provided serious coverage and analysis on the emergence of issues in the 2020 campaign that may or will directly impact manufactured housing residents, homeowners, industry professionals, and investors.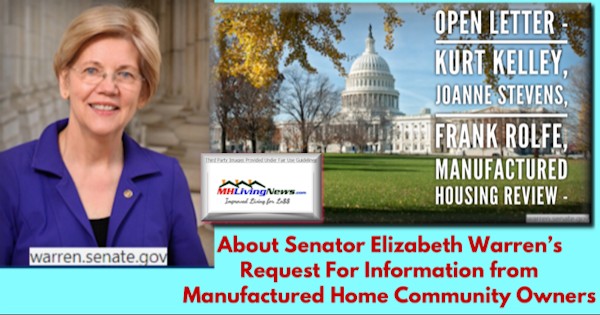 The Warren Campaign has raised issues that have been, and will likely continue to make headlines. She has risen steadily in public polling, routinely in the top 4 candidates, sometimes in the top 2 or 3, based upon public polling. Our prior reports on her investigations into private equity firms that are involved in manufactured housing are linked above and below.  There is more from other 2020 hopeful under related reports.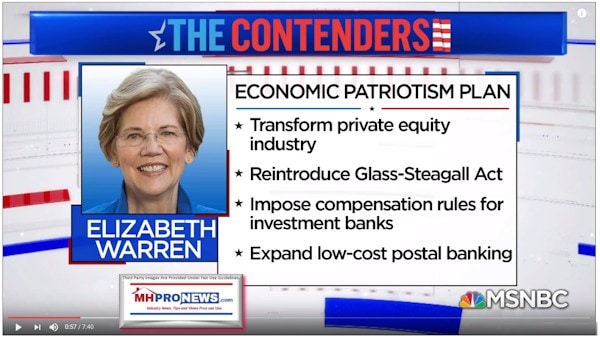 In publishing this letter, it must not be construed as MHProNews endorsing specific policy positions of this – or any other – candidate at this time.
As a reminder to industry professional readers about our publishing game plan to cover the 2020 race and its implications for manufactured housing, as the various political platforms and positions emerge, and well before the Democratic and Republican conventions, MHProNews plans to editorially endorse one candidate from each major party and one candidate that is an independent or minor party candidate. That endorsement will be based upon a variety of factors, including reader/industry input, and our assessment based on the evidence of which candidate may prove best for the public, business, and ethical investors.
After the parties hold their conventions, MHProNews plans to endorse a candidate among those three as our pick for 2020, using that same methodology.
Democrats Take Aim Big Business, Breaking Up Monopolies, Antitrust – plus Manufactured Housing Market Updates
To a lesser extent, we will follow other Congressional campaigns, especially as they relate to manufactured and modular homes and affordable housing related issues.
Senate Democrats – Including 2020 Presidential Contenders – Ask CFPB Protect Consumers Against Predatory Lenders — Point Finger at Clayton Homes, Berkshire Hathaway Lending
Readers should be mindful that other 2020 candidates have likewise taken up stances on issues that directly connect to manufactured home industry communities and/or production/retail/finance. As an example, former HUD Secretary Julian Castro made a campaign video at his stop in an Iowa manufactured home community that is also owned by Havenpark Capital.  See that report and video, by clicking the text/image box below.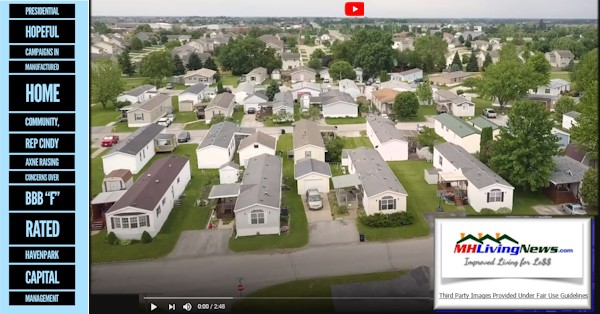 Be a person for, against, or meh about these positions, what is increasingly obvious is that our prediction in the spring of 2019 that manufactured housing would become a serious campaign topic is proving accurate.  That predication predated by several weeks the Democratic presidential hopefuls weighing in, as well as Secretary Carson's speech and initiatives that began in May, 2019. That forecast was based on insider tips from Washington, D.C. and other sources.
Sounding Off! Going "On the Record" – Manufactured Housing Controversies, Opportunities
Questions to Ask the Warren Campaign?
One must wonder if Senator Warren sees the ties between the Manufactured Housing Institute (MHI) and these companies?
Manufactured Home Communities' Dodd-Frank Moment Looms, Senator Elizabeth Warren Takes Aim at Several Manufactured Housing Institute Community Members
Or is the Warren campaign aware of the financial connections between Warren Buffett, MHAction, and other activist groups that she is positioning herself with?  If her plan were to come to pass, would it actually cure the problem it is supposed to solve?
Prosperity Now, Nonprofits Sustain John Oliver's "Mobile Homes" Video in Their Reports
Rephrased, there is a lot to unpack and more drama ahead. So, buckle up.  Manufactured home industry professionals and residents are already engaged with these public figures. What happens next is relevant to the future of our industry.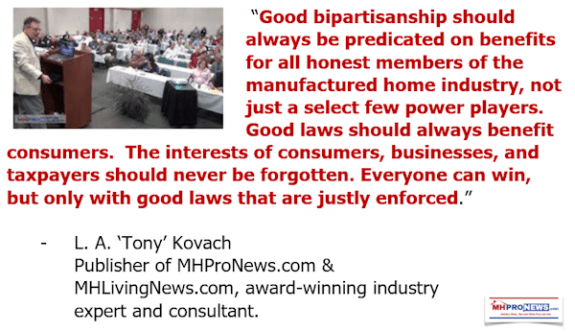 The need for our products and services are there.  Ideally, the solution to our issues will be addressed in a bipartisan fashion.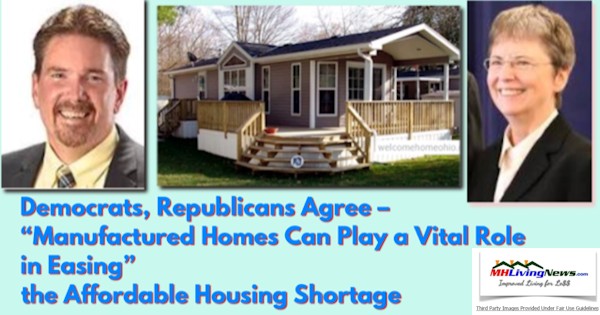 Democrats and Republicans alike are increasingly seeing the value of manufactured homes. The reports linked above and below reflect that notion.  That said, the concerns that often arise from purportedly problematic behavior, often in the finance and the community sectors, are obviously attracting attention from lawmakers and public officials.  How will they deal with the issues that they find?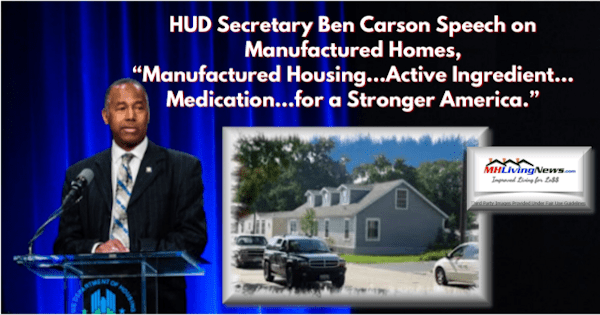 Time will tell.  That's a wrap on this installment of manufactured home "Industry News, Tips, and Views Pros Can Use" © where "We Provide, You Decide." © ## (News, analysis, and commentary.)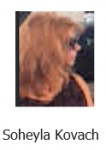 Submitted by Soheyla Kovach for MHProNews.com.
Soheyla is a managing member of LifeStyle Factory Homes, LLC, the parent company to MHProNews, and MHLivingNews.com. Connect with us on LinkedIn here and here.
Related Reports:
Click the image/text box below to access relevant, related information.
Senate Democrats – Including 2020 Presidential Contenders – Ask CFPB Protect Consumers Against Predatory Lenders — Point Finger at Clayton Homes, Berkshire Hathaway Lending
Legal Insurrection – Will Senator Warren, Other 2020 Presidential Hopefuls Business Deals Hurt Democrats in 2020?
JULY 15, 2019 TO: MHARR MANUFACTURERS MHARR TECHNICAL REVIEW GROUP (TRG) MHARR STATE AFFILIATES FROM: MHARR RE: MHARR MEETING WITH NEW FHFA LEADERSHIP An MHARR delegation met with senior officials of the Federal Housing Finance Agency (FHFA) on July 11, 2019, including newly-confirmed FHFA Director, Dr. Mark Calabria.