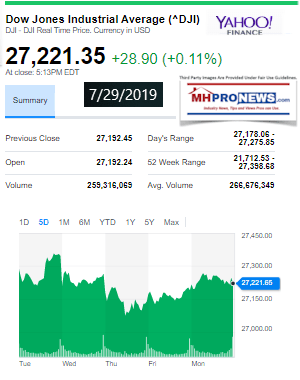 Let's lay it out like this. On 60 Minutes, billionaire investor Ray Dalio said some things that are pretty savvy.  Other things sounded odd coming from a billionaire. We'll sort that out with facts and analysis, on this evening in our report further below, prior to the mixed results on our stock closing tickers. We'll see how Dalio's comments may apply to manufactured housing investors in our featured report tonight.  
Every evening our headlines snapshots from two major media outlets on each side of the left-right news spectrum reflects topics that influence, reflect, or move investor sentiment.  In moments, you can get insights-at-a-glance.  This sets the broader context for manufactured housing markets, in keeping with our mantra, "News through the lens of manufactured homes, and factory-built housing." ©.
We begin with left-of-center CNN followed by right-of-center Fox Business.  We share closing tickers and other related data courtesy of Yahoo Finance, and more. 5 to 10 minutes reading this MHProNews market report every business night could save you 30 minutes to an hour of similar reading or fact-gathering elsewhere.
Headlines from left-of-center CNN Business.
·        They may have let a hospital go bankrupt. Now, these investors could profit from the land it's on
·        Another top Chinese CEO is facing a police investigation
·        How negative interest rates helped turn Deutsche Bank into a disaster
·        6-year-old YouTube star buys $8 million dollar property
·        OPINION Trump's attacks on the Fed are about to get worse
·        Trump adviser rebuts President on 'strong' vs. weak dollar
·        Facebook's Libra could massively help the cryptocurrency industry — or hurt it badly
·        Viagra and EpiPen drugmakers form a $20-billion-a-year powerhouse
·        Grand Theft Auto developer claimed UK subsidies but paid no corporation tax – report
·        Stocks struggle for direction ahead of Fed decision
·        GM stops production at 78-year-old plant
·        Brexit is becoming the nightmare scenario business has long feared
·        Tesla owners could soon be able to stream Netflix from the road
·        Tesla's still bleeding money
·        Musk wants to teach Tesla owners how to drive their cars
·        950 miles in two days: A road trip in a Tesla
·        Even as self-driving cars take to the road, drivers will still be in high demand
·        'Once Upon a Time In Hollywood' nabs Quentin Tarantino's biggest opening
·        Disney sets record for highest-grossing year for a studio ever
·        There's a new highest-grossing film ever
·        Can original movies still sell tickets?
·        How 'popular' became a dirty word at the movies
Headlines from right-of-center Fox Business.
·        SHARES OF EPIPEN GET SECOND WIND AFTER MERGER WITH VIAGRA MAKER PFIZER
·        Homeland Security to Congress: The ball's in your court
·        Goya Foods: 'We're the original Beyond Meat'
·        Beyond Meat craze: Here are 5 restaurants where you can order a plant-based dish
·        AMAZON, WHOLE FOODS DIVORCING, OR JUST WORKING ON THEIR MARRIAGE?
·        Juul's been a leader in fighting youth smoking problem: Early investor
·        Why Kylie Jenner's cosmetics line could be losing its luster
·        Kamala Harris' Medicare for All: Who will pay for it
·        Trump administration moves to give more Americans 401(k) access
·        Apple's Siri is eavesdropping on your conversations, putting users at risk: Report
·        Baltimore's economy: A snapshot of the money-side of the city
·        Harris vs Sanders on Medicare for All: Key differences between the plans
·        Warren releases 'Trump-like' trade plan with left-wing bend
·        The best and worst school systems by state: Report
·        The woes of Jeffrey Epstein: How he maintained Wall Street connections while downplaying child sex accusations
·        Minivan sales hit the brakes as consumers shift toward SUVs
·        Warren releases 'Trump-like' trade plan with left-wing bend
·        Minivans out of style with consumers
·        FBN's Lauren Simonetti on the declining popularity of minivans as consumers shift toward SUV sales.
·        Economic fallout from Boeing 737 Max grounding
·        Pennsylvania teen wins millions at Fortnite World Cup tournament
Yahoo Finance Closing Tickers on MHProNews…

Tonight's Business/Market/Political Impact Spotlight –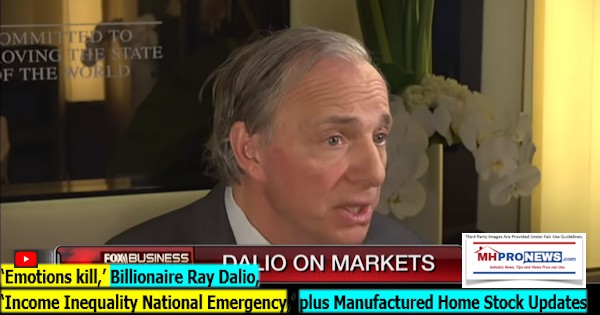 Ray "Dalio, who grew up middle class, is alarmed about the growing divide between the haves and have-nots. He points out that over the span of a decade, America's lowest paid workers had just a 14 percent chance of rising to the middle class," said 60 Minutes.  Their correspondent Bill Whitaker.  The excerpt below is from their website, at this link here, and is provided under fair use guidelines or media.  It will be followed by a brief, but relevant analysis.
Typos in what follows are in the original from their website.
Bill Whitaker: What has happened to the American dream?
Ray Dalio: I think the American dream is lost. I think– for the most part we don't even talk about what is the American dream. And it's very different from when I was growing up.
Bill Whitaker: But what's not working?
Ray Dalio: it's not redistributing opportunity. We can call it a wealth gap, you can call it an income gap And so I think that if I was the president of the United States, or it has to come from the top, what I would do is recognize that this is a national emergency.
Bill Whitaker: It's– it's that bad?
Ray Dalio: if you look at history if you have– a group of people who have very different economic conditions — and you have an economic downturn, you have conflict. In the '30s, for example, you had four major countries that were democracies, that chose not to be democracies because they wanted leadership to bring order to the conflict. I'm not saying we're going to go there. I'm saying that right now – it's a huge issue it's unfair and, at the same time, it's unproductive, and at the same time it's– threatens to split us.
Dalio spends a lot of time thinking about where the markets and the world are going here, at the financial powerhouse he built. Bridgewater Associates is tucked in the woods of Connecticut at the confluence of two rivers popular for fishing. It's 50 miles from the chaos of Wall Street.
Bill Whitaker: So you play it calmly?
Ray Dalio: Calmness– critical. You know, the emotions'll kill you.
At 69, Ray Dalio bears little resemblance to any Wall Street shark. He's more like a quirky professor. Dalio has joined fellow billionaire Bill Gates and others in their belief that the concentration of wealth in fewer and fewer hands is a threat to democracy.
Bill Whitaker: So should taxes on people like you be raised?
Ray Dalio: Of course.
Bill Whitaker: You say of course.
Ray Dalio:  Of course, One way or another, the important thing is to take those tax dollars and make them productive. 
Bill Whitaker: Very, very recently the idea has been that cutting taxes on people like you will promote productivity.
Ray Dalio: Yeah, I– I– that– I– that doesn't make any sense to me at all– any sense at all.  
Bill Whitaker: So, it's gotta be through taxation?
Ray Dalio: Yes. Am I saying something that's controversial?
Bill Whitaker: It's just strange to hear it come from the mouth of a billionaire.
Ray Dalio: I lived the American dream ya know?
His father was a jazz musician. His mom, a homemaker. Dalio bought his first stock when he was 12, with money he earned as a golf caddy.
Today, Dalio's firm manages $160 billion. It has all the excitement of an insurance agency. Dalio's analysts don't chase the gyrations of the market. Instead, they quietly study centuries of history looking for patterns in stocks, politics, anything to help buy winning investments. Dalio is especially bullish on China, which he predicts will be the greatest economy of the 21st century and America's greatest rival.
"Capitalism needs to be reformed. It doesn't need to be abandoned."
Last year, his global approach helped him earn a remarkable 15 percent for his clients, while the Dow dropped 6 percent.
Bill Whitaker: We see the successful Ray, but you hit some bumps along the road, on the way here?
Ray Dalio: Yeah, of course–
Bill Whitaker: –like in the '80s, you kind of bottomed out?
Ray Dalio: Oh, yeah. 
Back then, he was a Wall Street whiz kid, absolutely certain a depression was on the horizon. 
He was wrong, very wrong. He missed the boom of the 1980s.
Bill Whitaker: I read that you called yourself an "arrogant jerk?"
Ray Dalio: Oh, I was an arrogant jerk. I had to borrow $10,000 from my dad to take care of my family.
Bill Whitaker: You– your–
Ray Dalio: I mean, I was broke–
Bill Whitaker: –your musician dad?
Ray Dalio: My musician dad–
Bill Whitaker: Had to cough up $10,000 to keep you afloat?
Ray Dalio: Yeah. and it was one of the best things, really, that ever happened to me, because it changed my whole approach to decision-making. it gave me the humility that I needed to balance with my audacity.
He took note of his failures and other lessons over the next 25 years and wrote "Principles," published by Simon and Schuster, a division of CBS. Two million copies of the book have been sold worldwide. It's Dalio's recipe for creating, what he calls, an "idea meritocracy."
Ray Dalio: So, what I mean is that I want a system in which the best ideas win out. And I would describe it as tough love, and I want to get there through radical truthfulness. In other words, people say what they honestly mean And radical transparency allows people to see things for themselves.
Bill Whitaker: So does this get rid of the office backstabbing–
Ray Dalio: Oh, yeah, the–
Bill Whitaker: –politicking?
Ray Dalio: Oh yeah. There's a rule here that you can't talk behind anybody's back. You do that three times, you're outta here.

Everybody at Bridgewater is monitoring everybody else almost all the time. We saw it at this meeting where workers and managers gave each other grades in real time. 
Bill Whitaker: What sort of grades do you get?
Ray Dalio: You can see. Like, I get blasted– (LAUGHTER) a lot–
There's a bit of a big brother vibe here. That camera isn't ours, it's theirs.  Nearly every meeting is recorded and scrutinized.
Bill Whitaker: Can you understand somebody looking at it from the outside, that sounds a little strange?
Ray Dalio: No, I understand it. I understand.
Bill Whitaker: It may be even a little creepy.
Ray Dalio: I totally understand how that could sound that way. you also have to understand that when you're doing this awhile and you look at other organizations and people are not open with each other and they're hearing a lot of spin, that from this point of view, that seems creepy.
Bill Whitaker: Do you have a high turnover?
Ray Dalio: I would say in the first 18 months, it's about 30 maybe– a little over 30 percent.
Bill Whitaker:  But 30 percent sounds like a lot.
Ray Dalio: Some people describe it as an intellectual Navy SEALs, you know. You go, a certain percentage are not gonna make it, and that's the way it is.
Think what you want, it's hard to argue with success. Bridgewater has made money for its clients 25 of the last 28 years.
##
The video below is the only one currently on YouTube from CBS' 60 Minutes on that interview.  It covers a different segment than what is quoted above.
This isn't the first time Dalio has discussed his concerns about his view that something is out of balance with capitalism. 6 months ago, Dalio discussed it with Fox Business' Maria Bartiromo.
Per their YouTube page, "Bridgewater Associates founder Ray Dalio on the U.S. economy, the wealth and opportunity gap in America and the calls by some politicians for a hike in the marginal tax rate for the wealthiest Americans."
If you think this sounds like rather like things that Warren Buffett, Bill Gates or some other billionaires have said, you'd be right. To that, there are only two words for the discerning and wise, which we'd purport as follows: 'head fake.'
The classic tactic that is arguably being deployed is to say some things that are demonstrably true, and then to say certain things that the audience is likely to want to hear.  But saying something is not the same as doing something.  Word vs. actions, which carries more weight? Or as longtime industry pro and manufactured home industry success story, Marty Lavin has said: "Pay more attention to what people do than what they say," and "Follow the money."
If Dalio, Buffett, Gates or anyone else is arguing for a higher tax rate, just ask yourself this question.  Why don't they just write the Treasury Department a big fat check?
There are barriers and costs of entry, barriers and costs to maintain and operate a business, and barriers and costs for exiting in business.
1) "The power to tax is the power to destroy. ATTRIBUTION: This quotation comes from the words of DANIEL WEBSTER and those of JOHN MARSHALL in the Supreme Court case, McCulloch v. Maryland. Webster, in arguing the case, said: "An unlimited power to tax involves, necessarily, a power to destroy," according to Bartleby.
2) Bigger businesses can shoulder regulatory burdens more easily than small businesses can. The corollary to the quote above is that 'The power to regulate is the power to destroy.' The regulation need not be per se destructive, it need only wear little companies down to the point that they say it just isn't worth the hassle and risk. Dodd-Frank is proof of that, as is ObamaCare. Smaller banks and credit unions steadily sold out or otherwise vanished, and hospitals and private practices in medicine were consolidated too.  In manufactured housing, big firms consolidated smaller ones, due to the 'rope a dope' effect, outlined here.
3) In manufactured housing, other factors have contributed to challenges that have played into the hands of larger companies.  Among them? 
·        Failure to fully implement good federal laws that are on the books,
·        limiting or reducing access to credit, capital, or financing,
·        and the purported ability to foster blow back by funding opposition to your own business interests as a way of making it harder still on smaller firms.  Rephrased, just as bigger businesses can handle higher taxes and regulations easier than smaller ones, so too bigger businesses can arguably withstand blowback better than smaller firms can.
Many of these billionaires, however they earned their money, have arguably learned the art of posturing being for the little guy without actually doing something in practice that makes it easier for the little guy.  A recent media report claimed that over ½ a billion dollars annually is being spent by big tech alone to lobby Congress and the federal government.
Dalio's comments are useful, but not always for what they claim, but rather for what they reveal.  It is a purported mix of truth and sly posturing. It sounds like it might have come from a better known billionaire, one Warren Buffett, doesn't it?
What is needed is for good laws to be enforced. Among them? Antitrust laws. #DeFaangBM. That is the ultimate reform that 20th century Americans learned time and again was necessary.  The 21st century must learn that lesson anew.
Related Reports: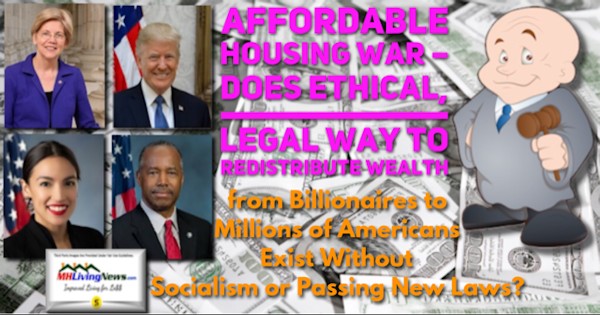 "Abrogation of Good Corporate Governance," Billionaire Icahn Blasts "Buffett Deal," plus Manufactured Home Stock Updates
Community Leader Calls for Rejection of Bill Backed by Manufactured Housing Institute, NAMHCO, Prosperity Now
https://www.manufacturedhomepronews.com/masthead/conquest-capitalism-thoughts-of-chairman-warren-buffett-billionaires-campaign-to-control-trillion-dollar-affordable-housing-market/
Federal Bill that MHI, Prosperity Now, NAMHCO Tout – MHARR Opposes, Why?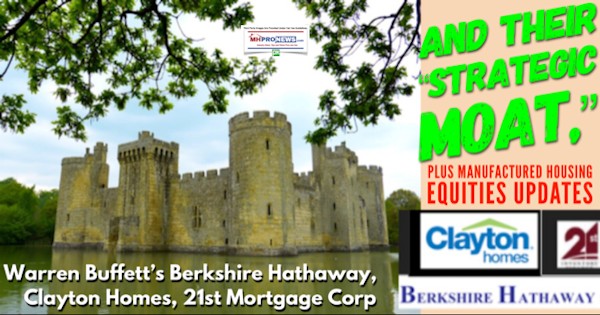 Manufactured Housing Industry Investments Connected Closing Equities Tickers
Some of these firms invest in manufactured housing, or are otherwise connected, but may do other forms of investing or business activities too.
·        NOTE: The chart below includes the Canadian stock, ECN, which purchased Triad Financial Services.
·        NOTE: Drew changed its name and trading symbol at the end of 2016 to Lippert (LCII).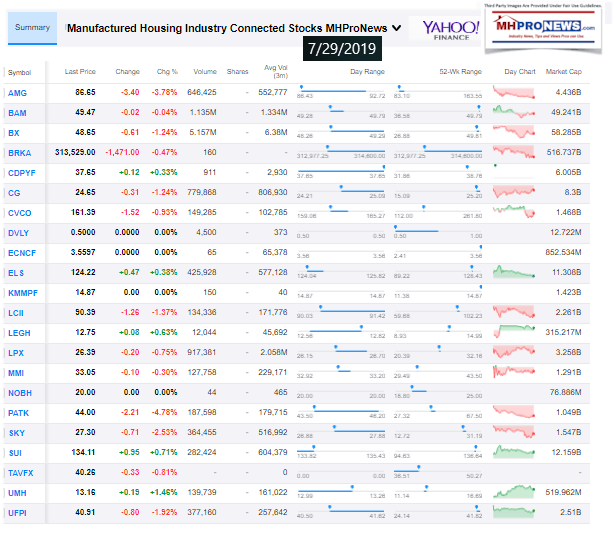 Updated:
Berkshire Hathaway is the parent company to Clayton Homes, 21st Mortgage, Vanderbilt Mortgage and other factory built housing industry suppliers.
·        LCI Industries, Patrick, UFPI, and LP all supply manufactured housing.
·        AMG, CG and TAVFX have investments in manufactured housing related businesses.
Your link to an example of industry praise for our coverage, is found here and here. For the examples of our kudos linked above…plus well over 1,000 positive, public comments, we say – "Thank You for your vote of confidence."
·        For expert manufactured housing business development or other professional services, click here.
·        To sign up in seconds for our industry leading emailed headline news updates, click here.
·        Disclosure. MHProNews holds no positions in the stocks in this report.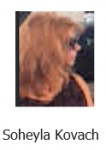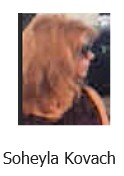 "We Provide, You Decide." © ## (News, analysis and commentary.)
(Image credits and information are as shown above, and when provided by third parties, are shared under fair use guidelines.)
Submitted by Soheyla Kovach, co-managing member of LifeStyle Factory Homes, LLC and co-founder for MHProNews.com, and MHLivingNews.com.