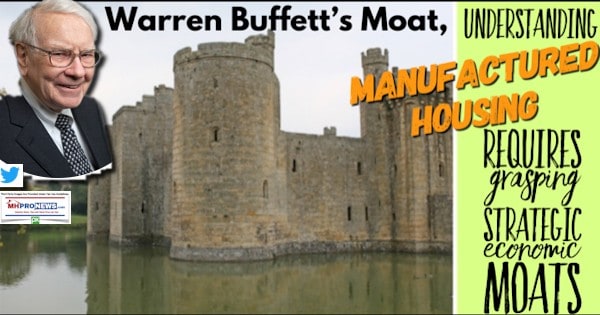 When someone is introduced to manufactured homes and their tremendous value, they are often shocked. 'How is this much home for such a modest price possible?'
A key part of the answer mirrors any product produced in a production center.  Cars built in a driveway would cost far more than a car built in production center. A house built in the weather costs far more, and would take longer, than one built indoors.
After the blinders disappear, a common reaction is this question. 'Why aren't more manufactured homes being sold?'
That valid question is akin to the question the Urban Institute asked last year.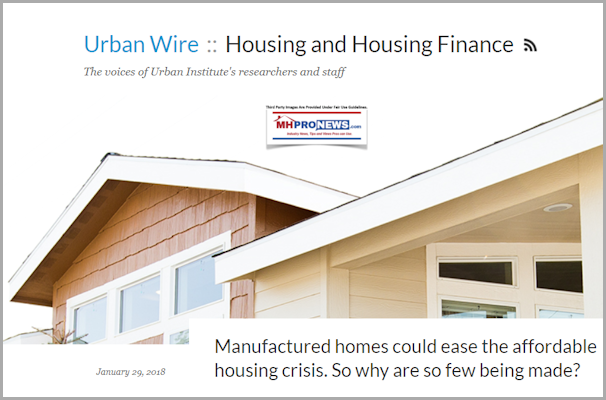 But the Urban Institute didn't disclose possible conflicts of interest – including, but not limited to – Warren Buffett being a lifetime trustee of their nonprofit. Does that insight help explain why that Urban Institute article that had 4 co-authors was crafted as it was? Or why the respected Urban Institute researchers fail to mention the behind-the-scenes input by Chairman Buffett's Berkshire Hathaway owned Clayton Homes in that nonprofit's January 2018 report on manufactured homes?
The answer to so many of the riddles about manufactured homes lies in the proper understanding of Buffett's vision about strategic economic Moats. Understand this, and the key that unlocks the door to understanding begins to open.
Buffett's Vision of "The Moat"
Buffett's moat concept goes well beyond Berkshire. Its arguably influencing much of America's economic, political, educational, or even social and moral life.
Almost everything can be weaponized to work for the advancement of "the Moat."
A moat in BuffettWorld is a slow motion tool to conquer – build a monopoly – in any given industry. The meme below wasn't made by us, but the quote serves to make a useful point, from Buffett's viewpoint.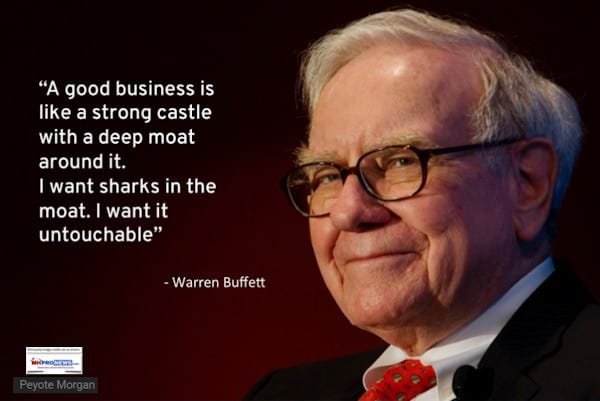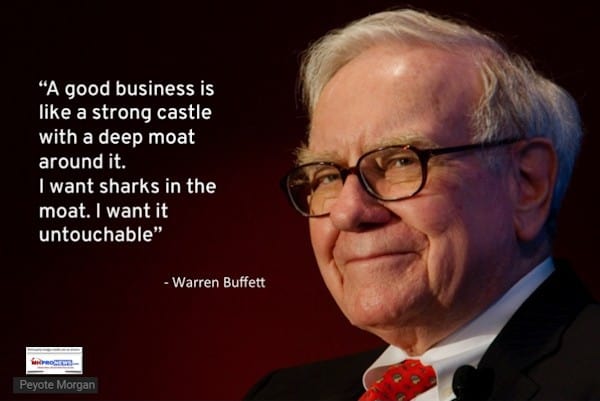 Understand that my writing about the moat should be understood as our editorially disagreeing with this anti-competitive approach.
We study and report on such an issue as a necessary step to foil what is perhaps the affordable housing industry's greatest foe.  To defeat a powerful opponent, one must thoroughly understand what one is battling.
You may be the best builder of manufactured housing in America. You might be the best provider of financial services, or be good at retail sales, or whatever else. "The Moat" is at quietly work against your interests, period — unless you are allied with it. If you are allied with "the Moat," it's not fast wealth, it's slow wealth that grows your market share.
The whole-time people working to broaden and deepen the Berkshire Moat in Manufactured Housing are smiling and praising you, they simultaneously be can be working to undermine you. This I know, because it happened to our business interests, and we've had others explain their experiences.  I've said mea culpa before and am confessing anew my prior naiveite.  The school of hard knocks is what aroused my yen to grasp what is happening to manufactured housing, and that forced me to learn more.
To spare reader's redundancy and to keep 'the powers that be' attorneys from rattling sabers (again), what's described herein are allegations.  The evidence in support of these contentions are found from articles linked from this post.
Moat-builders want whatever is yours at a discount. That's a key to Buffett's notion of "value investing."
A Decade Ago
It was about 10 years ago that an article for the now defunct Manufactured Home Merchandiser Magazine your Masthead writer penned explained why Warren Buffett and Sam Zell where two reasons why the manufactured housing industry would survive its worst downturn ever.
As a brief segue, Zell and his operations are a separate question worthy of study, but this column is focused on Buffett and his moat principles.
In hindsight, that Merchandiser article had correct and missed points.  Buffett didn't want to save manufactured housing.  Rather, he arguably set out to conquer manufactured housing.  The modus operandi for that conquest was the moat.  He bought at an industry low point.
Then, the industry went still lower.
While the industry shrank, Buffett's Berkshire brands share of manufactured housing grew.  Coincidence?  Hardly.
I've had a book, "Quotes from the Chairman" – Buffett – on my shelf years before that Merchandiser column. Even as a mild-Buffett watcher, I frankly didn't understand the moat until the last 24 months.
Even during the last 2 years, my understanding of the Machiavellian brilliance of the moat has grown in stages.  It may be that no one outside of the Knoxville metro better understands the Moat than your Masthead writer does.
I've personally invited the following to publicly discuss or debate the issues and concerns that relate to manufactured housing that we've raised. Those invitations to provide live or written comments have included, but not been limited to:
Kevin Clayton, President and CEO of Clayton Homes – a Berkshire Hathaway brand.
Tim Williams, President and CEO of 21st Mortgage Corp – another Berkshire Hathaway company that finances manufactured housing for independents. Williams is the former Manufactured Housing Institute (MHI) Chairman.
Tom Hodges, JD, Clayton's attorney and who sits on the MHI Executive Committee,
Joe Stegmayer, former Clayton unit president, who went to what became Cavco Industries, and is the current MHI Chairman.
Nathan Smith, SSK Communities partner, Democratic player, a former MHI Chairman and the current MHI PAC Chair, and thick with Berkshire brands.
Richard 'Dick' Jennison, MHI President and CEO.
Lesli Gooch, Ph.D, MHI EVP and chief lobbyist.
Richard 'Rick' Robison, author, attorney and MHI's general counsel.
Note many of the above – including Kevin's father, Jim Clayton – at various times praised our pro-industry, pro-growth, pro-consumer work publicly. That was true up to about 2 years ago, when we apparently began asking – from their point-of-view – the 'wrong questions.'  Once we asked the wrong questions, we became persona non-grata to be driven out of business. That's simultaneously when they stopped directly replying to MHProNews or MHLivingNews.
But they can be understood as replying to us via surrogates, attorneys, and other tactics that are meant to shake us off the trail we've embarked upon.
Buffett's Berkshire owns some 31 newspapers.  Why don't those papers cover manufactured housing better, more objectively, more favorably, or more often? Why don't those BH Media Group papers set the record straight on manufactured housing?  Buffett understands synergy.  It seems like common sense, doesn't it?
Only the correct understanding of "the Moat" explains riddles like the one about BH Media.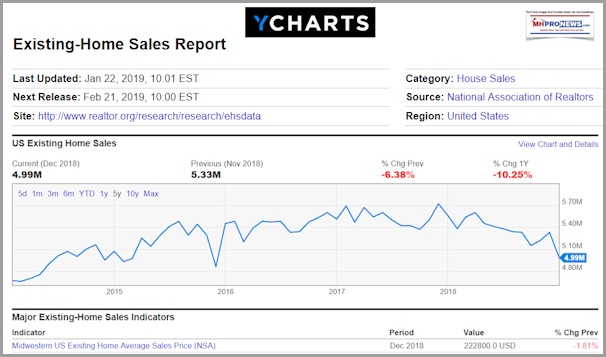 Housing sales are a trillion dollar plus a year industry. More specifically, existing home sales for 2018 will be about 4.99 million units, with an average price of $293,500.00 per housing unit, per Y Data, which cites the National Association of Realtors™ (NAR).
That would be equal to about $1,464,565,000,000, or $1.465 trillion.
New conventional housing single family home sales, per the National Association of Home Builders (NAHB), are at the seasonally adjusted annual rate (SAAR) of 629,000 units at about $318,000 average sales price. That's about $200,022,000,000 or 200 billion a year.
So total existing and new single-family housing sales are an estimated $1,664,587,000,000, for some 5.629 million units in 2018, per the sources cited.
Contrast that with manufactured homes at an average sales price of $78,900, per Census Bureau data reported in December 2018, for the period of July 2018.  Manufactured home sales are projected to finish the year at about 100,000 (+/-) new single and multi-sectional units for the year.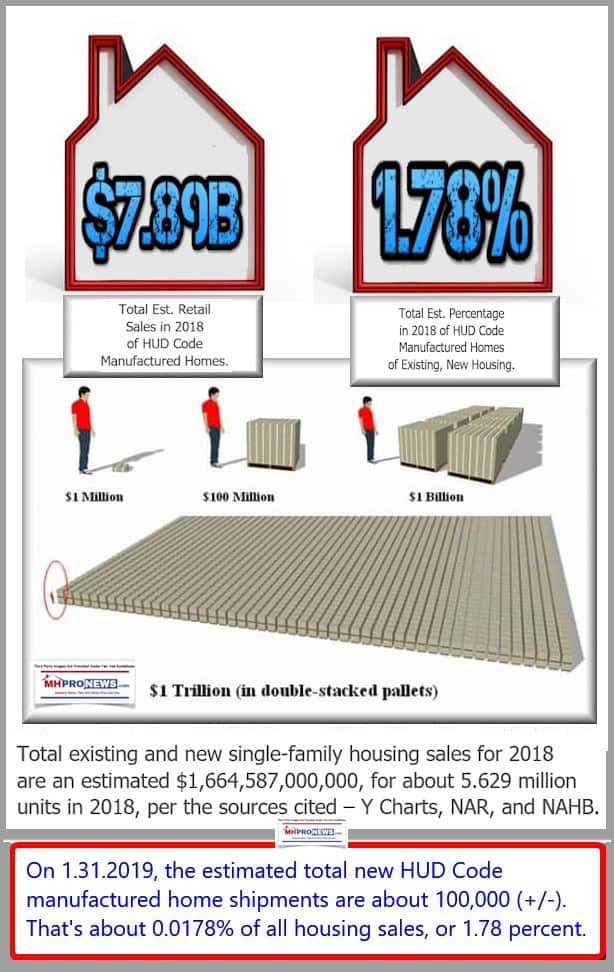 How can the industry be doing so poorly?  Consider what Harvard's Eric Belksy said circa 2002, when he projected that manufactured homes would become the dominate force in conventional housing.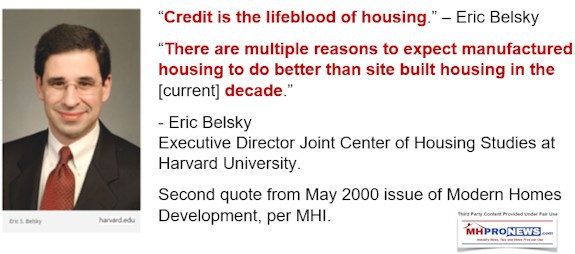 Why was Belksy's forecast wrong about the second quote?  Arguably because of the first quote.  He made his points prior to Buffett entering the manufactured home industry, and prior to Buffett applying "the moat" – including a manipulation of the credit markets – as it applies to manufactured housing.
MHI – The Moat Building Tool of BuffettVille
In a softball video interview with Kevin Clayton, posted at this link here, Clayton briefly explains the benefits that come from working with nonprofits and foundations. To understand the Moat, never forget that passing throw-away line.
The Manufactured Housing Institute – stunningly – can't even create an accurate GDP figure on new manufactured home sales.  We've brought it to their attention, along with other factual errors they've published over the years.  Some of those corrections have been requested several times.  How can NAHB, NAR, or other industry trade groups create correct data, while MHI produces – at best – hit and miss data?
Why would Clayton and the Berkshire brands tolerate data errors published by their Arlington, VA based trade group?
Answer.  Fact errors can be useful for "the Moat."
The logic is simple, once understood.  Buffett isn't looking to have more competitors in manufactured housing.  Incorrect information is just one more "shark in the water" of the moat.
Heavy regulations?  No problem, for Buffett's moat.  That's a barrier for entry, or a barrier for staying in the business.
Bad media? No problem, not for widening and deepening Buffett's moat.  That too is a barrier for entry, or a barrier to remain in the business.
Keep in mind what Kevin Clayton said about Warren Buffett. He preaches the Moat, and being a tough competitor.  Most of the rest is up to the business leader, supported by Berkshire's billions. In that previouslylinked video, Kevin Claytonsaid that even if he lost money for 5 years on Clayton Homes – but widened the Moat – that would be okay with "Warren."
Clayton has made money, not lost it.  But what makes Kevin's comments interesting is that they've kept some unprofitable locations open for some time, finally closing about 100 of them.  How many previously successful independents were put out of business, because of anti-competition strategies like these?
But the biggest hit – the proverbial smoking gun – is how Berkshire owned 21st Mortgage Corpmanipulated the truth to cut off lending to numerous independents. The Berkshire brands in MHVille continue to use MHI – and their own influence – to misdirect the Duty to Serve manufactured housing mandated by the Housing and Economic Recovery Act (HERA) of 2008.
Some of what's described herein might be entirely legal.
But when collusion exists between units of Buffett's brands – that he himself says are operated as independent businesses – that points to a legitimate antitrust action, based on my lay reading of the law.  Others who are attorneys that have looked at this, and they've said they get the logic too.
Despite 3rd Party Praise, to Understand How Poorly Manufactured Homes Are Doing, Consider This Comparison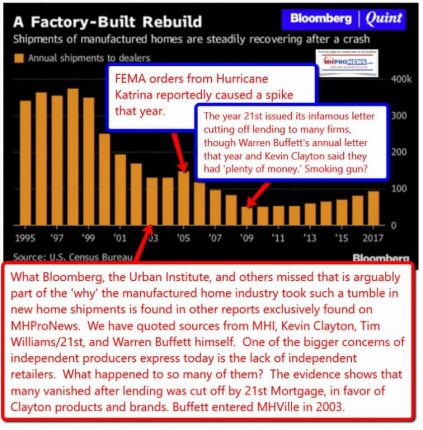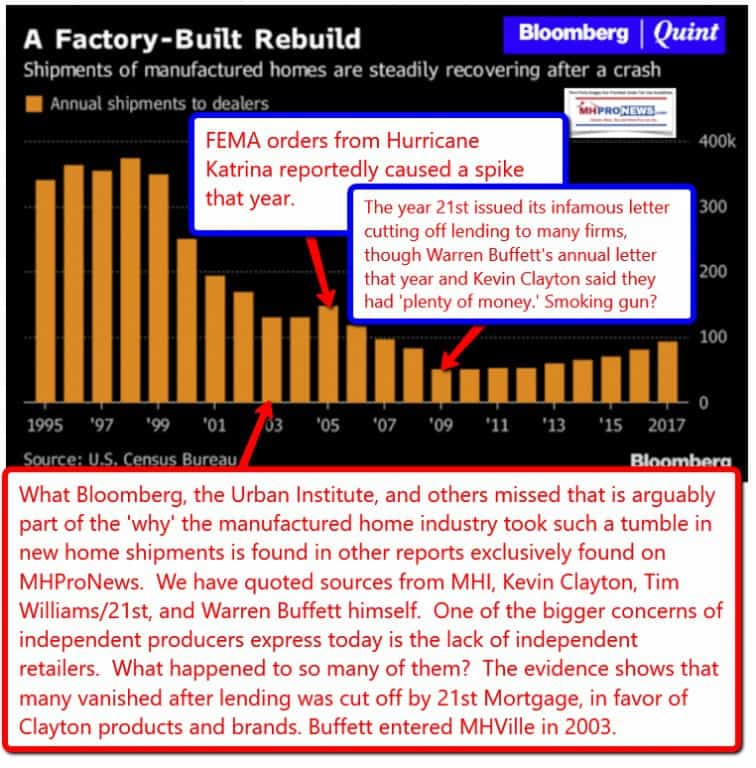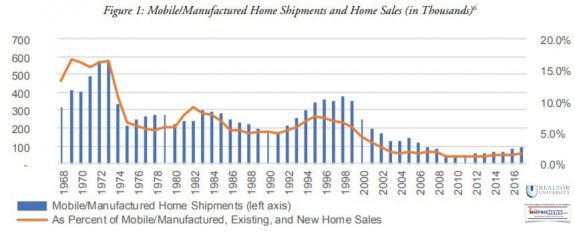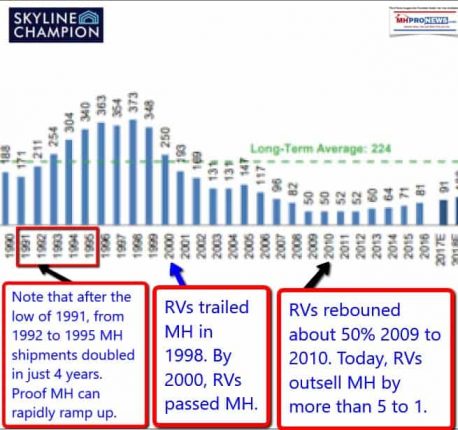 To Sum Up
Why is manufactured housing struggling during an affordable housing crisis?
Because the goal of "the Moat" is to squeeze businesses – with what looks to be market forces – slowly out of business. Competitors may sell out to Berkshire owned Clayton – for less than it would be worth in a normal market – or they may be forced out of business, period.
We are not the only publisher to mention the Moat, or the monopolistic practices of Buffett's Berkshire.  But no publication has peeled by the 'how it is done' – not just the outcome – as much as MHLivingNews and MHProNews has. The right Google searches will demonstrate that point.
The Moat is the truth hiding in plain sight.
To learn more about the Moat, see the linked related reports, further below. "We Provide, You Decide." © ## (News, commentary, and analysis.)
(See Related Reports, further below. Text/image boxes often are hot-linked to other reports that can be access by clicking on them. Third-party images and content are provided under fair use guidelines.)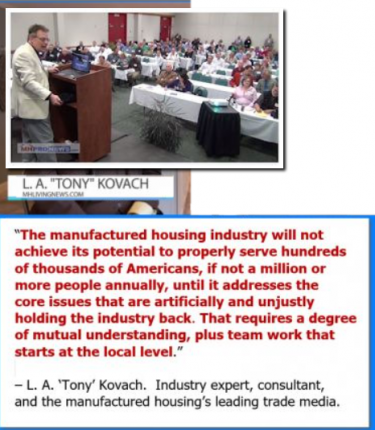 By L.A. "Tony" Kovach – for MHProNews.com.
Tony is the multiple award-winning managing member of LifeStyle Factory Homes, LLC, the parent company to MHProNews, and MHLivingNews.com.
Office 863-213-4090 |Connect on LinkedIn:
http://www.linkedin.com/in/latonykovach
Sign Up Today!
Click here to sign up in 5 seconds for the manufactured home industry's leading – and still growing – emailed headline news updates.
Related References:
The text/image boxes below are linked to other reports, which an be accessed by clicking on them.
https://www.manufacturedhomepronews.com/warren-buffetts-berkshire-hathaway-clayton-homes-21st-mortgage-corp-and-their-strategic-moat-plus-manufactured-housing-equities-updates/
Richard 'Dick' Jennison, President and CEO of the Manufactured Housing Institute (MHI), Assurance made while addressing attendees of prior Louisville Manufactured Housing Show. Recorded on video by MHProNews. " The key question, then, for the industry, its representatives and its consumers, is why is the HUD Code industry – both over the longer-term and currently – not doing better?
https://www.manufacturedhomelivingnews.com/puzzling-case-of-millie-francis-where-are-religious-liberty-fair-housing-resident-and-manufactured-home-organizational-defenders/
" During my time at MHI, I was often asked the same question, "What must happen for business to return – for manufactured housing to begin growing again? " My stock answer would usually start with 'financing' and end with a general comment about the need to bring 'value' to our customers."
America woke up today to division. But perhaps 75 percent (+/-) of the nation's people could come together on a plan that demonstrably could do the following. Increase the U.S. Gross Domestic Product (GDP) by some $2 Trillion Annually, without new federal spending.
Motion – or, more accurately, activity – in and of itself, is not necessarily synonymous with, or equivalent to, realprogress, or, in fact, any progress at all.