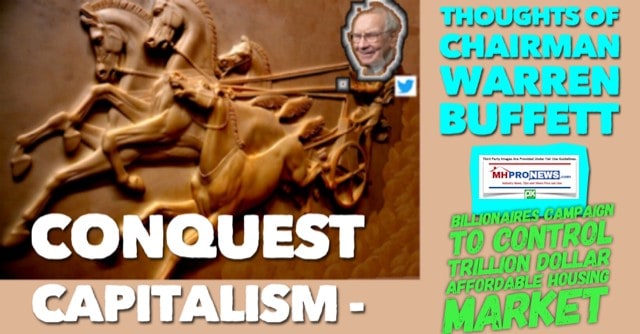 The year was 1998. It happened to be the year that manufactured housing hit its last peak, but it was also the year that Simon Reynolds compiled and published "Thoughts of Chairman Buffett – Thirty Years of Unconventional Wisdom from the Sage of Omaha."
Until you turn to the back of Reynold's book, not many pages in my copy of his thin volume are even numbered. Starting on page 141 are the following subheadings, bulleted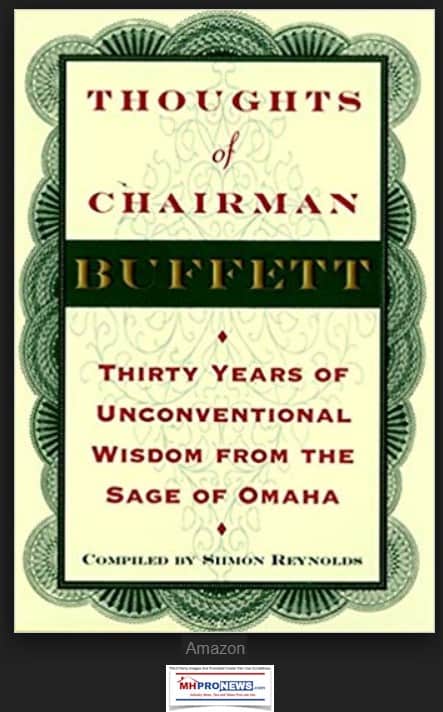 below.  With those one can start the journey of understanding Buffett and his success formula.
Think Long Term
Buy Businesses You Understand
After the second bullet, you find this quote, "Remember his [Buffett's] "Circle of Competence theory. Step outside of it and the vultures will begin to gather. Stick to investing in industries you know something about.  When you have a feel for how the game is played, you are much more likely to score a home run…"
Later, Reynolds says this…
"Part of understanding a company is understanding its management team. Are the executives competent?
Are they experienced? Or, as Buffett would say, are they fanatics?"
"You can't be Bo Jackson in investing. Spread your energy and capital too many ways and you are courting disaster."
For those who don't know – or need a refresher on – Bo Jackson, here it is.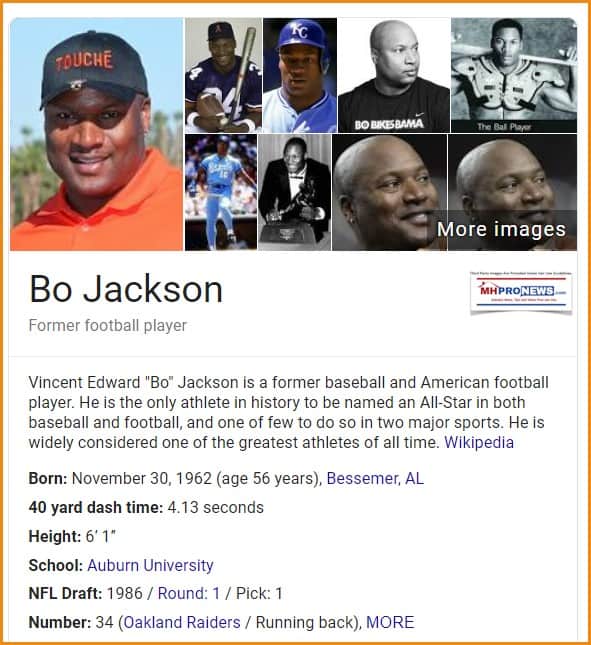 Disclosure
We are editorially pro-free enterprise.  But for reasons that will be understood from the research and linked reports, our publication is a Buffett critic.  Some believe he 'saved' manufactured housing in 2003.  Did he save this industry, or rather, did he start his conquest of it?
The evidence-to-date suggests that the third-richest man on the planet has purportedly mastered the art of the conceal with respect to manufactured housing.
After years of Buffett and industry research – plus my roughly quarter-century of direct involvement in this profession – there are many things that Buffett says that ought to be understood through these prisms.
What Warren Buffett said,
What he means.
The head fake.
Buffett is routinely selling. First, he is selling himself.
Then, he is selling his business and investing model.  There are plenty of takers on that, in investing, business, media, politics, and so on.
Third, Buffett is coy. Some things he says are straightforward and spot on. Other statements from Buffett have a veiled or hidden meaning. As a critic, let me note anew that with all people or organizations, the principle of 'wheat and chaff' should be applied. Learn what to keep and utilize, but also learn via discernment what ought to be ignored, discarded, or understood in a different fashion than what the speaker may imply.
Conquest Capitalism
Let's begin to popularize or coin a new phrase. Not crony capitalism. Not vulture capitalism. It isn't a phrase from Reynolds' book.
In Buffet-World, it is all about we what we are hereby going to dub "Conquest Capitalism."
Buffett uses capital, information, headwinds, and understanding – including the essentials of human nature, and human weaknesses – to conquer.  "The Moat" is a term for the strategic principles used by Buffett in conquest capitalism. 
Conquest capitalism occurs through capital and the understanding and maneuvering of basic principles. Some of those are noted in Reynolds thin volume, like those quoted above or what follows.
Here's a gem under the heading, "On Independence" – "You have to think for yourself. It always amazes me how high-IQ people mindlessly imitate. I never get good ideas talking to other people." So said Buffett, claims Reynolds, citing U.S. News and World Report, June 20, 1994.
Or this "There's something about smart people explaining ideas to an orangutan that makes their decision making better."
Or "…people are creatures of habit." Know right now that Buffett and his Berkshire brands count on that, big time. He counts on your habits. Buffett and his acolytes count on the habits of your team, and the habits of millions of others too.
"Uncertainty actually is the friend of the buyer of long-term values," said Buffett per Forbes 8.6.1979. Reynolds has that under the heading, "On the Advantage of Chaos."
Buffett is also quoted saying "… – it's the weak link that snaps you. And frequently, in the financial markets, the weak link is borrowed money."
One could go on, but that's more than enough Buffett quotes to outline what follows.  On his borrowed-money point, consider the reports linked here and here.  Arguably, no one can grasp why manufactured housing is as small as it is today without reading and understanding the nuances of those two reports, and others like it.
Buying and selling housing in the U.S. is a multi-trillion dollar proposition over the course of a decade. Last year, per the sources cited in the infographic below, sales of new and existing single family-homes and condos equaled about $1.6 trillion dollars in 2018 alone.
What the data reveals is that manufactured housing, properly understood, could take a huge leap ahead of its currently poor sales levels.  If you are an investor pondering this sector – or are already in manufactured housing – be mindful that the growth potential is stunning.
But if so, the curious mind should ask questions like this one. Why hasn't MHI – or Clayton Homes, 21st Mortgage and Vanderbilt Mortgage and Finance for that matter – done a better job of marketing or advocacy on issues like zoning and placement, financing parity, and other key obstacles?
Or why have the powers that be that flow from Omaha to Knoxville, TN and into Arlington, VA seem to constantly be in motion, with so little to show for it at year's end?  Isn't there plenty of demand for affordable housing?
Ponder the 2018 factoids, data, and quotes that follow in this infographic.

When you examine years of research, what you may learn by considering the history of MHVille is this. The Omaha-Knoxville-Arlington axis are posturing activity that seems to the casual observer to aim at promoting growth, or removing regulatory barriers. That said, note that the powers-that-be are not using their best possible arguments for zoning or other issues. The text/image boxes below are each hot-linked to a report on that topic.
https://www.manufacturedhomepronews.com/state-of-the-industry-2019-reality-vs-potential-for-manufactured-modular-and-prefab-homes-new-infographic/
Meanwhile, Berkshire's market share in manufactured housing grows.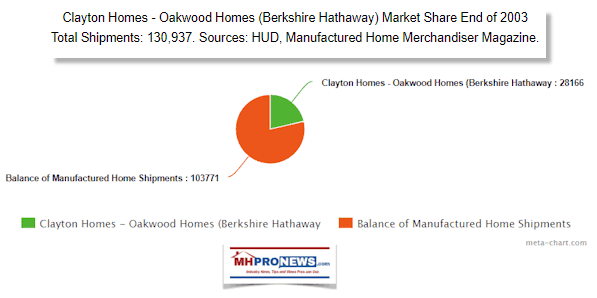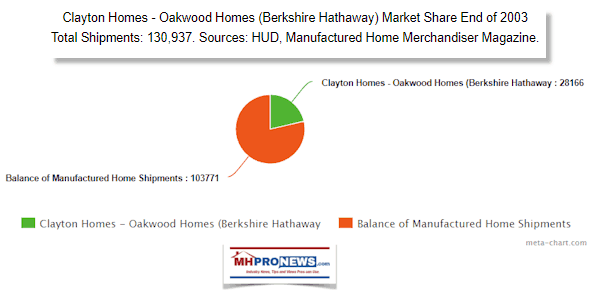 They are making billions now. But through patience and conquest capitalism, manufactured homes could swell into one of the largest growth industries in the nation.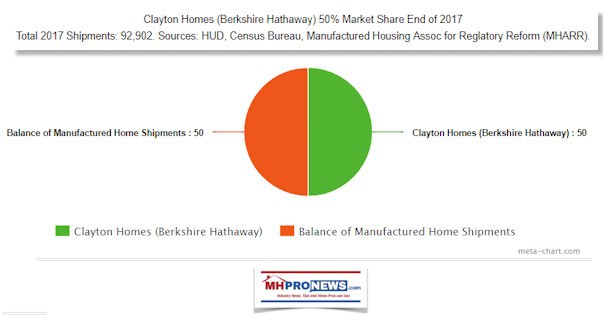 Steady persistence is an element of the Buffett play.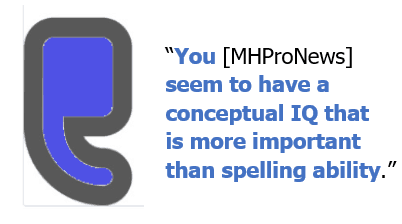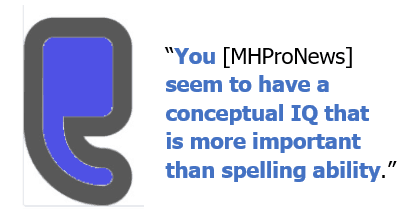 Had Buffett's Berkshire tried to buy the entire industry in 2003 – which his resources could have allowed him to do – regulatory alarms would have sounded.  Patience allows him several luxuries. One is less regulatory scrutiny. Less chance for antitrust action.
Two, patience in a depressed industry sector allows him to acquire pieces of manufactured housing at a bargain "value," which is also part of the Berkshire Moat model.
While You and Others Sleep
While you are running your path today, Buffett's zealous business-unit leaders and their minions are waging a slow-motion war. Their leaders are taught to think long-term. Most others in this industry are thinking only about today, this week, month, or quarter.
That's part of what allows conquest capitalist tactics – including that strategic Moat they use –  to beat competitors over time.
Some sell out to Clayton, or one of the other big three firms that dominate manufactured housing.  About 5 years before Berkshire entered manufactured housing in 2003, the three biggest firms had about 44 percent market share, said Buffett in an annual letter to shareholders.  Today, three firms have about 80 percent, and those 3 are all different than what existed 20 years ago.
Somewhat related, the SEC, it should be noted, will not yet say what stock(s) Joe Stegmayer, former Chairman and President of Cavco Industries and still Chairman of MHI, invested in that purportedly caused their legal fracas to erupt.
Over a dozen shareholders' plaintiffs attorney firms are circling MHI member Cavco.
As a factoid, before going to Cavco, Stegmayer used to be a division president for Clayton. The growth at Cavco occurred after 2003, the same year that Buffett bought into MHVille. Coincidence?
Nor will the SEC say what investigation, if any, they are doing regarding possible collusion between various brands in manufactured housing. But if there were no investigations underway, wouldn't the SEC just say so? We know from other sources that the CFPB and HUD are investigating the Berkshire brands in manufactured housing. Time will tell what comes of it.
Information and Disinformation
It isn't just information, it is disinformation, that the Omaha-Knoxville and their nonprofit cat's paw in Arlington, VA use.
Buffett and Clayton frankly don't need their pawns in Arlington to understand anything. That's not to demean anyone at MHI.  Rather, it is a simple reality. As long as MHI staffers do what Omaha-Knoxville want, as they want it – their 'job' is secure.  They can fail or succeed, it matters not for the purposes of their Moat.  The Illusion of Motion is what matters.
So there is no need for a conspiracy theory. The folks at Arlington could be Buffett's proverbial "orangutan" – see quote above – and that part of their strategic Moat system will work just as well.
From Buffett's tower in Omaha, does it matter if MHI is hopelessly inept and ineffective at their claimed goals? Does it matter if MHI is cagily corrupted? Or some mix of those?  How did the manufactured home industry – which once outsold RVs 3 to 2 about 2 decades ago – slide so far that it now trails RVs by some 5 to 1?  What coach could keep their job with such poor performance?
Unless poor performance is okay? Who would pay bonuses for performance facts like that?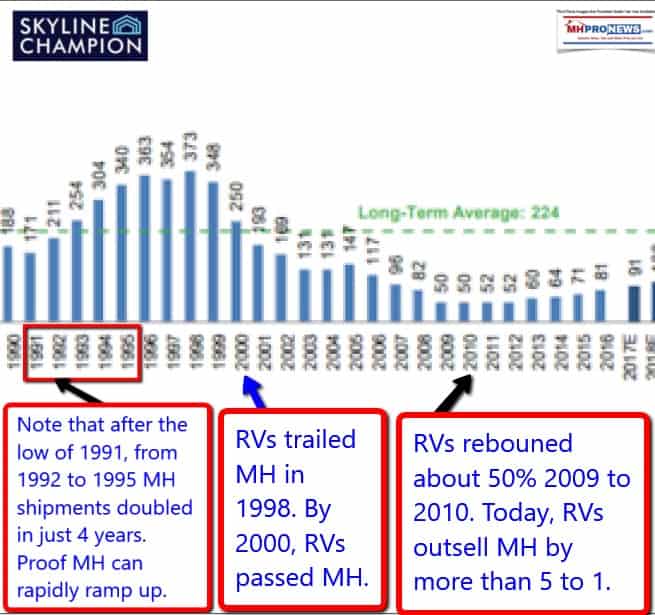 Failure or success by MHI – either can suit the needs of the Berkshire brands.  Meanwhile, conquest capitalism is purportedly deploying the Moat to strike at the Achilles heels of various manufactured housing organizations' interests
Rephrased, Buffett's brands deploy capital – Buffett's term – plus a clever blend of spin that includes facts, near facts, missed facts, and the confident trust that many won't check the facts.
Plus, he counts on the fact that you and tens of millions won't read, study, think, and plan as long-term as he and his colleagues do.
That's a possible weak link. Because as soon as someone does thoughtfully study, in large part by looking objectively in detail backwards, one sees the picture that hundreds of millions miss.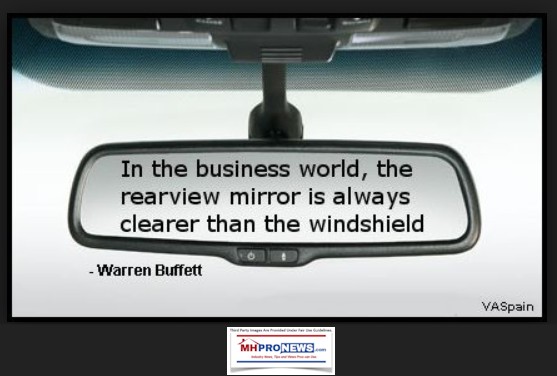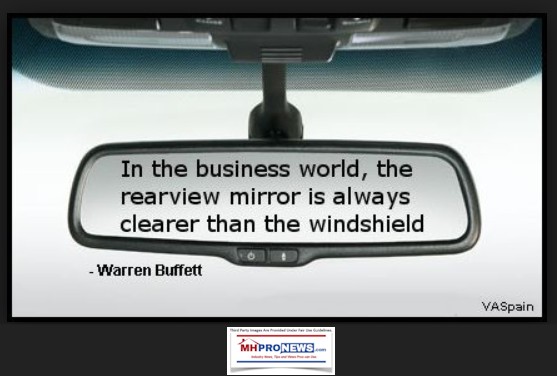 Several thousand will read this column. I can't say quite how many going in, but the rear view mirror trend lines suggest that our audience will find this topic of keen interest. Those thousands of readers will include the serious, as well as the merely curious.
It's the few who are zealously informed and focused on 'never quit until victory' who will end up making the difference.
With some $500 billion of new capital coming back or into the U.S. in 2018 as a result of the tax cuts and jobs act of 2017, plus the Trump Administration regulatory reforms, this is possibly the best time in years to challenge Berkshire's Moat.
The Clayton retailers and Knoxville lenders' can be outperformed. We've seen it done. We know those who are doing it in specific markets. On the consulting side of our operation, we've been part of several projects that have done it and are doing it at their local level.
That's the introduction. Here's the balance of the opening headline.
Corruption is rampant in America. That doesn't mean that most are corrupt. That's not necessary. It does mean that you can effectively buy off a few key people in high, important roles, and influence events in ways that few can imagine.
It means that billionaires can collude in ways that the SEC, FTC, or DOJ might not consider. We respect law enforcement, but one need not look far to see examples of justice gone awry in America.
So, if the Feds do get it on what's happening in MHVille, they may or may not be willing to try undertake the effort to stop the collusion of the "conquest capitalists."
Few should better understand than manufactured housing professionals how much misinformation is out there about our misunderstood industry.  Yet those misunderstandings are accepted as true.  Where is MHI's efforts to correct the record?  Or to promote and explain the reality vs. the myth?


Our widely misunderstood industry is the wake up call for affordable housing industry pros. Misunderstanding is also the wake-up call for investors.  There is demonstrably no more proven solution to the affordable housing crisis than manufactured homes.  How is it even possible that it is so misunderstood?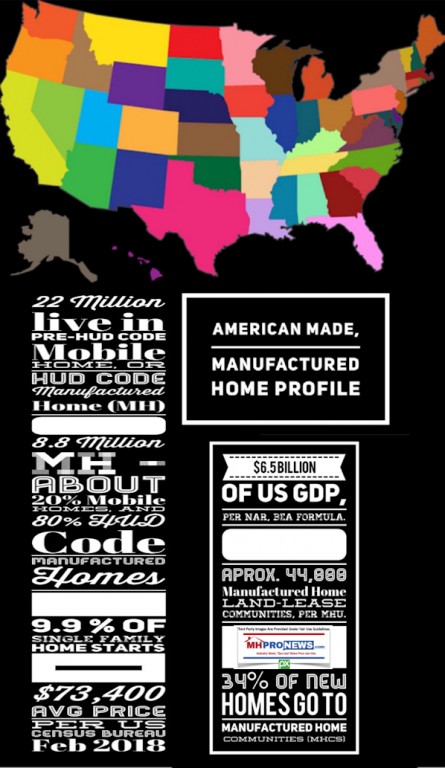 Misinformation can be Opportunities in Disguise
A source with deep ties to Clayton Homes said that they have a two to three year plan to roll out 1,000 to 1,200 Clayton retail centers within a two to three year time span. To most, that defies belief. We have no documentation to reference, it's a discussion, per sources. Unlike other tips, there is no evidence we have seen yet for that claim. It might even be a false flag.
But is it possible? With Buffett's billions, of course it is.
If it is true, that number of new retail locations would mean that every remaining independent is no longer necessary to Clayton. The dust hasn't settled yet on the story linked below. But that recent – and still ongoing issue – is an example of how bold Clayton is already behaving.
https://www.manufacturedhomepronews.com/mobile-home-militia-retail-production-sources-sound-alarm-against-clayton-homes-cmh-new-anti-competitive-practices-allegation/
Part of the word heard is that Clayton, following our report linked above, reached out to Regional Enterprises to try to 'mend the fence' that CMH allegedly busted. But however that scenario wraps up, it is a huge wake- up call to the industry's independents, isn't it?
The similar story below was exactly one year ago.  No one else in the industry trades other than MHProNews covered either one. Why not?
https://www.manufacturedhomepronews.com/how-many-mh-independents-retailers-have-been-lost-recently-they-think-they-own-us/
Or where are the other trade publishers on this third-party report, linked below?
https://www.manufacturedhomepronews.com/examining-derek-thompsons-atlantic-report-on-mobile-home-retail-market-as-fastest-dying-business-in-america/
It is very possible that Buffett and the folks in Knoxville have the following in mind. They are clearly supporting mostly Democratic candidates. They got a lot done – from their conquest vantage point – during the Obama Administration.
Well before the 2018 midterms were over, the 2020 contests were already underway. More precisely, as 2016 results became known, the battle for 2020 was launched. Buffett and his buddies are already deep in the hunt for those who will advance their agenda.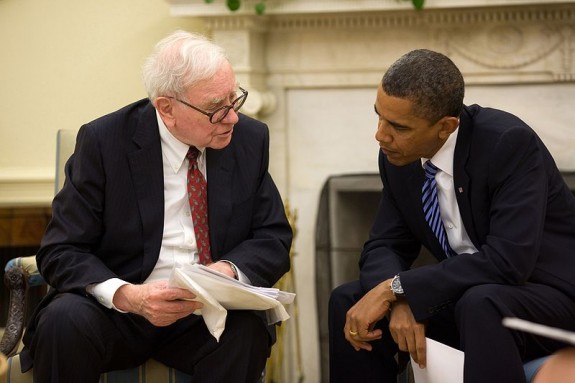 For those who buy into those photo ops of 'MHI leaders' with administration or elected officials and their staffs, never forget that you don't get more influential that the photos on this page.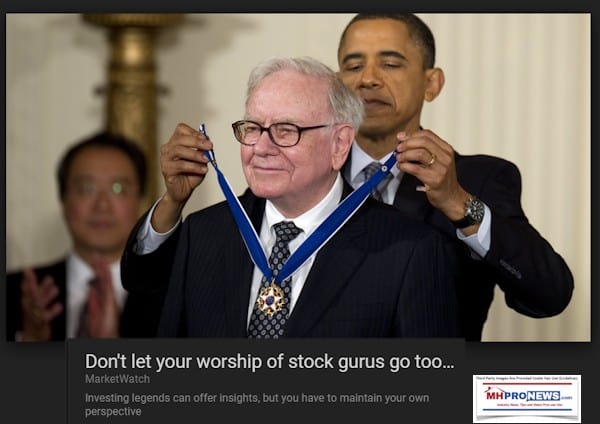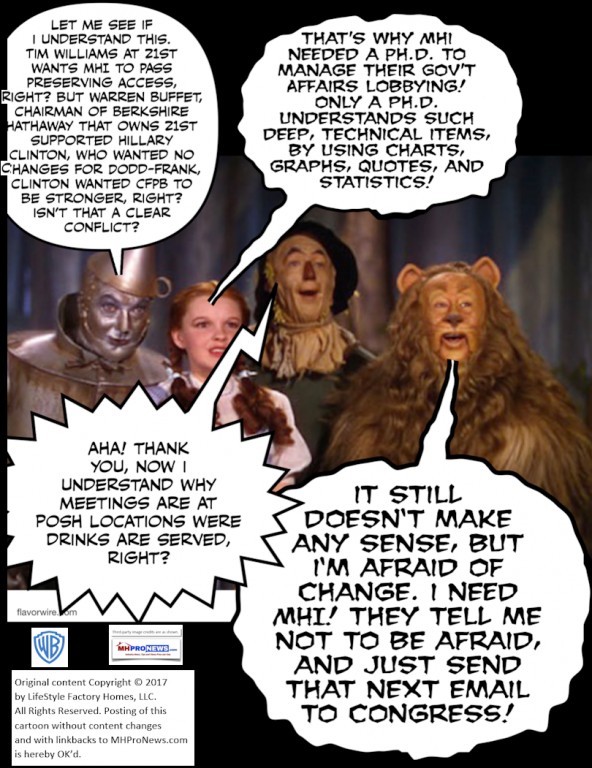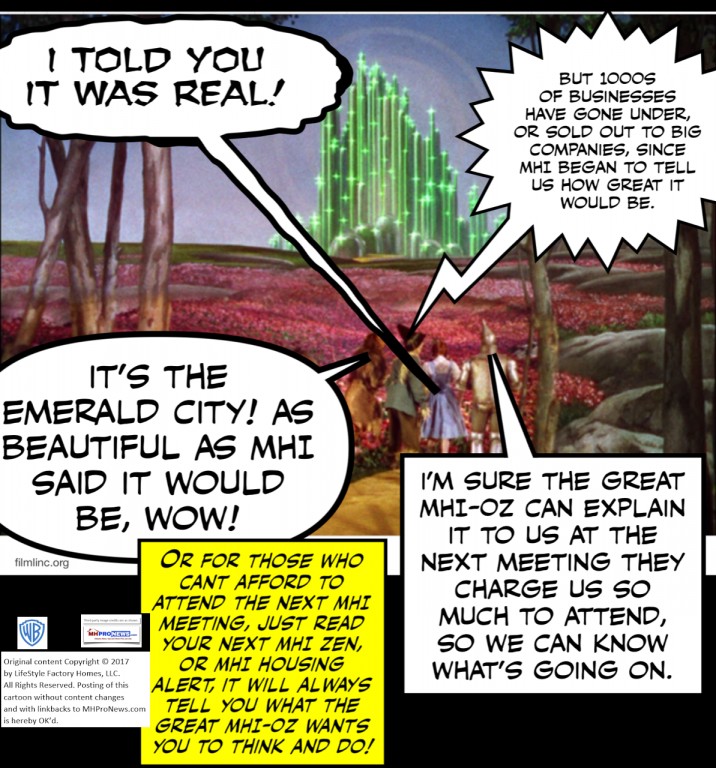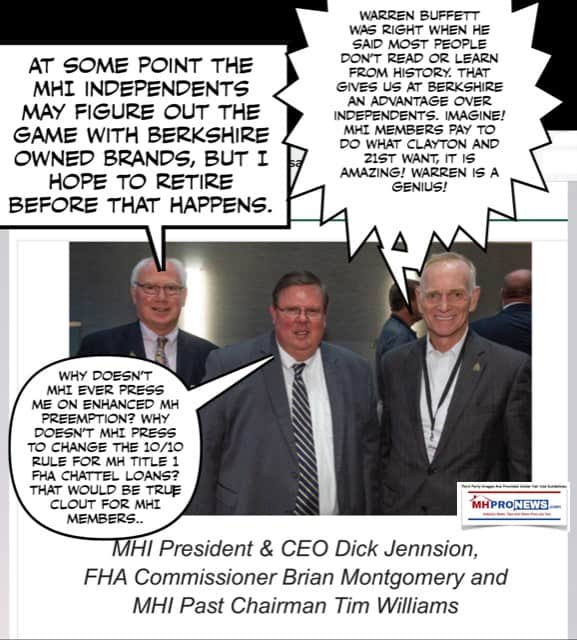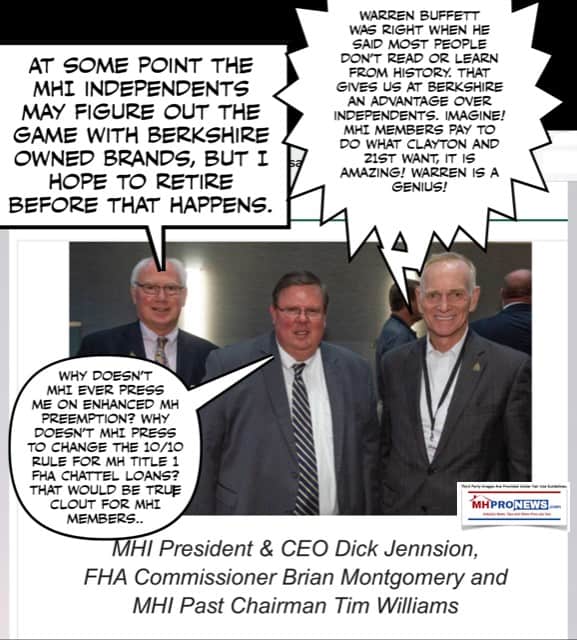 The Omaha-Knoxville-Arlington head fake is –  as Mark Weiss, JD, President and CEO of MHARR aptly put it – the illusion of motion and activity. When was the last time a con artist confessed until formally charged with crimes?
Factory-built homes are potentially a trillion-dollar-a-year industry. Patience and conquest capitalism is winning, and there is no reason to think that won't continue. Unless the ploys are exposed, and then arguably the axis and their allies have to be defeated.
If we were wrong about our analysis of the facts and evidence, why doesn't Knoxville and Arlington accept the offer to publicly refute our concerns? Why don't they accept the offer to publicly discuss these issues, to be video recorded for later reply, in front of an audience of manufactured home industry independents?  Why not have the mainstream media attend such a discussion/debate?
Only in hindsight and by peeling away at enough layers of the onion does the fact-pattern and logic of their strategy become clear. The rest are details and commentary. See the linked text-image boxes for more details.
Investing? It would be hard to find a better bet than manufactured homes. Go back to the top and author Reynold's quotes.  Grasp how logical affordable housing is as a business to invest in.  But to be successful, one must know how the game is played. Because the system, while arguably rigged, can be profitably beaten. Several are in the process of challenging the system, even as this is being written.
The Late Howard Walker and "The Book"
The late Howard Walker, Vice-Chairman for Equity LifeStyle Properties told me that "the money is in a book." In context, he meant that the right book about manufactured housing was worth a fortune.
Properly understood, Walker's point was arguably correct.
Whatever Simon Reynolds may have earned from "Thoughts of Chairman Buffett – Thirty Years of Unconventional Wisdom from the Sage of Omaha" was only a drop in the bucket compared to what is possible from shrewd investments combined with P.E.P. in manufactured housing.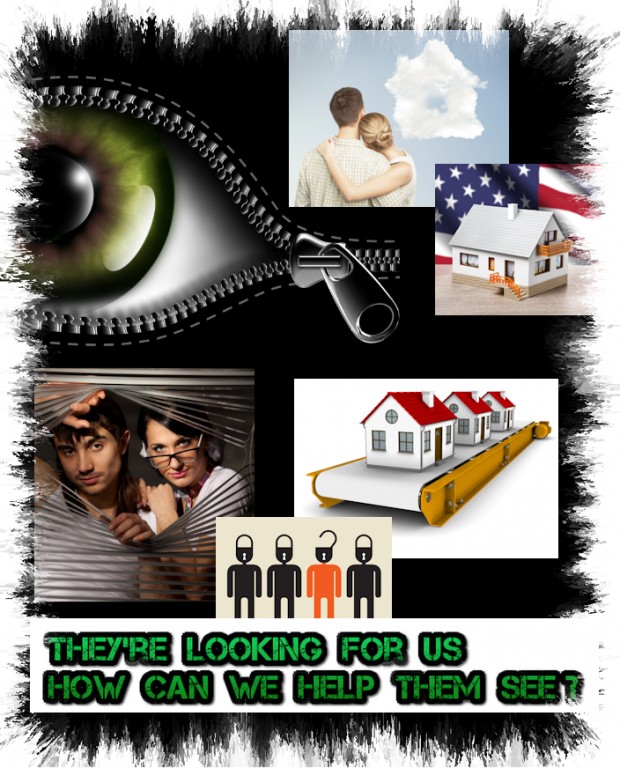 Not a ton of money from a book per se, but rather from the lessons that Buffett and his strategic/economic "conquest capitalism" Moat yields.
Some don't fight the Moat because they don't understand it.
Some don't fight the Omaha-Knoxville-Arlington axis and their allies out of fear. We'll explore the question of extortion and lack of options another time.
Some don't fight it because they believe they benefit from it too. As Buffett Moat crowds out smaller players, some of the mid-sized ones think they can gain market share as well.
Some are the axis that makes up the Moat proper.
The industry is poised to be disrupted again, for a variety of reasons already in motion. The case could be made that this is the best time in decades to jump into manufactured housing, or to expand through prudent challenges to the Moat builders.  Because either out of patience, or whatever other reasons one cares to mention, Clayton and company are underperforming too.
So motivated, focused, well capitalized, disruptive performers could get in, and blow by them in just a few years. That will be explored too in an upcoming column.
The Moat and conquest capitalism are the truth hiding in plain sight.
To learn more about the Moat, see the linked related reports, further below. "We Provide, You Decide." © ## (News, commentary, and analysis.)
(See Related Reports, further below. Text/image boxes often are hot-linked to other reports that can be access by clicking on them. Third-party images and content are provided under fair use guidelines.)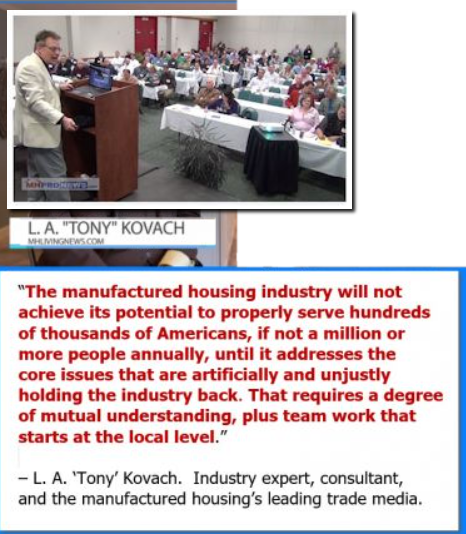 By L.A. "Tony" Kovach – for MHProNews.com.
Tony is the multiple award-winning managing member of LifeStyle Factory Homes, LLC, the parent company to MHProNews, and MHLivingNews.com.
Office 863-213-4090 |Connect on LinkedIn:
http://www.linkedin.com/in/latonykovach
Sign Up Today!
Click here to sign up in 5 seconds for the manufactured home industry's leading – and still growing – emailed headline news updates.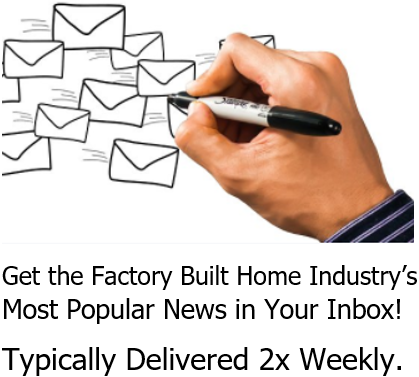 Related References:
The text/image boxes below are linked to other reports, which an be accessed by clicking on them.
https://www.manufacturedhomepronews.com/surprising-discovery-on-manufactured-housings-enhanced-preemption-hidden-gem/
https://www.manufacturedhomepronews.com/mhi-ceo-dick-jennisons-pledge-500000-new-manufactured-home-shipments/
https://www.manufacturedhomepronews.com/positive-uplifting-third-party-reports-favor-modern-manufactured-housing-so-whats-going-wrong/
https://www.manufacturedhomepronews.com/democrats-are-sinful-hypocrites-just-like-all-of-us-weaponizing-information-senator-elizabeth-warren-and-mhville/
HUD Code Manufactured Home Production Decline Persists – Time For Action Not Excuses