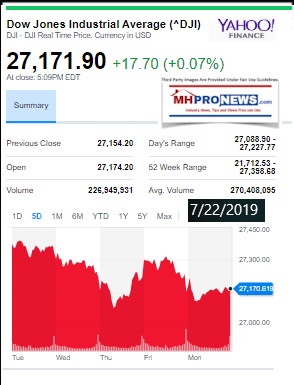 Let's be clear.  This evening's report is more an insight into the views of battling billionaires with no direct insight into manufactured housing.  But it is an insight into how some of these mega deals work, which may shed indirectly light on what Kevin Clayton referred to in a video interview as the ugly battle for Warren Buffett and Berkshire Hathaway to acquire Clayton Homes.
Our feature this evening will be billionaire activist investor Carl Icahn, who is leading a charge that would challenge a deal that Buffett made earlier this year involving Occidental Petroleum.  As with all of our evening features, it will follow our left-right headline news and the ten-market indicating closing tickers but will be posted prior to the closing tickers on manufactured home industry connected stocks. 
Every evening our headlines snapshots from two major media outlets on each side of the left-right news spectrum reflects topics that influence, reflect, or move investor sentiment.  In moments, you can get insights-at-a-glance.  This sets the broader context for manufactured housing markets, in keeping with our mantra, "News through the lens of manufactured homes, and factory-built housing." ©. 
We begin with left-of-center CNN followed by right-of-center Fox Business.  We share closing tickers and other related data courtesy of Yahoo Finance, and more. 5 to 10 minutes reading this MHProNews market report every business night could save you 30 minutes to an hour of similar reading or fact-gathering elsewhere.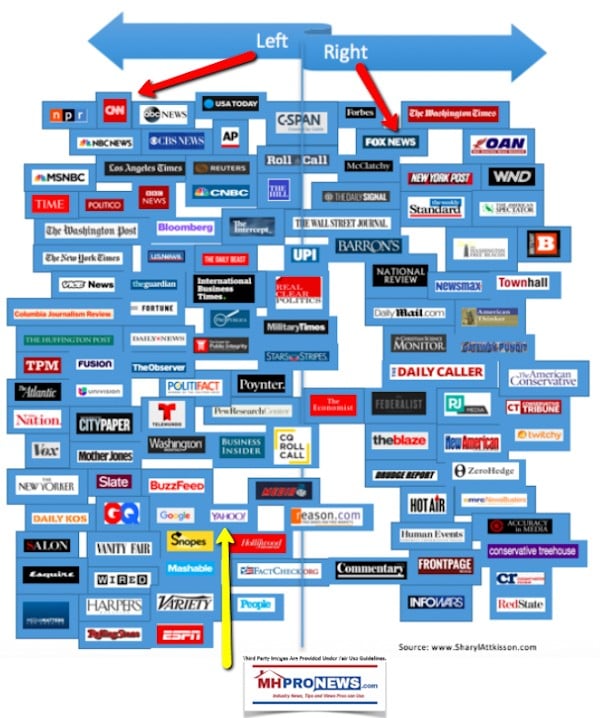 Bullet headlines from CNN Business
·        A captive audience
·        As malls become passé, retailers are focusing on one place customers reliably shop: Airports
·        The cement industry produces more CO2 emissions than most countries. It may not survive
·        Dow ekes out gain as rate cut moves closer
·        A 2017 hack exposed 150 million Americans' data. Now Equifax will pay up to $700 million
·        See the new Corvette Stingray
·        OPINION Space needs to be regulated before humans ruin it
·        Philadelphia refinery goes bankrupt after fire. It's the second bankruptcy in 1.5 years
·        Google agrees to pay $13 million in Street View privacy case
·        The Pete Buttigieg interview that won't be heard on the radio
·        Carl Icahn: Warren Buffett's Occidental deal is a 'travesty'
·        A top CEO calls out Trump's racism
·        Looking to sell your home? Make sure it has web appeal
·        This bunk bed is $1,200 a month, privacy not included
·        These old homes are energy efficient
·        Silicon Valley's real estate market is finally cooling
·        What it's like to own a whole town
·        We all do it. But is swearing at work really ok?
·        A 5-step guide to embracing at work
·        The real reason you aren't getting promoted at work
·        How long you should stay at a job if you aren't promoted
·        How to survive the ultramarathon job interview
·        FaceApp isn't stealing your pics. But it's not wrong to be creeped out
·        They say a smartphone can't replace these
·        How you can stay in the iconic 'Brady Bunch' house
·        This beer has a twist that's out of this world
·        These women are designing spacesuits of the future
Bullet headlines from Fox Business
·        WHITE HOUSE, CONGRESSIONAL DEMOCRATS AGREE ON DEBT CEILING HIKE
·        Equifax settlement: What financial reimbursements are you eligible for?
·        CBS goes dark for DirecTV, AT&T customers: A look at other recent carrier disputes
·        Microsoft pays $25M to settle corruption charges
·        LAST CHANCE, SNEAKERHEADS: BID ON THESE HISTORIC NIKES
·        Cruise lines cancel Puerto Rico stops due to political unrest
·        Joe Piscopo on Eddie Murphy's comeback, their comedic rise to fame
·        FTC to announce $5B Facebook settlement as soon as this week
·        Halliburton profit slumps 85% on charges
·        Who is Boris Johnson, likely Britain's next prime minister?
·        Tom Brady's cliff jump: How off-field injury risks affect NFL contracts
·        El Chapo's imprisonment doesn't slow 'booming' US-Mexico drug trade, report says
·        Top Gun pilots' split-second timing outmatches drones, former Navy strike fighter tactics instructor says
·        A look at all of Trump's surprise wedding appearances
·        Google, Intel, Micron CEOs invited to White House
·        Democrats thrash around while prosperity rolls on, Varney says
·        Democrat senator details trip to US-Mexico border
·        Disney dominates box office with 'Lion King' opening, 'Avengers: Endgame' scoring all-time record
·        T-Mobile, Sprint merger nearing completion after controversial and lengthy negotiations
·        Democrats have to stop playing to the coastal elites: Liz Peek
·        Fox News contributor Liz Peek on mounting U.S. tensions with Iran and the latest on the 2020 presidential race.
·        Former Top Gun instructor on 'Top Gun: Maverick'
·        Johnson & Johnson defending itself against more than 14K legal claims
Yahoo Finance Closing Tickers on MHProNews…

Tonight's Business/Market/Political Impact Spotlight –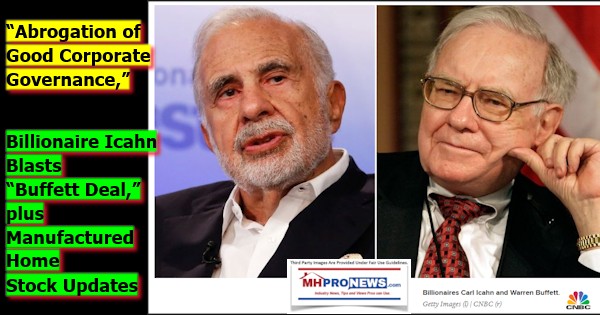 An "abrogation of good corporate governance," is a potent pull-quote from billionaire investor Carl Icahn. That's a phrase that must resonate, for good or ill, over at Cavco Industries.  It may also have implications for other publicly traded firms, as an upcoming report will spotlight. 
But those are asides, what follows is the focus for tonight.
There may be absolutely no connection between President Donald J. Trump and Carl Icahn's newly announced effort to take on an issue involving Warren Buffett. But during the 2016 presidential campaign, then candidate Trump would periodically mention his relationship with Icahn, who he praised as a deal maker. It is also no secret that Warren Buffett long had an animus for Trump, as statements the chairman of Berkshire Hathaway has made over the years arguably suggest.
The reference from the opening tee-up to this report from the top of this report to the Kevin Clayton video interview is found near the bottom of a detailed report linked here.
Also from Icahn's website is this self-description.
Carl Icahn
As a leading shareholder activist, Carl Icahn's efforts have unlocked billions of dollars of shareholder and bondholder value and have improved the competitiveness of American companies. He and his affiliated companies currently own businesses in a wide range of industries, including real estate, telecommunications, transportation, industrial services, oil refining and manufacturing. Companies in which he and his affiliates currently own majority positions include American Railcar, XO Communications, PSC Metals, Tropicana Entertainment, Viskase Companies, CVR Energy, WestPoint Home, Icahn Enterprises LP, and Federal-Mogul. He and his affiliated companies also own stakes in many other public companies. Icahn Enterprises LP, his flagship company, has acquired many of these positions.
With no further adieu, following the CNBC video that tees up the topic, is Icahn's open letter to Occidental Petroleum shareholders, posted earlier today on his website.
Open Letter to Occidental Petroleum Stockholders
Share:    
July 22, 2019
Contact:
Icahn Capital LP
Susan Gordon
(212) 702-4309
Carl C. Icahn Issues Open Letter to
Occidental Petroleum Stockholders
Recent Actions by OXY's Management and Board Indicate a Lack of Checks and Balances
Stockholder Action is Required Immediately to Hold the Board Accountable and Prevent Further Value Destruction
Stockholder Representation on the Board and Corporate Governance Changes Needed Immediately
New York, New York, July 22nd, 2019 — Today, Carl C. Icahn released the following open letter to stockholders of Occidental Petroleum Corporation.
______________________________________
July 22nd, 2019 
Dear Fellow Occidental Stockholders:
We own over 33 million shares of Occidental Petroleum and we believe what recently happened in the OXY Boardroom is reprehensible. In over 50 years on Wall Street I have seen many management teams and boards callously disregard stockholder rights to protect their jobs, and in some cases, build corporate empires at the expense of shareholders, but I have only rarely seen a situation such as the one at Occidental, where the Board and Vicki Hollub, OXY's President and CEO, entered into an extremely risky transformational merger, without a stockholder vote. In my opinion, OXY's massive and risky Anadarko bet that gambles the Company's future without the approval of shareholders will prove to be grossly negligent and might possibly cause the Company to lose its valuable listing on the New York Stock Exchange.
OXY has lost over $12 billion in market value since its interest in buying Anadarko was first reported. But regardless, Hollub, the architect of the plan, will not suffer financially as she was paid $40 million over the past 3 years and will most certainly be paid at least another $14 million in 2019. Hollub is paid $270,000 per week, which is more than 113x OXY's median employee compensation of $2,387 per week. Think about that, the median OXY employee has to work over 2 years to earn what Hollub makes in a week. OXY's Board Chairman, Eugene Batchelder, makes $490,000 a year, which is 4 times the median OXY employee's annual pay. Further, the median OXY employee works a full-time job; Batchelder attended six Board meetings in 2018, for which he was paid $81,600 per meeting.  No matter how badly shareholders suffer, OXY's CEO and Chairman will continue to be among the most highly paid in the world.
Management's Abysmal Record
No management or board should be scrambling around to prevent a stockholder vote on a dangerous transformational transaction, but what makes OXY's actions even worse is management's egregious track record. When Hollub became CEO in April 2016, OXY's stock closed at $77 per share, while oil was $45 a barrel. Today, at $52 per share, the stock is 33% lower, even though the price of oil is almost 25% higher. On a relative basis over that same timeframe, OXY has underperformed its peers by over 30%. To make matters even worse, Hollub has completely destroyed Wall Street analysts' expectations of OXY. When she was appointed CEO, OXY had 52% buy ratings; today OXY has 14% buy ratings even though the stock is 33% cheaper and oil is higher.
Since taking over, Hollub put OXY's cherished dividend at risk by selling cash-producing assets, overspending on drilling and acquiring non- cash producing assets. In fact, in 2016 and 2017, the Company was forced to divest assets at what we believe to be cheap values and use balance sheet cash to pay the dividend, which is neither a sustainable nor a prudent strategy. While we are told Hollub is a somewhat competent operator, she has admitted that she has limited M&A experience, yet she just orchestrated one of 2019's biggest M&A transactions and that limited experience sure does show! She also arranged the financing for the acquisition in a 90-minute meeting with Warren Buffett. I believe Hollub learned that negotiating a deal with Buffett, one of the country's canniest operators, is not the optimal way to get M&A experience. In my opinion, Buffett figuratively took her to the cleaners.  Not only did he get a $10 billion preferred paying 8% but he also amazingly received a bonus of 80 million warrants worth approximately $1.2 billion simply for providing the financing.  At least one large investor that I know of would have been happy to provide the financing without the warrants. The Buffett deal was like taking candy from a baby and amazingly she even thanked him publicly for it! But you can't blame Warren, if Hollub was arrogant enough to negotiate a deal with Buffett of this magnitude despite her admittedly limited experience in M&A and the Board was misguided enough to rubber stamp it, then one might say in Warren's defense that it was almost his fiduciary duty to Berkshire Hathaway to accept it. Speaking of the Board, where was our Chairman Eugene Batchelder in all of this?  Presumably if Batchelder has M&A experience, how could he have permitted this giveaway of $1.2 billion of shareholder funds?  More importantly how could he, the leader of the Board, have sanctioned this whole Anadarko deal which was done in such feverish haste?  We have our theories about why he did it, but hopefully more facts will be learned from our Section 220 demand to inspect the Company's books and records which should shed more light on this matter and others at OXY.
Before the Anadarko acquisition, the Company had committed that it would maintain a prudent balance sheet and not take undue risks, but then blatantly broke this commitment by acquiring Anadarko. Perhaps even more egregious, in order to make this acquisition, in an absolute abrogation of good corporate governance, OXY's Board, led by Eugene Batchelder, in my view intentionally restructured the Anadarko deal to avoid a stockholder vote which they knew they would not obtain.  Hollub and Batchelder implied that they did all this because they know what's best for shareholders when in fact we believe just the opposite is true. In my mind, the Anadarko acquisition is an attempt to create a de facto poison pill to ensure OXY remains a stand-alone company, thus ensuring Hollub and Batchelder keep their jobs, power, and lucrative compensation. I do believe that Hollub and Batchelder know what's good for them and their personal agendas but do not particularly care what's good for shareholders. The surrounding facts raise the disturbing possibility that, with OXY weakened and doing poorly, Hollub and Batchelder were fearful there would be a bid for the company which shareholders would accept. If that is correct then it would be logical to conclude that this fear made Hollub and Batchelder willing to go to any lengths, including this value destroying transaction, in order to keep their positions of power.
Unfortunately, when it comes to Occidental, accountability is severely lacking. That is why Hollub and Batchelder are quintessential examples of a CEO and Chairman that think they can get away with anything.  For example, since OXY's value has deteriorated by over $18 billion since she took over, you would think Hollub would be working 20-hour days to turn the ship around. However, Hollub seems to have the time to serve on at least six outside boards and advisory committees. This might be tolerable if OXY were outperforming but that certainly is not the case. Another example is the egregious salary Hollub and Batchelder earn with virtually no accountability or supervision. Over the last few years it appears to me that the Board has rubber stamped any actions that Hollub and Batchelder propose no matter how problematic and risky. I therefore can now understand why they appear to be so afraid to allow us to get representation on this Board.
Something Must be Done and Done Quickly;
The Way Forward
Unfortunately, we recognize that the Anadarko deal and the off-market financing arrangements that enabled it cannot be undone. We know that, in a few months, we will own a highly-levered combined company that will be in immediate need of a strong board and good, thoughtful decision-making that prioritizes stockholder value; a board with at least four members that understand they serve on behalf of the stockholders, not the CEO; and that can and will stand up to management when necessary. In our opinion, Occidental's Board, the same Board that stood by and allowed a CEO to agree to an expensive transformational merger without regard for stockholder rights and that knowingly modified a deal structure, at great cost, to avoid a stockholder vote, will not, and cannot, provide the type of strong leadership required at this time. Under the circumstances, we believe Hollub and Occidental's Board must be held accountable, and new directors must be added, if only to ensure the operating success and balance sheet management that will be required to achieve the Board and management's stated goals for the Anadarko transaction. To us, it's obvious that the future of Occidental and your investment depends on these changes. One example is if the price of oil decreases meaningfully there must be new members of the Board to oppose another value-debilitating transaction made by a panicked board whose leaders serve more than one agenda.
We have commenced the process to remove and replace directors. It will be a long and expensive process for us, which is fine, insofar as we are concerned. But what is not fine, is how difficult this Board is making it for you to simply "cast your vote." Occidental's corporate governance regime empowers and entrenches management and the Board at the expense of stockholder rights. It is anything but stockholder democracy.
The Company requires us to use a two-step process. First, we must obtain the support of 20% of the outstanding shares to "demand" that the Board set a record date. Once we satisfy that step, we can then solicit stockholders, as of that record date, to support our agenda to remove and replace directors and fix the Company's corporate governance. Unfortunately, for you to support us, the Company requires you to complete a lengthy and intrusive questionnaire, as well as to comply with other cumbersome steps, which undermine your ability to exercise your voting franchise, these encumbrances have no apparent benefits for Occidental or its stockholders and are simply there to dissuade you from voting. Although it will take extra time and effort on your part to comply with the Company's arduous and unnecessary requirements, we implore you to do so. (Detailed information explaining these requirements is included in the Solicitation Statement of the Icahn Participants (the "Icahn Solicitation Statement"), filed with the SEC on July 18, 2019).
YOUR SUPPORT IS IMPORTANT
FIRST, WE NEED YOUR SUPPORT TO
DEMAND THAT THE COMPANY SET A RECORD DATE FOR
OUR PROPOSED CONSENT SOLICITATION.
SECOND, WE NEED YOUR SUPPORT TO:
REMOVE FOUR OCCIDENTAL DIRECTORS,
ELECT FOUR NEW DIRECTORS TO PROVIDE BOARDROOM OVERSIGHT,
AND
FIX OCCIDENTAL'S BYLAWS TO PROVIDE BASIC STOCKHOLDER RIGHTS.
Please refer to the Icahn Solicitation Statement and follow
the steps necessary to demand that the Company set a
record date for our proposed consent solicitation.
* * *
If you have any questions, please contact:
Harkins Kovler, LLC
Banks and Brokers Call: +1 (212) 468-5380
All Others Call Toll-Free: +1 (800) 339-9883
Email: Icahn-OXY@HarkinsKovler.com
Additional Information and Where to Find it;
Participants in the Solicitation
CARL C. ICAHN AND THE OTHER PARTICIPANTS IN THE SOLICITATION (TOGETHER, THE "PARTICIPANTS") FILED A DEFINTIVE SOLICITATION STATEMENT ON JULY 18, 2019 WITH THE SECURITIES AND EXCHANGE COMMISSION (THE "SEC") TO BE USED TO SOLICIT WRITTEN REQUESTS FOR FIXING A RECORD DATE IN CONNECTION WITH THE PROPOSED ACTIONS BY WRITTEN CONSENT OF THE STOCKHOLDERS OF
OCCIDENTAL PETROLEUM CORPORATION ("OCCIDENTAL"). SECURITY HOLDERS ARE ADVISED TO READ THE SOLICITATION STATEMENT AND OTHER DOCUMENTS RELATED TO THE SOLICITATION BECAUSE THEY CONTAIN IMPORTANT INFORMATION, INCLUDING INFORMATION RELATING TO THE PARTICIPANTS IN SUCH SOLICITATION. THESE MATERIALS AND OTHER MATERIALS FILED BY THE PARTICIPANTS WITH THE SEC ARE AVAILABLE AT NO CHARGE AT THE SEC'S WEBSITE AT HTTP://WWW.SEC.GOV. INFORMATION RELATING TO THE PARTICIPANTS IN SUCH SOLICITATION IS CONTAINED IN THE SOLICITATION STATEMENT. EXCEPT THROUGH THE BENEFICIAL OWNERSHIP OF
SHARES OF COMMON STOCK, PAR VALUE $0.20 PER SHARE, OF OCCIDENTAL OR AS OTHERWISE DISCLOSED IN THE SOLICITATION STATEMENT, THE PARTICIPANTS HAVE NO INTEREST IN OCCIDENTAL
Other Important Disclosure Information
SPECIAL NOTE REGARDING THIS LETTER:
THIS LETTER CONTAINS OUR CURRENT VIEWS ON THE VALUE OF OCCIDENTAL SECURITIES AND CERTAIN ACTIONS THAT OCCIDENTAL'S BOARD MAY TAKE TO ENHANCE THE VALUE OF ITS SECURITIES. OUR VIEWS ARE BASED ON OUR OWN ANALYSIS OF PUBLICLY AVAILABLE INFORMATION AND ASSUMPTIONS WE BELIEVE TO BE REASONABLE. THERE CAN BE NO ASSURANCE THAT THE INFORMATION WE CONSIDERED AND ANALYZED IS ACCURATE OR COMPLETE. SIMILARLY, THERE CAN BE NO ASSURANCE THAT OUR ASSUMPTIONS ARE CORRECT. OCCIDENTAL'S ACTUAL PERFORMANCE AND RESULTS MAY DIFFER MATERIALLY FROM OUR ASSUMPTIONS AND ANALYSIS.
WE HAVE NOT SOUGHT, NOR HAVE WE RECEIVED, PERMISSION FROM ANY THIRD-PARTY TO INCLUDE THEIR INFORMATION IN THIS LETTER. ANY SUCH INFORMATION SHOULD NOT BE VIEWED AS INDICATING THE SUPPORT OF SUCH THIRD PARTY FOR THE VIEWS EXPRESSED HEREIN. 
THIS LETTER ALSO REFERENCES THE SIZE OF OUR RESPECTIVE CURRENT HOLDINGS OF OCCIDENTAL SECURITIES RELATIVE TO OTHER HOLDERS OF SUCH SECURITIES. OUR VIEWS AND OUR HOLDINGS COULD CHANGE AT ANY TIME. WE MAY SELL ANY OR ALL OF OUR HOLDINGS OR INCREASE OUR HOLDINGS BY PURCHASING ADDITIONAL SECURITIES. WE MAY TAKE ANY OF THESE OR OTHER ACTIONS REGARDING OCCIDENTAL WITHOUT UPDATING THIS LETTER OR PROVIDING ANY NOTICE WHATSOEVER OF ANY SUCH CHANGES (EXCEPT AS OTHERWISE REQUIRED BY LAW).
Additional disclosure from Icahn's website.
 THIS WEBSITE MAY CONTAIN CARL C. ICAHN'S CURRENT VIEWS ON THE VALUE OF ONE OR MORE SECURITIES AND ACTIONS THAT MIGHT BE TAKEN TO ENHANCE THE VALUE OF THOSE SECURITIES. MR. ICAHN'S VIEWS ARE BASED ON HIS ANALYSIS OF PUBLICLY AVAILABLE INFORMATION AND ASSUMPTIONS HE BELIEVES TO BE REASONABLE. THERE CAN BE NO ASSURANCE THAT THE INFORMATION HE CONSIDERED IS ACCURATE OR COMPLETE, NOR CAN THERE BE ANY ASSURANCE THAT HIS ASSUMPTIONS ARE CORRECT. THE ACTUAL PERFORMANCE AND RESULTS OF THE COMPANIES DISCUSSED ON THIS SITE MAY DIFFER MATERIALLY FROM HIS ASSUMPTIONS AND ANALYSIS. WE HAVE NOT SOUGHT, NOR HAVE WE RECEIVED, PERMISSION FROM ANY THIRD-PARTY TO INCLUDE THEIR INFORMATION ON THIS SITE. ANY SUCH INFORMATION SHOULD NOT BE VIEWED AS INDICATING THE SUPPORT OF SUCH THIRD PARTY FOR THE VIEWS EXPRESSED ON THIS SITE. MR. ICAHN DOES NOT RECOMMEND OR ADVISE, NOR DOES HE INTEND TO RECOMMEND OR ADVISE, ANY PERSON TO PURCHASE OR SELL SECURITIES AND NO ONE SHOULD RELY ON THIS SITE OR ANY INFORMATION CONTAINED HEREIN TO PURCHASE OR SELL SECURITIES OR CONSIDER PURCHASING OR SELLING SECURITIES. ALTHOUGH MR. ICAHN MAY STATE IN THIS SITE WHAT HE BELIEVES SHOULD BE THE VALUE OF CERTAIN SECURITIES, THIS SITE DOES NOT PURPORT TO BE, NOR SHOULD IT BE READ, AS AN EXPRESSION OF ANY OPINION OR PREDICTION AS TO THE PRICE AT WHICH SUCH SECURITIES MAY TRADE AT ANY TIME. MR. ICAHN'S VIEWS AND HIS HOLDINGS OF THE SECURITIES MENTIONED ON THIS SITE COULD CHANGE AT ANY TIME. HE MAY SELL ANY OR ALL OF HIS HOLDINGS OR INCREASE HIS HOLDINGS BY PURCHASING ADDITIONAL SECURITIES. HE MAY TAKE ANY OF THESE OR OTHER ACTIONS REGARDING ANY OF SUCH SECURITIES WITHOUT UPDATING THIS SITE OR PROVIDING ANY NOTICE WHATSOEVER OF ANY SUCH CHANGES. INVESTORS SHOULD MAKE THEIR OWN DECISIONS REGARDING THE COMPANIES MENTIONED ON THIS SITE AND THEIR PROSPECTS WITHOUT RELYING ON, OR EVEN CONSIDERING, ANY OF THE INFORMATION CONTAINED HEREIN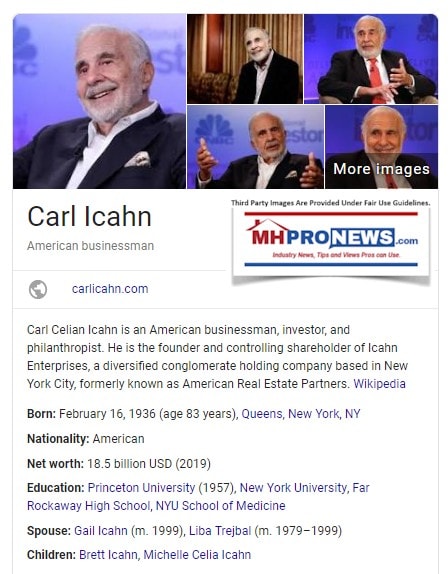 Manufactured Housing Industry Connected Closing Equities Tickers
Some of these firms invest in manufactured housing, or are otherwise connected, but may do other forms of investing or business activities too.
·        NOTE: The chart below includes the Canadian stock, ECN, which purchased Triad Financial Services.
·        NOTE: Drew changed its name and trading symbol at the end of 2016 to Lippert (LCII).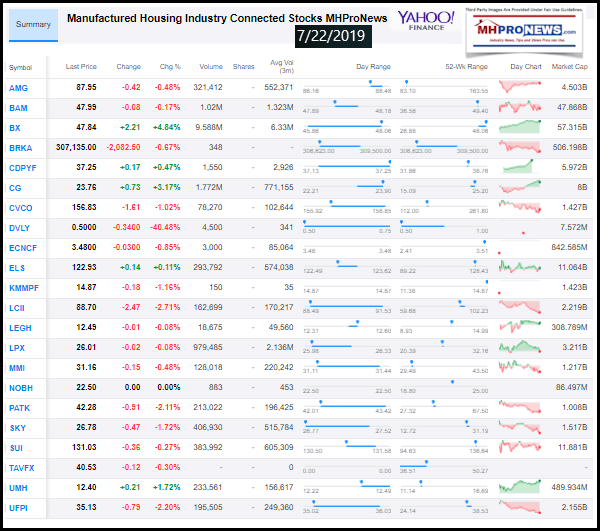 Updated: 
Berkshire Hathaway is the parent company to Clayton Homes, 21st Mortgage, Vanderbilt Mortgage and other factory built housing industry suppliers.
LCI Industries, Patrick, UFPI, and LP all supply manufactured housing.

AMG, CG and TAVFX have investments in manufactured housing related businesses.
 Your link to an example of industry praise for our coverage, is found here and here. For the examples of our kudos linked above…plus well over 1,000 positive, public comments, we say – "Thank You for your vote of confidence."
For expert manufactured housing business development or other professional services, click here.
To sign up in seconds for our industry leading emailed headline news updates, click here.

Disclosure

. MHProNews holds no positions in the stocks in this report.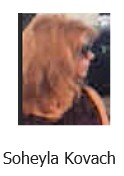 "We Provide, You Decide." © ## (News, analysis and commentary.)
(Image credits and information are as shown above, and when provided by third parties, are shared under fair use guidelines.)
Submitted by Soheyla Kovach, co-managing member of LifeStyle Factory Homes, LLC and co-founder for MHProNews.com, and MHLivingNews.com.