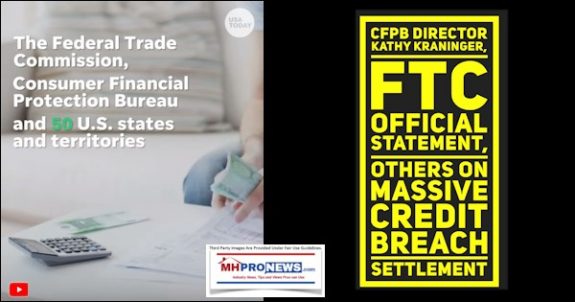 In a media release to MHProNews, the Federal Trade Commission announced the settlement of a massive credit breach from 2017 with Equifax.  As those involved in the manufactured home retail and business-to-business sales process know, credit is a life-blood of the industry, so this joint effort between the FTC, the Consumer Financial Protection Bureau (CFPB), and 50 U.S. states and territories resolves claims impacting about 147 million Americans.
Here's what's known at this time, per the FTC's statement.  It will be followed by video interviews and snapshots from key players, including CFPB Director Director Kathy Kraninger and Equifax CEO Equifax CEO Mark Begor. The generic intro video from left-of-center USA Today is immediately below, and is followed by the FTC's formal statement.

July 2019
SUMMARY OF BENEFITS
In September of 2017, Equifax announced a data breach that exposed the personal information of 147 million people. The company has agreed to a global settlement with the Federal Trade Commission, the Consumer Financial Protection Bureau, and 50 U.S. states and territories. The settlement includes up to $425 million to help people affected by the data breach.
To get the free credit monitoring or cash payments described below, you must file a claim when the claims process begins.
You cannot file a claim yet.
Once the claims process begins, if you were affected by the breach, you can request:
Free Credit Monitoring and Identity Theft Protection Services
Up to 10 years of free credit monitoring OR $125 if you decide not to enroll because you already have credit monitoring. The free credit monitoring includes:
o   At least four years of free credit monitoring of your credit report at all three credit bureaus (Equifax, Experian, and TransUnion) and $1,000,000 of identity theft insurance.
o   Up to six more years of free credit monitoring of your Equifax credit report.
If you were a minor in May 2017, you are eligible for a total of 18 years of free credit monitoring.
Cash Payments (capped at $20,000 per person)
For expenses you paid as a result of the breach, like:
o   Losses from unauthorized charges to your accounts
o   The cost of freezing or unfreezing your credit report
o   The cost of credit monitoring
o   Fees you paid to professionals like an accountant or attorney
o   Other expenses like notary fees, document shipping fees and postage, mileage, and phone charges
For the time you spent dealing with the breach. You can be compensated $25 per hour up to 20 hours.
For the cost of Equifax credit monitoring and related services you had between September 7, 2016, and September 7, 2017, capped at 25 percent of the total amount you paid.
Free Help Recovering from Identity Theft
For at least seven years, you can get free identity restoration services.
Free Credit Reports for All U.S. Consumers
Starting in 2020, all U.S. consumers can get 6 additional free credit reports per year for 7 years from the Equifax website.
FAQS
What can I do now?
Save any documents you have related to your efforts to avoid or recover from identity theft after the 2017 Equifax data breach.
Sign up to get email updatesabout this settlement.
Bookmark and check this page for updates.
When will the claims process start?
The claims process will start after court approval. We will update this page when we have more information.
When will I get my benefits?
The settlement administrator will not send out any benefits until the initial claims period deadline has passed. We will update this page when we have more information.
How will I get my benefits?
For free credit monitoring, you will get an activation code with instructions. You can choose to receive this code by email or postal mail when you file your claim.
For cash payments, you can choose to get a check or debit card when you file your claim. It will be sent to your mailing address.
I'm not sure I was affected by the data breach. How can I find out?
The claims site will have a tool to let you check. Sign up for an FTC email update to find out when that tool is up and running.
CONSUMER INFORMATION
RELATED NEWS
##
Consumer Financial Protection Bureau (CFPB) director Kathy Kraninger talks to left-of-center CNBC's Kayla Tausche on Equifax's settlement from a 2017 breach that exposed personal information belonging to millions of people.
Equifax CEO Mark Begor statement on the same matter is shared in this CNBC video, posted below.
MHProNews Analysis in Brief
As some who do the math have already noted, as large as this settlement is, it works out to be about $3.91 per person impacted.  When legal fees and the fact that most of this settlement will be going toward credit monitoring and a large fine are factored in, the sums per person are nominal.
That said, when federal, state and other public officials enter into such cases, there are a variety of issues that are considered.  Among them, if the case isn't settled, will a larger sum tip the offending firm into bankruptcy?  In that scenario, will anyone get much of anything? In the case of Equifax, with only 3 major credit bureaus in the U.S today, what would their potential insolvency do to the credit reporting industry? With no perfect solutions, sometimes the best that can be done is something like this settlement.
This controversy is the second 'big case' settled in recent weeks between the Trump Administration and big corporations accused of wrongdoing.  The far larger Facebook case settlement report is linked here.  Note that Facebook also encountered legal challenges from HUD for discrimination, see that case linked here.  The record amounts of these cases belie claims by critics that the Trump Administration is unconcerned with consumer-impacting issues.
Report: FTC Imposes Record $5 Billion Dollar Fine, plus Manufactured Housing Stock Updates
This type of issue may provide some clues that into issues that are even more squarely on the minds of manufactured housing professions, particularly independents. See the deeper dive reports that are manufactured housing focused, linked here and here.
That's all she wrote for this installment of "News Through the Lens of Manufactured Homes, and Factory-Built Housing" © where "We Provide, You Decide." ©  ## (News, analysis, and commentary.)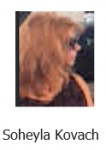 Submitted by Soheyla Kovach for MHProNews.com.
Soheyla is a managing member of LifeStyle Factory Homes, LLC, the parent company to MHProNews, and MHLivingNews.com. Connect with us on LinkedIn here and here.
Related Reports:
Click the image/text box below to access relevant, related information.
'Alexa, Make Breakfast for Me,' Past, Present, Future and Manufactured Housing Developments, News