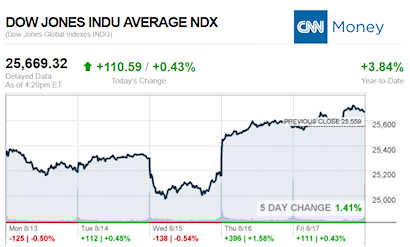 The HUD vs. Facebook case just announced is what it is.  But is there a signal from the Trump Administration implied here for monopolistic players too? That question won't be answered today. But with so many marketers in MHVille who use Facebook, we will look at the breaking news in our featured report this evening.
If you're new, already hooked on our new spotlight feature – or are ready to get the MH professional fever – our headline report is found further below, after the newsmaker bullets and major indexes closing tickers.
The evolving Daily Business News market report sets the manufactured home industry's stocks in the broader context of the overall markets.  Headlines – at home and abroad – often move the markets.  So, this is an example of "News through the lens of manufactured homes, and factory-built housing." ©
Part of this unique evening feature provides headlines – from both sides of the left-right media divide – which saves busy readers time, while underscoring topics that may be moving investors, which in turn move the markets.
Readers say this is also a useful quick-review tool that saves researchers time in getting a handle of the manufactured housing industry, through the lens of publicly-traded stocks connected with the manufactured home industry.
This is an exclusive evening or nightly example of MH "Industry News, Tips and Views, Pros Can Use." © It is fascinating to see just how similar, and different, these two lists of headlines can be.
Want to know more about the left-right media divide from third party research?  ICYMI – for those not familiar with the "Full Measure," 'left-center-right' media chart, please click here.
Select bullets from CNN Money…
Amazon could be coming to a movie theater near you
Trump asks regulators to study getting rid of quarterly reports
Nordstrom racks up a big gain in digital sales
JCPenney's latest results were absolutely dreadful
Walmart sales growth was the best in a decade
Chipotle will retrain its staff in response to latest health debacle
Aldi is going granola to compete with Whole Foods
Most economic forecasts have a big blind spot: Climate change
The next generation of motorcycles looks very different
Chinese tech stocks are getting hammered
This is how China controls its currency
'Crazy Rich Asians' could usher in a new era of romantic comedies
Omarosa and Trump battle for each news cycle
Big Oil is racing to pump all the oil out of Texas
Autonomous vehicles are coming. Now comes the hard part.
Inside Airstream's tiny new luxury trailer
He's a former refugee shaking up the money transfer business
Corona owner makes a $4 billion bet on cannabis
Tiffany is remodeling to draw more Millennials
Macy's momentum may be starting to slow
Two female CEOs in a row at the same company is (almost) unheard of
The number of female Fortune 500 CEOs is shrinking
The next chief of Air France isn't French. Unions say that's 'inconceivable'
It'd take a UK worker 137 years to catch up to a CEO's annual pay
China: Trade talks with the US are back on
Uber cuts its losses, and revenue soars 63%
Verizon's 5G sales pitch: Free TV
Tinder exec: I had to protect the company from my own story of harassment
Two lawsuits accuse Elon Musk of false statements to boost Tesla share price
Select Bullets from Fox Business…
Tesla chief Elon Musk's 'excruciating' personal pain spooks investors
Trump urges six-month earnings reports to replace quarterly reports
More rich savers: 41% jump in '401(k) millionaires'
Why hardware stores are Teflon to Amazon's dominance
Cleveland Browns win unlocks Bud Light smart fridges all at once
Monterey car auctions will hit $342 million in sales, all in one week
Scott Walker responds to Trump's support of Harley-Davidson boycott
Culprit of Chipotle's latest foodborne illness outbreak
Obama-era fair housing rules need rework: HUD Secretary Ben Carson
ReWalk robotic exoskeleton allows veterans to walk again
Dollar to weaken, here's what to do: Goldman Sachs
Americans continue to pile on debt
Big US retailers stick by Roundup after cancer verdict
FDA approves Teva's generic EpiPen, rivaling Mylan version
This is why medical school is free at NYU
Google workers protest secretive, censored China project
Meet the small-town attorney who took Monsanto for $289M
Small business owners favor more China tariffs: Survey
New York state shuts down child's lemonade stand
Today's markets and stocks, at the closing bell…

Manufactured Housing Composite Value (MHCV)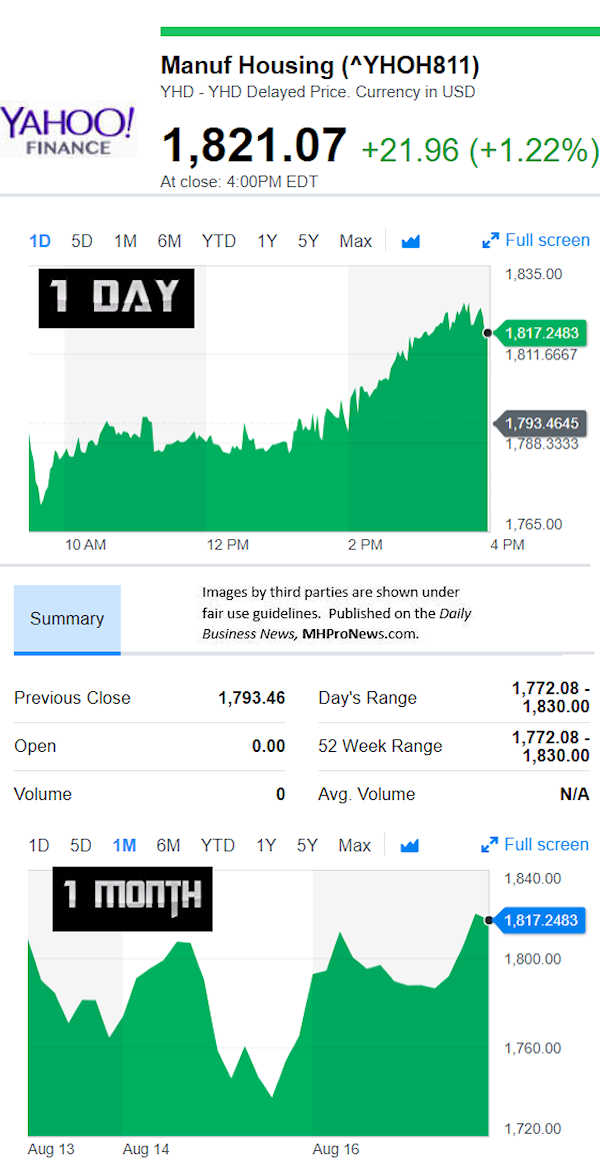 Today's Big Movers
For all the scores and highlights on tracked manufactured home connected stocks today, see the Bloomberg graphic, posted below.
Today's MH Market Spotlight Report –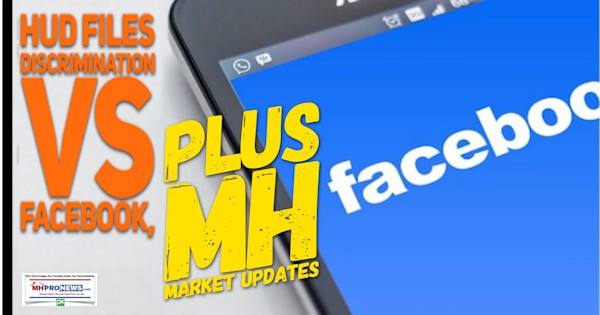 It's the 50th anniversary of the Fair Housing Act, and HUD is flexing its muscles.
In a release to the Daily Business News on MHProNews, HUD says as follows.

HUD FILES HOUSING DISCRIMINATION COMPLAINT AGAINST FACEBOOK
Secretary-initiated complaint alleges platform allows advertisers to discriminate
WASHINGTON – The U.S. Department of Housing and Urban Development (HUD) announced today a formal complaint against Facebook for violating the Fair Housing Act by allowing landlords and home sellers to use its advertising platform to engage in housing discrimination.
HUD claims Facebook enables advertisers to control which users receive housing-related ads based upon the recipient's race, color, religion, sex, familial status, national origin, disability, and/or zip code.  Facebook then invites advertisers to express unlawful preferences by offering discriminatory options, allowing them to effectively limit housing options for these protected classes under the guise of 'targeted advertising.'  Read HUD's complaint against Facebook.
"The Fair Housing Act prohibits housing discrimination including those who might limit or deny housing options with a click of a mouse," said Anna María Farías, HUD's Assistant Secretary for Fair Housing and Equal Opportunity. "When Facebook uses the vast amount of personal data it collects to help advertisers to discriminate, it's the same as slamming the door in someone's face."
The Fair Housing Act prohibits discrimination in housing transactions including print and online advertisement on the basis of race, color, national origin, religion, sex, disability, or familial status.  HUD's Secretary-initiated complaint follows the Department's investigation into Facebook's advertising platform which includes targeting tools that enable advertisers to filter prospective tenants or homebuyers based on these protected classes.
For example, HUD's complaint alleges Facebook's platform violates the Fair Housing Act. It enables advertisers to, among other things:
Ø    display housing ads either only to men or women;
Ø    not show ads to Facebook users interested in an "assistance dog," "mobility scooter," "accessibility" or "deaf culture";
Ø    not show ads to users whom Facebook categorizes as interested in "child care" or "parenting," or show ads only to users with children above a specified age;
Ø    to display/not display ads to users whom Facebook categorizes as interested in a particular place of worship, religion or tenet, such as the "Christian Church," "Sikhism," "Hinduism," or the "Bible."
Ø    not show ads to users whom Facebook categorizes as interested in "Latin America," "Canada," "Southeast Asia," "China," "Honduras," or "Somalia."
Ø    draw a red line around zip codes and then not display ads to Facebook users who live in specific zip codes.
Additionally, Facebook promotes its advertising targeting platform for housing purposes with "success stories" for finding "the perfect homeowners," "reaching home buyers," "attracting renters" and "personalizing property ads."
In addition, today the U.S. Attorney for the Southern District of New York (SDNY) filed a statement of interest, joined in by HUD, in U.S. District Court on behalf of a number of private litigants challenging Facebook's advertising platform.
HUD Secretary-Initiated Complaints
The Secretary of HUD may file a fair housing complaint directly against those whom the Department believes may be in violation of the Fair Housing Act.  Secretary-Initiated Complaints are appropriate in cases, among others, involving significant issues that are national in scope or when the Department is made aware of potential violations of the Act and broad public interest relief is warranted or where HUD does not know of a specific aggrieved person or injured party that is willing or able to come forward.  A Fair Housing Act complaint, including a Secretary initiated complaint, is not a determination of liability.
A Secretary-Initiated Complaint will result in a formal fact-finding investigation. The party against whom the complaint is filed will be provided notice and an opportunity to respond. If HUD's investigation results in a determination that reasonable cause exists that there has been a violation of the Fair Housing Act, a charge of discrimination may be filed. Throughout the process, HUD will seek conciliation and voluntary resolution.  Charges may be resolved through settlement, through referral to the Department of Justice, or through an administrative determination. ##
Related Reports, linked below:
"Work With Us Or Die," Threat from Facebook's Brown, per SUN Report
Secretary Carson Led HUD Brings Housing Discrimination Charges
Bloomberg Closing Ticker for MHProNews…
NOTE: The chart below includes the Canadian stock, ECN, which purchased Triad Financial Services.
NOTE: The chart below covers a number of stocks NOT reflected in the Yahoo MHCV, shown above.
NOTE: Drew changed its name and trading symbol at the end of 2016 to Lippert (LCII).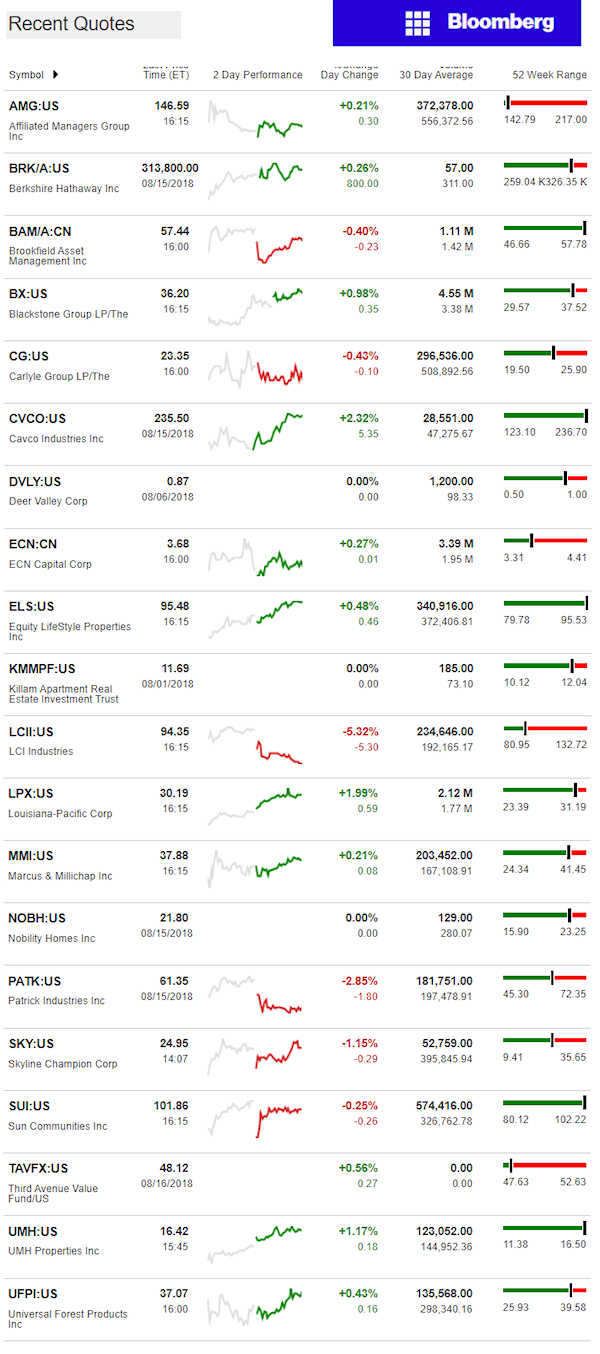 Berkshire Hathaway is the parent company to Clayton Homes, 21st Mortgage, Vanderbilt Mortgage and other factory built housing industry suppliers.
LCI Industries, Patrick, UFPI and LP all supply manufactured housing.
AMG, CG and TAVFX have investments in manufactured housing related businesses.
Your link to industry praise for our coverage, is found here.
For the examples of our kudos linked above…plus well over 1,000 positive, public comments, we say – "Thank You for your vote of confidence."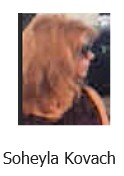 "We Provide, You Decide." © ## (News, analysis and commentary.)
(Image credits and information are as shown above, and when provided by third parties, are shared under fair use guidelines.)
Submitted by Soheyla Kovach to the Daily Business News for MHProNews.com.