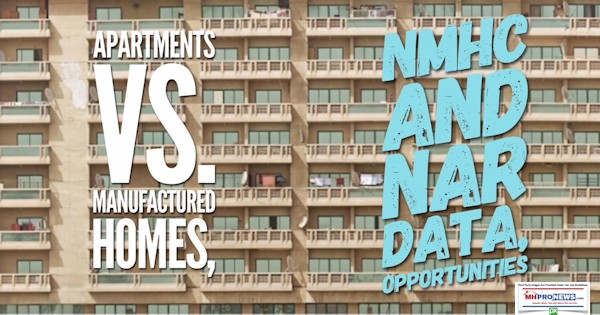 National Multifamily Housing Council® (NMHC) and National Association or Realtors® (NAR) are the sources for bulk of the data and graphics, shown below.
The executive summary could be captured with a statement made by Scholastica 'Gay' Cororaton, Certified Business Economist (CBE), with the National Association of Realtors® (NAR).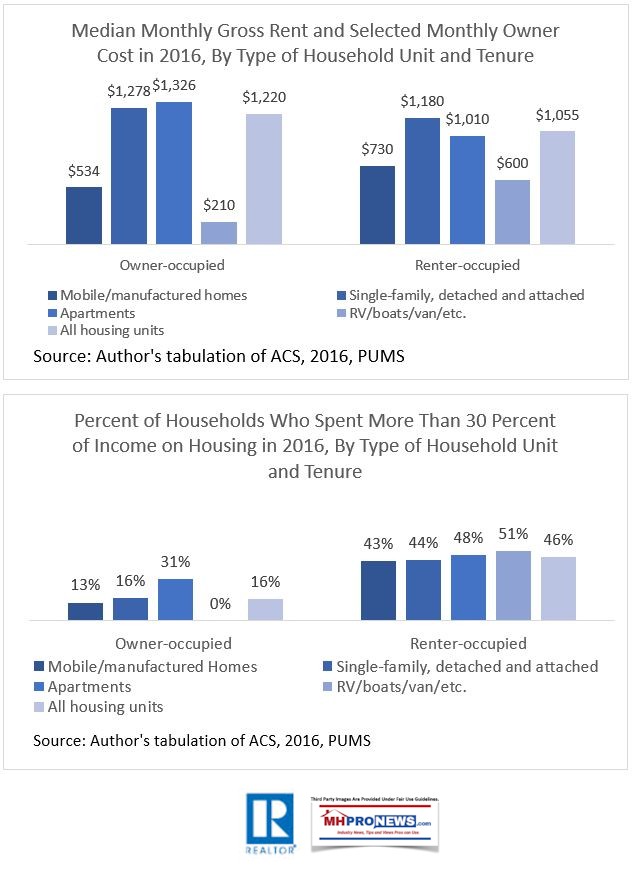 She said "Based on 2016 latest data, the median household income among manufactured homeowners was $43,900, about half the median household income among all homeowners.  The median household income of manufactured homeowners is about the same as the median income of all renters, at $42,500. This indicates that renters can transition to homeownership without significant change in housing expenses via ownership of a manufactured home, if other factors that homebuyers look for are also met (e.g., accessible transportation, presence of a good school, other neighborhood qualities)."
Let's start with the age of multifamily housing rental units, which many may find surprising.
Why?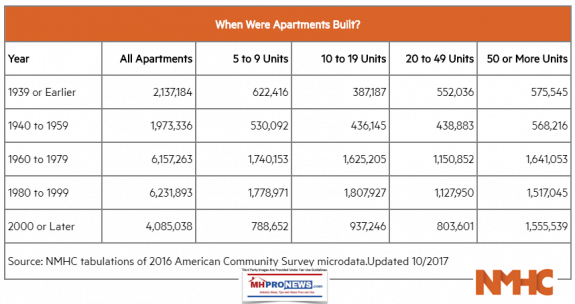 Because out of 19.506 million apartment units, using NMHC data, 10.316 million were built after 1980.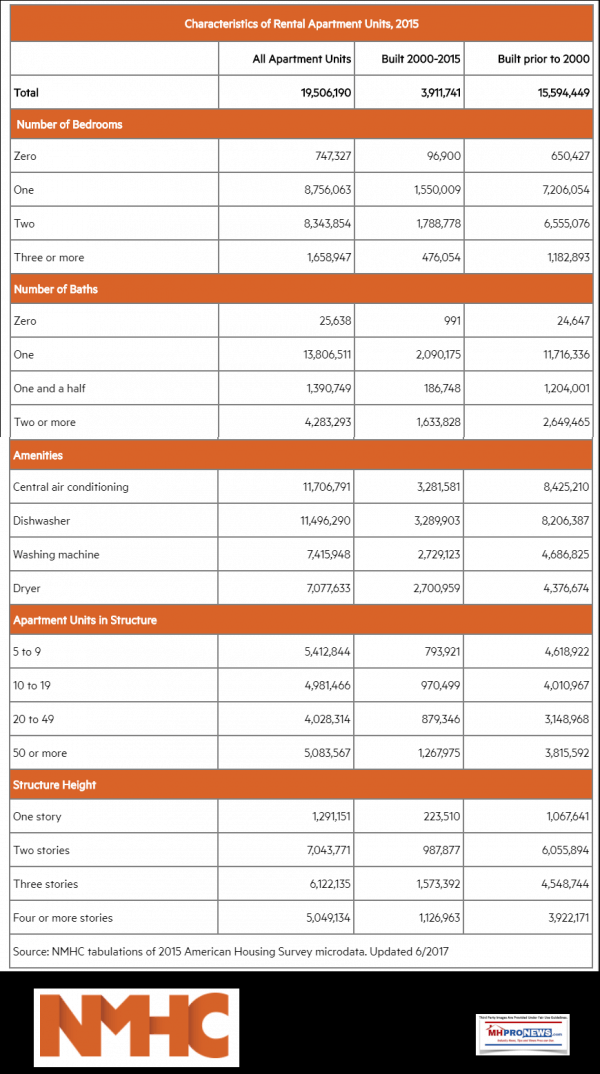 So, over 9 million units were built before 1980, with 2.137 million units built on or before 1939.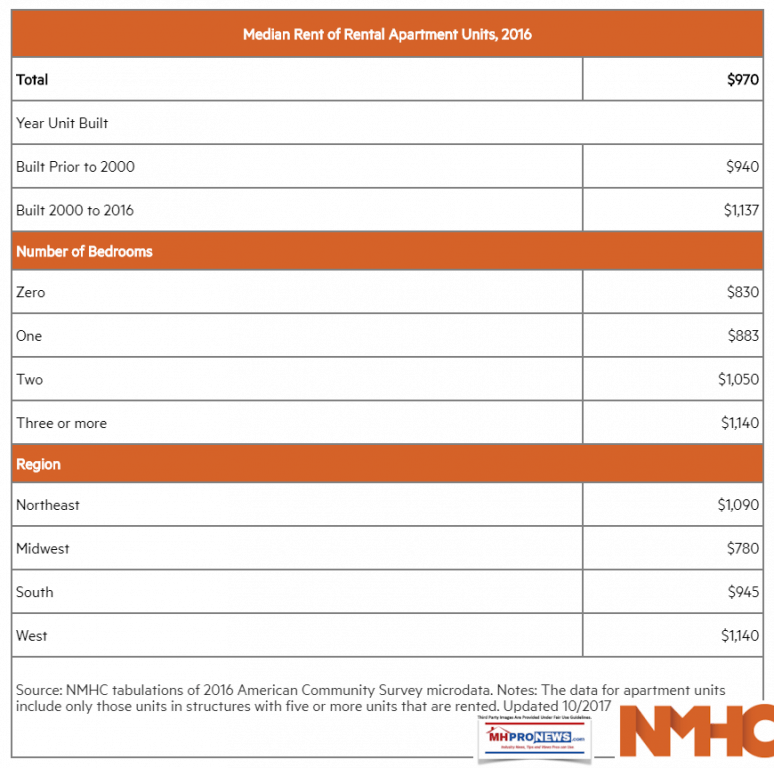 Cororaton's data reveals that it would be a simple budgetary change to go from an apartment to a manufactured home.  Her data also shows the appreciation possible in a modern manufactured home.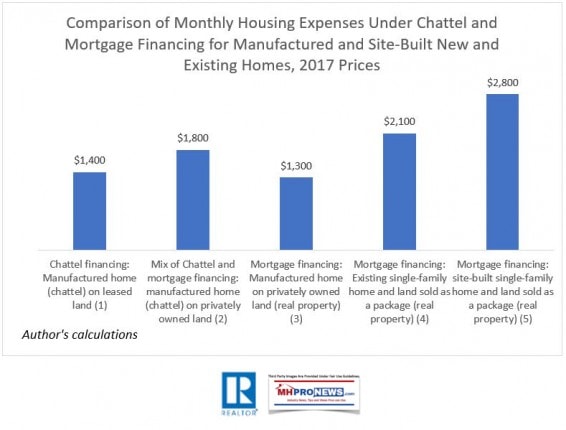 By contrast, there is obviously no equity in an apartment rental.  So there's about 225 percent more apartments than manufactured homes. Since turnover is steady in apartments, that's a vast market opportunity.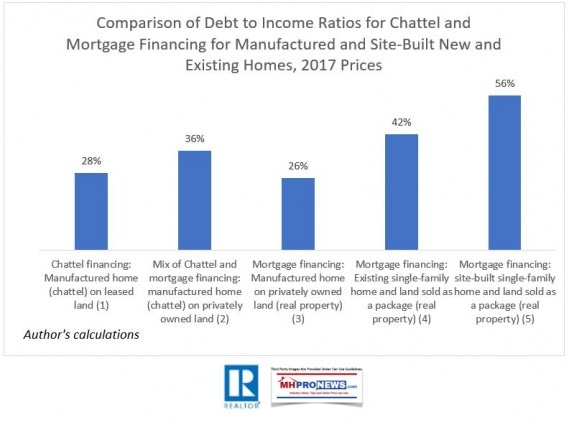 Apartment construction is booming.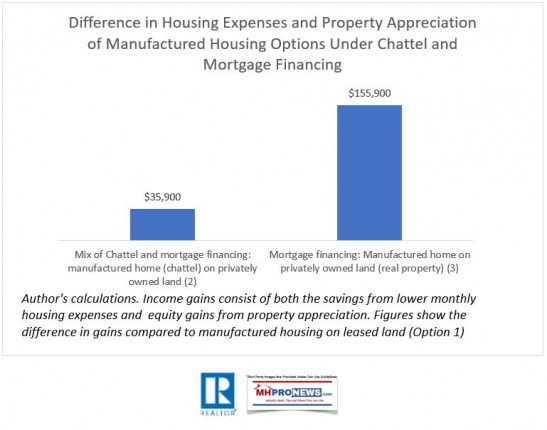 Like RVs, they are out-performing manufactured homes by a country mile.
What RV Industry's 2018, Prior Results Reveal for Manufactured Housing
The RV report, linked above, reminds professional readers and investors that RVs trailed manufactured housing in 1998.  20 years later, they are outselling manufactured homes by some 5 to 1. See that report to learn more.  It's opportunity in disguise for those who see it, and get it.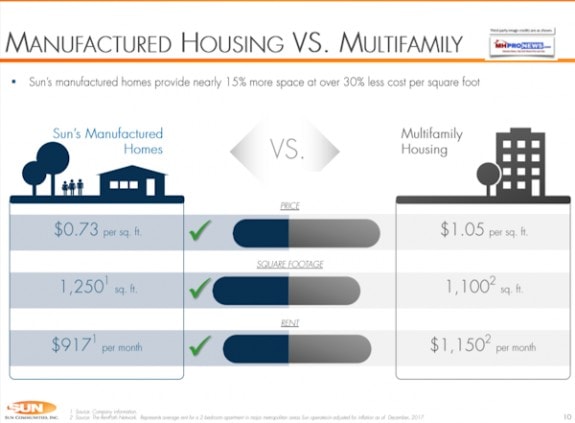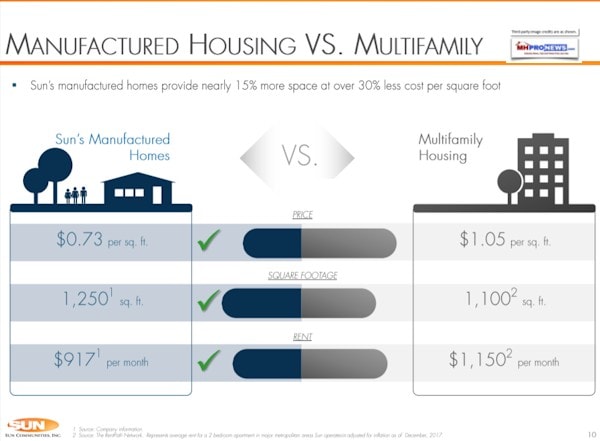 There is a need for every kind of housing that exists.  Some need or want a short- to medium-term rental. But with hundreds, if not thousands, of manufactured home communities offering rentals, that too could be a market for the manufactured housing industry.
When Bloomberg, NAR and others are increasingly featuring positive news about manufactured homes, that should make investors sit up and take notice.
Bloomberg "New Home for $90,000? Manufactured Housing Is Making a Comeback" Reveals MH Media Challenge
Even high rises could be done with manufactured homes, when density is an issue. See that related report, linked below.
So manufactured homes are a common-sense choice. Millennials and others must be shown why they are a cool, even savvy, option.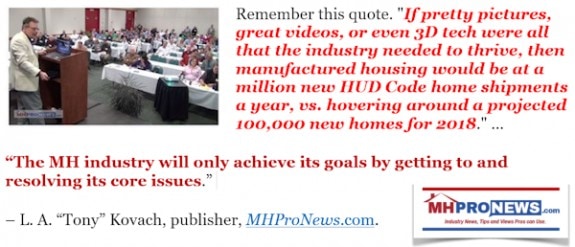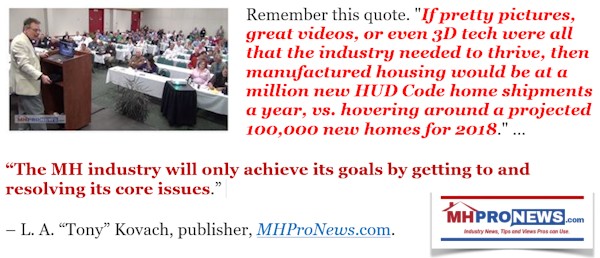 Perhaps these are among the reasons why the Blackstone Group has recently entered the manufactured home space? See that in the related reports, linked below.
Notice: We plan an upcoming report on MHLivingNews on this issue, designed for the general public.  Sign up herein seconds for our industry-leading, typically x2 weekly, emailed headline news updates. "We Provide, You Decide."  © ## (News, analysis, and expert commentary.)
(Third party images and content are provided under fair use guidelines. All rights reserved.)
L. A. "Tony" Kovach and his wife Soheyla co-founded and publish the manufactured home industry's two leading trade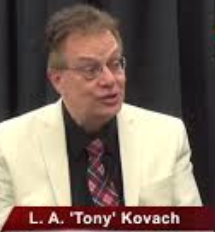 media; Manufactured Home Living News (MHLivingNews.com) and MHProNews.com for business professionals and investors.
Kovach's work has been featured in publications such as the Washington D.C.'s The Hill, Value Penguin, Chicago Sun Times, and a host of other media. He's been involved in the manufactured home industry as a manager, high-volume retail center owner, consultant, and publisher for over 25 years. Kovach has likely interviewed more industry professionals, experts, and manufactured home owners, than anyone in U.S. news media.
1) To sign up in seconds for our MH Industry leading emailed news updates, click here.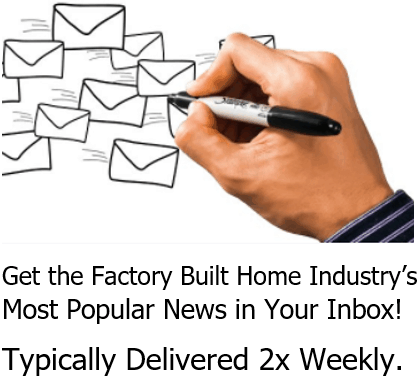 2) To provide a News Tips and/or Commentary, click the link to the left. Please note if comments are on-or-off the record, thank you.
3) Marketing, Web, Video, Consulting, Recruiting and Training Resources
Related Reports:
Blackstone Brilliantly Bets Big On Manufactured Housing, Enters Manufactured Home Communities Contest
High-Rise Manufactured Home Stackable Towers, Compete with Modular/PreFabs, Density at Lower Cost
Fresh Facts, Figures, Future of Affordable Housing -Comparisons- Conventional Site-Built v Mobile/Manufactured Home Industry Data
"Thou Shall Not Steal," $2 Trillion Annually Lost to Lack of Affordable Homes, Making the Manufactured Home Case
Warren Buffett Would be Okay With Clayton Homes Losing Money, Says Kevin Clayton – But Why?