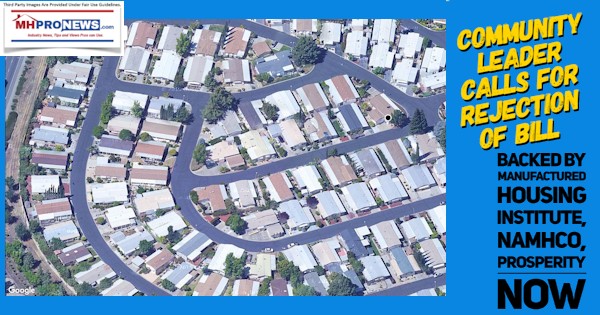 There are some things that ought to immediately raise a cautionary flag when they occur, a point that will be made further below in our analysis of what follows first.
A courtesy message that was forwarded will be shown and is being republished with the expressed written permission of the sender.
Representative Ami Bera has been the Congressman of California's district 7 since 2013. He's a Democrat that is also a M.D.
Only the email, physical address, and phone number have been edited out of the message that follows. We will unpack this message following the quoted email. The email is elegantly short, polite, to the point, and speaks for itself.
———- Forwarded message ———
From: Robert E. Van Cleef [email edited out]
Date: Wed, Jul 10, 2019 at 1:27 PM
Subject: H.R. 926 – HUD Manufactured Housing Modernization Act of 2019
To: Rep. Ami Bera, M.D. [email edited out]
Please vote against H.R. 926:
HUD Manufactured Housing Modernization Act of 2019
This is an unnecessary and damaging bill that could have profoundly damaging unintended consequences. 
Please see this report from the Manufactured Housing Association Regulatory Reform organization.
Report:  Unnecessary/Damaging Bills Introduced in Congress
Bob
—
Robert E. Van Cleef
President:
Mobil Country Club — Home Owners Association
[Address and phone are edited out]
————–  End of forwarded message. ————–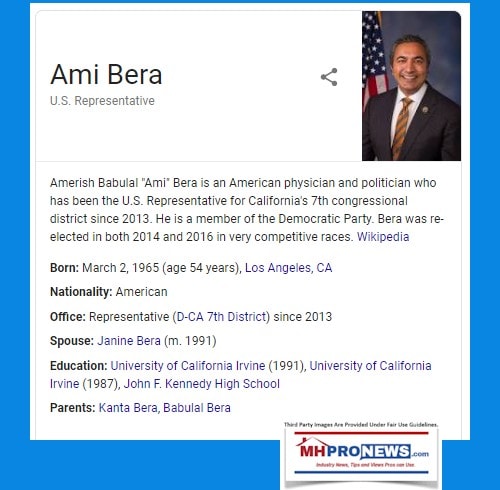 MHProNews has previously spotlighted Robert 'Bob' Van Cleef, as has MHLivingNews in the report linked below. ICYMI, or need a refresher, you can access that report by clicking the linked text-image box that follows.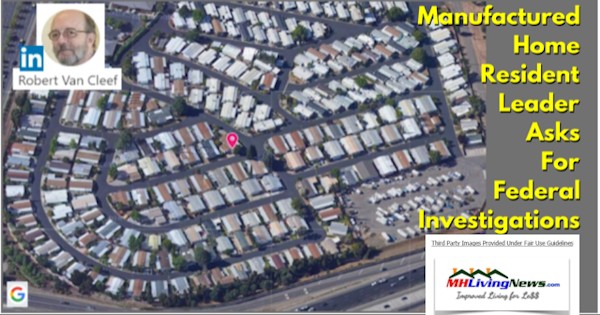 Stop and Think.
The Manufactured Housing Institute (MHI).

Prosperity Now,

formerly CFED.

The National Association of Manufactured Housing Community Owners (NAMHCO).
These three organizations have 'come together' in support of the bill that Robert 'Bob' Van Cleef has stated his opposition to, after he researched the topic. Van Cleef is a professional. He and his wife sold their conventional site-built house and moved into a nice manufactured home land-lease community. There, in fairly short order, he became the leader of his community's resident group.
Van Cleef's perspective, as a planned upcoming report on MHLivingNews will reveal, is that of an intelligent, motivated, truth-seeking person who has fallen in love with manufactured home living.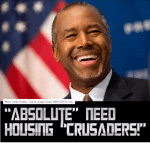 But like many, he and his wife are concerned about the problematic behavior of some companies that are aggressively raising site fees on their manufactured home community residents, often shortly after an acquisition has occurred.
It is a problem that HUD Secretary Ben Carson raised which shocked MHI members at their Congress and Expo in 2018. Is that part of the reason why MHI never published Secretary Carson's full statement or the complete video of his address?  For those who think Dr. Carson is there at HUD solely to do MHI's bidding, they need only review that statement to learn otherwise. It was a bitter truth told, which Democrats might have cheered had they heard or read it.
There Are More Like Bob…
With that brief backdrop, let's note that Van Cleef is not alone. He is part of a growing number of resident group leaders who is not necessarily buying into the common stereotypes or the supposedly easy fixes that some have pushed, however well-meaning they might be. The management of MHProNews is in touch with several resident leaders and plans to do an outreach to more. With several, but not all, common ground is being found with resident group leaders. Why?
Let's hold that question for another time and explore the more obvious headline question.
Why is MHI, Prosperity Now, and NAMHCO collaborating on a bill at all? For those who have been involved in manufactured housing for several years, isn't that question aimed at an unusual occurrence? For newcomers to MHProNews, let's unravel why that trio of trade associations and advocacy groups supporting the same piece of legislation bears scrutiny. 
Recall that NAMHCO broke from MHI over their failure to provide effective representation in Washington, D.C.


Right or wrong, NAMHCO selected a former HUD official and former MHI Vice President, Tom Heinemann to be their point person and lobbyist in Washington, D.C. When one examines the background, to a certain extent, it is understandable that NAMHCO may want someone with this type of background and experience.  Trade groups want someone with 'access' and as much understanding of manufactured housing as possible.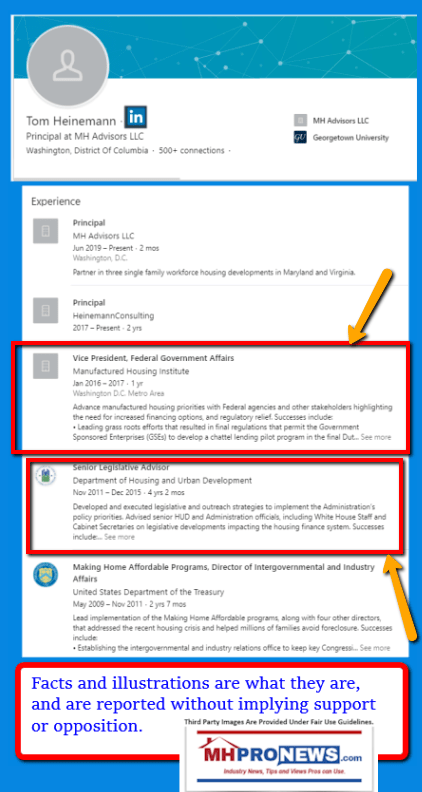 The Prosperity Now Connection…Analysis
Now, let's pivot to Prosperity Now, which for decades was known as CFED. Recall that CFED turned Prosperity Now has opposed MHI for years on the Preserving Access to Manufactured Housing Act. Prosperity Now also has at times aligned with resident groups that have opposed MHI and their members at the state or local level, as well as nationally, for years. So why is MHI aligning with their opposition?
As MHProNews has previously reported, Prosperity Now has 'ties' with organizations supported and/or influenced by Warren Buffett, who is chairman of the Berkshire Hathaway conglomerate.
Berkshire owns Clayton Homes, 21st Mortgage and Finance, and Clayton's captive lender, Vanderbilt Mortgage and Finance (VMF). Berkshire also owns Shaw Carpet and numerous other operations involved in manufactured housing, including the commercial real estate brokerage firm that Joanne Stevens helps lead. See the report, linked here, which is where the pull-quote below is found in context.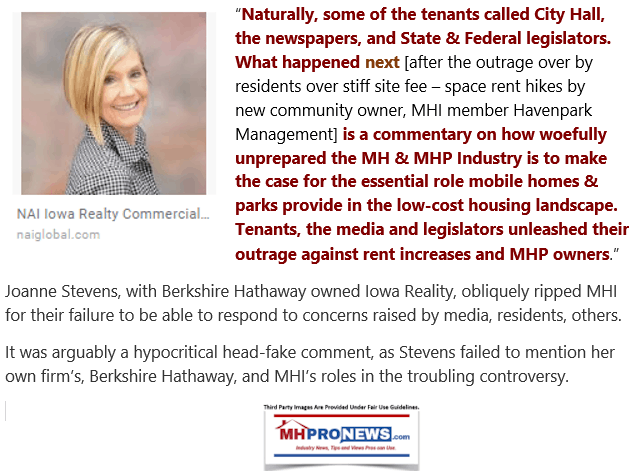 Rephrased, be it at the MHI Executive Committee level, or from the all-important for an association 'who pays how much in dues' perspectives, Berkshire-owned brands in manufactured housing can make or break MHI almost at will. Is it any surprise, then, that what Berkshire brands want at MHI, they get? Just follow the money, and follow the power structure to understand why.
MHProNews took a deeper dive into the bill that Van Cleef, after studying the matter, politely but bluntly asked his elected representative to oppose. A related previous report is linked below. It obtained input from numerous parties and was praised for its complete picture.
Dueling Statements, NAMHCO, MHI, MHARR, Weigh In On Controversial MH Bill, "George Allen Pawn Gambit"
Which once more raises the question.  Why is MHI, Prosperity Now, and NAMHCO all supporting this same measure? Why is the Manufactured Housing Association for Regulatory Reform (MHARR) opposing it?
Federal Bill that MHI, Prosperity Now, NAMHCO Tout – MHARR Opposes, Why?
As a 'stating the obvious disclosure,' MHARR is a sponsor here on the industry's runaway most-read trade media. That said, as MHI, 21st, Clayton Homes and others know, we as a business have not allowed their prior ads or support to keep us from doing investigations that in our sole judgment were or are necessary and useful to the industry's long-term health, integrity, reputation, consumer affairs, and growth interests.  MHProNews was alone among the industry's trade media – plus bloggers – in spotlighting the purported deceptions taking place with respect to Preserving Access being carried out by top level people at MHI. That occurred while MHI, Clayton and 21s were sponsors and supporters of this platform. That fact should speak volumes to those who think that ad dollars are going to buy us.  We've demonstrated otherwise. 
Put differently, we are independent and cover the news without favor, seeking the facts, common-sense, and the evidence. When we miss, we admit it – and seek to correct the record – like responsible adults and the Society of Professional Journalists Code of Ethics says one should do.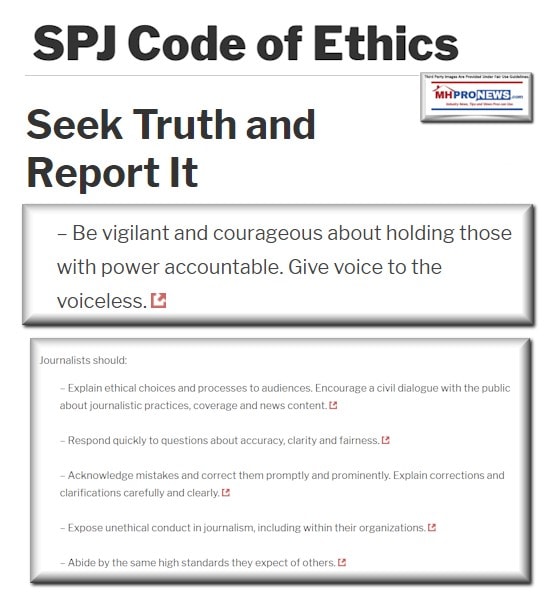 But the facts were hiding in plain sight for years.  Thousands of us missed it.  Once the reality was discovered, we pivoted, as the SPJ guidelines call for from responsible journalists.  That arguably strengthened our credibility, while others in the industry's trade media go on and ignore or obscure the now obvious.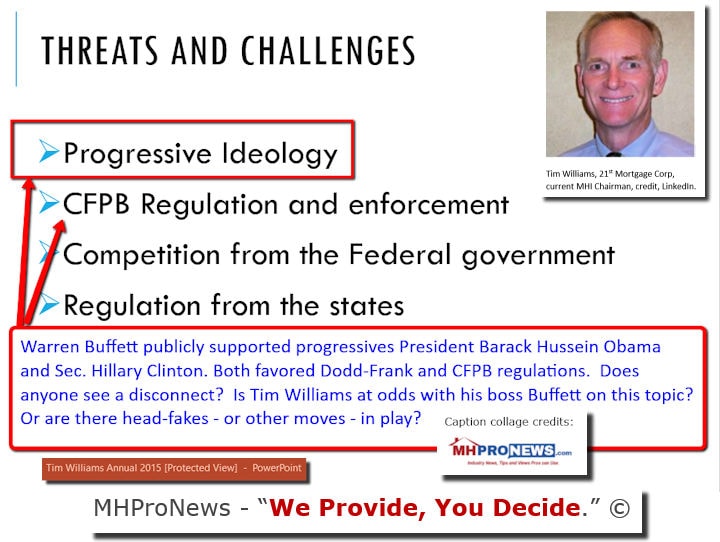 Preserving Access was not supported by MHI member and part-time MHI critic, Frank Rolfe.  Rolfe is on this next video, along with Bob Crawford, that later of whom was at the time president of historic Dick Moore Housing. Each in their own way questioned or undercut MHI and the arguments for Preserving Access.  But each did more than that in their comments.
Rolfe has ripped MHI at times, as the quotes below reflect. The next video reflects that Rolfe might tone it down, but was still politely blasting MHI for failure to engage the media properly.  It was not that different than Joanne Stevens' comment cited above, in hindsight, was it?

Rolfe and Dave Reynolds, his longtime partner in RV Horizons and other enterprises, recently gave MHI another unsubtle backhand, in the quoted comment below.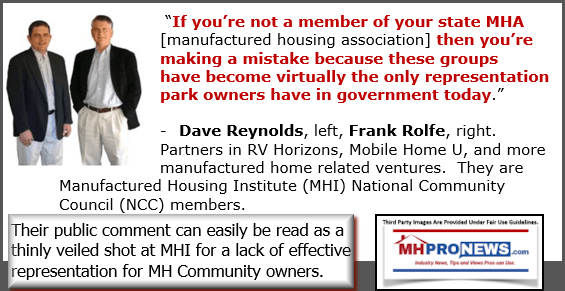 Following the Evidence, Following Reason, Following the Money…
The truth can be stranger than fiction. Which is why evidence, reason, and objectivity are needed. It is why fact-checks and expert analysis are critical for understanding.
"The manufactured home industry's thoughtful, clear thinking, independent minded members have seen a dance like this one before. MHI supported a bill – the Preserving Access to Manufactured Housing Act – that had no chance. Their own former VP said it. For whatever reasons, MHI chased Preserving Access passage for years, even though Warren Buffett was supporting the then President Barack Obama and presidential candidate Secretary Hillary Clinton that both opposed any changes to Dodd-Frank.  While I supported the measure on technical grounds, Frank Rolfe and MHARR were both correct. In hindsight, Preserving Access was doomed from the start. So why did MHI push that unattainable bill for years, and spend millions chasing a hopeless goal? When the facts are examined, the logical answer is it was a rope-a-dope ploy, that kept the industry from growing, and allowed more consolidation of smaller firms by larger ones.  Those consolidations occurred at a discounted value, because the industry is underperforming," said industry expert and publisher, L. A. 'Tony' Kovach.
It fits the pattern of MHI President and CEO, Richard 'Dick' Jennison saying that the industry should grow slowly at a time that it was only modestly recovering. Note that at the time these videos were made, it was unclear how MHI was operating. Thus, in hindsight, these statements are all the more revealing.
Note that publicly traded companies that are MHI members arguably have a particular responsibility for grasping the meaning of such purported machinations. They ought to then, logically, report to their investors the risks that such actions and inactions by MHI represents to their investments. 
"Warren Buffett may have problematic business practices, but he is right about this. There are some things that only become clear in hindsight. Marty Lavin, JD, who worked hand and glove with MHI and a Government Sponsored Enterprise [GSE] for years would periodically say 'Pay more attention to what people do than what they say.'  Lavin wasn't the first to say it, but he also would repeat the mantra, 'Follow the Money.'  Lavin also observed on the record that MHI was working only for the interests of what he called the 'big boys' in the industry," Kovach noted. 
"There are some companies whose actions have routinely been the cause of problematic news, because they do things that cause problematic reporting. For whatever reasons, they are often MHI member companies. Facts are what they are, or as Mark Weiss, President and CEO of the Manufactured Housing Association for Regulatory Reform has said, facts are stubborn things.  Indeed they are," said Tony Kovach.  "That's not to say that all MHI members or their staffs are bad people, but rather than some apparently problematic players use white hat companies and people to cover, obscure, or mask black hat activities. Those black hat actions are what cause a sizable share of the industry's headwinds.  Coincidence? Or is it an accident that such a pattern allows for more consolidation of smaller firms?"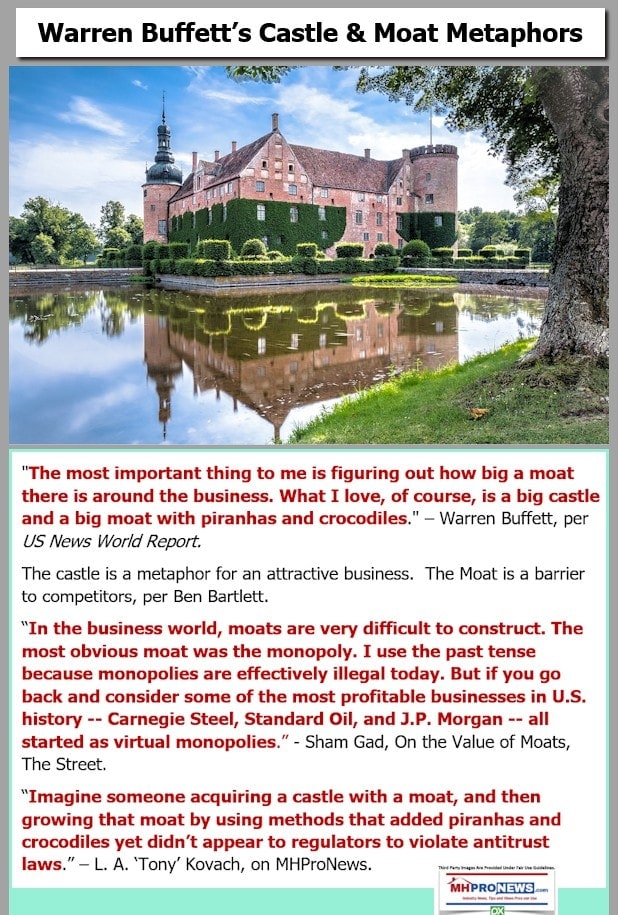 More Analysis…The Road to Hell…
Kovach said that however good the intentions are of those who support this legislation or sponsored the bill that Van Cleef has come out against, once examined, that support is logically misplaced. 
Prior to MHARR coming out with their own position on this measure, MHProNews' publisher opposed it on several points.  Not the least of which is that it risks diluting the Manufactured Housing Improvement Act (MHIA) of 2000. Fully implementing the provisions of the MHIA's "enhanced preemption" clause ought to be an industry must.
That step – enforcing existing laws – ought to be a routine mantra of every growth minded industry professional. Be it the Congressionally mandated Duty to Serve (DTS) all of manufactured housing by the GSEs, enforcing the law fully ought to be the goal. Instead, what MHI has worked for is to support a narrow and select type of HUD Code home backed by Clayton and MHI.  
Enforcing enhanced preemption ought to be another must-enforce effort.  HUD throwing its legal power behind enhanced preemption for manufactured housing could open up markets that are closed or closing to manufactured homes.  That could achieve many of the goals that Democrats, Republicans and the Trump Administration all claim to be supporting.  That would be good for potentially millions, as HUD Secretary Carson has said. That in turn could rapidly cause the turnaround of the industry.
Freeing or unchaining the industry now is not the apparent aim of the Omaha-Knoxville-Arlington axis.  If it was, they would have logically used their media and financial resources for years to debunk the many myths about manufactured housing that have slowed the industry's growth.
Enforcing the Law Would Cost Berkshire Brands Millions Rapidly…
Doing those steps of enforcing the law would save consumers millions who might finance, or refinancing existing manufactured homes with loans that are currently carrying higher interest rates with a Berkshire Hathaway owned lender.
Doing those steps would resolve problem of tight supply on home sites, which are allowing so called predatory community operators to behave as they do with rapidly raised site rents.  That and other 'big boy' MHI member behavior in turn causes negative media, like John Oliver's viral hit "Mobile Homes."
The truth is hiding in plain sight.
But it takes a little unraveling to see the truth of what has been occurring in manufactured housing for years. At the center of much of this is problematic behavior by MHI. MHI and their corporate power brokers have been given repeated opportunities to debunk these notions in fact checks like this.  For the past two years they've declined, after years of responding only arguably made the look foolish.
·        Right or wrong in selecting Tom Heinemann to represent NAMHCO, Neal Haney's point about MHI failing to perform on behalf of the industry's members is valid.
·        Right or wrong in being MHI members themselves, 'Frank and Dave' have done the industry a favor by making statements that clearly revealed how feckless and inept MHI seems to be, for whatever reasons. Or how 'hypocritical' MHI leadership has often been.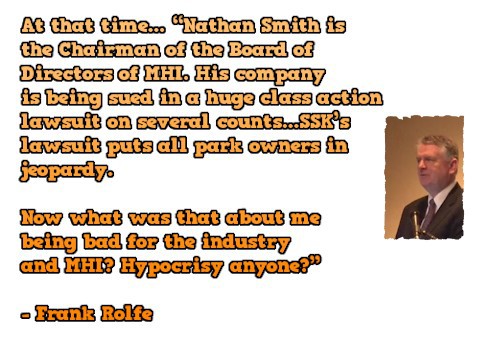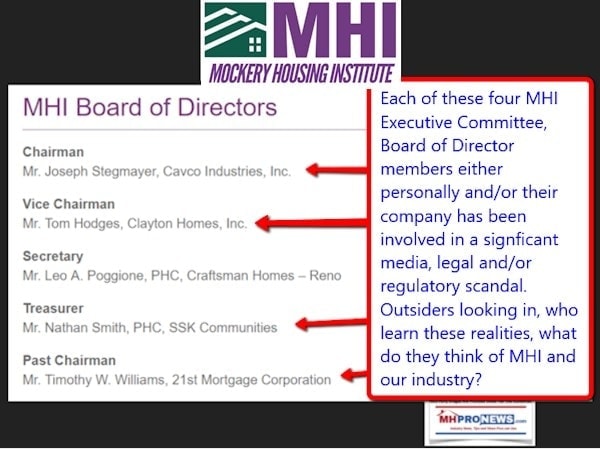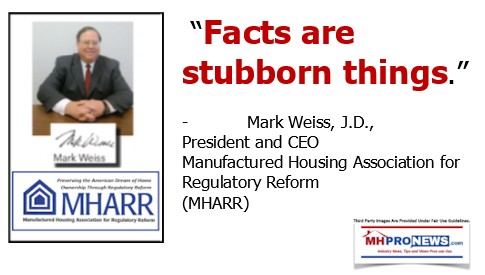 When leader after leader in recent years at MHI has been revealed to have what appears to be significant conflicts of interest and/or purported unethical or illegal behavior, why has so many of the industry's white hat firms trusted MHI at all?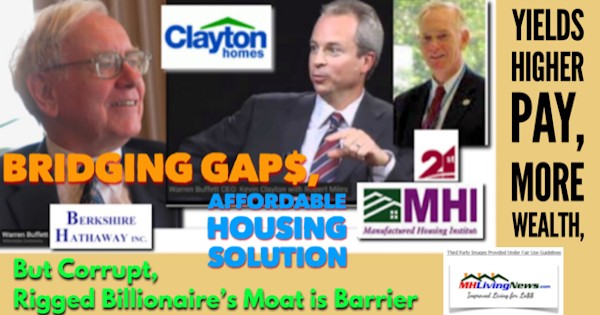 The truth is painful at times, but that doesn't keep it from being true. When it comes to these bills that Van Cleef opposed, citing MHARR's report, it may be wise to do what he did.  Just tell your representative in an email to oppose the measure, and link MHARR's article on that topic.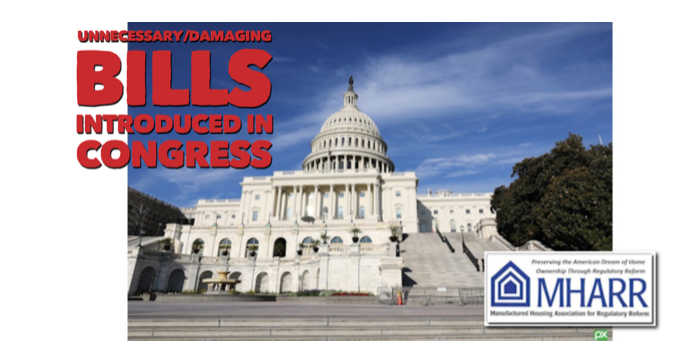 That's this morning's first look at manufactured home "Industry News, Tips, and Views, Pros Can Use" © where "We Provide, You Decide." © ## (News, analysis, and commentary.)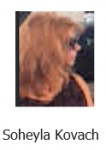 Submitted by Soheyla Kovach for MHProNews.com.
Soheyla is a managing member of LifeStyle Factory Homes, LLC, the parent company to MHProNews, and MHLivingNews.com. Connect with us on LinkedIn here and here.
Related Reports:
Click the image/text box below to access relevant, related information.
"Game On" – "Fighting Discriminatory Zoning" "Moral Obligation" Fix "Worsening Nightmare" – State Associations Entering Spotlight
MHARR Launches "Fighting Discriminatory Zoning Mandates" Manufactured Housing Project
Hold the headline for 125 words. Poisoning the well. Salting the fields. Those are but two of several ancient methods some enemies used to harm their opponents. The notion behind those vile tactics was if you could kill off their drinkable water or their food supply, someone could effectively destroy their enemy.
https://www.manufacturedhomepronews.com/masthead/rope-a-dope-preserving-access-to-manufactured-housing-act-mom-dad-you/
In a truly free enterprise system, various needs are identified. Then a means of profitably yet honestly serving those needs are established. Ideally, both the customer and product/service benefit. The happy customer(s) then tell or send their friends. That pattern repeated often enough yields success. For millions, perception is reality.