Nature abhors a vacuum.
That axiom is true in science, as well as in issues of pragmatic leadership.
In a communique to the manufactured housing industry's dozens of state association executives, the Manufactured Housing Association for Regulatory Reform (MHARR) outlined their plan to address the "moral obligation" to fix the "worsening nightmare" of "discriminatory zoning."
The memo was described by one MHEC-connected source as "a shot across the bow" of the Arlington, VA based Manufactured Housing Institute (MHI). MHEC is the Manufactured Housing Executives Council (MHEC), which includes most, if not all, manufactured housing state associations.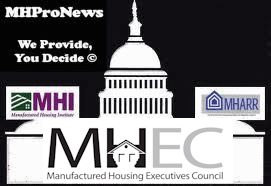 That same source said that the shot missed the bow and landed on the deck of MHI's battleship.
"It's game on," said that pro-industry growth source. "The outrage of MHI's power-brokers keeping the industry at a historically low ebb for over 15 years isn't over. But if MHARR is as serious as they appear to be, this represents a challenge to the behind the scenes efforts to artificially suppress and slow manufactured housing sales growth unlike anything I've seen in years."
Per MHEC sources, there are 'several' states that have reached out to the Washington, D.C. based MHARR about their memo. MHARR has not yet issued a follow-up or added details to their communique. When asked, they would not characterize the responses at this time.

A Key Issue, Alongside Financing, Regulatory Overreach…
"Tony, as I'm sure you know, not everyone is comfortable with how 'in your face' some of your [MHProNews] reports have been," said a message to MHProNews. That message continued, "However, between what MHARR has laid out, and what your publications [MHProNews/MHLivingNews] have hammered home in recent months, there is a degree of clarity that some [state] executives and other industry members have lacked on why the industry has underperformed to the degree that it has. I'm not making predictions, because 21st and Clayton still have the raw power that report of yours [re: How Gold Rules] spelled out. But your reports on the Mobile Home Militia, the expansionary moves by Legacy Housing, and others independents in the industry that reflect serious, committed resistance are perhaps giving some more confidence to others in the industry to test the waters of resistance too. While some will still likely sell out, some of us [executives] don't want to see a lot more independents vanish. This MHARR initiative can help in that regard. If states and MHARR work together on this initiative, it can make a difference and help return serious growth to the industry."
Notice: the links were edited into the above, and were not in the original. As longtime readers know, we turn quoted text bold and brown, to make it pop. Bracketed comments are added for clarity, but otherwise, the comments are as stated. For newcomers, investors, and researchers, it is useful to understand that even MHI members – in their own investor relations package – make it clear that the industry is underperforming. The graphic below is an example of that, from an MHI member firm. Comments in red and yellow are by MHProNews, but the original graphic and the trend line of 224,000 annual shipments a year are from that MHI member company.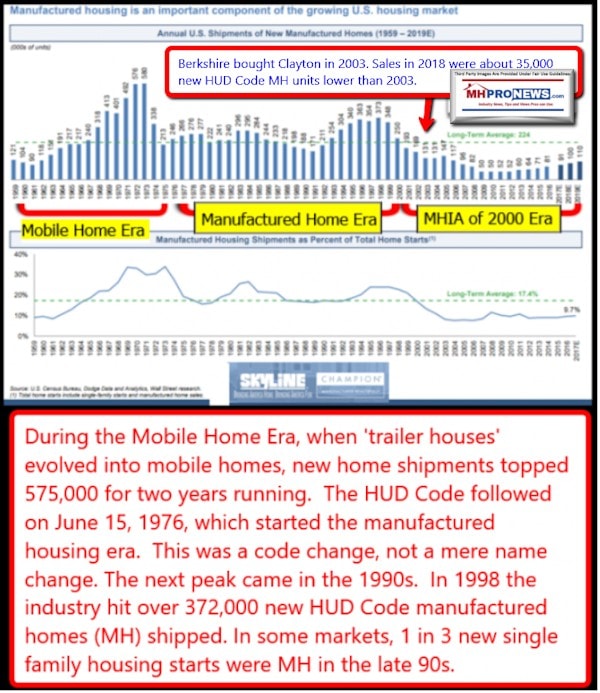 MHARR's full statement is available at the linked text-image box below, as well as here on MHProNews beneath that.
Washington, D.C., May 15, 2019 – With manufactured housing producers, retailers and communities offering their best homes (and related consumer protection) ever, and in light of the failure of the ostensible representation of the industry's post-production sector to fully and effectively advance the marketing, consumer financing and, most importantly, the full acceptance of federally-regulated manufactured housing as the nation's premiere source of non-subsidized affordable housing and homeownership, the Manufactured Housing Association for Regulatory Reform (MHARR) has launched a new project and initiative to fight selected, especially egregious instances of discriminatory and exclusionary zoning targeting manufactured housing and manufactured housing consumers.
May 14, 2019
VIA E-MAIL
To: MANUFACTURED HOUSING STATE ASSOCIATION STAFF EXECUTIVES
Re: MHARR's "Fighting Discriminatory Zoning Mandates" Project
Dear Friends:
As you know, the utilization and placement of federally-regulated manufactured homes in large areas of the United States is either excluded or discriminatorily restricted by local zoning mandates. These mandates have drastically limited affordable housing opportunities for millions of lower and moderate-income Americans, while unfairly burdening and restricting the growth and expansion potential of the HUD Code manufactured housing industry. The same mandates also constitute a direct impediment to the accomplishment of the most important and fundamental statutory objective of the Manufactured Housing Improvement Act of 2000, which seeks to "facilitate the availability of affordable manufactured homes and … increase homeownership for all Americans."
While many of you and your respective associations have done your utmost to address and resolve such injustices within your individual states, the absence of a collective, organized and aggressive national effort to confront and eliminate these discriminatory zoning and placement mandates has — and will continue — to take a heavy toll on both our industry and consumers of affordable housing. Indeed, with the industry's hard-working manufacturers, retailers and communities producing and offering their best homes ever, the aggressive application of the legislative mandates contained in the 2000 reform law to challenge, oppose and correct this long-standing and worsening nightmare for the industry and its consumers, is no longer an option, but a moral obligation for all who seek to advance the industry and its products.
Based on all of this, the MHARR Board of Directors, at its March 27, 2019 meeting, carefully considered the extremely detrimental impact of such discriminatory zoning and placement mandates. And, given the absence of an independent, unbiased, objective, national representative for the industry's post-production sector, the Board ultimately concluded that action would be necessary by MHARR – in cooperation with as many state associations as appropriate and warranted — to take the lead in addressing this zoning and placement crisis; thus the establishment of this "Fighting Discriminatory Zoning Mandates" project.
Now, therefore, MHARR, with your help and assistance, will begin to gather information from around the United States regarding the nature, extent and specific impact of such discriminatory mandates, and take action, as appropriate, within its sole discretion, designed to either eliminate or ameliorate specific, selected discriminatory mandates based on as much accurate and factual information as can reasonably be collected.
For these reasons, MHARR now seeks input and information from you, regarding the existence of specific and particularly egregious discriminatory local exclusions and/or restrictions on the siting and/or placement of both individual manufactured homes on privately-owned land and manufactured home communities within your state, for information-gathering, analysis, evaluation and potential follow-up by the Association, including possible litigation, if so determined by MHARR in its sole discretion. Through this initial process, MHARR seeks to gather information targeting a total of approximately one-dozen of the most egregious cases in various states where federally-regulated manufactured homes have either been excluded altogether or discriminatorily restricted by local ordinances.
As for the legal aspects and related costs of subsequent phases of this project, MHARR has – and continues to maintain — that the enhanced federal preemption provision of the 2000 reform law provides the industry with the opportunity to target the two most egregious available cases (i.e., a single home on privately-owned land and a land-lease community) to be challenged and pursued, if necessary, to the Supreme Court, as appropriate and necessary. By taking this action for the first time under the specific enhanced preemption provision of the 2000 reform law, that case, if won on the merits, would establish the needed precedent to challenge other similar instances of discriminatory exclusion. Needless to say, however, this would be a costly undertaking. Following the initial phase, therefore, MHARR would consult with the selected landowner/developer and state association involved, to determine and establish specific logistics for the legal aspects of the following phases and relevant costs of the project, and would do the same for the selected landowner and state association in the single home on privately-owned lot case.
Consequently, we ask that you consult with your Association's Board on this matter and, within the next thirty-days — and utilizing the attached self-explanatory and easy-to-use forms — provide feedback to MHARR regarding local-level ordinances that impose either an outright exclusion of HUD Code manufactured homes or restrictions that discriminate against HUD Code homes. More specifically, MHARR seeks, from each state, the two most egregious examples of such exclusionary and/or discriminatory mandates within that state – one involving the development, placement, expansion, or redevelopment of a manufactured housing land-lease community, and one involving individual home placements on privately-owned land. MHARR, will then follow-up as it determines to be appropriate and prudent, and will share its findings with participating state associations as the project moves forward.
MHARR thanks you in advance for your cooperation and assistance in this crucial undertaking for both the industry and its consumers.
Sincerely,
John Bostick Mark Weiss
MHARR Chairman MHARR President & CEO
cc: MHARR Members
Manufactured Housing Retailers, Communities and Finance Companies
Attachments
###
This is part of an effort that was announced by MHARR shortly after the Tunica Manufactured Housing Show in March, 2019.
MHARR BOARD HOLDS HIGHLY PRODUCTIVE MEETING – ADOPTS BOLD NEW INITIATIVES Washington, D.C., April 2, 2019 – Despite producing its best homes ever, at a price point that is inherently affordable for virtually every American family, in a market environment featuring an ever-growing need for affordable homeownership and housing resources, the production and market-share of the federally-regulated manufactured housing industry continues to lag well behind not only the single-family housing market as a whole, but also the twenty and thirty-year historical production norms for the HUD Code industry itself.
Following that meeting, MHARR formally requested that HUD initiate a new study to research discriminatory zoning and its impact on manufactured housing.
MHARR SEEKS HUD STUDY AND ANALYSIS OF ZONING DISCRIMINATION AGAINST MANUFACTURED HOUSING Washington, D.C., April 8, 2019 – The Manufactured Housing Association for Regulatory Reform (MHARR), in an April 4, 2019 meeting with HUD policy, analysis and research officials, called on the Department to conduct nationwide research – and follow-up analysis – concerning local zoning mandates that discriminatorily exclude or drastically restrict the placement of federally-regulated manufactured homes to the detriment of lower and moderate-income American families in large areas of the country.
MHARR's President and CEO, Mark Weiss, JD, then authored an "Issues and Perspective" that essentially challenged MHI to do the job they claimed to do, or get out of the way and let MHARR do it.
The last decade-plus has not been especially kind to the manufactured housing industry and consumers of affordable housing. The 21 stCentury began with a great deal of promise for the industry and consumers alike.
In response to that, MHI did nothing directly. But sources and evidence indicate that purported MHI surrogate George F. Allen 'attacked' MHARR's initiative on his blog. Why would Allen, who claims to want to see the industry return to greatness, attack an effort aimed at accomplishing precisely that launched by MHARR? Thus, MHProNews did a fact check on Allen's attack, at the link below.
George F. Allen's Unity Call for MHI, MHARR, and National Association of Manufactured Housing Community Owners (NAMHCO) Examined
Allen's purported role as MHI's 'attack dog' was further evidenced in the report that can be accessed by industry readers by clicking on the text-image box below.
Joe Stegmayer, George F. Allen, Manufactured Housing Institute Slogans, Slump, Slurs, Solutions
Then, our publisher L. A. 'Tony' Kovach laid out a detailed review of how George Allen himself publicly called Clayton Homes and other Berkshire Hathaway brands operating in manufactured housing as part of a growing monopolization of the industry. Allen did so on his own blog, see that report with the evidence and illustrations, linked below.
"Monopoly" in Manufactured Housing Alleged by George Allen, MHI Defender's Turn by former Community-Investor, Self-Claimed EducateMHC Blogger
MHI, Allen, and the MHInsider are apparently working in concert with Berkshire Hathaway brands to distract the industry's members from ploys that are arguably occurring that aim to create headwinds for manufactured housing independents. Is there evidence? Check it out for yourself.
Kobayashi Maru, Crime, Kevin Clayton, Darren Krolewski, MHInsider – State of Manufactured Housing Industry
Our publisher laid out a details case for how MHI, backed by Clayton Homes, 21st Mortgage Corp, et al, used the "Rope-a-Dope" to wear out independents in the battle for Preserving Access, which never passed. Several MHI members are quoted in that report.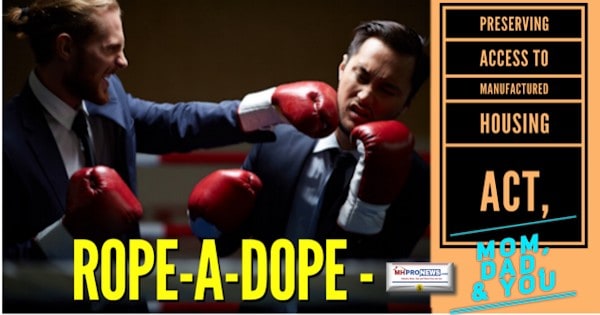 Neither the powers that be behind MHI, nor MHI's outside attorney would not respond to the varied allegations against MHI, Clayton Homes, 21st Mortgage, Nathan Smith, and others in a scheme to monopolize the market, in a way that Allen himself claimed was occurring.
Rather than respond to specific concerns and credible evidence, MHI's outside attorney threatened MHProNews with legal action, pointing to items in articles we've published. MHProNews has challenged them on their legal claims, and asked them to respond. MHI's outside attorney, which has an office in Nathan Smith's home town, has not yet responded to the meat of the concerns.
Lanham Act, Monopolistic Housing Institute, err, Manufactured Housing Institute, Legal Bullies, and You
MHI's outside attorney has claimed that there is no connection between themselves and Nathan Smith, former MHI chairman and a partner in scandal plagued SKK Communities. But frankly, that's a nuance, a detail either way. Isn't the bigger issue – why hasn't MHI hired an attorney to sue cities that are violating the Manufactured Housing Improvement Act of 2000? Why isn't MHI doing what MHARR has begun to undertake?
Nathan Smith, SSK Communities, Manufactured Housing Institute Leader, Profitably Correcting the Record
MHI's Rick Robinson had an opportunity to discuss issues face to face with MHProNews publisher L. A. 'Tony' Kovach in Deadwood, SD. He declined publicly, in front of dozens of industry members as witnesses.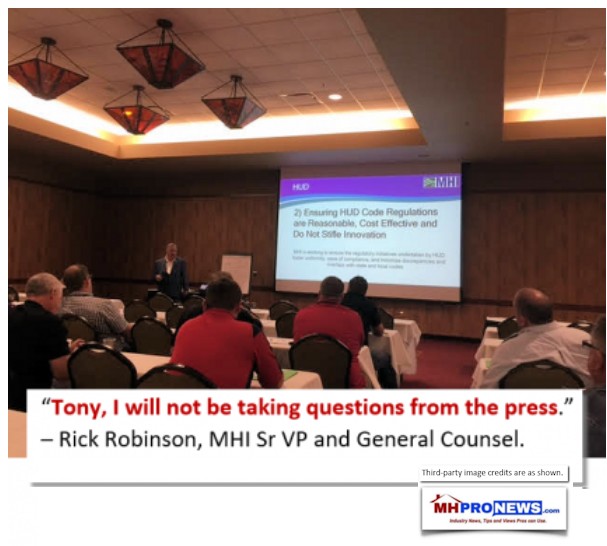 Robinson – an attorney and MHI's general counsel – personally knows an aspect of the law that might be useful to fight discriminatory zoning. Why hasn't he put that to work himself, or done so with MHI's outside attorney?
MHI's Growth Agenda? Rick Robinson, JD, SVP Manufactured Housing Institute, Preemption Evidence, Writ of Mandamus, and Addressing HUD Code Manufactured Home Shipment Woes


MHI, the Berkshire brands operating out of the Knoxville, TN metro area, and their outside attorney have been invited to debunk, refute, or otherwise respond in writing or in public to the mounting evidence and allegations against them. So far, silence, which is their constitutionally protected 5th Amendment protected right. But in the meantime, there is evidence that Warren Buffett's money has been donated to other nonprofits that have fought the industry publicly on issues that debatably have harmed the image and thus the sales of the industry.
Prosperity Now, Nonprofits Sustain John Oliver's "Mobile Homes" Video in Their Reports
That's a snapshot of research and action plans vs. posturing, fig leaves, and sloganeering by the Omaha-Knoxville-Arlington axis.
Its your industry. This is your future. If you are a member of a state association, why not ask them if your state plans to participate in this MHARR initiative?
Zoning and financing are two key issues. What has MHI done to fix them? Yet it is there own claimed role to do what they're arguably failing to do.

Then contrast that to the ongoing efforts – like the removal of Pam Danner at HUD – and steady, reliable reports and warnings by MHARR.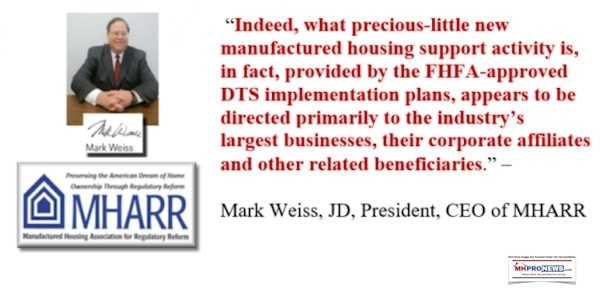 That's this Saturday's edition of "News through the lens of manufactured homes, and factory-built housing" © where "We Provide, You Decide." © ## (News, analysis, and commentary.)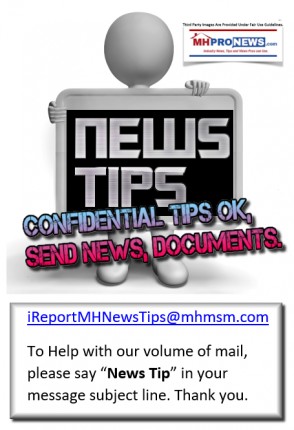 Your link to industry praise for our coverage, is found here.
For the examples of our kudos linked above…plus well over 1,000 positive, public comments, we say – "Thank You for your vote of confidence."
"We Provide, You Decide." © ## (News, analysis and commentary.)
(Image credits and information are as shown above, and when provided by third parties, are shared under fair use guidelines.)
Submitted by Soheyla Kovach to the Daily Business News for MHProNews.com.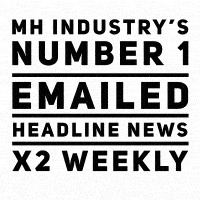 2) To pro-vide a News Tips and/or Commentary, click the link to the left. Please note if comments are on-or-off the record, thank you.
3) Marketing, Web, Video, Consulting, Recruiting and Training Re-sources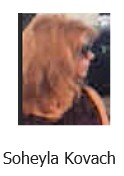 Submitted by Soheyla Kovach to the Daily Business News for MHProNews.com. Soheyla is a managing member of LifeStyle Factory Homes, LLC, the parent company to MHProNews, and MHLivingNews.com.
Related Reports

:
You can

click on the image/text boxes

to learn more about that topic.
Warren Buffett "Oracle of Omaha" HBO Documentary Berkshire Hathaway #Advexon Video
It's literally historic… …it is a reminder why historic items matter… …and we'll do our customary fact-check and analysis at the end of this MHI exclusive report that they provided to MHProNews directly after the === ##===, below. HOUSING ALERT On Capitol Hill…MHI Advances Manufactured Housing Finance Reform The negative impact of …
"Monopoly" in Manufactured Housing Alleged by George Allen, MHI Defender's Turn by former Community-Investor, Self-Claimed EducateMHC Blogger
Capitalism vs. Socialism Town Hall Discussion, Plus Manufactured Housing Equities Updates
https://www.manufacturedhomepronews.com/trailer-parks-presidential-candidate-prior-hud-secretary-julian-castro-on-mh-community-operators-residents-not-knowing-their-rights/
https://www.manufacturedhomepronews.com/manufactured-housing-institute-housing-alert-on-capitol-hill-mhi-advances-manufactured-housing-finance-reform-redux/
Andy Gedo, Partner at ManageAmerica, Raises Clayton Homes Monopolistic Practices Debate; Manufactured Housing Institute Related Issues
Dr. Mark Calabria, FHFA Director Interview, Front Lines of GSE Reform, Manufactured Housing Impacts Ahead
Antitrust Heats Up With Supreme Court Ruling, Monopolization Legal Experts Weigh In, Clayton-Related Comment Connection
The last decade-plus has not been especially kind to the manufactured housing industry and consumers of affordable housing. The 21 stCentury began with a great deal of promise for the industry and consumers alike.