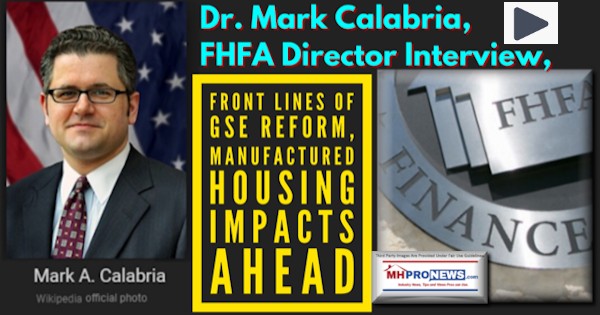 "Mark Anthony Calabria is the Director of the Federal Housing Finance Agency (FHFA). He was formerly the chief economist for Vice President Mike Pence," per Wikipedia.
A release by the FHFA on April 15, 2019 said in part that: "Dr. Mark Calabria Sworn In as Director of the Federal Housing Finance Agency."
 Roll Call said this week that the "Federal Housing Finance Agency Director Mark Calabria said he hopes to have a roadmap for ending the federal conservatorship…" of the Government Sponsored Enterprises (GSEs) of Fannie Mae and Freddie Mac.
HousingWire reported on December 11, 2018 that "Calabria has been a critic of the GSE model…"  Let's flash back to see HousingWire's point.
Or consider this discussion with Dr. Calabria in the housing and finance debate, which will also give a good sense of Dr. Calabria's thinking, in his own words.
Finally, the Daily Business News on MHProNews has previously reported the ongoing controversies over the Duty to Serve Manufactured Housing (DTS) and other underserved markets that were part of the Housing and Economic Recovery Act (HERA) of 2008.
With the former director of the FHFA, Mel Watt – considered by some going into the role as a 'friend' to manufactured housing – leaving under a cloud of sexual misconduct allegations, and with very little progress toward fulfilling the DTS mandate, there are open questions about what Calabria will do during his time at the helm at FHFA.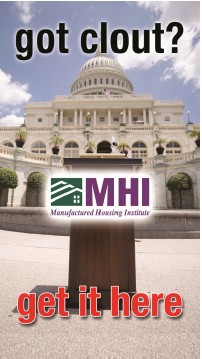 The Manufactured Housing Institute (MHI) on April 4th, 2019 touted Calabria's appointment confirmation by the U.S. Senate.
In that e-mailed statement, MHI said: "The U.S. Senate has confirmed Dr. Mark Calabria as Director of the Federal Housing Finance Agency (FHFA), the regulator of Fannie Mae and Freddie Mac, by a vote of 52 – 44. At his confirmation hearing, Dr. Calabria reaffirmed his commitment to the FHFA's Duty to Serve mandate. Throughout his confirmation process, MHI sent numerous letters of support and worked with the White House and Senate leaders to secure his confirmation."
MHI also provided their readers with their routine 'photo op,' an apparent part of their "got clout? get it here" theme, which has in recent years witnessed plenty of meetings, but what actual progress?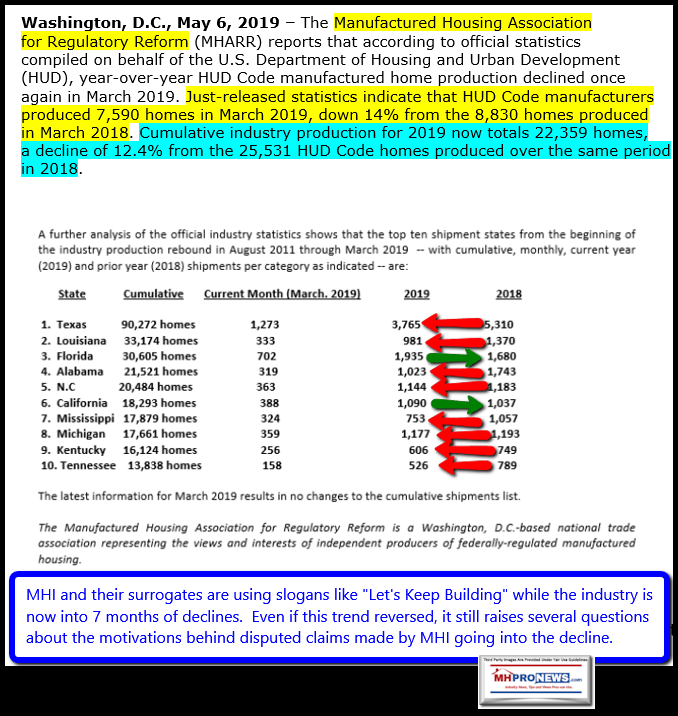 After all, manufactured home shipments are now had 7 months of declines during an affordable housing crisis.  If that is MHI's vision of "clout," please – "spare us oh, Lord…"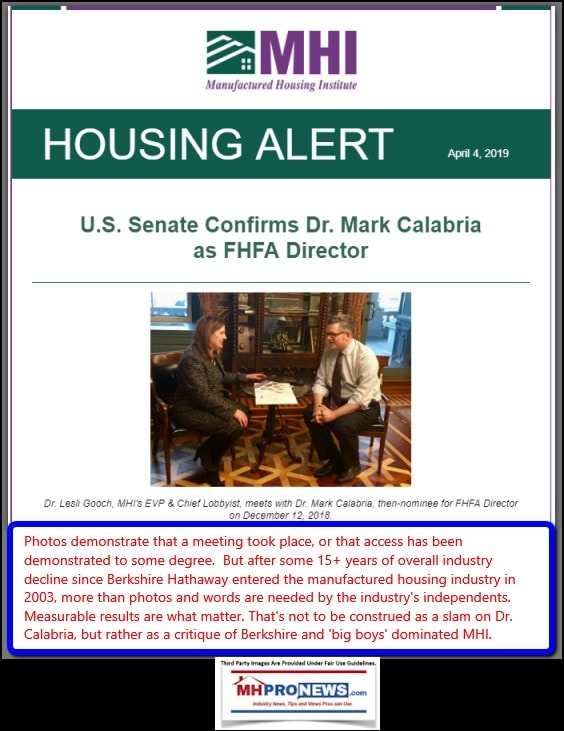 MHI went onto say, "Dr. Calabria has extensive experience in housing and financial services issues, as well as a thorough understanding of the importance of manufactured housing as an affordable source of quality homeownership. As the top housing staff member on the Senate Banking Committee for many years, he took the lead in drafting the Housing and Economic Recovery Act of 2008, which created the FHFA as a strengthened regulator of the GSEs and established the Duty to Serve requirements for Fannie Mae and Freddie Mac, requiring both entities to support manufactured housing in the secondary market. Previously, Dr. Calabria served as Deputy Assistant Secretary for Regulatory Affairs at the Department of Housing and Urban Development during President George W. Bush's Administration, where he led the Office of Regulatory Affairs and Manufactured Housing."
That biographical information aside, MHI added: "Dr. Calabria has served as a keynote speaker at MHI events, most recently in 2017 where he provided attendees with insights about the Administration's housing and economic development priorities. In 2012, when he was Director of Financial Regulation Studies at the CATO Institute, he spoke to MHI's members about the impact the Dodd-Frank Act could have on the housing finance sector."
Those references to MHI should not be construed to diminish Dr. Calabria, now the Director of the FHFA, in any way. Federal officials meet with trade groups and others, it is part of what they do.
However, that recitation by MHI subtly suggests the opposite of what they are arguably seeking to portray to their members and readers.  Bear in mind that MHI pursued the Preserving Access to Manufactured Housing Act during all of the Obama Administration years after the CFPB regulations were put in place, even though Warren Buffett backed the former president in both of his campaigns.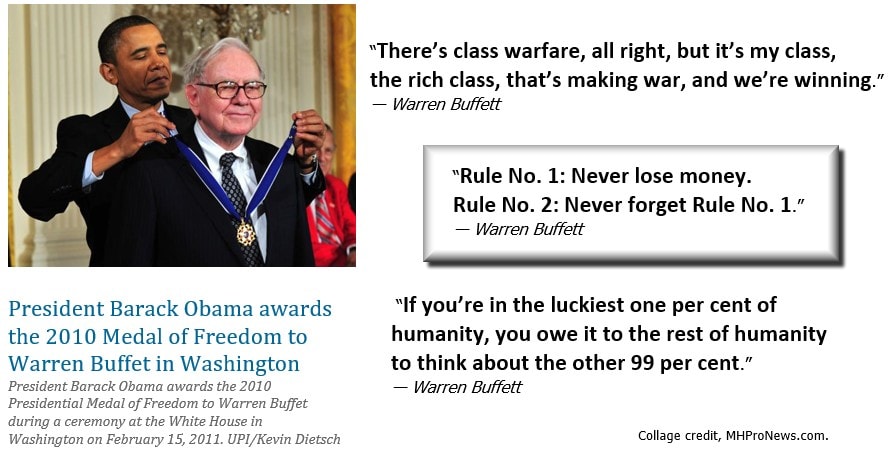 MHI's own Senior VP (SVP) of governmental affairs – or top lobbyist – Jason Boehlert, said in 2012 the following.


So, to borrow the phrase from the Manufactured Housing Association for Regulatory Reform's President and CEO, Mark Weiss, JD, there was an "Illusion of Motion" at MHI, which led nowhere after years of pursuing Preserving Access.  MHProNews' publisher recently laid out a detailed review of how MHI's chase of Preserving Access was arguably a "Rope-a-Dope" style ploy, that fostered industry consolidation while creating the impression that the Arlington, VA based trade group was 'doing something.' Yes, and no.
There may be no one analogy that is entirely precise enough to make the point that the promoters of the Preserving Access to Manufactured Housing Act purportedly hoped to accomplish with their bill. All analogies limp at some point, but those disclosures made, let's begin with the 'rope and dope metaphor' from boxing.
As recently as May 31, 2017, Patricia Boerger, per the MHI website said: "Keep the Momentum Going – Ask Your Representative to Cosponsor H.R. 1699, the Preserving Access to Manufactured Housing Act Twenty-one members of the U.S. House of Representatives have added their names as a cosponsor of H.R. 1699…" Momentum?  Hardly.
Preserving Access never passed.  The one thing that was obtained was S 2155, which 'gave' MHI the revision to the MLO rule – something that consumer groups were willing to do by agreement years before.  To understand the backstory and evidence on that, see the report linked below.
MHARR's president said this in a recent "Issues and Perspectives" – Now, though, both the absence of an independent, national trade representative for the post-production sector [i.e.: MHI] and the related long-term failure of the broader industry to effectively address crucial issues within that sector…" MHARR announced this spring that they were going to go beyond their core mandate of dealing with federal regulatory issues that deal with production concerns, by working with state association on specific placement and zoning challenges, as well as: "(3) to publicly expose the failure of Fannie Mae, Freddie Mac and the Government National Mortgage Association (Ginnie Mae) to fully and properly implement existing law, thereby forcing manufactured housing consumers into higher-cost, allegedly "predatory" purchase loans, while excluding other potential purchasers from the manufactured housing market altogether."
The last decade-plus has not been especially kind to the manufactured housing industry and consumers of affordable housing. The 21 stCentury began with a great deal of promise for the industry and consumers alike.
It is so-called predatory loans that was part of the assault by John Oliver's errantly named "Mobile Homes" video that exposed problematic business practices – each of which was apparently tied to an MHI member.
MHARR's perspective on Dr. Calabria was outlined in their report linked below.
President Trump, on December 12, 2018, announced the nomination of Dr. Mark Calabria, currently the Chief Economist for Vice President Mike Pence, to become the new Director of the Federal Housing Finance Agency (FHFA), when the term of current FHFA Director, Melvin Watt, expires in January 2019.
It is with that backdrop, that the Daily Business News on MHProNews turns to Dr. Calabria's first in-depth interview since becoming the director of the FHFA in an interview with Fox Business News (FBN).
Per right-of-center FBN, on May. 10, 2019 – "President Trump's new director of the Federal Housing Finance Agency says he's considering an initial public offering of Fannie Mae and Freddie Mac as early as the first half of next year to raise capital."
FBN said that, "since taking the helm of the FHFA, Mark Calabria, says that allowing Fannie Mae and Freddie Mac to simply rebuild capital by retaining earnings isn't enough to get the mortgage giants in a strong position quickly."
Rephrased, the administration wants to untether the Government Sponsored Enterprises (GSEs) as much as possible from federal conservatorship, and from the implied taxpayer backstop.
As FBN put it, "Right now, Fannie Mae and Freddie Mac are under control of the federal government since being bailed out by taxpayers during the financial crisis. Both send all of their profits to the U.S. Treasury, in what's called a net worth sweep, while maintaining a thin capital cushion of $3 billion. Calabria says a sufficient amount of capital is what's needed to exit conservatorship or government control."
Calabria made a number of points, including that he feels that the law allows him to make several moves without further approval by the Congress.  That said, the new head of the FHFA also believes that Congress should be given some time to weigh in on changes to the current structure of housing finance.
Some other bullets from the FBN interview:
Calabria is currently waiting on a plan from the U.S. Treasury on reform for Fannie and Freddie, which he expects this summer. Then he will negotiate with Treasury and hopes to come to an agreement by the fall that would then allow them to stop Fannie and Freddie from sending all profits to Treasury later this year….By January (2020), Calabria wants to start the capital-building process and thinks it's possible an IPO could occur at the earliest in the first half of next year.
Calabria maintains Fannie and Freddie should be treated like banks and have capital requirements akin to the ones the Federal Reserve requires of banks – that is, 4.5% of risk-weighted assets. "How do you get Fannie and Freddie to look no worse than other large financial institutions?" he said.
Raising capital is the first step to exiting government control…Calabria wants to see an entirely new housing finance system, both to improve pricing for consumers and to safeguard against another taxpayer bailout.
That is an item that should be closely watched.  It must be recalled that Berkshire Hathaway held stocks in the GSEs for years, and then dumped them.  See a report that deals with some of that history, linked below.
'Minorities Aren't Being Well Served in Housing Finance' Today, per Mozilo – Former Exec Near Eye of the 2008 Housing/Mortgage Storm
Calabria also favors fully privatizing Fannie and Freddie, and hopes Congress will offer additional charters to create more GSEs to foster competition.
There are aspects similar to Senator Mike Crapo's plan outlined earlier this year, which also aim to place Fannie and Freddie back into privately held hands, add additional GSE charters, and use Ginnie Mae and the full government backstop. Calabria said that Crapo's plan is a "good framework."
"It can't be this quasi are you private or you public is there something in the middle," said Calabria. "It really has to be private capital at risk so the taxpayer is not on the hook… If you have several of these companies you know any one of them can fail and it's a little less disruptive."
Calabria admitted that getting Congress to go along with a plan is tough, but he is hopeful and will work toward that possibility. "I think we can come back and try to do that again. I'm hopeful that working with Chairwoman Waters in the House, Chairman Crapo in the Senate, I think that there are some areas for agreement. It's not going to be easy, but I think that there are some areas we can work on."
But if lawmakers don't pass something, he will take action unilaterally. "Well I think I'm actually obligated to," under the law that established the FHFA, he said. "As far as I see it, I don't really have any choice but to fix them and get them out because that's what the statute demands."
Calabria wants to make sure that Fannie and Freddie play by the same rules as other private sector lenders.  That means that the GSEs should be held to the same rules, including the qualified mortgage (QM) rules.
Qualified mortgage rules went into effect as a result of the housing crisis, with the goal of strengthening underwriting standards for mortgages – except that Fannie and Freddie are exempt from the rule.
Calabria stated that means the GSEs are allowed to make riskier loans than what is allowed under the qualified mortgage rule. He believes the mortgage giants should be subject to the rule and hopes to work with the Consumer Financial Protection Bureau (CFPB) to modify that scenario.
"We're going to continue to have I think to me historically low mortgage rates for next number of years," he says.
But FBN noted that bringing private capital into the center of the GSE housing finance system could result in higher mortgage rates, because private companies are in business to earn more money.
Calabria is more concerned about affordability due in part to low housing supply. He wants to encourage more single family homes to be built, but also wants to ensure it's stable and sustainable. "One of the lessons from last time around is we got a lot of people on housing and they weren't able to stay in the housing," he says. "So how do we make sure that if there's another downturn … that homeownership or is sustainable."
Each of these last views should be considered through what HUD Secretary Ben Cason said last week in New Orleans.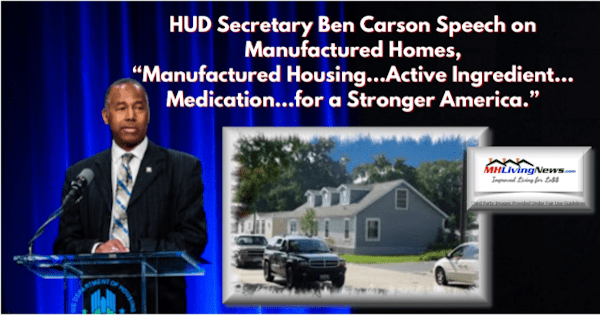 Oddly, as of this morning at the time shown, Secretary Ben Carson's address – which was given to MHI members – is still missing from the MHI website.  What is it about that speech that has MHI and the powers that be nervous?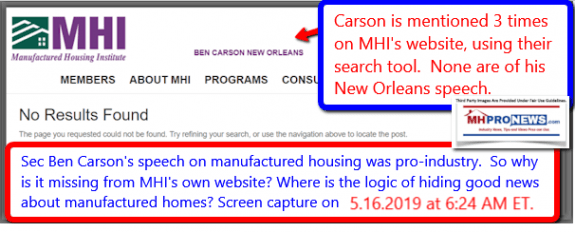 That's a good reason for you to know that address, backwards and forwards. See the link above, and share it with your customers.  Because 15 years after Clayton was purchased by Berkshire Hathaway, manufactured housing is selling fewer homes today than then.  That's the acid test of fact-based measurement of performance.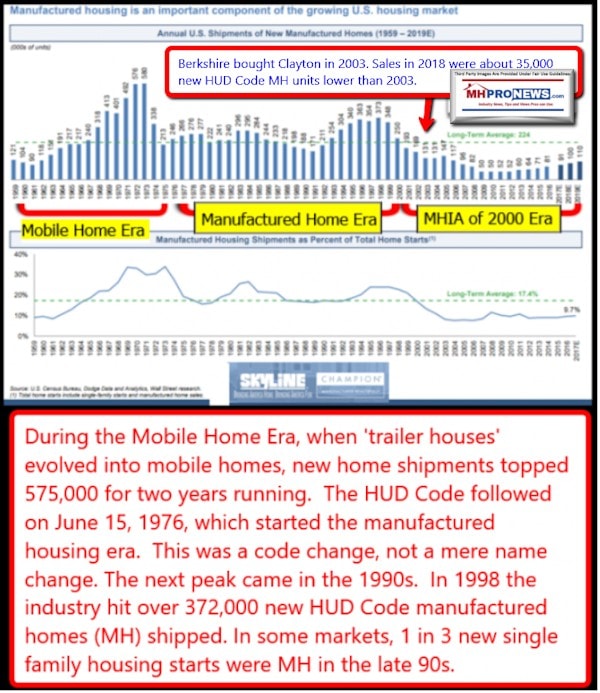 That's this Thursday morning's first episode of manufactured housing "Industry News, Tips, and Views Pros Can Use," © where "We Provide, You Decide." © ## (News, analysis, and commentary.)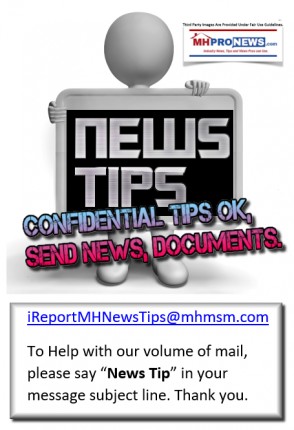 Your link to industry praise for our coverage, is found here.
For the examples of our kudos linked above…plus well over 1,000 positive, public comments, we say – "Thank You for your vote of confidence."
"We Provide, You Decide." © ## (News, analysis and commentary.)
(Image credits and information are as shown above, and when provided by third parties, are shared under fair use guidelines.)
Submitted by Soheyla Kovach to the Daily Business News for MHProNews.com.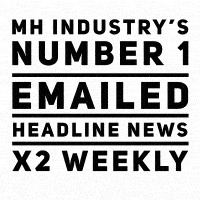 2) To pro-vide a News Tips and/or Commentary, click the link to the left. Please note if comments are on-or-off the record, thank you.
3) Marketing, Web, Video, Consulting, Recruiting and Training Re-sources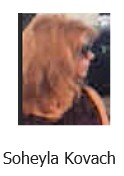 Submitted by Soheyla Kovach to the Daily Business News for MHProNews.com. Soheyla is a managing member of LifeStyle Factory Homes, LLC, the parent company to MHProNews, and MHLivingNews.com.
Related Reports

:
You can

click on the image/text boxes

to learn more about that topic.
Joe Stegmayer, George F. Allen, Manufactured Housing Institute Slogans, Slump, Slurs, Solutions
Clayton Homes, 21st Mortgage Corp, Vanderbilt Mortgage and Finance – Investor Lessons Learned
Manufactured Home Community Case Study, UMH Properties, Lessons for Independent Community Owners, Investors
What the Manufactured Housing Institute (MHI) Said About March 2019 Shipment and Production Data
Nathan Smith, SSK Communities, Manufactured Housing Institute Leader, Profitably Correcting the Record
Bryan Resident Blast Officials "Travesty by Government" – Manufactured Home Ban, Limitations, Update
Prosperity Now, Nonprofits Sustain John Oliver's "Mobile Homes" Video in Their Reports