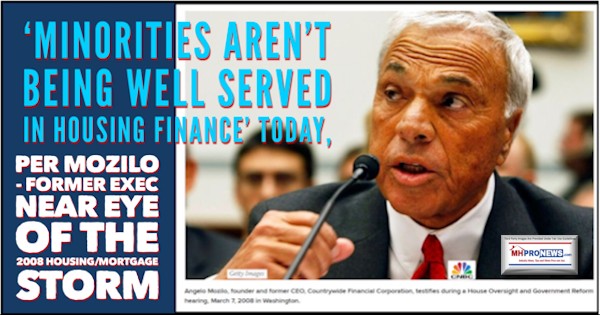 "Angelo R. Mozilo is the former chairman of the board and chief executive officer of Countrywide Financial until July 1, 2008," according to Wikipedia.
Put differently, Mozilo was near the eye of storm during the Housing and mortgage crisis that sent the economy and markets into a tailspin, causing the loss of businesses and millions of jobs. Not that Mozilla was alone in that fiasco, far from it. But his perspective is a noteworthy one.
That said, in his first interview since the 2008 crisis, Mozilo in an interview with Fox Business' Liz Clayman said that minorities aren't getting well served, and that barriers to home ownership must be removed.
Before teeing up this interview, given that more than a decade after the housing and financial system meltdown has passed, some facts are reviewed. This classic video 3:12 video report is useful in that regard.
Economist Thomas Sowell also weighed in on the matter years ago.  While holding Frank more responsible, he found President Bush and Alan Greenspan had responsibility in the matter too.  Rephrased, his perspective was similar to what's portrayed by the Fox News video report, above.
Former Representative Barney Frank himself, in hindsight, admitted that he didn't see the financial crisis coming.
Then keep in mind that Warren Buffett led Berkshire Hathaway dumped shares of the GSEs of Fannie Mae and Freddie Mac. In 1988, Buffett was touting those stocks in Fortune Magazine.  In the quote that follows the quoted text from GuruFocus is turned bold and brown, as MHProNews often does, but we've changed the direct quote from Buffett in blue, so that it pops.
"By 2000, Buffett was the largest shareholder of Freddie Mac, whose stock had soared to between $41 and $64 per share, for a sizable gain." But per GuruFocus, "His view on it changed, though, and he unloaded nearly all of his Freddie Mac and Fannie Mae shares that year, according to his testimony to the U.S. Financial Crisis Inquiry Commission in May 2010. When Brad Bondi, deputy general counselor of the commission, asked if he sold because the stocks were no longer good investments, Buffett responded that he "didn't know they weren't going to be good investments" but became "concerned" about their management."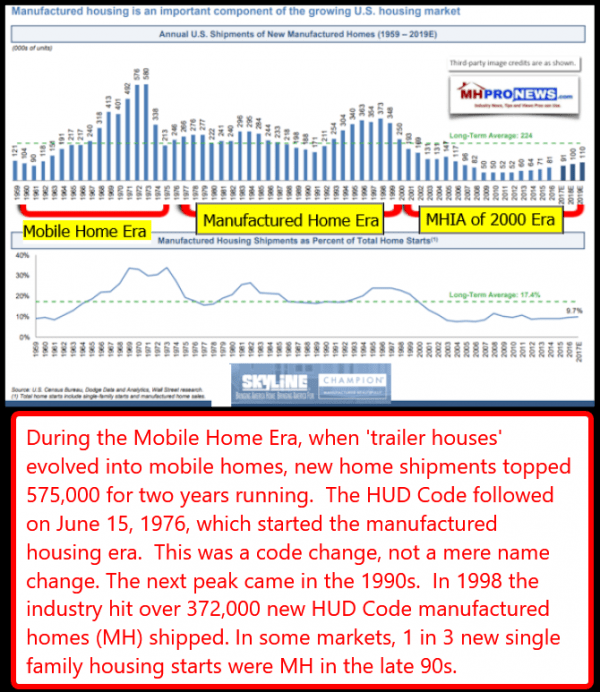 The Manufactured Housing Connection to the Mortgage Crisis?
In the mid to late 1990s, manufactured housing soared to its highest sales levels since the establishment of the HUD Code which federally regulated the construction, safety, and energy standards for manufactured homes via performance based vs. prescriptive standards.
Some pundits in manufactured housing say that poor underwriting and flimsy verifications by lenders fueled the surge in manufactured home sales. While lending absolutely played a role, objectively, one must also bear in mind that hundreds of thousands of consumers were keen to own the manufactured homes they bought. Buyers were willing to 'sign on the dotted line' for a HUD Code manufactured home on terms of often 20 to 30 years.
Bad lending practices in MHVille in those days can't be used to cloud the fact that buyers were purchasing manufactured homes at a clip that caused Harvard's Eric Belsky with the Joint Center on Housing Studies to opine that by 2010, he expected manufactured housing to surpass site building.
Belsky said that knowing about the problems with rising defaults in manufactured home (MH) lending.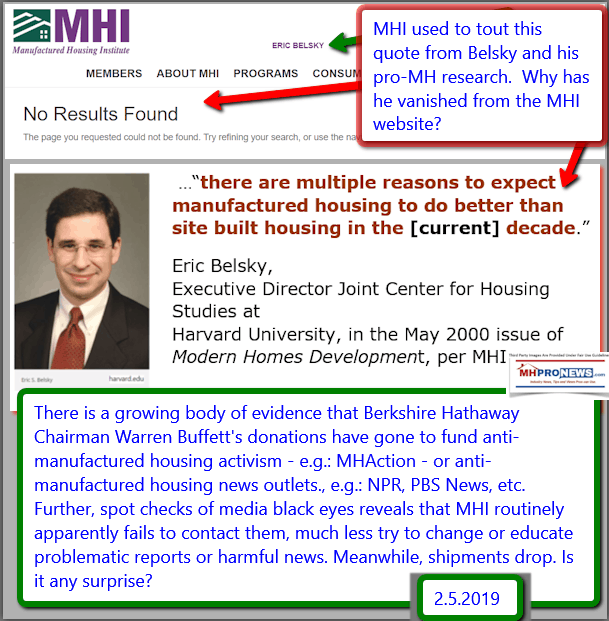 But as to poor MH lending practices, there are some observers who have said that poor manufactured housing lending practices was "the petri dish" – a metaphor for a laboratory experiment – for conventional housing and its subprime lending problems.
The First New Mozilo Interview
With that background, the video interview with Mozilo will be of greater insight.
Former Countrywide CEO Angelo Mozilo, said that certain housing barriers needed to be removed, in his first interview since the 2008 financial crisis.
"I was asked to come to this [SALT] conference and I think turning 80 had a big effect on me. You know, I'm running out of runway. And I thought well now's the time to speak out and I don't have any inhibitions anymore," Mozilo said.
Housing…"It's a very important part of the economy, but it's also a very important part of people's lives and their children's lives," Mozilo said. "And since the crisis, things have clamped down again."
"African-Americans, Hispanics — still very difficult for them to get a home of their own even though they could afford it," he said. "They can't get over all the barriers that are in their way because the barriers don't fit their lifestyle. But those barriers have to be taken down."
"Barriers to qualify for a mortgage, the underwriting requirements, just don't fit the lives of minorities," Mozilo explained as he pointed out the housing segment of the economy is missing out as a result. "Fannie Mae had a survey some years ago that clearly pointed out the African-Americans and Hispanics have a higher desire for housing than do whites. Whites considered, you know, that's their part of living in America you're entitled to."
While Mozilo was speaking in general, his points mirrored some comments made by HUD Secretary Carson in his recent speech, linked below.
Dr. Ben Carson Secretary of Housing and Urban Development Manufactured Housing Conference Remarks New Orleans, Louisiana, Hyatt Regency Hotel, May 7, 2019
Defensively, Mozilo wants people to believe that it was Countrywide's duty to "lower the barriers of entry for everybody in America getting a home, as long as they could afford it."
Mozilo also believes that he and Countrywide became an "easy target" during the crisis because of their size and also for making these loans, which he alleges only accounted for 3 percent of business.
"This is a huge economy — the whole world economy," Mozilo stated. "If you take all the assets of the world and you put a price on it and you value one and you take the amount of subprime mortgages in the United States — it's a pebble in an ocean — it's ridiculous."
"People who want to discriminate said, 'Look, we told you if you don't make these loans you're going to have a crisis.' Nonsense, absolutely nonsense. They had nothing to do with it."
Some of those arguments could easily be applied to the tiny percentage of the economy that manufactured home loans which defaulted represent during the late 1990s, and early 2000s.  That's not to white-wash wrong-doing.  But it is to put it into perspective.  As an industry insider told MHProNews, what took place in MHVille was like "a pimple on an elephants ass" – especially when compared to the financial blood bath that conventional housing caused the economy.
So, why is manufactured home lending still being de facto punished, nearly 20 years after MH lending's meltdown?  Perspective is necessary, and that clarity of understanding can lead to a better America.  Who says?  HUD Secretary Ben Carson, as he advocates for manufactured housing.
So why aren't Secretary Carson's comments on the MHI website?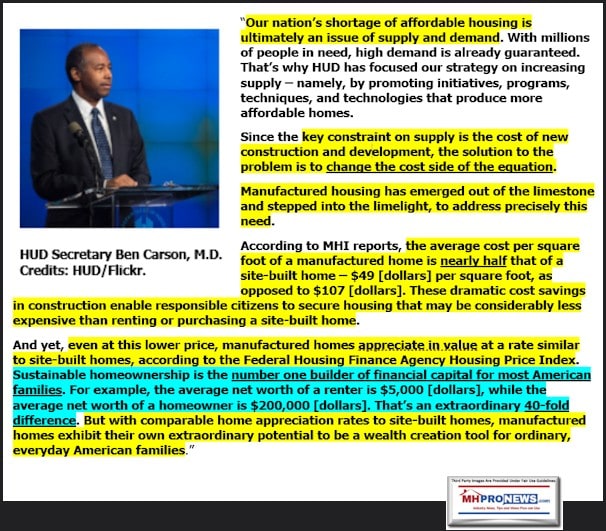 That's this afternoon's look at "Industry News, Tips, and Views Pros Can Use," © where "We Provide, You Decide." © ## (News, analysis, and commentary.)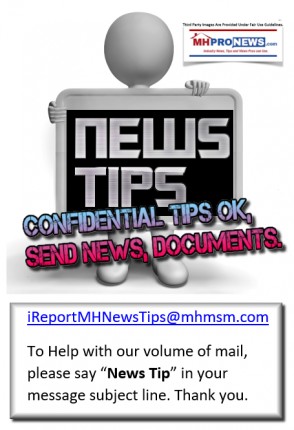 Your link to industry praise for our coverage, is found here.
For the examples of our kudos linked above…plus well over 1,000 positive, public comments, we say – "Thank You for your vote of confidence."
"We Provide, You Decide." © ## (News, analysis and commentary.)
(Image credits and information are as shown above, and when provided by third parties, are shared under fair use guidelines.)
Submitted by Soheyla Kovach to the Daily Business News for MHProNews.com.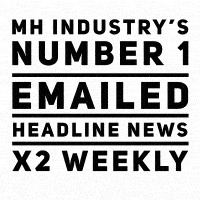 2) To pro-vide a News Tips and/or Commentary, click the link to the left. Please note if comments are on-or-off the record, thank you.
3) Marketing, Web, Video, Consulting, Recruiting and Training Re-sources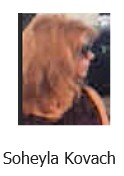 Submitted by Soheyla Kovach to the Daily Business News for MHProNews.com. Soheyla is a managing member of LifeStyle Factory Homes, LLC, the parent company to MHProNews, and MHLivingNews.com.
Related Reports

:
You can

click on the image/text boxes

to learn more about that topic.
In a truly free enterprise system, various needs are identified. Then a means of profitably yet honestly serving those needs are established. Ideally, both the customer and product/service benefit. The happy customer(s) then tell or send their friends. That pattern repeated often enough yields success. For millions, perception is reality.
Joe Stegmayer, George F. Allen, Manufactured Housing Institute Slogans, Slump, Slurs, Solutions
Clayton Homes, 21st Mortgage Corp, Vanderbilt Mortgage and Finance – Investor Lessons Learned
Manufactured Home Community Case Study, UMH Properties, Lessons for Independent Community Owners, Investors
Nathan Smith, SSK Communities, Manufactured Housing Institute Leader, Profitably Correcting the Record
https://manufacturedhousingassociationregulatoryreform.org/lead-follow-or-get-out-of-the-way/
Washington, D.C., May 6, 2019 – The Manufactured Housing Association for Regulatory Reform (MHARR) reports that according to official statistics compiled on behalf of the U.S. Department of Housing and Urban Development (HUD), year-over-year HUD Code manufactured home production declined once again in March 2019.