Free enterprise is predicated in part on the ability to compete. Be it in tea, banking, or other sectors of the economy, America from its earliest days as a colony includes examples of not just tax revolt, but anti-monopoly rebellion too. New York Times columnist David Leonhardt are among the scores of sources that have said as much.
The Open Markets Institute has said that antitrust or anti-monopoly efforts are one of the most important issues of our time. As they put it on their home page, the Open Markets Institute "…promote greater awareness of the political and economic dangers of monopolization, identifies the changes in policy and law that cleared the way for such consolidation, and fosters discussions with policymakers and citizens as to how to update America's traditional political economic principles for our 21st century digital society." Note to newcomers, MHProNews often turns direct quotes bold and brown to make them 'pop,' but otherwise the quoted words are as reported.
Several Democratic 2020 presidential contenders have made monopoly and antitrust enforcement a campaign issue.
The Trump Administration has let it be known that they have an executive order drafted on antitrust, a copy of which was obtained by MHProNews.
The Department of Justice's antitrust point man – Assistant Attorney General Makan Delrahim – was cited at length in a prior Daily Business News on MHProNews report in a talk dubbed "November Rain."
A top antitrust attorney named Lina Kahn was hired by Capitol Hill Democrats. These 4 bullets make it clear that this challenge of market consolidation and monopoly are a bi-partisan concern, though the two major parties may have differing approaches.
Facebook's co-founder is among several who have called for the breakup of the company. But it isn't just big tech that is facing calls of breakup under antitrust law.
That brief survey with links to various reports makes it clear that antitrust or anti-monopolistic practices sentiment has swelled in several swaths of the national political and economic discourse.
Which begs the question. Other than MHProNews, and MHLivingNews, why has the bulk of the other trade media or bloggers in the manufactured housing industry been so obviously silent on the topic of monopolization, antitrust, and consolidation?
As MHProNews has noted before – but will hereby spotlight in a different way with additional quotes – there is an exception of sorts.
It's George F. Allen, who shed his COBA7 moniker in favor of EducateMHC, reportedly sold his modest direct interests manufactured home communities, but still has a website called "Community-Investor."
Before turning to Allen's comments, let's note that MHInsider, a far larger medium which is a staunchly pro-Manufactured Housing Institute (MHI) backer, reveals nothing on a site search under the term 'monopoly.' Ditto a search under 'consolidation' or 'antitrust.' A search for articles about manufactured housing's 'enhanced preemption' – mandated by the Manufactured Housing Improvement Act of 2000 – are missing from MHInsider, much like that topic turns up nothing on MHI's website too. In fairness and accuracy – to MHInsider's credit – they provided a few pull quotes from HUD Secretary Ben Carson's address in New Orleans, which is more than the zero found on MHI's website as of this morning as this article is being drafted. But MHInsider lacks the entire – and highly useful for the industry's independents – recent Secretary Carson speech to manufactured housing professionals.
Other publishers in MHVille may lack a search tool, or have so few industry readers, that their pro-MHI stance is worth mentioning but not worth the time to document. So, there are others, most of whom routinely sing from the same hymnal that MHI provides. MHI-affiliated state associations often likewise regurgitate uncritically – often verbatim – MHI's missives, perhaps for reasons noted in a prior report linked here. That stated, one must note that a few manufactured home community (MHC) state associations broke ranks with MHI, citing the Arlington, VA based trade group's lack of effectiveness.
Onto Allen and Monopoly…
With that survey and backdrop, here's what Allen has had to say on the topic of monopoly operating in the manufactured housing industry.
To use a phrase Allen enjoys, those are salient points. He's made others before, like this one.
While those are comments were made in years gone by, that begs the question. When the evidence for monopolistic behavior in America and our manufactured home industry specifically has mounted, why has Allen more recently defended the Manufactured Housing Institute (MHI), which is the arguably the breeding ground for what Allen dubbed himself called "oligarchs" and monopolists?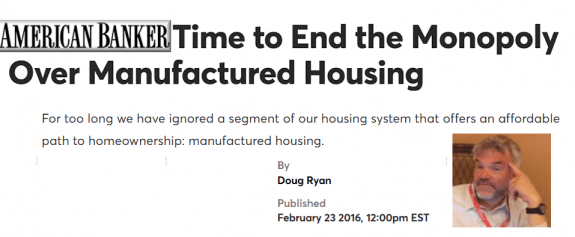 When Allen has demonstrably agreed with the Manufactured Housing Association for Regulatory Reform (MHARR) in the past, why has he attacked the Washington, D.C. based MHARR more recently? Aren't his disconnects apparent?
Hold those thoughts.
Be it Allen, MHI, or others – each has precisely the same rights protected by the Constitution that we all do. From the days of the British colonies, to after the time that the United States was finally formed following years of revolutionary warfare, and through the varied phases of our national history, America has had a love-hate relationship with pamphleteers and publishers. But with few exceptions – like the classic prohibition of not crying "fire" in a crowded theater when there is none – we defend in principle the constitutionally protected right citizens enjoy to say what they will, even if it is determined later to be demonstrably wrong.
Which brings us to a pressing point of free speech and free press. On the left, right and the dwindling center, there are voices in media talking about the news that have raised concerns about free speech, concentration of media, and manipulation of news reports. That there is a need for a graphic like the one below is troubling, but speaks volumes.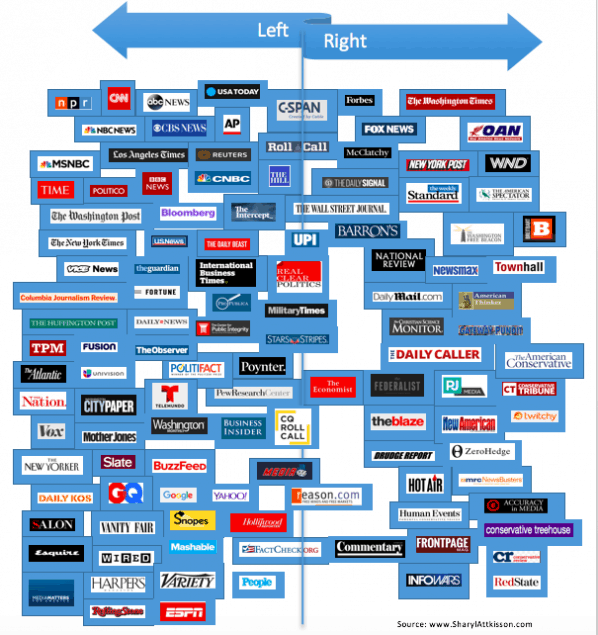 The quotes that follow exemplify the issue, across the left-right and even academic landscape.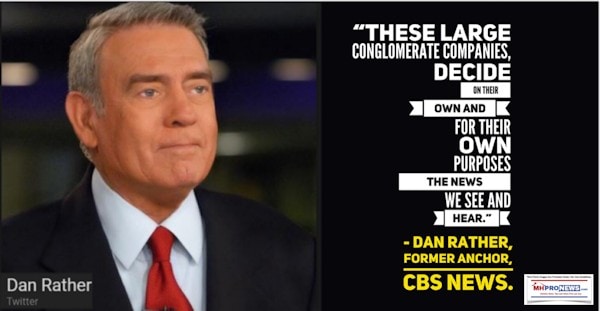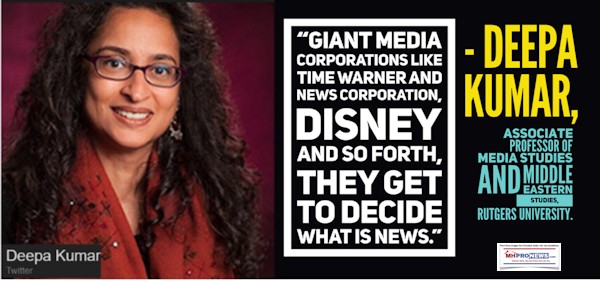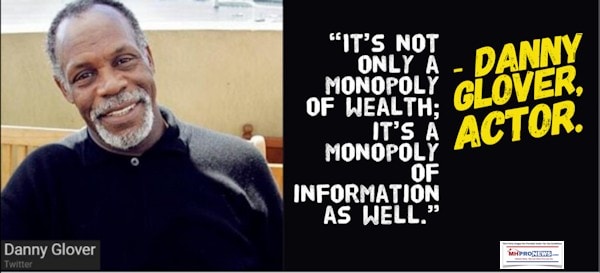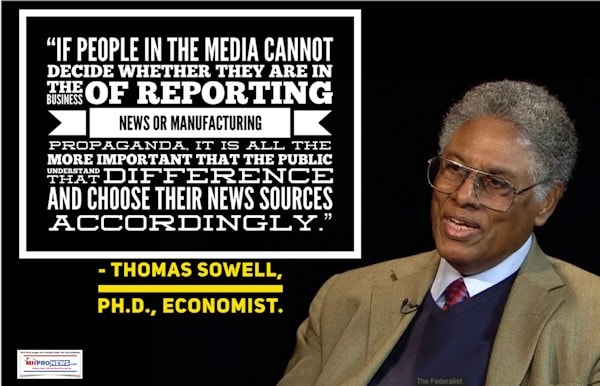 That's problematic, but hardly new in either American or world history. In ancient times, a leader might lop the head off someone who brought bad news. Far more recently, media in the 20th or 21st century have examples of being pushed and prodded by government and/or private interests. One must be aware of that pattern in order to begin to discern the vexing reality that someone's worldview is forged by what media sources they adhere to most routinely.
The founding fathers themselves experienced the problems of negative media that was often harsh and agenda driven. The founders used the press and pamphleteering to stoke the flames that caused a revolution against England, and eventually turned colonies into the independent but United States. Those founders believed that it is the clash and testing of ideas that can reveal to those who scrutinize details what is or is not true.
A close reading or attention paid to statement and subsequent events may also reveal the instances when people say or write one thing, but do another.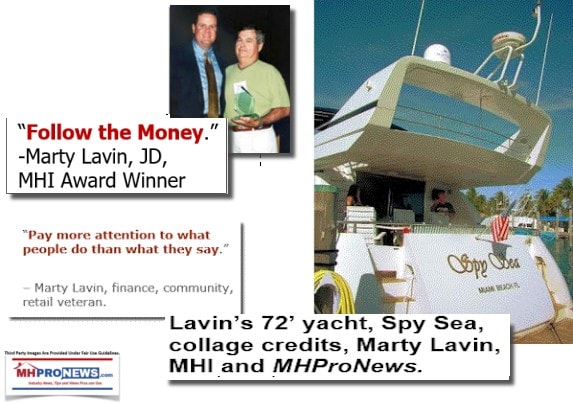 While all fail from time to time to live up to ideals, there is a special scorn many have for blatant and repeated hypocrisy. Perhaps rightly so.

Now the Manufactured Housing Institute (MHI) has an antitrust statement. According to form, MHI's numerous meetings every year are opened with a reminder that antitrust guidelines apply. But does that mean that they are adhering in deed to those antitrust guidelines, and not just merely in the mentioned word? There are highlighted items in the MHI antitrust statement, linked here, which in this writer's informed view merit legal and regulatory oversight attention.
So why are these issues missing from MHI's website?
Every symphony has high and low notes. There may be sobering, often dark drum rolls, and heartening crescendos. Symphonies – like other art forms – are meant to entertain, reflect, and inspire life. Novelists have plots, as well as subplots. Intentionally or not, publishing, writers, and media sources go through their own peaks, valleys, twists, turns, and familiar refrains.
The wonder isn't that Allen – not just MHProNews or MHLivingNews – has raised concerns about "consolidation."
Rather, it's that others in manufactured housing trade publishing have not done the same. Are they unaware? That's highly unlikely, because this writer hears from those publishers, their team, and followers. Are they afraid to rock the boat? Fearful? Paid-off via ads or other incentives? What?
One trade media competitor, in what was an unintended backhanded compliment said 'Tony, you [MHProNews, MHLivingNews] write about that others in the industry read or talk about at bars and during meals.' If so, that may explain why our audience dwarfs all others. But that statement begs the question, then why doesn't that gent and other writer/bloggers follow the lead of tackling the real issues, instead of playing footsy with MHI-driven drivel?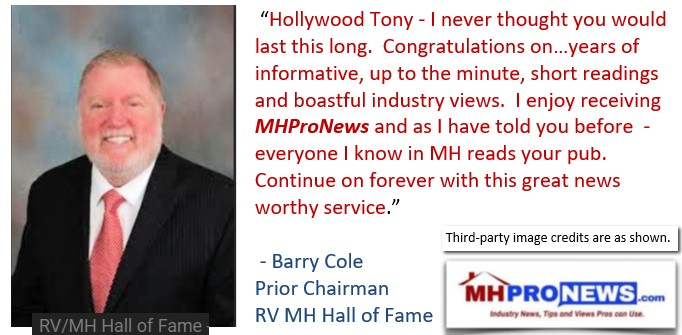 Why does MHI have an antitrust statement, beyond as legal cover, while doing nothing of merit to commission independent research over concerns that they as a nonprofit group are being used as a tool for consolidation?
"Then keep your tongue from evil
and your lips from speaking deceit.
Turn aside from evil and do good…" Psalm 34:13.
Let's recall anew that George Washington, and other founders, for whatever their personal failings were – and they had them, as we all do – stressed the need for morality and religion, not just laws or a constitution.
With that backdrop, back to Allen, monopoly, consolidation and what to do about it in MHVille.
Quoting Allen
"A Final Thought for Year 2018, but Key for 2019
No names here, but hope you too boycott an ongoing online MH-related news media attempt to denigrate and divide us as an industry and realty asset class!
In my opinion, life is too short to be making crass and obtuse claims of national advocacy conspiracy, corporate antitrust imaginations, and disgusting personal attacks, only befouling internet platforms better used to promote manufactured housing and the land lease community lifestyle!
…
If so, join me in 2019, committing to read only print and online trade publications advancing the causes, and improving the image, of HUD-Code manufactured housing and land lease communities! No more caterwauling ('to fight like cats') in public and in private. Period."
To spell it out for those not informed, Allen called there for a boycott of MHProNews, and of this writer. The ironies and hypocrisy there are thick. Because of his own self-contradictions, and his own de facto concerns over the very kind of monopolization and consolidation – in that quoted case above, of media – that he blasted previously about MHI and Clayton. Can George spell hypocrisy?
Yet Allen's aptly cited problems with consolidation, oligarchy, and monopoly. He still calls consolidation "a problem" in even recent posts.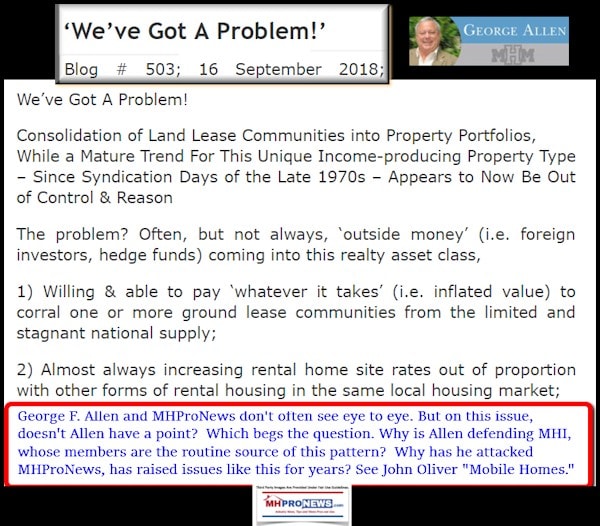 Nevertheless, he is hypocritically attacking this platform, and the Manufactured Housing Association for Regulatory Reform (MHARR), each of which have consistently been sounding alarms about those issues – with specific examples – to the attention of the thousands of the industry's readers.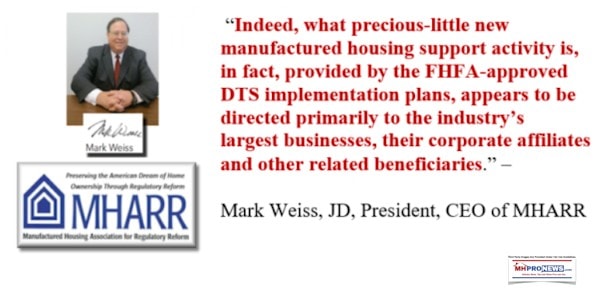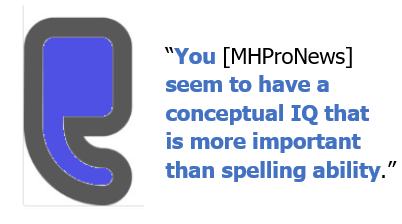 Allen's voice is significant, but small compared to this platform's. We have more readers in a few hours than he will have all week. So, why bother? Because frankly, reviewing the history of Allen's musings make clear some of the very problems he once asserted, and now denies. Its instructive to unpack Allen.
Allen is interesting to the extent that he does periodically make accurate statements. But a stopped clock is correct twice daily too. More politely, he is a reason why we believe in the wheat and chaff approach to people and sources. We all have our good and bad days, our good points, and our weaker ones. Our readers have pointed out that we get typos, for instance. Guilty as charged. That's our chaff, but who strive for finer wheat that feeds our audience that doesn't find like content from other's in the industry trade media.
Closely read, Allen's arguably consistent about only one thing, support for himself.
With that said, he has apparently been re-embraced by the very people – MHI and their leaders – that he railed against for unfair treatment by examining his business interests under the cover of a nondisclosure agreement (NDA), and then unethically going into competition against him. Allen personally felt the sting of manipulative and costly maneuvers from MHI, whose structure and funding point to firms in Omaha and the Knoxville, TN metro areas as their dominating, driving forces. He ought to be leading the charge, instead of giving the manipulators cover.
Rephrased, Allen knows first-hand who pulls the puppet strings at Arlington, VA based MHI. He fought them, he was marginalized, he lost. That is, he lost until he was more recently reembraced to be the apparent purported surrogate and attack dog for the Omaha-Knoxville-Arlington axis. Now, for example, MHI Chairman Joe Stegmayer is back on Allen's stage.
The key to understanding Allen's pivots in publishing is to understand that he is highly motivated by self-interest. That is per a former, significant client of his, who told this writer that the way to understand Allen is summed up in this saying: "With George, it's always AAA – All About Allen." Pondering that claim, and watching the pattern after that was heard, that source arguably proved correct.
The point here isn't that Allen has flip-flopped, or that the balance of the industry's trade media has been mute on the issues of monopolization, consolidation, antitrust, and market manipulation that has kept manufactured housing underperforming.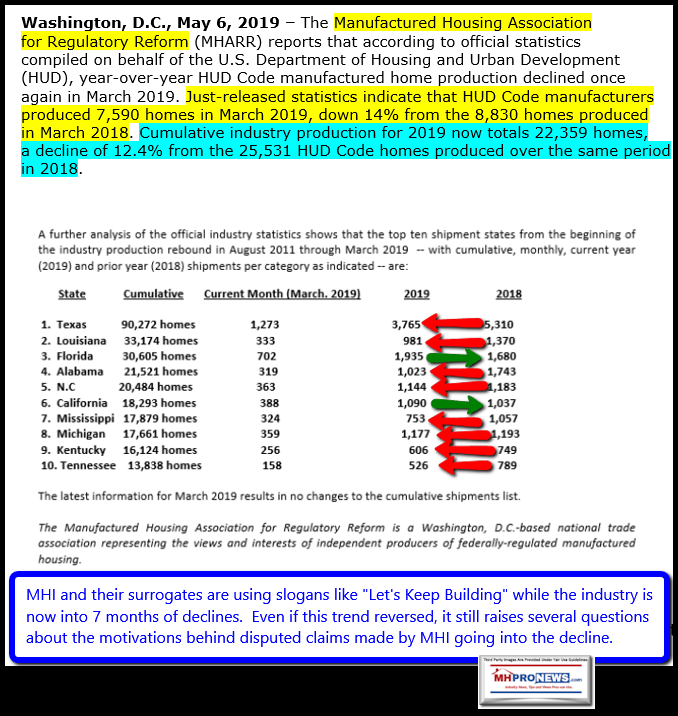 Frankly, we've covered much of that ground previously.
So the point here now is to make clear to new industry readers, investors wondering why a stock isn't performing as it could be, outside researchers, legal, and public officials looking into MHVille seeking to grasp the facts that have caused obvious patterns to be obscured by others –including, but not limited to, the industry's trade media.
Be Skeptical, Question and Test
It's entirely logical to test the accuracy of the reports and analysis here on MHProNews and MHLivingNews. It is logical to likewise test the writing and publishing of others in this same news and commentary space, to see how consistent each sources may be, or what evidence is offered by said sources beyond mere words.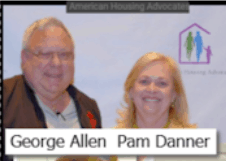 Unlike Allen's railing – as was cited above – about "…making crass and obtuse claims of national advocacy conspiracy, corporate antitrust imaginations, and disgusting personal attacks…" we've provided on MHLivingNews and MHProNews the documents and direct quotes from the sources involved.
Besides, Allen himself said similarly – as this report makes clear – only he's not been consistent about it.
Allen uses the old debaters' tricks of red herrings, commits the ad hominin attack fallacy, and demonstrably accuses others of what he does himself. It's the classic definition of a hypocrite.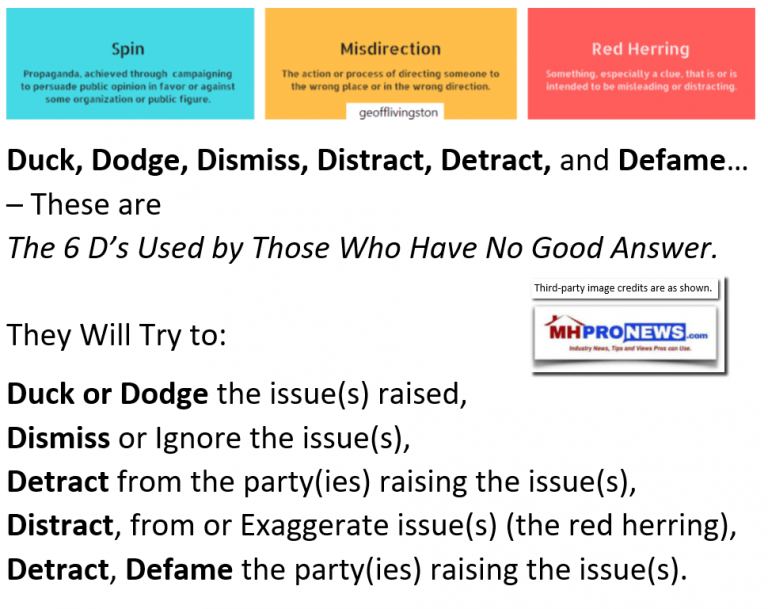 When we've given documented opportunities to Allen to publicly debate the issues we claim. Bring on the supporting evidence as to what are the factors hindering manufactured housing industry's growth, during an affordable housing crisis.
Other than MHARR and our trade media, who today in MHVille have offered a cogent explanation for the why and how the explains the cause of over 15 years of manufactured housing as an industry's underperformance?
That underperformance in turn cost taxpayers, homeowners, and independent businesses collectively billions, at each turn. Some of those independent businesses are the smaller community owners that Allen and his allies claim to care about.
That public debate offer with George Allen is one he's routinely ducked out on. Thus, noting his roar like the lion in Wizard of Oz – but his failure to back up that roar – he's arguably earned the mantle of that fictional character. It should be noted, Cowardly Lion finally got his courage, and did the right things.
We hope and pray Allen will do the same. Because Allen, in fairness and accuracy, has at times – albeit inconsistently – argued similar claims to those we, MHARR or others in MHVille seeking to maintain a lower profile have raised. Let's note that some of those MHI sources, unhappy with what the Arlington trade group is apparently doing, have said they would testify to federal investigators about what they know.
Let's return to one of those flashes from the past of apparent candor from Allen about the problem of monopoly power.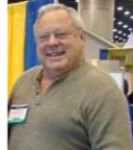 "Hopefully you already realize we live and work in turbulent times, where the national economy and our industry's business model are concerned. But have YOU stopped and considered the lasting effects horizontal (consolidation) and vertical integration have had, and continue to have, on our industry and realty asset class?
If you're one of those who believe the MHIndustry needs a new, independent national trade association to protect and advance the business interests and concerns of the post production sector of manufactured housing, you'll want to read this week's blog posting from beginning to end. Because there is indeed a third such party 'waiting in the wings' for the timing and leadership to be right and effective from the word 'Go'!
In short order, the number of independent (street) MHRetailers plummeted from more than 14,000 to fewer than 4,000."
After listing some of the extensive holdings of Buffett led Berkshire in manufactured housing, Allen says:
"Now, here's the proverbial 'rub'. With quiet but increasing frequency we read of conspiracies and monopolies gradually taking over (if not already 'taken over') the political agenda of the manufactured housing industry."
Assuming truth and legitimacy of these claims of 'conspiracies and monopolies gradually taking over the political agenda of the manufactured housing industry', what're the solutions? In the same op/ed piece in THE JOURNAL, the writer makes this case for a new independent national trade association to represent the post production sector of manufactured housing:
"…to monitor issues in the nation's capitol, mobilize for effective action, and fight for their interests and issues, rather than the few industry-dominant lenders and the corporate conglomerates that stand behind them." And until that happens, the writer opines, our shipments of new HUD-Code homes will continue to languish well below 100,000 units per year.
So, where's this new independent national trade association going to come from? Surely not the Manufactured Housing Institute ('MHI') with its' 80+ percent national member market share of new HUD-Code manufactured housing distribution; nor, the Manufactured Housing Association for Regulatory Reform ('MHARR') and its' regional housing manufacturing firms."
Allen on that occasion from his blog dated 21 August, 2016 proposed himself and his now defunct COBA7 as the industry's solution and savior. It is as if he set out to prove the point noted above from that former client of his that said, "With George, it's always AAA – All About Allen."
But sadly, one must ask, is Allen a white hat in MHVille, or a black hat?
White Hats, Black Hats…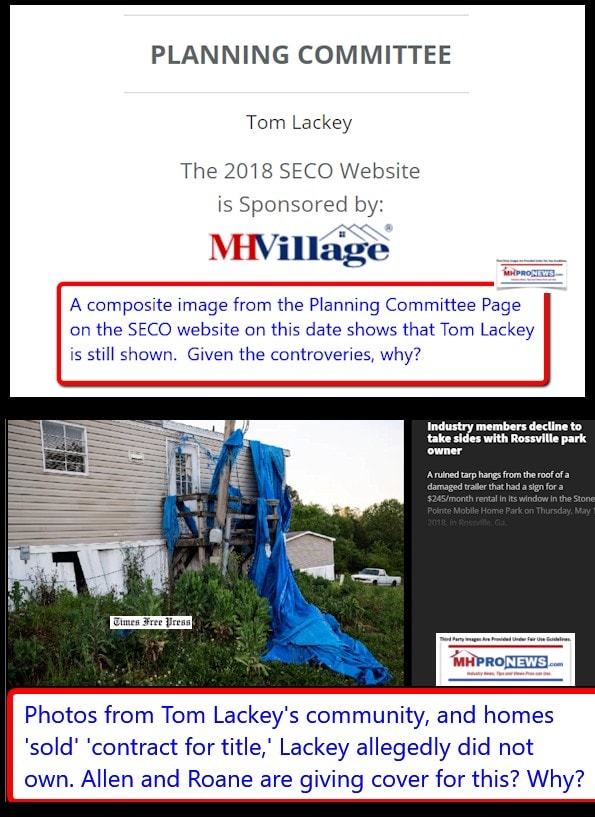 Allen failed to mention at all then that Dick Moore/Bob Crawford had launched a third party effort dubbed the MHIDEA, which MHProNews reported years before this specific 8-21-2016 musing by Allen.
While the effort never garnered the traction its concept merited, MHIDEA – short for the Manufactured Housing Independent DEaler Alliance – was launched in 2008, even before the full effects of Buffett's Moat became clear.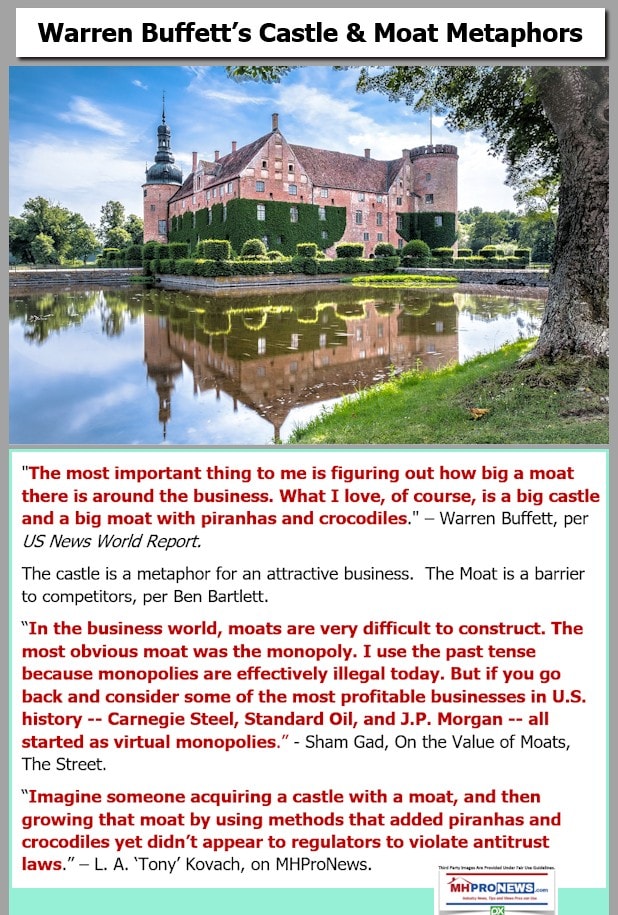 MHProNews reviewed MHIDEA's otherwise insightful notions in depth in a report, linked below.
Giving Thanks for Manufactured Housing Independents, Applauding "MHIdea!"
During the 2010 timeframe, MHProNews reported on the MHIDEA efforts. Hindsight can be 2020. Had MHIDEA been better supported – by us and others – would the industry's current issues be as severe as they are now?
By contrast, MHARR covered these issues to various degrees, and in a consistent fashion. It must be noted that several of Allen's references to concerns over monopolization were oblique references to claims and allegations made by MHARR. They have been by far the most consistent in the industry on the topics that they've engaged upon.
Once more, it must be noted that MHI avoids these controversies, as reflected by using the site-search tool on their website. If they suddenly, after weeks and months of such reports suddenly popped information that mentions these issues onto their platform, that doesn't change the fact that they've avoided it for some years.
Summing Up
This current and historic survey revealed the following.
MHARR has consistently called out the problems of market monopolization, proposed solutions, and has done so for a period of years. It should be noted that the MHARR website is relatively new, so one would have to go to MHProNews' MHARR module, or specific MHARR monthly articles to see the years of consistency in their reports and analysis.
MHIDEA – while effectively dormant at this time – raised these concerns over a decade ago.
NAMHCO – which does not yet have a website – is still young, but has made it clear that they felt that MHI was ineffective and not advancing the interests of their members, which is why they said they broke from MHI in 2017.
MHI has nothing on several potentially positive items for the industry, ignored publishing Secretary Carson's fine speech, and has nothing on these controversies.
MHInsider – essentially parrots the MHI stance, as have most if not all of the lesser known trade bloggers and publishers.
Blogger George Allen has flip-flopped, apparently based on if he's getting benefits from MHI or not. But what's clear is that Allen on several occasions raised the issue of monopoly, consolidation, and 'oligarchy.' More recently, Allen has attacked MHARR, and MHProNews for making arguments similar to those he himself previously advanced. Allen does not bother to explain his contradictions, which can demonstrably occur within the same blog post.
MHProNews raised the issues years ago, in reporting on the MHIDEA and MHARR reports. But frankly, this writer – and our LifeStyle Factory Homes, LLC family of publications – were not convinced initially. We reported what others said, but did not strongly advocate on the issues of monopoly, consolidation, marketing rigging, and the need for legal and federal action.
As I've said previously, per the SPJ standards of journalism ethics that call for clearly stating errors or omissions once noted, it took years of evidence, documents, news tips, and commentary by others until the scope and chutzpah of the Omaha-Knoxville-Arlington axis was fully grasped in more recent years.
Oddly, some of Allen's and MHI's circle and readers have been among those who've for some time explained why they thought market manipulation was underway. They explained Allen's role – or lack thereof – in masking or exposing it at various times.
It should also be noted that MHInsider publisher Darren Krolewski himself praised this publication and writer for taking on the tough issues. He was among those that informed us of what was underway, where MHI was allegedly undermining our pro-industry growth work, even as we were dues paying members of that association.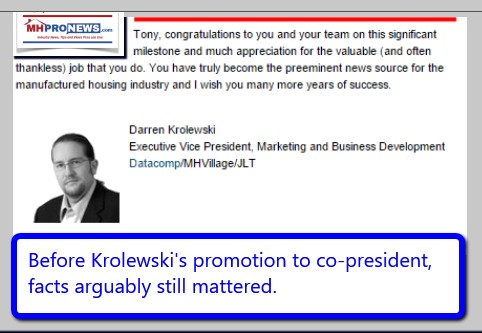 Allen could perhaps go back and purge his site, if he was incentivized to do so. But we already have the screen captures, so why bother?
While he loves to charge that we misquote or do something 'out of context,' he's not once provided evidence of that claim. In fact, as noted, when invited to debate or prove his case in a third-party moderated forum, publicly in front of an industry audience, and on video so others could witness it later, he's always declined that offer.
The allegations and concerns raised in this report clearly tie directly into the issue of what we've dubbed the Omaha-Knoxville-Arlington axis.
Namely, that leaders at Clayton Homes, 21st Mortgage Corp, Vanderbilt Mortgage and Finance (VMF), Joe Stegmayer (MHI Chair), MHI salaried staff, and their inside and/or outside attorneys have repeatedly been invited to discuss and debate these concerns publicly. Such offers to those leaders have been documented. The offer was to do hold such a discussion/debate in front of a live manufactured home industry professional audience. That means that those who understand and/or are the most impacted by the issues to be discussed would be in attendance. A third-party moderator, plus video recording so others could see it all later, were part of the offer.
The powers that be in MHVille have declined every time. It's their right to remain silent. But that means that the allegations against them stand unrefuted. One might ask, why they haven't sued us – with or without just cause – as they've threatened in writing several times to do? Is it perhaps because their leaders have praised us often, and for years, and that would come up in any legal proceedings? How could they possibly explain it all away with a straight face?
What the axis apparently did instead was reembraced Allen, who was persona non grata after their purported backstab of Allen only a few years ago. Allen was apparently re-engaged and rewarded precisely, to be used as a purported surrogate and as an attack dog against MHARR, MHProNews, and this writer. Given that they can't or won't defend their actions, they've turned to the smear tactics instead. Allen and company do what they allege we do, interesting ploy, isn't it?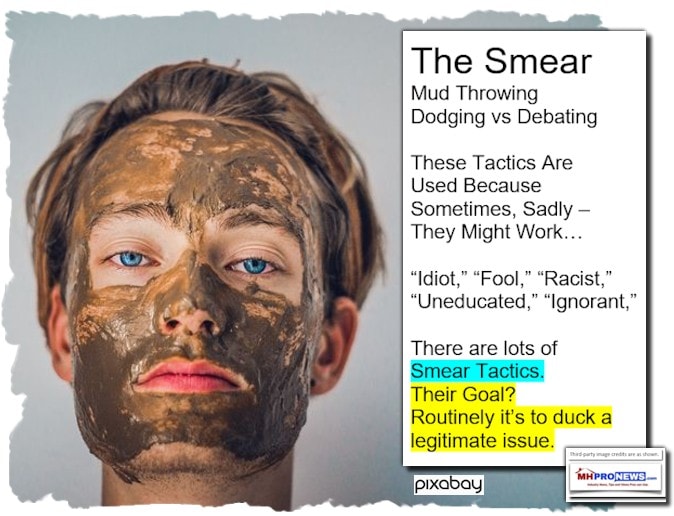 Last week, an MHI member named Andy Gedo began to enter into a question/answer with this writer about an article posted on LinkedIn. That posted article spotlighted how Kevin Clayton, in a recent video interview with CNBC, did not deny that Berkshire monopolization of not only manufactured housing, but the broader housing market, was underway. Gedo initially questioned, but gave up on, defending Clayton against that claim. The Gedo discussion with this writer in its entirety is linked below.
Andy Gedo, Partner at ManageAmerica, Raises Clayton Homes Monopolistic Practices Debate; Manufactured Housing Institute Related Issues
While these incidents, Berkshire Hathaway documents and direct quotes in context linked here or other concerns are not proof in an absolute or legal sense, it is enough to cause more federal regulators, public officials, candidates, media/researchers to sharpen their scrutiny. That's frankly part of the reason to do such summary articles, which then link evidence and examples.
The reason we say 'more' is because there are already – beyond MHARR, NAMHCO, MHIDEA, MHProNews, and MHLivingNews – non-industry sources that have spotlighted some of these same concerns. Some of those are linked below.
• The New York Times had an interesting article on the historic trends, and named several industries being monopolized.
• The Atlantic, without specifying how the monopolization was being accomplished, noted that the independent retailers in manufactured housing were being rapidly eliminated/consolidated, that report is linked here.
• GuruFocus said "Warren Buffett Can't Escape Unethical Strategic Moats," their specific points are linked here.
• The Nation called it "The Dirty Secret Behind Warren Buffett's Billions…" and specifies Clayton Homes among those using the strategic moat in 'dirty' ways.
• The Jacksonville Florida Times Union summarized the connection between the John Oliver viral hit video dubbed "Mobile Homes," MHI, Clayton Homes, and their related lenders. That op-ed was first fact-checked by an editor, before it was published not only in the one newspaper it was submitted, but at least in 5 Florida newspapers.
But what those other sources may lack are specific examples of documents and video that were not yet published, until the trade media our LLC deploys covered them.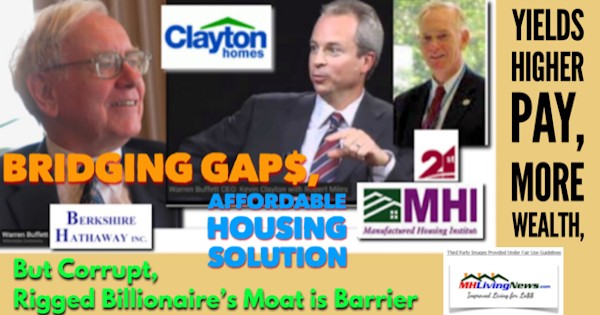 What this summary does is reveal to industry readers and to outsiders looking in that there is substantial evidence of monopolization, consolidation, and examples of potential violations of antitrust laws at play in manufactured housing that date back about a decade or more. That's almost roughly the same timeframe that Warren Buffett led Berkshire Hathaway bought Clayton Homes, and began the slow 'strategic moat' and other related conquest techniques of the manufactured housing industry.
No one with common sense can believe that Buffett, Berkshire, and their billions could somehow have failed to grow manufactured housing to over 500,000 or more shipments a year. MHI's president himself said that was doable.
MHI CEO Dick Jennison's Pledge – 500,000 New Manufactured Home Shipments
Which leads thoughtful readers and researchers with the vexing concerns that manufactured housing has been de facto sabotaged, largely from within.
That's why the industry is the 'best kept secret' in affordable housing, as Terry Decio from Skyline Homes lamented on camera.
That's arguably why Secretary Carson's full address isn't found on MHInsider, or at all on MHI's website. Carson made it clear he wants to promote the manufactured housing solution, and end the secrecy that hangs over the industry.
Alan Amy is one of the many quiet, thoughtful voices that helped advise this writer as to what was occurring, and why. Manufactured housing is the housing of the future, not just the past, said Amy. The big boys are consolidating the industry at a discount now, knowing that they can reap billions in annual earnings once they've completed their conquest of the industry, and a friendly administration to their interests takes over in Washington, D.C.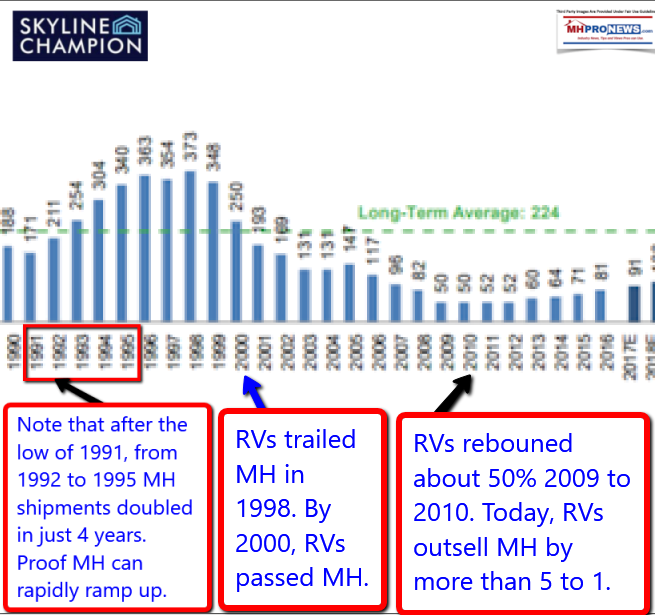 The puzzle pieces fit, which is what Occam's Razor calls for in its test of reason. Otherwise, observers are to believe that Warren Buffett, Kevin Clayton, Tim Williams, and MHI staff are all incompetent? That they don't know how to grow this industry that used to produce hundreds of thousands of homes per year? That they can't achieve growth during an affordable housing crisis? That's absurd.
Once more, the powers that be are invited to refute or explain away these concerns and allegations. Or they can keep using diversionary tactics, while the industry's shipments have shrunk for 7 months, during an affordable housing crisis? Absurd. Preposterous. Impossible to believe, unless the powers that be want it to be so.
And on that note, let's call it a morning, as the sky suggests that the dawn will soon break. We pray that dawn will be a sign for this once far greater industry that a new day is coming. But like the founders and generations before us, freedom won't be free. It will only come from a struggle. That struggle begins with understanding the issues, which hopefully this report, fact-check, and analysis has helped shed fresh light upon.
It is long past time to break up the monopolists, using existing federal and state laws. As Secretary Carson said about a different topic last night on Tucker Carlson's show, "enforce the law."
That's this morning's first look at "News through the lens of manufactured homes, and factory-built housing," © where "We Provide, You Decide." © ## (Industry news, commentary, fact-checks, and analysis.) ##
(See Related Reports, further below. Text/image boxes often are hot-linked to other reports that can be access by clicking on them. Third-party images and content are provided under fair use guidelines.)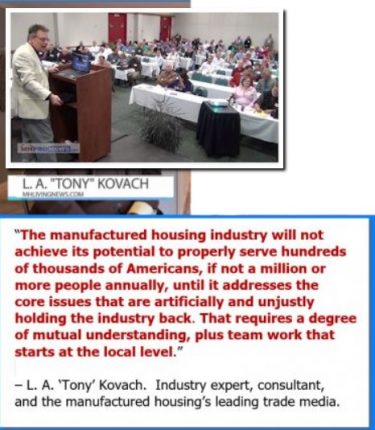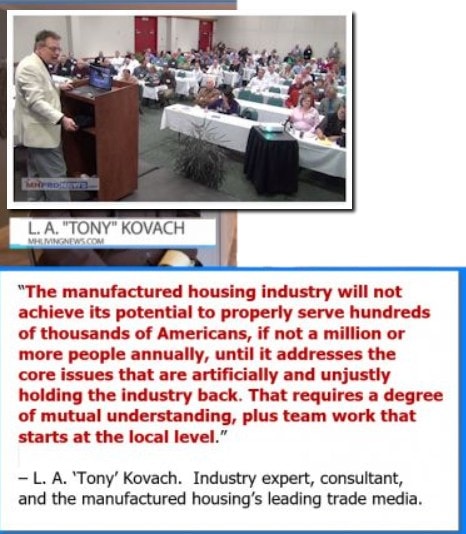 By L.A. "Tony" Kovach – for MHProNews.com.
Tony is the multiple award-winning managing member of LifeStyle Factory Homes, LLC, the parent company to MHProNews, and MHLivingNews.com.
Office 863-213-4090 |Connect on LinkedIn:
http://www.linkedin.com/in/latonykovach
Sign Up Today!
Click here to sign up in 5 seconds for the manufactured home industry's leading – and still growing – emailed headline news updates.
Related Reports

:
You can

click on the image/text boxes

to learn more about that topic.
Dr. Ben Carson Secretary of Housing and Urban Development Manufactured Housing Conference Remarks New Orleans, Louisiana, Hyatt Regency Hotel, May 7, 2019
The last decade-plus has not been especially kind to the manufactured housing industry and consumers of affordable housing. The 21 stCentury began with a great deal of promise for the industry and consumers alike.
MHARR SEEKS HUD STUDY AND ANALYSIS OF ZONING DISCRIMINATION AGAINST MANUFACTURED HOUSING Washington, D.C., April 8, 2019 – The Manufactured Housing Association for Regulatory Reform (MHARR), in an April 4, 2019 meeting with HUD policy, analysis and research officials, called on the Department to conduct nationwide research – and follow-up analysis – concerning local zoning mandates that discriminatorily exclude or drastically restrict the placement of federally-regulated manufactured homes to the detriment of lower and moderate-income American families in large areas of the country.
Washington, D.C., May 15, 2019 – With manufactured housing producers, retailers and communities offering their best homes (and related consumer protection) ever, and in light of the failure of the ostensible representation of the industry's post-production sector to fully and effectively advance the marketing, consumer financing and, most importantly, the full acceptance of federally-regulated manufactured housing as the nation's premiere source of non-subsidized affordable housing and homeownership, the Manufactured Housing Association for Regulatory Reform (MHARR) has launched a new project and initiative to fight selected, especially egregious instances of discriminatory and exclusionary zoning targeting manufactured housing and manufactured housing consumers.
Washington, D.C., April 30, 2019 – The Manufactured Housing Association for Regulatory Reform (MHARR) in an April 24, 2019 communication to U.S. Department of Housing and Urban Development (HUD) Secretary, Ben Carson (copy attached), has called on the Department to federally preempt local zoning ordinances which discriminatorily exclude manufactured homes regulated by HUD pursuant to the National Manufactured Housing Construction and Safety Standards Act of 1974 and the Manufactured Housing Improvement Act of 2000.
For the next few minutes, imagine a hedge fund or deep pockets investor. In the following blend of the hypothetical mixed with numerous significant linked elements of evidence formed by reality, picture in your mind the following. Reflect on an outsider looking into why Warren Buffett – or other lesser known, yet successful investors …
There may be no one analogy that is entirely precise enough to make the point that the promoters of the Preserving Access to Manufactured Housing Act purportedly hoped to accomplish with their bill. All analogies limp at some point, but those disclosures made, let's begin with the 'rope and dope metaphor' from boxing.
Prosperity Now, Nonprofits Sustain John Oliver's "Mobile Homes" Video in Their Reports