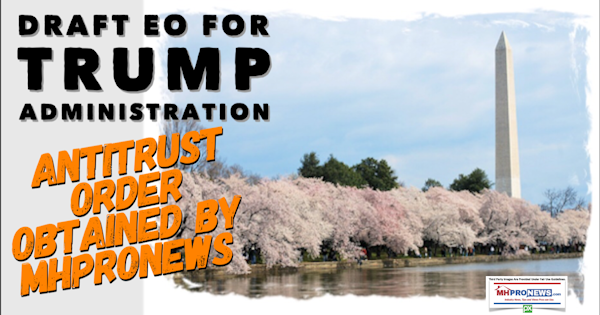 Longtime manufactured housing industry readers know that the issues of monopoly or antitrust concerns have grown in recent years.  These relate to several sources of perceived antitrust threats that debatably harm independents, consumers, the economy, and others in the industry.
There are obviously voices and agendas on each side of the issues that follow. 
President Donald J. Trump, and members of his administration, have increasingly voiced antitrust concerns in the areas surrounding certain tech giants and their perceived bias. That bias impacts the content and news Americans are exposed to in searches and social media feeds.  As Brad Parscale (see linked article further below) and others have argued, that in turn threatens election outcomes, and thus the democratic process. 
The Daily Business News on MHProNews has led the industry's coverage about such anxieties, along with how it is potentially interrelated to Warren Buffett's Berkshire Hathaway brands, and their alleged efforts to establish a monopoly in manufactured housing.
So, the start of serious antitrust activity by the Trump Administration that aims at Google or Facebook should not be seen as being limited to those subjects alone.  Indeed, the president himself has signaled other possible targets of such anti-monopolistic federal legal actions. 
With that introduction, and noting the linked related reports herein and below, let's provide the full text of the White House draft of an Executive Order (EO), geared at antitrust action, as provided by Business Insider. Note that the typo below is in the original.  It will be followed with additional commentary, links, and analysis.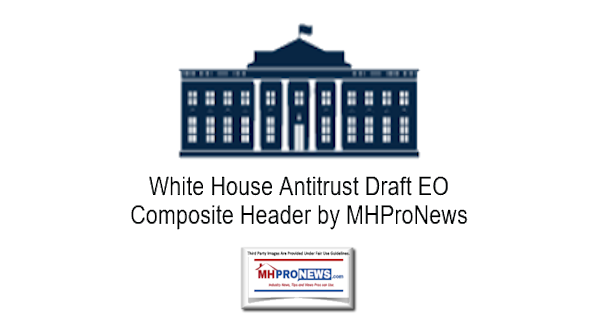 EXECUTIVE ORDER TO PROTECT COMPETITON AND SMALL BUSINESSES FROM BIAS IN ONLINE PLATFORMS 
By the authority vested in me as President by the Constitution and the laws of the United States of America, and in order to protect American consumers and workers and encourage competition in the U.S. economy, it is hereby ordered as follows:
Section 1. Policy. Online platforms are central to American commerce and the free flow of news and information. Whether reading news or looking for local businesses, citizens rely on search, social media, and other online platforms to provide objective and reliable information to shape a host of decisions ranging from consumer purchases to votes in elections. Because of their critical role in American society, it is essential that American citizens are protected from anticompetitive acts by dominant online platforms. Vibrant competition in the online ecosystem is essential to ensuring accountability for the platforms that hold so much sway over our economy and democratic process. 
[Can expand this section, if necessary, to provide more detail on role of platforms and the importance of competition]
Section 2. Agency Responsibilities. (a) Executive departments and agencies with authorities that could be used to enhance competition among online platforms (agencies) shall, where consistent with other laws, use those authorities to promote competition and ensure that no online platform exercises market power in a way that harms consumers, including through the exercise of bias.
(b) Agencies with authority to investigate anticompetitive conduct shall thoroughly investigate whether any online platform has acted in violation of the antitrust laws, as defined in subsection (a) of the first section of the Clayton Act, 15 U.S.C. § 12, or any other law intended to protect competition.
(c) Should an agency learn of possible or actual anticompetitive conduct by a platform that the agency lacks the authority to investigate and/or prosecute, the matter should be referred to the Antitrust Division of the Department of Justice and the Bureau of Competition of the Federal Trade Commission. 
(d) Not later than 30 days from the date of this order, agencies shall submit to the Director of the National Economic Council an initial list of (1) actions each agency can potentially take to protect competition among online platforms and address online platform bias; (2) any relevant authorities and tools potentially available to enhance competition among and protect the users of online platforms.
(e) Not later than 60 days from the date of this order, agencies shall report to the President, through the Director of the National Economic Council, recommendations on agency-specific actions in response to paragraphs (d) of this section. Such recommendations shall include a list of priority actions, including rulemakings, as well as timelines for completing those actions.
Section 3. General Provisions. (a) This order shall be implemented consistent with applicable law and subject to the availability of appropriations.
(b) Independent agencies are strongly encouraged to comply with the requirements of this order. 
(c) Nothing in this order shall be construed to impair or otherwise affect:
(i)   the authority granted by law to a department or agency, or the head thereof; or
(ii) the functions of the Director of the Office of Management and Budget relating to budgetary, administrative, or legislative proposals. 
(d) This order is not intended to, and does not, create any right or benefit, substantive or procedural, enforceable at law or in equity by any party against the United States, its departments, agencies, or entities, its officers, employees, or agents, or any other person.
###
Brad Says POTUS Trump is Right: More than Facebook & Twitter, Google Threatens Democracy, Online Freedom
Bloomberg and MHProNews reported last year that one of Warren Buffett's more significant concerns is supposedly the threat of the breakup of Berkshire Hathaway. That breakup, should it occur, would be under some type of antitrust action, which could be initiated by federal regulators.  It could also involve civil antitrust cases, which can bring up to triple damages for a prevailing party.
Should serious antitrust case(s) occur, as it directly relates to manufactured housing, it would likely be caused by trend lines, facts, and factors such as those linked in the report and related video found in the linked report, below.
Smoking Gun 3 – Warren Buffett, Kevin Clayton, Clayton Homes, 21st Mortgage Corp Tim Williams – Manufactured Home Lending, Sales Grab?
Any breakup or other major legal action that targets Berkshire, Clayton Homes, and their lending units would arguably send shock waves through the HUD Code home industry. It would have serious repercussions for the Manufactured Housing Institute (MHI), which is widely seen as dominated by Warren Buffett led Berkshire's MH industry brands.
Antitrust action may create an array of opportunities and activities for others not seen for over a decade in manufactured housing, for reasons that N.Y. Stern Professor Scott Galloway has expressed.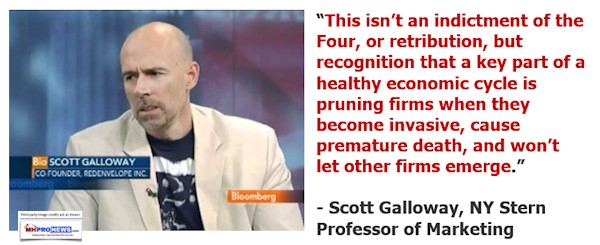 MHProNews will continue to monitor and report on this developing story. "We Provide, You Decide." (C)
  ## (News, analysis, and commentary.)
1. Terminology error – the word 'trailer' is in the original. It is unclear from the article if these are mobile homes, post-HUD Code manufactured homes, or a combination of both.
(Third party images and content are provided under fair use guidelines.)
1) To sign up in seconds for our MH Industry leading emailed news updates, click here.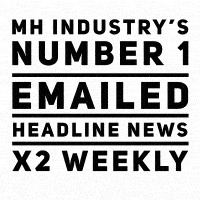 2) To pro-vide a News Tips and/or Commentary, click the link to the left. Please note if comments are on-or-off the record, thank you.
3) Marketing, Web, Video, Consulting, Recruiting and Training Re-sources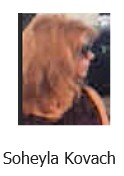 Submitted by Soheyla Kovach to the Daily Business News for MHProNews.com. Soheyla is a managing member of LifeStyle Factory Homes, LLC, the parent company to MHProNews, and MHLivingNews.com.
Related Reports

:
Seattle Times -Federal Investigations-Berkshire Hathaway's Clayton Homes, GuruFocus Spotlights Buffett's Clayton's "Unethical," Monopolistic Moat
Warren Buffett Would be Okay With Clayton Homes Losing Money, Says Kevin Clayton – But Why?