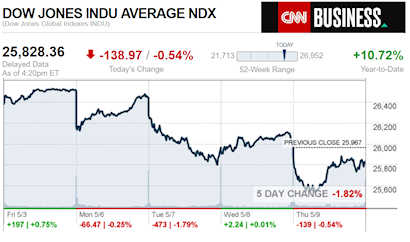 Facebook is used by most manufactured home professionals in a variety of fashion.  Sure, China and tariffs have investors watching the markets sink.  The U.S.-China match will reverse itself with a deal, or not.  Super powers are playing chicken, some of which may be stage managed for their respective audiences.  It would be an easy topic to follow others and jump on today.  But once more, let's take a contrarian view, set that 'trade deal or not' issue many stock watchers are commenting upon aside, and turn instead to one of the biggest issues of our times.  Monopolies, the growing power of big tech over our lives, and how some of the biggest critics of Facebook are those who CNBC called former 'insiders.' On a day of red-ink on the markets, let's look at that issue as our featured evening report.
If you're new, already hooked on our new spotlight feature – or are ready to get the MH professional fever – our headline report is found further below, after the newsmaker bullets and major indexes closing tickers.
The evolving Daily Business News market report sets the manufactured home industry's stocks in the broader context of the overall markets.  Headlines – at home and abroad – often move the markets.  So, this is an example of "News through the lens of manufactured homes, and factory-built housing." ©
Part of this unique evening feature provides headlines – from both sides of the left-right media divide – which saves busy readers time, while underscoring topics that may be moving investors, which in turn move the markets.
Readers say this is also a useful quick-review tool that saves researchers time in getting a handle of the manufactured housing industry, through the lens of publicly-traded stocks connected with the manufactured home industry.
This is an exclusive evening or nightly example of MH "Industry News, Tips and Views, Pros Can Use." © It is fascinating to see just how similar, and different, these two lists of headlines can be.
Want to know more about the left-right media divide from third party research?  ICYMI – for those not familiar with the "Full Measure," 'left-center-right' media chart, please click here.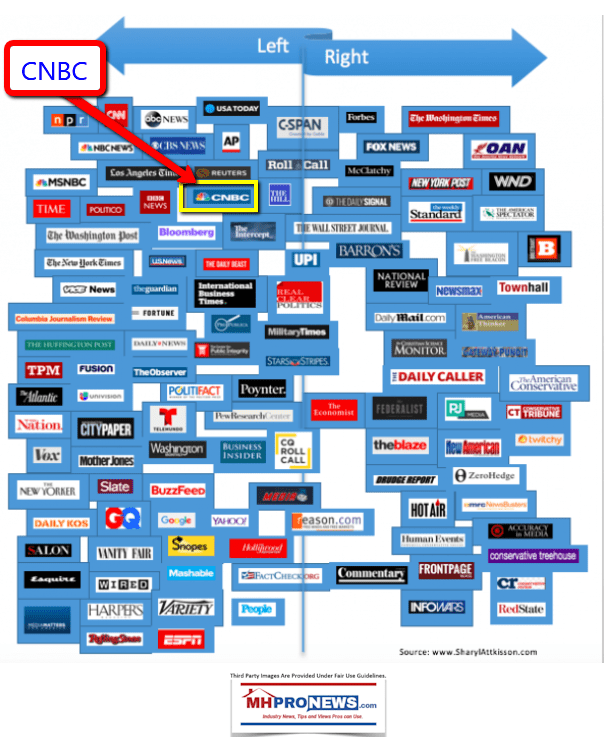 Select bullets from CNN Money…
Dow sinks as the US-China trade spat weighs on stocks
US trade deficit edges up, even as Americans buy less from China
LIVE UPDATES The market's problem? The 'sell first, ask questions later' mentality
Instagram blocks '#VaccinesKill' hashtag after CNN Business report
Uber's IPO will be an early test for SoftBank's massive venture fund
Why it might not be smart to buy Uber on its IPO day
Chevron walks away from deal with Anadarko
Sears has a new logo. It looks a whole lot like Airbnb's
FCC votes to bar China Mobile from operating in the U.S. over security concerns
Volkswagen's systems can't cope with 10,000 electric car orders
com warns of even more pain ahead after it ditched the Post Office. Stock plunges 50%
US senators want Amazon's Alexa device for kids investigated by the FTC
This bitcoin bull predicts prices will triple by 2021
Why Wendy's brought back 50¢ Frosties
LIVE UPDATES Jeff Bezos unveils new plans for Blue Origin spaceflight
Silicon Valley's real estate market is finally cooling off. Sort of
EXCLUSIVE Elizabeth Warren: Americans don't need cliché financial advice. They just need to be paid
Facebook founder Chris Hughes: It's time to break up Facebook
Instagram still doesn't have vaccine misinformation under control
Perspectives: It's time to regulate Big Tech
Facebook wants to make your birthday super awesome
Russian fake accounts targeted Facebook Groups
Owner of Schick buys Harry's razors in $1.4 billion deal
Gillette is selling a $200 luxury razor that heats up to 122 degrees
Dollar Shave Club wants to be known for more than razors
Women's razor startup Billie is taking on the 'Pink Tax'
As a man of color, he couldn't find a razor he liked. So he created his own
Select Bullets from Fox Business…
Burdened by Trump's tariffs, small businesses, others mount last-minute plea
Trump's attacks on Powell reportedly hurting US-China trade talks
Trump's steel tariffs cost US consumers close to $900,000 per job, analysis finds
Uber IPO price sets company value at roughly $82B
WATCH: Major housing clampdown coming soon?
IRS to release new W-4: What to expect
Royal Caribbean open its $250M 'Perfect Day' private island, featuring tallest waterslide in North America
Ocasio-Cortez admits plan to cap interest rates 'sounds radical'
Elon Musk's productivity tips include walking out of meetings
Waters to Fed on BB&T, SunTrust merger: Wait for us to investigate
Carter Page: 'Mueller's band of angry Democrats' on witch hunt
Tax rates might be lower, but rich subject to greater tax burden
Facebook co-founder calls for breakup of social media giant, says Mark Zuckerberg has 'unchecked power'
Papa John's CEO hints Shaquille O'Neal may get his own signature pizza
Roku CEO: Shift to streaming is accelerating
Americans have 'incredible' misconceptions about Social Security
Uber IPO: Travis Kalanick won't ring NYSE bell, report says
Chevron taps out in Anadarko Petroleum battle, will get $1B termination fee
Today's markets and stocks, at the closing bell…

Today's Big Movers
For all the scores and highlights on tracked manufactured home connected stocks today, see the Bloomberg graphic, posted below.
Today's MH Market Spotlight Report –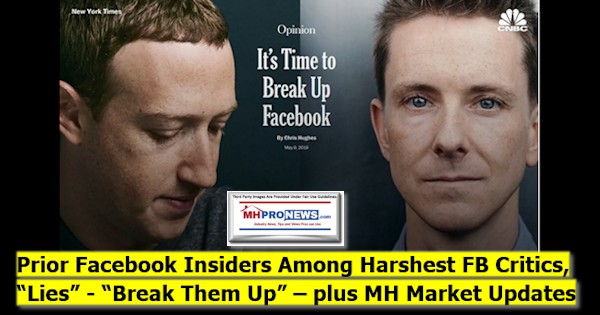 Left-of-center CNBC said today that, "Former Facebook insiders have turned into some of its harshest critics"
Facebook Co-founder Chris Hughes on Thursday called on regulators to break up the company.
Other key critical former executives include Sean Parker, Chamath Palihapitiya and Alex Stamos.
Facebook Co-founder Chris Hughes on Thursday published an opinion piece for the New York Times critical of the company he helped create, calling for the breakup of the company saying "I do" think Facebook is dangerous.
It's part of a growing trend that MHProNews has spotlighted, that include such odd couples as Senator Elizabeth Warren and President Donald J. Trump, among other voices that have raised concerns over the threat and power that the tech giants pose.
Here are some key former Facebook insiders who have criticized the company, per CNBC.
Sean Parker was Facebook's president in its early days. He said at an Axios event in November 2017 that the thought process that went into developing Facebook in the early days was all about "How do we consume as much of your time and conscious attention as possible?"
"The unintended consequences of a network when it grows to a billion or 2 billion people … it literally changes your relationship with society, with each other," Parker said. "God only knows what it's doing to our children's brains."
Chamath Palihapitiya, former vice president of platform and monetization and later user growth, told an audience at the Stanford Graduate School of Business in November 2017 that he felt "tremendous guilt" over Facebook.
"I think in the back, deep, deep recess of our minds we kind of knew something bad could happen," Palihapitiya said. "I think we have created tools that are ripping apart the social fabric of how society works."
Ouch.
Roger McNamee, starts off politely until he says "puts the lie" on the program advanced by Facebook's Mark Zuckerberg.  McNamee is an early Facebook investor and mentor to Zuckerberg.
In an article and a later a book McNamee published called "Zucked: Waking Up to the Facebook Catastrophe," and he's criticized the social network during marketing events for the book, calling the Facebook "a threat to democracy."
Brian Acton, "WhatsApp co-founder, left Facebook in September 2017 after selling his startup to the social network in 2014 for $19 billion. After his departure, Acton contributed $50 million to the Signal Foundation, the organization that builds and maintains Signal, an encrypted messaging app that is an alternative to WhatsApp." In March 2018, Acton tweeted #deletefacebook.
Tim Kendall, director of monetization, "spent $7 million to fund Moment, his startup that helps smartphone users better manage the time they spend on social media and their devices." He told the Wall Street Journal that "I feel a little guilty about not anticipating some of the ramifications, even though I think that would have been really hard." Kendall says he remains confident in Zuckerberg's ability to fix Facebook.
Mark Luckie, strategic partner manager for influencers, spoke out against Facebook after leaving last November. Luckie, a black man, criticized the company  saying Facebook had "a black people problem."
Luckie said black Facebook users find their content removed without notice. Ironically, Facebook removed Luckie's post on the topic before allowing it back later.
Alex Stamos, chief security officer, is a frequent critic among Facebook's former executives. Since leaving in August, Stamos has compared Facebook's culture to that of "Game of Thrones," but has also defended the social media firm.
See related report below for more.
Attorney Harmeet Dhillon – 'They Are Gaslighting Us,' 'Ignoring This At Your Peril – Plus Manufactured Housing Market Updates
Bloomberg Closing Ticker for MHProNews…
NOTE: The chart below includes the Canadian stock, ECN, which purchased Triad Financial Services.
NOTE: The chart below covers a number of stocks NOT reflected in the Yahoo MHCV, shown above.
NOTE: Drew changed its name and trading symbol at the end of 2016 to Lippert (LCII).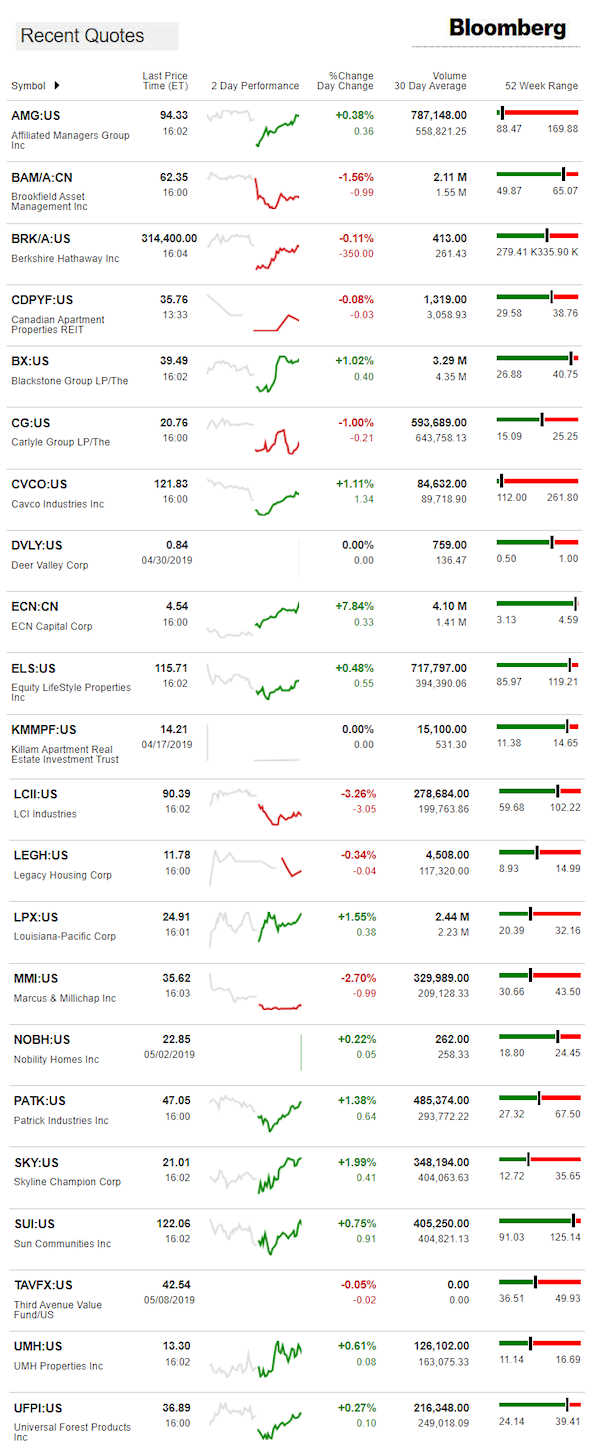 LCI Industries, Patrick, UFPI and LP all supply manufactured housing.
AMG, CG and TAVFX have investments in manufactured housing related businesses.
Berkshire Hathaway is the parent company to Clayton Homes, 21st Mortgage, Vanderbilt Mortgage and other factory built housing industry suppliers.
LCI Industries, Patrick, UFPI and LP all supply manufactured housing.
AMG, CG and TAVFX have investments in manufactured housing related businesses.
Your link to industry praise for our coverage, is found here.
For the examples of our kudos linked above…plus well over 1,000 positive, public comments, we say – "Thank You for your vote of confidence."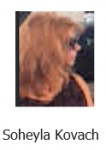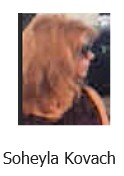 "We Provide, You Decide." © ## (News, analysis and commentary.)
(Image credits and information are as shown above, and when provided by third parties, are shared under fair use guidelines.)
Submitted by Soheyla Kovach to the Daily Business News for MHProNews.com.