That headline question will be front and center, after the facts provided to MHProNews are laid out.
A source at the Manufactured Housing Institute (MHI) – with Chairman Tim Williams' specific okay – provided MHProNews the following PowerPoint that Williams used for an MHI meeting presentation.
It was requested and provided with the specific and clear understanding that MHProNews would publish this at some point in time.
That time is now.
First, we will show Tim Williams – President and CEO of 21st Mortgage Corporation – presentation in its entirety. To our knowledge, while we've referenced this previously on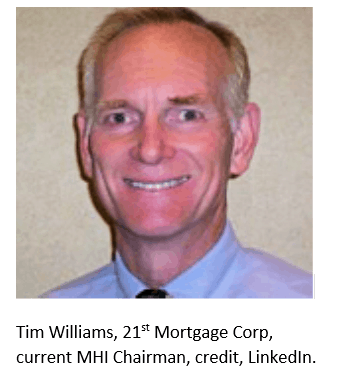 MHProNews, this will be the first time this presentation by him is made public in this fashion.
Next, we will simply state that there would be broad agreement between our editorial view that the industry should be capable of far more growth that it current experiences, and what Williams thoughtfully lays out, step by step, in the presentation below. 
The facts in Williams' presentation would likely be widely agreed to by MHARR, MHI, MHEC, NMHOA…almost everyone in the industry. 
Right up to Williams' final slide.  That's where the fireworks will be found.
After the 7th slide, we will ask a few simple questions.  They will cut to the heart of what the headline states. With that brief intro, let's begin.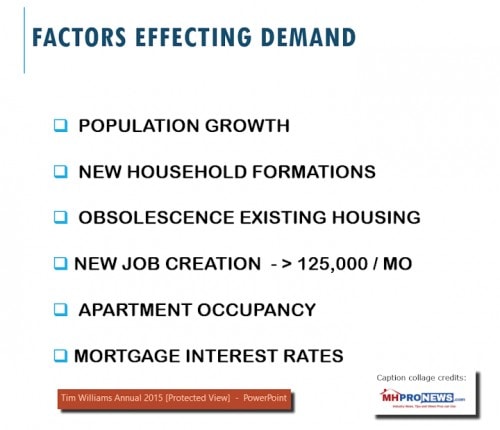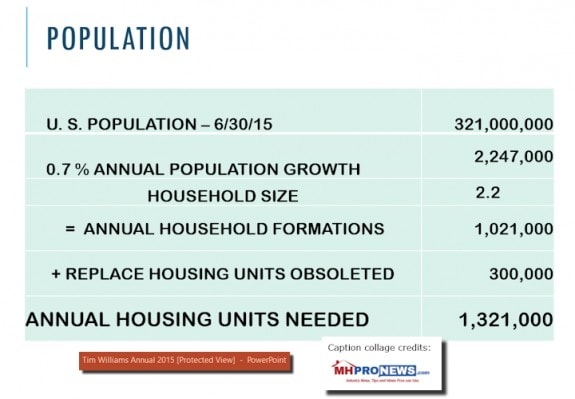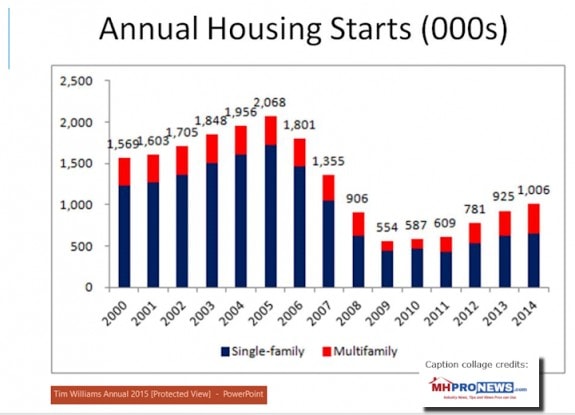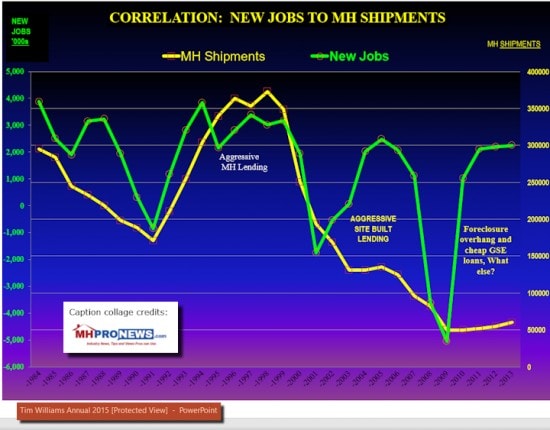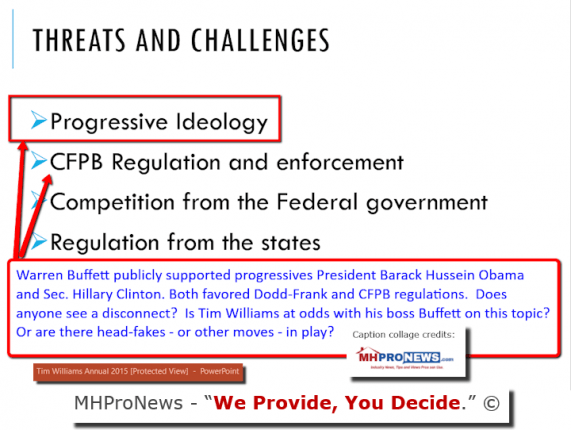 Arrows and caption in the above are by MHProNews.
A progressive flagship publication, the Huffington Post, cited on 4.2.2015 Warren Buffett's support for "former U.S. Secretary of State Hillary Rodham Clinton will be the next president, and he's not bothered by the questions about the private email account she used while at the State Department."
"What I care about is what she believes in, and her ability to get what she believes in turned into law," Buffett said.  That support is known to have continued, right up to the 2016 election.
Sec. Clinton and President Obama both had support from Warren Buffett.  President Obama supported the passage of Dodd-Frank. He supported the passage of ObamaCare (ACA). Clinton favored both.
Questions, Questions…
Q1) Can one doubt that Warren Buffett's stated public policy positions line up with those of "progressives?" 
Q2) Does MHI Chairman Tim Williams, who is president and CEO of Berkshire Hathaway's 21st Mortgage Corp, oppose Warren Buffett's beliefs?
Q3) How does Williams' reconcile MHI's claim to be trying to modify Dodd-Frank, with Warren Buffett's support of candidates that installed and want to maintain Dodd-Frank?
Q4) Does anyone else see the disconnects between slide 7 and MHI's claimed agenda?
Q5) Is this why a well-known company owner with MHI connections said to MHProNews that he "would not lift a finger" to lobby for modifying Dodd-Frank via Preserving Access to Manufactured Housing, because "one call from Omaha" – where Warren Buffett's operation is headquartered – to then President Barack Obama could have fixed this for the industry, if Buffett wanted it fixed?
Tim Wiliams' presentation is laden with facts and insights. They are thoughtful and hard to argue with.
Q6) But do they also stands in stark contrast with what MHI claims to want?  And to what the chairman of Berkshire Hathaway de facto has worked to support, namely candidates who favored Dodd-Frank?
Manufactured housing advocate, Rev Donald Tye, Jr., speaking about Warren Buffett's lack of support for changing policies that harmed the industry said this, "So it is with most billionaires. They could care less about regulations or deregulation! They buy influence on either side of the aisle. It's just business." 
Tye has reportedly worked with several billionaires.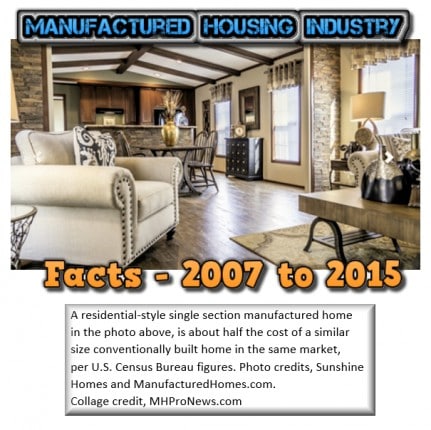 To see an article that explains the distinction between residential and 'entry level' or 'shade and shelter' HUD Code manufactured homes, click here. To see a video on that same topic, click here.
The actively retired businessman and minster concluded his remarks to MHProNews by saying on a related topic – linked here – that "The system is rigged." ## (Flashback, manufactured home industry news, analysis.)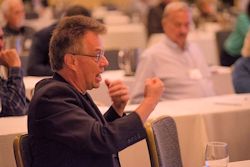 (Image credits are as shown above, and when provided by third parties, are shared under fair use guidelines.)
L. A. "Tony" Kovach, Managing Member, LifeStyle Factory Homes, LLC -dba MHProNews.com and MHLivingNews.com. All Rights Reserved.
Photo taken while L. A. "Tony" Kovach was questioning MH regulators in NY.