Because Warren Buffett's Berkshire Hathaway has such big chunks of the manufactured housing industry's production, lending, suppliers, and more – the "Oracle of Omaha's" thoughts are carefully followed by the industry's professionals.
In a recent video interview with Judy Woodruff on PBS, the discussion included a look at what should happen to reform the Obama Administration era changes to U.S. health care,
"Way outside my circle of competence," said Buffett.  But he then stated that with corporate taxes having gone down since the 1960s, and health care had risen from 5% to 17% of GDP, he agreed with Judy Woodruff that something had to be done.
What is that 'something' that should replace what Woodruff acknowledge was a troubled ObamaCare – the so-called 'Affordable Care Act?'
Single-payer health care, or fully-socialized medicine.
The Buffett discussion with PBS' Woodruff on the topic of health care is in the video below.
Buffett supported president Obama's candidacy.  He backed Secretary Hillary Clinton during the last election cycle.  Clinton in turn supported Dodd-Frank. Two of Berkshire Hathaway's units – Clayton Homes, and 21st Mortgage Corp – have Executive Committee Board members of the four total on that 'membership elected' body that help govern the Manufactured Housing Institute (MHI).
In the days before the 2016 election – as MHProNews has previously reported – MHI had not one, but two pro-Clinton speakers at their pre-election event in Chicago.
Informal surveys of industry professionals reflect the diversity of America.  But those who are independent business owners tend to oppose ObamaCare, and thus favor its repeal – and tend to oppose even more socialized medicine.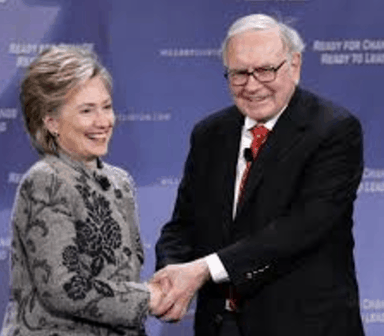 What Was Missing from PBS Interview…
Several things were missing from the Q&A between PBS' Woodruff and Buffett.
First, there are those experts who believe that Medicare, then Medicaid and the ever-increasing amount federal intrusion into the health care marketplace were and are among the key drivers of medical inflation. Dr. David Murdock is among those who've expressed that observation.
Deep blue California gave serious consideration in this 2017 legislative session to doing a state-based single-payer healthcare system, which Senator Bernie Sanders (I-VT) also promoted. The problem they faced was that the state's own budget projections said the system would cost $400 billion a year.
With that calculation posting a budget number too big to swallow, California backed away.  That level of additional proposed burden could prove to be a crushing additional expense to taxpayers and businesses alike, the opposite of what Buffett, Woodruff, Sanders, and others contend.
The California Nurses Association, which backed single-payer healthcare, took to social media when that state's bill died. Sacramento's SacBee, The Hill, and Fox News are among the media outlets stating that several lawmakers reported death threats and other forms of threatened violence.
What is certain is that with the GOP not yet ready with their own health care bill, the debate on what route to go to repeal, replace or fix ObamaCare will rage on. ## (News, Analysis.)
ICYMI – Buffett focused part of Berkshire Hathaway's annual meeting, is linked here.
(Image credits are as shown above, and when provided by third parties, are shared under fair use guidelines.)

Submitted by Soheyla Kovach to the Daily Business News for MHProNews.com.