It has been dubbed the "Woodstock for Capitalists." It's the spectacle formally known as the Berkshire Hathaway Annual Shareholders Meeting.  It took place this past weekend in Omaha, Nebraska.
The event provided insights into the mind of Warren Buffett, whose large manufactured housing business units makes him of widespread interest to the industry.
The annual gala also offers insights on  how one of the world's richest men are viewed by others.
During a question and answer session on Saturday, Buffett admitted that he's not always the "Oracle of Omaha." At least, not while talking tech, which he has notably stayed away from in the past.
According to CNBC (whose article title inspired part of our headline), while discussing his cutting of holdings in IBM by one-third, Buffet said, "I don't value IBM the same way that I did six years ago when I started buying. The company has run into some pretty tough competitors."
He also spoke about e-commerce giant Amazon, and its CEO, Jeff Bezos.
"I was too dumb to realize. I did not think [Bezos] could succeed on the scale he has," said Buffett. "He really underestimated the brilliance of the execution."
Buffett also modestly admitted that he and longtime partner Charlie Munger "…miss a lot of things, and we'll keep doing it."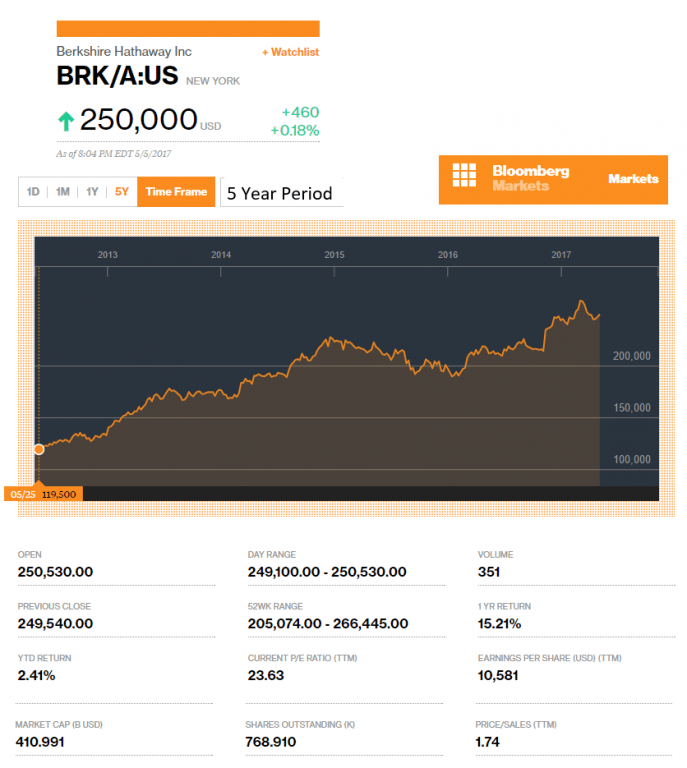 Buffett's cut of IBM is a reminder that while he plays long term, he still must be confident in an industry or business to keep their positions in it.
The Power of the Written Word
'Mind your words!'
In a Chief Executive feature, Buffett is pointed to as a man of many talents, particularly with regard to his writing skills.
That prowess led to him being invited to pen the preface to the 1998 SEC publication, "The Plain English Handbook."
That article points to assistant professors at Cornell University and the University of South Carolina, using the Plain English Handbook as a guide, assessed the readability of annual reports for 92 equity funds between 2003 and 2013.
Their research, which has just been published in the Journal of Financial Economics. It found that a 10 percentage point increase in the number of writing "faults" translated into funds trading at a 2.7 percent discount.
"Put bluntly, yes, it pays to write well," Cornell's Byoung-Hyoun Hwang and USC's Hugh Hoikwang Kim concluded.
In his many tips for better writing, Buffett says that one should keep sentences short and simple, while avoiding jargon and the passive voice.
He also points to picturing your audience.  It's a practice that he uses while writing his famed annual letter to shareholders.
He pretends he's talking to his sisters.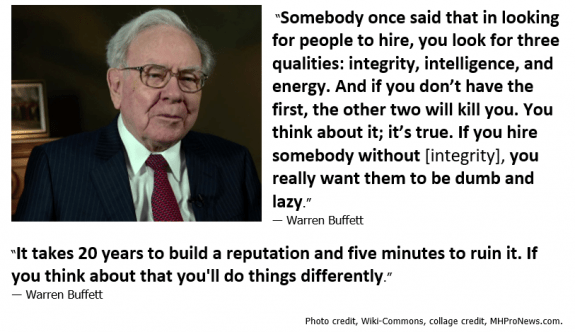 "Though highly intelligent, they are not experts in accounting or finance," says Buffett.
"They will understand plain English, but jargon may puzzle them. My goal is simply to give them the information I would wish them to supply me if our positions were reversed. To succeed, I don't need to be Shakespeare; I must, though, have a sincere desire to inform."
Buffett's Pithy, Political and Professional Pensées  
The Democrat, Barack Obama and Hillary Clinton supporter is not shy about his views on a wide range of topics.
> "There's class warfare, all right, but it's my class, the rich class, that's making war, and we're winning."
> "Rule No. 1: Never lose money. Rule No. 2: Never forget Rule No. 1."
> "If you're in the luckiest one per cent of humanity, you owe it to the rest of humanity to think about the other 99 per cent."
> "Be Fearful When Others Are Greedy and Greedy When Others Are Fearful"
> "It's better to hang out with people better than you. Pick out associates whose behavior is better than yours and you'll drift in that direction."
> "There seems to be some perverse human characteristic that likes to make easy things difficult."
> "Should you find yourself in a chronically leaking boat, energy devoted to changing vessels is likely to be more productive than energy devoted to patching leaks."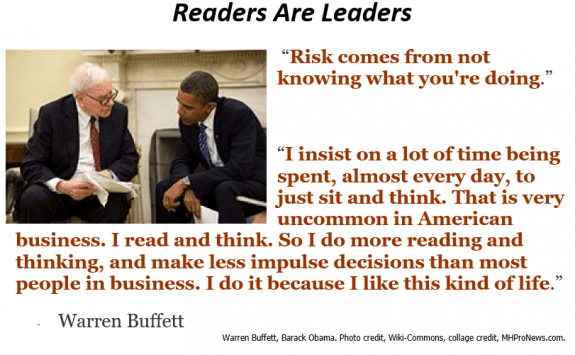 > "Risk comes from not knowing what you're doing."
> "I insist on a lot of time being spent, almost every day, to just sit and think. That is very uncommon in American business. I read and think. So I do more reading and thinking, and make less impulse decisions than most people in business. I do it because I like this kind of life."
Part 1 of 2 Parts
The Daily Business News will cover Kevin Clayton of Clayton Homes and a featured interview, in addition to elements from the Berkshire Hathaway annual report.
As industry professionals are already aware, Clayton Homes is the largest producer of manufactured homes (MH) in North America. Vertically integrated, the company has several hundred retail centers nationwide. Through its affiliates and family of brands, Clayton builds, sells, finances, leases and insures Clayton-built manufactured and modular homes.
For the most recent closing numbers on all Berkshire Hathaway – and all MH industry-connected tracked stocks – please click here.  ##
(Image credits are as shown above, and when provided by third parties, are shared under fair use guidelines.)

Submitted by RC Williams to the Daily Business News for MHProNews.