The issues facing our nation and industry are serious ones. Therefore, there are times that a little humor is useful to lighten the mood.
As a history buff, it is a pleasure to ponder chief executives of the past, and see what might be learned. There are those who compare the 40th President, Ronald Reagan, with the 45th President, Donald J. Trump.
While there are parallels – some that millions apparently miss – there are clear and sharp differences, as 'never-Trumpers' like to stress.
But the times are frankly different, and the focus this evening is what Reader's Digest long called, 'the best medicine,' humor.
CBS Sunday Morning published "Ronald Reagan's one-liners" during the Obama Administration. It has had 1,989,687 views since July 20, 2014, almost 5 years.
The likes outshine the thumbs down on this video below by a ratio of 42 to 1.
At the end of a long day of meetings, reports, phone calls, messages, media, fact-checks, analysis and drama…
…some-one liners from the 40th president seemed like just the ticket. Oh, by the way, HUD Code manufactured home shipments in those years were more than double what they have been averaging in recent years.
From Live About we have these quotes, from President Ronald Reagan.
"My fellow Americans. I'm pleased to announce that I've signed legislation outlawing the Soviet Union. We begin bombing in five minutes." – joking during a mike check before his Saturday radio broadcast
"It's true hard work never killed anybody, but I figure, why take the chance?"
"I hope you're all Republicans." -speaking to surgeons as he entered the operating room following a 1981 assassination attempt
"Honey, I forgot to duck." -to his wife, Nancy, after surviving the assassination attempt
"I am not worried about the deficit. It is big enough to take care of itself.
"I have left orders to be awakened at any time in case of national emergency—even if I'm in a Cabinet meeting."
"Politics is supposed to be the second-oldest profession. I have come to realize that it bears a very close resemblance to the first."
"The nine most terrifying words in the English language are: 'I'm from the government and I'm here to help.'"
"Thomas Jefferson once said, 'We should never judge a president by his age, only by his works.' And ever since he told me that, I stopped worrying."
No inferences should be drawn from this report, other than laughter can be good medicine and inspirational phrases have the power to be uplifting.
For baseball fans, you can also infer that a change up pitch can be useful too.
We'll get back to the serious side of our industry and related tomorrow.
But tonight, let's add one more short video clip to say 'happy trails' and turn to Reagan's 1940 era movie about football star, Knute Rockne: All American (1940), as we salute the ideal that our industry needs — of "Win One For The Gipper."
"We Provide You Decide." © ## (Flashback, lighter side, historic, and commentary.) ##
( Third-party images and content are provided under fair use guidelines.)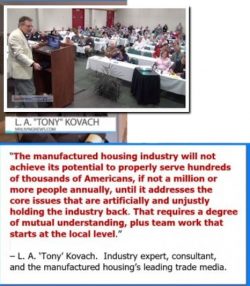 By L.A. "Tony" Kovach – for MHProNews.com.
Tony is the multiple award-winning managing member of LifeStyle Factory Homes, LLC, the parent company to MHProNews, and MHLivingNews.com.
Office 863-213-4090 |Connect on LinkedIn:
http://www.linkedin.com/in/latonykovach
Sign Up Today!
Click here to sign up in 5 seconds for the manufactured home industry's leading – and still growing – emailed headline news updates.